---



FACT or FICTION: October 2016 (Goldberg vs Lesnar, Will TNA Survive?, Too Many PPVs, Halloween Havoc and MORE)


By Steven Bell
Oct 31, 2016 - 6:57:35 PM


It's back, from beyond the grave! Okay, maybe not from beyond the grave, more like just a little late in the month, but we picked the best day to do it for my money. That's right, it's time for a Halloween spooktacular edition of…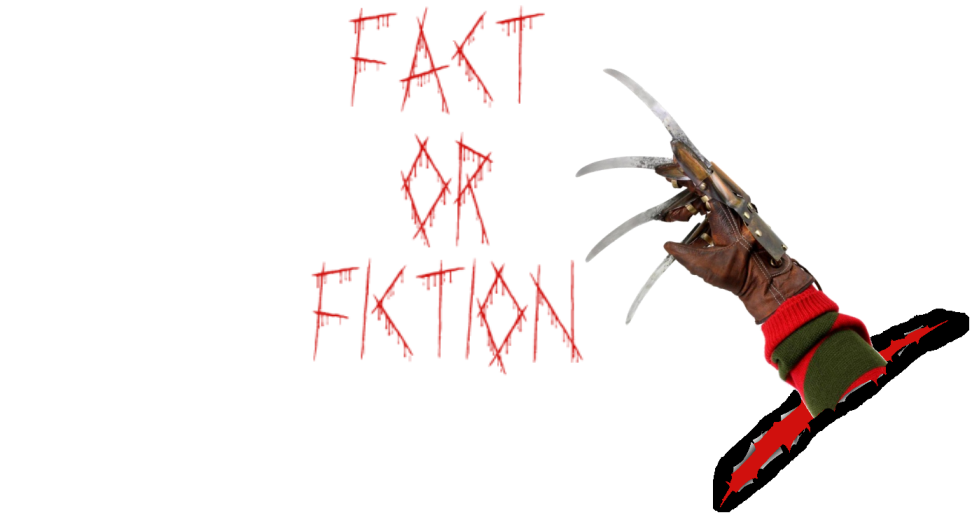 Welcome to our own little Monster Mash. I'm Steven Bell, (@StevenFnBell on Twitter), host of The Late Shift every Monday night on Lords of Pain Radio and Admin of the Columns section of LOP Forums, among other various sundry things. The concept of this column, if you've missed it in the past, is fairly simple. I came up with four statements and got some of my writer friends from Lords of Pain to tell me whether they feel that these statements are FACT or FICTION, elaborating on why they feel the way they do. Pretty simple, right? So let's do it to it.

Joining me this time around are, much like last time, some of the best of the bunch from the LOP Columns Forum. If you're unfamiliar with what that is, the CF is the place to go if you want to write a column for Lords of Pain. You head there, write yourself a column, prove that you can write consistently and draw a decent audience and boom, you very well may find yourself next in line when a spot opens up here on the LOP main page. See that bold "Columns Forum" a couple sentences back? You can click that to find your way there now. After you read this, of course. There's also a great big link waiting down at the bottom, if you prefer.

This month our spoopy and creppy participants are...


Al.pYro (@MartyOropeza on Twitter) - A former main page writer back when he was known as All Boo Boo (how's that for appropriate?), his Friday Night Write was awesome then and his Reading Between the Ring Ropes is awesome now.

Degenerate (@dennmart on Twitter) Yet another former main page writer, an LOP Columns Hall of Famer, most recent Columnist of the Month and the winner of our most recently completed writing competition, the Columns Forum Classic, Degen is one of the most accomplished and respected columnists to ever come from LOP. He's also a super good dude.

and

Burn1nMyLight - Coming up on one full year as a columnist in the CF, Burn has established himself as one of the leaders of the current "class" of LOP writers. You can also hear him weekly alongside his partner, theImplications, on LOP Radio's newest program, Perfect 10 Wrestling, every Wednesday.



You can click each of those gentlemen's names, there, to find their latest columns. They cover all aspects of the wrestling world between them, from Degenerate's journeys into the Japanese wrestling scene to Al's penchant for making history come alive and Burn's talents for reviewing, you can't go wrong by checking out anything these dude's write. Thus why they're here.

Speaking of that, let's put 'em to work.


---




Survivor Series is on the horizon and it's something worth getting excited over for a few different reasons. One of those reasons, at least to some, is that it will be the only PPV on the schedule for the month of November. The recent advent of multiple PPVs per month, falling once every couple of weeks, has been met with differing reactions. Some are happy, seeing it as getting more bang for their Network buck. Others, those excited for only one show in November, see it as overkill. Arguments, of course, can be made for both sides. To that end, is it FACT or FICTION that WWE is going overboard by putting on two PPV events per month?




Al.pYro - Like so many other entertainment outlets, WWE has become a show based around producing content rather than fully formed two, three, and four hour episodic narratives with beginnings, middle, and ends. For all the flack that the company gets for continually being reactionary instead of progressive, their ability to read the entertainment landscape and mutate into whatever mass culture wants it to be is fairly remarkable. We've seen it with the Attitude era, saw it as that same Attitude Era fan base aged out of the product and they needed to cultivate a new base with the PG era, and now they're taking advantage of the social media age.

The reason that this is FICTION is this: in the age of clicks and comments no amount of content is too much content. There should always be another video to autoplay after that one. There should always be something that scratches your exact itch and falls into the niche that you find yourself comfortable in. You don't like Braun Strowman? Fine, here's the Cruiser division. Not into Drew Gulak and chain wrestling? Fine, here's Jericho trying to meme-ify the crowd to death. Don't like anything on Monday Nights? OK, well tomorrow night we have another show with a whole different roster and a whole different vibe. Oh, and if you like it all, awesome.

WWE is purposefully saturating the wrestling market because they know they're many people's first choice. I'll be honest - I've given up watching Lucha Underground. I don't even think of TNA. Given up watching Raw live. I'll peep the 90 minute Hulu version, and if it's a really bad week, I'll just watch YouTube clips. WWE is fine with this. They've professed as much in earnings calls. There's no reason to watch all of the programming each week, and when you don't, it makes the PPVs frequencies much easier to swallow. So stop trying to watch Raw, Smackdown, Talking Smack, NXT, and the both of the PPVs as soon as they air. And then realize that each brand only has one PPV a month and matches still have that "Big Fight Feel". For now, at least.



Degenerate - I'd say this is - FACT. Personally, I don't have enough time to watch all of the programming that the WWE is putting out right now, from the three hour Raws, two hour Smackdowns and NXT and anything else that I want to see in between. This leads me to selectively watch bits of pieces just to catch up, and it causes me to miss things along the way. For example, for the Hell In A Cell event, I had no idea that there was going to be a Bayley versus Dana Brooke match, because I've been watching Raw in its butchered Hulu version and they seemed to have cut everything related to that feud. I think it would serve the product better if there was a little less - it will create better build-up and make things feel less rushed.


Burn1nMyLight - FICTION, but it's a bit soon to say definitively. Here's the way I look at it. I watch a lot of TV shows: Game of Thrones, Elementary, You're the Worst, Rick and Morty, South Park, on and on and on. I look at RAW, Smackdown, and NXT as separate shows(Because they ARE very different shows). Each show, then, gets a special event every month-ish, and that's normal, no big deal. But if you consider all of WWE as one show, one product, then I can imagine you may feel overwhelmed by the PPVs(looks like WWE gave up on calling them "Special Events"). But because I see them as separate shows, no big deal. If anything it gives me another cool thing to watch on Sunday, a typically dead day you dread because you have work tomorrow :(


---




This one is going to be kinda inconsequential but fun. Tis the season to be spoopy. Halloween is upon us and for some of us more seasoned fans (I'm trying to avoid calling us old), it brings back memories of an old friend. That friend? WCW's Halloween Havoc PPV event. Featuring such fun gimmicks as the Chamber of Horrors (fun is subjective in that case) and Spin the Wheel, Make the Deal, coupled with a cool Halloween theme, Havoc was always a show to be anticipated and excited by in the glory days of World Championship Wrestling. Given that WWE does now have all these PPV slots to fill and recently even somewhat resurrected a WCW mainstay in Clash of Champions, is it FACT or FICTION that Halloween Havoc should make a triumphant return? Maybe with the regularly called for return of War Games in tow?




Degenerate - I never really watched much of WCW during its heyday, so probably these WCW events mean a lot less to me than the average wrestling fan who watched during the Monday Night Wars. Throughout the years I've been able to see what made those events special, and I agree that it would be cool to have one of these events be put on. War Games is a great concept and I don't know why a major company hasn't resurrected it, even if only a one-time thing. Regarding Halloween Havoc, the only memories I have of that show are the aforementioned Chamber of Horrors match and that amazing Guerrero / Mysterio match they had in 1997. Both of these can honestly take place anywhere - no special gimmicky event needed, so I'll go with FICTION here.


Burn - Absolutely FACT, and not sure who you're going to find to disagree. However, should Halloween Havoc return as a PPV? RAW falls on Halloween this year; how awesome would it be to just have RAW or Smackdown adopt H.H. every year instead of replacing...you know what, screw Hell in a Cell, go ahead and replace it.I would like to see it on one of the regular shows but I think everyone also agrees that Hell in a Cell is the dumbest PPV that ruins a very special, brutal match by putting it on a stupid schedule(also stupid censors, I had about 4 curse words lined up here!). So go ahead, replace HIAC with H.H. and let's have some fun! If you're gonna have a gimmick PPV, at least make it a good one.

I'd prefer they save War Games for something special, like HIAC should be. For example, the rubber match between The Shield and the Wyatts/Evolution would have been perfect times. As soon as WWE gives us some good factions again(looking at you, Sanity, don't let me down!) War Games should absolutely make its triumphant return.

Al - The NFL is in the middle of a massive decline in ratings. The reason? Millennials. The 18-34 year old demographic are avoiding sitting on their couch on Sundays watching football all day for a cavalcade of reasons. I'm one of them. The NFL just keep my attention. And it's clear that Goodell, his lackeys, and the advertisers are rather worried about keeping a core staple of their fanbase. We're not the big money right now, but we're the future dollars that big corporations need to tap into.

WWE should have the same concern. And here's a secret, we don't give a shit about WCW Nostalgia trips. I don't remember Halloween Havoc. I don't remember War Games. It's great that thinking about to those times gives older folks great joy, but it means nothing to me and the future of WWE's fanbase. A couple weeks ago, in one segment of Raw, we saw a Cruiserweight division match, a WCW staple, which after it we got the lead-in to Bill Goldberg, a WCW staple. Now the Cruiser division has been… interesting but not great. The final scene was something to behold: Bill walking down the ramp, gold sparks ricocheting off of everything, and then him struggle to pick up a small child. The match was stale 12 years ago. By now it's the rotting banana that's turned to gelatin at the bottom of your fruit bowl. Same can be said for so many other WCW ideas. Halloween Havoc would come off as campy, tired, and in this so-so PG era what would be the best to come out of it? Jericho and Owens dressed as two other canadian legends, Wayne and Garth? It's not something I'm into. It's not something the future of WWE's fanbase is into. FICTION.


---




The news has been full of TNA talk over the last month or so. From issues gathering funding to put on Bound for Glory to a lawsuit being put forth by partial owner, Billy Corgan, all the way to rumors of the potential sale of the company to WWE, it's been a roller coaster for the struggling company in recent weeks. Things may be leveling out a bit now, as Fight Network has announced implied intentions to perhaps "save" the promotion, but is it too little, too late? Is it FACT or FICTION that TNA Wrestling will survive in its current form beyond the calendar year of 2017?




Burn - FACT. I don't think TNA is going out of business. It hasn't the 3 previous times it was in financial trouble; it picked up new owners/TV/etc and lived to fight another day, so why not now? If anything, the product, as I understand it, is better than it has been in many years. TNA may be renamed, show up somewhere other than...Destination, is that where it's at right now? I don't even know. But they have the talent and slightly better storytelling lately to be given another shot.

I'm a WWE guy, I've probably seen 10 episodes of TNA ever, so I'm not completely unbiased here. But I don't want TNA to go out of business; there are a lot of talented performers on that roster right now, especially those that didn't quite work out in WWE, and them losing their jobs or having to crawl back to WWE, only to be misused again, hurts my heart. Dixie Carter has been the equivilent of Vivik Ranadive; a terrible owner who can't build a structure to allow her show to thrive, instead bringing crappy castoffs with a bad track record, to run the show. Finally, with Corgan at the reigns, they have some stability that the talent appreciates and works hard for, and writers that aren't a complete embarrassment. Just keep all of the WCW/WWE has-beens(Hogan, Bishoff, Russo) far, far away and TNA could be another Lucha Underground; fun, different, and not real competition for WWE.


Degenerate - I'll say this is FICTION, but not because the company itself will die. If Corgan, the Fight Network or even if Dixie Carter miraculously manages to keep her majority control over the company, I think that the brand itself has run its course and is in desperate need of a complete change. I think the best course of action is to revamp everything entirely, starting from removing the names TNA, Impact and anything else related to the company at this point in time. The brand is has become the laughing stock of professional wrestling and it needs to be distanced from it. A wrestling company will hopefully still be around beyond 2017, but not TNA as we know it now.

Al - A couple weeks ago, on the eve of it's biggest event of the year, TNA was staring death in the face. Folks questioned how they would be able to dodge the creditors, find the reported $600,000 needed to put the show on, and continue without folding. Bound for Glory came and went. And this is what makes me one hundred percent sure that this is FICTION - nobody gives a damn now, or even then, what happened on that show. You'd struggle to find someone who knows the programs they're running, who the Champions are, or what young talent the company is trying to develop. Nobody cares about the product itself. If WWE were, for some cataclysmic reason, go off the air right here and now --- we would all lament the fact that Sasha Banks vs. Charlotte would never get the ending it deserves. And by God, where are they going with this Ellsworth fella? What feuds on TNA are there that would even warrant an ending? The #BROKEN Matt Hardy character has been interesting and entertaining but… is it really something he couldn't continue doing on the indies?

Furthermore, the leadership of TNA, particularly Dixie Carter and Billy Corgan, have taken all of the spotlight. Their feud is the only one bringing in any interest from people who aren't within the contingent of TNA diehards. And in order for the federation to survive, that feud needs to end. It's more than possible that Corgan can be the light of hope at the end of the tunnel, leading TNA into a new generation. But it's clear from his quotes, that that would be a new history. Not under the TNA umbrella, or in it's current iteration.


---




Finally, let's get topical, shall we? The return of Goldberg and talk of an impending match against Brock Lesnar at Survivor Series has been a very divisive issue between many wrestling fans. Some feel that it's a dumb idea, that their previous match sucked and that nobody cares about Goldberg anymore, among other reasons. Others feel that it's a great idea, that Goldberg will be an excellent motivation for nostalgic fans to plop down their $9.99 for the PPV and that seeing him back in action will be, to put it plainly, fun as hell. Still others are largely indifferent, which isn't nearly as fun to argue. So which is it? Is it FACT or FICTION that Goldberg vs Lesnar is a good idea?




Degenerate - Again, as someone who didn't watch WCW, I never was a Goldberg fan. His 2003-04 run in the WWE was okay but nothing spectacular in my eyes. Still, after watching the current buildup including Goldberg's tremendous promo in accepting Lesnar's challenge, I say FACT, the WWE having this match is a good idea. From the perspective of sparking interest and making me want to see what happens, the WWE has succeeded. Yeah, their match at Wrestlemania XX was not good. Yeah, Goldberg's going to be 50 years old in December. Yeah, Goldberg hasn't had a full match in years. But that doesn't mean that this match will be a horrible spectacle. It won't be a five-star classic, or anything near it, but I still expect it to be a half-decent match, and that will be more than enough for me.

Burn - Imp and I just spoke about this on the podcast. I think I'm like a lot of fans, where my heart is telling me one thing and my brain is telling me "Stop being so stupid!" and yet, I have to go FACT.

Goldberg is almost everyone's favorite WCW wrestler, the only "WCW Guy" that had a GOOD WWE run, and the only one that could sell a PPV in 2016. I absolutely want to see Goldberg, even if he's 49, one last time. So Goldberg, it seems, isn't the problem in the equation. Brock Lesnar is.

I'm sure WWE is thinking "Goldberg was never a great wrestler, and Brock doesn't do actual wrestling matches anymore, so even though Bill is 49 nobody is expecting a technical classic, this will be fine." That's the problem. Brock doesn't WRESTLE matches anymore, "Suplex City" has destroyed him as an interesting talent. Instead, his matches are entirely "15 suplexes and then legitimately bloody guys who aren't allowed to really fight back. "That's complete trash, and if it weren't for main page rules, you'd see a string of 4 letter words here. I don't want to see Brock suplex 49 year old Goldberg 15 times and then throw sharp elbows to intentionally bloody him, that's stupid and a waste.

A small part of me thinks they won't do that, because why would Bill agree to return just to do that? He has said his number one reason to come back was so his kids could see him wrestle; not much of a show, then, if he just followed the typical Brock formula. So maybe Brock will actually use some other pieces of his large arsenal, Goldberg will be allowed to hit him with his signature spots, and we'll finally have a good Brock match. Maybe.

But then what? The other problem with this match is that Brock has to win. You can't have him break Undertaker's streak, squash Cena, HHH, Ambrose, Orton, etc, and then...give that rub for finally toppling The Beast to a 49 year old retired guy. That is the worst waste I can think of, other than having Brock beat The Undertaker in the first place. WWE absolutely could do that, and I'd be happy that Goldberg won but FURIOUS at them for wasting that enormous gift they could give to someone like Sami, Seth, Shinsuke, or Finn. WWE could do that, we know they make some TERRIBLE booking decisions, but the most likely scenario is a fun spectacle that is NOT a good match, at all, Brock wins, and...nothing changes because Brock is somehow a destroyer of worlds AND boring at the same time. See, my brain is yelling at me again that this is going to be terrible, but my heart keeps saying, "Yay Goldberg!". My organs need to get on the same page.


Al - Touching on this earlier, I'm going to go against the grain, try to look at the glass half full, and argue that this is, indeed, FACT. Ryback, who looks like Heavy Guy from Team Fortress Two if he got addicted to HGH, was the victim of incessant "Goldberg" chants for years. Whatever it is, something about Ol' Bill has lodged itself in the minds of wrestling fans. While I wouldn't say he's "relevant", he's not as completely forgotten as other returning talent like, say, Curt Hawkins.

One theory is this: fans still don't feel like they ever got enough out of Goldberg. He started late, and retired early. He still had more in the tank when he walked away, although that tank always kinda read a quarter to empty. This could be the final act that gives both Bill and wrestling fans the closure they may need.

Bill might be running on fumes right now, but putting him alongside Brock Lesnar might be the way to make that Oldsmobile purr. The story is already pre-installed, as they'll pick up the same feud they had twelve years ago. The styles don't clash, as Brock has always been Lesnar-adjacent. And this is perhaps the biggest pro - Goldberg won't be potentially weighing down any of the young talent with both his lack of skill in the ring and on the mic. Brock hasn't been great in the ring for about a calendar year now, and whereas the hype is always there, the delivery hasn't been. I feel the same about this matchup as I do about the recently ended feud between Lesnar and Orton - at least they're together and will only bring down one segment. Glass half full.



---



And that will do that for this special Halloween edition of LOP's Fact or Fiction. We'll be back for another round in November, next time sooner than the last day of the month, with new topics to debate and a whole new batch of writer guys to argue their points.

Feel free, as always, to leave your thoughts below in the Comments section. You can also get at each of us (except for Burn who is a complicated man whom no one understands but his woman) on Twitter via the respective @ provided up top. If you're someone who REALLY likes commenting and would perhaps like to try your hand at one of these columns in the future, I once again invite you to make your way to the Columns Forum and take your shot at being LOP's next bit thing. Even if you don't have the inclination to write, the Columns Forum is a fantastic place to find the best wrestling columns on the internet, hands down. The amount of talent and diversity of styles are unrivaled anywhere else, bar none. You can join in the fun by clicking the spiffy image below.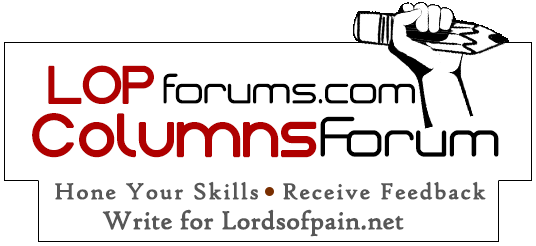 If you want to participate in one of these one day, this is your doorway.





Thanks again for taking the time to check this out! We all hope you had some fun with it. As said before, we'll be back in November with another round. Until then, take care of yourselves out there in the really real world and remember that nothing is trivial.

Much love, folks.






---