---



FACT or FICTION: January 2017 (Is Rumble Bigger Than SummerSlam?, WWE's UK Future, NJPW vs The World, Cena vs Taker)


By Steven Bell
Jan 25, 2017 - 8:01:12 PM


Hey. How's it going? Your dog doing alright? That's awesome, I love that pupperino. Before I forget, could you tell your mom I said hello? She's a sweet lady.

Oh, wait, I'm supposed to be doing something here…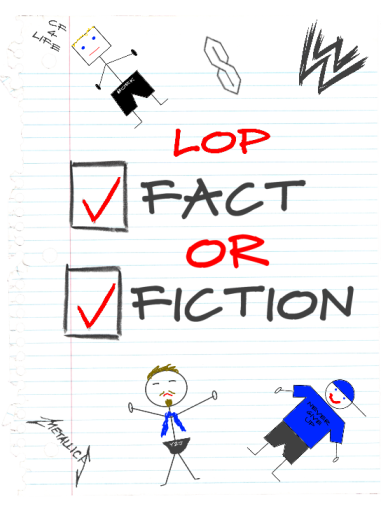 That's right, it's back for another round. Welcome to the January edition of LOP's Fact or Fiction. I'm Steven Bell, (@StevenFnBell on Twitter), host of The Late Shift every Monday night on Lords of Pain Radio and Admin of the Columns section of LOP Forums, among random other stuff. If you've never read one of these, it's pretty straightforward. I came up with four statements and got some of my writer friends from Lords of Pain to tell me whether they feel that these statements are FACT or FICTION, elaborating on why they feel the way they do. Like I said, pretty straightforward, right? So let's get this show on the road.

Hitting you with their factual and fictional opinions this time around are, as always, some of the best of the bunch from the LOP Columns Forum. If you're unfamiliar with what that is, the CF is the place to go if you want to write a column for Lords of Pain. You head there, write yourself a column, prove that you can write consistently and draw a decent audience and bickety-bam! You very well may find yourself next in line when a spot opens up here on the LOP main page. See that bold "Columns Forum" a couple sentences back? You can click that to find your way there now. After you read this, of course. There's also a great big link waiting down at the bottom, if you prefer.

Our participants for the month of January are...


Oliver - An English gentleman, through and through, you may have seen Oli's work around from time to time, as he's no stranger to the main page of Lords of Pain. One of the best writers of the last 5 years on LOP, Oliver always brings it.

kingzak13 Zak has been plugging away for a while, now, and has carved himself a niche as one of the Columns Forums' preeminent predictors and rankers. Currently in the midst of counting down 2016's PPV Star of the Year, Zak is never shy about giving his opinion, which has proven to be a very good thing for all of us.

Prime Time - An outright legend in LOP Columns History, there is pretty much nothing that can be achieved around here that Prime Time hasn't already done multiple times. A former LOP main page writer, one of the most prolific Columnist of the Month award winners and an LOP Columns Hall of Famer, there is no more sure bet that you're about to read a quality piece of writing than seeing the name "Prime Time" attached to it.

and...

David Fenichel - Our returning champion… literally. David was invited to be a part of last month's FoF just because he's awesome, but then I made the proclamation that the winner of our Columnist of the Month competition gets to be a part of this. So he went off and won CotM for November, earning his way here for the second month straight. And you just may see him next month, too…


You can click each of those gentlemen's names, there, to find their latest columns. The columns found cover everything from determining the top PPV stars of 2016 to ranking the best WrestleMania main events to a personal look at how Money in the Bank 2011 ties into one man's really real life and even a pitched debate to name the best WWE entrance theme of all time. If you want variety and awesome wrestling stuff, we got you covered.

Since they're so awesome, let's put 'em to work.


---




If you hadn't noticed, the Royal Rumble is upon us. Always a fan favorite show, this year it feels especially big with WWE looking to potentially break an attendance record for the event and putting together a fairly stacked card. From the hottest Cruiserweight angle we've seen thus far all the way to names like Undertaker being involved in the Rumble itself and the continuation of the Cena vs Styles feud that produced some of 2016's most noteworthy matches, it certainly feels as though we very well may be in for something special. Despite this year's hype and the love everyone seems to share for the Rumble though, WWE still perpetually pushes SummerSlam as the second biggest show of the year, behind the ubiquitous WrestleMania. It's been a talking point for years, maybe even decades, but is it FACT or FICTION that Royal Rumble is the REAL second biggest event of the year?




Oliver - FACT, certainly, for me. I think the hype doesn't really hit Summerslam in quite the same way as it hits the Rumble. What's great about it is the sense of anticipation – it's quite year defining for WWE, both looking back and forward. Normally, you can look over the previous 6/7 months and single yourselves out a couple of people who have performed highly and might get the nod here. No surprise, then, that The Miz is getting outsider tips while Strowman has been bookies favourite. But equally it can become a signal for what the year is to hold – witness Ambrose being in the final two last year as a sign of his impending title run, or Reigns in 2014. It sows seeds whilst tying up loose ends, and I think there's a legitimate claim that WWE should consider their season not from Mania to Mania but from Rumble to Rumble.


Prime Time - It's FICTION, from whichever angle you want to come at it. If you take one line, then what the WWE says goes, and they've consistently said that Summerslam is the number 2 event – the Wrestlemania of the summer, if you will. If you look at another angle, that is the way the cards are booked together, Summerslam is consistently booked as the second biggest card – the Royal Rumble is a stopping point on the way to Wrestlemania, while Summerslam is an end point in itself. I love the Royal Rumble, and I understand why it's so popular and why people might anticipate it more than they would Summerslam. But I anticipate the Rumble more than I do Wrestlemania, which is usually a let-down. It has always been Summerslam, and until WWE booking policies change at a fundamental level, it always will be Summerslam.


kingzak - Complete FACT, and I would argue that this isn't a new thing; it has been around for a while. The Rumble has long been the superior event of the two. The correct order is WrestleMania, Royal Rumble, SummerSlam, Money in the Bank and then Survivor Series (Though Survivor Series and SummerSlam can occasionally switch). There are so many things to say that the Rumble is the better of the two, the biggest of which is the reaction in the mainstream media, every year without fail people are talking about the rumble winner whereas SummerSlam I find is ignored in comparison. The ties to WrestleMania definitely aid it in its position; it is the show that decides what is going to happen at the show of shows. That is a pretty important job; SummerSlam on the other hand just provides a midway point while we wait for the next WrestleMania and the next Rumble. So I would say it absolutely true that the Rumble is the second biggest event in the wrestling calendar.


David Fenichel - FICTION, but let me preface my answer. The Royal Rumble had overtaken Summerslam as the second biggest show of the year over the past 5-10 years. However, the WWE has placed a renewed emphasis on Summerslam over the last few years. They are holding it in a massive market every year. They are giving it an extra hour worth of time. They are loading the cards with big names. Summerslam is currently being treated like a second Wrestlemania. Thus, my fiction answer is not a slight to the Royal Rumble at all, but more of a nod to the increased focus the WWE has put on Summerslam in recent years.


---




WWE has officially crowned their first UK Champion, making their bid to establish a larger presence in the UK market as a whole. This is presumably, at least in part, due to the return of World of Sport and the seeming explosion of pro wrestling as a whole in the region, with many independent promotions recently finding success in filling the void left by the fact that WWE very rarely runs live events on that side of the pond. Some view it as little more than an attempt to exert their dominance as the top company in the world over oceans by signing up talent and quashing the possibility of any potential domestic upstarts gaining traction. Others see it as perhaps the beginning of a more fruitful relationship between the E and one of their largest fanbases, with more live events, television tapings and potentially even PPVs as a distinct possibility in the not too distant future, finally returning to the days of the Rebellion and Capital Carnage events and maybe, just maybe, something along the lines of the fabled SummerSlam 1992. Is it FACT or FICTION that WWE will indeed continue this expansion in earnest, eventually leading to one of the traditional PPV events returning to the UK by the end of 2018?




PT - As a Brit I'd love to say fact, but I suspect it is FICTION. The true answer is that only time can tell at this stage. Given the advent of the Network there's really never been a better time to explore the possibility of doing more stuff over here. But there's no clear evidence either way, and I fear that even if my more optimistic visions of the future do come to pass, they won't be in the next two years. Another Wembley extravaganza seems to be more than two years in the future right now.


Zak - Firstly, I don't think World of Sport is going as well as people may hope it is, though I do agree that wrestling is starting to grow in the British/English market. I personally am really hoping that WWE and wrestling as a whole continues to grow in Britain, and based on everything going on with the UK Championship it absolutely will. As far as a PPV goes, it depends how you define "traditional PPV", if you want to be technical we did just get one in the form of the UK Championship Tournament, which was a network exclusive, the modern equivalent of a PPV. We also had Takeover: London not too long ago another sort of PPV. So in some sense we already have British PPVs. Regarding what we traditionally call PPVs, I think the post Mania trip over here is going to be the deciding factor, if they get a higher turnout than usual, then they likely will be willing to have a PPV over here in 2018 with likely another "Network special" here before then. So yes I would consider this one to be FACT, though anyone expecting SummerSlam or one of the other big 4 will be disappointed.


Oli - A tricky one, this. I believe WWE is not going to specifically 'expand' in the UK, in the classical sense of the word. There will not be a specific WWE UK territory or weekly show or similar. Instead, I see the signs being that companies who they have working relationships with – from ICW in Scotland to Progress in London – will 'host' the UK Championship matches as exclusive Network content. Perhaps this leads to these shows also featuring on the Network themselves – they largely run at least one big show a month, if not more, so there would be a constant influx of new material there. Whether you deem that expansion or not, I'm not sure.

As for a Pay Per View coming to the UK – I don't see it. I think what we might see is some form of 'special event' such as the Tokyo show airing when WWE is in town in the UK, which is a lot easier to put on the Network and set up. Personally I don't think WWE likes the fact that they have to air programming on a time delay when they are in the UK based on TV scheduling – and the same will happen with a PPV for PPV airers. So, I guess, FICTION is my answer – but I wouldn't be surprised to see a special event, in the vein of NXT Takeover: London, to appear on the Network one day soon.


Dave - I suspect that this will happen sooner rather than later. The biggest obstacle to the WWE running Pay Per View events oversees was the time difference. The United States is and always will be the WWE's biggest market. To hold a Pay Per View event at a time of the day where Americans are unlikely to order would have been a financial disaster for the WWE. This is no longer the case. With the invention of the WWE Network, it no longer matters whether or not fans "purchase" an individual event or even watch it live. As long said fan has the Network, the WWE wins. Because it will no longer impact their bottom line in a negative manner, this is a no-brainer FACT for me.


---




Speaking of expansion, WWE and the Rumble are of course dominating the wrestling conversation at the moment but they are certainly not the only things making waves. New Japan Pro Wrestling's Wrestle Kingdom 11 hit just after the dawn of the New Year and the event was met with virtually universal acclaim from pretty much everyone who watched it, especially the Okada vs Omega main event that many have hyped as being not just one of, but THE best match they've ever seen. With the success of this event, NJPW announced plans to further their efforts towards expanding into the US market, coupling select live events over the course of 2017 with the continued growth of their New Japan World streaming service. Those things, along with them choosing to air a large portion of WK11 on their AXS TV show over the course of a few weeks, sees New Japan in the position to potentially make waves in what some shortsighted fans (i.e. folks who only pay mind to WWE) view as a stagnant US wrestling market. Is it FACT or FICTION that NJPW will, indeed, gain a firm, impactful foothold in the non-Japanese market over the course of the next few years?




Dave - 100% FICTION. Look, NJPW puts out a tremendous product. Unfortunately, that type of product only appeals to the internet wrestling fan – the booger eating whamboo bamboo that I make fun of in every column that I write. A promotion that puts the emphasis on the in-ring wrestling product does not play well with the masses. NJPW will continue to stay in its box, much like Ring of Honor does. Every year when WrestleKingdom comes around, the 1% of the wrestling population that watches it will sing its praises, while the other 99% won't even know that it happened. Sorry kids.


Zak - This one is incredibly dependent on what happens at the Royal Rumble this weekend and how WWE plan on booking this WrestleMania season. If they plan on forcing us down a road we don't want to go down again, then I see a lot of jaded fans leaving the product and looking for a new wrestling outlet, whatever it may be, and NJPW could easily capitalize and bring those fans in. However let's say WWE actually want to make the fans happy and compelled to watch (big if) then I think NJPW won't be able to get a firm grip just yet. I think in the long term it is possible for NJPW to get notable attention from the non-Japanese market, though both the US (and UK depending on how the WWE handle it) are both staying firmly in the grips of Vince McMahon and the WWE. If they are happy to go for other countries then they should be able to get a grip since to my knowledge not a lot of other countries really have big wrestling companies. So I guess this one could be considered both FACT and FICTION at the same time. Is that allowed?


PT - I guess my response would be similar to the last question, but I'd feel a bit more positive about this and will say FACT. That's partly because 'few years' is more ambiguous than 'by the end of 2018', but also because NJPW actually seem really well placed to make that kind of play – at least looking from a bit of a distance, that is. But I remember going back to the 1990s that Japanese stuff was always really popular even when you actually had to swap tapes – yes, an actual physical product that you held in your hand – and I don't think that the appeal for their product has really diminished in the interim. With the kind of moves they are making I could see them scoring big, especially with the 'hip' crowd.


Oli - I'm in two minds over this one, but I think ultimately it will be a FACT. The world is now too interconnected for NJPW to not garner hype in the US – with NJPW World they have such a reach that there's no way the audience isn't there for them, and seeing how they are making themselves very accessible to the Western world with English commentary on multiple events this year, on top of talk of some sort of local NJPW 'brand' in the US, at best, and at least running a small sort of US tour at least, during the G1 Climax, I think they have the drive to tap into the market. And if they want it, I wouldn't doubt them achieving it. The one caveat in all this, of course, is that they need a big carrier to reach as much of the US market as possible. We're seeing the limitations of a small carrier with shows like Lucha Underground now, which could arguably become a significantly bigger brand if people weren't continually asking how to get El Rey Network. But if they can do that, and keep the content coming, they'll do well.


---




Finally, the Road to WrestleMania is officially in sight, coming up quick right over the horizon. As per usual, speculation abounds as to what may or may not happen at the event, with one match, particularly, being hotly discussed for what seems like the tenth straight year. That match, of course, is John Cena vs The Undertaker. Rumors towards the end of 2016 had it all but a certainty that we were finally going to see the two future Hall of Famers finally tie up at this year's Mania. As rumors are apt to do though, they changed as 2017 dawned and now it's being spread around that Vince has changed his mind and has for whatever reason cooled on the prospects of pulling the trigger on what pretty much everyone can agree is a basically sure-fire main event level bout, on paper if not in execution. Is it FACT or FICTION that we will EVER see, be it this year or in the future, John Cena vs Undertaker at WrestleMania?




PT - I think we will. We live in a world of relentless, never-ending PPV rematches, and yet in that world 'Taker and Cena have rarely gone one on one at a major event. In fact, I can only remember one match, half way up the card on a Smackdown only PPV in 2003. The fact that Undertaker has continued to be one of the biggest stars in the world into his fifties, while Cena has developed into a first-ballot hall of fame, face of the company level star, means that it's almost inevitable these two have to capitalise on the fact that we haven't seen the two of them more often, and given the level both men have reached, it kind of has to happen at Wrestlemania, doesn't it? So for me this is a FACT, and if it never happens you have to wonder what will have prevented it from taking place.


Zak - FACT. There is no way this can't be a FACT. The matchup between John Cena and Undertaker is something we have long awaited, Taker has fought every other face of the company at their peak, and Cena may arguably have passed the peak of being the company face, but a match is still something the fans want. I am going to make a bold prediction here; Taker has THREE WrestleMania's at most left, and this year is going to see him face John Cena, next year he will face the an upcoming character who could do with the rub of being in the ring with Undertaker (maybe a heel Roman Reigns, nudge nudge hint hint WWE) and the third and final will see him retire after being inducted into the Hall of Fame, facing one last foe. While the rumor mill may not be saying Taker vs Cena is happening this year, it also isn't giving anything else for them to do is it, Taker vs Cena will happen at WrestleMania 33. FACT.


Oli - It's FICTION. I just don't think WWE sees that match the same way we do, to be honest. Taker only has a couple of matches left in his body, Cena is winding down, and I just think WWE would have already pulled the trigger by now if they wanted to. Why wait? Especially given the fact they neither man has much left in the tank, by the looks of things. Of course, the Rumble may change everything this year, but personally – just don't think it's going to happen.


Dave - I'll go FACT here but I am far from confident. It appears that we have reached a crossroads with the idea of doing The Undertaker v John Cena. The Undertaker won't be around much longer, and even Cena seems to be transitioning into a part-time role. This feels like a now or never situation. Luckily, the evidence points to it being more likely than not that this will happen at Wrestlemania 33. Judging by the fan reaction and the "Undertaker" chants during a recent John Cena promo, it's plain to see that the masses want to see this match happen. The Undertaker being thrust into the Royal Rumble makes very little sense unless he's going to emerge the winner. I guess there is a possibility that they will set up his Wrestlemania feud from the Rumble, but I think he's in it to win it. I find it difficult to believe that the WWE is going to have Cena put over Styles for a 4th time without retribution. Thus, I think Cena wins the title, Taker wins the Rumble, and we get the dream match.





---



As the greatest frontman of all time once said, "Another one bites the dust," and another year has been kicked off right. If, by chance, you'd like to know what I thought of these subjects, well...

Steve Says...

FACT
FICTION
FICTION
FICTION (but I super, super, ridiculously super duper hope that I'm wrong)

We shall return in February to have a bit more fun. With the Rumble in the rear view by then, we'll have a better idea of what WrestleMania may hold in store as we officially enter the most exciting, debate ready part of the mainstream wrestling year.

Feel free, as always, to leave your thoughts below in the Comments section. If you're someone who REALLY likes commenting and would perhaps like to try your hand at one of these columns in the future, I once again invite you to make your way to the Columns Forum and take your shot at being LOP's next bit thing. Even if you don't have the inclination to write, the Columns Forum is a fantastic place to find the best wrestling columns on the internet, hands down. The amount of talent and diversity of styles are unrivaled anywhere else, bar none. You can join in the fun by clicking the spiffy image below.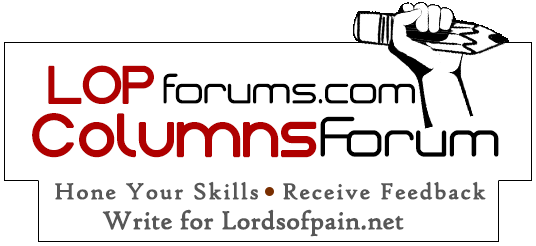 If you want to participate in one of these one day, this is your doorway.





We thank you all for giving us a bit of your time and joining in the conversation. Here's hoping you enjoy the Rumble and that life and wrestling are nothing but good to you until we get together to do it all again in a few weeks. Until then, take care of yourselves out there in the really real world and remember that nothing is trivial.

Much love, folks.






---