---



FACT or FICTION: December 2016 (Gimmick PPVs, TNA Hangs On By A Thread, Can NXT Survive Another Main Roster Talent Raid?, Smackdown vs Raw)


By Steven Bell
Dec 18, 2016 - 6:24:42 PM


Here we go, here we go, here we go again. Girl, what's my weakness?









Okay, so it didn't rhyme. Still, welcome once again to our happy fun celebration of all things factual and fictional. I'm Steven Bell, (@StevenFnBell on Twitter), host of The Late Shift every Monday night on Lords of Pain Radio and Admin of the Columns section of LOP Forums, among other various illicit things. The concept of this column, if you've missed it in the past, is fairly simple. I came up with four statements and got some of my writer friends from Lords of Pain to tell me whether they feel that these statements are FACT or FICTION, elaborating on why they feel the way they do. Pretty simple stuff, you dig? So let's do it to it.

Joining me this time around are, as always, some of the best of the bunch from the LOP Columns Forum. If you're unfamiliar with what that is, the CF is the place to go if you want to write a column for Lords of Pain. You head there, write yourself a column, prove that you can write consistently and draw a decent audience and boom, you very well may find yourself next in line when a spot opens up here on the LOP main page. See that bold "Columns Forum" a couple sentences back? You can click that to find your way there now. After you read this, of course. There's also a great big link waiting down at the bottom, if you prefer.

This month our participants are...


KamNewton - A relative newcomer to writing on LOP, Kam joined in the Columns Forum just a few short months ago. Since then he has established himself as a voice to pay attention to and a likely future presence here on the Lords of Pain main page.

David Fenichel (@FFFightLeague on Twitter) Our most recent Columnist of the Month award winner, David has been kicking around the Columns Forum off and on for just over a year, in addition to appearing periodically over the last few years on The Doc's LOP Radio show, The Doc Says. He makes his first Fact or Fiction appearance here, very likely not to be his last.

D.O.N. - One of the Columns Forum's new stars of 2016, DON has been steadily improving his game to the point of overall awesomeness over the last few months. He makes his first main page appearance here in Fact or Fiction.

and...

mizfan (@SpectralGent on Twitter) - A former main page writer, the all time leader in Columnist of the Month awards and current co-host of two different shows on LOP Radio (Global Impact and WCW: The Legacy Series), mizfan has pretty much done it all. And now he's gonna do this.


You can click each of those gentlemen's names, there, to find their latest columns. From ranking WrestleMania main events to discussion of the indy scene to a look at some of WWE's biggest moments of the year and even an exhaustive ongoing series about the storied career of Bobby "The Brain" Heenan, these guys cover a multitude of bases as it pertains to excellent wrestling writing. That's kinda why they're here to participate in these festivities.

While we're on that subject, let's put 'em to work.


---




TLC has now come and gone, bringing with it gimmick matches, gimmick matches and even more gimmick matches. With other, similar PPV events like Hell in a Cell, Money in the Bank and the soon to return Elimination Chamber, WWE is currently awash with stipulation laden events. Some people love it, as such stipulations can sometimes lead to some of the most exciting and innovative matches ever seen. Others lament it, as they feel it inevitably becomes an issue of repetition, not to mention the watering down of gimmick matches that once carried inherent weight and excitement. All that having been said, is it FACT or FICTION that WWE should kill off the gimmick PPV events?




KamNewton - The gimmick PPVs remind me of 2009-2010, enough said. Elimination Chamber has historically meant "Let's find 3 guys we won't really push afterwards to accompany 3 guys we are pushing to fill a chamber." TLC is taking a feud and throwing ladder & chair puns into the promos. Stipulations are meant to escalate and/or draw the line of feuds, & should be sold as special attractions. There's rare investment in the feuds alone nowadays, so why would a cage or a ladder engage a viewer? This is a FACT.


David Fenichel - This one is FICTION. With the increase of "Special Events" with the brand split, gimmick Pay Per Views are more needed now than they have ever been in the past. Without the uniqueness of the gimmick events, 16-20 Special Events a year would get awfully monotonous. Events such as the Royal Rumble, The Elimination Chamber and Money in the Bank always bring both quality and a certain level of excitement to the fan base. Doing away with these theme-events would be a tremendously poor decision.


DON - I must say that I'm a bit torn on this one. I love me some gimmick matches, but it has been watered down over the years. This is really a two sided coin. On the one side, gimmick matches gives wrestlers who aren't that good in the ring to get some shine. On the other hand, when you have gimmick matches almost every month it means absolutely nothing. Like most believe, gimmick matches should be kept for the blowoff match of a feud. But these days its just gimmick match after gimmick match for the sake of having a damn gimmick match.

However, there are some gimmick PPV's that I'm quite fond of. TLC is a great concept in my mind. Not many people will agree, but to have a chairs, ladders, and tables match separately makes the PPV seem kinda cool to me. Then, to top it all off you have the full TLC match as the show closer. Ladders and tables matches are the norm by now, but they need to figure out how to make the chairs match a little better. Also, Elimination Chamber creates a good excuse to have a number one contenders match for the brand that does not win the Rumble. Overall, I'm going FICTION on this as gimmick PPVs can serve a purpose if used correctly.


mizfan - As defenders of the current schedule have mentioned (ad nauseum, in some cases), the "gimmick" PPV concept is as old as Survivor Series or the Royal Rumble. Is there a such thing as overkill? Probably so, but I think it's a matter of FICTION that WWE needs to kill off these PPVs.

However, I do have one important exception: I believe they should kill off Hell in a Cell immediately. It's the one gimmick that really only works for a blood feud, and as we've seen since the inception of the event, WWE is stuck either trying to awkwardly converge a bunch of grudge matches at an unusual place on the calendar, or otherwise running normal matches inside the Cell with no real need for the structure. Most gimmicks provide a unique challenge and therefore can potentially work in any feud, but the Cell's only purpose is to keep others out (sometimes) and allow those inside to beat each other as close to death as humanly possible.


---




In the last edition of this column back in October we discussed TNA and the prospects of their survival beyond the calendar year 2017. Opinions were split on that matter, but it's worth pointing out that said opinions were expressed before the recent (apparent) resolution of the company's legal and financial woes and issues with Billy Corgan. Dixie is now back in control, financial backing appears to be in place and strong and the prospects of the company are actually looking up for the first time in what seems like years. That's just on the business end, though, and many feel that it's just going to be more of the same old same old now that Dixie is firmly back in the driver's seat. Is it FACT or FICTION that TNA will manage to couple their newfound financial security with the sort of creative moves that could actually help them make positive strides forward?




David Fenichel - TNA doesn't have any talent behind the scenes. Absolutely no one involved with the booking or production has any clue as to how to run a successful promotion. No one cares anymore, and TNA will continue to be met with indifference in the future. I miss the days of 2005 when TNA PPVs were headlined by the likes of Kurt Angle and Samoa Joe, and their X Division actually brought something unique to the table ala the WCW Cruiserweight Division of the mid to late 90s. It's FICTION. TNA just needs to go.


DON - I'm not a regular TNA viewer, but from what I've been seeing; the show ain't that bad and they have some good wrestlers over there with some interesting angles going around. From a casual viewer's perspective I'm going
with FACT on this one. TNA should just not lose any more stars and make sure their wrestlers get paid. If the employees are happy the show will be way better off.



KamNewton - The same dumb-ass is running the ship. Do we give brownie points to captains of yachts who avoid icebergs? No, that's what they're supposed to do. This is FICTION. Dixie is supposed to not let her company go out of business. She couldn't get a deal with her own terms(financial backing while retaining power) so she lied to a guy (Corgan) that was willing to help & seemed invested in really building something new. Afterwards, she weasels another deal that kicks Corgan out, keeps her power, and gets more backing. They say that's the thing about lies; it only takes one pair of ears to believe. Pritchard's shoots recently confirmed my answer to fact or faction. He said her family views the talent as moving parts, like any one man can get replaced & they won't break their backs in negotiations if it does not suit them. Explains a bit why the current WWE World Champion & the man with the most over word in NXT took their leave.


mizfan - I'm probably as big a TNA fan as you will find around these parts. I think their TV product has been of consistently good quality for the past several years (albeit with a few hiccups), I think they have been smart in the talents they have hired and built up, I think they have adapted to a difficult taping schedule and ridden out some serious backstage storms. I think TNA will continue to quietly produce content better than most people realize.

However, I still have to say that this is FICTION, for the simple reason that the brand is poisoned. As long as the show remains branded as "TNA" and especially as long as Dixie remains in charge, it won't matter how well they do. Years of abusing their audience with Vince Russo booking and Hulk Hogan nonsense have put them too deep in the hole, and even though they've done a good job replenishing their roster they will always be seen as the company that failed to hold onto "their" guys, like AJ Styles and Samoa Joe. I think TNA will continue to hold steady for the time being and produce a good product, but unless something changes in the brand and the management, they will never be able to advance past their usual position.



---




I believe that it's safe to say that nothing in professional wrestling has seen as much almost universal love thrown its way as has NXT over the last few years. Despite call ups to the main roster depleting their ranks, a seemingly unending succession of injuries and what would appear, at least on paper, to be a severe lack of truly young talent set to take over for the brand's established veterans, each and every Takeover event seems to come off just as good, if not better, than the one that preceded it. Time is running thin, though, and that lack of young talent may soon become glaring if the post-WrestleMania song remains the same as it has in recent years. Is it FACT or FICTION that NXT can continue to maintain the same level of excellence should there be another massive round of call-ups after Mania?




mizfan - NXT is something of a golden goose for WWE. However, WWE has a history of killing golden gooses, so I'm going to have to go with FICTION here. I think they will continue to do good work in NXT and produce, at the very least, strong specials for some time to come, but I also think the decline of the brand has already started to some extent and will continue as WWE continues to pump new talent onto the main roster to fill their gargantuan time slots. There is still a lot of talent they can suck up from the independent scene, but at some point that well will run dry as well. I just hope WWE is smart enough not to suck the wrestling scene completely dry, because if they end up running smaller promotions out of business then where will the next crop of stars come from?


DON - This is a massive FACT. I recently wrote a column in the Columns Forum where I wrote about the influx of independent wrestlers that are coming into the WWE, especially NXT. WWE cannot manufacture there own stars anymore that is why they are raiding the popular wrestlers from other promotions to join their ranks. There are so many talented guys out there and there are always WWE scouts that are keeping their ears to the streets, so to speak.

It is for that reason that NXT will always succeed. They have a great star in Bobby Roode that can carry the brand. However, I have argued that he is main roster material. In any case, the male portion of the NXT ranks will always look strong. Its the womens division that might be a cause for concern. Asuka has absolutely no challengers and that is a major problem. Once WWE gets better competition for Asuka all will be well in the land of NXT.


David - Unlike most people, I believe that NXT has had a significant step down in quality since the likes of Kevin Owens, Sami Zayn, Charlotte, Sasha Banks, Becky Lynch and Bayley have been promoted to the main roster. The main events, both on the male and female side, just don't have the punch that they once did. With that being said, the product is still pretty good. NXT does a great job of staying within who they are. They are a wrestling promotion. That, coupled with the fan-base that is incredibly wrestler-friendly, should allow it to maintain the same level of quality. This is a FACT. It is unlikely that it will reach the heights of its peak, but it will still be a good program worth watching.


Kam - I believe in NXT. I'm one of those guys that caught on during Neville's title reign & can testify that the yellow brand restored my faith in a damn good product coming out of WWE, especially after....2010. But I'm a realist, and I know that one thing weighing them down now is incorporating outside stars that came in already over. When they come, there's always that clock waiting until we can see them on Raw or Smackdown (Nakamura & Joe's clocks are loudly ticking). They have their more "homegrown" successes like American Alpha, The Revival, Alexa Bliss, & Enzo & Cass,Tye Dillinger, to name a few. They stock the Performance Center full of prospects on the regular, so it's time those prospects emerge to make their names & take good time in building themselves. If that happens, they'll be fine, & guys will get called up beloved because we can say we saw them at day one. This one is FACT.


---




Finally, the Brand Extension has now been in effect for almost 5 months. It has almost doubled the amount of PPVs in that time frame, which was debated to be a good or bad thing in a previous FoF, and has given the spotlight to a few Superstars who otherwise may not have seen a peek of it. While perhaps still too early to determine whether the Extension has been a success or not, one thing that a large amount of the audience (at least those online) seems to be decided upon is which brand is superior up until this point, with many seeing SmackDown as the better of the two. I'm sure, though, that there are plenty of Raw fans out there who could argue their case that the red brand is superior, perhaps maybe even one of you. Or perhaps not. Is it FACT or FICTION that SmackDown has been the better brand up to this near first half year in the Brand Extension?




David - I'll go FICTION here. I think that Smackdown has done more with less talent, but the shows are roughly equal in my eyes. Raw has a much better main event scene than Smackdown. The Owens/Jericho storyline is incredibly fresh. Rollins and Reigns are both staples in the title picture. They have had the benefit of the Goldberg/Lesnar feud. Raw has the top three divas in Charlotte, Sasha and Bayley, and the top two tag teams in The New Day and Enzo/Cass. On the down side, they lack depth in both the tag and women's divisions, and the cruiserweight division has completely bombed. Smackdown on the other hand, is devoid of main eventers. AJ has been great, and I look forward to the eventual feud with Cena. Dean Ambrose isn't a viable main eventer to me. I think he's bombed at every turn. Wyatt and Orton can both be put into that position, but as heels are unlikely to end up there while AJ is the champ. On the plus side, The Miz is an excellent IC champ and both the tag and women's divisions are deep and well booked. Overall, it's a wash for me.


DON - I would say Smackdown is the land of opportunity for those who are willing to put the extra work in. Whereas RAW, even with the extra hour that they have, still focuses on the same superstars and have not built up anyone that I have visibly seen. The main argument is that RAW is too long and that is an argument that is undeniable. How can they focus on the same superstars for three damn hours? You would think that with all the time they have that they could have at least let another wrestler get some shine.

With RAW's talent they have the ability to be much better than Smackdown, but they are not using their talent correctly and they are not giving an ample amount of time to certain superstars in order for them to succeed. This is clearly a FACT.


mizfan - I admit my WWE watching is slim these days, but from what I have seen this is a definite FACT. Stuff like the Miz/Daniel Bryan confrontation, the hard luck Heath Slater story, the reign of AJ Styles, better fleshed out tag and women's divisions, better use of incoming talent like American Alpha and Alexa Bliss... from what I can tell, Smackdown is the brand which feels fresh and different, while Raw continues along pretty much the same road it's gone down for the last few years, and with diminishing returns at that.


Kam - This is not an argument. It's a FACT. While there have been sour spots of Smackdown, to be impartial, the fact that their consistency is so great is what puts them above Raw. Raw really called themselves shitting on Smackdown by nabbing the cruiserweights, yet they have failed in making them mean much outside of the CWC faithfulmore than longer backstage promos while setting up the purple ring. The fact that they are booked so spotty during an episode is sad. They have an undefeated female monster in Nia Jax that they can't book consistently because they have put themselves in a hole with Charlotte/Sasha; they don't have any more relevant women to make her streak matter(Beat Bayley on free TV; FML) & they can't have her lose the streak because they need to be able to use her down the line. Sad. Smackdown has a rookie that jumped leaps & bounds ahead of the curve and because of that, she is now the Women's Champion. It's because their matches matter. Their characters matter. Raw has the #1 contender to the Universal title basically holding the U.S. title hostage, while The Miz has miraculously resurrected himself into a main event candidate while holding the IC title. Raw is just too all over the place, bottom line.



---



And that'll do it for this month's edition of LOP's Fact or Fiction, the last one of 2016. If you're interested in what I thought of these subjects, well...

Steve Says...

FACT
FICTION
FACT
FICTION

We'll be back for another round shortly after 2017 makes its arrival with new topics to debate and a whole new batch of writer guys to argue their points.

Feel free, as always, to leave your thoughts below in the Comments section. If you're someone who REALLY likes commenting and would perhaps like to try your hand at one of these columns in the future, I once again invite you to make your way to the Columns Forum and take your shot at being LOP's next bit thing. Even if you don't have the inclination to write, the Columns Forum is a fantastic place to find the best wrestling columns on the internet, hands down. The amount of talent and diversity of styles are unrivaled anywhere else, bar none. You can join in the fun by clicking the spiffy image below.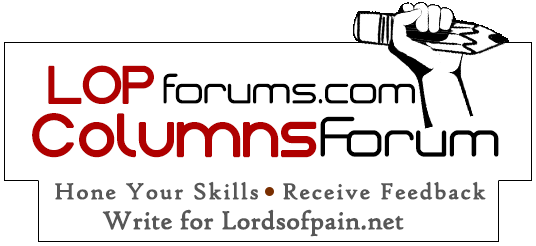 If you want to participate in one of these one day, this is your doorway.





Thank you all for giving us just a bit of your time! We all hope you enjoyed it as much as we did. As stated before, we'll be back in January with another round. Until then, take care of yourselves out there in the really real world and remember that nothing is trivial.

Much love, folks.






---