---



September 2016 Columnist of the Month, Degenerate: Struggle For Power - Blast From The Past


By Columnist of the Month
Oct 21, 2016 - 10:51:59 PM


Each month in the Columns section of the Lords of Pain Forums we hold a contest to determine which writer stood out as the best of a given month. In other words, the Columnist of the Month. The winner of this contest receives the right to post a single column here on the LOP main page.

Our winner for the month of September was a returning LOP Columns Hall of Famer, former LOP main page writer, Degenerate. Huge congratulations to Degen on a great month, and we hope that you enjoy this special edition of his column, making its first appearance on LOP in around 8 years, Struggle For Power.






Struggle For Power - Blast From The Past



Long time no see, LOP readers. This is Degenerate, and if you've been around LOP for at least a decade, you might remember me. I used to write this column, Struggle For Power, every two or three weeks back in 2007 and 2008. It's been a while, but here I am again, gracing the pages of this site once more to bring a little something that will hopefully entertain you.

This column is my reward for winning the September 2016 Columnist of the Month award in the LOP Columns Forum. Winning this award means a lot to me, despite being the third time I've won this vote. It feels extra-special because the last time I won this award, it was March 2007 - almost ten years ago. Life has drastically changed for me since then. Thankfully, it's all been for the better. I've been blessed with being able to live in such amazing places like New York City, San Francisco and now Japan. I also got married almost a year ago. Things have certainly progressed. I'm sure things have changed during the same period for just about everyone reading this, and it's my sincerest hope that it's been for the best.

As I began thinking about how my life was ten years ago, and all the change that has happened between now and then, I also began thinking how I've changed as a person, and I really have. There's a huge difference between a 25-year-old kid to a 35-year-old guy who's gone through quite a bit and has gained invaluable experience along the way. A lot of previously held thoughts and opinions have been altered significantly. As usual, as I was watching Monday Night Raw this week, I began to think how my mindset has changed with professional wrestling in the past decade.

I really can't rely on my memory to try to think about how my thoughts have changed in the past ten years. Hell, sometimes I forget what I ate in the morning for breakfast. Thankfully, I have saved up every single one of the columns I've written at the Columns Forum and the Lords of Pain main page. I have over 100 of these columns saved, and I started to dig through the archives to see where my head was at during in 2006 and 2007. I found a couple of patterns emerged while reading back on some of these words I wrote, which I wanted to share here.



Foot, meet mouth



It shouldn't be a surprise that ten years ago I said a lot of stuff that ultimately proved to be wrong. I was a lot more opinionated about things back then, especially on the Internet. Perhaps it was a clear-cut example of the Internet Fuckwad Theory. In any case, I found a lot of examples of my transgressions of the past, and I'm here to 'fess up with some of them.

In October 2006, I posted Struggle For Power #37 in the Columns Forum. The main topic of the column was about whether or not new wrestlers being brought into the WWE should start from scratch or be given a push due to their past accomplishments away from the company. I gave examples like Bill Goldberg and Booker T and what they did in the company after their WCW runs. But one example, in particular, stood out. I mentioned that one recently-debuted wrestler would never get his chance to shine despite his accomplishments on the independent scene. That wrestler? CM Punk. The same CM Punk who went on to have a 434-day reign as WWE Champion. Whoops. I think I didn't quite call that one correctly, did I?

A few months later, in April 2007, I wrote another gem in Struggle For Power #49. I made the following comment at the beginning of my column about a match that I wasn't particularly looking forward to that day, and I was being a bit negative towards it:

"Raw is in London tonight, promoting a rematch of Wrestlemania 23's Main Event between John Cena and Shawn Michaels. Personally, I'm not excited at all about this match. It's a television match, meaning that TV commercials and other time constraints will not make this match as good as their match was three weeks ago."

A few hours after I posted that, Cena and Michaels had an outstanding hour-long match, which gained a lot of praise and even went on to win Pro Wrestling Illustrated's illustrious Match of the Year award for 2007. I wish I could say that my words sparked this match going the way it did - it's more fun to think that I did. All delusions aside, it goes to show that sometimes, our gut feelings are just plain wrong.

Probably my biggest gaffe in my writing history has to be in Struggle For Power #52. I was a few weeks into my main page writing stint in June 2007, and the column was about how I considered a few wrestlers to be heroes of mine because of how they've dealt with issues in their personal lives. I mentioned Shawn Michaels because of his personal life changes between his first WWE run and his second. I also mentioned Eddie Guerrero being able to climb out of the dark depths he plunged into in the early 2000's before recovering and coming back to reach the pinnacle of the WWE. The third person I mentioned was Chris Benoit - less than two weeks after he killed his family and himself. Obviously, no one saw that tragedy coming, but hindsight being 20/20, I feel horrible writing about how much I admired this person.



Change of opinion



I've obviously changed my tune in those examples above, although I didn't write about those changes explicitly. As I mentioned in the beginning of this column, I've changed as a person, and I quickly saw a few instances of this in my previous writings.

In October 2006, for Struggle For Power #38, I wrote about a DVD I had purchased recently: the newly-released DVD set for Brian Pillman. The only thing I had seen about Brian Pillman before buying that DVD was his short WWF run, where he spent seemingly most of the time there healing from different injuries. I wrote about how hearing his story made me change how I viewed him and other deceased wrestlers that I didn't know about. However, as time has gone by, I've gained an even deeper appreciation for guys like Pillman. Even on the DVDs, I never took the time to watch his older work in WCW. However, I've been going through some older wrestling recently, and I saw a few of Pillman's matches in Japan, and that really changed my tune about him as a wrestler. I now wish he would have remained healthy for his the WWF run so I could have noticed his ability sooner.

For Struggle For Power #56, in July 2007, there was a tease for Chris Jericho's WWE return after a two-year hiatus. I mentioned in that column that while I dig Jericho, I would have preferred that his return would be kept simple and not be thrust into the main event scene due to his long absence as well as his age (he would be 36 at the time). He did return and the next year, he turned heel and started putting out arguably the best work of his career. After that moment, whenever Jericho would take a leave of absence and it would be teased that he was returning once again, I definitely wanted him to come back. Now here he is, almost 46 years old, and putting on another amazing run. I'm glad he's been put in his current role.



The more things change, the more they stay the same



Despite having plenty of times where my thoughts changed, I also noticed that there were a few topics that I discussed back then that are still a bit of a hot topic in the current age. It's not that those issues back then remained lingering for years. It's that we eventually got back around to some of these topics years later.

In Struggle For Power #35, back in September 2006, I wrote a column about the different WWE championship belts back then. During this period, John Cena had already introduced the "Spinner" belt, which a vocal portion of the fans really disliked. When Edge became WWE Champion, there was an angle where he would unveil a new championship belt since he didn't want Cena's old belt. Online fans rejoiced because everyone thought this meant the death of the spinner and the return of a more traditional style of belt. However, Edge came out with the same spinner design, just with a different centerpiece. The fans got pretty upset about this. Almost ten years later, Raw announced that there would be a new title, the Universal Championship, and a new belt would be introduced for it. The day came to present the new belt, which everyone was excited about. It was then revealed to be essentially the same design of the World Heavyweight Championship belt, just with a red strap. The fans again got pretty upset about this. Funny how people still get attached to the design of a belt.

A month later, in Struggle For Power #39, I wrote a column indicating that people were getting fatigued over the amount of wrestling shows on TV at the time. We had two hours of Raw, two hours of Smackdown, a monthly Pay-Per-View, DVDs coming out frequently, and more if you count other wrestling companies. I argued that wrestling was becoming less special and less of an event than it was before. Fast-forward to 2016, and now we have three hours of Raw, two hours of Smackdown and two Pay-Per-Views almost every month. Factor in the almost-unlimited content you can get online on the WWE Network and everywhere else, and it's a lot less special than before. I find myself skipping Raws and Smackdowns, and often skimming Pay-Per-Views because there's just too much, exactly as I was mentioning back then.



Nailed it



I surprised myself when I found out that I got something right. It took a while, though, but it proves that I occasionally got stuff right. In August 2007, I wrote a main page column in Struggle For Power #59 about a guy in another company who I thought could be used pretty well in the WWE, especially since his current employer didn't seem to have a clue about the type of talent they had on their hands. That person? A.J. Styles. At this point in A.J's career, he had done it all in TNA. He was a multiple time world champion when they still used the NWA title in the company. He held the X-Division championship during arguably the hottest period for that division when he was having all-time classics against Christopher Daniels and Samoa Joe. He was tag champ with guys like Jerry Lynn and Abyss. This all happened while TNA was growing as a company.

By August 2007, TNA had attracted a few wrestlers who had a lot more TV exposure than A.J. Styles had at that point. Guys like Kurt Angle, Sting and Christian Cage were the top dogs of TNA, while A.J. Styles was nowhere to be found in his previous position. In fact, he was relegated to the role of being one of Christian's flunkies along with Tyson Tomko. As the years went by, A.J. Styles continued to be shuffled aside. It took a long time, but thankfully the WWE did whatever they did to bring him in and it's paid off immensely.

I finally nailed one thought properly. Hey, even the worst Major League Baseball player doesn't have a .000 batting average, right? In any case, it was fun to read back on the things I wrote about and how much things have changed, or in many cases, how they haven't really changed at all. Try to spend some time thinking about things you thought about in the past. You might laugh. You might cringe. But whatever it is that you think about, I'm sure you'll realize how much you've changed as a person. And that's not a bad thing - that's a good thing.

Before I head out, I want to point everyone's attention to the LOP Columns Forum. The Columns Forum contains an outstanding collection of columnists who post amazing columns just like the ones you read here on the LOP main page. There's a lot of great work there, and I highly encourage you not only to read some of those columns but to leave some comments or feedback as well. We'd also love for you to join us and write some columns as well. If you're interested in someday writing for LOP, this is the place to go to.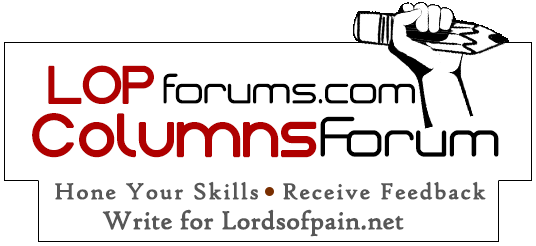 Here are three excellent examples of the type of work you'll find in the LOP Columns Forum:

The Outsider's Edge - The Total Package Series by Rey Ca$h and KingKervin: This series has Rey and Kervin ranking 20 current WWE wrestlers in a series of categories like mic skills and mat ability to see who's contains the total package. Follow their series to see where your favorite WWE wrestler is ranked.

Oliver's Twist: An Aging Renaissance Piece by Oliver: Oliver has an interesting column about where John Cena's career can potentially go to now that it's winding down.


Catching a Rising Sun I: Starrcade in Tokyo and Top of the Super Juniors by XanMan and Degenerate: Yep, I get to plug my own columns as well! Xan and I wrote started this series to begin digging into the history of New Japan Pro Wrestling, starting from the WCW / NJPW Supershow from March 1991.

I hope you enjoy all of those columns, and I look forward to seeing some of you participate in the Columns Forum as well.

'Til next time,
Degenerate