---



May 2013 COTM - The Bright Side: Positivity Report RETURNS, One Week Only!


By Mizfan
Jun 15, 2013 - 8:49:51 AM


Back in black! But first a word from our sponsors...
"A Complete History of the Monday Night War: June 1997" by Prime Time
"Murphy's Law Presents: Running Impact Diary (6-13-13)" by Dropkick Murphy









Greetings, mizfan fans! Long time no see on the MP! Well, unless you've been listening to myself and my good buddy the LOP Mystic do our weekly thing on LOP Radio (cheap plugs galore!) http://www.blogtalkradio.com/lordsofpain/2013/06/14/impactherevolution-with-lopmystic-mizfan. But aside from that, the mizfan has been tragically absent from the front page of this fine establishment for far too long now, toiling in the dark underworld of the columns forum. Which, turns out, is a pretty bright and cheery place to toil, so if you're ever looking for some more quality writing it's a great place to start.

But we aren't here to talk about the CF, we are here to talk about the week that was in wrestling! For anybody who missed my original MP, the Positivity Report will take the past week of wrestling and pick 5 things to love and 1 thing to hate. Ready? Set? No? Well come on people, try to keep up!




Five Things To Love





#5 Bad Influence






Ohhhhhhhh what a tush!



Oh, and right out of the blocks we are traveling over to Impact Wrestling! Spoiler alert mizfan fans, while the weekly 3 hour chore known as Raw is largely treading water in the slow summer months, the much maligned TNA has actually been hitting a hot streak lately. I want to just take a moment to say here that for a long time I really didn't have much time for TNA. Sometimes they were good, sometimes they were bad, sometimes they were awful (sup Jeff Hardy?), but I was a "WWE guy". But recently, especially in the last 3 months or so, TNA has really been taking their product to a new level in terms of being consistently entertaining, so don't be surprised to see Impact have quite a large presence on this list.

And where better to start than with the incredibly awesome team of Bad Influence? Consisting of long time veterans and in ring wizards Christopher Daniels and Frankie Kazarian, these two have found a way to become greater than the sum of their parts since they joined forces a year and a half ago. While WWE continues to revolve their entire tag division around 1 or 2 teams at a time and treating any other pairings as an afterthought, TNA has a rather hopping tag division at the moment and Bad Influence is front and center. These vets are to a point where they are finishing each other's sentences, and far from being just a team of in ring dazzlers they have developed incredibly entertaining complimenting personalities outside the ring as well. Half hipster, half prankster, and all smug, these two will have you rolling in the aisles before you've finished your first appletini. This past Impact they delivered a delightfully quirky promo involving a piano backstage before defeating current tag champions James Storm & a much improved Gunner in a non-title match to qualify for the Bound For Glory Series. More on that later, mizfan fans!




#4 Kurt Angle vs. AJ Styles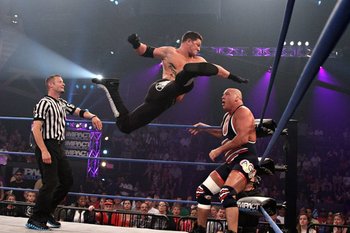 Banzaaaaaaaaaaaai!



Sticking with Impact because hey, they've earned it, we move on to a blockbuster rematch from the recent Slammiversary PPV, the match up you can see time and time again and it will never get old, Kurt Angle vs. AJ Styles. We've seen this take many forms over the years, but the fact of the matter is you've got two of the most incredible athletes to ever step into the squared circle, in their prime, facing each other on free TV. You've got to love that, eh? This match up was great stuff as always, with plenty of rapid fire exchange, chained submission, a bit of flying about, everything you could want of a high quality TV bout between two world class competitors.

But the thing that really puts this over the top is the huge intrigue currently behind the AJ Styles character. After rumors of a personal scandal rocked AJ's world, he was disgusted by the lack of faith his supposed friends in TNA showed in him. Since that time AJ has been walking alone, shunning all allegiance or friendship in the company a refusing to take sides in the ongoing TNA/Aces & 8s conflict. AJ has changed his entire wrestling style to reflect his new character, and it's a fascinating transition to behold. More deliberate and vicious than ever before, this isn't the clean cut family man we have seen AJ play for years now. He's exploring a whole new side of his character, and unlike past attempts to add some edge to his personality this one is actually fascinating to see. By defeating Angle, AJ has now also qualified for the Bound For Glory Series, a 3 month long competition set up to crown the #1 contender at TNA's version of Wrestlemania, Bound For Glory. It's hardly unexpected for TNA to put AJ in the running, as many have him pegged as the favorite to eventually take the TNA Championship from Bully Ray, but it's just great to see the storyline moving right along in a fantastic TV match to boot.




#3 Daniel Bryan VS Seth Rollins






From the high school gym, to the stars...



For those of you looking to get out of the TNA lovefest for a while, here's your chance! It should come as no surprise to anyone with half a brain to see this match from Monday Night Raw end up with a high placement on this hallowed list. These guys have been going at it for at least 5 years now, but this was their first meeting on the grand stage of WWE. And by gawd, they did not disappoint! Daniel Bryan is a very real contender for the single best thing in all of wrestling right now, and while Rollins hasn't impressed some with his promos he has a good case for being the best in the ring when it comes to the trio known as the Shield. Together, the Ring of Honor veterans made some magic together and we were all lucky enough to watch. Daniel Bryan has been even better than usual since starting this "weak link" angle, and even though the pairing of Bryan and Orton positively screams "thrown together" and is an obvious placeholder storyline to keep Bryan busy until his singles push can rematerialize, you can't take away from WWE that they easily had the best match on TV this week. Props to both men, and here's hoping WWE is listening to those massive reactions for Daniel Bryan!




#2 Bound For Glory Series Kick Off






The Road To Glory Begins Again...



Imagine it's January again, and you're watching the Royal Rumble event. You've watched all the buildup, you've heard all the stats, you've seen the participants and you've made your predictions. Now the first two men are in the ring, and the clock starts counting down. It's a hell of a feeling, right? Just knowing the next 60 minutes or so will be packed with action, surprises, shifts in momentum, and at the end of the day a winner will be crowned with massive implications for the future of the company. Now imagine all that, but instead of a measly hour laid out in front of you there are three full months of action to look forward to! That's what TNA fans get to feel about the Bound For Glory Series which is just now beginning.

I've touched on the contest before in the first couple of points, but I really can't stress enough how exciting this is for fans of the TNA brand, both old and new. June is historically a really awful month for WWE in terms of interesting storylines, but for TNA they are just now entering their Wrestlemania season and business is picking up. Before this week's Impact the only official members of the series were the freakishly strong Hernandez, the vicious veteran Samoa Joe, and wildcard newcomer Jay Bradley. Through the course of a single Impact the remaining nine entrants were selected, and it's quite a crew. Former winners "It Factor" Bobby Roode and "Hopefully Clean" Jeff Hardy were grandfathered in, and as previously mentioned the lone wolf AJ Styles and the devious team of Daniels and Kazarian joined the line up as well. Rounding out the cast is the supremely talented Austin Aries, the mysterious and occasionally psychotic Joseph Park, Aces & 8s representative Mr Anderson, and of course the wrestling prodigy known as Magnus. The real pleasure of this competition is that you can arguably make a case for most of these guys to come out the winner. There's rumored favorite AJ Styles leading the pack, to be sure, but I've seen many call on Magnus to come out on top as well, and when it comes down to it you can't rule out almost any of these guys (sorry Kazarian, it ain't happening).

If you haven't been a TNA fan in the past but you're feeling a bit ambivalent towards the WWE product as of late, now is the time to give these guys a chance. The incredibly competitive selection process of these 12 men was a joy to watch this past Thursday, and it's only going to continue to ramp up from here.

But in the end, there can really be only one thing at the top...




#1 Aces & 8s






They ain't your grandad's heel faction.



I know there are those out there who doubt the awesomeness of the Aces & 8s. You've read names like Garrett Bischoff and Mr Anderson, like Devon and D'Lo Brown, and you've assumed the worst. Well I can tell you here and now, dear readers. This group is NOT the nWo, they are NOT the Four Horsemen, they are NOT the Main Event Mafia. They are not meant to be a collection of main event talents all vying for the throne. This is a group that welcomes in those with weaknesses, and it makes them strong. It takes in those who have been cast aside and it makes them necessary. It takes those missing something in their career and makes them whole.

I'm not just talking in kayfabe here, people. That element is there, and it's an incredibly entertaining aspect of the stable, but I'm talking in reality as well. The Aces & 8s club is an island of misfit toys, of performers who didn't seem to fit anywhere, and it has elevated them together to something they could never have become individually. Together they are strong. Alone, Mr Anderson was a washed up relic of the mid 2000s who never found his stride, but with Aces & 8s he is an unhinged mad dog to be let loose at the drop of a hat. Alone, Doc and Knux were talented but unemployed WWE cast-offs with no national stage on which to ply their craft. Enter Aces & 8s, and they become grim heavy hitters who are as likely to break a bone as they are to win a match. Garrett and Brisco were developmental talents with limited prospects and no credibility, but under the wing of the stable their weaknesses are hidden and their growing strengths are showcased.

And Bully Ray… if you aren't yet familiar with the fantastic work of Bully Ray, I am begging you, start googling that shit yesterday. The man once called Bubba was at one time considered a career tag wrestler, but he has worked his ass off and completely transformed himself into a vicious, sadistic mob boss with more heat than you would believe. His seemingly boundless energy and hatred overflows in every word he speaks and every action he takes, and every time he appears on screen he positively takes over the room. There is very little in current wrestling to match what Bully Ray brings to the table, and until CM Punk comes back there is very little debate about who the best heel in the business at this moment is. Once he comes back, then we can talk about it, but not before.

There was plenty of Aces & 8s goodness to go around this past Thursday, from some interaction in the opening promo, to a couple of fascinating backstage segments showcasing how the group is built on loyalty and brotherhood in spite of being a heel faction, but most of all you can't help but appreciate the Aces & 8s battle royal, which ended up both humorous and exciting in equal parts. Impact GM Hulk Hogan set up a battle royal between all the members of the club with the prize being entry into the BFG series, hoping to set them against each other. However, Aces planned ahead and selected the winner beforehand amongst themselves, sticking Hogan's gesture directly back into his face. The match itself was a kind of spiritual successor to the 1997 European Championship match between Shawn Michaels and Hunter Hearst Helmsley, where the duo paraded around the ring in a farcical display of comedic combat. This was in much the same vein, as eventual winner Mr Anderson employed numerous deadly techniques such as the "finger gun" and some classic Hulk Hogan-esque hammy offense to get the job done. Things abruptly turned serious as Doc (former WWE wrestler Luke Gallows, for those who don't know) took exception to the proceedings and attempted to turn it into a legitimate contest, creating friction for the very first time in a group that has been extremely unified up to this point. After hashing things out backstage it appears that Doc returned to the fold by the end of the night, but what could the future hold for the grizzled brawler? Only time will tell, but the many twists and turns of the night were full of potential and had my mind racing. TNA has been exceptional at telling long term stories as of late, and it looks like there is one more thing on the table now.


So there you have it, mizfan fans! Five things to love, and most of them from TNA no less! That's not to say there wasn't more good stuff in the WWE this week (anyone see that Antonio Cesaro/Sami Zayn match from NXT? Check it out!), but Impact is really firing on all cylinders lately and is really holding my interest more than the slightly directionless #1 promotion.

Speaking of, there is a dark cloud to every silver lining, and so with some regret I must now turn to...




One Thing To Hate





Triple H/Vince Dick Measuring Marathon






"Why won't you die already, old man?!?"



I can already see people calling this typical IWC bitching, but let it be know that typically I am a huge, huge fan of Vince McMahon on TV. I know most people tired of his antics years and years ago, but I am almost always entertained by the crazy old bastard on my screen. No lie, I thought his match with CM Punk last year was one of the most entertaining segments I have ever seen. When a grandpa is launching himself over the announce table to smash in the head of one of his top talents, you know he's still in love with his job eh?

And that's not to sell Triple H short either. I'm not the biggest fan of the guy by any stretch, but there's no denying he's a man of many talents with a legendary legacy.

So why then did I find everything these guys this past Monday so utterly cringe worthy? From the downright painful start-stop opening sequence (featuring the remarkably unremarkable Curtis Axel) ruining any momentum the show might have had from the get go, all the way through the ham-fisted segments backstage where each man tried to paint themselves as the bigger badass, right down to the channel change inducing exchange at the end of the night ("no you should do the match, no I shouldn't do the match," HAHAHA STOP IT), I couldn't wait for the angle to just go away and die. Unfortunately, it doesn't look like it's going to happen any time soon, as I continue to see advertisements based on the fallout between Triple H and his father-in-law. Spare me.

And does anyone else feel bad for Curtis Axel in all of this? I understand that he now gets the benefit of claiming victory over a couple of legendary wrestlers, but watching Vince McMahon try to put him over and bury him at the same time is confusing to the point of making me want to throw my hands up in the air and just forget about the whole thing. Vince's clumsy "oh Curtis Axel is great but he's lower than shit compared to you Hunter" bit was some of the most awkward stuff I can remember seeing wrestling. WWE once again tried to walk the line of making someone look good next to Triple H while still making him appear to be a god come to earth, and once again they bungled it rather badly. I'm not saying Axel can't recover, but I really think any benefit to his otherwise wholly uninteresting character is quickly dissipating as more and more people point out that he's so off the radar he shouldn't even be mentioned in the same sentence as the people he now holds victories over. Confused yet? Yeah me too.

The point is that this angle doesn't seem to have a payoff that's useful to anyone. If we do finally get that Triple H vs. Curtis Axel match for real, then either Triple H gets the win and makes Axel REALLY pointless or one of Heyman's other clients interferes and Hunter will see himself rehashing one of his previous feuds yet again. Please no more Lesnar! And if the payoff is Triple H vs. Vince McMahon in some form, I'm telling you right now I want to be counted out of that audience. Any reasoning behind that feud is about a decade old, and I shudder to think what contrived reason WWE would cook up to keep it going.

And hey, one other thing… how about NOT running a storyline about how Triple H is too badass for concussions while you have MULTIPLE wrestlers with REAL concussions sitting on the shelf, WWE? Yikes, I think I have to sit down.





Well that's all she wrote for the main page return of your humble mizfan, dear readers! Were you glad to see me? Did you forget I existed? Is my TNA love too overpowering? Are you heavily invested in finding whose dick is longer in the WWE head office? No sledgehammer jokes, please! As always, feel free to let me know what's up in the comments, through the forum, or by contacting me directly at mizfanlop@gmail.com, and don't forget to look for me in the Columns section of the forums for more Bright Side goodness. Until we meet again, mizfan fans, stay safe, healthy, and of course, awesome.