---



March 2014 COTM - An American Motion Sickness: Dance Dance Dance (A Cult Tribute)


By Cult Icon
Jun 2, 2014 - 5:07:36 AM


Victory!






So this is it huh? This here is the main page of Lords of Pain, the Mecca, the abyss that the lead singer of Disturbed is running to in that "Stricken" song. I got to say, I thought it would be bigger. But what am I even saying here? This is the biggest column that I've likely ever written, and not only am I once again blowing the chance of having an excellent intro, I haven't even introduced myself. For those of you who haven't read my loony, out of control entries in TripleR's DOA canon, I'm the guy down at the Columns Forum who never posted his COTM piece last year and a man that loves outdated pop culture references, memes, gifs, Skandor Akbar, strong independent blonde women who don't need no man, and Paige. But you probably could already tell that after I referenced Disturbed and a line from [I]Road House[/I] in the first paragraph. Man we're off to a great start here!





But enough about…me I suppose, you're here for a wrestling column and wrestling is what you're going to get. So what are we going to talk about? Well, seeing as this is a very big opportunity here for me being on the main page and all, I could take the chance to talk about some current topic going on in wrestling today, perhaps even deliver some revolutionary grand take of sorts. But I'm not going to do that. Last year when I won my first COTM, I made the mistake of thinking I had to do something unbelievable, which ultimately led to me not doing anything at all. So I'll tell you what I'm going to do; I'm going to do what brought me here and that's be me, the honest goofball who not only loves wrestling but loves the things about wrestling most people don't see. For those of you who have never read me, I do a thing on the CF known as the Cult Tribute, where I take a look at the careers of wrestlers who most of the wrestling audience has likely overlooked. Today, I'm going to do what I should've done a year ago and write about one of my favorite wrestlers of all time; the original dancing wrestler, a man you may know as "Das Wunderkind" Alex Wright.





Cult Tribute: Alex Wright






What You Already Know



Born in Nuremberg, Germany on May 17th, 1975, Alex Wright would spend his entire career in World Championship Wrestling, wrestling there from 1994 to 2001 when WCW closed its doors. His peak came in 1997/98, when Wright was turned from cookie cutter face into a techno loving, American hating pretty boy heel. Think David Hasselhoff, but with talent and no bacon cheeseburger. The gimmick would allow Wright to get over, and he would go on to capture both the WCW TV and Cruiserweight titles in 1997 as well as forming a hilarious tag team with fellow dancing wrestler Disco Inferno. Despite his success and skill, Wright was never signed by WWE after WCW closed, and has not worked for another North American wrestling promotion since 2001. At least he's got a great memes of him dancing though.








What You Didn't Know



Alright onto the good stuff now! As it turns out, Alex Wright comes from the long line of second generation wrestlers. His father, Englishman Steven Wright, was an accomplished wrestler himself, having wrestled all over the world during the 70's and 80's, including a notable stint in Stu Hart's Stampede Wrestling. Bret Hart even mentions Steve in his book, although he's about as kind to him as NBA officials are to the team playing the Miami Heat. Wright would actually be trained by his father as well, and worked in several wrestling promotions in Germany and Japan before joining WCW. Amazingly, he made his wrestling debut when he was only sixteen years old.





Perhaps the most notable thing to fall through the cracks on Wright's career is the fact that he actually changed gimmicks. Despite the success he had as the dancing German, Wright was taken off TV by WCW in late 1998 and it was decided the he'd be repackaged. And let me tell you, not since the transition from [I]Conan the Barbarian[/I] to [I]Conan the Destroyer[/I] has there been a repackage this radical. Wright was transformed from the blonde haired dancing pretty boy into the guy you'd expect to see at a Rammstein concert, sporting an all black look, a goatee and black Mohawk. Still a heel and now even more anti-American than previously (Wright now refused to speak English, instead using the worst translator in the history of time), WCW christened Wright Beryln, and likely believing this new serious character would be enough to take make the talented Wright into a player.

So what happened? Well as per usual, WCW dropped the ball. Just as Berlyn was about to debut, the Columbine Massacre occurred, as well as the resulting media backlash against foreign industrial rock bands (the same culture the Berlyn character was based on). WCW wisely chose to hold off on the debut, but it definitely cooled the momentum to the point that when Wright finally reappeared as Berlyn in the summer of 99, there wasn't much to build on other than the shock value of his return. From there it just got worse; Berlyn's first feud was to be with Buff Bagwell, who ultimately refused to put Berlyn over to the point where he backed out of a match between them at Fall Brawl 99. Hacksaw Jim Duggan took Buff's place, and proceeded to no sell all of Wright's offense. Despite winning that match and Buff finally agreeing to put him over on Nitro the next night, the character was damaged to the point of no return. It didn't help that WCW also chose to saddle him with the worst moveset of all time (his finisher was a Hangman's Neckbreaker. Or as I call it, the Attack of the Clones of finishers) and quickly developed a fetish for Wright's bodyguard The Wall, a massive (albeit talented) wrestler. Berlyn last less than five months before Wright was sent off television again, not returning until late 2000 to reform his partnership with Disco. By then it was too late for both Wright and WCW, although he would capture the tag titles (which were about as prestigious as Christian Slater's resume post 2000) with future WWE Hall of Famer General Rection (Tough Enough's Bill DeMott) during WCW's final tour of Germany.

Since leaving WCW, Wright has actually remained active with professional wrestling in Germany, where he runs the wrestling promotion New European Championship Wrestling (NECW) as well as his own wrestling school that is fittingly called "The Wright Stuff" (on top of this, Wright has also worked as a banker and fitness instructor. He's like Chameleon from Machete Kills). He's also seen his reputation grow; Ring of Honor fans used to chant his name at one point during the mid 2000's, and the WWE has recently reached out to him several times, including scouting his talent and NECW and inviting him down to the Performance Center in Orlando. Arguably, Wright has become even more valuable post retirement than he was as an active wrestler.








Favorite Moment



Usually I reserve this spot for the wrestler's best moment, but I'm going to go here with my favorite one seeing as it's both highly entertaining and because Wright vs. Ultimo Dragon from Clash of the Champions cannot be found on the internet. This match is in fact one of Wright's first matches ever for WCW at Starrcade 94, where he goes up against another young competitor named Jean Paul Levesque. If that names sounds familiar, that's because Jean Paul Levesque would grow up to become the wrestling "tyrant" we all hate to love, Triple H. He does do a mean dance I hear though.





So why is this match so entertaining to me? One, Bobby Heenan completely kills it on commentary during this match, thus elevating the quality immensely. Two, it's not a bad match. Yes, the crowd was put to sleep faster than someone watching Bran Stark journey beyond The Wall, and it's quite clear both men still need to polish their skills, but the match works for what it is. And finally (SPOILER ALERT), Wright actually beats Triple H! That's right, the guy who has main evented (and won) Wrestlemania's and "buried" numerous stars along the way to do so got beat by the dancing German wrestler in what you could argue was the right decision! I like to believe that this defeat is the reason Triple H became such an egomaniac years later (you know, if you believe that sort of thing), and that he spends every waking hour wondering how Alex Wright is the only guy he was never able to beat. Then again, I'm also the dude who believes Daredevil is better than Spider Man.









Alex Wright vs. Jean-Paul Levesque (HHH) by Stinger1981






Conclusion



When I think about Alex Wright, I find myself constantly amazed by how great of a career he actually had. It's easy to forget that the dude wrestled for seven plus years in one company (during a time when people were jumping from company to company like Frogger in the freeway) and won three titles before he even turned 26 years old. That's amazing. I could make a strong argument that Wright held the second most prestigious title WCW had to offer in 1997 when he won the Cruiserweight title from Chris Jericho. I could make a stronger argument that he was one of the 10 best technical wrestlers WCW had to offer during the mid 90's when he was having great matches with Jericho, Ultimo Dragon, Dean Malenko, Eddie Guerrero, Chris Benoit, and others. And that doesn't begin to even mention how awesome a job he did at molding his heel character. Mr. Tito once said Wright only got over as a heel because it was 1997 WCW and no one could do wrong that year. He was dead wrong; Wright was able to get over because of his awesome in ring talent and the ability to combine the cocky pretty boy into the arrogant foreigner to create a pretty revolutionary heel. Because of all that, Alex Wright would go on to have a pretty awesome career.

Could it have been better? I think so; I wish like hell WCW had used the Berlyn character correctly, and I'll never understand why WWE didn't make a better effort at bringing him in during the mid 2000's. Hell, I don't understand why they won't bring him in as a wrestler now; Wright is still only 39 years old (which is younger than both Triple H and Batista and only two years older than top star John Cena) and has far less wear and tear than most wrestlers his age. You're telling me he and Fandango couldn't have an entertaining feud today? The bottom line is in the end, missed opportunities or not, Alex Wright was an entertaining talent who at least left his mark on this fan during his wrestling career. And isn't that what's most important? I'm gonna say yes before I start talking myself out of it again.

And there it is guys. I hoped you enjoyed this as much as I did. I'm not sure if I'll ever be back in this position again, so I'd just like to thank everyone, from family to friends to fellow columnists back in the Forum for helping me become the writer that I am to get into this position. If you liked what you saw, send me an email (and don't laugh at it. I WAS JUST A BOY!) or come find me in the Forum, where we party longer and harder than Adam Rose. Till then, enjoy Payback, look at pictures of Summer Glau every chance you get, remember that Jon Snow knows nothing, bring back the ****ing Hartford Whalers, and most importantly, do the DUCHOVNY! Whatever the DUCHOVNY may be.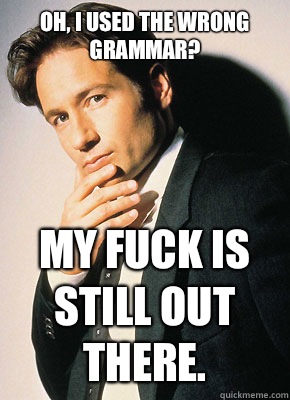 Please change disks to continue...