Each month in the Columns section of LOP Forums, we hold a competition to determine who was the best of the previous month. In other words, the Columnist of the Month. The winner earns the right to present you, the Lords of Pain main page audience, with an example of their work, laying the foundation for what will hopefully, eventually be a permanent spot on the LOP Columns roster.

The month of August saw an excellent run by a guy who has been bubbling just under the surface for almost a year. You may recognize the name from his appearances on LOP Radio's The Doc Says, or because you've been fortunate enough to read his work before. The guy in question? Rich Latta, who I'm quite sure you'll be seeing more of here on Lords of Pain as time goes on.

If you would like to write for Lords of Pain, maybe take your shot at knocking this dude off his high horse, the path to doing so starts with the Columns Forum. You can visit it and begin your own journey by clicking the image below.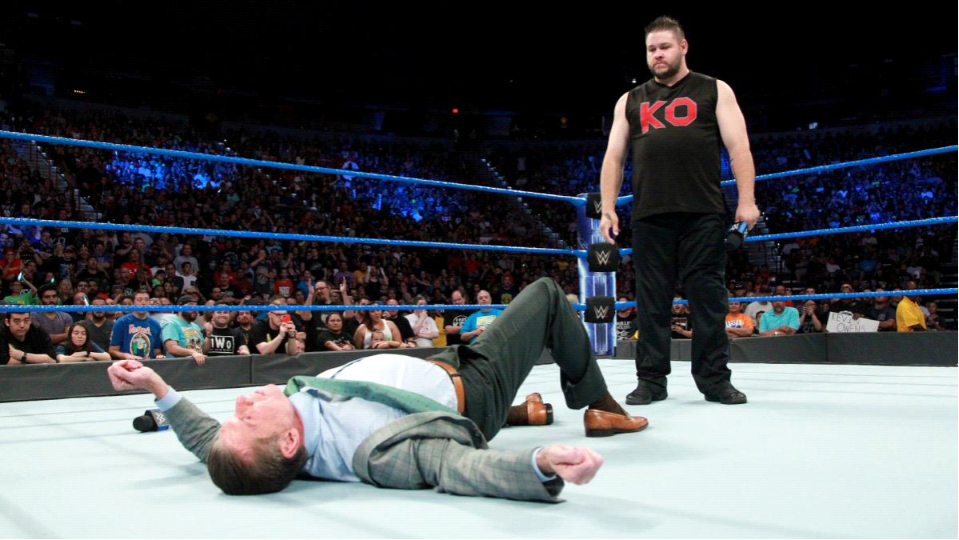 Latta's Lariat #23: Did Kevin Owens Just Become The Biggest Star on Smackdown Live?
Kevin Owens has been on the WWE Main Roster since May of 2015, when he debuted against John Cena. Throughout their trilogy of matches, especially the first one, Kevin Owens looked like WWE's next great star who resonated with multiple parts of the fan base, had credibility in spades and could stand opposite of any opponent and get his style through.

He steadily built himself in high profile matches with Sami Zayn, John Cena, and Dean Ambrose while picking up few midcard titles along the way until his crowning achievement came, The WWE Universal Championship which he won with assistance from Triple H.

To me it was a reward for dues that were paid long ago, but in holding that title, Owens lost some of what initially made him so appealing. The danger, and outside feel that entered with him in NXT got replaced by chinlocks and chicken-sh*t heeldom. Who can forget when he power bombed Machine Gun Kelly into that "Bolivion" Mike Tyson was talking about? His in-ring performances on PPV were never in question as he thrilled in main events against Seth Rollins and Roman Reigns when the booking didn't get in the way. Instead of Kevin Owens, King of the Hill, it was Owens and Chris Jericho, with Jericho arguably eclipsing Owens until their split.

He was squashed for his Universal Championship against Goldberg; I hate the fact I just had to type that, and he moved into feuds with Chris Jericho which was a result of their natural chemistry as partners, then he was part of a total whiff of a United States Championship feud against AJ Styles that came off like, "Both these dudes were world champions in January, now they are fighting for a lesser title while the WWE title gets experimented with."

That time has led to Kevin Owens busting Vince McMahon's head to the white meat. Deep in a feud with Shane McMahon, Owens has recaptured that dangerous feeling he had when he laid out Sami Zayn on his first day in NXT. I haven't been the biggest proponent of Shane McMahon since EVER in life, but depending on what this feud is designed to do, Owens could come out of it in a CM Punk like state where he's made for life, and fully unleashes on the company or his opponents while showing he is among the best WWE has to offer.

Freed from his prizefighter persona, we've entered a new era of Kevin Owens. The face of America? Dead. Chris Jericho's buddy? Outta here. Kevin Owens is primed to main event Hell in a Cell as just this menace to WWE. As Jinder Mahal continues to not offer main event level performances, and AJ Styles is condemned to the midcard title, Owens has used this new found freedom above both championships to squabble with old foes like Sami Zayn whom he regularly torments with psychological warfare, and now Shane McMahon who is tailor made for disgruntled wrestlers to take their aggression out on.

As infuriating is it was to see AJ Styles vs Kevin Owens slowed down by the addition of awful finishes and special referee stipulations, seriously the Styles vs Owens feud was like watching two great 3 point shooters competing in a shootout using their non-shooting hand, it has led Owens into a career defining match that will fully indoctrinate him to those who may still be sleeping on him.

His attack on Vince McMahon resonated in another respect which I couldn't dare write this column without mentioning. Kevin Owens beat up Vince McMahon for all the booking atrocities he's done since the 2017 Royal Rumble to some folks. Yes, for taking the title off of AJ Styles, to letting Randy Orton win the Royal Rumble, for making Shinsuke Nakamura lose to Jinder effing Mahal, for booking entire PPV's where no babyfaces prosper, and I could keep going but I'll break into 3,000 words.

However, when someone attacks Vince, or does an angle opposite of him they are usually solidified forever. This Owens vs the company saga is similar to the AJ vs Shane one because like AJ, he was pushed out of the world title spot at Wrestlemania, but Shane has been more organically linked to Owens than AJ was. When tracing back the steps to this feud, Owens has embarrassed Shane with historical footage, and brought his traditional mic skill to the plate every time as he's ripped on Shane for falling out of helicopters and secretly being like every other McMahon.

On September 12th, 2017 did Kevin Owens become the biggest star on Smackdown Live? No Question.


Last Lariat
As we move forward to the Hell in a Cell match, much will be made of whatever Shane will do to top falling off the cell at Wrestlemania 32, but this isn't about him. Shane McMahon vs Kevin Owens is the key to the rest of Kevin Owens career in WWE. He's barely been without a title since the day he showed up, but those championships are almost forgotten because of the speed and amount of content WWE puts out. In a situation of constantly redefining one's self, he's completed half of what he needs to become the cornerstone of Smackdown. All that is left is the wrestling. And that's the easy part for Kevin Owens. He'll probably block me for writing such glowing things about him.
Rich Latta is a writer and rap musician, and has been a wrestling fan for over 20 years. He hosts The @OneNationRadio Wrestling Podcast for SocialSuplex.com and is constantly in search of the meaning of Word Life.
Twitter @RichLatta32