---



January 2015 CotM: The LoP SuperFriends- Lucha Underground Edition


By Cult Icon
Mar 17, 2015 - 9:06:25 AM


LordsofPain.net is proud to present to you the Columns Forum January 2015 Columnist of the Month- Cult Icon. For this edition, he's brought along some friends to talk about a topic that I've been very high on lately, Lucha Underground. Enjoy!



***************



But then again, who does?





And so he's back, from outer space! Yes good people of the main page, your favorite Scott Steiner loving columnist is here again to...present you something a little different. One of the great things about writing in the wonderful underground dystopia known as the LOP Columns Forum is that there's some pretty cool dudes down there, some of who write just as well as me that you sadly don't get to see. Not today. After a very, VERY close vote for the January COTM award that I very barely pulled out, I decided to come up with a new idea. Today, you're going to see a Fact or Fiction style column that I like to call the Super Friends. What is the Super Friends? It's myself, February COTM winner Subho, the ultimate optimist mizfan, the wrestling historian LWO4Life and the exciting up and comer WrestlinSight Gav discussing the coolest thing in wrestling you kind of know about; Lucha Underground. I know, I know, it may not have the Scott Steiner quota you wanted. But, if you're up for seeing some of the best writers we have to offer in the CF and you're interested in branching out of the WWE, this is a trip worth taking. But enough intros! Sit back, get some snacks (seriously, this is a long one ladies and gents!) and enjoy; this is the Super Friends!




The LOP Super Friends: Lucha Underground Edition




Subho: With Sin Cara's relative failure in WWE, do you think the company will be able to treat any Luchador from Lucha Underground in a justified manner should they sign one?


Subho: The reason for asking this question was simple. As LU starts to penetrate more of the fan base, talks about WWE signing many of the deserving names will certainly start coming up. In that case, it's crucial to keep our expectations in check. Right now, if you ask me, I'd like Fenix, Prince Puma, Johnny Mundo and Catrina to be signed by WWE. But, as we saw with the latter two, WWE really isn't the dream scenario that most expect it to be. Sin Cara was brought in with a huge chip on his shoulder, but whether it was his refusal to adapt to WWE's style, or the simple failure of WWE creative to book him well, he never caught on. That's why; I don't think the present LU environment is really the hunting ground for WWE's recruiting team. The LU roster is doing what it does best right now; they can easily take up a different style, but it takes a lot of time. WWE is opening up its doors to many worldwide athletes, but Lucha Libre hasn't been a favorite one so far.


Cult: Not right now, but that's largely because WWE is having trouble booking compelling TV for anyone. If they eventually get it right? Sure, someone from Lucha Underground could definitely be treated well. Remember, the WWE is always looking for someone to be a huge draw for the Latino audience, and as long as that's the case they'll give a luchadore or two a shot. As for who it would be, my best bet would be Fenix due to his youth, potential and the fact that he hasn't already been in WWE before (unlike several guys and girls on the LU roster). If anyone's getting a crack next, it's him.


mizfan: As in, would WWE treat any other luchadors better? I expect so, they've already done better with Kallisto who I think has a big future with the company, more than most give him credit for at this point. The original Sin Cara never seemed to have a very good attitude, he never learned English to my knowledge, he had trouble working with others, and it must have been a difficult transition to come from Cena level popularity in Mexico to an unknown midcard spot in WWE. I think if WWE were smart enough to sign on somebody better prepared and less established in other roles, like perhaps Fenix or Pentagon Jr, they could potentially have more success, although the company would also have to put in a lot of work to treat them properly.


LWO4Life: Yes. No question. I think WWE realizes that Myzteziz was more of a personality clash rather than a mistake getting a luchador. One thing to remember is Vince McMahon himself has always been a fan of lucha libre, to the point that he made big wrestlers in the 80's run the ropes more to match that style. He always tried to have mask wrestlers and lucha stars. It's why he put so much money into Konnan being Max Moon, or pass of Scott Hall as a Cuban. But he had the perfect luchador in Rey Mysterio, as Rey was a legend in Mexico, a Mexican-American and not a Mexican, and Rey could adjust to lucha style or American/WWE style of wrestling. It's why Vince doesn't want him to leave so easy, because Vince spent years trying to find this guy.


With that said, who in Lucha Underground would WWE even look at. Sadly, I don't see a small luchador being recruited anytime soon. Outside of Rey, the most successful luchadors in WWE have been Tito Santana, Eddie Guerrero, and Alberto El Patron. All of them were heavyweights in Mexico. So if anyone from Lucha Underground is signed by WWE, then it would be a bigger luchador and not someone like Fenix. (This makes me sad as a huge Fenix fan.) So if WWE looks Lucha Underground's way, I'd expect to see someone like King Cuerno signed, as he would do great in WWE. Also, he may not be Latino, Angélico looks to have a great look that would translate to WWE and his global experience can help him adjust to the worldwide leader in sports entertainment. Also Prince Puma could also do well, though I would expect to see him in NXT for a long time before being called up.


WrestlinSight Gav: Justified manner? WWE? This is a trick question, right? The simple answer is: no. I don't trust WWE with any of our indie darlings, despite the "success" of Daniel Bryan and a bunch of the ROH guys on the current NXT roster. If there's one guy in NXT that I don't see going as far as they deserve to, it's Hideo Itami, the former KENTA. And this is no knock on the guy's talent (although if he doesn't hit that GTS already, I'm going to end up throwing something at my TV!) But it's a reflection of my confidence in WWE's willing to push any foreigner beyond a midcard time-filler. For the men and women on the Lucha Underground roster, they're absolutely in the right place now. Unless they want to be in a parody mid-card tag team. And the money might not be on par with a WWE contract, but Subby's question was around a "justified manner", and the best place for them to find that is in LU.


Cult Icon: Two part here guys; who do you believe is the mysterious Matanza, and who do you want to be Matanza?


Cult: Full disclosure here for those who haven't been watching; Matanza is a mysterious figure being kept in the Temple's basement by Cueto, who keeps the key to Matanza's cell around his neck at all times. On top of that, a female wrestler named Black Lotus (Angela Fong of WWE developmental fame) has appeared in the temple for several weeks looking for Matanza, claiming that he "owes" her. If this sounds like something out of a Robert Rodriguez film, that's probably because Rodriguez is producing the show and came up with this idea himself. And bravo to him; I haven't been this riveted by a potential mystery wrestler since...ever. Seriously, has the surprise wrestler angle worked since Hogan was the third man? Come on people; it's not that hard.






As for whom I think this mysterious Matanza is, my guess is either Chris Masters or AAA star Chessman (aka the Mexican Crow Sting). Both guys are available, both guys are talented, and both guys are on the bigger side of things (and yes, Chessman's 6'0, 230 lb frame is big in the LU), which is fitting seeing as Matanza appears to be a big man wrestler. As for who I want it to be, I can't even front; CM Punk. I know there's absolutely no chance of that happening, and he doesn't even honestly fit the bill for the way the character has been presented. But can you imagine if it was him?! It would make Alberto El Patron's signing look like a developmental deal, while simultaneously blowing the roof of the Temple and WWE headquarters. Excuse me while I go tell myself for the 9,000th time that this isn't going to happen and I'm as delusional Vince McMahon when it comes to Roman Reigns' crowd support.


mizfan: This is a very tough one, I've rarely seen a character anywhere built up like this mysterious Matanza thing has been. Assuming it is just a person, and assuming the person Dario has been talking too under lock and key is one and the same, I will go out on a limb and say Matanza is Dario's brother, who once wrecked havoc on the wrestling world but Dario captured and is now keeping locked away for his own protection, and also to somehow feed his temple (or perhaps the temple feeds him?). That would explain why Dario is both caging and protecting this mysterious thing at the same time, and if he was known prior to his capture it would explain why there are certain people still out looking for him. This is Rodriguez we're talking about producing this show, a tiny hint of supernatural wouldn't be at all out of place in his work or in wrestling itself. That's my belief, anyway.


As to who I want it to be, I have very little idea who could actually fill a role like this, but if I could choose. I would give the role to the little known but filled with potential newcomer who played CHIKARA villain Deucalion in the last season of CHIKARA. The man doesn't even have a Wikipedia entry, but he's filled with talent and plays an amazing domineering force, even more so than current intimidating figures in the company like Mil Muertes or Cage. The dude is most definitely white, so maybe a half brother or something to fit in with my original idea? I don't know, I would just love to see this guy get more exposure!


LWO: Okay, I am looking at the clues as to who this Matanza is. To start, he is old enough to have done something to Angela Fong's father about 20 years ago, so he'd have been in his active career long ago enough to have been in WCW. On top of that, they wouldn't make this as big of a story for someone we've never heard of. So this person also has to be evil and violent; a villain. When looking at all of that, I think it would either be someone like Savio Vega, who is still going strong in Puerto Rico at the age of 50, or a former member of the LWO. And with that, I'm going with former LWO member, Damián 666, who still wrestler is Tijuana from time to time. Though not as know as other wrestlers, his gimmick just seems to fit the person they are talking about. Now who do I want it to be, La Parka of course. I would love for it to be La Parka, as he comes out and just shuts the place down.


Gav: Well, in Spanish the word Matanza means "slaughter" and any wrestling fan worth their salt knows this can only mean one thing- Sarge is coming to Lucha Underground!!






Seriously though, my knowledge of the indies isn't extensive but there's one guy who has already been announced for the Lucha roster and hasn't debuted yet- that man is Shawn Hernandez. Hernandez could easily fit the Matanza gimmick, his moveset in TNA was brutal, and he's going to be an absolutely awesome addition to the roster- a big powerhouse who can still hang with the best luchadores in the world. Hernandez is both my guess, and my wish- I'm hyped to see Supermex in LU, but still very optimistically curious at the many other possibilities this angle could be going.


Subho: This has really gotten me intrigued, you know. Lucha Underground has pulled off cinematic storytelling with great ease so far, and this might as well be the best example. We've seen "monster" gimmicks for all of eternity in pro wrestling, but this Matanza thing looks so ridiculous, yet it has pulled the interest of all. It could be Bigfoot for all we know, but with Black Lotus wanting to kill it "with her bare hands", and it living inside a cage, hidden away from all – it's totally exciting. One name that keeps coming to my mind as to who it could be is... Mike Knox. I don't know; I just keep coming back to him. He certainly has the size and strength to pull off something like this. Just put a mask on him and he'd look as dangerous as ever. Hiding his identity won't be a tough task as well. Knox isn't all too proficient in the ring, but in a world like LU, his negatives can be easily masked. I still want Matanza to be a giant bear or something, but if it's a real person, Knox just might be it.


mizfan: If he ever officially escapes from WWE, should Rey Mysterio compete in Lucha Underground?


mizfan: Yes but only briefly. The name value for LU is too good to pass up and Mysterio sounds like he is still willing and moderately able to get in the ring, but regular in ring appearances from Rey will only cause issues in this injury-prone twilight phase of his career. Give him a marquee match with someone who can carry him, hype it up good, and then let him float back to whatever else he wants to do. If all goes swimmingly, maybe repeat the process with lengthy gaps between appearances. But no, no, no to becoming a regular competitor, no way do I support that idea!


LWO: Yes, yes, and more yes. Rey would attract more people, and Lucha Underground would be a perfect venue for him. Rey lives in San Diego, he doesn't have to travel far to make the shows, and you know he'd get a bit of a re-birth by working with younger stars and helping them grow in the ring. There is no losing, as Rey is very limited to what he can do now, but in Lucha Underground he'd be near god like levels. He was a street wise luchador long before Lucha Underground came along, he'd fit in perfect.


Gav: Honestly, this depends on how much Rey has to give. Chavo has proven that age is no concern in LU, so long as you can go. But Rey hasn't shown anything in the last few years to suggest that he can still 'go' in that ring, especially with some of the incredible talent that the LU has to offer. However, if this question had been "should Rey Mysterio join Lucha Underground?" then the answer is a resounding 'YES!' I've never been the biggest Mysterio fan, but I'm sure he has plenty to offer the product, and there's no denying that he would be the most over guy on the roster if he showed up. And perhaps the lack of touring would help him mend up and get himself back in the ring for one or two matches before he goes to the big wrestling ring in the sky. But even if that doesn't happen and he can't hang in the ring with the likes of Prince Puma, I am certain there is a role for Mysterio in LU- whether that's an on-screen personality, a manager, an analyst or even just a trainer who puts in the occasional guest spot. Whatever the chosen role, Rey would certainly give more to Lucha Underground at this point than he is, or would, to WWE.


Sub: Rey Mysterio did escape, and talks about him signing up to AAA has already started up. Rumors call for him to come to LU as the one who introduced Prince Puma to Konnan, so there's already a clear path for him. The last we saw of Rey was almost 10 months ago where he lost to Bad News Barrett, and he has had a couple of injuries after that still. There are many great pairings for Mysterio in LU, but I don't think I'd like to see him compete. He'd be better off in a mentor role, perhaps even take up commentary. But, I don't think he should risk more injuries by competing once again. LU can pull of decent ratings just by promoting his appearance, and he wrestling won't really be necessary. He can still pull off a couple of great matches for all I know, but I think I'd be more concerned than excited.


Cult: Talk about timing; not only has Mysterio escaped WWE, he's expected to start at Lucha Underground whenever they tape next. All hail the prophet known as mizfan!


As for whether he competes or not, not only do I think Mysterio will compete, I think he should. Obviously he's not the same guy who was wowing us in WCW and WWE all those years ago, but even in his banged up state, Mysterio still has some gas in the tank to have competitive matches (never mind the fact that Rey's a draw and by wrestling can bring in more viewers). Plus, if 50 year old Blue Demon Jr is still allowed to wrestle in the LU, why can't Mysterio? You're telling me he's worse than Demon? You'd have a better chance of convincing me that Roman Reigns could recite a Hamlet soliloquy than that one.


LWO4Life: With Alberto El Patron in the company now, it feels like Lucha Underground has put the LU title to the side and making it seem like the AAA is more important than the LU title. Is this a good thing or a bad thing for Lucha Underground?


LWO: For me, this is a good thing. I think right now no one is mistaking the LU title as being more important than the AAA title. Alberto does off as a much larger superstar than anyone else in the company, and Prince Puma has his hands full battling a monster in Cage. Plus Alberto sort of buried all other companies in North America when he said he has held the 4 most important titles in North America (AAA, CMLL, and the World and WWE titles). This makes it seem like Lucha Underground title is not really important, but that AAA title is. Over all having a star on that level brings Lucha Underground up. Plus it can lead to a LU vs. AAA title match down the road like how the NWA champion use to travel and challenge the local champion. Once Prince Puma can defeat Cage and show to be a giant killer, then a match against Alberto could really draw interest. No question having a legit world champion in the promotion adds something to Lucha Underground, and if Prince Puma could pull off some sort of win, or if they have a match that makes both wrestlers looks strong, this only helps Lucha Underground in the future.


Gav: "To the side"? They tore the damn thing to pieces!!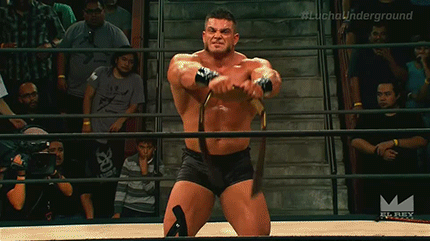 But in honesty, right now it's a stop gap. When ECW put aside the ECW Heavyweight title to showcase the NWA Championship, it wasn't at the detriment of the ECW and it didn't make them seem smaller- in fact, it made them seem bigger and more important at that early stage to be rubbing noses with the NWA and hosting their World Champion. And when ECW turned on the NWA to go Extreme, it catapulted them to the stratosphere. For all the hype, Lucha Underground is in its infancy at this stage- and highlighting their association with AAA only helps to solidify their relevance in the Mexican market and brings credibility to their roster. When the time is right, I hope and expect LU will break away from the AAA in true ECW-style, and the man who instigates it could gladly get the Shane Douglas rub for doing so. Who knows, maybe it will be Mr. El Patron himself.


Subho: To be honest, Cage tearing up the LU Title and Prince Puma being out with an injury just two weeks after winning it really irked me at the start. But, LU proved its worth in the weeks that followed. Cage, instant push notwithstanding, has become a legit badass. Seeing him roaming around with the torn LU belt is excellent, and he's slowly improving in the ring as well. Prince Puma, on the other hand, is perhaps the biggest star in LU today, and it's all because of his performances and the consistent push he's received from the start. LU continues to build excitement around the storyline, so I'm not concerned at all.


I don't know about LU 'making it seem like the AAA is more important than the LU title'. LU has done well, so far, in rotating its roster, and having the presence of a huge name in Alberto El Patron is a big bonus actually. If the AAA Title brings more eyes to the product, then I'm all for it. It's exactly what you need in the nascent stages of your company. As we saw in the last couple of weeks, LU will continue rotating the LU and AAA Titles, so if both the storylines are intriguing, if both the storylines draw viewers in, then there's no question of one title being more important than the other. Many already know that AAA is the parent company here, and most of the fans of LU are fans of AAA, so it's a cool crossover. For newer fans, the rotation will work real fine.


Cult: First off, I don't think the LU title has been moved out of the way at all. I get the lack of appearances by Prince Puma recently may make it seem like it has, but Brock Lesnar's title reign this year has proven that you don't need the top champion there all the time, and the amount of top notch storylines going on right now more than make up for the title's absence. Perhaps in the long run if this continues it will be a problem, but for now I have no issue with how the title has been handled. As for AAA, I can only see that association having a positive effect. Remember, WCW in the mid 90's featured several instances where wrestlers from AAA and New Japan showed up and defended their championships, and it fit right in with everything else going on. If Lucha Underground follows that blueprint, all the association with AAA can do is help.


mizfan: Hm, this is an interesting viewpoint but I can see where my former rookie is coming from. On the one hand, the AAA title IS bigger than the LU belt, it's an older championship by decades and is one of the top titles in the country, whereas the LU title was practically created yesterday and in terms of US prevalence is on the lower side of primary championships. Still, in LU the LU title has to be a big deal. I think a balancing act is necessary, and that perhaps the reason there seems to be a lot of focus on the AAA belt is because it has only just appeared in the company AND is being held by a name very well known in the US. I think it will be a temporary thing to be honest, and the main focus will remain on the LU championship for the most part. Having the AAA champion guest star occasionally in LU is great and totally in line both with their respect for other companies across the world and their connection with AAA itself, but at the end of the day the title that was born in the Temple will be the most important one inside the Temple. However, if they do supplant the LU title with the AAA title on a more permanent basis, I think it's a step in the wrong direction as it makes LU look very secondary to their Mexican counterpart. A light touch with the AAA title long term will of more benefit for the home grown crew.


Wrestlinsight Gav: If you could name just one thing that sets LU apart from everything else on the wrestling market, what would it be?


Gav: Production, production, production. LU offers many things, but most of them you can find in some way, shape, or form anywhere else. The underground/indy feel can be seen in places like PWG or CZW, the high flying lucha style can be seen in CHIKARA, to some extent NXT, and a few other places (not to mention fully fledged lucha promotions), and most of the roster spends more time outside the walls of the Temple than inside. BUT, I have never seen a wrestling show that tells stories and showcases character in the way that LU has done. The masterfully produced and filmed backstage and character segments are to me the thing that sets the show completely apart from anything else on the market. In a world where we are forced to stretch out disbelief to the limit with roving backstage cameras which may or may not be "invisible" depending on the need for plot device, to see these characters and stories filmed they were an actual TV show which, surprise, THEY ARE, is wonderfully refreshing and gives them a massive freedom to explore completely different stories than were ever possible in the old formats. The only thing even remotely like it is the Ashes of CHIKARA movie released last year, but the higher production value and more accessible plot lines put this in a totally different space. Production, production, production!!


Sub: There are many elements that separate LU from other wrestling promotions. The Lucha Libre style is one of them, obviously, but that can be found in other companies as well. The intergender matches are another, but shades of those are present in other companies, too, but LU certainly does it with panache. The focus on actual in-ring action is another refreshing one. But the thing that separates LU from any other wrestling promotion that I currently watch is the backstage segments and the production values. Suspending disbelief is a tricky thing to achieve in today's climate, but LU has pulled off the movie like promos with such ease that I was amazed when I first watched it. None of it felt too forced, and none of it came off as too cheesy. Viewers wanting to find "North American-ness" in LU aren't going to get it. LU thrives in being different, and those skits are the perfect examples why. LU plays out like a perfect TV drama, and the producers accept it as well. They run credits at the end of each show, intercut segments with broad views of the city they're in and actually take pride in acknowledging Aztec history. It's wrestling, but presented like a 21st century television show.


Cult: I know the easy answer is how the LU films its backstage segments (which are revolutionary in my opinion), but the difference for me is the quality of the product. There's been over fifteen episodes of Lucha Underground since the launch and I cannot name a bad episode out of the bunch. There's at least one good to great match every week. Storylines are booked properly with minimal plot holes and a long term plan in mind. Perhaps most importantly, the fans are actually treated with respect as opposed to being dismissed. I get that it's early, that there are other things that are more impressive in plain sight, and that saying that the one thing that stands out is EVERYTHING might be the greatest cop out since LeBron went to Miami. But let's be real; it's everything about Lucha Underground that sets it apart. Throw your fruits and vegetables in this direction!


mizfan: Production values. There's no denying the exceptional in-ring product or the cultural flavor of Lucha Underground, but these things can be found in other wrestling promotions across the world, whether it's TNA or ROH, CHIKARA or New Japan. But Lucha Underground has brought a whole new feel to what the production of a wrestling television show should be. They're not afraid to produce their backstage segments as scenes for a television broadcast, applying wide shots, arc shots, dolly zooms, crash zooms, you name it. They are scenes from a smoke-filled cellar in some low-rent gangster movie. That second word in the "Lucha Underground" brand isn't an accident- they are aiming for that underground feel, whether it's the dodgy dealings of Dario Cueto, or the tight-packed fans in the small industrial atmosphere of the venue. In the ring LU presents wrestling as wrestling, but backstage this is a television program first and foremost and that's the thing you'll notice the first time you switch LU on. ROH feels low budget where LU feels intentionally scaled back, and WWE's production style, crisp and choreographed as it is, feels static and stale by contrast. Like it or love it, there's no denying that the production style of Lucha Underground sets it apart from anything else on the market right now. It really has to be seen to be understood.


LWO: I'd have to say the way they edited everything to make it seem so movie like. You feel like this little warehouse is the most important underground fight club in the world. It's truly amazing how they mixed the (un)real world of professional wrestling with movie scenes. It makes so much scene that I'm surprised this hadn't happen during the Monday Night Wars. Also, because it's trying to set up the promotion like a movie, each character is important. It brings back the old Attitude Era strategy of WWF, when they made each person seem important because they didn't want you to change the channel. So in order to make you watch even the undercard of Raw, they gave you a reason to invest time in each character. Lucha Underground is using this strategy perfectly, and out doing the WWE in terms of giving you a reason to care about the lower and mid card guys.


Subho: Lucha Underground is thriving with a 1 hour format. Do you think an additional hour would hurt them, or would it allow them to develop more?


Subho: I quite enjoy LU's 1 hour format. It feels brisk, and with the rotation policy that I mentioned before, their storylines get ample breathing room. But, in saying that, the 1 hour format sure has its limitations as well. Some, not all, of the matches feel like they don't get the necessary time. While the Lucha Libre style predicates that the action is breathtaking, maybe an extra half hour would give them the necessary time to have longer matches. I have no problems with the current in-ring product, but it can certainly be better, yes? Some of the storylines as well fail to get represented in the best manner, I feel. Take this AeroStar/Drago series for example. They had their first match on 4th February, and the 2nd on 25th February. For viewers who don't tune in every week, this gap can mean a bit troublesome. They might show every week from now on, but new viewers would probably feel confused at it all. And maybe the extra time could be ill advised and they may fail to utilize it properly, but if LU has shown anything since October, it's that they are reliable. And I have no doubt that more time would mean more characters on the same show, longer/more matches on the same show and other benefits as well. But, then again, they need the proper backing of the network, so we'll have to see.


Cult: I lean towards another hour being more harmful than helpful. Certainly an extra hour or even half hour of TV would give more time for matches and story development, but it would also open the door for the same problems RAW and Impact are having to sneak in. Wrestling these days, at least to me, seems to be at its when it's built around a weekly one hour show that builds towards a PPV/super card event a few months down the line (aka, the NXT blueprint). I'd personally prefer Lucha Underground go that route. That being said, I expect that we'll see them get another half an hour at least added on by the end of the year, which means we'll be finding out quite soon whether or not more time is a benefit.


mizfan: I don't think a second hour would hurt them, but I'm not sure it would benefit them either. The 1 hour format is pretty much perfect, it's very digestible for newcomers and puts a lot of pressure to deliver within that hour rather than stretching for filler. I think a 2 hour special sometime would be a great place to try out a longer format there, goodness knows they have more than enough going on to support the occasional dose of extra time.


LWO: Right now, I don't see adding another hour helping them at all, unless it adds ad revenue. But with looking at only the show perspective, I don't see an extra hour helping them at this time. Right now, the roster is increasing, so eventually they will need that extra hour to make sure people are not lost. But right now, as is, the show is fine. The roster was barely 20 people a month ago, so there would be no need to have that extra hour, and it might water down the product. Plus, part of what makes Lucha Underground great is that each second is not wasted. Sexy Star only has so long to make you believe she can beat a man in wrestling, Fenix only has so long to show he's a legitimate threat to Mil Muertes. This is important. So unless they add a lot more people, the show is fine as is.


Gav: Right now, one-hour-wrestling is making a big comeback in the forms of NXT, ROH and yes- Lucha Underground. We're moving ever-increasingly into a society of little time and even littler patience, whilst being bombarded every minute by increasing amounts of distractions, vying for our attention and our money. Wrestling is no different, and whilst WWE is sitting proud at the top of the mountain, it really is a mountain in terms of wrestling alternatives. One of the (many) things that differentiates LU from the WWE's product is that it's not so demanding of our time- it's a happy bite-size chunk that can be fit into any kind of schedule. This has also allowed the producers of LU to ensure that every minute is time spend wisely, every segment designed with a purpose and capitalized on by the individuals on screen. The same certainly can't be said about Raw at present.


I think right now, the one-hour format is exactly what LU needs and exactly what the disenfranchised wrestling fan needs- adding any additional screen time at this point would be running before they've learnt to walk. Although I would love to see a Lucha Underground PPV/super card.


Cult Icon: Simple question; where do you see Lucha Underground five years from now?


Cult: As at least the number two wrestling promotion in the United States. I understand that it's probably too early to start proclaiming such things about a wrestling promotion that isn't even a year old, but I don't care. The fact of the matter is that Lucha Underground, beyond how well they're doing on and off-screen, is backed by two very important dudes; filmmaker Robert Rodriguez and Mark Burnett, the TV overlord responsible for the great evil known as Survivor and The Apprentice with Donald Trump. We're talking about two men here who have both a ton of money and a lot of pride. Does anyone really expect they're not going to put their all into making Lucha Underground great, or that they won't give it every chance in the world to succeed? You combine those two backing the LU along with AAA (who clearly want to make inroads here in the States) and I see no reason to believe the LU isn't alive and well in the next five years as at least an alternate to WWE. How big of an alternate will depend on how well creative is being run, what talent they are able to keep and what network they find themselves on.


mizfan: On a larger network and thriving. I admit that's my hope only, but I think it is a realistic one. It doesn't seem to be very expensive to produce, and the positive buzz around the company is already noticeable. The booking is simple and they seem to be very much focused on their own product rather than trying to compete directly with anyone else. Having a life line through AAA is extremely helpful, as is the support of major producers like Rodriguez and Burnett. I see no reason the show wouldn't continue to grow in scope and popularity as long as they stay the course, there is a definite market for this kind of thing and the playing field may be wide open. I'm not saying they will be outdrawing WWE in 5 years, I highly doubt it, but I think they can build up with ease as long as they have a little backing and perhaps even take over as the clear #2 promotion in the US, especially if TNA continues to suffer from branding issues that stunt their growth.


LWO: Sadly, I don't see Lucha Underground existing in 5 years. I see a situation in which El Rey Network replays English dubs of the weekly AAA show. I can see Matt Striker call the action of AAA on El Rey, as that would cost much less than El Rey having their own wrestling promotion. With that said, don't count anything out. I remember in 1997, one of the wrestling magazines had a phone in poll where they asked if WWF or WCW would be out of business in 5 years. This being in the middle of WCW kicking WWF's ass, the majority said WWF would be out of business, a few said both will still be around and a small percentage said WCW would be out of business. Of course we all still watch wrestling on USA, so we know how correct that poll was. But realistically, Lucha Underground is expensive to produced, it's attached to a network that doesn't have very many subscribers, and it gets very low advertising dollars. So while I see El Rey still wanting wrestling on their network, I think it's more realistic that they do an English AAA rather than their own promotion.


Gav: On the scrap-heap. I'm sorry if that's a controversial answer, but five years is a long time- especially in wrestling terms- and I wouldn't be at all surprised to see this initial hype die down and the company to go the way of many other start-up promotions before it.


That being said, I also think LU is in a great position to prove me wrong. The writing is exciting, the roster is immense, the production style is unique and refreshing in an increasingly stale wrestling market. Plus they have solid financial backing to boot. They have all the tools and I truly hope they utilize them to increase that market share- after so many years of there being only one viable option, it finally feels like there are a plethora of alternative wrestling options on the market, and LU is going to have solid competition for audience, not just from the WWE but from TNA, ROH, NXT and even NJPW who are making strides into the US market. LU has a long way to grow now, but I think most would agree that few other wrestling promotions have had such a strong start.


Subho: I'd really like to say that LU can become a viable 3rd or 4th option for the North American audience, but I also have to keep in consideration the fact that theirs would always be a niche market. I mean, wrestling is a niche market in itself, but they appeal to a special type within that market. Ratings for the show haven't been all that great. The December 10th episode did 34,000 viewers; this was the last show before the 1st season break. And when they returned on January 7th, they did 33,000 viewers. It has been reported that 30 second ad spots during the show are only selling for $150-$300, and furthermore, each taping costs hundreds of thousands of dollars. The scenario isn't peachy. El Rey canceled their show "El Matador" even after giving a commitment for a 2nd season because the show didn't catch on as hoped.


If LU gets the backing they deserve, and if they continue to integrate big names from the wrestling world, then they can still be going strong after 5 years. It's really hard to build a wrestling company from the ground up, and then give it a proper place in 5 years, but LU can certainly be way bigger than it is now. El Rey isn't the network that's going to give them that "big time" feel, though. Viewers can increase, but until and unless more people know about El Rey, or LU moves to a bigger network, things will likely stagnate after a while. So, Alberto and Mysterio coming in can easily put more eyes on them, and we can be looking at double or triple the viewers they do in the coming months. So, with a steady growth, LU can definitely become the biggest show on El Rey, and maybe move onto a bigger network as well.


And that'll do it! On behalf of everyone involved in this column, I hope you all enjoyed a look at some of the best the LOP forums and wrestling has to offer. With that, we now disappear back into the dystopia. Till next time, read The Bright Side, Subisms (coming to a main page near you!), The War Log, El Gringo Loco/The Undisputed Series and An American Motion Sickness, check out ColuMania on the CF, watch Lucha Underground, don't steal my mac and cheese, and HOLLA, IF YA HEAR ME!


HOLLA!


Hey, couldn't leave you guys without some Steiner.


Please change disks to continue...