---



February 2017 Columnist of the Month: JSR-13 - 13's Decree: For the Love of Moolah


By Steven Bell
Mar 25, 2017 - 2:45:46 PM


Each month in the Columns section of LOP Forums, we hold a competition to determine who was the best of the previous month. In other words, the Columnist of the Month. The winner earns the right to present you, the Lords of Pain main page audience, with an example of their work, laying the foundation for what will hopefully, eventually be a permanent spot on the LOP Columns roster.

The month of February saw a first time winner of the competition, JSR-13. He has an interesting story, as he started off in the Comments section here on Lords of Pain and was encouraged to try his hand at writing columns. As is obvious, he has made that transition excellently.

If you would like to write for Lords of Pain, the path to doing so starts with the Columns Forum. You can visit it and begin your own journey by clicking the image below.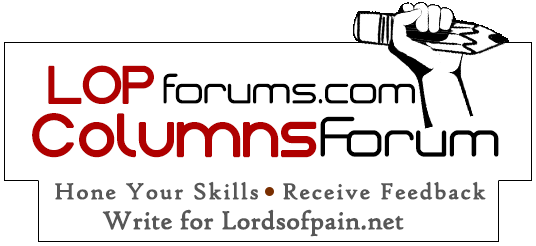 13's Decree: Screw Job: For the Love of Moolah


For the love of money is the root of all evil: which while some coveted after, they have erred from the faith, and pierced themselves through with many sorrows.

-1 Timothy 6:10



It's Women's History Month in the US; so as they did with Black History during the month of February, WWE sets apart a portion of each broadcast to highlight a certain legendary figure that pertains to the month's theme. Also, in keeping with their own habits, WWE chooses to honor pretty much the same people over and over again, as if both their own storied history and the history of pro wrestling in general is only two pages long. During Black History month, you can expect to hear the names Ron Simmons, Jackie, and Booker T. During March, it's Lita, Trish, Mae Young, and of course the Fabulous Moolah.








This... pretty much sums it all up.



Ah, the Fabulous Moolah. The legend; the pioneer; the trailblazer. An iconic figure, and the most prolific women's champion in the history of the sport. Ranked as the 27th best all-time wrestler (male or female). Such info is what one would find when using only the WWE as a source. But any thinking wrestling fan knows that the McMahons are the last people to call for tutoring in history. We could turn to her autobiography- a book whose title displays the total modesty and humility that she personified (Fabulous Moolah: First Goddess of the Squared Circle).

What do we really know about Mary Lillian Ellison? I mean, aside from her being the longest reigning women's champion; her involvement in the Rock 'n' Wrestling boom period of the 1980's; her being the first woman to wrestle in Madison Square Garden (after helping to overturn the ban on women's wrestling in the state of NY); and becoming the oldest title holder in WWE at age 76, as well as the first ever octogenarian to compete? Is she really worthy of the reverence every time the subject of the history of the women's title comes up? Is she really the godmother of women's pro wrestling, of who every current female star of today should feel indebted towards? Maybe. But before you go kissing the ground that she walked on, let's take a look at the Moolah that you won't see on the WWE Network.

Moolah, who was introduced to wrestling at a tender age to help escape the pain of losing her mother, was inspired (and later trained) by Mildred Burke.





Started a women's revolution before it could trend on twitter.



You probably never heard of the original Miss Bliss- but you should definitely become familiar with her. Mildred was the most popular wrestler of the 1950's until she was sabotaged by ex-husband and NWA card-carrier Billy Wolfe. Long story short- a woman who could legitimately claim to be a pioneer for ladies in the sport, being the first to turn it from a circus side show into a spectacle that rivaled the work of the men- was blacklisted due to the strong-arming of her womanizing ex, who successfully used his pull in the NWA to block or overturn nearly every attempt by her to maintain her star power, influence, and business and financial growth. This feud between the bitter exes included, but was not limited to, what could be looked at as the true original screw job, that saw Mildred lose a world title match in controversial fashion (complete with a biased ref) to June Byers, Wolfe's daughter-in-law and new mistress.

Moolah was fully aware of Wolfe's dirty dealings, as she had her own run-ins with him. Wolfe was known for sleeping with and pimping out the women he trained and booked, and Moolah (according to her book) refused to get down like that. This initially limited her bookings for the NWA (and also ended her partnership with the first "Nature Boy"), but her own career would not be deterred. After being trained by Burke and starting off as a valet (known then as "Slave Girl Moolah"), Moolah found her own championship success and became one of the most popular women of the golden age. She, along with her new common-law husband Buddy Lee, would capitalize on that fame by opening their own wrestling school for ladies, where she would "train" other influential grapplers. Why is the word 'train' in quotes, you ask? Because according to some former students, Moolah didn't train anyone; she simply collected the fee and let the women work with each other. And 'collecting fees' would become the hallmark of this woman's career in the business (in case you were wondering how the name came about).



This so-called training facility, housed on her own property, was really nothing more than a modern-day plantation and whorehouse. The women were forced to pay for rent and utilities, and were regularly prostituted to bookers in exchange for money (or else, they wouldn't get paid at all). Once a woman under Moolah was paid for a show, the woman, after to showering away the filth from a late night romp with the sleazy promoter she just worked for, had to cough up all the ridiculous expenses that came with being managed by Lee and Moolah. This often resulted in women not seeing their own profits until a few years later. A woman was lucky to be able to send home $30 dollars a month to support her own children once the pay envelop passed through Moolah's hands. Drugs were given to the women regularly, and they were beaten and raped repeatedly under her watch (some of these things allegedly done by the Fabulous one herself), which is amazing considering how much she despised everything Billy Wolfe stood for and had supposedly taken her own stance on purity and integrity.

The story of Moolah gets worse- even before she makes it to the then-WWF, including a sad episode that occurred during the lifetime of her first black trainee Sweet Georgia Brown (not to be confused with Jackie Moore, who briefly wrestled under that name). But let's fast forward to the 80's, when she sold her rights to her world championship to Vince McMahon, Jr. Sometimes, even the most notoriously selfish, greedy, prideful and power-hungry stars can mellow out in their old age; but such was not the case for the now- in her sixties Lillian Ellison. Using her financial influence, she ensured that no other woman rose above her in name recognition. Depending on who you want to believe, she was not the original planned female cartoon character in animated Hulk Hogan's Rock 'n' Wrestling show. She had a huge amount of booking power over the women back then, and could make or break their careers as she saw fit. Ever wonder what happened to the WWF Women's Tag Team titles, and the title match that was set for Wrestlemania IV? We can thank Moolah and her deceptive ways (and the officials turning deaf ears to the other sides of the story) for costing four women what would have been their biggest payday. Women who refused Moolah's terms faced limited options, and one woman even said she had to retire because Moolah's clients were instructed not to work with her.

Another instance of Moolah flexing her muscle at the worst possible time is at an event that would have Bret Hart face-palming, as it foreshadowed what was in store for him 12 years later. Wendi Richter was the popular women's champion of the day, and a proven ratings draw, who constantly bickered with McMahon over pay. On November 25, Richter was scheduled to defend her title against the 'Spider Lady' at MSG. The Spider was shooting on Wendi and quickly performed a rollup that resulted in a rapid three-count despite Wendi kicking out at one. Wendi began shooting back after the bell and pulled off the mask to reveal the face of none other than the Fabulous one (Spider Lady was normally portrayed a woman who was managed by Moolah). Needless to say, Miss Richter was pissed, and was never seen again at a WWE event until her HOF induction- in 2010.

As one who sat under the learning tree of Burke-a woman who had fought tooth and nail for the success of women in the business, you would think that Moolah be on the front lines for equality.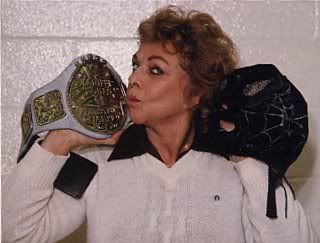 A picture is worth 1,000 crushed dreams.



Keep in mind, Moolah did not only bore witness to, but was one of the keystones of women becoming a major wrestling attraction. You would never realize this, though, as she gladly cashed paychecks from appearances during an era when women's matches moved far away from the athletic, technical contests of old, and were replaced with bikini contests, mud, pudding, and strip matches. There was not a word of protest reported from her when her own best friend and fellow senior citizen Mae Young (another supposed pioneer for women) was winning these types matches. Don't get me wrong- sex appeal had always been part of the game; however, women back in the olden days could actually 'go' as good, if not better, than the men. I'm sure many of them were spinning in their graves as they watched Young remove her top and deliver Bronco Busters. But perhaps I shouldn't hold such high expectations for Moolah standing up for women's rights.

The money was obviously too good.

So, exactly how much does the Fabulous Moolah mean to women's wrestling? Let's see: she was a pimp, a drug dealer, a sexual predator, and a thief; she held other women down; she ruined careers; and cosigned as the industry made the sport for women so bad that a so-called 'revolution' was needed years later. If you are willing to ignore the fact that she helped to set women back several years- then you could say she means a lot. Many kind words have been and will continue to be spoken of her, but late greats such as Penny Banner, Luna Vachon, Susie Mae McCoy, and Rhonda Sing- and living legends like Richter, Velvet McIntyre, and the Jumping Bomb Angels- might come up with a different selection of adjectives. My hope for the main takeaway from the life of Ms. Ellison is simple:

Money isn't everything.