---



February 2015 CotM: Sub'isms- In the Pines (Subho)


By Subho
Mar 22, 2015 - 11:20:37 AM


LordsofPain.net is proud to present the February 2014 Columns Forum Columnist of the Month. This is his second win, and today he is presenting a column that he submitted for the Main Event of Columania in the Columns Forum. I hope you enjoy!



***************



Kurt Cobain - the vocalist of Grunge Rock band, Nirvana - was the voice of a generation. 1991's Nevermind sent the band's popularity into the stratosphere, and there was no coming back from it. That was, sadly, unfortunate for Cobain, because it violated the basic premise on which he had set up his music career. The music that Kurt played, the lyrics that he wrote, were so anti-authority that being popular sucked for him. After Smells Like Teen Spirit achieved mainstream success throughout the world, Kurt's whole being was put under the microscope for the world to see. His marriage; his drug issues; his music career; were all massively scrutinized, till the point where he had to take the easy way out.

But, in light of the almost mythical status that Kurt acquired - in life and in death – many forgot just how talented he was as a vocalist, guitarist and songwriter. Until this event happened:





MTV's Unplugged series was popular before Nirvana's performance. For example, both Paul McCartney and Pearl Jam's gigs received widespread critical acclaim. But, what Nirvana was able to do was change the entire complexion of what these events could be. Their biggest advantage was that they were highly unconventional. Choosing not to do renditions of many of their hit singles, and moreover, choosing to do obscure cover songs that the mainstream MTV crowd wouldn't even have heard about, led to a lot of corporate issues. But, Kurt knew what he was going in for. He put his foot down on most of the choices, and he just wanted to do everything perfectly.

In fact, he was even ready to take Dave Grohl out of the equation because he felt that the latter couldn't do justice to a moody, acoustic performance. Even their newest guitarist, Pat Smear, was given a hard time because he was out of key during a Pennyroyal Tea rehearsal. And the set-list was ripe with many of his favorites. Out of all the bands he could have done a duet with (Eddie Vedder, for one), he chose a personal favorite, the Meat Puppets. The audience's calls for more popular songs were immediately rejected, but he made a point to be jovial about it. He even referenced a previous issue with the channel when a fan wanted them to do Rape Me and he casually said that "MTV wouldn't let them play that". Kurt was in a different dimension that night, perhaps knowing all too well that this would probably be "it" for him.



At WrestleMania 31, The Undertaker will make his return after having his 21-0 undefeated WrestleMania streak broken at the hands of the Beast Incarnate, Brock Lesnar, last year. It was unsure, up until a month ago, if 'Taker would actually return for this year's extravaganza, but the doubts were finally settled when Bray Wyatt came to Fast Lane inside a casket and mouthed a challenge to the Deadman.

This year – more than any other year – there has been much talk about the kind of match Wyatt and 'Taker would end up having. The quality of the final "Streak" match was disliked by many, but most of us were ready to put it aside against the spectacle. 'Taker also suffered a serious concussion in the earlier parts of the match, so it was actually another accolade in his career that he was able to finish the match as it was supposed to be. But, at this point, isn't The Undertaker's ring generalship almost secondary now? He has had some amazing matches over the years, but his character is what has made him become the surefire draw he is today. Even WWE realizes this fact, and they have never pushed 'Taker's résumé of 5 star classics, choosing instead, to push his 'out of world' character. There's no question about Mark Calaway being one of the greatest gimmick men in the pro wrestling business, but he's one of the best in-ring men in the business as well. But, that ability took a lot of time to develop. His initial run was littered with many lukewarm performances, and he was relegated to being an "attraction performer". But, it was his series of matches with Shawn Michaels and Mick Foley that brought out the best in him.

It's his "Streak within the Streak" of amazing WrestleMania matches, though, that'd be remembered by the modern generation; a Streak that began at WrestleMania 23 for this fan, and continued gloriously till WrestleMania 29. There were minor hiccups along the way (the Triple H matches aren't for everybody), but they set up 'Taker's character beautifully, whilst also giving him a platform to create amazing matches along the way. But, WWE, and the fans as well, buy into 'Taker because of the nostalgia, mostly. Even when there are doubts about the actual quality of the match; for example, with Brock last year, one can rest assured that 'Taker will bring eyes to the product.



Kurt's composure during the Unplugged performance was unlike anything ever seen from him. The thematic choices he made (black candles, chandeliers, etc.) also made people take notice. The producer asked him if he wanted the setting to be "like a funeral", and he replied affirmatively. There was a quite air of confidence in him, and he knew that he was totally in his element. He was also humorous throughout it all, providing quite the contrast to what was coming out as a somber performance.

During the opener, About A Girl, he quietly mumbled before starting that "This is off our first record; most people don't know about it". And although the audience cheered from the first note, Kurt probably wasn't too impressed at the appreciation (being popular in the mainstream always irked him). When someone from the audience asked them to play In Bloom, he replied with, "You want me to play In Bloom acoustically?" But, Kurt saved the best for the last. Oh, yes, he did!

By Where Did You Sleep Last Night (Originally, In the Pines by Lead Belly), Kurt's mood had improved significantly. Before the song started, Krist Novoselic started to share an anecdote about Kurt buying Lead Belly's guitar, but Cobain cut him off and delivered it himself. He shared how Lead Belly's estate was ready to sell the great songwriter's guitar to him for $500,000, and how he had asked David Geffen to buy it for him. He, then, quickly ended it by saying, "He wouldn't buy it for me"; accompanied by a cheesy grin.

It was, then, time to go head first into the performance. Kurt started out slowly, turning back to glare at Dave Grohl who had probably missed a beat, but he was immediately in his zone again. What followed has been heralded as one of the greatest live rock performances of all time. Was Cobain singing this for his wife, Courtney Love? Or, was it simply a tribute to one of his heroes? Many questions were raised, but the performance was one for the ages. And it was during the final chorus that Kurt truly went into a whole another level.

Kurt had previously played guitar on Mark Lanegan's cover of the track, and the latter had screamed the final chorus. Taking his cue, Kurt did the same. When Kurt unleashed the yells, it seemed that the entire world had ceased to be. There was a touch of pathos in his voice that even the biggest critics couldn't escape from. And as the chorus continued, the emotions rose as well.

It was in the last line… the last damn line, that Kurt exposed himself once and for all. Cobain yelled "I would shiver…", and it was so bone chilling that the band just stopped playing. In that moment, everything stopped. But, then, something happened. Something that can't quite be explained. As Kurt's voice cracked, he was somehow able to mutter "the whole…", and then, he took a deep breath. And all of a sudden, he opened his eyes, as if staring into the eyes of the devil; as if there was someone else looking from inside those deep blue eyes.

Do you want to know when people reach their Zen? This, right here, was Zen: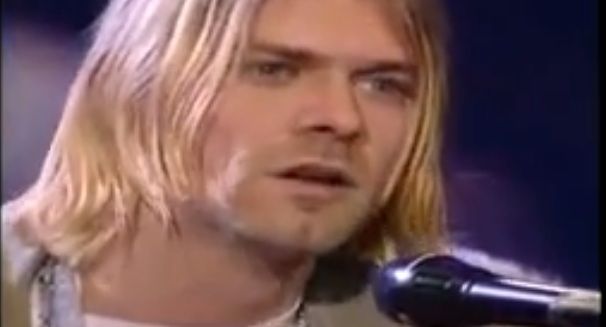 Kurt then went onto finish the track with ease. At that moment, the world knew, and Kurt knew, that this was the best he could give. The producers wanted him to do an encore, but he refused, saying that there's no way he could have repeated that performance. Retrospect is a virtue we now have with that night in 1993. Many have likened that to a "suicide note" where the voice of a generation delivered his swan song for the world to see. Many call it Cobain's first, and final, hurrah. But, for this fan, it was simply a journey into the mind of a man he calls his hero. Kurt was vulnerable, Kurt was nervous, Kurt was timid… but, at the end of the night, Kurt proved, to fans and critics alike, that he was truly at his best.



The Undertaker is going into WrestleMania with his health at, probably, the weakest it's ever been. His wife, Michelle McCool, has shared a lot of pictures of him in the gym, recently, but you don't need to be an expert to know that 'Taker is far away from his peak. Though, one can rest assured that, just like always, the Demon from Death Valley will put his 110% to the match.

This year is also a chance for 'Taker to prove to the cynics that he has what it takes to deliver a 5 star classic even at this age. Now, there have been many questions about the shape 'Taker will show up in, but the legend that he is, I'm sure that 'Taker has used this entire year to build himself back up again, and he would be gunning to perform another gem.

The Undertaker has always been about giving opportunities to the next generation. From his clash with Randy Orton; to the baton being almost passed to Edge; to the most recent tussle with CM Punk; 'Taker has always allowed the young guns to shine through. This year as well, he's chosen Bray Wyatt; the guy who's quickly on his way to become this generation's Undertaker. I tend to think that there's a little selfishness in this decision of 'Taker's.

After Sting signed a deal with the company, it was heavily rumored that the WCW legend would go on to face the Deadman in a dream match at WrestleMania. And until the rumor mills started churning once again, although, in favor of Bray Wyatt, most of us had already conditioned ourselves into seeing The Demon vs. The Crow. But, did 'Taker veto that decision so he can go up against a younger, faster, healthier Bray Wyatt? Did 'Taker ask for Wyatt because he knew that the latter could bump for him like crazy and didn't need to be carried along? This could, of course, be just a corporate decision, but it has been established before that 'Taker has a big say in his matches as well.

Bray Wyatt's promos have talked about the resurrection of the Deadman. I truly believe that this year, we're going to see exactly that. After last year's setback, The Undertaker would make sure that he sets the record straight. 'Taker realizes that he doesn't have many more matches in him, so I'm sure that he'll put it all on the line here; performing as if this is his last. The fans have already started to debate over who should win the match. What I'm sure of is; win, lose, or draw; The Undertaker is going to set the world on fire one more time. In Bray Wyatt, he has someone who'll have no reservations in matching him move for move, expression for expression, and 'Taker is going to deliver a classic, which might as well turn out to be the Deadman's swan song. So, even if his bones are turning to dust; even if his body would do no justice to the fury of his character, 'Taker is going to expose himself for the world to see, and he'll make sure that it's one for the ages.



Like Kurt Cobain, The Undertaker was the symbol of a generation.

Like Kurt Cobain, it took The Undertaker some time to be accepted.

Like Kurt Cobain, The Undertaker has used his status to give opportunities to the ones ignored by others.

Like Kurt Cobain, The Undertaker would make the world take notice and erase all doubts about him, once and for all.

And like Kurt Cobain, The Undertaker's days are winding down, but that won't stop him from unleashing hell; on himself, and on all of us.

He knows only one way to perform, and nothing, not even death, would change that. After all,



It's better to burn out than to fade away.