---



The New Blood Present: The FWE Open Weight Grand Prix Preview


By zzzorf
Oct 11, 2013 - 6:57:59 AM





zzzorf: Well here we are once again, the greatest tag team to have ever graced the pages of Lords of Pain is back, bringing with us the column-y goodness that only we can. It has been a long time since me and TripleR have got together to bring you a New Blood column (November was our last) as we have both been focusing on making a name for ourselves with our solo writing but a special event in the wrestling world has seen us join forces once more so that we can all enlighten you on something you might of missed otherwise. That event is the FWE Open Weight Grand Prix which takes place this Saturday.

Trips: What the hell is the FWE? Only kidding, but I'm sure quite a few of our readers may not know anything about them. The FWE stands for Family Wrestling Entertainment and they're based out of Brooklyn, NY. They've managed to wrangle some of the biggest free agents in wrestling today for this particular card, and what a card it is. The Open Weight Grand Prix is a 16-Man tournament with some fantastic talent in it. Not only that, but there's a fantastic women's match and a tag-team title match on the card. If I didn't have my kids this weekend, I'd be up in New York myself seeing it live.

zzzorf: I know I personally would love to be there but it is a very long trip from all the way down here. Now before we get into having a look at what makes this card so great lets first take a look at how this Grand Prix set itself up. So back in the first week of July on FWE's facebook account they started revealing the names that would take part in this tournament. We were given a poster that had all participants on it, well at least the silhouettes of them anyway and the site would go on to reveal them by 1's or 2's over the next week. As the names were being revealed I could not be anything other than surprised at the massive amount of talent that was going to be involved and just how awesome this Grand Prix was going to be.

The next step was the drawing of the brackets. To say this was a random drawing would be a massive understatement and I have never really seen something so left up to chance in wrestling history before. Instead of me explaining it to you here is the video of the drawing of the brackets.



Now if you take notice only 14 people are down out of a possible 16 for the tournament. The original plan was for the FWE Champion John Hennigan (who you all may know as John Morrison) to have a bye through to the next round but in the end he decided that he should be treated the same as the rest of the competitors and a suitable opponent was found for him, the recently released from TNA at the time "Blueprint" Matt Morgan.

Trips: Morgan and Hennigan really topped off what was already a fantastic draw, but it wasn't without some changes. Originally, Mike Bennett and Jay Lethal were part of the tournament, but Ring of Honor decided to pull any of their contracted talent off of the card, so replacements had to be found. The first was none other than Ted Dibiase Jr., fresh off of his released from the WWE. The other replacement was pretty interesting, considering it was Ring of Honor talent they were replacing, and that was none other than former RoH wrestler Rhett Titus.

So now that the field was firmly set, we had our 16-man draw. So what do you say we take a look at the brackets and break it down with our picks.



Tommy Dreamer vs Carlito Colon


zzzorf: Now for a random match you couldn't really ask for a more important match to the FWE landscape. Tommy Dreamer, while getting old can still go as shown by last year holding the FWE Championship thus making him an important player in the promotion. The person he lost it to however was none other the man he faces here in Carlito Colon at Dreamer's own promotion House of Hardcore's first show back only 1 year ago (in a match that involved TNA's Knux). Dreamer though has not been able to get his revenge in a singles match as the only other time they have faced was in a TLC match that involved Matt Hardy at FWE's No Limits show from February (that full show is below for your viewing pleasure, I recommend the TLC match highly). Both superstars are coming of big moments from the last FWE show with Carlito losing his title to John Hennigan and Dreamer losing to RVD but then going out to win the FWE Rumble and thus having a title shot when he wants to cash it in. I see Dreamer getting the victory here but either way it will be a great match.



Trips: Two former WWE wrestlers go head to head in this one, and Carlito may still be stinging from losing the FWE Championship to Hennigan. Dreamer is getting up in years, and his body is certainly not in the shape it used to be able being beaten down in ECW, but he can still go. Carlito was severely underutilized in the WWE and has a great look and in-ring presence. I pick Carlito to go over Dreamer in this one, despite his horrible FWE record.



Jorge Santi vs Rhett Titus


Trips: Here's a guy that I don't know a lot about in Jorge Santi. He's had 8 matches in the FWE to date, and his opponent was a replacement for Michael Bennett so this one is quite a toss-up. I honestly would have put Bennett over in the first encounter, but I'm not so sure about Titus. I've never been all that impressed with him personally, but with Santi's lousy record in the FWE to date, I'm going with Titus anyway.

zzzorf: To be perfectly honest I don't know much about either of these two guys. I don't watch ROH so I have only heard about Rhett and Jorge is only relatively new with FWE and Victory Pro Wrestling looking like his main places of employment. What I have seen of him so far in the FWE videos I have seen though has really impressed me (he is in the video above in a tag match teaming with Matt Taven against Chris Mordetzky & Mike Bennett) but he is yet to step out into the major scene. This however is where this Grand Prix is great as it mixes up the talent from all over the place and at all levels and gives them a chance to mix it up with the best. This tournament offers a big chance to both of these men but I feel like the edge has to go with Jorge as he is the familiar one with the company and has the more to prove.





Paul London vs Tony Nese


zzzorf: Now this is the match on the card I am looking the most forward to. I have always enjoyed Londons work and even though he is a little bit older now he doesn't seemed to have lost much of that ability and is currently the FWE Tri-Borough Champion (this belt is X-Division style. London beat Damien Darling for the belt back in the show above). His opponent in Tony Nese though is who I really want to talk about. In my adventure into the wrestling outside of WWE and TNA this year it has been Nese that has impressed me the most. Some of you may remember Nese from his few matches he has had in TNA mostly back in 2011 but those matches don't do him justice as he has improved a lot in that short time. This match offers up what could be a very entertaining showdown and while London will probably win I am hoping that NEse gets his first ever FWE victory and progresses to the 2nd round.

Trips: Now I know you're a big fan of Tony Nese there buddy, but I haven't really seen much of his work personally. I have seen Paul London though and he's certainly one of the most athletic in-ring workers out there. He's got a mix of high-flying and ground offense that makes him quite dangerous in the ring. London's the bigger name here, so I'm going with him to go over in this encounter.



Joey Ryan vs Brian Kendrick


Trips: Joey Ryan brings sleazy to the FWE for the first time as he goes up against THE Brian Kendrick in another entertaining matchup. It's interesting and both Matt Morgan and Joey Ryan are on the card, considering their history together in TNA. I always felt that both Ryan should have been bigger than he was, but Kendrick is so unique in the ring and one of my personal favorites. Going with Kendrick in this encounter.

zzzorf: It was so funny watching the names being announced as Joey Ryan was not someone you would have picked, as his silhouette wasn't there. The day he was announced the picture changed begging the question who is the unfortunate wrestler to be kicked out of the Gran Prix because Ryan became available due to leaving TNA. It is what it is though and Ryan finds himself sleazing his way into a match against Brian Kendrick. Honestly I am not really into this match as I am not a Ryan fan so I am hoping Kendrick gets through this one pretty easy.



Ted Dibiase Jr vs Colt Cabana


zzzorf: Here is where the whole 'ROH pulling the talent can't appear on other promotions TV card' thing really got on my nerves as I was really looking forward to one of my favourites and former FWE Champion (and Tri-Borough as well) Jay Lethal making short work of Cabana and moving forward to the next round. However it was not to be and when we were told they needed to find replacements they first person who popped into my head was Ted DiBiase. Having recently left WWE on his own accord Ted was free for bookings and FWE were lucky to score that signature. However I didn't realise how lucky until FWE were until they posted the following message from Ted's agent: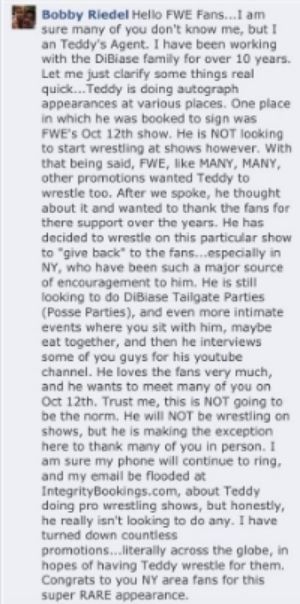 So what does that mean for this match, well I think it means Ted is going to put in a top quality match but will lose as he is most likely not booked for the show where the second round matches will be. It is a shame but it is what it is and at least we will get to see him wrestle one more time.

Trips: This is Ted Jr's first match outside of the WWE in many years, and in this encounter he gets to go up against CM Punk's good buddy Colt Cabana. Now I'll be honest with you, I just don't get Colt Cabana. I've watched quite a few of his matches over the years and to me he's just too much comedy. There's absolutely no way to take him seriously. I'm not surprised he hasn't been picked back up by the WWE. But in this instance, since Ted was a replacement on the card, I see Cabana going over. This is probably a one-off for Dibiase in the FWE, so Cabana gets the win.



Wes Draven vs Chris Mordetzky


Trips: I know absolutely nothing about Wes Draven, but the former Chris Masters has worked very hard to improve his skills. I quite honestly wouldn't be surprised if we see Chris in either TNA or the WWE before too long. Just on name recognition alone, I've got to go with Mordetzky. No offense to Draven, but I just don't know anything about him.

zzzorf: This match is going to be very interesting. You have the muscle man Chris Modetzky, who while not the size he once was now he is no longer taking his enhancers, still holds the majority of his strength against a guy who stands at 5'8" and weighs in at 150lbs. Modetzky is always improving and is more capable than he was in his WWE days but I feel like this match is going to be all about Draven. While I don't really know much about him what I have seen of Draven has left me wanting more. This is his chance to break out and make a name for himself and what better way than to start beating a known name from the WWE.



Sonjay Dutt vs Petey Williams


zzzorf: Just ask any fan of old school TNA fan what this match will deliver and the undercard should already be sold to you. This match has every reason to be match of the night and it very well could do so. I don't think I need to ramble on with this as the match sells itself but I have to go with Petey here, well just because. You just need to watch this match he had against Brian Kendrick at the last FWE show to see why.



Trips: Canadian Destroyer! Canadian Destroyer! Canadian Destroyer! Petey Williams for the win. 'Nuff Said!



John Hennigan vs Matt Morgan


Trips: Well, I'm quite torn on this encounter, which will probably end up being your Main Event of the evening, because I recently got to sit down and interview these two guys. To say that they're both very excited for this encounter is an understatement. This will be the first televised match that these two will have together, after being practice match partners in OVW so many years ago. I almost don't want to make a pick here, but since that's what we do, I'm going with the FWE Champion John Hennigan in what should be a fantastic match.



zzzorf: When they finally announced this as the last match of the first round my level of anticipation went from really excited to begging for the show to be on now and not have to wait the couple of months. Now that the show is mere days away I can't hold in my excitement. This match is going to be nothing short of amazing. Of any person on this card it is these two that you wouldn't really blink at if they were to turn up tomorrow and start appearing near the top of the card, hell I expect it to happen soon. However they are here main eventing the next FWE show and I couldn't be any happier. I would normally go for Morgan in this match but since Hennigan is the FWE Champion I have to give him the edge in this circumstance, but it will be a really close one. Also if you haven't done it yet do yourself a favour and listen to the radio interview above that Trips did with these two guys, you won't be disappointed.


While this might already looked like a stacked card we still have room for more and as Trips said at the beginning we have 3 other matches helping to bolster the card so we don't we take a look at them shall we.



Angelina Love vs Cheerleader Melissa vs Serena Deeb
Rosita vs Kasey Ray vs Ivelisse Velez


zzzorf: Now the purpose of these two matches is to help decide a new number 1 challenger for FWE Womens Title currently held by Maria Kanellis. I am unsure if the winners will face each other at the next show for the shot or it will be a three-way but that is immaterial as the matches here are what we are looking at, and what great matches those three are. Now I have made it quite clear that I have become a fan of womens wrestling this year and this is some of womens wrestling at its best. The first match is for the established stars with former TNA champion Angelina Love, current SHIMMER champion (and ex-TNA wrestler under the names Raisha Saeed and Alissa Flash) Cheerleader Melissa and former WWE diva Serena Deeb. This one is sure going to be a top quality showcase of talent, but I have to give Melissa the edge in the end. Not to be outdone though is the other match involving ex-TNA talent Rosita, new up-and-comer Kasey Ray and Ivelisse Velez from Tough Enough fame. This one could even outshine the first because the ladies involved have more to prove. My pick in this match has to be Ivelisse as she has shown massive improvement this year and is on her way to being one of the top girls on the indy circuit.

Trips: Well, just looking at these matches on paper, they already have TNA beat being as these two matches have more women in it than the entire Knockouts division. I don't know anything about Kasey Ray, but I'm familiar with the other 5 women so these could be two very hard fought triple threat matches.. In the end, my picks are with Angelina Love in the first match, and someone I was very impressed with in her Gut Check appearance in TNA, Ivelisse Velez



Young Bucks vs Adrenaline Express vs Trent Baretta/Bandido Jr.


Trips: The tag titles are on the line as the current FWE tag team champions, the Adrenaline Express head into this Triple Threat match. The Young Bucks are one of the hottest tag teams in wrestling, and Trent Baretta has been nothing short of impressive since leaving the WWE. I'm going with the Bucks in this one to become the new FWE Tag Champions in what should be a barn-burner.

zzzorf: What is any wrestling show without some sort of tag match and just like the rest of the card FWE has not skimped on the quality with them giving us one scorcher of a Tag Title match. While relatively an unknown team The Adrenaline Express (made up of EJ Risk & VSK) have quickly made a name for themselves in FWE and having the honour of becoming the first ever FWE Tag Champions in October last year after winning a tournament with some top notch teams involved. However they have two big teams vying for their title in this match. The first is the biggest tag team on the indy circuit at the moment, the Young Bucks. Wherever these two brothers go they steal the show and are trying to add the FWE titles to their current collection of PWG and DGUSA titles in their possession. The last team is made up of Bandido Jr, a guy who I don't know much about but is a FWE staple and his partner Trent Baretta, a guy who since leaving WWE has gone out and proved why they were idiots for letting him go. While the Young Bucks are easily one of my favourite teams wrestling today and I am quickly becoming a Trent fan with the action I have seen from him this year I have to give this match to the champions, the longer they hold the belt the bigger their name will become.



Trips: So there's a look at what will most certainly be one of the best independent cards of the entire year, and here's how you can see it. FWE just announced that the first hour will be aired FREE on both YouTube and on UStream. The remainder of the card will air live on UStream for a very reasonable $10. The FWE certainly wants to grab as many viewers to their product as they can, so if you want more information on the FWE, make sure you check them out at www.fwewrestling.com.

zzzorf: Well before we sign off, how bout we sell the show to them with some more information. I know how about the commentary team, yeah that should do it. Joining the FWE owner Jordan Schneider on commentary is none other than Matt Striker and Maryse Ouellet (normally Katarina Leigh (aka Winter/Katie Lea Burchill) is on the booth but she won't be at the show).

So is that enough to convince you to get the show yet? So as Trips said the first hour is going to be streamed on YouTube here or UStream here at 8pm on Saturday. FWE have announced that three matches will happen during that hour:
-Tommy Dreamer vs Carlito Colon
-Petey Williams vs Sonjay Dutt
-Rosita vs Ivelisse Velez vs Kasey Ray

The rest of the show will be on the FWE UStream channel here live for $10. Fear not though if you can't watch it live as it will still be available on those sites or at FWE website here on demand the next day. For any further information check out the website or their Facebook page or follow them on Twitter. Otherwise just hit up me or Trips at our usual feedback methods. I hope we have convinced you in joining us in watching the show for it is surely going to be a great way to spend the Saturday Night. Until next time, New Blood out.





Feedback:


zzzorf:

E-Mail: zzzorf@yahoo.com

Twitter:



Facebook: Add me as a friend here


Trips:

E-Mail: robsimmons717@yahoo.com

Twitter:



Facebook: Chair Shots Fan Page

Me and My Mates: Dream Matches 6 - Tag Team Turmoil (Match 7: Beer Money, Inc v The New Age Outlaws)
The King of Stats presents the 2013 WWE Superstar of the Year - #1 Daniel Bryan
The King of Stats presents the 2013 WWE Superstar of the Year - #10 to #6
The King of Stats presents the 2013 WWE Superstar of the Year - #15 to #11
The King of Stats presents the 2013 WWE Superstar of the Year - #20 to #16
The King of Stats presents the 2013 WWE Superstar of the Year - #25 to #21