---



The King of Stats presents the Official 2013 Bound for Glory Series Form Guide


By zzzorf
Jun 20, 2013 - 12:36:16 PM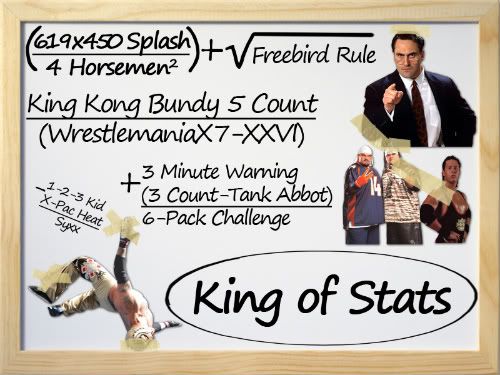 Welcome back one and all to the only column officially endorsed by the Wrestling InterNational Betting Incorporated Group (WINBIG), I am the King of Stats and today I present to you the official odds for the 2013 TNA Bound for Glory Series which kick off later tonight.

It is an unknown fact around these parts, but I am a person who likes to have a punt every now and again, be it on Horse or Greyhound Racing or sports like Tennis, Cricket or Football (Rugby League, not those pansy games Soccer, Grid Iron or Aussie Rules that you others try to call Football). One thing that really got under my nerves though was my inability to place a bet on my favourite form of Sports-Entertainment. That was until I found WINBIG, a betting agency whose sole purpose was to take bets from all around the world in the different aspects of Professional Wrestling.

But just placing a bet is not good enough for me, I don't just throw my money at the first thing that looks good, what sort of King would I be then. I need to look at the stats contained in the form guide first before I outlay my money, but to my dismay WINBIG had no form guide. That's where I come in as me and all my staty goodness became the official form guide editor for the company.

So today I give you the official form guide for the 12 participants in this year's Bound for Glory Series. I will present them in order from the roughest all the way down to the favourite. For those unfamiliar with betting terms I have simplified it the best I can. Concerning the odds they will be written as *-1, where * = how much you would win for each dollar you spend (e.g. 10-1 means you would win $10 for each $1 spent, i.e. spend $100 you win $1000 and so on). Well let's get to it then.



The Roughies
Joseph Park
500-1


Previous BFG Series: Nil
Since BFG 2012: 8/15 (53%)
TNA Record: 9/17 (53%)
Undefeated against: Nil
Never beaten: Nil
Never faced: Everyone

When Joseph Parks beat Crimson to gain entry into this years series you would have to say that it was a bit of an upset and it should in fact have been Crimson who earned the spot. I am not saying that because I would have liked to have seen Crimson get the spot as quite honestly I don't really even want to see him on TV let alone competing for a World Title shot. The reason though he had more right to the spot is that he is at least an experienced and qualified wrestler, not just the lawyer brother of one.

I am not putting Joseph down or anything as he has come along way over the last year with all his training but he is a long way from being a polished wrestler. Instead of being in a tournament to find the number 1 contender for the World Title he should be in fact working his way up fighting other lesser card names and honing his skills. Instead however he finds himself in this series and having to wrestle some of the biggest names in the company. The thing is though that since he is in the tournament he actually still has a chance of winning, albeit a very, very faint chance.

So what does Joseph bring to the table that could give him an advantage to surprise everyone and win this whole thing? Well first even though he has never faced any of these guys before he has the advantage that his brother has faced the majority of them and could therefore give him special advice to maybe help him catch them by surprise. Then there is the part of him seeing his own blood. As you all know when Joseph sees his own blood something seems to come over him, sort of as if he has turned into his brother, and everytime this has happened he has turned into an unstoppable force. While this is a major advantage for him there is also the fact that he more than likely will not bleed every match and therefore has to rely on his very limited wrestling knowledge he possesses.

Now if this was actually Abyss we were talking about we would find him very much higher up our list.


Jay Bradley
200-1


Previous BFG Series: Nil
Since BFG 2012: 3/3 (100%)
TNA record: 3/3 (100%)
Undefeated against: Nil
Never beaten: Nil
Never faced: Everyone

The only thing really putting Jay Bradley above Joseph Parks in the betting is the fact that he has actually been training and competing for a lot longer than Parks has. While he has only been in TNA since the beginning of this year he has been competing in other promotions from as far back as 1999. That however is about as far as his advantage goes. It is really hard to justify Bradley having a spot in a competition as big as the BFG series as he is nowhere near the level of the 10 guys who are still to come.

Then again it is not like we have really seen what Bradley has to offer. So far he has only had 3 matches in his TNA career, and while winning all three of those matches the opponents (Brian Cage, Christian York & Sam Shaw) are not really of the calibre of the wrestlers in this tournament. The fact though that he has not faced anyone in this main event range could easily play to his favour as he is an unknown factor. None of his competitors are familiar with him. They are not used to his style and they don't know what he is capable of. However it still comes back to the fact that he himself has not been tested against the bigger names.

Who knows he may be the dark horse that runs away with it all, but win, lose or draw this whole tournament will be a massive learning curve for him and the rub he will get for being in the ring with the big stars will be nothing short of a benefit for his future in the business.


The Longshots
Kazarian
100-1


Previous BFG series: nil
Since BFG 2012: 7/23 (30%)
TNA record: 104/232 (45%)
Undefeated against: Anderson (1-0)
Never beaten: Roode (0-2), Hardy (0-1)
Never faced: Aries, Hernandez, Magnus, Bradley, Park

While the odds of 100-1 seem a bit over the top for Kazarian, when being compared to the majority of the other wrestlers in this tournament it is well justified. While he has been one of the more entertaining aspects of TNA over the last year as part of Bad Influence his poor 30% win record since Bound for Glory last year is the worst of anyone in this tournament and his overall record of 45% is equal 2nd last. To make the record even really worse Kaz has not managed to win a singles match since February last year, every other win since has been with his tag partner Christopher Daniels in the match with him.

The last singles match Kazarian had was back on January the 3rd which begs the question has he got too used to having a partner to rely on that in a singles only tournament he may be out of his depth? If his past of being a 5-time X-Division Champion has anything to say about it then I say he will have no trouble going back to being a singles wrestler. Also having Daniels watching his back for him during his matches can only help Kaz's chances of performing well.


Christopher Daniels
50-1




Previous BFG Series: 9th (2012)
Since BFG 2012: 10/30 (33%)
TNA record: 129/298 (43%)
Undefeated against: Nil
Never beaten: Hernandez (0-2), Anderson (0-1), Magnus (0-1), Hardy (0-1)
Never faced: Roode, Bradley, Parks

While Daniels is coming in at 50-1 and his tag team partner Kazarian is at 100-1 there is not really much splitting them at all. While his win record since last years Bound for Glory is slightly just better than Kaz's, Daniels overall TNA record is the worst of any of the 12 competitors. What really splits the difference between the two is that Daniels has had more singles action than Kazarian including a win within this calender year.

However it is the ability to lose constantly which Daniels needs to overcome if he wishes to make it to the main event of this years Bound for Glory. Every wrestler in this tournament who he has faced in a singles match has beaten him at least once (Styles 10-14-4, Aries 5-2, Kaz 1-2, Joe 1-6) yet he has only got at least one victory on half of them. Then add to the fact that Aries is the only one he has more wins than losses against and you start to think that maybe 50-1 is to generous.

History has shown that Daniels can get it done on his own though as he is a 3-time X-Division Champion and having participated in this series last year he has already had a taste of what is required of him over the next few months.


Mr. Anderson
40-1


Previous BFG series: 8th (2012)
Since BFG 2012: 7/18 (39%)
TNA record: 51/114 (45%)
Undefeated against: Daniels (1-0)
Never Beaten: Aries (0-1), Kaz (0-1)
Never Faced: Hernandez, Bradley, Parks

In what is a funny little scenario Mr Anderson comes in at the same odds that his Aces & 8's President TNA Champion Bully Ray came in at for last years series (Anderson himself was at 20-1). To say I was surprised to see Anderson this high in the odds was an understatement and is a testament to the quality of the wrestlers in this years series that he couldn't even get as high as he did last year in the odds.

The main reason Anderson is so far back is that he seems to have a hard time at getting the victory in his matches. He has the ability to win the big matches as shown by the fact that he is a 2-time World Champion but he has even more of a chance in losing them, as shown by the fact that those two reigns only lasted for 64 days (35 and 29 respectively), less than most champions held the title for in one run.

The one thing that Mr Anderson does have though is the backing of Aces & 8's. Having a whole club of men watching his back at all times will come in very handy in turning the tides in his matches when he is starting to get close to suffering a loss and is an advantage that no other competitor in the tournament has.


Outside Chances
Magnus
20-1


Previous BFG Series: 10th (2012)
Since BFG 2012: 12/17 (71%)
TNA record: 40/81 (49%)
Undefeated against: Styles (1-0), Daniels (1-0)
Never Beaten: Joe (0-4)
Never faced: Everyone else except Anderson (1-1)

I really believe Magnus could be the surprise packet of this years tournament and could easily be the wrestler who snatches the victory out from the faces of the favourites. He is on the verge of breaking into the main event scene and this is most likely his best chance to do so.

After having spent many years in the Tag Division as part of the British Invasion, London Brawling and then teaming with Samoa Joe, Magnus finally broke out into singles competition in last years BFG Series. While he only managed a 10th placing it gave him valuable experience on how to combat the Main Event level talent. This last year has seen Magnus have a great run winning over 70% of his matches meaning he is well prepared for this years tournament.

I think the key to Magnus's victory will be to get an early win over Samoa Joe. Having lost to him on all four occasions since their separation, an early victory would do Magnus's confidence the world of good and could be all he needs to beat the rest of his opposition. In fact I wouldn't be surprised if this happened at Open Fight Night with Magnus calling him out for exactly that reason.


Austin Aries
17-1


Previous BFG Series: Nil
Since BFG 2012: 13/31 (42%)
TNA record: 54/111 (49%)
Undefeated against: Roode (2-0-3), Hernandez (1-0), Anderson (1-0)
Never beaten: Styles (0-1), Hardy (0-5-1)
Never faced: Kaz, Magnus, Bradley, Parks

At Bound for Glory last year Austin Aries walked in champion and left without his belt after being beaten by last years BFG Series winner Jeff Hardy so he therefore knows just how important winning this series can be. 2011 and 2012 were both great years for Aries winning a TNA contract and then not long after that winning the X-Division Title before cashing it in and winning the World Title. However after losing the title to Hardy things did not go so well. Granted he did win the Tag Titles with Bobby Roode thus making him only the 5th Triple Crown winner in TNA history he has not been able to keep the form going only managing to win 42% of his matches.

In fact the real bad time Aries has been having is only in the last few months as a fair share of his losses have fallen in the last 3 months. If this poor form caries over into the BFG Series than Aries can kiss his chances of Main Eventing a second consecutive Bound for Glory goodbye. However if he can re-find the form that made him the quickest ever Triple Crown Champion in TNA history than he may be able to pull out the series win.


Hernandez
13-1


Previous BFG series: Nil
Since BFG 2012: 16/27 (59%)
TNA record: 102/182 (56%)
Undefeated against: AJ (1-0), Daniels (2-0)
Never beaten: Aries (0-1)
Never Faced: Kaz, Magnus, Anderson, Hardy, Bradley, Parks

When I saw the odds that Hernandez was taken aback as to be quite honest I had not given him much of a chance in this series but the more and more I sit back and think about it the more sense it makes. At constantly winning over half of his matches he has become quite accustomed too what it takes to get the victory. In fact even though he has not had much in the way of singles matches of late aor against any of his fellow competitors in the tournament he does have the advantage of beating most of them in Tag Matches within the last year.

One of the reasons Hernandez wins so much is due to his size and power, something that not many people can match in this tournament. The other real advantage, something that can not be forgotten, is that he has spent the last year with Chavo Guerrero. Within that year Chavo has been taking Hernandez under his wing and been given him the benefit of his knowledge he has learnt from his lengthy career.

Hernandez has all the ingredients to if not win the tournament than to be the man to help determine the final outcome in some way.


Major Chances
Bobby Roode
10-1


Previous BFG Series: Won (2011)
Since BFG 2012: 15/30 (50%)
TNA record: 160/330 (48%)
Undefeated against: AJ (5-0-2), Kaz (2-0)
Never beaten: Aries (0-2-3)
Never faced: Daniels, Magnus, Bradley, Parks

Last year Jeff Hardy won the BFG Series after beginning the series at 10-1 so it is only fitting that the guy who won the first ever series has the odds of 10-1 this time around. While Roode was not able to win the title at Bound for Glory after winning the 2011 BFG Series he did manage to win it just weeks later and held it for a total of 256 days, more than anyone in TNA history. Due to him being champion at the beginning of the 2012 BFG Series he wasn't able to defend his win from the year before and therefore this is his chance to win back the title of BFG Series winner that Hardy know holds.

The problem however that Roode has which hampers his chances is the same problem a few others that have already been mentioned have, that he has spent the best part of the this year involved in the Tag Division and has not had many singles matches so may be to reliant on having a tag team partner.

However in saying that he has got an advantage in that he has had multiple wins against most of his opponents in this tournament (AJ 5, Kaz, Anderson, Joe & Hardy 2) showing that he knows how to beat them on his own.


AJ Styles
8-1


Previous BFG Series: 6th (2011, 2012)
Since BFG 2012: 6/11 (55%)
TNA record: 233/441 (53%)
Undefeated against: Aries (1-0)
Never Beaten: Roode (0-5-2), Hernandez (0-1), Magnus (0-1), Hardy (0-2-1)
Never faced: Bradley, Parks

While the majority of the fans see AJ Styles as the favourite to win this year WINBIG see it differently and only see him as a major chance. There are too many obstacles for AJ to climb for them to confidently say that he will win this years BFG Series that they can't make him the favourite.

1. His current state of mind is too unpredictable.
2. He has barely wrestled since last years Bound for Glory so there may be some ring rust showing through.
3. The losses he has occurred over the last year have been very significant begging to ask can he get it done anymore when something is on the line.
4. 8 of the 9 competitors he has faced 1on1 have beaten him at least once before.
5. Of those 8, 5 have the better record against him (the 4 he has never beaten and Samoa Joe 4-8-1) and 1 he is tied with (Anderson 1-1)
6. Both Previous BFG Series he has failed to perform finishing 6th both times.

However AJ has got the ability to pull out the win as history has shown with his multiple title reigns and with his new found attitude maybe setting him back on track he could very well be the man to beat this year.


Samoa Joe
4-1


Previous BFG series: Last (2011), 3rd (2012)
Since BFG 2012: 16/29 (55%)
TNA record: 155/267 (58%)
Undefeated against: Magnus (4-0)
Never Beaten: Nil
Never faced: Bradley, Parks

Again I am quite surprised with how low Samoa Joe's odds are but the more I look at it the more I realise that the stats do really justify it. Samoa Joe is one of the best wrestlers in TNA and it is shown in his stats winning more than half of his matches on a regular basis. He has beaten all 9 wrestlers he has faced at least once and has positive records against 5 of them (Magnus 4-0, Styles 8-4-1, Daniels 6-1, Hernandez 2-1, Kaz 3-1-1) and 1 tied (Aries 4-4).

However it is not just the stats in Joes favour as he has a lot of motivation to move himself back to the top of the TNA ladder that he has been a long time gone from. He had many years there where he was not the beast that he once was and now that he has re-found that place it is time for him to move back up and the BFG Series presents the best place to do so.


Favourite
Jeff Hardy
2-1


Previous BFG series: Won (2012)
Since BFG 2012: 17/23 (74%)
TNA record: 95/155 (61%)
Undefeated against: Styles (2-0-1), Aries (5-0-1), Daniels (1-0), Kaz (1-0)
Never Beaten: Nil
Never faced: Hernandez, Magnus, Bradley, Parks

Last years BFG Series winner Jeff Hardy finds himself the favourite to go back to back and win it again this year and quite honestly I don't know how you could say otherwise. His TNA win/loss record is well above anyone else in this series other than Jay Bradley and that is because in his three matches he has faced three guys lower down the card. The same can be said with his more recent record as well. The most telling stat though is the fact that he has the win/loss advantage over all 7 guys he has faced before in singles matches with 4 of them having never beaten him (the others are Roode 5-2-1, Anderson 8-7-1 & Joe 2-1-1)

But WINBIG did not just choose Hardy as the favourite just because of his stats. There is the fact that he is the most recent World Champion, the guy who is eager to get back the title he held not that long ago. But it's not just the title he wants to get his hands on but also the person who beat him for it and even put him out of action for a while Bully Ray. Hardy is fighting for what he has lost and it is this emotion that has made him the favourite to win this year's Bound for Glory Series.


So there it is the official odds for the 2013 Bound for Glory series. The betting lines are now open so please feel free to leave your bets in the feedback. I am the King of Stats signing off for another day, and remember ... THE STATS NEVER LIE.




Before you all go I have two plugs I just want to get out of the way first.

1. On Sunday 9:30pm Sydney Time (7:30am New York time) I will be making my solo debut on LOPRadio. The subjects I plan to be talking about are some observations I have made from a talk with a non-casual fan, comparing the 2013 WWE product with the 2001 product and a look at some of the indy promotions I have been watching of late. So hop on over to LOPRadio and give me a listen if you have the chance.

2. If you were listening to the post-Payback show on LOPRadio you would have heard me put forward a plug for an upcomming iPPV. If you didn't hear the plug than the iPPV in question is FWE: Welcome to the Rumble 2. The first thing you will notice with the card for this iPPV is that there are a lot of guys with whom you may recognise. This card is a real star-studded affair in the fact that the majority of the card is ex-WWE guys and also some who didn't make it that far but at least have made it to TNA in the past. That is why I think this is the perfect indy show for the first time viewers. I know there are a lot of you out there who want to watch a indy event but are too scared as you are not aware of the majority of the wrestlers on the card. With over half the card here being wrestlers you know this allows you to more ease your way into learning what is out there beyond the confines of the WWE and TNA.

Here are the details of the card and as usual click the pick to be taken to the website providing the iPPV.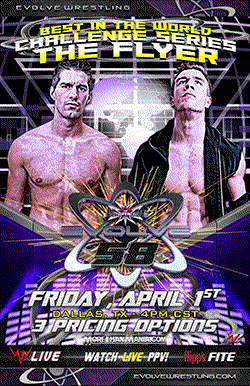 FWE presents
Welcome To The Rumble 2!
Friday, June 21st, 2013
Corona, NY
Belltime - 8:00 PM

1. Live viewing only - $9.99
2. Live viewing and Video on demand - $14.99
3. Live Viewing, Video on Demand and DVD (when released) - $24.99

FWE Heavyweight Championship Match
Carlito defends vs. John Morrison

No Disqualification Match
Rob Van Dam vs. Tommy Dreamer

Maria Kanellis & Ivelisse vs. Angelina Love & Katarina

FWE Tri-Borough Championship Match
Paul London defends vs. Akio Yang

Brian Kendrick vs. Petey Williams

The Young Bucks vs. Anthony Nese & Jigsaw

30 Man Rumble - Rumble winner gets a future shot at any FWE title!
Rumble Participants:
-The Patriot
-Jorge Santi
-Paul London
-Mike Bennett
-VSK/Ej Risk (Adrenaline Express)
-Sam Shields
-Matt and Nick Jackson (The Young Bucks)
-Joey Ace/Jason Gotti (Diamond Inc.)
-Bandido Jr.
-Alex Reynolds
-Chris Mordetzky (fka Chris Masters)
-Damien Darling
-StoneCold ET
-Wesley Draven Turner
-Akio Yang
-JKO
-Plus MORE!


Feedback:
E-Mail: zzzorf@yahoo.com
Twitter:

Facebook: Add me as a friend here
Me and My Mates: Dream Matches 6 - Tag Team Turmoil (Match 7: Beer Money, Inc v The New Age Outlaws)
The King of Stats presents the 2013 WWE Superstar of the Year - #1 Daniel Bryan
The King of Stats presents the 2013 WWE Superstar of the Year - #10 to #6
The King of Stats presents the 2013 WWE Superstar of the Year - #15 to #11
The King of Stats presents the 2013 WWE Superstar of the Year - #20 to #16
The King of Stats presents the 2013 WWE Superstar of the Year - #25 to #21