---



The King of Stats presents the 2013 WWE Superstar of the Year - #25 to #21


By zzzorf
Jan 10, 2014 - 11:27:42 PM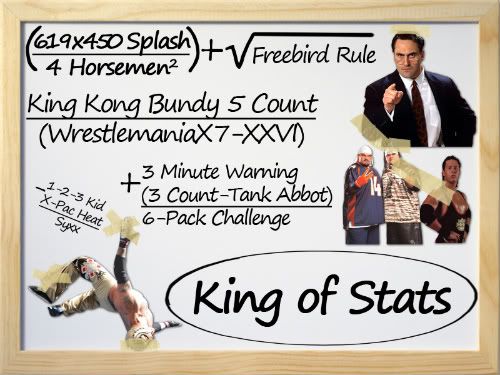 banner courtesy of TeamFarrell
1-5. #30 Titus O'Neil, #29 Darren Young, #28 Kaitlyn, #27 Fandango, #26 Natalya
6. #25 AJ Lee
7. #24 Wade Barrett
8. #23 Big E Langston
9. #22 Kane
10. #21 Sheamus
25. AJ Lee
152 points
The Stats


Minor Shows: 3-3-0
Raw: 7-11-1
Smackdown: 9-5-0
PPV: 6-2-0
Title Matches: 11
Raw/SD Main Events: 3
PPV Main Events: 0
2012: 53rd (49pts)



Year in Review


And here we are once again today finding me having to talk about a Diva. It is not just any diva however as it is the current Divas Champion and more importantly the WWE Diva of the Year as according to this countdown. It is a true testament to the divas this year that 3 of them were able to crack the top 30 for 2013 and make a highest position of 24th (152pts) compared to last years highest point of 32nd (116pts). The Division as a whole is finally getting the makeover it deserves and is gaining some of its old prestige back and with some of the talent that is waiting in the wings in NXT we'll you know that this return to glory is not going away anytime soon.

But I am not here to talk about the division as a whole just it's current champion, AJ Lee. When 2012 ended there were not many people who said that AJ would not win the Divas Title in 2013. However it was not her that won the title first but it was her ex-best friend Kaitlyn who managed to dethrone the then champion Eve Torres. The decision to give Kaitlyn the title first had a lot of people complaining (me included) yet it made perfect sense in the long run as giving AJ beating someone she has history with made her eventual win more meaning.

The most shocking part though was how long it took for AJ to finally get the gold around her waste as everyone expected Kaitlyn to drop it to her pretty early, most likely at Wrestlemania. After one failed attempt on the April 24 th edition of NXT it was however not until Payback in June that she was finally was able to wrench the title away from her. She has since gone on to defend the title against Kaitlyn, Bayley, Naomi, Brie Bella & Natalya thus allowing her to keep possession of the belt going into 2014.



The Future


I guess sooner or later AJ has to lose the belt and I say that time is quickly approaching, I'm guessing by the end of the Road to Wrestlemania. While I wish it was somebody like Natalya winning the title from her it makes more sense for it to be Tamina who takes the gold away. After that I see AJ sticking around the number 1 contender spot and maybe winning her title back, however I see that more likely in the years to come and not in 2014.



30 Day Challenge
Day 6: Ivelisse Velez


Keeping with the best Diva on the roster theme today I will present to you the woman who I believe more than any other lady at the moment should be signed by the WWE right now, and it is in fact someone who has already worked for the company as late as 2012. Ivelisse first started to appear for the WWE on the most recent edition of Tough Enough and was later signed by WWE to a developmental deal where she wrestled in FCW/NXT as Sofia Cortez.

At the beginning of 2013 I was not a fan of Ivelisses whatsoever yet here I am now saying she should be the next woman signed by the WWE, even before my more favourite ladies such as Leva Bates. This is because after watching her put on match of the night numerous times I have come to accept the great talent this girl has. However she can't sign just yet because on the 24th of January at SHINE 16 she will be going 1on1 with her Valkyrie (heel stable she is part of) leader Rain for the SHINE Championship, a match I am 99% positive she will walk out with the belt.

Unfortunately I haven't been able to find a real good recent match for her so you will have to deal with her TNA Gut Check match from February 28 2013 against Lei'D Tapa.








24. Wade Barrett
163 points
The Stats


Minor Shows: 11-8-0
Raw: 7-14-1
Smackdown: 3-14-0
PPV: 0-3-0
Title Matches: 9
Raw/SD Main Events: 6
PPV Main Events: 0
2012: 27th (130pts)



Year in Review


2013 started off strong for Wade Barrett having won the Intercontinental Title on the last day of 2012 and things were looking good for him with wins against Santino Marella, Zack Ryder and Randy Orton to start the year. Things would not stay that way though as he would be on the losing end of a 6-man tag then a no contest and loss to Sheamus leading up to the Royal Rumble. That is when things got worse. In the Rumble match Barrett would be eliminated by NXT rookie Bo Dallas and then would be beaten by him in a singles match the next night on Raw.

Once upon the Road to Wrestlemania a trend started to happen in Barrett's matches. He would lose to any ex-WWE/World Champion he would face (Orton x3, Bryan, Del Rio x2, Miz & Jericho) but would beat any non-champions he would face (Kofi, Gabriel, Truth, Dallas & Ryder) (exceptions to the rule, a loss to R-Truth and a title defense against Miz & Jericho in a Triple Threat). At Wrestlemania he would keep the trend alive when he lost the Intercontinental Title to The Miz on the pre-show before breaking the trend the next night winning the rematch and regaining the title.

After a victory over Santino on that weeks Smackdown Barrett's form took a massive hit. Between the Raw on April 15 and his last match of the year on the September 23 edition of Smackdown Barrett was involved in 30 matches of which he only managed to win 5. He would defend his title against Justin Gabriel and Also beat William Regal in April before going on a 12 match losing streak which included him losing the title to Curtis Axel at Payback. Over the last 2 months he managed to get wins over Zack Ryder, R-Truth and Daniel Bryan intertwined with 11 losses.

After a few months off Barrett made his return now renamed Bad News Barrett and would stand behind a podium and deliver what he claims is Bad News. The current gimmick though has a lot of fans, including myself, scratching their heads and sitting starring blankly at the screen. To be perfectly honest out of all the different gimmick changes he has had over the years this one has to be the worst so far. The question though is can he turn his bad form around when he finally returns to the ring and wrestles under his new gimmick.



The Future


Last year I predicted a World Title win for Barrett either in 2013 or 2014, I am now regretting that call. The way things are looking for Barrett at the moment I don't see much happening for him above what has happened to him since Wrestlemania. With his gimmick the way it is I believe the best Barrett can hope for this year is a win ratio of 25% and more time on the sidelines. It is such a shame as Barrett had a lot of potential to be more.



30 Day Challenge
Day 7: Jon Davis


With 3 big EVOLVE shows on this weekend (all shows are watchable from wwnlive.com at a small cost) over the next few days I am going to look at a few of the guys on the cards who I think would make a great inclusion on the WWE roster. Todays wrestler is former FIP Champion Jon Davis. This guy has everything that the WWE normally seems to look for Size, power and aggression. He would easily fit in there as one of their vicious Midcard talent say like what Ryback is supposed to be like.

The match I have for you today is a No-DQ Match pitting Jon Davis against Chuck Taylor from EVOLVE 21 which took place on May 31st 2013.








23. Big E Langston
173 points
The Stats


Minor Shows: 15-5-0
Raw: 11-11-0
Smackdown: 7-5-1
PPV: 3-2-0
Title Matches: 13
Raw/SD Main Events: 2
PPV Main Events: 0
2012: 71st (20pts)



Year in Review


At the beginning of 2013 Big E only had one thing on his mind, to make a name for himself. At the time he was an NXT wrestler who had made his debut as a non-wrestling enforcer for Dolph Ziggler and AJ Lee on the main roster just weeks earlier on the December 17 episode of Raw. He started off in good form beating Seth Rollins for the NXT Title on the January 9th edition of NXT. He would hold that title for the next 5 months beating out challenges from Brad Maddox, Conor O'Brian & Damien Sandow before losing it to Bo Dallas on the June 12th edition of NXT. In fact that loss would be one of only two loss in 10 matches on NXT in the first seven months of the year before fully leaving the show behind him.

As to the main roster Langston would finally debut in the ring at Wrestlemania teaming with his employer Dolph Ziggler in a losing effort for the Tag Titles against Team Hell No. After Wrestlemania Langston would start the process of working himself up the card over the next months he would pick up victories over Daniel Bryan, Zack Ryder x2, Alberto Del Rio x2 & Curt Hawkins but be on the losing end of the equation 8 times which included 6 losses to Alberto Del Rio (2 of which were tag matches).

At the beginning of July Dolph Ziggler turned face thus ending his usage of Langston and thus starting a short lived feud between the two which ended at Summerslam when Dolph Siggler & Kaitlyn beat Langston & AJ Lee. After this Langston would separate from AJ and go it alone. During this feud and shortly after Langston would have mixed results again winning 8 matches but losing 10.

On the October 18 edition of Smackdown things would change for Langston as for the first on the main roster he turned face when he helped CM Punk when he was being attacked by The Shield. Exactly one month later Langston would win his first major title when he beat Curtis Axel for the Intercontinental Title on the November 18 edition of Raw. This match would be win 1 in what would become a 12 match winning streak to finish the year off (which has now been extended to 15 due to his win against Curtis Axel on Raw).



The Future


Well Langston has his future in his hands at the moment. He is currently in a dominant run as Intercontinental Champion and that could continue for a while if he can keep it up. Of course one day he will have to lose the title but that does not mean he won't win it back. Eventually though he will move on and that is where the key will be, has he got what it takes to move up into the main event era at the top of the card or will he fall greatly like other wrestlers of his type who got similar pushes Ahmed Johnson and Ezekial Jackson? You would have to say that Vince has finally got the one he was looking for and Langston might just get there.



30 Day Challenge
Day 8: Chuck Taylor


Keeping with the EVOLVE theme for the upcoming shows this weekend (which you can can watch on wwnlive.com for a small cost) I have decided to go with the guy who was the opponent in yesterday's video Chuck Taylor. Chuck Taylor is a young guy who would fit quite good into the WWE roster. He has been a regular on the CHIKARA, DGUSA, EVOLVE & PWG card for the last 7 years and is finally building himself up to be a major player.

The match I have here for you is from CHIKARA in late 2011 and sees Chuck Taylor go up against Fire Ant.







22. Kane
179 points
The Stats


Minor Shows: 3-0-0
Raw: 17-9-0
Smackdown: 10-6-0
PPV: 2-4-0
Title Matches: 6
Raw/SD Main Events: 10
PPV Main Events: 0
2012: 8th (247pts)



Year in Review


After finishing 8th in the 2012 countdown and being one half of the Tag Team Champions, 2013 was already starting off to be a pretty good year for the Big Red Machine. Well it looked like he was going to have a good year if it wasn't for the fact that Team Hell No lost their first match of the year against The Rhodes Scholars. Kane would rebound and win with victories in his next 5 matches before being eliminated by his tag partner in the Royal Rumble.

This would start a very turbulent next few months for Team Hell No as they would go from being the decisive unit they had been for months to being one second away from tearing apart at the scenes. They would be able to defend their title at Wrestlemania against Dolph Ziggler and Big E Langston but would eventually lose to The Shield at Extreme Rules.

After Team Hell No lost their rematch they would be forced to operate apart when the Raw GM Vickie Guerrero forced Daniel Bryan to tag with Randy Orton in an attempt at the Tag Titles and Kane would get a shot at Dean Ambrose and the US Title at Payback. Even after all the turmoil Kane and Bryan had earlier in the year they would eventually split amicably and go their own way in search for singles success. What this meant for Kane was ending up in a feud with Bray Wyatt and a loss at Summerslam in a Ring of Fire Match.

After that match Kane would take some time off to film See No Evil 2 (a movie I am anxiously waiting for) before returning at Hell In A Cell and attacking the Wyatt Family and The Miz. The next night on Raw he would squash The Miz in just over a minute which would be his last match of the year as he would later proceed to hand his mask over to the Authority and thus become the Director of Operations.



The Future


You would have to think that Kane's career is quickly coming to an end. I do believe he will make a return to the ring soon (he is wrestling on the house show scene) but I don't think it will be a long lived one. It will most likely be a small run to help put over someone who needs the little push that feuding with Kane gives them.



30 Day Challenge
Day 9: AR Fox


Todays EVOLVE wrestler is in fact their first ever (and currently reigning) champion AR Fox. Fox is another young (26) wrestler who has got a spectacular move set and is a guy who regularly goes out and puts on one of the best matches of the night each time he appears on the card.

The match I have here for you is AR Fox v Rich Swann from DGUSA Open The Ultimate Gate 2012. If you want to see a match with a lot of entertaining moves well than this could be a match for you.







21. Sheamus
179 points
The Stats


Minor Shows: 11-0-0
Raw: 13-6-2
Smackdown: 14-2-3
PPV: 1-4-0
Title Matches: 0
Raw/SD Main Events: 10
PPV Main Events: 1
2012: 1st (394pts)



Year in Review


2012 was a phenomenal year for Sheamus topping last years version of this countdown and all was set for a good year in 2013. While not the main dog in the yard this time around he was still used prominently around the top to middle of the card. And more importantly he kept winning. Sheamus managed a nice win record in 2013 of 39 wins from 56 matches thus giving him one of the better win ratios of 70%.

The major thing missing from Sheamus's stats though is the fact that he did not have a shot at any title whatsoever in 2013. In 2012 he was the World Heavyweight Champion yet in 2013 he wasn't able to have a shot at anything. In fact he was the only wrestler in the top 30 (you actually have to go to Heath Slater at 35 to find the next) who did not manage any title shot at all. I don't know if that means anything other than they forgot about him but it is worth thinking about.

2013 was cut short for Sheamus however when he injured his shoulder back at the beginning of August so that cut his stats fairly shorter than they could have been. It would have been interesting to have seen what he would have been able to accomplish if he had remained injury free. A title match might have been on the cards but even if it wasn't he would have continued to have win matches left right and centre at the rate he was which would have seen him challenge for the top spot.



The Future


Sheamus is due to return soon and expect him to come back as strong as ever. I would not expect much to change in the way they handle him. Over the last few years he has been averaging 2 TV matches a week which is only rivalled by a handful of wrestlers and none of them win as many as he does. While a title may not be on the cards for him at the moment it won't be long until he has gold around his waist soon.



30 Day Challenge
Day 10: Caleb Konley


Finishing up my few days of looking at EVOLVE wrestlers who are appearing on the cards put up this weekend by the company (which are available to watch at wwnlive.com) this weekend is another young star who has impressed me Caleb Konley. Having been in a tag team known as The Scene with Scott Reed for the last few years he has become an accomplished tag wrestler. This year however they broke apart when Reed turned his back on Konley and since then Konley has proven he can do it solo as well. Even in losing the matches I have seen of Konley since going solo has shown him as the star of the match.

The match below is from December 15 2012 from the promotion TCW and sees Konley facing Jake Manning.






Feedback:

E-Mail: zzzorf@yahoo.com

Twitter:


Facebook: Add me as a friend here







Lords of Pain Wrestling (LPW) is an e-wrestling federation established in Spring 2003. Regarded as one of the most competitive and popular e-federations on the world wide web, LPW spans handlers from five continents. Click here to sign up.
Me and My Mates: Dream Matches 6 - Tag Team Turmoil (Match 7: Beer Money, Inc v The New Age Outlaws)
The King of Stats presents the 2013 WWE Superstar of the Year - #1 Daniel Bryan
The King of Stats presents the 2013 WWE Superstar of the Year - #10 to #6
The King of Stats presents the 2013 WWE Superstar of the Year - #15 to #11
The King of Stats presents the 2013 WWE Superstar of the Year - #20 to #16
The King of Stats presents the 2013 WWE Superstar of the Year - #25 to #21