---



The King of Stats presents The 2012 WWE Superstar of the Year - #5 to #1 (+ top 100 list)


By zzzorf
Jan 30, 2013 - 6:01:00 AM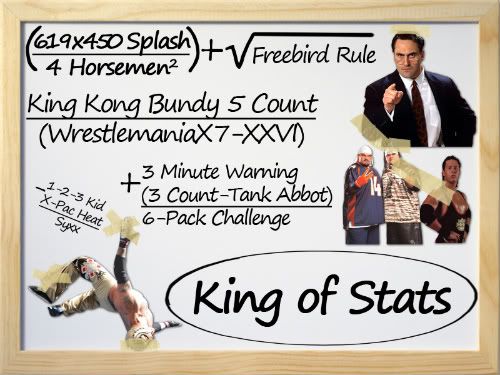 1-5. #30 David Otunga, #29 Sin Cara, #28 Chris Jericho, #27 Wade Barrett, #26 Justin Gabriel
6-10. #25 Tyson Kidd, #24 Jack Swagger, #23 Heath Slater, #22 Jinder Mahal, #21 Zack Ryder
11-15. #20 Titus O'Neil, #19 Darren Young, #18 Antonio Cesaro, #17 Damien Sandow, #16 Brodus Clay
16-20. #15 Ryback, #14 R-Truth, #13 Santino Marella, #12 The Miz, #11 Randy Orton
21-25. #10 Cody Rhodes, #9 John Cena, #8 Kane, #7 Alberto Del Rio, #6 CM Punk
26. #5 Kofi Kingston
27. #4 The Big Show
28. #3 Dolph Ziggler
29. #2 Daniel Bryan
30. #1 Sheamus





So we have finally made it, after 25 days of counting down WWE Superstars we find ourselves inside the top 5. By now you have all figured out the top 5 but in what order will they appear?

Before we get the countdown restarted though I just want to give you all an update on the nXt Tournament that I am running over in the forums. If you remember early in the month I had up an announcement about taking entrants for the qualifying round. Well at the finish of that round we had 37 different people put up a column. Of them 20 got chosen to compete in round 1 which has just rapped up with round 2 to start tomorrow after the first 3 eliminations have been made. If you would like to see the wonderful columns that have been written so far in this tournament you can do so HERE.



5. Kofi Kingston
273 points
The Stats

Minor Shows: 16-1-1
Raw: 18-20-0
Smackdown: 10-11-0
PPV: 4-5-0
Title Matches: 17
Raw/SD Main Events: 8
PPV Main Events: 1


Year in Review


I have done a few different stats things now from my TV shows series Ruler of Raw and Sultan of Smackdown to my pre-PPV Analysis that have included Kofi Kingston and I have to say this is the first time that I have ever seen some of his win/loss records favour the loss more than the win. Other than the minor shows which barely no one watches anyway Kofi's losses have out weighed his wins. You see Kofi has a 59% win ratio in WWE for his entire time there through years as being booked as a top flight mid-carder that helps keep the PG crowd happy. So to see these stats has me a little baffled and I have to ask the question, do they believe less in Kofi's ability now?

I believe the answer to that question has to be a resounding yes. It's not that they have lost complete faith in him, hell he was 1 of only 3 people who managed to have multiple title reigns in 2012 and was 1 of only 2 of them where the reigns were with different titles. No I think it is they have finally given up on him becoming a major star. They have tried and it never seemed to go anywhere, now they are trying elsewhere and Kofi is being forgotten about thus no longer on the winning side of the brackets.

One thing that they can't take away from Kofi though is his work horse ethic and Kofi once again why he is a go to guy for the company. While not having the most matches on WWE TV in 2012 he is up there in the list of biggest work horses. That is the one thing you can count on when you think of Kofi, if they need someone to slot into a place on the card he will, especially if they need someone to fill out a multi-man match.


The Future


While I would like to see Kofi move into the main event I think the WWE has missed its boat and has now realised it. There is no reason he can't get there but it will not be in the near future. For now Kofi will remain the crowd pleaser mid card wrestler that he has been for years. Maybe he will have another title, maybe he won't but he will be constantly hovering around the midcard title scene.



30 Day Challenge
Day 26: A Song That I Can Play On An Instrument


Firstly I can't play any instrument, I am just not musically gifted at all. The song I have chosen for this (Come With Me – Puff Daddy feat. Jimmy Page) is a song that since the first day I heard it is one I wish I could learn to play. Page is a master guitarist and would be someone I would love to emulate if I was more talented.







4. The Big Show
283 points
The Stats

Minor Shows: 1-1-0
Raw: 16-12-3
Smackdown: 19-10-1
PPV: 3-7-0
Title Matches: 12
Raw/SD Main Events: 18
PPV Main Events: 3


Year in Review


Firstly I need to correct something from yesterdays entry, when talking about multi-time champions in 2012 I forgot to add in The Big Show. That makes it there were 4 wrestlers who had multiple title reigns, 3 of which were with two different titles.

Now that that is out of the way time to get onto The Big Show. You would have to say that 2012 would have to be considered one of his best years in his lengthy time in the WWE. He started the year fighting for his recently lost World Heavyweight Title in some matches on Smackdown against Daniel Bryan. He then went onto the Royal Rumble in a triple threat title match against Bryan and Mark Henry. His last shot at the title, well at least for the first half of the year, would be in the Elimination Chamber.

This was where Show's year really started too pick up. Moving on from the World Title he would feud with Cody Rhodes for the Intercontinental Title and at Wrestlemania he would win the title in his first ever singles victory at the PPV. Granted he lost the title the next month in the worst ending to a Tables match ever but that can't take away from the gifted moment Show had on the grandest stage of them all.

After this loss Show found himself feuding with John Laurinaitis which cost him his job. On his expected resigning he turned heel once again and found himself signed to what is an ironclad contract. Over the next few months show found himself in a high profile feud against John Cena which saw him end up equalling CM Punk as the wrestler who had the second most PPV Main Events in 2012.

After Cena there was only one place for him to go and that was a feud for a World Title and title was the World Heavyweight Title, the same title he started the year chasing. This time he would win the title beating Sheamus and thus finishing the year as World Champion.


The Future


As you all already know 2013 didn't start that good for The Big Show as he lost his Title to Alberto Del Rio on the 2nd Smackdown of the year. I don't believe Big Show will win the title back and soon will find himself once again used as the World's Biggest Talent Enhancer. Also don't be surprised if at some stage this year the Iron Clad contract suddenly has a clause.



30 Day Challenge
Day 27: A Song That I Wish I Could Play


Damn I did this yesterday. Oh well another song I wish I could play is Let There Be Rock by AC/DC. Angus Young is a guitarist I put up there with Jimmy Page and the solo in this song when played live is just phenomenal.







3. Dolph Ziggler
295 points
The Stats

Minor Shows: 3-4-0
Raw: 15-29-3
Smackdown: 7-16-0
PPV: 4-8-0
Title Matches: 9
Raw/SD Main Events: 19
PPV Main Events: 2


Year in Review


Coming in at number 3 in our countdown is the highest wrestler in the list to have not held a title in 2012. I think this shows how close Dolph is to hitting the big time in the WWE and joining the Main Event card. So much faith has been put in Ziggler in 2012 by the WWE, grooming him ready for when they finally pull that trigger and move him to the top of the card. So then how did Ziggler manage to get this high?

Well the year started for Ziggler the same way it started the year before, challenging for a world title, this time being the WWE Title. Whereas the year before he was somewhat successful, winning the World Heavyweight Title for what seemed like a heartbeat, in 2012 he was not as successful losing at both The Rumble and Elimination Chamber.

Over the next few months he would move back down the card either competing on his own or as part of Team Guerrero along side Jack Swagger. Over this time he would be part of the winning Team Johnny at Wrestlemania, have a US Title shot and Multiple Tag Team Title shots, always keeping his name hovering around to be taken notice of, even if the majority of the time he was on the losing end of the equation.

Suddenly though he found himself once again part of the main event scene due to the fact that Alberto Del Rio got injured before his No Way Out title shot. Ziggler won a fatal-4-way match to earn the right to replace him and therefore found himself with a couple of shots at the World Heavyweight Championship.

Following these unsuccessful title shots Ziggler would then turn to what would dominate the rest of 2012 for him, winning the Money in the Bank. Having the briefcase has made him even more noticeable than he has been previously and the feuds he has had while it has been in his possession, the feuds with Chris Jericho, Randy Orton and John Cena, have made it known that he is ready for the big time.


The Future


I think the sky is the limit for Ziggler. The way I see it is Ziggler will cash in at Wrestlemania against Alberto Del Rio, a match-up that sounds really enticing to me. After winning the title Ziggler will spend most of the year either holding the title or chasing it again once he loses it. 2013 is Ziggler's year.



30 Day Challenge
Day 28: A Song That Makes Me Feel Guilty


Up to about 3 years ago I used to smoke. Whenever I heard the name of this song I always felt guilty. The song is called Cigarettes Will Kill You by Ben Lee.







2. Daniel Bryan
346 points
The Stats

Minor Shows: 6-0-0
Raw: 22-14-4
Smackdown: 12-19-4
PPV: 4-8-0
Title Matches: 16
Raw/SD Main Events: 26
PPV Main Events: 0


Year in Review


2012 started off very strong for Daniel Bryan, stronger than I think even he could have imagined. After cashing in his Money in the Bank briefcase at TLC Bryan started the year as the World Heavyweight Champion. For the first couple of weeks he would manage to leave with the title in his hands even though he had to defend it against Big Show twice and Mark Henry once but due to the shenanigans he needed to do so he was forced to defend it against both of them inside a steel cage at the Royal Rumble where he once again was unable to retain.

At the Elimination Chamber Bryan nearly lost to an unexpected Santino Marella in the Chamber but managed to hold onto the title a little bit longer, that was until he ran into the boot of Sheamus just seconds into their match at Wrestlemania, eventually being pinned in a total time of 13 seconds.

This ended what was a small title reign but started Bryan on the next part of his great year. For the next four months Bryan would chase the titles first with a rematch against Sheamus and then 3 matches against CM Punk (the middle one a Triple Threat involving Kane) for the WWE Title. All 3 singles matches could be considered serious contenders for match of the year and were all rewarded at minimum 4 stars by Dave Meltzer.

While he putting on these first rate matches tough something else was happening and that was the complete mental breakdown of his character. This all came to a head when AJ left him at the alter to become the General Manager of Raw. The eventual breakdown would end up seeing Bryan end up in Anger Management along with the guy he was feuding with at the time, Kane. From this course we would see the unlikeliest team emerge and give everyone what would have to be the comedic highlights of the year along with the rejuvenation of the Tag Team division.

When looking at the stats as to why he deserves his number 2 ranking is firstly he is the only wrestler to have appeared on every PPV in 2012. Ziggler had 12 PPV matches as well but he pulled double duty at the Royal Rumble, Bryan had a match at every single one. Than you have to consider the work he put in at the beginning of the year. For about the first 6 months Bryan was sitting at the top of the rankings and his consistency saw him only falling the one space when he dropped from the World Title Scene. In fact he ended up with 51 more pints than Ziggler at 3rd place, the biggest gap in this whole countdown.


The Future


Well firstly Team Hell No need to lose their titles soon, I thought it would be at the Rumble but I was wrong but they need to lose them soon. I don't see them teaming together for long after so that leaves the question what will happen. No matter how much I would love to see him back in the main event scene I think I have it too stacked already so I guess it is just high levelled feuds for him until room once again opens up at the top.



30 Day Challenge
Day 29: A Song From My Childhood


Back when I was growing up (and it still is today) the TV channel to watch your kid shows like Sesame Street and an Australian show called Play School was the ABC. Between the shows they would have songs and one of those songs was a cover of Down On The Corner by Creedence Clearwater Revival done by a group of clay animation dogs. Due to this song I have now a great love for that band. If you have never saw this clip I recommend you check it out as quite honestly it is quite cool.







1. Sheamus
394 points
The Stats

Minor Shows: 3-1-0
Raw: 31-6-1
Smackdown: 34-10-2
PPV: 9-2-0
Title Matches: 12
Raw/SD Main Events: 28
PPV Main Events: 1


Year in Review


I guess it has been pretty obvious for a while now who was going to eventually come number 1. Once Cena and Punk were ruled out most of you readers clued in to the way the countdown was shaping up and Sheamus was the name on everyone's lips as who would eventually be the 2012 WWE Superstar of the Year, and quite honestly I can't see why you would disagree.

Sheamus started 2012 in the way that most WWE wrestlers only dream about, winning the Royal Rumble. Then he topped it even further by moving on to Wrestlemania and winning his cash-in opportunity in 18 seconds to become the World Heavyweight Champion. He held that title for nearly six months and then spent the remainder of the year chasing the title.

In all of this luck though was very strong booking. Sheamus was a machine in 2012 nearly having a match on every episode of Raw and Smackdown. In total he would have 99 matches on WWE TV in 2012 the most of anyone.

Just having matches though was not quite enough. No, he actually won most of those 99 matches. He ended up on the winning side of the equation 77 times in total. This gave Sheamus a win ratio of 78% which is only beaten by Ryback in the wrestlers who managed a decent amount of televised WWE matches in 2012.

It can be debated about how much of Sheamus's good year come about because of being one of Triple H's favourites but you cannot deny that he took the ball and ran with it. My only drawback to all of his reign, which is something I have touched on before, but I hated how with the Be a Star program in place Sheamus was the biggest Bully of them all.

As their World Champion he was supposed to be the face of the company next to CM Punk, even more so since Sheamus was in fact the good guy. As a major person in the Be A Star campaign he acted more like a hypocrite sprouting his words to the kids and then going out on TV and being the bully himself. While I was fine with Sheamus having the title his reign was one that I just could not get behind, from the crap match at Wrestlemania to the poor booking for the circumstances.


The Future


Well honestly I don't think he could honestly have another year like he did in 2012, there is no way they could book him that strong again. Other title reigns will be in his future, I don't know if it will necessarily be this year or not but he will get there again. For now he will hover around that main event scene, either feuding for the title or just in a top of the card feud.



30 Day Challenge
Day 30: My Favourite Song At This Time Last Year


At this time last year I was just starting to find out about an Australian rapper who goes by the name 360. The song at the time I was listening too was called Boys Like You which is a song he did which featured a lady by the name of Gossling. If you have never heard of 360 I recommend you check him out here in this clip and in other songs like Child.







Well that brings us to the end of my 30 days of dailies. It has been an enjoyable ride for me and I hope you enjoyed it too. If I am still here on Lords of Pain next year (I really hope I still am) I will do a new version of this for 2013 with the biggest stars to come from this year. However if you would like I am thinking of doing a small column each month, say a top 5, for Superstar of the Month. If there is an audience for these columns just let me know through feedback and I will look at starting with the January award. However do not fret as I will return with other series throughout the year including the return of the pre-PPV Analysis among others plus my normal Wayne's World columns. For now I leave you will the full list of the top 100 from my countdown. Remember the were 186 different wrestlers used in 2012 on WWE TV so if the person you are looking for dos not appear on this list please feel free to ask and I will let you know their final placing, it just gets too close at the bottom warrant full publication. Also the order they come in due to draws is just pure luck, it is just the way my computer put them, if the scores are drawed they could really go in any order. Well that is it for the 2012 WWE Superstar of the Year Award, congratulations go to Sheamus and remember THE STATS NEVER LIE.


1 Sheamus 394
2 Daniel Bryan 346
3 Dolph Ziggler 295
4 The Big Show 283
5 Kofi Kingston 273
6 CM Punk 267
7 Alberto Del Rio 248
8 Kane 247
9 John Cena 241
10 Cody Rhodes 221
11 Randy Orton 216
12 The Miz 210
13 Santino Marella 209
14 R-Truth 196
15 Ryback 172
16 Brodus Clay 164
17 Damien Sandow 157
18 Antonio Cesaro 150
19 Darren Young 146
20 Titus O'Neil 145
21 Zack Ryder 142
22 Jinder Mahal 136
23 Heath Slater 135
24 Jack Swagger 133
25 Tyson Kidd 132
26 Justin Gabriel 131
27 Wade Barrett 130
28 Chris Jericho 128
29 Sin Cara 126
30 David Otunga 119
31 The Great Khali 117
32 Primo 117
33 Eve Torres 116
34 Epico 113
35 Layla 108
36 Tensai 104
37 Jey Uso 102
38 Rey Mysterio 99
39 Mark Henry 97
40 Beth Phoenix 95
41 Jimmy Uso 94
42 Kaitlyn 92
43 Drew McIntyre 86
44 Christian 82
45 Hunico 73
46 Natalya 71
47 Michael McGillicutty 64
48 Alicia Fox 64
49 Tamina 61
50 Alex Riley 56
51 Curt Hawkins 51
52 Tyler Reks 51
53 AJ 49
54 Ezekial Jackson 45
55 Yoshi Tatsu 44
56 Nikki Bella 41
57 Kelly Kelly 40
58 Percy Watson 39
59 Johnny Curtis 36
60 Seth Rollins 36
61 Camacho 31
62 Ted DiBiase 30
63 Brie Bella 29
64 Derrick Bateman 29
65 JTG 29
66 Aksana 28
67 Ricardo Rodriguez 23
68 Kassius Ohno 22
69 Leo Kruger 22
70 Maxine 22
71 Big E Lanceton 20
72 Hornswoggle 19
73 Jerry Lawler 18
74 Trent Baretta 18
75 Jim Duggan 17
76 John Laurinitus 17
77 Connor O'Brien 16
78 Bo Dallas 15
79 Brock Lesnar 15
80 Kenneth Cameron 15
81 Paige 15
82 Booker T 14
83 Michael Cole 14
84 Richie Steamboat 14
85 Vickie Guerrero 13
86 Evan Bourne 10
87 Triple H 10
88 Roman Reigns 10
89 William Regal 10
90 Brad Maddox 10
91 Corey Graves 8
92 Mason Ryan 8
93 The Rock 8
94 Audrey Marie 7
95 Kharma 7
96 Mick Foley 7
97 Road Dogg 7
98 Naomi 7
99 Rosa Mendez 7
100 Sergeant Slaughter 7





Feedback:
E-Mail: zzzorf@yahoo.com
Twitter:

Facebook: Add me as a friend here
Me and My Mates: Dream Matches 6 - Tag Team Turmoil (Match 7: Beer Money, Inc v The New Age Outlaws)
The King of Stats presents the 2013 WWE Superstar of the Year - #1 Daniel Bryan
The King of Stats presents the 2013 WWE Superstar of the Year - #10 to #6
The King of Stats presents the 2013 WWE Superstar of the Year - #15 to #11
The King of Stats presents the 2013 WWE Superstar of the Year - #20 to #16
The King of Stats presents the 2013 WWE Superstar of the Year - #25 to #21