---



The King of Stats presents The 2012 WWE Superstar of the Year - #30 to #26


By zzzorf
Jan 5, 2013 - 6:33:22 AM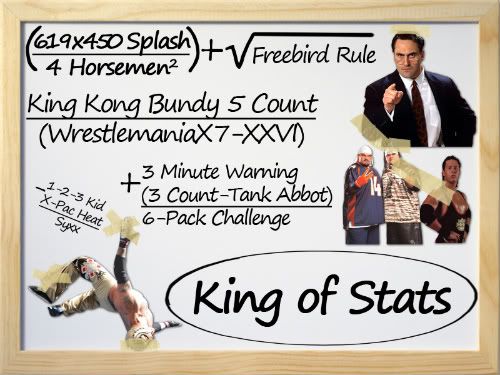 1. #30 David Otunga
2. #29 Sin Cara
3. #28 Chris Jericho
4. #27 Wade Barrett
5. #26 Justin Gabriel




Welcome one and all to the first day of the New Year, I am the King of Stats, the man for whom numbers are like the calendar, they keep going on until the end of time. Now I can here you all saying King, you just said that it is the first day of the new year but we have not yet reached 2013, let me please remind you though that I am in Australia and due to time differences 2012 finished a fair few hours ago for me.

Since 2012 has now ended it is now time to look back at the year that has been, in particular who performed the best last year or in other words the Superstar of the Year. Each day of January I will be counting down the 30 top Superstars of the WWE for 2012 but of course I will be doing it in typical King of Stat fashion. I have gone through all of WWE TV cards for the last year and assigned points to each wrestler depending on level of show, result of match, main events and title matches.

With having no personal input and emotion included into the order you can expect some unexpected surprises but as usual my countdown will give a good resemblance of the way the wrestlers of the WWE all performed this last year. I will not take any more of your time here, I'll just say enjoy the next 30 days as we take a look back at who was the best of 2012 and remember to check back each and every day to see who came next.




30. David Otunga
119 points
The Stats


Minor Shows: 1-5-0
Raw: 4-18-0
Smackdown: 3-7-0
PPV: 2-2-0
Title Matches: 1
Raw/SD Main Events: 7
PPV Main Events: 1


Year in Review


Yay! I start a new series and who do I get first to talk about, Mr Lawyer Joke himself, David Otunga. To his credit Otunga is not as bad as most of those jokes make out, no he is actually a lot worse. In all seriousness though, after floundering in a sub-standard tag team with Michael McGillicutty in a sub-standard tag division in 2011 following the break-up of the Nexus not much was looking good for Otunga. That was until he started working for The Executive Vice-President of Talent Relations and the Interim General Manager of Raw, Mr John Laurinaitis.

When 2012 started Otunga was well entrenched as Laurinaitis's right hand man, with what looked like a good year ahead of him. His first match of the year saw him get his first win in 5 months when he beat Santino Marella on the second Smackdown of the year and after back-to-back wins against Ezekiel Jackson in February he was starting to show a lot of improvement from what he had shown previously.

Wrestlemania saw the highlight of his year when he captained Laurinaitis's team to victory thus giving Big Johnny the GM powers of both Raw and Smackdown. Things were looking up for Otunga but he needed to take some personal time off and when he came back Mr Laurinaitis lost his job which left Otunga know floundering with nothing to do.

Since the on-screen firing of his boss Otunga has just been used as the bad lawyer joke that I stated before, that and a jobber to the rest of the roster. Since coming back from that personal time I spoke of the only wins that Otunga has managed was a win against Tyson Kidd and a win by default when he was on the team with the sole survivor at Survivor Series, a match that he wasn't even supposed to be in in the first place. At least during this time though he got to star in the WWE film The Hive with Halle Berry, someone I wouldn't mind getting up close and personal with.


The Future


Otunga proved this year that he has more potential than we all thought he has so there could be bright things in his future. He did also show though that he flounders when left on his own ad the only times that he has ever really meant anything was when he was a part of Nexus or tugging on the coattails of Laurinaitis and feeding of the natural heat he developed. If Otunga doesn't learn to get by on his own I can't see a very bright future for him and his status as a jobber will continue for a bit longer. I do think though that his job is secure as his connection to Jennifer Hudson brings in a much valued connection to the entertainment world that the WWE craves.



30 Day Challenge
Day 1: Favourite Song


One thing I have found in my time in the forums and on the Main Page that when someone goes daily it is traditional for them to do some sort of 30 day challenge at the end of each day (I did one when I went daily in December 2011). Due to my lack of imagination or at least my lack of motivation to come up with something new, I have decided to go back to the one that started them all (well I at least think it did). Over the next 30 days I will let you all into my obscure mix of music as I take on the 30 Day Song Challenge. Day 1 is my favourite song and it could be called a very obscure song in terms of being a favourite. The song is Faget by Korn and while not being their most popular song is the one that really seems to get me pumping every time I hear it.







29. Sin Cara
126 points
The Stats

Minor Shows: 7-1-0
Raw: 14-5-0
Smackdown: 7-6-0
PPV: 3-3-0
Title Matches: 1
Raw/SD Main Events: 1
PPV Main Events: 0


Year in Review


Rewind the clocks back to the beginning of 2011 and we see the WWE hyping one of the biggest acquisitions they have had in a long time. The Mexican sensation Mistico had put his signature on the dotted line and was legally crossing the border to make a name for himself in the land of opportunity. Fast forward a couple of months and he finally makes his anticipated debut under a new mask and the new name of Sin Cara, everyone was on the edge of their seats to see what this foreign superstar could bring to the table. And then he botched his entrance to the ring.

That of course was not the end of his botching and over the next few months he would mess up move after move after move until botching a move at Survivor Series which caused him a major injury which kept him out for an extended period of time.

In fact Sin Cara would not come back until the June 1st episode of Smackdown this year meaning that he nearly missed a whole half year of action in 2012. At that show he beat Heath Slater and throughout the month he would go on to also beat Hunico twice, Drew McIntyre and Curt Hawkins. July was a different story though, where after having a victory over Slater once more on Raw on the 9th of July he lost to Alberto Del Rio on that week's edition of Smackdown. In fact Del Rio would be Sin Cara's worst opponent of the year with him losing against him again once each in October, November and December.

Later in July though things would start to look up for Sin Cara again as at the 1,000th Raw he would team with Rey Mysterio (whose own injuries kept him out long enough to only end up 38th on this countdown) for the first time. For the rest of the year these two have teamed together winning the majority of their matches together (13 out of 18) and are one of the teams responsible for the improvement of the tag division this year.

The teaming with Rey has done more than just improve the tag division but has also helped improve Sin Cara's skill. In the last six months Sin Cara has improved remarkably and no longer botches every second move. The more time he spends with Rey as a mentor sees him become more and more the superstar that the WWE want him to be.


The Future


For the future of Sin Cara I see three different scenarios.

1. He continues teaming with Rey and they challenge for the titles. While I would love to see them win them as they are my favourite team in the WWE, the Smark in me sees them just being a major part of the division without winning the title.
2. Rey turns on Sin Cara having them match up at Wrestlemania where Sin Cara wins and moves on to challenge for a midcard title.
3. A similar incident to Survivor Series 2011 leaving him on the sideline once more.

I personally believe that the WWE will go with scenario 1 for now with scenario 2 happening this time next year, as long as Scenario 3 does not happen before then.



30 Day Challenge
Day 2: Least Favourite song


My least favourite song has to be Caught Out There by Kelis. I don't mind a little bit of screaming in songs as seen by my love for some heavier music but there is something about Kelis screaming that just really rubs me the wrong way.







28. Chris Jericho
128 points
The Stats

Minor Shows: 0-0-0
Raw: 8-6-2
Smackdown: 3-3-1
PPV: 1-6-0
Title Matches: 4
Raw/SD Main Events: 11
PPV Main Events: 2


Year in Review


Hands up everyone who believed Jericho late last year when he was saying that he was not the superstar for whom all the promos were for in December? You of course can't see it through the computer screen but my hand is up, yes I was gullible enough to fall for Jericho's little trick. I was not the only one though as a lot of people believed him and speculation was running rampant with other names of who it could be, from The Undertaker to the Terminator gimmicked Ryback.

Of course this was not the only trolling Jericho would do as once he did show up he revved the crowd up to a frenzy point and then walked off without uttering a word. Then he did it again the next week and the week after that while in a tag match he did it again then tagged himself out without even touching his opponent. Finally the next week after what looked to be more trolling he finally spoke saying "This Sunday at the Royal Rumble, it is going to be the end of the world as you know it" and that is all, nothing else, just more of his trolling ways.

Finally though he laid of the trolling ways and managed to actually get on with the wrestling aspect of the show starting with being the runner-up for the 2012 Royal Rumble. For the next few months he would get into what would become a very personal feud with CM Punk and would challenge for his WWE Title at the next 3 PPV's. Once that was done he immediately proved how non-existent the brand split was by suddenly challenging for the World Heavyweight Championship in a Fatal-4-Way Match at the next PPV, Over the Limit.

After failing to win either of the world titles and the Money in the Bank briefcase as well people were starting to believe that Jericho couldn't win the big ones anymore and had lost his touch, especially one guy who did win a briefcase, Dolph Ziggler. At Summerslam these two would face off with the win to Jericho supposedly solidifying that he could still win the big one, something that I have to disagree with. How could this be considered a big one when there was nothing on the line whereas on Raw the next night when there was something at stake (Ziggler's briefcase v Jericho's contract) Jericho managed to lose once more? Ziggler had it right, Jericho has lost his touch.

While he wasn't at the top of the list when he left the company, Jericho was still sitting in a very respectable in this countdown. In the end though with his last match being the night after Summerslam I just had to watch name after name, most of them undeserving of beating him, lower his name down the list as the months went by. If this countdown had even one more month to go I could have seen Jericho easily dropping completely out of the top 30, so he is really lucky that he still managed to make the countdown at all.


The Future


Well if I had it my way as I said in my Wrestlemania fantasy booking column from last week I would have Jericho come back as a surprise entrance at Elimination Chamber and win the World Heavyweight Title and then defend it and lose it to a briefcase cashing Ziggler at Wrestlemania. Of course though I am not a booker for the WWE (which is probably a good thing) and therefore this will not happen. In fact it is in my opinion we will not see Jericho this calendar year and it won't be till 2014 that we see him again. Hopefully by then we might actually find out who "She" is.



30 Day Challenge
Day 3: A Song That Makes Me Happy


The song I have chosen for this topic is Lonestar – My Front Porch Looking in. I used to sing this song to my family when we only had the 2 eldest kids. The song seemed to fit us perfectly at the time except for the fact that I had to change the sexes of the kids in the song lyrics to better fit my kids, but otherwise it was them down to a tee. Nowadays the song has less direct meaning as we have 3 extra kids but it still makes me happy every time I hear it and reminds me of when my house was not as noisy as it is now.







27. Wade Barrett
130 points
The Stats

Minor Shows: 5-3-0
Raw: 6-10-0
Smackdown: 7-7-2
PPV: 1-3-0
Title Matches: 4
Raw/SD Main Events: 5
PPV Main Events: 1


Year in Review


Coming in at number 27 we have another guy who was affected by the injury bug which is a real shame because before he got injured Barrett was on a role and had potential to have a very good year. The Barrett Barrage was on a role at the beginning of the year with singles wins against Santino Marella, Yoshi Tatsu and Sheamus (which was actually a table's match) in January before competing and losing in the Royal Rumble match.

After the Rumble, Wade would fall into a little bit of a slump losing to Orton and then teaming with Cody Rhodes to lose 3 different tag matches. He still proved his worth though and managed to earn a spot in the Elimination Chamber Match for the World Heavyweight Championship but even being one of the stars of the match still did not manage to win that elusive 1st world title. The next night on Raw tragedy struck when The Big Show threw Dolph Ziggler into Barrett's arm forcing him to be sidelined for the next 6 months.

After vignettes were shown for a couple of weeks of Wade returning to his roots of bare-knuckled fighting he made his return on the September 7th edition of Smackdown defeating Yoshi Tatsu and then continued to win his matches for the rest of the month. His run would be stopped by Sheamus at the beginning of the next month and who he would lose too another 3 times over the next two months.

In November Wade was scouted by Paul Heyman to join Team Punk (which of course became Team Ziggler) at Survivor Series which was his first PPV match since Elimination Chamber in February. In that match he pinned and eliminated the then Intercontinental Champion Kofi Kingston. These two would continue to feud for the title for the remainder of the year including a match at TLC. To finish of the year on the New Year's Eve edition of Raw Wade was finally able to beat Kofi for the title meaning that he would head into the new year as champion.


The Future


By coming into 2013 as Intercontinental Champion it has already started off as a better year for Wade as long as he gets through his first title defence tonight on Smackdown against Kofi. I feel that this middle card run is a feeler for how Wade will get over as champion and he will at least hold it till Wrestlemania, if not for a little longer. He will drop it before the mid-part of the year though as I say either the end of 2013 or sometime 2014 will be the time when Barrett be the first Brit to win the World Title in the WWE.



30 Day Challenge
Day 4: A Song That Makes Me Sad


My song for today's topic is Skin (Sarabeth) by Rascal Flatts. From the first time I ever heard this song I felt sorry for the girl in the story. While I have never had to deal with Leukaemia personally I can sympathise for the girl as I can only guess how hard it would be. The part of the song that makes me sad is also the most beautiful part of the song near the end where her prom date turns up with the shaven head to match hers, just a beautiful song all round.







26. Justin Gabriel
131 points
The Stats

Minor Shows: 17-22-0
Raw: 3-3-0
Smackdown: 3-9-0
PPV: 1-4-0
Title Matches: 2
Raw/SD Main Events: 3
PPV Main Events: 1


Year in Review


So it's the 5th and therefore my birthday today and what do I get as a present, I have to write a column about Justin Gabriel. Is it me or does somebody not like me, anyway it's probably a good thing as it will be a small one and then I can get onto celebrating being 30.

Ok what has Gabriel done this year? Tag Titles, no that was a couple of years ago. Part of a stable, no a couple of years ago again. A major player on Raw and Smackdown, well no he hardly appeared on them this year. So how then did he end up on this countdown?

So there are two reasons why Gabriel ended up making it here, the first being that he was 1 of 7 people who managed to have 30 or more matches on the minor shows. While only used sparingly on the major shows he has been a regular on shows like Superstars and nXt. Of course just appearing on these minor shows would not get enough points to get on this list (Michael McGillicutty (47th) is an example with 41 minor shows and only 1 each on Raw, Smackdown and PPV) but the fact that he had a few matches on Raw and Smackdown helped push his score up.

The other thing that helped push his score up was that even though he barely had any matches on Raw or Smackdown he still managed to pull out 5 separate PPV matches (which could have been 6 if at NOC the Battle Royal was not on the pre-show). Yes one was the Rumble, another a thrown together mass tag match to get the Prime Time Players over at No Way Out and another a thrown together Survivor Series match, they all still count. The other two matches were surprisingly both US Title matches which came about from short mini-feuds, Jack Swagger at Elimination Chamber and Antonio Cesaro at Hell in a Cell.


The Future


Honestly I see more of the same for Gabriel this year. He is the perfect flashy wrestler that makes those minor shows interesting to watch but gets lost on the bigger stage of Raw or Smackdown. I think the only way that Gabriel will get more air time on the bigger shows is if the WWE brings back the Cruiserweight Division which Gabriel would be a perfect fit for.



30 Day Challenge
Day 5: A Song That Reminds Me Of Someone


My song choice today is Tough Little Boys by Gary Allan. Ever since she was a baby nearly a whole 9 years ago I have been singing this song to my second eldest child (eldest daughter) Taneisha. Whenever I hear it I instantly think of her.








Feedback:
E-Mail: zzzorf@yahoo.com
Twitter:

Facebook: Add me as a friend here
Me and My Mates: Dream Matches 6 - Tag Team Turmoil (Match 7: Beer Money, Inc v The New Age Outlaws)
The King of Stats presents the 2013 WWE Superstar of the Year - #1 Daniel Bryan
The King of Stats presents the 2013 WWE Superstar of the Year - #10 to #6
The King of Stats presents the 2013 WWE Superstar of the Year - #15 to #11
The King of Stats presents the 2013 WWE Superstar of the Year - #20 to #16
The King of Stats presents the 2013 WWE Superstar of the Year - #25 to #21