---



The King of Stats presents The 2012 WWE Superstar of the Year - #25 to #21


By zzzorf
Jan 10, 2013 - 12:01:00 AM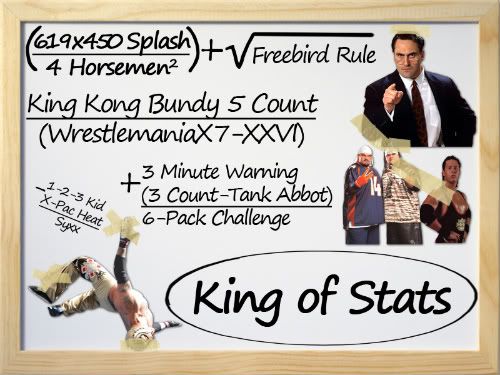 1-5. #30 David Otunga, #29 Sin Cara, #28 Chris Jericho, #27 Wade Barrett, #26 Justin Gabriel
6. #25 Tyson Kidd
7. #24 Jack Swagger
8. #23 Heath Slater
9. #22 Jinder Mahal
10. #21 Zack Ryder


With the first five wrestlers being done and dusted it is now time to start a new thread to bring to you the next five without slowing down your viewing devices. So welcome one and all to numbers 25 through to 21.



IMPORTANT ANNOUNCEMENT


Think you have what it takes to write for Lords of Pain? Well there currently lies a unique opportunity for you to do so. In the Columns Forum I am currently running a tournament based on the original NXT format of the WWE where Rookie writers are teamed up with Pro (current and ex Main Page writers) who help them throughout the entire two months of competition. The winner of the tournament gets the vacant Main Page spot which was left by the departure of Ro a couple of months ago. If you go to the link HERE you will find the details for the qualifying round but don't take too long as there are only 8 days left in which to qualify. If you find that I have written number #16 then you have missed the boat and wasted this golden opportunity.

This however is not the only benefit for even if you don't win it is still worth your while to compete as the experience you will receive from learning from your pro will be exponential and you will have an easy stepping stone into being a member of the wonderful community that is the Columns Forum. So what are you waiting for click the link HERE and start your journey into column writing today.




25. Tyson Kidd
132 points
The Stats

Minor Shows: 20-26-1
Raw: 4-4-0
Smackdown: 2-9-0
PPV: 1-3-0
Title Matches: 1
Raw/SD Main Events: 2
PPV Main Events: 0


Year in Review


Didn't I talk about this guy yesterday? Oh that was Justin Gabriel; this is Tyson Kidd, his tag team partner in International Airstrike, OK then. Taking a quick look over the stats and I seem to be seeing something very similar to Gabriel with only slight differences here or there, hence the reason there is only 1 point splitting them.

On closer examination there is one stat that really stands out. Kidd has appeared in 47 matches on the minor shows, more than anyone else on the WWE roster in 2012. I believe that goes to show that the WWE does understand the talent they have in Kidd and on the shows where it is more about the in-ring product then the soap opera story he is given more time to show his craft.

However the minor shows don't offer many points so it is lucky that Kidd has at least some exposure in the more important shows even if they were only minimal. There is plenty of room for Kidd to improve his showings on Raw and Smackdown but only better booking can really get it for him.

As to PPV matches once again we find him involved in Multi-man Matches including a Battle Royal at Over the Limit, a 4-way tag at No Way Out and a traditional Survivor Series Match which he was part of the winning team. Kidd's highlight of his PPV appearances was of course being involved in the World Heavyweight Money in the Bank match and putting on a good showing that everyone thought might be signs of things to come.

In fact the month of July would have to be the month of the year for Kidd in 2012 as not only did he appear in the MITB match in the middle of the month he also did something very unexpected of him, not once but twice. On the July 2nd and 30th episodes of Raw Kidd managed to beat Tensai in singles matches, yet all that showed in reality is how far Tensai had fallen, not how high Kidd has risen for other than a win against Heath Slater on that week's Superstars he would not win another singles match until November.


The Future


Yesterday I said that Gabriel would see pretty much the same thing in 2013 and there is a chance that Kidd has the same fate install for him. The only difference is that I think Kidd has more of a chance of actually breaking away and moving up the pecking order a bit. Because of his superior technical ability than Gabriel, I don't think many people would beat an eyelid if Kidd was to win one of the lower card titles. Also Kidd plays the perfect smaller man in a classic style team as he showed back in the days of the Hart Dynasty, god I miss that team.


30 Day Challenge
Day 6: A Song That Reminds Me of Somewhere


When I was going to University I lived in a dorm (called a college here) and during the first week we had orientation. Every morning they woke us up with Don't Stop Moving by S Club 7 blaring from the speakers at a massive volume. Whenever I hear this song I remember my short time at Robb College at Armidale.







24. Jack Swagger
133 points
The Stats

Minor Shows: 3-5-0
Raw: 3-18-1
Smackdown: 1-9-0
PPV: 2-2-0
Title Matches: 9
Raw/SD Main Events: 6
PPV Main Events: 1


Year in Review


When you think about Swagger the question is what the fuck happened. This was a guy who at one stage only a couple of years ago was World Heavyweight Champion (a belt I still think he never should have had) and now he is the biggest jobber in the WWE. Don't believe me, have a look back up at those stats, did you see how many wins he had? 9. In 44 matches he had on WWE TV this year he only won 9 matches, this must be a joke right? That is a long way from being the record of a World Champion.

9 wins is the lowest amount for anyone in the top 30, in fact you have to go all the way down to Alex Riley at #50 to find someone with less wins. So the question has to be asked, how the hell did Swagger get so high? Well to start with there was the amount of times he lost. While not being the most he did have a lot and they mostly all happened on Raw and Smackdown, the more major weekly shows.

Did anyone forget that Swagger was US Champion earlier this year, I know I nearly did? He of course had that small lacklustre reign which was more a transitional run between the two funny happy runs of Zak Ryder and Santino Marella. Between those title matches, the tag title matches he had with Ziggler (A case of Michaels/Janetty?) and an unexplainable US title match later in the year when he was in a major losing spree (more on that soon) he managed 9 title matches, something entirely out of character to his win/loss record.

I think that the most shocking stat of all is that other than a win over Ryder on an episode of Superstars in the first week of June, Swagger has not won a match on WWE TV since Wrestlemania.


The Future


Quick and easy one today, I believe by the end of this year Swagger will be touring the independents as part of the future endeavoured club.



30 Day Challenge
Day 7: A Song That Reminds Me of a Certain Event


Power of Love by Celine Dion was the song me and my wife danced to at our wedding about 10½ years ago. Enough said.







23. Heath Slater
135 points
The Stats

Minor Shows: 10-20-0
Raw: 3-16-0
Smackdown: 4-14-0
PPV: 0-2-0
Title Matches: 1
Raw/SD Main Events: 2
PPV Main Events: 0


Year in Review


Continuing on with our run of Jobbers we have come to who could be called the Jobber of the Year. Having finished 2011 on a 20 match losing streak things did not start out well this year for Heath Slater stretching the streak out to 24 and only a win on NXT against Trent Barreta in late January stopped it from being any worse.

Other than a few wins on NXT and Superstars, this continuous losing would happen until he finally managed a win on a major show when on the July 2 edition of Raw he managed to get the win over Doink the Clown, his first win on a major show since June 24th the year before. Of course after this match he was laid out by Diamond Dallas Page but a win is still a win whichever way you look at it.

The feud that Slater had with the legends leading up to Raw 1000 that the match with Doink was a part of is what really made Slater start to be a more serious contender. In the forums it was funny seeing people go from saying Slater needed to be fired to columns coming out about him, praising his abilities. During that month and a half Slater went from zero to hero and managed to raise his station in the WWE.

The booking however did not go his way at first. Yes he was getting more TV time but after that win against Doink he went on another losing streak totalling 19 matches until in late September he beat Yoshi Tatsu on Superstars.


The Future


The rest of the year saw better for Slater with the formation of 3MB with Jinder Mahal and Drew McIntyre. The future is looking good for Slater at the moment due to the band but I feel it is only for the immediate future. Soon 3MB will be swallowed up by Wrestlemania fever and by the more superior faction in the WWE The Shield. I believe in a couple of months 3MB will be disbanded and the members gone their separate ways. Heath though I think may rise above it and may make a name for himself in the singles division later this year.


30 Day Challenge
Day 8: A Song That I Know All The Words To


I don't have an ear for picking words out of a song very well. I sing along with songs when I hear them but there are not many songs that I can recite all the words to. Faith by Limp Bizkit is one I can repeat straight of the top of my head without any help as it has been up there as one of my favourite songs since the first day I heard it.







22. Jinder Mahal
136 points
The Stats

Minor Shows: 28-16-0
Raw: 1-7-0
Smackdown: 5-6-0
PPV: 0-3-0
Title Matches: 2
Raw/SD Main Events: 1
PPV Main Events: 1


Year in Review


OK sorry guys for this one coming in a little bit later today but last night my best friend who recently moved out of town showed up with a large quantity of alcohol, so it is safe to say I woke up in not the best state of mind to be writing straight away. It is not by pure luck though that I write my dailies in the morning because if something like this happens I still have the rest of the day to catch up.

So here we are at number 22 and we still find ourselves trapped in Jobber territory, even if surprisingly it is a jobber who wins more matches than he loses. Mahal's record on shows like Superstars and NXT are actually quite impressive when knowing before his run in 3MB he practically lost most of the time.

Of course it is actually in NXT that Mahal had his best showing this year when after having a six match winning streak he lost to Seth Rollins in the finals of the Gold Rush Tournament to name the first ever NXT champion. He then went on to win another two matches before once again losing to Rollins in a rematch for the title.

That final match with Rollins was no longer the traditional Mahal that we were used to seeing since his arrival in the WWE, no now it was the new improved rock-god Mahal thanks to the forming of 3MB with Heath Slater and Drew McIntyre. This reinventing of himself has made him more acceptable to the masses as a character that they can actually get behind and not just dislike because it is the basic stereotype of an Indian.


The Future


At the beginning of the year there were many people who said Mahal should be the first person to being released from the company. Throughout the year he has improved a fair deal but still people clamoured for his release. Now he is in 3MB and while getting positive reviews, there are still a lot of people who would like to see him released. And to be totally honest I am one of those people. That is why Jinder is joining Swagger in my Future Endeavour club for 2013.



30 Day Challenge
Day 9: A SONG That I Can Dance To


OK first thing is I can't dance. So now that is out of the way there is not really much of an answer here so I think I better think a little more closely with this one. If you have been paying any attention you will see that I don't mind myself some heavier style music. Of course the dance associated with this type of music is moshing, something I can at least do. The song I have chosen is Du Hast by Rammstein as I have fond memories of moshing to this song in a group of guys at an old school mates 18th birthday.






21. Zack Ryder
142 points
The Stats

Minor Shows: 11-11-0
Raw: 6-15-2
Smackdown: 6-7-0
PPV: 0-2-0
Title Matches: 2
Raw/SD Main Events: 5
PPV Main Events: 0


Year in Review


Not all jobbers are heels and today we find the leader of the face side of the coin, Zack Ryder. The thing is the year started off looking pretty good for Ryder, he welcomed in the new year by holding the US title and riding the wave of fan support that he had garnered from his Z! True Long Island Story YouTube show.

That momentum lasted a grand total of two weeks when he was fed to Kane in what was the start of Ryder being buried by John Cena. This feeding to Kane meant that Ryder lost his title to Jack Swagger and then lost his girlfriend to John Cena just a couple of weeks later. Instead of seeing this look at the top of the card propel Ryder's career all it did was manage to instead make his favourite Hoe-ski's career take off.

For the rest of the year Ryder has just been there with nothing of real note happening which begs me to ask, how the hell did he manage enough in the stats to come in at number 21?


The Future


To be honest Ryder's gimmick was horrible when he started and now it has just got worse since he hasn't realised that it has done it's dash. I would say that I would see him in the Indies by this time next year but instead I think we will see him in TNA teaming with Robbie E and Jesse Pec-Tacular.



30 Day Challenge
Day 10: A Song That Makes Me Fall Asleep


No particular song puts me to sleep so instead I have went and got a lullaby I quite enjoy, Godspeed (Sweet Dreams) by The Dixie Chicks.






Feedback:
E-Mail: zzzorf@yahoo.com
Twitter:

Facebook: Add me as a friend here
Me and My Mates: Dream Matches 6 - Tag Team Turmoil (Match 7: Beer Money, Inc v The New Age Outlaws)
The King of Stats presents the 2013 WWE Superstar of the Year - #1 Daniel Bryan
The King of Stats presents the 2013 WWE Superstar of the Year - #10 to #6
The King of Stats presents the 2013 WWE Superstar of the Year - #15 to #11
The King of Stats presents the 2013 WWE Superstar of the Year - #20 to #16
The King of Stats presents the 2013 WWE Superstar of the Year - #25 to #21