---



The King of Stats presents The 2012 WWE Superstar of the Year - #20 to #16


By zzzorf
Jan 15, 2013 - 12:01:00 AM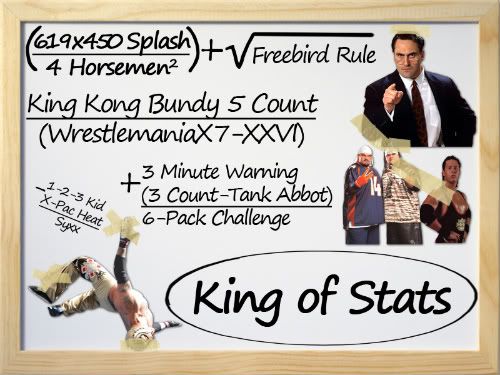 1-5. #30 David Otunga, #29 Sin Cara, #28 Chris Jericho, #27 Wade Barrett, #26 Justin Gabriel
6-10. #25 Tyson Kidd, #24 Jack Swagger, #23 Heath Slater, #22 Jinder Mahal, #21 Zack Ryder
11. #20 Titus O'Neil
12. #19 Darren Young
13. #18 Antonio Cesaro
14. #17 Damien Sandow
15. #16 Brodus Clay



The first 10 have been counted down so it is now time to start the top 20. Hope you are all enjoying the countdown so far.




20. Titus O'Neil
145 points
The Stats

Minor Shows: 11-11-0
Raw: 3-14-0
Smackdown: 11-8-0
PPV: 1-5-0
Title Matches: 2
Raw/SD Main Events: 1
PPV Main Events: 0


Year in Review


When 2012 started Titus O'Neil wasn't a name on most wrestling fans lips. Those who watched NXT at the time may have been talking but the majority of the WWE fan had probably not even heard of him. In 2011 he had only appeared in a match twice on Smackdown, both of them filling in the numbers in a Battle Royal. Add a 3rd Battle Royal in February of 2012 and that was the entirety that the majority who watch WWE had seen of Titus.

So when he debued with Darren Young as the Prime Time Players in April on Smackdown it was for most the beginning of a new journey. To start with they did pretty well winning the majority of their matches the only problem was no one was really paying any attention to them, for starters the tag division was dead but most of all they had nothing to distinguish themselves. Enter Abraham Washington.

The WWE had the bright idea of turning AW, who had only been their manager for a really short time, to traitor from The Colon Cousins and join PTP as their manager. The immediate effect, the continuous winning turned into continuous losing but at least now they were being noticed and were part of the title scene. Exit Abraham Washington.

What could have been the birth of our new tag team champions was dashed when their manager uttered such an old dated joke that Doink the Clown was blushing and proceeded to get himself fired from the company. All the momentum that these guys had was stopped and the team has never been the same since. Even through this they have still been a major force in the tag division which doesn't seem to be changing any time soon.


The Future


As I said in the previous section the Prime Time Players will be a force in the tag division in the future I however do not see them winning the Tag Team Titles. I believe PTP will fit more into the perennial contender category, a team that who at any time you could believe might actually win the title but can never get the job done.



30 Day Challenge
Day 11: A Song From My Favourite Band


This is more technically my favourite singer then my favourite band but technically they are a group so I will run with it. The singer/band is Nck Cave & The Bad Seeds, the song I present to you today is Red Right Hand, one of my more favourite ones.







19.Darren Young
146 points
The Stats

Minor Shows: 10-11-0
Raw: 2-13-0
Smackdown: 13-9-0
PPV: 1-5-0
Title Matches: 2
Raw/SD Main Events: 1
PPV Main Events: 0


Year in Review


This is going to be a very short one today, not because of anything to do with me but actually to do with Darren Young himself, there is not much I can say about him that I didn't say about his tag team partner yesterday. Really the only difference is that Darren Young was at least known by most viewers from his previous stint on the major shows.

For those of you who don't remember or are only new viewers, Darren Young was once a member of Nexus, one of the biggest stables in WWE history. In fact you would have to call him the second worst star of the group since other than Tarver who was fired the other members all have permanent main roster spots whereas Young had to go back to earn his spot on NXT.


The Future


Again like I said yesterday I think these two should remain together as contenders for the title but not winning them. Someone suggested a face turn but I think they would be better to remain a heel for now, you don't want to change them too early. Maybe next year may be a better time.



30 Day Challenge
Day 12: A Song From A Band I Hate


I don't know what it is but other than Creep I have never gotten into any Radiohead songs, they just really seem to irritate me to no end. The song I have chosen for you here is Paranoid Android while even being a song I can't stand has one of he best music videos I have ever seen.







18. Antonio Cesaro
150 points
The Stats

Minor Shows: 12-2-1
Raw: 8-7-0
Smackdown: 11-5-0
PPV: 4-0-0
Title Matches: 10
Raw/SD Main Events: 2
PPV Main Events: 0


Year in Review


God it feels good to be talking about someone higher up the card again, it was starting to feel like the WWE was made up of jobbers or lower carders. Finally though we find ourselves with someone who is currently firmly entrenched in the mid card, the current US Champion Antonio Cesaro. Antonio could very well stake claim to the title of Newcomer of the Year in 2012 as he was the only person who debuted last year and won gold yet finds himself this far back because of the fact that he only appeared in his first match on the April 27th edition of Smackdown.

I think that shows how great his rise has actually been. It was only on the Summerslam pre-show on August 19th that Cesaro beat Santino Marella for the US Title. That was just less than 4 months after he had his first match on WWE television. Not many wrestlers can boast winning a title in their fist year yet alone their first 4 months.

Cesaro's big year is made bigger when you start to delve deeper into the stats. He is still yet to loose a match when the title is on the line having beaten Santino on his first attempt and then defending it against the likes of Santino, Ryder, Kidd, Gabriel, R-Truth, Kingston, Barrett and Sergeant Slaughter.

Next you have the fact that he is undefeated on PPV with his title defences against Ryder, Gabriel and twice against R-Truth finishing out the year. I am aware these stats will not stay 100% forever but it can't be denied that this is a very good start to his WWE career.


The Future


I think the first thing needed in Cesaro's future is a more credible opponent. I mean the guys he has been facing are good but where is the real challenge. In my Wrestlemania fantasy booking column at the end of December I had Cesaro defending the title against Randy Orton who I think would be the perfect person for Cesaro to feud with, however there could be others who could be used instead. He needs a couple of wins against these stronger type characters so he can be more solidified as a major mid-carder before he drops the title and moves on to feud with others in a title-less feud.



30 Day Challenge
Day 13: A Song That Is A Guilty Pleasure


With a music taste that runs as varied as mine not much would be considered a guilty pleasure. I will listen to different things from Slipknot to Garth Brooks to Eminem to Nickelback to Shakira. There are lots of things I could choose from that others may be guilty of but I just find it part of my normal collection. What I decided to do was go back through the songs I have gotten into recently and find one I should be ashamed of being a 30 year old male and I ended up with Call Me Maybe by Carly Rae Jespen.







17. Damien Sandow
157 points
The Stats

Minor Shows: 5-5-0
Raw: 10-8-0
Smackdown: 16-6-0
PPV: 3-1-0
Title Matches: 3
Raw/SD Main Events: 5
PPV Main Events: 0


Year in Review


Today we find another new star who is affected by not spending the whole year on the WWE main card. Even though Sandow had spent time previously on the WWE roster as Idol Stevens (August – October 2007) and the Easter Bunny (Vengeance 2003) it wasn't until May this year did he find a character that would stick long enough to win over the WWE Universe.

Sandow's run in the WWE started off pretty good, not including a loss in a Battle Royal and a Money in the Bank match, he managed an 11 match singles winning streak before losing a tag match on the 27th August edition of Raw and a singles match against Sheamus on that weeks Smackdown by count out. In fact it would not be until the October 1st edition of Raw that Sandow would be pinned for the first time, once again losing to Sheamus.

Before this pinfall loss to Sheamus though Sandow had added to his singles glory by forming a tag team with Cody Rhodes, otherwise known as The Rhodes Scholars. By teaming with Cody, Damien was able to improve his character by leaps and bounds and become more of a mid-card level heel. But the tag team itself has had some success being the number 1 contender for the titles since their formation back in September and have been credited as one of the teams that have put the WWE tag division back on the map.


The Future


Sandow has the makings of a major heel in the WWE. A tag team title run would have to be in the Rhodes Scholars future possibly Wrestlemania but they are not a long time pairing, sooner or later they both need to go their own way. A run with either the Intercontinental or US Titles is a must for Sandow within the year as a gauge to what he could possibly do in the years to come.



30 Day Challenge
Day 14: A Song That Noone Would Expect Me To Love


As I said yesterday my music taste is so eclectic that it shouldn't really surprise anyone what I can like. Saying that it is hard to therefore find a song here to fit this section. In the end I have went with Day 12's section and even with not being a fan of Radiohead I have always enjoyed their song Creep.







16. Brodus Clay
164 points
The Stats

Minor Shows: 11-2-0
Raw: 19-6-2
Smackdown: 11-3-0
PPV: 4-0-0
Title Matches: 0
Raw/SD Main Events: 4
PPV Main Events: 0


Year in Review


For the last couple of months of 2011 we were constantly shown John Laurinaitis putting off the comeback of Brodus Clay thus making us think that Clay was getting more and more pissed off. That made us the fans crave for his return more and more because we all knew his size and what they could possibly do with this angry character. What we got on the January 9th edition of Raw was nothing any of us expected, instead of a raging beast of a man we got a man who believes he is a dinosaur who dances with two hot chicks to Ernest 'The Cat' Miller's music.

However different it was then what we expected, the majority of us bought into him at first. Other than the silly dance routine though Brodus was booked pretty strong beating Curt Hawkins, Tyson Kidd, JTG, Heath Slater, Alex Riley, Drew McIntyre, Tyler Reks, Jinder Mahal, Dolph Ziggler, Jack Swagger, Hunico, The Miz & Derrick Bateman in a 24 unbeaten streak (contained 1 draw) before being finally pinned by The Big Show on the June 25th episode of Raw.

Since then his booking has been a little weird as he is still being strong and winning the majority of his matches when needed he has been used as an over sized jobber, hell he has a loss to Heath Slater in his books. He has however still got a perfect PPV record with beating Drew McIntyre at the Royal Rumble, Dolph Ziggler at Extreme Rules, The Miz at Over the Limit and despite being eliminated was on the winning team at Survivor Series.

While Clay has just beaten out both Cesaro and Sandow in these rankings it needs to be noted that he only did so because of being in the company for a longer time then them. On comparing the three together a startling fact can be found, while Cesaro is US champ and Sandow is possibly one half of the next Tag Team Champions Brodus is yet to compete for a title at all. While all three of these gimmicks started this year Brodus seems to have found himself at the bottom end of the barrel, asking the question what does this hold for his future?


The Future


So what does the Funkasaurus's future hold for him? Well honestly I expect more of the same. A title feud could be in his future but honestly I doubt it. For now they will keep him on going as he is, possibly all the way through the year. The only change I can see is that if the WWE finally gets sick of his dancing gimmick we may see Brodus get fed up with the gimmick and turn towards a monster heel like thing.



30 Day Challenge
Day 15: A Song That Describes Me

A song that describes me, now that is a hard one. I have a lot of ones that I wished I was but one that actually is me is hard to find. I will go with a song by Darius Rucker (for those of you who don't now he used to be the lead singer of Hootie and the Blowfish) called Don't Think I Don't Think About It. This songs reminds me of a difficulty I have had my entire life forgetting the past.







Feedback:
E-Mail: zzzorf@yahoo.com
Twitter:

Facebook: Add me as a friend here
Me and My Mates: Dream Matches 6 - Tag Team Turmoil (Match 7: Beer Money, Inc v The New Age Outlaws)
The King of Stats presents the 2013 WWE Superstar of the Year - #1 Daniel Bryan
The King of Stats presents the 2013 WWE Superstar of the Year - #10 to #6
The King of Stats presents the 2013 WWE Superstar of the Year - #15 to #11
The King of Stats presents the 2013 WWE Superstar of the Year - #20 to #16
The King of Stats presents the 2013 WWE Superstar of the Year - #25 to #21