---



The King of Stats presents The 2012 WWE Superstar of the Year - #10 to #6


By zzzorf
Jan 25, 2013 - 12:01:00 AM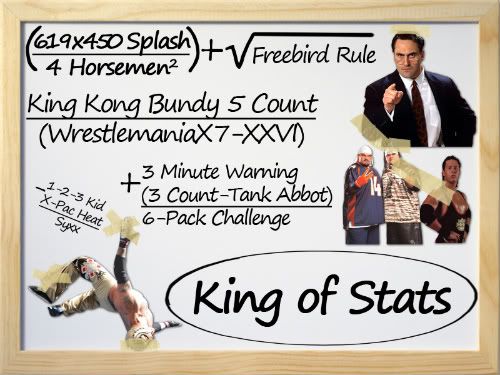 1-5. #30 David Otunga, #29 Sin Cara, #28 Chris Jericho, #27 Wade Barrett, #26 Justin Gabriel
6-10. #25 Tyson Kidd, #24 Jack Swagger, #23 Heath Slater, #22 Jinder Mahal, #21 Zack Ryder
11-15. #20 Titus O'Neil, #19 Darren Young, #18 Antonio Cesaro, #17 Damien Sandow, #16 Brodus Clay
16-20. #15 Ryback, #14 R-Truth, #13 Santino Marella, #12 The Miz, #11 Randy Orton
21. #10 Cody Rhodes
22. #9 John Cena
23. #8 Kane
24. #7 Alberto Del Rio
25. #6 CM Punk



I have now counted down 20 superstars in 20 days, it is finally time to crack open the top ten WWE Superstars of 2012




10. Cody Rhodes
221 points
The Stats

Minor Shows: 5-4-0
Raw: 8-16-0
Smackdown: 13-17-0
PPV: 3-7-0
Title Matches: 10
Raw/SD Main Events: 7
PPV Main Events: 1


Year in Review


At the end of 2011 I was sprouting Cody Rhodes as my personal Superstar of the Year. The growth he had made in all aspects of his wrestling, from his wrestling ability to his character development. I was saying to anyone who would listen that I believed Cody Rhodes would be World Champion by the end of 2012, man was I wrong.

It's not like things started of bad for Rhodes either in 2012. He started the year with the Intercontinental Title in his hands and things were still looking bright for his future. He had a great showing in the Royal Rumble by managing 40 minutes in the match and making the most eliminations of the match at 6. Then the next month he had a good showing in the World Heavyweight Championship Elimination Chamber match at the next PPV.

It was at Wrestlemania that things started to slide downhill for Cody. His 8 month reign as Intercontinental Champion was thrown away so that the WWE could say thank you to the Big Show and finally give him a singles victory on the grandest stage of them all. Later that month Cody would win the title back at Extreme Rules in the worst finish I have ever seen in a Tables match but that run would not last as long as his first run as it was only the next month at Over The Limit he would lose the title again, this time to Christian.

After losing to Christian again at No Way Out it was time for Cody to move onwards towards the World Title with the next PPV being Money in the Bank. My money was behind Cody going into that match and I thought he was booked perfectly to be the winner but alas that was not the case. I'm not taking away Ziggler's run to the top but I still feel disappointed that it was not Cody who won that match.

After the PPV Cody found himself with no where to go as he was no longer battling for the midcard title but had not made the move he was supposed to the main event so a month later he was used to help put over the returning Sin Cara. Yes instead of moving up to fight for a World Title he instead had to continuously lose to the wrestler most likely to stuff up a move multiple times in a match, WWE booking at its finest.

Eventually Cody of course started teaming with Damien Sandow, known collectively as The Rhodes Scholars, to feud with Team Hell No. These two together are easily one of the best tag teams going around at the moment and are one of the teams credited with reinventing the WWE tag team division. However good the team as a whole is it is still a lot of backwards booking for Cody as he is easily the lesser star of the team with him playing second fiddle to firstly the Superstar that Sandow will become and secondly and more importantly to his very own moustache.


The Future


There is a good chance that there is Tag Team gold in Cody's future, however I don't see that lasting for a very long time. The team will eventually break so that Sandow can move on. The question however is where does this leave Cody. I believe Cody missed his boat in moving up the card so he can't go that way yet, I think the best idea is to once again set him up for that movement. Maybe another run with a mid-card title or a few feuds with the likes of Orton or Sheamus might be the best way to go to move him upwards again.




30 Day Challenge
Day 21: A Song I Listen To When I'm Happy


Like yesterday it really depends on the sort of happy mood I am in but a lot of the time Jumpdafuckup by Soulfly feat. Corey Taylor is a song I like to turn to.







9. John Cena
241 points
The Stats

Minor Shows: 3-0-0
Raw: 23-3-4
Smackdown: 2-1-0
PPV: 4-5-2
Title Matches: 4
Raw/SD Main Events: 21
PPV Main Events: 9


Year in Review


What you expected Cena to be higher? Well the stats do not agree with you one little bit, but I don't blame you for thinking it. There has been talk all year long about Cena taking the forefront while Punk and the WWE Title (and even more the World Heavyweight Title) took a back seat. You just need to look at those Raw/Smackdown main event stats. Of the 33 matches he had on those shows 21 of them were the last match of the night, the match to send the fans home happy.

Even more telling are his PPV main event stats, these are what everyone has been talking about all year long. WWE held a PPV a month this year therefore totalling 12 separate cards. Of these 12 Cena was in the final match 9 times and only 3 of these he actually competed in the WWE Title match, the rest were just regular matches. I'm not going to get into the 'World Title should main event" debate as I am on the fence with the situation but that is a telling stat for the affirmative side. The only 3 PPV's that Cena did not Main Event this year were the Royal Rumble (the Rumble itself did), Summerslam (HHH v Brock) and Hell in a Cell (an injury kept him from it).

The last reason I could understand you would think Cena would have been higher is because of his win/loss record. In 47 matches he had this year he managed to win 32 of them, that is a total of 68% of his matches this year where he reigned victorious. There are not many others in this countdown that can boast similar stats. However in saying that a telling stat is that in 11 PPV matches he only managed to win 4, 36% is a long way from 68%.

But winning every match can only get you so far, you first actually have to have matches and this is where Cena falls short. His total matches of 47 is no where near the top of the heap, in fact there are wrestlers who have had that many matches on just the one show in 2012. The main reason behind the lack of matches is his never appearing on Smackdown. In 2012 Cena only had three matches on the blue brand, a Battle Royal on July 3 (lost to Zack Ryder), beat Alberto Del Rio on November 30 and teamed with Sheamus to beat Dolph Ziggler and the Big Show by DQ on December 21.


The Future


All the Cena haters that are around may not like this next part but this is how I see Cena's immediate future. He will win his second Royal Rumble later this week and will this time cash it in at the PPV he is supposed to. He will beat either The Rock or The Rock and CM Punk. He will feud with Punk for a couple of months and then have random challenges at the next few PPV once it winds up. At that later stage he will face a lower card wrestler in a feud, at this time I am unaware of who, but most probably Sandow, Cesaro, Rhodes or McIntyre (well I'm hoping it could be anyway). Eventually he will lose clean to this wrestler hopefully making a new star. Well that is the way I would write it this year.



30 Day Challenge
Day 22: A Song That I Listen To When I Am Sad


Once again it depends on why I am sad but I tend to find myself playing Please Forgive Me by Bryan Adams a lot when I get to thinking, most likely the reason why I am sad in the first place.







8. Kane
247 points
The Stats

Minor Shows: 7-0-0
Raw: 19-7-4
Smackdown: 12-12-1
PPV: 2-8-1
Title Matches: 8
Raw/SD Main Events: 11
PPV Main Events: 2


Year in Review


I firstly want to apologise for this column before I start as I am currently battling the flu and my concentration level is not very good at the moment., therefore it may be shorter than normal and maybe less coherent than normal. However I promised you a column a day so here I am giving you today's wrestler.

The man known as the Big Red Machine has had a reasonably good year this year by his standards. Even though he was on the losing sides of the feuds he had 2 PPV matches to start the year against John Cena and then Randy Orton. While not for any titles these were major upper card feuds that helped prove that he has still got it all these years later.

He would then move into the bizarre love triangle of Daniel Bryan, AJ and CM Punk making it some sort of love square. These series of matches were some of the best matches he has had in recent years.

This was just the beginning though as he would go into Anger Management with Daniel Bryan thus giving us the most entertaining stuff from WWE TV this year. These two as part of their treatment they were forced to team together and as Team Hell No would go on to win the Tag Team Titles and be the driving force behind the resurgence of the tag division.


The Future


Sooner or later Team Hell No will have to lose the titles, most likely to The Rhodes Scholars. I doubt long after losing the titles we will see them teaming together and they will be back to singles competition. For Kane that probably means feuding with other wrestlers to help get them over more.



30 Day Challenge
Day 23: A Song That Was Played At My Wedding


Damn I already used my wedding song previously. OK before the Celine Dion song was played both me and my wife had a Garth Brooks song dedicated to each other. While my wifes song to me was If Tomorrow Never Comes the song I give to you here is my song to her, Unanswered Prayers.







7. Alberto Del Rio
248 points
The Stats

Minor Shows: 1-3-0
Raw: 18-11-1
Smackdown: 13-13-3
PPV: 2-5-0
Title Matches: 7
Raw/SD Main Events: 19
PPV Main Events: 0


Year in Review


2011 was such a big year for Alberto Del Rio, first winning the Royal Rumble and then later in the year winning the WWE title not once but twice. 2012 did not start off as good for Del Rio though missing the chance to defend his Rumble win due to injury. Then he missed Elimination Chamber due to injury but at least he made an appearance. The injury would also keep him out of Wrestlemania which meant a total of three months out of action. If one thing this countdown has shown is that wrestlers who miss this amount of time are hamstrung a bit on the points side of things, so the question has to be asked, how did Del Rio get this high?

Firstly it needs to be pointed out that only after a month back on the active roster Del Rio was put into a feud against Sheamus for the World Heavyweight Title. Over the next 4 months he had 7 unsuccessful attempts to win the title, 5 of them in singles matches. However this much exposure saw him become a major part of the main event scene as shown by the fact that he is only one of 10 Superstars who appeared in more than 10 main events on Raw and Smackdown in 2012.

After Sheamus, Del Rio went on to feud with Randy Orton in another high profile feud which he eventually ended up on the losing end of. He then did the unthinkable Del Rio turned face and became the first wrestler to have ever ran over Santa Claus, notice how it's normally the good guys in wrestling who hurt Santa?


The Future


I don't think I could have ever guessed that 2013 would start of the way it has for Del Rio. After running over Santa at Christmas time he was rewarded with the World Heavyweight Championship. I don't see this being a lengthy reign though as I see him losing to the title to Ziggler when he cashes in the briefcase at Wrestlemania in what I believe will be a very entertaining match. After the feud that will follow Del Rio will move back into the upper card to battle with someone knew.



30 Day Challenge
Day 24: A Song That I Want To Be Played At My Funeral


For years now I have always thought that One Sweet Day by Mariah Carey and Boyz II Men would be the song that I would like played at my funeral.







6. CM Punk
267 points
The Stats

Minor Shows: 1-0-0
Raw: 15-19-5
Smackdown: 3-3-1
PPV: 10-0-1
Title Matches: 17
Raw/SD Main Events: 22
PPV Main Events: 3


Year in Review


Now before you all go off you rockers at me I know that in most lists Punk would have been number 1, hell he probably would have been it on my list if I had done my own personal list. Like seriously he was WWE Champion for all 366 days of 2012. Of the 11 PPV matches he had he won 10, only drawing one match when he and John Cena managed a double pin at Night of Champions, thus really winning that match in a sense as well. The question at hand though is not why he should be number 1 but why is he number 6.

Now the thing to remember is that this is a fully stat based countdown, emotion does not come into it. The first stat that cost Punk points that he probably should have had is the one that everyone has been complaining about all year long, that him as the WWE Champion has been overlooked by John Cena to main event the PPV and Raw cards. This did cost Punk points that would have seen him a lot higher up the card but that is not the only reason.

Like Cena, Punk seems to have an inability to appear on Smackdown. In 2012 Punk only managed to have 7 matches on the blue brand. This cost him dearly as all 3 World Heavyweight Champions of 2012 were made to wrestle both shows and because of his they all ended up higher than Punk did.

Lastly you have his injury at the end of the year. You might not think missing 1 month of action could hurt Punk that much but it did. After Punks last match on the November 26th edition of Raw he was sitting in 3rd place on the countdown however the lack of matches he had saw him move down and down until he rested at 6th place at the end of December.

While on the surface it may look like Punk had a good year with his title reign and all the stats tell a different story. He won less than half of his matches on regular TV, well the little he actually had of them and he played second fiddle all year to what else was going on around him like Cena or Brock Lesnar. While to everyone he should be on top of the list the stats say he doesn't even make the top 5.


The Future


The future, hmmm, the question is will the longest title reign in the modern era continue after this weekend or will it crumble at the hands of The Rock. Since Rock announced that he was getting the shot at the title at the Royal Rumble I have thought that he would win the title and I have seen nothing yet that has changed my mind. So where does that leave Punk? Well he has to have a rematch, will that be in the Chamber, well I don't know. I predict a Triple Threat match at Wrestlemania but I am only speculating. I think however what ever happens with Punk it will not eclipse the last two years for him and I think it will leave him more disappointed than he already is.



30 Day Challenge
A Song That Makes Me Laugh


Since I was about 11 years old I have been listening to Cows With Guns by Dana Lyons and till this day it still makes me laugh.








Feedback:
E-Mail: zzzorf@yahoo.com
Twitter:

Facebook: Add me as a friend here



The King of Stats names the Lord of Ladders (Part 5: The Fifth Rung)
The King of Stats names the Lord of Ladders (Part 4: The Fourth Rung)
Wayne's World: So You're A Jobber, Well Here Is A Nice Shiny Belt For You
The King of Stats names the Lord of Ladders (Part 3: The Third Rung)
Wayne's World: Quality v Quantity - How DGUSA Outshone Wrestlemania 29
Wayne's World: 20-0 - A look back at The Undertaker's Wrestlemania Streak
The King of Stats names the Lord of Ladders (Part 2: The Second Rung)