---



The King of Stats names the Tsar of Steel (Part 4: 35-31)


By zzzorf
Sep 29, 2013 - 10:36:48 AM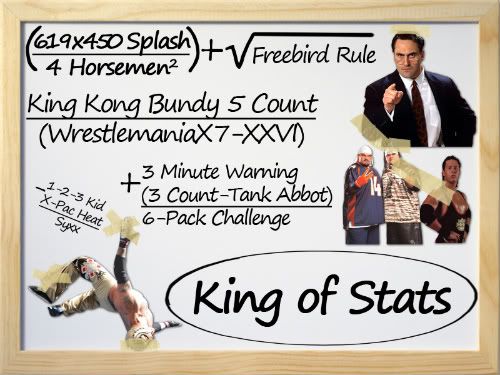 banner courtesy of TeamFarrell




Welcome back, mizfan fans, the my awesome series to find the greatest steel cage wrestler of all time! Of course I'm mostly doing this by myself, but I guess I should give a little credit to the tag-a-long contributor known as zzzorf. Anything to say Wayne before I dive into my awesome analysis?

Hey what's going on here? Are you trying to hijack my columns again Mizzie?

Well anyway welcome back everyone to part 4 of my search to find out who will be named the Tsar of Steel, I am your host The King of Stats and you have already my annoying assistant Mizfan. Today we bring to you numbers 35 through to 31 in the countdown so lets begin with number 35 shall we.



35. Bob Backlund



beat Peter Maivia - Steel Cage, WWWF Title, January 22, 1979, WWWF on MSG Network
beat Pat Peterson - Steel Cage, WWF Title, September 24, 1979, WWF on MSG Network
beat Sergeant Slaughter - Steel Cage, WWF Title, March 21, 1981, WWF on PRISM Network
beat Stan Hansen - Steel Cage, WWF Title, April 6, 1981, WWF on MSG Network
beat Greg Valentine - Steel Cage, WWF Title, January 16, 1982, WWF on PRISM Network
beat Jimmy Snuka - Steel Cage, WWF Title, June 28, 1982, WWF on MSG Network


An all time personal favorite of mine is Backlund, so I'm happy to see him get some credit here. It also proves my theory that 80s wrestlers (and earlier) will have a distinct advantage of this series. Nowadays a feud can end in a millions ways, on a table or a ladder, with a street fight or a falls count anywhere match, with a stretcher or a coffin or a pole or even a grave. But back in the day before things got a bit silly the good old fashioned cage was really one of the only places a real blood feud could go to finish up. Backlund was the man in the WWF for many years so it's no surprise that he not only stepped into the steel many times, but also that he managed to get the win every single time. Ah, the simple booking they could get away with before the internet came along! If anything Backlund should be much higher on this list, given how many cage matches he must have had at house shows and such that are now lost to history, but I suppose given how little he is remembered these days by most I'll just be glad he was mentioned at all.

Ahh but are they lost to history? I have records of at least another 12 steel cage matches that he was involved in at House Shows which just goes to show how wonderful a little research can be. Oh and did I mention that Backlund had won every single one of them as well, that is just purely amazing. However this series only takes into account the matches that were televised and that hampers his standings here on the list by only allowing 6 of his matches to be counted. Now looking back at it I wish I hadn't hampered myself with that ruling as it has ruled out some real big names from back in the day (Bruno only managed a 56th placing with his 4-1 TV record) but it is what it is and at least Backlund gets to shine the spotlight on some of the legends of the ring.








34. Jay Lethal



w/ Alex Shelley & Sonjay Dutt lost to Team Japan - Steel Cage, April 23, 2006, TNA Lockdown
lost to Chris Sabin - 5-way Elimination Steel Cage, X-Division Title, April 15, 2007, TNA Lockdown
beat Consequences Creed, Curry Man, Johnny Devine, Shark Boy & Sonjay Dutt – Xscape Steel Cage, X-Division Title, April 13, 2008, TNA Lockdown
lost to Kaz - 10-man Terrordome, May 11, 2008, TNA Sacrifice
beat Alex Shelley, Chris Sabin, Curry Man, Jimmy Rave, Johnny Devine, Petey Williams, Shark Boy, Sonjay Dutt & Super Eric - Steel Asylum, October 12, 2008, TNA Bound for Glory
lost to Samoa Joe - 20-man Gauntlet Steel Cage, March 17, 2009, TNA Impact
lost to Suicide - 5-man Xscape Steel Cage, April 19, 2009, TNA Lockdown
lost to Daniels - 8-man Steel Asylum, August 16, 2009, TNA Hard Justice
no contest against Alex Shelley, Chris Sabin, Consequences Creed, Homicide, Kiyoshi, Suicide & The Amazing Red - Steel Asylum, January 4, 2010, TNA Impact
lost to Max Buck - 8-way Xscape Steel Cage, April 17, 2011, TNA Lockdown


Now this is what I'm talking about when I mention the TNA Effect! This series was always going to feature a higher than usual number of stars from Orlando, given their affinity to put everything in a cage sooner or later. Just look at this list, only ten matches but a grand total of 86 competitors! Lethal's never been in a cage with fewer than 4 other men! So while he has plenty of experience inside the steel, it's questionable how much that would really help him if he ever found himself going mano-a-mano with anyone. This is especially true given the fact that his win/loss record is rather poor, which is just another side effect of being involved with an average of 8 guys per match. 1 winner, 7 losers, not great odds!

Well I counter your TNA Effect with the X-Division Curse (aka Crusierweight Curse) which the long time readers of my columns would be well aware about. For those that aren't aware what this curse is is that TNA (and other companies) tend to lump their smaller/flashier wrestlers together in multi-man matches, as conveniently pointed out by Mizfan. However that curse then goes further to explain that this therefore offers us with the scenario that there are more losers than there are winners and therefore has a negative effect on the win/loss record of the individual. This is shown here with Lethal only managing to pull out 2 wins in 10 matches, not a great record when you compare it against Mr Backlund's.








33. The Rock



beat Ken Shamrock & Mankind - Steel Cage, September 27, 1998, WWE In Your House: Breakdown
beat Triple H - Steel Cage, June 29, 1999, WWE Raw
lost to Triple H – Steel Cage, WWE Title, October 2, 1999, WWE Rebellion
beat Al Snow - Steel Cage, December 21, 1999, WWE Smackdown
beat Chris Benoit - Steel Cage, March 6, 2000, WWE Raw
beat Bull Buchanen & The Big Boss Man - Handicap Steel Cage, April 10, 2000, WWE Raw
beat Shane McMahon - Steel Cage, May 1, 2000, WWE Raw
lost to Kurt Angle - 6-man Hell in a Cell, WWE Title, December 10, 2012, WWE Armageddon
no contest against Steve Austin – Steel Cage, WWE Title, April 2, 2001, WWE Raw


That's a pretty great record for The Great One, no pun intended! Rocky's status as "the guy" for the WWF will always be a bit contested considering that Steve Austin was usually around to draw attention, but there's no doubting Dwayne's status as one of the biggest stars of all time. What is perhaps most surprising to me is that despite the Rock being in the main event quite frequently during the Attitude Era he never once had a singles match within the confines of Hell in a Cell. Almost equally surprising is that WWF gave away Rock vs. Austin on Raw in 2001! Didn't remember that one! But on the whole Rocky is not really known for his cage antics. My theory? The man didn't want any unforgiven steel mesh messing up his Hollywood good looks. Gotta protect the moneymaker, right Dwayne?

OK I made the mistake of saying in Stone Cold's write up that he had barely given us any Cage Match memories and you corrected me, if I say it about The Rock will you do the same? Well I guess not since you have already said he is not known for his cage match antics. It is true Rock was a star who owned most matches he was put in it just wasn't really cage matches he was put in. Looking at those times he was put into matches in a cage it was more as a slight blip in a story arc than any rel feud point as only 2 matches appeared on a PPV(the Rebellion one was a UK only one). This included that match you were speaking about against Austin as it was used as part of the Two-Man Power Trip story arc.








32. The Big Show



lost to Hulk Hogan - Steel Cage, February 11, 1996, WCW SuperBrawl VI
lost to Booker T – Steel Cage, October 7, 2002, WWE Raw
lost JBL - Barbed-Wire Steel Cage, WWE Title, February 20, 2005, WWE No Way Out
lost to The Undertaker - Punjabi Prison, July 23, 2006, WWE The Great American Bash
w/ Shane McMahon & Vince McMahon lost to DX - Handicap Hell in a Cell, September 17, 2006, WWE Unforgiven
lost to Bobby Lashley - Extreme Elimination Chamber, ECW Title, December 3, 2006, WWE December to Dismember
lost to The Undertaker – Steel Cage, November 25, 2008, WWE Smackdown
lost to Triple H - Elimination Chamber, WWE Title, February 15, 2009, WWE No Way Out
lost to Edge - Elimination Chamber, World Title, February 20, 2011, WWE Elimination Chamber
lost to Alberto Del Rio – Steel Cage, June 27, 2011, WWE Raw
lost to Daniel Bryan – Triple Threat Steel Cage, World Title, January 29, 2012, WWE Royal Rumble
lost to Daniel Bryan - Elimination Chamber, World Title, February 19, 2012, WWE Elimination Chamber
beat Kofi Kingston – Steel Cage, June 11, 2012, WWE Raw
lost to John Cena – Steel Cage, June 17, 2012, WWE No Way Out


How funny is it that Big Show's most memorable cage moment didn't come in a match that involved him? To me Paul Wight tearing up through the canvas in 1999 to help Vince McMahon take on Steve Austin is definitely the Giant's defining moment inside the steel. Also how strange is it that in the first decade of his career the man had only 2 cage matches, and then in the second he's already had a dozen and counting? Strange progression, but either way he's apparently become quite comfortable on the inside of those fence walls. Or so you'd think, but true to Big Show's form he's almost exclusively been used to put talent over when stepping into the cage. Can you believe he won his very first cage match in 2012? It almost defies belief! You'd think man too large to be thrown around a cage would be the perfect man for the job, but that's Big Show for you.

The World's Largest Talent Enhancer strikes again. Big Show shocking record of 1 win and 13 losses sees him equal the most losses of any wrestler to have appeared in an enclosure and by far the wrestler with the worst win/loss ratio of any one in the top 50. And it is not like that one win really meant anything either as it was a more throwaway squash match leading up to his match against Cena that weekend. Even with that record you would not blame someone for being scared climbing into a cage with him as you know you will be in for a world of hurt. As to your mention of his most memorable in a cage match being at St Valentines Day Massacre Mizzie I feel you have that wrong, I feel like he will always be remembered more for his pants being lowered in the Handicap Hell in a Cell match with DX. Damn, need to go and find something to push that image out of my head.








31. Rob Van Dam



w/ Jerry Lawler & Sabu no contest against Rick Rude, Tommy Dreamer & The Sandman - Steel Cage, July 19, 1997, ECW Hardcore TV
lost to Shawn Michaels - Elimination Chamber, World Title, November 17, 2002, WWE Survivor Series
lost to Kane - Steel Cage, September 8, 2003, WWE Raw
beat Chris Jericho - Steel Cage, Intercontinental Title, September 27, 2003, WWE Raw
lost to Bobby Lashley - Extreme Elimination Chamber, ECW Title, December 3, 2006, WWE December to Dismember
w/ Jeff Hardy & Eric Young beat The Band - Steel Cage, March 23, 2010, TNA Impact
beat James Storm - Steel Cage, April 18, 2010, TNA Lockdown
w/Abyss, Jeff Hardy & Jeff Jarrett beat Team Flair - Lethal Lockdown, April 18, 2010, TNA Lockdown
w/ Mr Anderson & Sting lost to Immortal - Steel Cage, March 16, 2011, TNA Impact
lost to Sting - 3-way Steel Cage, TNA Title, April 17, 2011, TNA Lockdown
w/ AJ Styles, Austin Aries, Garrett Bischoff & Mr Anderson beat Team Eric Bischoff - Lethal Lockdown, April 15, 2012, TNA Lockdown


Ah, what did I tell you about TNA? They love their cage matches, indeed they do. In just 2 years RVD had more cage matches there than he had everywhere else combined. You might think he would have racked up a few more in ECW, but they tended to pursue forms of bloody violence that were, shall we say, a bit cheaper? RVD is generally more associated with purely hardcore matches anyway, so it's no surprise he isn't higher up in the rankings here. His record is mixed as well, but at least it's not a compendium of losses like some of the guys on this list. I can't even really think of too many memorable cage moments from RVD. Probably for me the most notable one is his '03 match with Jericho, but only because it's one of the very first episodes of Raw I ever watched. Got anything to say about the man who thinks pointing to his shoulders is cool, Wayne?

My biggest memory of RVD inside a cage would have to be trying to do a Five-Star frog splash inside the first Elimination Chamber and thus injuring himself, otherwise I have nothing. You had it right that he was known for his more hardcore type matches than being locked up inside a cage. There is just not really too much room inside of it for him to do what he is known for without it looking a little bit ridiculous and I think WWE realised that hence the reason he was barely put into that situation, TNA on the other hand is a different story.







Well that brings to an end another part of the countdown and some big names of the wrestling world have already fallen in the first 20. Who are you surprised to have seen named so far? Who did you expect to have seen yet but has not appeared? We will be back in a few days with the next 5 and I can give you this little clue, it will be a mixture of old and new but the one thing they have in column is they have all appeared on TNA at some stage. Until then remember, THE STATS NEVER LIE.


Feedback:

E-Mail: zzzorf@yahoo.com

Twitter:



Facebook: Add me as a friend here




Me and My Mates: Dream Matches 6 - Tag Team Turmoil (Match 7: Beer Money, Inc v The New Age Outlaws)
The King of Stats presents the 2013 WWE Superstar of the Year - #1 Daniel Bryan
The King of Stats presents the 2013 WWE Superstar of the Year - #10 to #6
The King of Stats presents the 2013 WWE Superstar of the Year - #15 to #11
The King of Stats presents the 2013 WWE Superstar of the Year - #20 to #16
The King of Stats presents the 2013 WWE Superstar of the Year - #25 to #21