---



The King of Stats names the Tsar of Steel (Part 3: 40-36)


By zzzorf
Sep 19, 2013 - 6:12:19 PM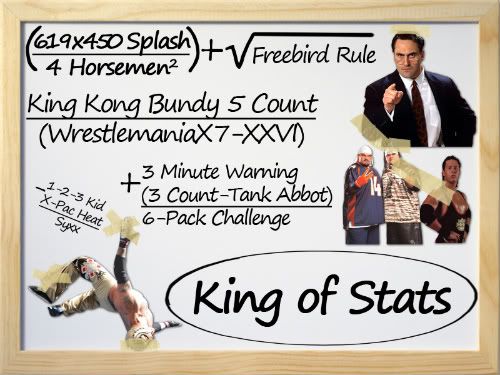 banner courtesy of TeamFarrell




Welcome one and all to the third installment in my search for the Tsar of Steel. You all thought I had forgotten about this countdown didn't ya? Well sorry to burst your bubble but once the King of Stats starts on a countdown he sees it through to the end, I just found myself on an unexpected hiatus which delayed the columns by a couple of weeks.

For all of you that don't know what is going on here I will lay it out quickly before I begin. Basicly I have delved through the records and found every WWE, TNA, WCW or ECW match that has happened on TV which saw the wrestlers wrestle in some sort of enclosure. I then gave each wrestler involved a score based on stuff like win/loss and match importance and finally ranked them according to their accumalitive scores. I then took the top 50 and started to count them down 5 at a time. Today sees the 3rd column in the series which means I will be looking at numbers 40 through to 36.

However I am not doing this series alone as my trusty sidekick Mizfan is joining me once again to help bring to you today's column. Actually trusty might not be the correct word, I thought I hired you to make sure I got these columns out on time Mizzie?

I warned you about me! I'm the guy who got kicked out of this place in the first place. It's like hiring Michael Jackson as your babysitter. I mean really, you just know MJ is going to eat that last pint of cookie dough ice cream you've been saving. Celebrities, right? Er, what are we talking about again? Right, cage matches. Let's get cracking on the countdown once more!

Starting to really worry about you Mizzie, you been spending too much time with SkitZ or something? Oh well no better time than now to get started on why we are here, let us take a look at number 40.



40. Mick Foley



w/ Abdullah the Butcher, Big Van Vader & The Diamond Studd lost to El Gigante, Sting & The Steiner Brothers - Chamber of Horrors, October 27, 1991, WCW Halloween Havoc
w/ Dustin Rhodes & Sting beat Barry Windham, Big Van Vader & Paul Orndorff - Steel Cage, January 13, 1993, WCW Clash of the Champions
beat Hunter Hearst Helmsley – Steel Cage, August 3, 1997, WWE Summerslam
w/ Chainsaw Charlie lost to The New Age Outlaws - Steel Cage, Tag Titles, March 30, 1998, WWE Raw
w/ Kane no contest against Steve Austin & The Undertaker - Hell in a Cell, June 15, 1998, WWE Raw
lost to The Undertaker - Hell in a Cell, June 28, 1998, WWE King of the Ring
no contest against Kane - Hell in a Cell, August 24, 1998, WWE Raw
lost to The Rock – Triple Threat Steel Cage, September 27, 1998, WWE In Your House: Breakdown
lost to Triple H - Hell in a Cell, World Title, February 27, 2000, WWE No Way Out
beat Sting – Steel Cage, TNA Title, April 19, 2009, TNA Lockdown


Well to be quite honest this is majorly disappointing. I would have really expected Mick to have been higher up the countdown, and then my fandom hoped he would be even higher. Position 40 however is a major letdown and a lot lower than where I expected/wanted him to be. You just need to look at some of the matches that he has been involved in to realise just how great he was once he got into a ring surrounded by a mass of steel. From his cage matches against Hunter, The New Age Outlaws and Sting to his Hell in a Cell matches with Undertaker and HHH (again) he has been in some classic bouts. Then who can forget the moments he left us with in these matches, from pulling the electric chair lever and costing his team the victory in the Chamber of Horrors match to Chyna slamming his head with the door in the cage match with Hunter to everything that happened in the Cell match with Taker. No Mick definitely should have scored higher up this list.

Wayne, you're exactly right. Or rather you would be, if this was the Crown Prince of Getting Your Ass Kicked in a Cage column. I love Mick as much as the next guy, but look at those stats! The man went a dozen years without a single win inside the steel, and it wasn't for lack of trying either. Foley is a truly amazing performer, one of the best of all time, but when your biggest talent is making others look good you're not likely to be crowned Tsar of anything at the end of the day (take notes, Ziggler!). I think we can all agree that Dude Love here is one of the most entertaining stars to ever step foot inside the steel, not to mention the most memorable. Mankind's fall off the top of the Cell in '98 defined a generation, and his willingness to sacrifice flesh and blood to any steel mesh will make him stay in the hearts of the fans forever. Too bad for him that's not what this list is all about!








39. Dustin Rhodes



w/ Sting, Barry Windham, Nikita Koloff & Ricky Steamboat beat The Dangerous Alliance - War Games, May 17, 1992, WCW WrestleWar
w/ Cactus Jack & Sting beat Barry Windham, Big Van Vader & Paul Orndorff - Steel Cage, January 13, 1993, WCW Clash of the Champions
w/ Davey Boy Smith, Sting & The Shockmaster beat Harlem Heat, Big Van Vader & Sid Vicious - War Games, September 19, 1993, WCW Fall Brawl
w/ Flyin' Brian & Sting beat Paul Orndorff, Steve Austin & Rick Rude - ThunderCage, February 20, 1994, WCW Superbrawl IV
w/ Dusty Rhodes & The Nasty Boys beat Arn Anderson, Bunkhouse Buck, Col. Robert Parker & Terry Funk - War Games, September 18, 1994, WCW Fall Brawl
beat Bobby Roode - Best Two Out Of Three Falls Prince Of Darkness Steel Cage, April 24, 2005, TNA Lockdown
w/ Rellik lost to Kaz & Super Eric - 6-team Steel Cage, April 13, 2008, TNA Lockdown


The first thing I need to ask after looking at Dustin's match stats is why the hell has Goldust never been in a cagematch? I mean seriously come on, virtually every male wrestler to have appeared on WWE TV for a lengthy amount of time over the last 20 years has appeared in some sort of cage match. Dustin was a part of the WWE roster for many years but not once was able to find himself in one of those situations. However his days in WCW and TNA helped make up for it and has therefore seen him score enough to make it into the top 40. He also has the distinction of being the highest Rhodes in the countdown as Cody only managed 115th with 4 losses and Dusty came in 175th with only 1 win (Dusty would have finished way better if I had gone back before WCW and counted his NWA days but they unfortunately did not count).

Here's another question, what the hell is so hard about stepping inside a normal steel cage anyway? The guy has 7 matches up there and what, 2 of them are actual regular cage matches? In the meantime he racked up appearances in the always ridiculous ThunderDome and, my personal favorite, a "Best Two Out Of Three Falls Prince Of Darkness Steel Cage" match. How the hell do you put that up on a marquee anyway? Suffice to say he may not have been Goldust but he definitely brought his own brand of weirdness with him wherever he went. Will he get a chance to better his record? It may seem like a long shot at 44, but anyone who saw his fantastic performance on a recent episode of Raw will tell you never say never.








38. Steve Austin



w/ Arn Anderson, Beautiful Bobby, Larry Zybysko & Rick Rude lost to Sting's Squadron - War Games, May 17, 1992, WCW WrestleWar
w/ Flyin' Brian beat Dos Hombres - Steel Cage, NWA/WCW Unified Tag Titles, May 23, 1993, WCW Slamboree
w/ Paul Orndorff & Rick Rude lost to Dustin Rhodes, Flyin' Brian & Sting – ThunderCage, February 20, 1994, WCW Superbrawl IV
w/ The Undertaker no contest against Kane & Mankind - Hell in a Cell, June 15, 1998, WWE Raw
beat Vince McMahon - Steel Cage, February 14, 1999, WWE In Your House: St Valentines Day Massacre
beat Rikishi - Steel Cage, October 30, 2000, WWE Raw
lost to Kurt Angle - 6-way Hell in a Cell, WWE Title, December 10, 2000, WWE Armageddon
lost to Triple H - Three Stages of Hell (3rd fall), Steel Cage, February 25, 2001, WWE No Way Out
no contest against The Rock – Steel Cage, WWE Title, April 2, 2001, WWE Raw
lost to Chris Jericho – Steel Cage, Undisputed World Title, December 10, 2001, WWE Raw


Is it just me or is this part of the list becoming very Attitude Era heavy? Wait I will rephrase that, is it just me or is this list getting very Attitude Era wrestlers who first appeared in WCW heavy? Of course out of the three names that have been mentioned so far in this column Austin is by far the biggest of them, however in looking over the match lists of the three you could be mistaken in believing that Austins matches meant the least. Don't get me wrong Austin has been in some major cage matches like the ones he had with Vince McMahon and Triple H but in an overall sense both Mick and Dustin have left us with more memories inside the cage then Austin did.

Excuse me? No Vickie of course, but I remember Austin chucking Vincenzo McMahon face first into the steel a hell of a lot better than I recall Dustin doing pretty much anything when it comes to cage matches. And who could forget that masterful 3rd fall in that beyond epic 3 Stages of Hell Match? Don't sell the man short there Wayne, he's only the biggest draw in the history of the industry! I'll grant you that his WCW resume is pretty dire though, I'll admit I actually had to look up who the hell "Dos Hombres" are. In all fairness Ricky Steamboat & Tom Zenk were probably not a bad team, but they sure didn't make much of an impression! But Austin never had that problem, even in a match like that you could always see he was destined for big things. I'd wager nobody knew just how big though! Either way, that's the bottom line because… ah, you know the rest.








37. Diamond Dallas Page



beat Raven - Bowery Death, May 17, 1998, WCW Slamboree
no contest against Randy Savage – Steel Cage, June 15, 1998, WCW Nitro
w/ Roddy Piper & The Warrior beat nWo Wolfpac & nWo Hollywood - War Games, September 13, 1998,WCW Fall Brawl
w/ Rick Steiner & Sid Vicious lost to Goldberg & Hulk Hogan – Steel Cage, September 6, 1999, WCW Nitro
beat Jeff Jarrett – Steel Cage, WCW Title, April 24, 2000, WCW Nitro
lost to Jeff Jarrett – Triple Threat Steel Cage, WCW Title, May 7, 2000, WCW Slamboree
w/ Kanyon lost to Kane & The Undertaker – Steel Cage, WWF & WCW Tag Titles, August 19, 2001, WWE Summerslam
w/ BG James & Sean Waltman beat Jeff Jarrett, Monty Brown & The Outlaw – Lethal Lockdown, April 24, 2005, TNA Lockdown


Well I guess we have moved away from the Attitude Era, well we are still in the era just in a different company but you get what I mean. Looking over DDP's match record here it is amazing just how big he was between 1998 and 2000 and how important he was to WCW with the majority of his cage matches happening during that time. While there is nothing really great on his record he did manage to get enough matches together to earn himself a 37th placing on the countdown.

Before I hand over to Mizzie for his take on DDP I just want to say if you see any matches you believe should have been included that I have missed please don't hesitate to let me know as I am only human and could have missed some. DDP and Mick Foley are two examples of me missing matches as they were originally scheduled for the last column but in further research I found I had missed the Chamber of Horrors and Bowry Death Matches as they were both one offs I forgot about. Adding those matches in elevated both guys to where they are now, so please if you see something let me know as it could very well make a difference in the rankings.

Doesn't he lose points for one of those matches including David Arquette? I mean honestly, even numbers ought to have standards. Apart from that what impresses me the most is how he was able to cram six cage matches in a span of just three years! Most of the stars we've seen so far aren't half so active. Oh, but wait, I just saw that the horrifyingly bad '98 War Games match is in there. Nope, sorry, you lose the rest of your points DDP. Go to the back of the line behind Hornswoggle in gazillionth place. But that's not a bad thing… it's a good thing.

(What the hell is up with me and catchphrases all of a sudden?)








36. Abyss



w/ Kevin Northcutt & Legend beat The Gathering - Steel Cage, December 17, 2003, TNA Weekly PPV #76
lost to AJ Styles - Steel Cage, April 24, 2005, TNA Lockdown
lost to Christian Cage - Steel Cage, NWA Title, April 23, 2006, TNA Lockdown
w/ AJ Styles, Christian Cage, Scott Steiner & Tomko lost to Team Angle - Lethal Lockdown, April 15, 2007, TNA Lockdown
w/ Andrew Martin & Sting beat AJ Styles, Christian Cage & Tomko- Doomsday Chamber of Blood, August 12, 2007, TNA Hard Justice
no contest against Kurt Angle - Submission Steel Cage, September 10, 2007, TNA Impact
lost to Samoa Joe - 20-man Gauntlet Steel Cage, March 17, 2009, TNA Impact
lost to Matt Morgan - Doomsday Chamber of Blood, April 19, 2009, TNA Lockdown
w/ Jeff Hardy, Jeff Jarrett & Rob Van Dam beat Team Flair - Lethal Lockdown, April 18, 2010, TNA Lockdown
no contest against Kurt Angle - Steel Cage, September 8, 2010, TNA Impact
w/ Bully Ray & Matt Hardy beat Mr Anderson, Rob Van Dam & Sting - Steel Cage, March 16, 2011, TNA Impact
w/ Bully Ray, Matt Hardy & Ric Flair lost to Fortune - Lethal Lockdown, April 17, 2011, TNA Lockdown


Finishing off todays part of the countdown we find someone more recent than the 90's even though his whole major character screams of a late 90's Kane/Taker/Mankind mix. I am a little torn here with Abyss as the fan in me wants to say that he has had many great moments over the years in cage matches but the truth is trying to push in its ugly head. While there are great memories of Abyss throughout the years in his many hardcore style matches I can barely remember anything that happened within a steel structure. The one thing I get from his matches above though is if you want a result in a Abyss/Kurt Angle match don't book it in a cage in the second week of September on Impact, they will just fight to a no contest.

Holy smokes,that's a hell of a good point there Wayne my man! It's like some kind of conspiracy! But I fear I must disagree on one point, Abyss has at least one cage match that is highly memorable and worth watching again and again. Namely, if you've never seen his match with AJ Styles at Lockdown '05 then you are missing OUT! From AJ's superhuman slide under the guard rail to one of the most sickening door shots you've ever seen, not to mention what looks for all the world to be a literal hanging off the side of the cage, and of course plenty of thumbtacks to boot! In a fair world it would have been a major event, but alas it happened in TNA so it will be lost to most fans. Alas, cruel world (wrestling entertainment)! Apart from that I must agree that while he has had many good moments none of them are definitely highlight reel material… a bit like Abyss himself in fact, a good performer in many ways but marred by a number of factors that hold him back from being well regarded by most.

Erm… insert Abyss' catchphrase here (whatever the hell it is).







Well that brings us to the end of another part of the countdown and we had some major casualties fall this time around. What is your take on todays positions and the remaining wrestlers to come Mizzie?

Well, I think it's clear we're tossing a lot of big Attitude Era players out early on for a good reason. Once Attitude got started let's be fair, no holds barred was the rule of the land and no need for a steel mesh in the way of the inevitable crowd brawl. I think we are likely to see more 80s star pop their heads in soon, and I have no doubt the TNA effect will boost a number of their veteran performers high in the rankings (Lockdown, anyone?). Who will be the next five? Who knows! Wait, you do! Tell us now, you numerical numbskull!

Nope, can't do, you will just have to wait and see like all those out there in reader land but I can give you at least 2 hints. 1. We come across our first undefeated wrestler (2nd best overall) but he is beaten out by 2. The guy with the worst steel enclosure record ever. Who will they be? Well you will just have to check out the next instalment in the search to name the Tsar of Steel until then remember THE STATS NEVER LIE.



Feedback:

E-Mail: zzzorf@yahoo.com

Twitter:



Facebook: Add me as a friend here





Me and My Mates: Dream Matches 6 - Tag Team Turmoil (Match 7: Beer Money, Inc v The New Age Outlaws)
The King of Stats presents the 2013 WWE Superstar of the Year - #1 Daniel Bryan
The King of Stats presents the 2013 WWE Superstar of the Year - #10 to #6
The King of Stats presents the 2013 WWE Superstar of the Year - #15 to #11
The King of Stats presents the 2013 WWE Superstar of the Year - #20 to #16
The King of Stats presents the 2013 WWE Superstar of the Year - #25 to #21