---



The King of Stats names the Tsar of Steel (Part 2: 45-41)


By zzzorf
Aug 31, 2013 - 12:37:08 AM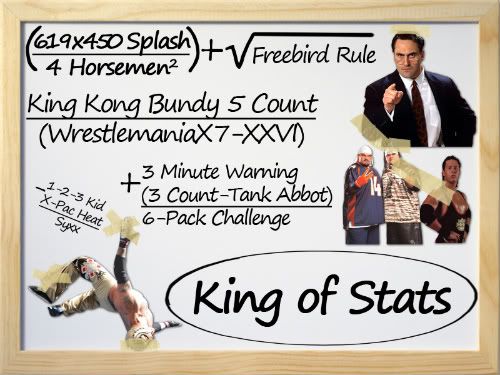 banner courtesy of TeamFarrell




Here we are friends and foes back to another column of staty goodness. I am of course The King of Stats and today we move into the second column in our search to find out who will be named the Tsar of Steel. A few days back I presented to you numbers 50 through to 46 as they stood on my list when we looked at the careers in cage matches of Matt Hardy, Daniel Bryan, Hernandez, Sid Vicious and Chris Harris. These guys though were only scratching the surface of talent that is to come as we still have 44 wrestlers to get through before we get to the guy who has scored the coveted number 1 spot.

Today we are supposed to be looking at numbers 45 through to 41 which is still sort of the case for in fact we have already looked at number 45. When I wrote the first column I was unaware of the Cage Match on Smackdown between Daniel Bryan and Wade Barrett and therefore it never made my list. The win that Bryan got was enough to move him from 49th to 45th in my list and therefore should have been talked about today. So my the first person talked about today will in fact be the new number 46 and then we will start back where we are supposed to be with number 44. Wade's loss however has not efected my list this high up as that was his 4th loss and only managed him a jump way back in the minor places and he now finds himself way back at number 104.

Lastly I better introduce to you all my guest writer helping me out today. Joining me throughout the entirety of this series just like he did in the first column I present to you all Mizfan.

Greetings, mizfan fans! Ready for some more statty goodness? I know I am. Ever since I was young I loved playing with numbers, except for a brief period in my teens where I played with something else… Legos, that is. Naturally. What were we talking about?

Hey we are actually trying to keep the readers staying with the column, not scaring them off with horrifying images. As it is I think you may have scarred me for life. I need to take a moment to regroup before I continue so why don't you kick us off with the new number 46.



46. Chris Benoit



w/ Ric Flair, Steve McMichael & Curt Hennig lost to The nWo - War Games, September 14, 1997, WCW Fall Brawl
w/ Dean Malenko beat Brian Adams & Horace – Steel Cage, February 18, 1999, WCW Thunder
beat Dean Malenko – Steel Cage, November 1, 1999, WCW Nitro
w/ Bret Hart beat Goldberg & Sid Vicious and The Outsiders – Steel Cage, November 29, 1999, WCW Nitro
lost to The Rock - Steel Cage, March 6, 2000, WWE Raw
lost to Kurt Angle – Steel Cage, June 11, 2001, WWE Raw
beat Edge – Steel Cage, November 22, 2004, WWE Raw
lost to Triple H- Elimination Chamber, World Title, January 9, 2005, WWE New Year's Revolution
lost to JBL – Steel Cage, US Title, April 11, 2006, WWE Smackdown


So, Benoit got booted down by Bryan eh? There's probably something appropriate in that, considering how similar they are in the ring. For Benoit, I have to say I'm rather surprised to see him so far down the list. I would guess that his cage match with Kurt is one of the most well known of all time, at least in terms of straight up cage matches. I'm also surprised to recall he only entered the Elimination Chamber once, one would think the unforgiving environment would have been a perfect complement to his vicious in ring style. There are more than a few other awesome matches on his resume there, but that's only to be expected for arguably the greatest in ring performer of all time. That match with JBL is one I actually forgot until you brought it up, but that was a real barn burner. JBL was one of the very best brawlers, and that's the perfect style for the cage. But what the heck, WCW? Why must you put people in a cage with Sid Vicious? That guys stabs people with scissors. What an ass. And that's not even mentioning Horace Hogan...

It is quite funny when you think about who Bryan knocked out of 45th place isn't it? A lot of people have called Bryan the Benoit of this era in terms of in-ring ability (me included) and a lot of them also have that match-up as one of their biggest dream matches (again me included). Benoit had the uncanny ability to make any match he was in look good and he has managed to have a few classic cage matches with a couple of great stars of the wrestling world throughout his career. Like you Mizzie I find it a bit weird that he only ever appeared in one Elimination Chamber match but also the fact that he never got a chance to appear in a Hell in a Cell match, now that is a shame.









44. Kazarian



w/ Super Eric beat Dark Reign & Relik, Petey Williams & Scott Steiner, LAX, Motor City Machine Guns & Rock 'n Rave Infection - Steel Cage, April 13, 2008, TNA Lockdown
lost to Daniels - 8-man Steel Asylum, August 16, 2009, TNA Hard Justice
no contest against Alex Shelley, Chris Sabin, Consequences Creed, Homicide, Kiyoshi, Jay Lethal & The Amazing Red - Steel Asylum, January 4, 2010, TNA Impact
beat Homicide & Shannon Moore – Steel Cage, X-Division Title, April 17, 2010, TNA Lockdown
w/ AJ Styles, James Storm, Matt Morgan & Robert Roode lost to EV2.0 - Lethal Lockdown, October 10, 2010, TNA Bound for Glory
w/ Daniels, James Storm & Robert Roode beat Immortal – Lethal Lockdown, April 17, 2011, TNA Lockdown
w/ Bully Ray, Christopher Daniels, Eric Bischoff & Gunner lost to Team Garrett Bischoff – Lethal Lockdown, April 15, 2012, TNA Lockdown


Most shocking thing here is that it took a full decade for Kazarian to step into a cage! Dude debuted in '98 and doesn't get into the steel until 2008? Crazy! Since then he's had his fair share, but still not even one singles match. Funny how that works, isn't it? I guess it's not as surprising when you consider Kaz historically just isn't as interesting by himself. Whether it's an X Division group match, Fortune, or Bad Influence, his best work is usually done with a few people by his side. He's a talented enough guy in the ring, but often just doesn't make that much of an impression all by himself. Also funny to see how many Lethal Lockdown matches he's been in! But it makes sense in context, as I already mentioned the man seems to be drawn to groups and stables. He's got a good chance to better his record in the years, but I doubt we will see him too far out of the 40s, as everything that stopped him from being a singles threat in the past is still true. Maybe some more tag work though? He's pure gold with Daniels, Bad Influence is easily the best tag team on television these days.

Is it bad that I didn't notice the fact that Kaz has never been in a singles Cage Match and I was the one that wrote the matches down, it's not like it's my job as the King of stats or anything. Doing these column series lets me find out some interesting things in terms of the wrestling world but also helps pointing out things I already know.One of those things was how one wrestler can have a speciality in one type of match but struggle in another. In terms of Kazarian I am of course talking about how at 7 matches, he is the wrestler who has the biggest undefeated streak in matches that involve a ladder. Yet here in cage matches after having the same amount we find him at a low 3-4 record, definitely nowhere near the domination he has shown with a ladder in his hands.








43. Alex Shelley



w/ Jay Lethal & Sonjay Dutt lost to Team Japan - Steel Cage, April 23, 2006, TNA Lockdown
lost to Chris Sabin – 5-way Steel Cage, X-Division Title, April 15, 2007, TNA Lockdown
w/ Chris Sabin lost to Kaz & Super Eric - 6-team Steel Cage, April 13, 2008,TNA Lockdown
lost to Jay Lethal - 10-man Steel Asylum, October 12, 2008, TNA Bound for Glory
lost to Samoa Joe – 20-man Steel Cage Gauntlet, March 17, 2009, TNA Impact
w/ Chris Sabin beat No Limit & LAX – Steel Cage, IWGP Junior Heavyweight Tag Titles, April 19, 2009, TNA Lockdown
lost to Daniels - 8-man Steel Asylum, August 16, 2009, TNA Hard Justice
no contest against Suicide, Chris Sabin, Consequences Creed, Homicide, Kiyoshi, Jay Lethal & The Amazing Red - Steel Asylum, January 4, 2010, TNA Impact
w/ Chris Sabin beat Beer Money Inc – Steel Cage, Tag Titles, July 26, 2010, TNA Impact
w/ Chris Sabin lost to Magnus & Samoa Joe – Steel Cage, Tag Titles, April 15, 2012, TNA Lockdown


Now here's a man I'm intimately familiar with! For anyone who doesn't know, former MP writer Shane (AKA Mystic, AKA One Man Hype Band) and I have been running a series called "Where in the World is Freakin' Alex Shelley?" at the tail end of our Thursday podcasts on LOP Radio. Check it out! But this isn't about his stellar work in NJPW, it's about his more famous work over the years in the much maligned company TNA. One thing that leaps out at me is that once again there are no singles matches in here. It's not surprising really, TNA has long had a rather major boner for the well executed clusterfuck, and as an X Division and tag specialist Shelley falls right into that category. As with much of his career his most memorable work is with his longtime friend Sabin, though he's certainly no slouch when it comes to solo work either when it comes down to it.

Damn once again you have shown me up by noticing there is no singles matches before me. I think this is the last time I let you take point in these columns, can't have you looking better than me. Now as to Alex Shelley he definitely falls victim to the dreaded Cruiserweight Curse (or X-Division Curse in this case) as is normally the case with wrestlers his size. For those of you who are unaware of this curse it is something that makes an appearance in all of my series. Basicly what it is is that all the companies tend to do the same basic idea with wrestlers of a smaller stature, put them in as many multiple-participant matches as possible. These matches therefore end up with more losers than winners so that means these wrestlers while ending up with lots of matches they have an abysmal win/loss ratio. Having only 2 wins from 10 matches shows just how bad that curse can really be to a wrestler.









42. Lex Luger




beat Ric Flair - Steel Cage, NWA Title, May 19, 1990, WCW Capital Combat
beat Barry Windham – Steel Cage, WCW Title, July 14, 1991, WCW The Great American Bash
beat Tatanka – Steel Cage, March 13, 1995, WWE Sunday Night Slam
w/ Hulk Hogan, Sting & Randy Savage beat The Dungeon of Doom – War Games, September 17, 1995, WCW Fall Brawl
w/ Arn Anderson, Kevin Sullivan, Meng, Ric Flair, The Barbarian, The Ultimate Solution & Ze Gangsta lost to Hulk Hogan & Randy Savage - Tower of Doom, March 24, 1996, WCW Uncensored
w/ Arn Anderson, Ric Flair & Sting lost to The nWo – War Games, September 15, 1996, WCW Fall Brawl
w/ Kevin Nash & Sting lost to Team WCW – 3-teamWar Games, September 13, 1998, WCW Fall Brawl


Ah, from one favorite to another! I don't mean my favorite, you understand, but my good buddy Shane is even more nuts about Luger than he is about Shelley. I do have to say I often find the disdain modern fans hold for Lex very puzzling. The man was pretty capable in the ring considering his mass, certainly more so than other musclebound clods like Warrior and Sid. Did I mention I hate Sid? And Lex was also pretty damn popular in his time, whether it's the late 80s chasing Flair, the early 90s going after Yokozuna, or the late 90s plaguing Hogan and the nWo. Bottom line is, while the guy did have limitations I think he's seriously underrated historically. That's not to say he's underrated in this series, of course. The numbers don't lie! And anyone who took place in that travesty of a Tower of Doom match in '96 should automatically lose points, to be honest. And that '98 War Games match is pretty embarrassing too. Really, the man doesn't have a lot of impressive matches on the cage resume when it comes down to it, but he still tries pretty hard, dammit!

Add me to that list of people who have some disdain for Luger. I mean he wasn't the worst wrestler of his generation but he was a long way away from being the best. I guess you can more put me in the middle of the road with my feelings towards him. In fact it has only been recently that I have really started to learn what his impact on the world of wrestling really was. Doing the Pharaoh of Nitro series which of course was won by Luger really opened my eyes to just how big he actually was. That major status in WCW is what sees him crack this list as 6 of his matches are in WCW and only 1 was during his time in the WWE. I guess it is because of that lack of knowledge I have of WCW that I really don't appreciate Luger as much as I should.





Tatanka vs Lex Luger Steel Cage Match by sir-roddick



41. Bret Hart



w/ Jim Neidhart & The Honky Tonk Man lost to Randy Savage & Strike Force - Steel Cage, March 5, 1988, WWE on NESN
beat Owen Hart - Steel Cage, WWE Title, August 29, 1994, WWE Summerslam
beat Isaac Yankem DDS - Steel Cage, September 25, 1995, WWE Raw
beat Diesel - Steel Cage, WWE Title, February 18, 1996, WWE In Your House: Rage in a Cage
lost to Sycho Sid - Steel Cage, WWE Title, March 17, 1997, WWE Raw
w/ Hollywood Hogan & Stevie Ray lost to Team WCW - 3-team War Games, September 13, 1998, WCW Fall Brawl
w/ Chris Benoit beat The Outsiders and Sid Vicious & Goldberg - Steel Cage, November 29, 1999, WCW Nitro


WOW! Now this one is pretty surprising. When people think of cage matches, one of the first matches they're likely to think of is his 5 star clash with brother at Summerslam '94. That's hardly his only claim to fame either, with pitched battles against guys like Diesel and a pre-Kane Glen Jacobs. Still, I suppose outside of that it's not much of a resume when you get down to it. He was also an unfortunate part of that fairly horrifying '98 match, and with so much Sid on there (there he is again, dammit!) it's hard for even a pro like Bret to create a strong showing. I suppose he'll always have Summerslam, eh? You have to wonder what a storyteller like Bret could have done in a match like Hell in a Cell though. Unfortunately he left the WWF just after the match was introduced, but I'm willing to bet he could have torn the house down. Can you imagine a Bret vs. HBK Cell match? Or another clash with the Undertaker? So many possibilities, but sadly we'll never know because he had to go be squandered in WCW. What a mess they made of his character, eh?

It is funny how you see guys who have got one of the greatest Cage Matches on their resume (if not the greatest here) and are remembered so fondly for it that they are labelled as one of the best inside of a cage yet they have hardly been in any more matches. I would have expected Bret to be way higher up this list but in the end it is not the case with him only being able to do enough to make it into 41st. Does he deserve to be in the countdown, hell yeah. That match alone with Owen should have been enough but unfortunately due to the scoring system the one match match would not have been enough and Bret relied on his other not as stellar matches to make it here. Owen on the other hand was only able to add another 3 losses to his resume which saw him fall 96th on the countdown.







Well, we've come to the end of another statistical adventure! Slowly we go, inch by inch, getting closer to the finals. Who will end up taking the venerable title of Tsar of Steel? Only time will tell! Any last thoughts before we go, Wayne my man?

Yes it is a slow crawl to the final number 1 isn't it but it is a ride I am currently enjoying. So readers how are you liking the series so far? Have their been any surprises either good or bad? Is your favourite still in the running? Mizfan and I will see you all in a few days when we move onto part 3 where we will bring to you numbers 40 through to 36 and until then remember THE STATS NEVER LIE.


Feedback:

E-Mail: zzzorf@yahoo.com

Twitter:



Facebook: Add me as a friend here
Me and My Mates: Dream Matches 6 - Tag Team Turmoil (Match 7: Beer Money, Inc v The New Age Outlaws)
The King of Stats presents the 2013 WWE Superstar of the Year - #1 Daniel Bryan
The King of Stats presents the 2013 WWE Superstar of the Year - #10 to #6
The King of Stats presents the 2013 WWE Superstar of the Year - #15 to #11
The King of Stats presents the 2013 WWE Superstar of the Year - #20 to #16
The King of Stats presents the 2013 WWE Superstar of the Year - #25 to #21