---



The King of Stats names the Tsar of Steel (Part 1: 50-46)


By zzzorf
Aug 24, 2013 - 10:40:09 PM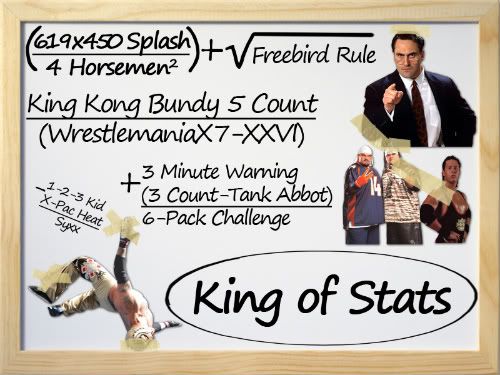 banner courtesy of TeamFarrell





Welcome one and all to my continuing search to find the real royalty of the wrestling world, I am your host The King of Stats ready and raring to bring you another countdown like only I am able to do. Over the last year and a half I have have been delving through thousands of wrestling cards to bring you a list of the best wrestlers in a particular area of the wrestling world, be it the best of a weekly show or the best of a particular match type. The winner of each of these countdowns earned a title exclusive to them and a place in my prestigous Hall of Royalty. The problem though was that the Hall was in name only and had no actual physical representation, something I felt needed to be rectified. With thanks to LOPForums number 1 sig maker "Sick" Nick I now have a visual representation of the Hall of Royalty, so with that said let us take a trip down memory road and take a look at who has been inducted so far.












As shown in the last pic it is now time for me to start the search for a new member of wrestling royalty, this time the Tsar of Steel. Just like my Lord of Ladders series from earlier this year this time I will be looking at a particular type of match, the match type in question that of anything which contains a steel enclosure. I will once again be looking at all forms of theses matches from WWE, TNA, WCW and ECW that have been from a televised broadcast and the wrestlers will be ranked using the following criteria:

Amount of matches
Win/Loss record
PPV or TV
Major Title, Minor Title or no title
Amount of opponents beaten


Whereas the Ladder series was pretty easy to do as there have not been a great deal of Ladder Matches throughout history this was not the case when looking at matches that involved an enclosure. In fact the 132 televised Cage Matches in WWE alone practically equaled the total amount of Ladder Matches counted for that series. Then when you add the Cage Matches from the other three companies to it you have nearly double that again. In total 329 matches were recorded for this series once the other match variants were included consisting of Lethal Lockdown, Steel Asylum, Hell in a Cell, Kennel from Hell, Elimination Chamber, War Games, Punjabi Prison, Lion's Den, Doomsday Chamber of Blood, Tower of Doom and ThunderDome.

Due to the amount of matches included I have decided to move back to my normal top 50 countdown format that all my TV show series had yet still keep the basic format that the Ladder Series had. This means however that this series will end up a 10-part one and due to how much trouble I had getting the last one out on time I thought I better find myself some motivation. I found that motivation in a regular contributor to my work and former main page now columns forum writer Mizfan who will be joining me through the entirety of this series. So Mizzie do you think you have what it takes to keep me going and get the columns out on time?

Hell no good buddy! I can barely get my own work out time, so don't expect me to be cracking the whip. Then again, cage matches are all about escape, right? So maybe it's appropriate if we escape from doing the legwork?

Hmmm, maybe I should of got someone else to help me with this. Oh well I'm stuck with you now so we might as well get this shindig started with the number 50 in our search for the Tsar of Steel.




50. Matt Hardy



w/ Jeff Hardy lost to The New Age Outlaws – Steel Cage, Tag Team Titles, November 23, 1999, WWE Smackdown
w/ Jeff Hardy lost to E&C – Steel Cage, December 13, 1999, WWE Raw
w/ Jeff Hardy beat E&C – Steel Cage, Tag Team Titles, September 24, 2000, WWE Unforgiven
w/ Jeff Hardy lost to The Dudley Boyz - Steel Cage, WWE & WCW Tag Team Title Unification, November 18, 2001, WWE Survivor Series
beat Edge – Steel Cage, September 18, 2005, WWE Unforgiven
w/ Abyss & Bully Ray beat Mr Anderson, Rob Van Dam & Sting – Steel Cage, March 16, 2011, TNA Impact
w/ Abyss, Bully Ray & Ric Flair lost to Fortune – Lethal Lockdown, April 17, 2011, TNA Lockdown


So starting off the countdown at number 50 we have a wrestler who found himself in the top 10 of Lord of Ladders with the elder of the two Hardy brothers making an appearance. I think the first thing that strikes me here with Matt compared to the ladder series is the fact that he was able to win a match without Jeff there to help him out. The next thing is the reminder of just how many matches the Hardy's have had over the years with the likes of E&C and The Dudleyz over the years in different in all shapes and sizes. With the exception of the first match against the outlaws every match has someone from those two teams in it. While I don't like to think it as the Hardys were always my favourite of the 3 teams but maybe Matt is only as good as his opponents led us to believe.

Matt is one of those guys who is remembered for his gimmick matches, but when it's fences instead of furniture it's no surprise that he comes up a little thin. Still, nobody who saw it is likely to forget his bloody brawl with Edge in '05. While the feud may have been a letdown on the whole, that one night (almost) made up for it. Also interesting is that he went almost a whole decade without having to step into the steel structure!








49. Daniel Bryan



lost to Mark Henry – Steel Cage, World Title, November 29, 2011, WWE Smackdown
beat Mark Henry & The Big Show – Triple Threat Steel Cage, World Title, January 29, 2012, WWE Royal Rumble
beat Cody Rhodes, Santino Marella, The Big Show, The Great Khali & Wade Barrett – Elimination Chamber, World Title, February 19, 2012, WWE Elimination Chamber
lost to Jack Swagger – Elimination Chamber, February 17, 2013, WWE Elimination Chamber


I had to double check over my stats just to make sure there wasn't a mistake as Daniel Bryan managed a top 50 spot even though he has only had 4 Cage Matches on the bigger stages. Once I worked out that everything calculated perfectly I stood back and had a look at exactly why he was placed so high and it all become perfectly clear. Even without meaning to Bryan has kept the old-school mentality of only having something like a Cage Match when it was for something big and not just thrown out there because it sounded good at the time. The first three of his matches were all for the World Title, with him winning the 2nd and 3rd which were both multi-man matches on PPV. The importance of the matches that Bryan was involved in is what got his ranking so high and knowing that that he is in the most high-profile feud in the WWE with Hell in a Cell just around the corner you know that his position will strengthen in the not to distant future.

Hey, no Ring of Honor in here? Although come to think of it, I'm not sure they can even afford a cage down there. You're quite right that Bryan is a guy who only steps within the steel when it truly matters. The little guy can't afford to have what little skin he has get scraped off, you know? He seemed to have quite an affinity for them during his World Heavyweight Championship reign. Who can forget that epic showdown with… Santino Marella? Can that be right? Maybe he should stick to the WWE Championship after all.








48. Hernandez



w/ Homicide beat AJ Styles & Christopher Daniels – Steel Cage, NWA Tag Team Titles, October 22, 2006, TNA Bound for Glory
w/ Homicide lost to Team 3D – Electrified Steel Cage, NWA Tag Titles, April 15, 2007, TNA Lockdown
w/ Homicide, Booker T & Scott Steiner beat James Storm, Robert Roode & The Rock 'n Rave Connection – Steel Cage, December 10, 2007, TNA Impact
w/ Homicide lost to Kaz & Super Eric - 6-way Steel Cage, April 13, 2008, TNA Lockdown
lost to Samoa Joe – 20-man Gauntlet Steel Cage, March 17, 2009, TNA Impact
w/ Homicide lost to The Motor City Machine Guns – Three Way Steel Cage, IWGP Junior Heavyweight Tag Team Titles, April 19, 2009, TNA Lockdown
beat Matt Morgan – Steel Cage, July 11, 2010, TNA Victory Road
lost to Matt Morgan – Steel Cage, April 17, 2011, TNA Lockdown


Sitting here thinking about Hernandez and a Steel Cage I can't help but think how well those two images go together. It may because of that whole Mexican thug look and the prison bars where you find a lot of them but I just picture Hernandez being at home in that situation. On thinking further though I start to remember that maybe I am being a little bit stereotypical here and need to actually remember the actual matches he has had. While not the greatest standard of Cage Match wrestling we have ever seen he is far from the worse. While his record isn't necessarily all that impressive he does get to boast that he was part of the only ever Electrified Steel Cage match with LAX partner Homicide against Team 3D.

Hey, watch the racism there Wayne! Although the image of Hernandez behind bars is weirdly appealing… damn it, now you've got me doing it! At any rate, this is our first TNA regular on the list but he certainly won't be the last. The company has got a big ol' boner for steel cages, what with Lockdown supplying a big handful every year and quite a few on the side. Back to Hernandez himself, something about the Mexican Superman launching fools into the steel is pretty damn awesome.








47. Sid Vicious



w/ Larry Zybysko, Barry Windham & Ric Flair beat Flyin' Brian, Sting & The Steiner Brothers – War Games, February 24, 1991, WCW WrestleWar
w/ Harlem Heat & Big Van Vader lost to Davey Boy Smith, Dustin Rhodes, Sting & The Shockmaster – War Games, September 19, 1993, WCW Fall Brawl
beat Bret Hart – Steel Cage, WWE Title, March 17, 1997, WWE Raw
w/ Diamond Dallas Page & Rick Steiner lost to Goldberg & Hulk Hogan – Steel Cage, September 6, 1999, WCW Nitro
w/ Goldberg lost to Bret Hart & Chris Benoit – Triple Threat Steel Cage, November 29, 1999, WCW Nitro
beat Big Ron & Kevin Nash – Caged Heat, WCW Title, January 25, 2000, WCW Thunder
beat The Harris Brothers – Caged Heat, February 1, 2000, WCW Thunder


You know what, Mizzie you take this one. I know you are on the edge of your seat to say something positive about Sid.

Don't you abandon me with this lunatic! What's wrong with you? And what's wrong with Sid, for that matter? It's no secret that the man who stabbed Arn Anderson with a scissors is not exactly a favorite of mine, but I suppose the stats never lie. By virtue of half a dozen brilliantly talented men working time and a half he did manage to slip his ridiculous face into a couple pretty decent matches in the early 90s, but good grief does it sour from there. Whoever decided to book this joker in a cage with the likes of Nash and the Harris Brothers should have their company bought out from under them… oh wait! And that's what comes of giving work to Sid. You love everything.

Damn, do you have to put a positive spin on everything? I hand fed you a spot to really hit one of your most hated wrestlers and you still try to make him look in some way partly good. Oh well anyway as you said Sid did make it into this due to being made to look good by a bunch of great legends of the ring before stinking up the ring with some not so legends. In all honesty though he did play a major part in WCW and his spot on this list was earned.








46. Chris Harris



w/ James Storm beat Triple X – Steel Cage, Tag Team Titles, June 25, 2003, TNA Weekly PPV #51
w/ D-Lo Brown, James Storm, Jeff Jarrett & Raven beat AJ Styles, Christopher Daniels, Johnny Swinger, Simon Diamond & Shane Douglas – Wednesday Bloody Wednesday Steel Cage, August 20, 2003, TNA Weekly PPV #61
w/ James Storm lost to The Naturals– Steel Cage, NWA Tag Titles, July 21, 2004, TNA Weekly PPV #107
w/ James Storm beat Triple X – Steel Cage, December 5, 2004, TNA Turning Point
w/ James Storm beat Team Canada – Steel Cage, NWA Tag Titles, April 24, 2005, TNA Lockdown
W/ James Storm, Jeff Jarrett & Scott Steiner lost to AJ Styles, Rhino, Ron Killings & Sting – Lethal Lockdown, April 23, 2006, TNA Lockdown
lost to James Storm – Blindfold Steel Cage, April 15, 2007, TNA Lockdown


So finishing off today we have James Storms original tag team partner Chris Harris. It is funny looking over those matches and noticing that every match Harris is in Storm is there in the match as well either as his partner or his opponent. This makes me think just how far Storm will get up the countdown due to the fact I can rattle of a few Cage Matches he has been in since Harris made that idiotic career move known as Braden Walker. However we are not here to talk about Storm yet and this should be Harris's spotlight. Some of these original TNA Cage Matches that involved AMW were easily some of the better work that tag teams have done in a cage which in a large part is due to Harris's work. The second match against Triple X is still one of my favourite matches of all time.

There's precious little that can top that outstanding war at the tail end of 2004! It's a crying shame that Harris is most widely known for the couple of weeks that Braden Walker-mania swept WWE's ECW. But thankfully anyone checking out his body of work listed above will quickly be brought up to speed on how awesome the guy was in his day. Well, maybe not the blindfold match, but you see what I mean. America's Most Wanted seemed to be able to work magic in a cage, and Harris was a big part of that success.








Well that brings us to the end of the first part of the countdown. So Mizfan what do you think of the five names we talked about and do you have any predictions for the future of the series?

Seems like an ok list so far but we are just scratching the surface. As for the future? You might think older stars will have an advantage, as the cage match used to be the catch-all feud-ender back in the day before anyone ever thought of climbing a ladder or setting up a table. Triple H and the Undertaker probably have good shots as well, what with their plethora of Hell in a Cell matches under their belt. And TNA regulars are likely to have a sizable advantage as well, as we've already mentioned the annual Lockdown giving them a boost. But my ultimate prediction? Well obviously once again it can only be Christian Cage! I mean come on, it's in the name right? Bit of a spoiler if you ask me.

Well that is a big call. Could Christian really be our first ever dual member of the Hall of Royalty adding the title of Tsar of steel to his already earned Lord of Ladders. Maybe it could be one of our other previous winners John Cena, the Undertaker, Lex Luger or AJ Styles. Or maybe it could be someone completely new. What say you the readers, who do you think will be named the Tsar of Steel? Mizfan and I will be back again in the near future counting down numbers 45 to 41 so until then remember THE STATS NEVER LIE.


Feedback:

E-Mail: zzzorf@yahoo.com

Twitter:



Facebook: Add me as a friend here
Me and My Mates: Dream Matches 6 - Tag Team Turmoil (Match 7: Beer Money, Inc v The New Age Outlaws)
The King of Stats presents the 2013 WWE Superstar of the Year - #1 Daniel Bryan
The King of Stats presents the 2013 WWE Superstar of the Year - #10 to #6
The King of Stats presents the 2013 WWE Superstar of the Year - #15 to #11
The King of Stats presents the 2013 WWE Superstar of the Year - #20 to #16
The King of Stats presents the 2013 WWE Superstar of the Year - #25 to #21