---



The King of Stats names the Lord of Ladders (Part 5: The Fifth Rung)


By zzzorf
May 2, 2013 - 9:13:55 AM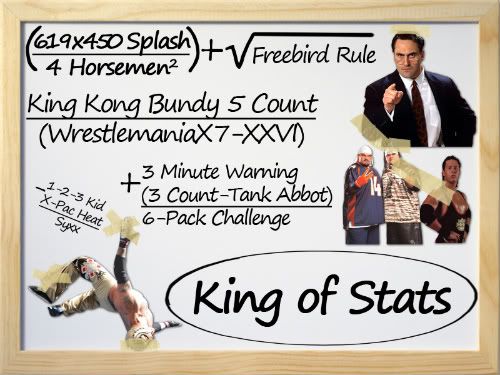 Welcome back one and all to part 5 of my search to name the Lord of Ladders, I am of course the King of Stats here once again to take a look at those who made the Ladder Match their own. After 4 parts and 20 of the best wrestlers out of the way we now find ourselves cracking into the top 10. These are the wrestlers that have earned the right to be called specialists after putting their bodies at risk multiple times in many different Ladder Matches throughout the years. Today I present to you numbers 10 through to 6, the guys who while having shown greatness over the years when presented with a ladder are unable to make into our elite 5. These guys however have done enough that they will still be recognised as some of the best, so let us start with number 10 shall we.



10. Jeff Jarrett



lost to Chris Benoit – US Title, December 19, 1999, WCW Starrcade
beat Chris Benoit – US Title, December 20, 1999, WCW Nitro
beat Ron Killings, AJ Styles, Raven & Chris Harris – King of the Mountain, NWA Title, June 2, 2004, TNA Weekly PPV #96
beat Jeff Hardy – NWA Title, November 5, 2004, TNA Victory Road
beat Christian Cage, Abyss, Ron Killings & Sting – King of the Mountain, NWA Title, June 18, 2006, TNA Slammiversary
lost to Kurt Angle – 5-man King of the Mountain, TNA Title, June 21, 2009, TNA Slammiversary


Coming in at number 10 we have a guy that you wouldn't normally associate the title of ladder specialist with, I know I wouldn't have really thought it myself if I was doing this off the top of my head. Then again his specialisation here may more be due to booking than anything else. Just like Triple H's unbeaten Ladder Match record, all of Jarrett's wins could be put down to insider booking to make him the dominate person on the show.

While having lost to Benoit in his first Ladder Match, Jarrett got the win back the very next night in the rematch thus starting his rise to the top of WCW as the Chosen One at the hands of head writer Vince Russo. His other three wins would come in TNA during the years when him and Russo were the guys in charge of the company. Jarrett's domination of TNA rivalled Triple H's run on Raw of the same time, both dominating the company as the shows main guy. However as Jeff has gotten older he has come to realise he is not the main guy any more and a loss at the end of his record represents that fact.

However while we say we may not associate Jarrett with Ladder Matches, it shouldn't really come as too much as a shock to us. Jarrett is the only person in the wrestling business who uses a name of a Ladder Match variant as a nickname. That is right, he is not known as The King of the Mountain Jeff Jarrett for nothing being the first ever winner and the first ever to win two different King of the Mountain matches.








9. Kurt Angle



beat Chris Benoit – Two out of Three Falls Match (3rd fall), May 20, 2001, WWE Judgement Day
beat Mike Haywood – March 10, 2005, WWE Smackdown
beat Samoa Joe, AJ Styles, Christian Cage & Chris Harris – King of the Mountain, TNA Title, June 17, 2007, TNA Slammiversary
w/ Team 3D beat Rhino, Christian Cage & AJ Styles – Full Metal Mayhem, July 13, 2008, TNA Victory Road
lost to AJ Styles – August 28, 2008, TNA Impact
beat Mick Foley, Jeff Jarrett, AJ Styles & Samoa Joe – King of the Mountain, TNA Title, June 21, 2009, TNA Slammiversary
lost to Mr. Anderson – April 5, 2010, TNA Impact
lost to AJ Styles – 4-way, August 12, 2012, TNA Hardcore Justice


If it was something special for Jeff Jarrett to be the first ever person to win two separate King of the Mountain matches, which included the first ever match, than on the opposite end of the equation it has to be known that Kurt Angle was the last person to win two King of the Mountain matches, including the last ever match. He is also the only person to be undefeated in multiple King of the Mountain matches for the major championship of TNA (Kaz is undefeated in 2 X-Division versions) thus making his two wins stand out a little more than Jeff's.

It is interesting to note though that outside his two King of the Mountain wins he has never actually battled for any other title in his other six Ladder Matches. His singles victories against Chris Benoit and Mike Haywood and loss to AJ Styles were all matches where his Olympic Gold Medals were the object of their fisticuffs. The 6-man tag had no major goal and was in fact one of the rare occasions where a Full Metal Mayhem was to be won by pinfall or submission. His loss to Anderson was for who would get the keys to the cage door for their upcoming Cage Match at Lockdown and his final Ladder Match, his loss to AJ Styles in the 4 way match was for 20 points in the Bound for Glory series.

However in saying all that it doesn't really matter what he is fighting for Angle still puts on a great performance as usual and has an impressive record to boot. Angle is only the second person on this countdown to have won 5 Ladder Matches in his career, a feet that sees Angle as one of 7 to have at least won that many. Angle as usual finds himself in top notch company at the top of one of my lists a place I expect to find him many more times yet. He truly is a wrestling machine.





5-20-01 Chris Benoit vs Kurt Angle 2 out of 3... by dm_51708b678a79d



8. Matt Hardy



w/ Jeff Hardy beat E&C – October 17, 1999, WWE No Mercy
w/ Jeff Hardy lost to E&C – Triple Threat, Tag Title, April 2, 2000, WWE Wrestlemania 2000
w/ Jeff Hardy lost to E&C – Triple Threat TLC, Tag Titles, August 27, 2000, WWE Summerslam
w/ Jeff Hardy beat E&C – Tag Titles, September 25, 2000, WWE Raw
w/ Jeff Hardy lost to E&C – Triple Threat TLC, April 1, 2001, WWE Wrestlamania X-Seven
w/ Jeff Hardy lost to Chris Jericho & Chris Benoit – 4-way TLC, Tag Titles, May 24, 2001, WWE Smackdown
lost to Edge – October 3, 2005, WWE Raw
lost to Rob Van Dam – 6-man Money in the Bank, April 2, 2006, WWE Wrestlemania 22
w/ Jeff Hardy lost to Paul London & Brian Kendrick – 4-way, Tag Titles, December 17, 2006, WWE Armageddon
lost to Mr. Kennedy – 8-man Money in the Bank, April 1, 2007, WWE Wrestlemania 23
w/ Jeff Hardy beat The World's Greatest Tag Team – Tag Titles, June 3, 2007, WWE One Night Stand
lost to Jack Swagger – 10-man Money in the Bank, March 28, 2010,WWE Wrestlemania XXVI
lost to Kane – 8-man Money in the Bank, July 18, 2010, WWE Money in the Bank


As Jim Ross always says "business is about to pick up" as the first of our Ladder Match mega-stars fall by the wayside. When you ask anyone to name the greatest specialists of the Ladder Match in wrestling history a few names will be chucked your way but virtually unanimously the Hardy Boys will be one of the first two names thrown at you. While Jeff will maybe get pinpointed as the better of the two (and will appear in the final part of the countdown accordingly) Matt's name is normally thrown up there as a definite top 5 member. However this is a stats based countdown and Matt's stats tell a different story than what our memories will let us believe.

Taking my famed rose-coloured glasses of for a while and looking closely at the stats the first thing that pops out at me is that there seems to be a hell of a lot more red than there is blue. In fact Matt has one of the worst records ever in Ladder Matches with only 3 wins in 13 matches, yep that is correct, he has managed to lose 10 times in his career. Matt is only 1 of 4 wrestlers to have made double figures on that side of the equation (noone has reached double figures on the win column).

The next thing that the stats say is something that former Main Page writer (currently writing in the Columns Forum) Mizfan brought up with me in a discussion on Facebook (and this was done without seeing any of my data) that Matt has never one a match on his own, all 3 of his wins have been with brother Jeff leading the way. Five times Matt has stepped into a Ladder Match on his own and five times he has left again without the prize at the top of the ladder.








7. Chris Jericho



beat Chris Benoit – Intercontinental Title, January 21, 2001, WWE Royal Rumble
w/ Chris Benoit beat E&C, Dudley Boyz & Hardy Boyz – TLC, Tag Titles, May 24, 2001, WWE Smackdown
w/ Christian lost to Kane – 4-way TLC, Tag Titles, October 7, 2002, WWE Raw
beat Christian – Intercontinental Title, September 12, 2004, WWE Unforgiven
lost to Edge – 6-man Money in the Bank, April 3, 2005, WWE Wrestlemania 21
lost to CM Punk – 7-man Money in the Bank, March 30, 2008, WWE Wrestlemania XXIV
beat Shawn Michaels – World Title, October 5, 2008, WWE No Mercy
w/ Big Show lost to DX – TLC, Tag Titles, December 13, 2009, WWE TLC
lost to The Miz – 8-man Money in the Bank, July 18, 2010, WWE Money in the Bank
lost to John Cena – 5-man Money in the Bank, July 15, 2012, WWE Money in the Bank


The big names just keep on falling, well I guess they are all big names from now on in aren't they so I guess it shouldn't really come as a shock. Jericho is another name you instantly associate with ladders, well I do anyway. Over the years Jericho has been in numerous memorable Ladder Matches with some of the biggest stars in the business. While his record is not the greatest at 4 wins and 6 losses he has made it known that when he is involved in a Ladder Match expect a great one. Also he will forever be known as the wrestler who originated the idea of Money in the Bank.

Upon looking at his stats a trend seems to become very apparent to me, Jericho does not cope very well when there is more than two people in the match. Of all seven matches that Jericho has been in that had more than him and one competitor in he has only managed to win one match and that was a tag team match in which it was actually Chris Benoit was the man to climb the ladder and retrieve the belts, not Jericho. So in reality that means in the seven multi-man matches that Jericho has been in someone else has climbed the ladder to win and not him.

On the counterbalance though in his three singles matches he has won each and everyone of them thus making him undefeated when only two people are involved in the match. Also it has to be noticed that the three wrestlers he has beaten are no slouches when it comes to Ladder Matches with Chris Benoit, Christian and Shawn Michaels all appearing in the top 30 of this countdown. I can't really explain it if too many people in the match overwhelm him or if it is something else but it is a very interesting stat indeed.





1-21-01 Chris Benoit vs Chris Jericho - Ladder... by dm_51708b678a79d



6. AJ Styles



lost to Jerry Lynn – Triple Threat, X-Division Title, August 28, 2002, TNA Weekly PPV #11
lost to Jerry Lynn – X-Division Title, October 2, 2002, TNA Weekly PPV #14
lost to Syxx-Pac – 9-man, X-Division Title, October 9, 2002, TNA Weekly PPV #15
lost to Raven – March 19, 2003, TNA Weekly PPV #36
lost to Abyss – March 19, 2004, TNA Weekly PPV #85
lost to Jeff Jarrett – 5-man King of the Mountain, NWA Title, June 2, 2004, TNA Weekly PPV #96
lost to Raven – 5-man King of the Mountain, NWA Title, June 19, 2005, TNA Slammiversary
w/ Rhino & Christian Cage lost to Team 3D & Kurt Angle – Full Metal Mayhem, July 13, 2008, TNA Victory Road
lost to Kurt Angle – 5-man King of the Mountain, TNA Title, June 17, 2007, TNA Slammiversary
w/ Christian Cage lost to Abyss & Sting – August 2, 2007, TNA Impact
lost to Kaz – December 20, 2007, TNA Impact
beat Kurt Angle – August 28, 2008, TNA Impact
lost to Kurt Angle – 5-man King of the Mountain, TNA Title, June 21, 2009, TNA Slammiversary
beat Sabu – September 23, 2010, TNA Impact
lost to Matt Morgan – 4-way, July 21, 2011, TNA Impact
beat Christopher Daniels, Kurt Angle & Samoa Joe – August 12, 2012, TNA Hardcore Justice


Damn and I thought Matt Hardy's record was bad yet AJ Styles manages to brush past it with ease. While AJ has the exact same amount of wins at 3 he manages to eclipse the amount of losses Matt has had by 3 with a total amount of 13. Then to make his record look even worse he did not get his first win until his 12th Ladder Match. That means he managed to have a losing streak of 11 matches, 3 more than his closest rival of Shelton Benjamin (who of course is still yet to win a Ladder Match).

While his record may not be the best thing going round AJ has still earned his right to be a part of this countdown. At 16 matches he is one of only 4 wrestlers to have had more than 15 Ladder Matches in their career and the reason he is constantly put into these matches is that he always puts in a great effort to entertain the fans while coming up short of the win.







Well folks that brings us to the end of another part of the countdown with only the top 5 Ladder Matches practitioners left to come. I say bynow you have all figured out who the top 5 will be but in what order will they end up? More importantly though who will be named the Lord of Ladders? Find out in a few days when I bring you the final part of the countdown. Until then remember THE STATS NEVER LIE.



Feedback:
E-Mail: zzzorf@yahoo.com
Twitter:

Facebook: Add me as a friend here


Me and My Mates: Dream Matches 6 - Tag Team Turmoil (Match 7: Beer Money, Inc v The New Age Outlaws)
The King of Stats presents the 2013 WWE Superstar of the Year - #1 Daniel Bryan
The King of Stats presents the 2013 WWE Superstar of the Year - #10 to #6
The King of Stats presents the 2013 WWE Superstar of the Year - #15 to #11
The King of Stats presents the 2013 WWE Superstar of the Year - #20 to #16
The King of Stats presents the 2013 WWE Superstar of the Year - #25 to #21