---



The King of Stats names the Lord of Ladders (Part 4: The Fourth Rung)


By zzzorf
Apr 22, 2013 - 11:01:10 PM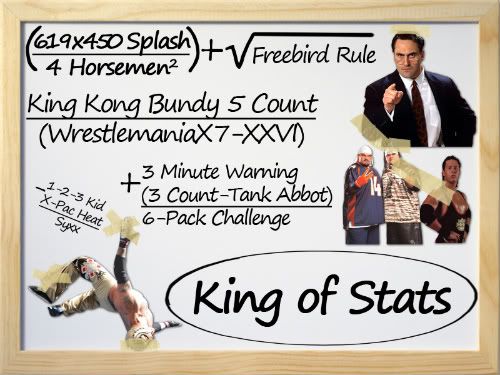 Welcome back one and all to my continuing search to find the greatest wrestler to have ever been involved in a match with a ladder as its centrepiece. Yes that is right it is I, The King of Stats, and I am back once again with my countdown to name the Lord of the Ladders. With half the countdown now behind us it is time to look towards the more serious contenders as today we take a look at numbers 15 through to 11.

No, I can't do it, I can't string you guys along, it is unfair to you all to be lied to. I was just going to continue the countdown as is and pull a shifty ending on you but I just can't do it. OK, time to be honest. When I was pulling my data for this countdown I realised I had started the countdown in the wrong place. I pulled each wrestler from their corresponding row on my spreadsheet not taking into consideration that row 1 in fact had headings and not data. What that means was I actually started the countdown from 29 and not 30. Yes I know it is hard to believe, a person like me who is so meticulous with my data doing such a basic and silly mistake but it has happened, sue me.

So instead of continuing on to do a shoddy ending where I name the ladder itself as the Lord of the Ladders I have decided to correct my mistake. So instead of getting 15 to 11 today you will instead get the proper number 30, an updated list of the order so far (with ranks 31-50 thrown in as a bonus) and then numbers 14 through to 11. Once again I apologise for my blatant mistake but it is now time to get this show on the road.



30. Bobby Roode



lost to Samoa Joe – 5-man King of the Mountain, TNA Title, June 8, 2008, TNA Slammiversary
w/ James Storm lost to The British Invasion & Team 3D – 4-Team Full Metal Mayhem, TNA & IWGP Tag Team Title, October 18, 2009, TNA Bound for Glory
w/ James Storm beat The Motor City Machine Guns – July 15, 2010, TNA Impact
beat Rob Van Dam – TNA Title, May 13, 2012, TNA Sacrifice


It feels so weird talking about someone with only 4 matches again but everyone deserves their place to shine and just because I messed up Bobby Roode missed his time in the spotlight. Looking over Roode's Ladder Match history and you can tell he is not a specialist like others. In fact you get the feeling that he was just thrown into each match as it was convenient to do so.

His first match was as the 5th member in the King of the Mountain match. A match that was scheduled at the same time year and was used as a test how he would go at the top end of the card. His second match was a logical idea when you consider it was 4 teams fighting over 2 separate title belts and the ladder stipulation was the best way to settle the title situations. His last two matches were because his opponents were specialists and it made him look stronger for beating them in their playground.

While not being a specialist Roode still manages to put in a great showing for himself in these matches which begs the question, why not make him a specialist and have him appear in more? I guess this is just a testament to how underrated Roode's ability actually is.




Ladder Match - RVD vs Bobby Roode by DJLDX




50. Mankind
49. The Rock
48. Jay Lethal
47. Chris Harris
46. The Undertaker
45. Kofi Kingston
44. Matt Morgan
43. Shannon Moore
42. Shane Helms
41. Daniel Bryan
40. John Morrison
39. Chris Sabin
38. Rey Mysterio
37. James Storm
36. Eddie Guerrero
35. Raven
34. Brian Kendrick
33. John Cena
32. Jack swagger
31. Syxx
30. Bobby Roode
29. Alex Shelley
28. Scott Hall
27. Shelton Benjamin
26. Samoa Joe
25. Jerry Lynn
24. Mr Anderson
23. Chris Benoit
22. The Sandman
21. Sabu
20. Alberto Del Rio
19. Triple H
18. The Miz
17. Shawn Michaels
16. Dolph Ziggler
15. Abyss



14. Devon



w/ Big Dick Dudley & Buh Buh Ray Dudley lost to Sandman, Tommy Dreamer & Spike Dudley – Stairway to Hell, May 16, 1998, ECW A Matter of Respect
w/ Bubba Ray Dudley lost to E&C – Triple Threat, Tag Team Titles, April 2, 2000, WWE Wrestlemania 2000
w/ Bubba Ray Dudley lost to E&C – Triple Threat TLC, Tag Titles, August 27, 2000, WWE Summerslam
w/ Bubba Ray Dudley lost to E&C – Triple Threat TLC, Tag Titles, April 1, 2001, WWE Wrestlemania X-Seven
w/ Bubba Ray Dudley lost to Chris Jericho & Chris Benoit – 4-Way TLC, Tag Titles, May 24, 2001, WWE Smackdown
w/ Brother Ray & Johnny Devine beat Jay Lethal & The Motor City Machine Guns – December 6, 2007, TNA Impact
w/ Brother Ray & Kurt Angle beat Rhino, Christian Cage & AJ Styles – Full Metal Mayhem, July 13, 2008, TNA Victory Road
w/ Brother Ray lost to Abyss & Matt Morgan – 4-way, October 23, 2008, TNA Impact
w/ Brother Ray beat The British Invasion, Beer Money Inc & Main Event Mafia – Full Metal Mayhem, IWGP Tag Titles, October 18, 2009, TNA Bound for Glory


OK now that my mistake is all sorted out it is time to get this countdown back on track and coming in at number 19 we have a guy who I thought was a lock for the top 10. While known more for their tables than for ladders it cannot be forgotten how much of a part the Dudleys were involved in the Ladder Match boom of the Attitude Era. Without the series of matches that they had in 2000 and 2001 with the Hardys and E&C, which included the first two TLC matches, you would have to believe that the Ladder Match would not be so well loved today. These matches truly set the bar for what was to come in the many years since.

However the reason we find Devon so low is for the fact that the Dudleys have a not so good record at climbing ladders to obtain victory. In fact while having the Dudley last name they were not able to get a single victory, always falling short to the more high flying counterparts. It wasn't until they had to drop the Dudley due to legal issues on joining TNA and became Team 3D did they start to learn how to come out victorious by climbing to the top of a ladder.

No matter how much I look at the stats though I still can't feel like this is an injustice the fact that Devon finds himself so low. I guess this comes from those fabled rose-coloured glasses as I see him more important to the history of the Ladder Match. Oh well it is what it is, now if this was a Table Match countdown instead.





3D/Devine vs MCMG/Lethal Ladder Match by Serotonin_Degenerate



13. Kazarian



beat Christian Cage – November 11, 2007, TNA Genesis
beat AJ Styles – December 20, 2007, TNA Impact
beat Chris Sabin, Curry Man, Jimmy Rave & Johnny Devine – King of the Mountain, June 5, 2008, TNA Impact
beat Jay Lethal, Consequences Creed, Chris Sabin & Alex Shelley – King of the Mountain, X-Division Title, June 21, 2009, TNA Slammiversary
beat Amazing Red, Brian Kendrick & Daniels – March 21, 2010, TNA Destination X


In the last column when I said that there was still someone to come who was undefeated in Ladder Matches did Kazarian cross your mind? I know he wasn't thrown up as a suggestion from anyone who gave me any feedback. Don't worry though if the stats were not in front of me I probably wouldn't have thought of him either.

With a record of 5 wins from 5 matches Kazarian has the best undefeated record of anybody in Ladder Match history. In fact to make the record even more impressive he is only one of 7 wrestlers to have won at least 5 Ladder Matches. Then taking into consideration that his two singles wins are against two people yet to come in the countdown and the other three wins are all multi-man matches and you can't help being impressed with what Kaz has to offer. I wonder who his next victim will be.








12. Kane



beat Bubba Ray & Spike Dudley, Christian & Chris Jericho and Jeff Hardy & Rob Van Dam – TLC, Tag Titles, October 7, 2002, WWE Raw
lost to Edge – 6-man Money in the Bank, April 3, 2005, WWE Wrestlemania 21
lost to CM Punk – 8-man Money in the Bank, April 5, 2009, WWE Wrestlemania XXV
lost to Jack Swagger – 10-man Money in the Bank, March 28, 2010, WWE Wrestlemania XXVI
beat Big Show, Matt Hardy, Christian, Kofi Kingston, Cody Rhodes, Drew McIntyre and Dolph Ziggler – Money in the Bank, July 18, 2010, WWE Money in the Bank
lost to Edge – 4-way TLC, World Title, December 19, 2010, WWE TLC
lost to Daniel Bryan – 8-man Money in the Bank, July 17, 2011, WWE Money in the Bank
lost to John Cena – 5-man Money in the Bank, July 15, 2012, WWE Money in the Bank
w/ Daniel Bryan & Ryback lost to The Shield – TLC, December 16, 2012, WWE TLC


Proving that Ladder Matches are not just for the high flyers, coming in at number 12 is the greatest big man in terms of Ladder Matches, The Big Red Machine Kane. With the majority of Ladder specialists fitting more closely to the Cruiserweight division than the Super Heavyweight Kane has made it known throughout the years that size does not in fact matter, making his name known when a ladder is involved, making him a formidable opponent especially as the big man/power house in the multi-man matches.

While not having the greatest Ladder Match win record going with only 2 wins you need to take a step back and take a look at exactly what those wins were. The first was a 4-team TLC match of which Kane had to beat the other 3 teams single handedly due to the fact that his partner Hurricane was injured and could not compete in the match. If you think beating three teams single handedly is not impressive enough, when then how about you consider the fact that 5 of the 6 members of those teams appear higher on this countdown than himself and have to be considered ladder specialists. The other win was also a multi-man match which saw Kane win the Money in the Bank briefcase. While beating out that amount of people was impressive enough you need to look at it with the thought in mind that the odds were further not in his favour due to the intangibles of typical Money in the Bank winners. His 7ft was above the typical winners height of 6ft-6.5ft, his weight of 320lbs was well above the typical winners weight of 210lbs to 260 pounds and his age of 43 was older than the 28-35 of the typical winners. This win was against the grain and thus made it more special than most of the other wins.





Jeff Hardy & Rob van Dam vs. Kane & Hurricane... by pocomaxa



11. Bully Ray



w/ Big Dick Dudley & D-Von Dudley lost to Sandman, Tommy Dreamer & Spike Dudley – Stairway to Hell, May 16, 1998, ECW A Matter of Respect
w/ D-Von Dudley lost to E&C – Triple Threat, Tag Team Titles, April 2, 2000, WWE Wrestlemania 2000
w/ D-Von Dudley lost to E&C – Triple Threat TLC, Tag Titles, August 27, 2000, WWE Summerslam
w/ D-Von Dudley lost to E&C – Triple Threat TLC, Tag Titles, April 1, 2001, WWE Wrestlemania X-Seven
w/ D-Von Dudley lost to Chris Jericho & Chris Benoit – 4-Way TLC, Tag Titles, May 24, 2001, WWE Smackdown
w/ Spike Dudley lost to Kane – 4-Way Tag TLC, Tag Titles, October 7, 2002, WWE Raw
w/ Brother Devon & Johnny Devine beat Jay Lethal & The Motor City Machine Guns – December 6, 2007, TNA Impact
w/ Brother Devon & Kurt Angle beat Rhino, Christian Cage & AJ Styles – Full Metal Mayhem, July 13, 2008, TNA Victory Road
w/ Brother Devon lost to Abyss & Matt Morgan – 4-way, October 23, 2008, TNA Impact
w/ Brother Devon beat The British Invasion, Beer Money Inc & Main Event Mafia – Full Metal Mayhem, IWGP Tag Titles, October 18, 2009, TNA Bound for Glory
beat Jeff Hardy – Full Metal Mayhem, TNA Title, April 11, 2013, TNA Impact


Just as I said with Devon it is a shame that Bully was not able to crack the top 10, a spot I thought he was guaranteed when I first started data collecting, but at least he got closer to it than his brother did. Why did he get a higher spot though when their match records are practically the same? Well while Devon has never been in a Ladder Match without Ray it is not the same on the other side of the equation. Back at the beginning of the WWE brand split we saw the splitting up of the Dudley Boys with Bubba Ray on Raw and D-Von being on Smackdown. However in saying that the Dudleys survived though Ray and little brother Spike. These two ended up keeping the team alive which included a loss in the 4-team TLC match shown above in Kane's section.

When I had originally finished the data collection and started the countdown that match with Spike had earned him enough points to have only been one position ahead of Devon yet here I am writing this part now with Ray a full 3 spots higher than Devon. This all comes down to the fact that just less than two weeks ago Bully Ray appeared in his first ever singles Ladder Match when he was successful in defending his TNA World Heavyweight Title against Jeff Hardy in a Full Metal Mayhem Match on Impact. This match gave him enough points to jump past Kazarian and Kane on the rankings yet still pulled him up short of making it into the coveted top 10.





Full Metal Mayhem - Jeff Hardy Vs Bully Ray by DJLDX




Well that brings us to the end of today's section of the countdown and honestly it feels good to know that my mistake has been fixed. So what did you all think of today's wrestlers? Do you feel like the Dudley's were short changed by the stats and deserved an automatic top 10 placing or was this where they belonged? Also for all you playing along at home do you think you can work out who the top ten will be? I will be back in a few days with the first half of that top 10, and don't worry I have checked my data for any further mistakes and guess what THE STATS NEVER LIE.



Feedback:
E-Mail: zzzorf@yahoo.com
Twitter:

Facebook: Add me as a friend here
Me and My Mates: Dream Matches 6 - Tag Team Turmoil (Match 7: Beer Money, Inc v The New Age Outlaws)
The King of Stats presents the 2013 WWE Superstar of the Year - #1 Daniel Bryan
The King of Stats presents the 2013 WWE Superstar of the Year - #10 to #6
The King of Stats presents the 2013 WWE Superstar of the Year - #15 to #11
The King of Stats presents the 2013 WWE Superstar of the Year - #20 to #16
The King of Stats presents the 2013 WWE Superstar of the Year - #25 to #21