---



The King of Stats names the Lord of Ladders (Part 2: The Second Rung)


By zzzorf
Mar 28, 2013 - 10:18:17 AM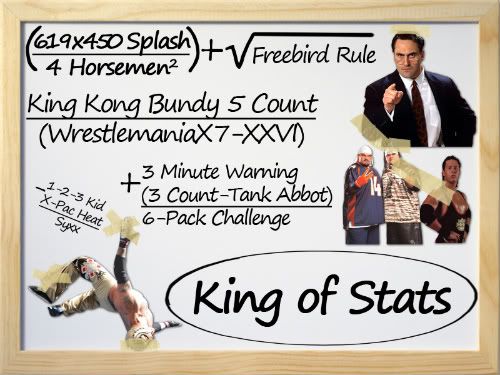 Welcome back everyone to my continuing search to find out who is the Lords of the Ladders. Yep that's right the King of Stats is finally back to continue his look at the greatest Ladder Match specialists of all time. Today we pick up where we left off last time as I count down from number 25 to 21. I know you have been waiting anxiously for this so I won't waste your time any longer than to say sorry for the lengthy wait as I had a health scare and then another column interrupted this one but now I am back on track and ready to roll. So let us begin today's section with number 25.



25. Mr. Anderson



beat CM Punk, Edge, Finlay, Jeff Hardy, Matt Hardy, King Booker & Randy Orton – Money in the Bank, April 1, 2007, WWE Wrestlemania 23
lost to CM Punk – 7-man Money in the Bank, March 30, 2008, WWE Wrestlemania XXIV
beat Kurt Angle – April 5, 2010, TNA Impact
lost to Jeff Hardy – TNA Title, February 13, 2011, TNA Against All Odds


Starting of today's section of the countdown we have our first Money in the Bank winner of the countdown (Swagger and Cena however did not make it coming in at 33 & 34 respectively). Winning such a big Multi-man match helped booster Anderson's score slightly but that can't take away from the effort that the man formally known as Kennedy Kennedy has put into his 4 ladder matches he has been part of.

Winning the second ever Money in the Bank match has to be the highlight of his matches even though he never did get a chance to cash in the contract, losing the case to Edge after he had sustained an injury and could not wrestle for a while. However Anderson does also hold a win against Kurt Angle on an episode of Impact. The objective of that particular match was to get the keys to the door for their cage match at Lockdown (a match which Angle won).

While not the first name you would think of when thinking about Ladder Matches, Mr Anderson has proven that he is as capable at getting it done as the next person. Be it an extra member of a multi-man match as in his two Money in the Bank Matches or against some of he best in the business as in Jeff Hardy or Kurt Angle, Anderson has shown that he has enough skills to help make an entertaining Ladder Match when most would doubt his ability.





Kurt Angle vs Mr. Anderson Ladder Match 05/04/2010 by maskanil



24. Chris Benoit



beat Jeff Jarrett – US Title, December 19, 1999, WCW Starrcade
lost to Jeff Jarrett – US Title, December 20, 1999, WCW Nitro
lost to Chris Jericho – Intercontinental Title, January 21, 2001, WWE Royal Rumble
lost to Kurt Angle – Two out of Three Falls Match (3rd fall), May 20, 2001, WWE Judgement Day
w/ Chris Jericho beat E&C, The Hardy Boyz & The Dudley Boyz – TLC, Tag Team Title, May 24, 2001, WWE Smackdown
loss to Edge – 6-man Money in the Bank, April 3, 2005, WWE Wrestlemania 21


Back in the day I didn't get to watch much WCW as it just didn't seem to be offered as much in my area of the world. I did however get to see some episodes of Nitro in the late 90's when I happened to be at my Uncle's and I could get his TV to watch Turner Classic Movies while it happened to be on. I don't have many memories from back then due to this limited viewing but one of them is of the rematch Ladder Match between Benoit and Jarrett from Nitro. My memory of this match is simple, I remember it as one of the best Ladder Matches I had ever seen. The thing is I am too scared to see if that memory is correct. I have now, years later after rewatching things I had memories of, realised that to be quite honest the matches were nothing like I remembered them (example: Undertaker v Giant Gonzalez). I am scared if I rewatch this match it will ruin one of my last memories that are still intact from my early years of watching.


The thing is Benoit has proven over the years that my memory could be true as while he has not been in many more Ladder Matches they have all been of a pretty good standard with him playing a major role in them. However after the win against Jarrett in the first match of their series he was only ever able to win one more Ladder Match. That match though has some special history to it as Benoit and his partner Chris Jericho were the first two people who were not a pair of the 3 founding brother pairings (Hardyz, Dudleyz, E&C) to compete in a TLC match and the first not to be named Edge or Christian to win one.





WCW Chris Benoit Vs Jeff Jarrett - Ladder match by LA_Park



23. The Sandman



lost to Mikey Whipwreck – TV Title, October 28, 1995, ECW Hardcore TV
lost to Sabu – Tables & Ladders Match, November 30, 1997, ECW November to Remember
beat Sabu – Stairway to Hell, January 10, 1998, ECW House Party
w/ Tommy Dreamer & Spike Dudley beat The Dudley Boyz – Stairway to Hell, May 15, 1998, ECW A Matter of Respect
beat Steve Corino & Justin Credible – Tables, Ladders, Chairs & Canes Match, ECW Title, January 7, 2001, ECW Guilty as Charged


Now I will start out being perfectly honest here, I have never watched one of Sandman's ladder matches. I do have the ability to think though and I can see an image in my brain about how brutal he could be when put in the ring with a ladder, hell I remember it from watching him brandish one at Barely Legal and that wasn't even a Ladder Match. Then you look closer at the names of who he has fought with or against in those matches, Whipwreck, Sabu, Dreamer, 4 members of the Dudley Clan (Buh-Buh Ray, D-Von, Big Dick & Spike), Corino & Credible, and you just need to add to that brutality, especially when you realise all of these matches happened on the original ECW shows.


Now while I state that I haven't seen any of Sandman's Ladder Matches before that doesn't mean I will not soon be watching some of them. One beauty about doing this series is finding Ladder Matches I have never seen or even heard about. The videos I have been throwing up at the end are as much for me (I have already watched the Jerry Lynn one from last column twice since putting it up since I had never seen it) as they are for you as after I post the column up for your reading pleasure I take some time out to view the matches for myself, as quite honestly I am a fan of this type of match. I plan on doing exactly that with this match selected below when I'm done as hopefully you will too for I am sure we will see one of the more brutal Ladder Matches in wrestling history.





Sandman vs. Sabu - Stairway To Hell by homicide



22. Sabu



w/ Rob Van Dam lost to The Eliminators – Tables & Ladders Match, Tag Titles, February 22, 1997, ECW CyberSlam
beat Sandman – Tables & Ladders Match, November 30, 1997, ECW November to Remember
lost to Sandman – Stairway to Hell, January 10, 1998, ECW House Party
beat Malice – July 13, 2002, TNA Weekly PPV #5
no contest against Ken Shamrock – NWA Title, July 24, 2002, TNA Weekly PPV #6
beat Rob Van Dam – August 15, 2006, WWE ECW
lost to AJ Styles – September 23, 2010, TNA Impact


I am in a similar problem here with Sabu that I was with Sandman in that I hadn't seen any of his Ladder Matches, well I lie there as I have seen his last two but I can't really consider him at his peak in them because of the wear and tear his body was showing at those points in time. That wear and tear though is more than likely the reason why these older matches of Sabu would be worth going back to watch. For a man that was willing to do a lot of things to his body in a normal match, you can only imagine how much more it would be when you add a ladder into the mix.

When looking at the opponents he has had over the years in these matches than you can see how tailor made some of the opponents for him in this type of match. The likes of Sandman, RVD and AJ Styles compliment Sabu's style so well that they were sure to be hit matches, that's not saying Perry Saturn, John Kronus, Ken Shamrock and Malice (The Wall from WCW) are slouches either.

Sabu also has the privilage of being the first person on this countdown to have appeared in a Ladder Match for 3 different companies and to have won at least one of those matches in each of them.








21. Alberto Del Rio



lost to Edge – 4-Way TLC, World Title, December 19, 2010, WWE TLC
loss to Christian – World Title, May 1, 2011, WWE Extreme Rules
beat Rey Mysterio, Kofi Kingston, Alex Riley, R-Truth, The Miz, Evan Bourne & Jack Swagger – Money in the Bank, July 17, 2011, WWE Money in the Bank
loss to CM Punk – 3-way TLC, WWE Title, December 18, 2011, WWE TLC


Finishing off todays part of the countdown I come back to someone who I am more familiar with in the fact that I have seen all of the Ladder Matches he has been involved in. Alberto finds himself the second Money in the Bank winner in this section and quite honestly has done very well to make it this high. Just look at his record 1 win in 4 matches. That is honestly not really that great is it? I mean everyone else in this section had at least a second win next to their name. So why then does Del Rio find himself the highest ranked person in the entire countdown to have only 1 win against his name?

Well first lets take a look at that one win. While not for a title it was at a PPV so he got the points for that but the main thing was that he got extra points for the amount of opponents he beat. Winning a Ladder Match is not easy, having to beat 7 different opponents makes it even harder.

Next take a look at the losses, do you notice a pattern in them. They are all on PPV and are for the biggest prize available, a World Title. Yep that's right, Alberto doesn't just put himself in a dangerous match for the sake of it, that's something the peasants do. No he will only compete for the top prize thus earning him the extra points.

So the question is does Alberto deserve his spot at number 21 or should have it gone to someone else? Is this one of the times when a loophole was found in my scoring system and someone got higher than he got or should is the system just recognising what others don't see? Did Del Rio fluke this position or was it well earned? I will let you be the judge but the scoring stands and Alberto Del Rio is officially number 21 on my search to find out who is the Lord of Ladders.











That brings us to the end of todays section of my countdown. What are all your feelings on todays five? Could a more interesting bunch been chosen or are these guys right on the money. I will be back in a few days when we crack open the top 20 and I bring you the next 5 ladder specialists. Until then remember THE STATS NEVER LIE.



Feedback:
E-Mail: zzzorf@yahoo.com
Twitter:

Facebook: Add me as a friend here
Me and My Mates: Dream Matches 6 - Tag Team Turmoil (Match 7: Beer Money, Inc v The New Age Outlaws)
The King of Stats presents the 2013 WWE Superstar of the Year - #1 Daniel Bryan
The King of Stats presents the 2013 WWE Superstar of the Year - #10 to #6
The King of Stats presents the 2013 WWE Superstar of the Year - #15 to #11
The King of Stats presents the 2013 WWE Superstar of the Year - #20 to #16
The King of Stats presents the 2013 WWE Superstar of the Year - #25 to #21