---



The King of Stats names the Emperor of Impact (Part 5: The Main Eventers)


By zzzorf
Dec 18, 2012 - 11:22:59 AM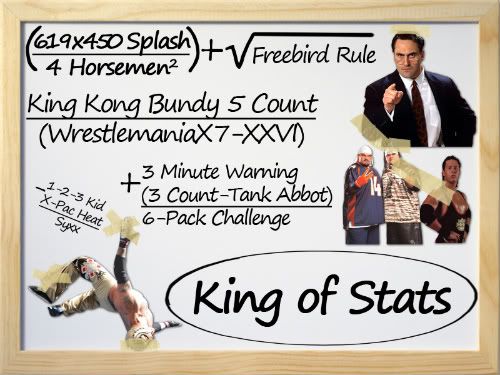 Welcome one and all to the final chapter in my search for wrestling royalty for the year, I am the King of Stats, the man for whom numbers are like Christmas, they always bring me joy. After scouring through countless wrestling cards this year and compiling numerous amounts of data, I have finally made it to this point. After spending months counting down the Ruler of Raw (John Cena), the Sultan of Smackdown (The Undertaker) and the Pharaoh of Nitro (Lex Luger) it is now time for me to answer finally who is the Emperor of Impact.

For those of you who are new to the series let me first explain how these rankings are worked out. I sifted through 434 different TNA Impact cards from the first ever edition on the 4th of June 2004 up until my cutoff date of the 1st of November 2012. From these I found the 50 wrestlers with the most ever matches making up the list of participants eligible to be named Emperor. I then put these 50 wrestlers through my specially designed point system which is as follows:

The results are out of 100 and are devised the following way:
* 20 points for number of matches
* 20 points for win percentage
* 20 points for main event percentage
* 10 points for main event win percentage
* 10 points for percentage of matches with a title on the line
* 10 points for title match win percentage
* 10 points for win percentage in 1on1 matches against the other 49 contestants

Once they all had their own score I then put them in order and started the process of counting them down for your entertainment. Over the last few weeks I have delivered you 4 columns counting all the way from 50-11 thus leaving us with the top ten that will be revealed for you today. For something this monumental though I felt like I should not do it alone so I have invited Lords of Pain's resident TNA go-to-guy The Crow along to help.

It's about time someone around here started showing some respect. Seriously though, glad to be here. It's nice to see more columnists on this site giving TNA some attention, especially something like this that's obviously taken a bit of work to put together. Having watched TNA since the beginning, I have a pretty good idea of who's going to be in the Top 10 here, but before we get into all that, let's take refresh the memories of these fine readers by taking a look at numbers 50 through 11.

50. Shark Boy
49. Lance Hoyt
48. Matt Bentley
47. Sonjay Dutt
46. Kip James
45. Elix Skipper
44. D'Angelo Dinero
43. Chase Stevens
42. Andy Douglas
41. Sarita
40. Douglas Williams
39. Rhino
38. Angelina Love
37. Jay Lethal
36. Tara
35. Madison Rayne
34. Velvet Sky
33. Petey Williams
32. Scott Steiner
31. Chris Sabin
30. Alex Shelley
29. Bully Ray
28. Chris Harris
27. Gail Kim
26. Mr Anderson
25. Christopher Daniels
24. Ron Killings
23. Eric Young
22. Austin Aries
21. ODB
20. Abyss
19. Taylor Wilde
18. Kevin Nash
17. Kazarian
16. Matt Morgan
15. Hernandez
14. Homicide
13. Devon
12. Rob Van Dam
11. Jeff Hardy



10. Jeff Jarrett

Matches: 67 (38-23-6)
Main Events: 34 (18-15-1)
World Title Matches: 5 (4-1)
Other Title Matches: 0
1on1 v contestants: 19 (11-5-3)



Not surprisingly, Double-J himself has cracked the Top 10. It seems fitting, considering that without him there would be no TNA for us to write about. Say what you will about TNA as a company, but there is no denying that it's changed the wrestling landscape since its formation in 2002. Jarrett, in my opinion at least, was never anything special in any of his "big time" runs previously in his career, but he stepped it up a few notches in TNA. Everything from his promos to his actual match performances have been, for the most part, top notch, particularly his many matches with Kurt Angle. His Win/Loss record is pretty good here, particularly his record in World Title matches, but it's not as good as one might predict for a wrestler who owns the company he works for. Jarrett isn't an all-time great by any stretch of the imagination, but he's earned his place in the history books.

I have to agree with you here, I was never really a fan of Jarrett in the other companies. In WWE he just seemed like an average mid-carder, swamped by all the big names and crazy gimmicks that were going on around him. In WCW his run at the top just seemed so forced and he could never live up to the way he was booked as The Chosen One. In TNA he seemed to peak and was able to be the top guy that the company needed. As to your statement about his stats not being that great for a wrestler who owns the company, that all comes down to his second run as an active wrestler. If this was just based around his first run he would have easily got first place with how strong he was booked but on his return it was more about making others look good so his stats took a hit and made him fall back here to 10th place.


9. Christian Cage

Matches: 65 (39-21-5)
Main Events: 46 (26-15-5)
World Title Matches: 2 (1-1)
Other Title Matches: 1 (0-1)
1on1 v contestants: 21 (15-1-5)



Coming in at number 9 we have someone who really benefited from the move to TNA. After spending many years perfecting his craft in the WWE he found himself sitting on the cusp of the main event yet not being allowed to get that final nudge that could have seen him running with the big boys. In TNA however he was given that chance to run with the ball and he made the most of it including being a 2-time World Champion. While compared with most of the others in this part of the countdown he was not in the company for overly that long he still managed to make a major impact in his time there.

Couldn't have said it better myself. When Christian debuted in TNA, it was treated like a HUGE deal by the company, and rightfully so. TNA finally had a fairly big name wrestler jumping ship, and they were determined to give a big (proverbial) middle finger to WWE by making him a star. In his relatively short time with the company, Christian absolutely made the most of his opportunities. Two successful World Title runs, a handful of great matches, but most importantly of all, he made someone at WWE take notice again and made them remember why he was hired in the first place. Sure, his WWE homecoming wasn't as successful as some of us expected, but he still became a World Champion, something that likely would not have been possible without his run in TNA. Like you said zzzorf, Christian wasn't with the company for that long, but he managed to make a big impact (pun intended?) during his stay.


8. Sting

Matches: 75 (41-26-8)
Main Events: 50 (28-17-5)
World Title Matches: 8 (3-4-1)
Other Title Matches: 0
1on1 v contestants: 34 (17-10-7)



I'm actually surprised that "The Icon" isn't higher on the list. I've always viewed him as TNA's very own Triple H in that he's kind of their go-to-guy when things aren't going so well, and also because he seems to be on the winning side of most decisions in his feuds. That being said, I don't think Sting's contributions to this company can be mentioned enough. He may have lost a step or two in his older age, but the man can still get out there and go with the best of them. It seems like his in-ring career is coming to a close, or he's at least taking a massive step back and only performing when the story calls for it, so I don't think he'll climb much higher on this list if you were to do it again in a few years, but for now it's fitting that he made it to the end.

I think the major reason we find Sting so low is because the majority of his big work was done on PPV or through interview form. Because of his age, Sting has always been a bit guarded on TNA and even though he has been a major part of the show for years he has only managed 75 matches on Impact.I remember doing a TNA PPV countdown at this time last year and Sting was up there challenging for the first place, it shows how differently he was used when it all mattered. A top ten finish is still a very respectful spot for Sting to fall and is a testament to TNA's first ever Hall of Famer.


7. Bobby Roode

Matches: 205 (96-98-11)
Main Events: 66 (21-41-4)
World Title Matches: 8 (6-0-2)
Other Title Matches: 15 (8-7)
1on1 v contestants: 54 (26-19-9)



He may be the IT Factor of Professional Wrestling but he does not seem to have IT when it comes to the stats and challenging for the title of Emperor of Impact. Even having the second most matches on Impact was not enough to see Roode crack the top 5, mainly due to spending the majority of his time as a tag team competitor. His win/loss record takes a hit from this time spent as a tag wrestler and at 47% is the only wrestler in the top 10 to win less than half of his matches. His major weakness though was when he appeared in the final match of the night, only managing to win 32% of these matches, of which you have to go all the way back to Daniels at number 25 to see someone with a worse record.

I'm surprised he made it this far up the list. I suppose the sheer volume of matches he's been in helped with that, but damn that is a sad win/loss record to look at, though not entirely surprising. Roode has always been a dependable worker, whether it's as part of a tag team or as a singles wrestler, and that shows in the numbers. Only one person in the top 10 has been in more Impact matches than Roode - you'll meet him in a bit - and despite a less than stellar record, Roode is another guy that's made the most of his time in the company. He went from being a tag-team wrestler to a top heel World Champion seemingly overnight, a transition that isn't easy to make. It's too bad he didn't make it up higher on the list, but seeming him in the Top 10 at all is good enough for now.


6. Booker T

Matches: 50 (33-15-2)
Main Events: 18 (10-8)
World Title Matches: 0
Other Title Matches: 4 (4-0)
1on1 v contestants: 18 (12-5-1)



I can dig this. Booker was another guy who, compared with other names on this list, was not with the company for a very long time. In the 2 years he was there, he managed to add another Tag Team Title reign to his resume, and even created a brand new title, the TNA Legends Championship, though it's since become the TNA Television Championship. His win/loss record isn't anything shocking, particularly his title match record, considering he spent about half of his tenure with the company as part of the Main Event Mafia stable. I was always surprised that he never won a World Title in TNA, but he made the most of what he was given. It's too bad he left the company when he did, I think he could have accomplished a lot more, especially if he took on a bit of a veteran/trainer role. But he's gone, and TNA has kept going, so there's no point in wondering "what could have been."

Booker may not have won the Emperor of Impact but he does earn a very special mention as the only person to have appeared in all 4 of my countdowns this year. His 6th placing here adds to his 17th placing in Ruler of Raw, 19th placing in Sultan of Smackdown and 8th placing in Pharaoh of Nitro. This is a testament to Booker's work ethic over the years and ability to adapt to whichever roster he was appearing in. As to this countdown, with a win/loss record of 66%, he also has the best record of any male on the countdown and thus the reason he finds himself so high yet only competing for only a short time.


5. Kurt Angle

Matches: 138 (70-52-16)
Main Events: 96 (46-38-12)
World Title Matches: 12 (5-6-1)
Other Title Matches: 2 (0-1-1)
1on1 v contestants: 59 (30-17-12)



Our first wrestler to make it into our top 5 wrestlers in Impact history is the person who would be considered to be the greatest ex-WWE acquisition that TNA has ever made. Angle was a mega-star long before he made it to the shores of TNA and the name value that he brought with him benefited the company immensely. Angle has not let TNA down either, he has shown why he was a good investment for the company time and time again whether it be as champion or challenger, leader of a major faction or just to give the rub to an up and coming wrestler.

I would agree that Angle is the greatest ex-WWE acquisition TNA has ever made, and I'd go even further and say he's one of the best in the history of this business. Obviously his name value was, initially, a great resource for TNA, but his continued dedication, loyalty and effort are where he really provides the company with a lucrative return on their investment. His win/loss record makes it pretty clear that he's willing to lose when the situation calls for it, which is something that can't always be said about veteran wrestlers. The man is an absolute wrestling machine, and I'm so glad he was able to expel his personal demons and become the future hall-of-famer he deserves to be. Another guy I'm surprised didn't make it higher on the list, but top-5 isn't bad at all.


4. James Storm

Matches: 199 (107-82-10)
Main Events: 62 (27-30-5)
World Title Matches: 4 (1-3)
Other Title Matches: 24 (14-10)
1on1 v contestants: 42 (20-17-5)



It's interesting to see "The Cowboy" fare so much better than his former tag partner Bobby Roode, especially considering just how much of his career has been spent as part of a team. Storm is another guy that's proven to be a very dependable worker, and despite being cheated out of what should have been the best moment of his career (winning the World Title belt for the first time), he has continued to be a main event staple in the company. Aside from that though, just look at how many title matches he's been involved in over the course of Impact history. Storm absolutely deserves to be a runner-up for the title of "Emperor of Impact", if not for the fact that he's been there since the very beginning, than for the sheer amount of work he's poured into the company since its inception.

I think you will find the reason why Storm finds himself higher than Roode in this countdown is from there time before they started teaming together. While Team Canada was an important team they were never America's Most Wanted and this is shown in the stats including the title match count and the win/loss record. I believe the placing here is a testament to how much of an important part of TNA Storm has been over the years. He has been involved in arguably the two greatest tag teams in TNA history, AMW and Beer Money, and some of the more important factions throughout the years including Jarrett's Army, TNA Frontline and of course Fortunate.


3. Awesome Kong

Matches: 62 (47-15)
Main Events: 3 (3-0)
World Title Matches: 0
Other Title Matches: 8 (6-2)
1on1 v contestants: 18 (15-3)



Now this position came as a bit of a shock, not only is Awesome Kong the first female wrestler to crack the top 10 in one of my countdowns, she finds herself also the first female to crack the top 5 with her 3rd position here. While it can be argued she has not had as a big of an impact on Impact as the men already mentioned today but she did have one thing that they could not do, complete and utter domination of her division. Her win/loss record of 76% is well above her closest rival in this countdown (Booker at 66%) and most of those losses came in tag matches and not in 1on1 encounters. Her sheer domination of the other Knockouts while she was with the company is what saw her get this high and it would be great to see her return and take up where she left off once more.

It would be nice to see her return to active duty, because she absolutely had a major impact on the company. She certainly wasn't the first talented female wrestler to lace up a pair of boots, but she was probably the most unique. She had a look that mainstream wrestling fans had never really seen before, and she translated that into the domination that we saw during her stay with TNA. It's really too bad that her personal life got in the way of what should have been a successful run with WWE, because while I'm not naive enough to think she could single-handedly make the Divas division popular, she would have at least given us something different. Oh well. I'm not overly surprised she cracked the top 10 because she dominated in most of her appearances with the company. Not that things could have really turned out any differently; would any of us buy her getting dominated in the ring by any female wrestler not named Beth Phoenix or Natalya?


2. Samoa Joe

Matches: 166 (100-51-15)
Main Events: 55 (30-18-7)
World Title Matches: 3 (3-0)
Other Title Matches: 19 (14-4-1)
1on1 v contestants: 65 (36-21-8)



Talk about a career full of "what if" moments. Joe is a perfect example of why a company shouldn't wait too long to pull the trigger on a wrestler for a World Title run. The guy was white hot for a long time and the fans were DYING to see him finally win the big one, but TNA kept putting it off until finally, when Joe did win the World Title, people had started to stop caring. It was still a big deal, but it was far from the level of epic it should have been. Even more recently, Joe looked poised to win the Bound For Glory Series earlier this year, but ended up getting passed over for yet another Jeff Hardy main event run. Despite some questionable booking at times, Joe has remained one of the most reliable guys in the company, and he seems to be the final test for many new wrestlers hoping to break into TNA. Whether as part of a tag team or as the one man submission machine, Joe deserves to be in the top 3 on this list.

This is why I invited you to join me here, I couldn't have said it much better myself. When thinking of TNA Samoa Joe is one of the first names that come to my head. When I first started watching TNA in late 2008 I had no idea of who most people were, other than the obvious ex-WWE guys of course. The one name I had heard about and was anxious to see was Joe and over the years he has not let me down. While he has been battling the worst of TNA's crazy booking over the years he still manages to put out quality matches time and time again and is easily one of the top guys in the company.


1. AJ Styles

Matches: 243 (126-102-15)
Main Events: 108 (53-49-6)
World Title Matches: 6 (3-3)
Other Title Matches: 19 (11-7-1)
1on1 v contestants: 79 (32-38-9)



Joining the Ruler of Raw John Cena, the Sultan of Smackdown The Undertaker and the Pharaoh of Nitro Lex Luger as the Emperor of Impact is none other than AJ Styles. So how did he beat out such names as Samoa Joe, Sting, Kurt Angle and Jeff Jarrett? Well let's take a look shall we. AJ managed 243 matches (1st) at which he won at a rate of 52% (17th). He appeared in 108 main events which was 44% (7th) of his matches and he won these at a rate of 49% (18th). A title was on the line in 25 of his matches which was 10% (29th) of his total and he was able to win them 56% (17th) of the time. In the 79 times he met one of the other contestants 1on1 he beat them 41% (29th) of the time.

OK quite honestly except for the amount of matches those stats are not too spectacular but hey are enough to see him over the line, well barely anyway. The gap between AJ and Joe is actually the smallest gap between 1st and 2nd of any of my countdowns and if I was to continue this too now there is a good chance that this could have been the other way round. However due to the cut-off mark AJ finds himself Emperor of Impact and will be a fine addition into my Hall of Royalty.

The fact that AJ Styles is the "Emperor of Impact" should not surprise anybody. He's long been known as TNA's "golden boy" and, despite not always being in the main event, he is an absolute workhorse. 243 matches on Impact, plus PPV appearances and live events? No one can touch those numbers. Styles isn't the best wrestler out there, and he's certainly nothing phenomenal on the mic, but it's his evident passion that puts him over more than anything else. It's pretty obvious he loves what he does, and that translates into the energy he brings to every match he's a part of. Add on top of that his reliability and loyalty to the company, there remains very little doubt who deserves to be crowned "Emperor of Impact". He's been a part of some of the most memorable matches in TNA history, and I can't think of a more fitting member of royalty to represent the company in this series of columns.



Well it looks like my work here is done. Thanks to zzzorf for bringing me on board for the end of this series. He did a great job on it, and I was glad to be a part of it. If you want to get in touch with me, you can find my contact info at the end of any one of my columns. Fair warning, I'm most likely to respond if you shoot me a message on Twitter. But I'm out of here for now. Thanks to all you fine readers for stopping by, and thanks again to zzzorf for bringing me on board. PEACE.

Thank you very much for joining me Crow in getting this last column done, your knowledge of the product filled in the gaps where I was lacking and did these guys the justice that they deserved.

As to you the readers, how did you find the list? Did everyone fall into an acceptable order for your liking? Was AJ Styles the right person to be named Emperor of Impact?

That brings me to the end of my search through the major wrestling shows but don't think they are gone. If I am still around in a few years I will reboot these series and add in the new stats and start the countdowns once more. For now though I have other things planned for the future starting in January, where with all luck, I will be going daily counting down the 30 best wrestlers of 2012 in WWE the way that only The King of Stats can. Until then have a great whatever you celebrate at this time of year and remember THE STATS NEVER LIE.



Feedback:
E-Mail: zzzorf@yahoo.com
Twitter:

Facebook: Add me as a friend here

Me and My Mates: Dream Matches 6 - Tag Team Turmoil (Match 7: Beer Money, Inc v The New Age Outlaws)
The King of Stats presents the 2013 WWE Superstar of the Year - #1 Daniel Bryan
The King of Stats presents the 2013 WWE Superstar of the Year - #10 to #6
The King of Stats presents the 2013 WWE Superstar of the Year - #15 to #11
The King of Stats presents the 2013 WWE Superstar of the Year - #20 to #16
The King of Stats presents the 2013 WWE Superstar of the Year - #25 to #21