---



The King of Stats names the Emperor of Impact (Part 4: The Upper Carders)


By zzzorf
Dec 8, 2012 - 11:23:43 PM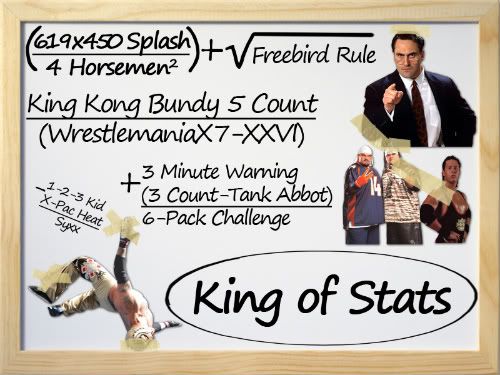 Welcome back once again to my continuing search to find the man who will take the title of Emperor of Impact. My name is the King of Stats, the man for whom numbers are like the ocean, they keep on going on forever yet I never tire of the view. With the last column in the series I passed the halfway mark thus starting the journey home. Today we crack open the top 20 and find out the ten unlucky individuals who were unable to make it into the top ten.

Before we get underway though let us remember those who have already been eliminated.

50. Shark Boy
49. Lance Hoyt
48. Matt Bentley
47. Sonjay Dutt
46. Kip James
45. Elix Skipper
44. D'Angelo Dinero
43. Chase Stevens
42. Andy Douglas
41. Sarita
40. Douglas Williams
39. Rhino
38. Angelina Love
37. Jay Lethal
36. Tara
35. Madison Rayne
34. Velvet Sky
33. Petey Williams
32. Scott Steiner
31. Chris Sabin
30. Alex Shelley
29. Bully Ray
28. Chris Harris
27. Gail Kim
26. Mr Anderson
25. Christopher Daniels
24. Ron Killings
23. Eric Young
22. Austin Aries
21. ODB



20. Abyss

Matches: 155 (82-60-13)
Main Events: 55 (21-27-7)
World Title Matches: 1 (0-1)
Other Title Matches: 8 (2-6)
1on1 v contestants: 47 (19-21-7)



To say that Abyss is my favourite TNA wrestler would be an understatement, I have been a massive fan since the first match I ever saw him compete in (when he won the TNA title against Sting). If you read my column on Mick Foley the other week you will know how Mick and Undertaker are my favourite two wrestlers of all time, well the reason why I love Abyss is he seems to take some of the best parts of those two and combine them into him. While I am enjoying the Joseph Park character at the moment I am aching for when he finally snaps and will return to Abyss once more.

Abyss has been one of the mainstays of TNA but has always been more looked upon as an upper-midcarder at best and is used more often as not as just their go to hardcore specialist. Not that there is anything wrong with that as things like the Monsters Ball and Full Metal Mayhem would not be the same without him.


19. Taylor Wilde

Matches: 60 (31-29)
Main Events: 4 (2-2)
World Title Matches: 0
Other Title Matches: 13 (7-6)
1on1 v contestants: 18 (11-7)



This is one positioning where I have to scratch my head and ask myself why. How in the hell did Taylor Wilde manage to be the first women to crack the top 20 (but not the last) of any of my countdowns this year? I mean she was good and she was the first knockout I really got into as when I first started watching TNA she had just won the Knockouts Title from Awesome Kong and was continuously beating her. The thing is though that she petered out and in the end turned into nothing.

Looking over the stats though I found it, what my old readers will recognise as the RVD stat anomaly. What this anomaly is, is that when I did the Ruler of Raw series RVD found himself in 5th due to the fact that he had managed to have about 1 in every 5 matches be for a title. This then happened in my Nitro series seeing Bret Hart venture into the top 10 even though he only just had enough matches to even qualify. This however does not take away from the rest of Taylors stats which are actually still better than most of the other Knockouts involved in the countdown.


18. Kevin Nash

Matches: 47 (26-18-3)
Main Events: 17 (8-9)
World Title Matches: 1 (0-1)
Other Title Matches: 7 (4-2-1)
1on1 v contestants: 10 (3-5-2)



Nash is a funny thing for me to think about when talking about TNA. For some reason I just never really felt he was ever really that good in his time there yet for some reason I always think about how much of an important part he was while he was there. Nash was a mega-star really wherever he went but while big in TNA he just never seemed to live up to his potential like he had before, this could be just because of old age or just the fact he wrestled with grey hair, I'm not sure but something just didn't feel right.

I do have to say though that I believe he did help the X-Division out a fair bit even if comments he made later about vanilla midgets meant that he never really saw anything in guys of that size. Add to that I don't think the Main Event Mafia would have been the same without him and his constant Wolfpac references and maybe he did actually fit in TNA.


17. Kazarian

Matches: 124 (57-59-8)
Main Events: 25 (13-10-2)
World Title Matches: 2 (0-2)
Other Title Matches: 15 (9-5-1)
1on1 v contestants: 32 (12-18-2)



Kazarian is another name in that long list of mainstay TNA talent who whilst showing an immense amount of potential, is constantly overlooked for the main event. In fact I feel Kaz is always the forgotten member of those main stay names. He always seems to be pushed to the back of whichever group he is involved in. While I understood his role and why he was in Fortune, I always felt like he was the odd man out in the group and his current role in his teaming with Daniels he is just another cog in the wheel of the Daniels/Styles saga.

Like I said before though Kazarian has shown a lot of potential and that is shown here with him beating out a lot of those names who could be put down in that exact list I was talking about. He has found himself beating out the likes of Sabin, Shelley, Daniel and EY, other guys who have been in the company forever and have been constantly overlooked for the title. Kaz finds himself leading this group stat wise and quite frankly is the best chance of any of them to actually receive that final push to the top, all it will take is him getting out of the shadows of others.


16. Matt Morgan

Matches: 105 (56-45-4)
Main Events: 25 (10-14-1)
World Title Matches: 0
Other Title Matches: 11 (7-3-1)
1on1 v contestants: 30 (17-13)



Next we move on to the guy that I have been begging TNA to make Champion for about the last 4 years. I wasn't really a Morgan fan at first as I didn't find much great about him in his WWE days but it didn't take me long to be impressed with the DNA of TNA when I started to watch Impact. While he isn't the greatest inside the ring or anything like that but he has proven that he can get it on. I really believe he has the makings of a big star for the company if they just pull the trigger.

However I'm not a booker (and it's probably a good thing I'm not) so therefore Morgan has not seen much of the main event scene. That may all change hopefully though if things go the way I see them going at the moment (remember I'm not a booker though). While it may look like Morgan is just playing the role of Joey Ryan's bitch at the moment the seeds are playing out behind him with the Hogan storyline. If handled correctly (yes I know TNA's record of handling things correctly) this could be the final push to get Morgan to the top. #MorganForTNAChampion


15. Hernandez

Matches: 100 (54-42-4)
Main Events: 15 (6-8-1)
World Title Matches: 0
Other Title Matches: 19 (9-8-2)
1on1 v contestants: 21 (11-8-2)



There is one thing I need to say about Hernandez is he is a perfect Tag Team wrestler but if you put him out there as a singles wrestler, well you better have a good opponent to help him get through the match. I am a fan of Big Mex but I just have to cringe at his work in singles matches, probably not as much as the wrestlers he has to face each night when they read that they have to fight him, but I still have to cringe.

I think the good thing is TNA actually seems to realise this and for the majority of the time he has had a partner to hide his flaws. In fact this current run as champion he is in at the moment is his 6th run with his 4th partner. In fact he is actually flanked on both sides in this countdown by the two of those partners who actually qualified to be part of this countdown.


14. Homicide

Matches: 82 (44-36-2)
Main Events: 13 (6-6-1)
World Title Matches: 1 (1-0)
Other Title Matches: 16 (9-6-1)
1on1 v contestants: 15 (7-7-1)



Yes as you may have guessed by my last comment Homicide is up next just above his ex-partner in LAX. Actually it's weird looking at it, even though these two have ended up spending a bit of time split apart, the stats still sort of even out against each other. I mean they both win about 54% of their matches and about 15-16% of their matches were in the main event of the night. There is also not much discrepancy between most of their other stats too like around 20% of their matches being for a title.

But Homicide managed to beat out his former partner due to the fact he seemed to get it done more often when in the bigger matches. He managed to win a greater percentage of his matches when he appeared in the Main Event or if there was a title on the line. I guess it all comes down to the company realising which of the two was actually the better wrestler, well you would think that until you realise that it is Hernandez who is actually still with the company and not Homicide.


13. Devon

Matches: 112 (55-43-14)
Main Events: 25 (16-9)
World Title Matches: 0
Other Title Matches: 19 (9-6-4)
1on1 v contestants: 9 (4-3-2)



I touched on this in the last countdown when Bully Ray came up but it won't hurt to rehash again. I don't think in anyone's mind that they could say Devon has had the better of it since the breakup of Team 3D. Bully has been the star while at times Devon was not even around. When he was around it was originally in a lacklustre feud with The Pope or his TV Title run a few months back (remember Devon had only just joined Aces & 8's at the cut-off for the data collection for this series). Yet here Devon finds himself 16 places higher than his brother.

It really came down to two separate things. As I said on Bully's section was that while he was being the best heel in the business he was also losing nearly every match that he was involved in, this hurt his stats a great deal in those spots and saw him slip down the rankings. Devon on the other hand had a healthy win record which saw him rise up a bit in the rankings. The other thing in Devon's favour was the seldom used "TV Title to be defended each week" rule which saw him rack up a few extra title matches and wins to boost his score. Did Devon deserve a high spot, well yes, but his brother should have been up here with him.


12. Rob Van Dam

Matches: 70 (39-28-3)
Main Events: 29 (16-11-2)
World Title Matches: 3 (3-0)
Other Title Matches: 5 (2-3)
1on1 v contestants: 30 (17-12-1)



If you love him or hate him you would have to admit that RVD has been pushed high in his time in TNA. Having the full support of Hulk and Eric has seen him pretty much do what he wants which included having a title run which was conveniently taken from him without him even having to lose a match. The fact that the whole time he has been there he has been made out to be the biggest thing in the company just too stroke his ego is laughable and so is his current X-Division title reign. While RVD still thinks he can perform the same way he did ten years ago, he most definitely cannot and along with that really went his right to be continued to be called an X-Division wrestler.

The thing is with that little rant you may not have actually realised is that I am actually a fan of RVD for the most part, I am just sick of him and having his ego stroked. Fine the powers that be want to placate some of their wrestlers but they seriously need to pick out who actually deserves it. What has RVD really done throughout his career to warrant the treatment he receives from those in charge in TNA?


11. Jeff Hardy

Matches: 95 (58-28-9)
Main Events: 53 (31-17-5)
World Title Matches: 5 (1-3-1)
Other Title Matches: 3 (0-2-1)
1on1 v contestants: 36 (25-6-5)



Even having the 4th best win/loss record on Impact could not see our current World Champion crack the top ten. To say this shocked me would be a massive understatement; I really thought Hardy would be a lock for the top ten. The majority of his stats point to what could have been a higher position, but I guess it was just not to be. The only stat where Jeff really took a hit was his win/loss record when a title was on the line, which at 13%, was the worst of anybody who at least had won a title match on Impact in this countdown.

I could really see that in the future Jeff's position could really only get higher, he is currently the face of the company and I don't see anybody about to take that away from him. It is a shame too for what he has done to the company in the past. It sends out the word to other employees that you can turn up late or skip dates all together, or even worse of all turn up completely off your face and get away with it. Hell you may even get your own personal title belt to wear when they make you their World Champion.


Well that concludes the countdown for today and we saw a couple of big names fall. I guess the majority of you have a fair idea of who will be in the top ten but I will let you know now that there will be a couple of surprises, especially someone in the top 5 that you would not expect. Also next time I won't be alone as I will be bringing in a TNA expert to help me count down the top ten wrestlers and finally name the Emperor of Impact. Until then remember THE STATS NEVER LIE.


Feedback:
E-Mail: zzzorf@yahoo.com
Twitter:

Facebook: Add me as a friend here

Me and My Mates: Dream Matches 6 - Tag Team Turmoil (Match 7: Beer Money, Inc v The New Age Outlaws)
The King of Stats presents the 2013 WWE Superstar of the Year - #1 Daniel Bryan
The King of Stats presents the 2013 WWE Superstar of the Year - #10 to #6
The King of Stats presents the 2013 WWE Superstar of the Year - #15 to #11
The King of Stats presents the 2013 WWE Superstar of the Year - #20 to #16
The King of Stats presents the 2013 WWE Superstar of the Year - #25 to #21