---



The King of Stats names the Emperor of Impact (Part 3: The Mid Carders)


By zzzorf
Dec 2, 2012 - 8:12:14 PM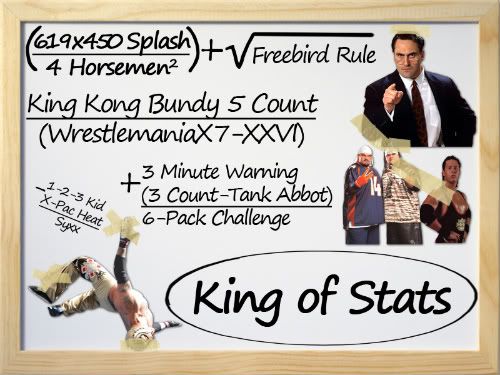 Welcome back one and all to the midway mark of my search to find out who will be named the Emperor of Impact, I am the King of the Stats, the man for whom numeracy is his main language and English is but a an annoying necessity. Now yes you did read that right, today's column marks the half-way point in this series of columns. What does that mean for today? Well other than counting down from 30-21 and getting closer to the number 1 spot, we also get to see the big names enter the countdown.

The beauty of this part of the countdown is the mix of names that this section brings. While we still see some of the lower names that were booked just a little better than the others but we also see those bigger names who got the short end of the stick in the booking process. In saying that though, there is a chance of controversy in this section due to those same names being mixed and the order not being to the liking of most people. Well enough talking about it let's get this show on the road starting with those who came before.

50. Shark Boy
49. Lance Hoyt
48. Matt Bentley
47. Sonjay Dutt
46. Kip James
45. Elix Skipper
44. D'Angelo Dinero
43. Chase Stevens
42. Andy Douglas
41. Sarita
40. Douglas Williams
39. Rhino
38. Angelina Love
37. Jay Lethal
36. Tara
35. Madison Rayne
34. Velvet Sky
33. Petey Williams
32. Scott Steiner
31. Chris Sabin



30. Alex Shelley

Matches: 144 (58-80-6)
Main Events: 21 (9-12)
World Title Matches: 0
Other Title Matches: 11 (7-4)
1on1 v contestants: 13 (4-8-1)



Coming in at number 30 and therefore only one spot above his Motor City Machine Gun partner is none other than Alex Shelley. To be perfectly honest while I don't mind Shelley, I have always thought that he was the weaker link of the team, not by a big margin but enough that I find the order of these rankings as a little weird. In fact though even though they both had different careers before they teamed together they still ended up with closely similar stats and Shelley only finds himself above Sabin due to his better record when a title was on the line.

Shelley on his own though does fall into what I deemed a long time ago as the cruiserweight curse (well X-Division curse in the case of TNA). This curse is really a two-fold deal. The first part of it is the obvious; when the smaller guy is fed to a bigger opponent he loses. The second part is that in a major amount of cases in these divisions, multi-man matches are the norm with only one winner and multiple losers. This has led to Shelley not having the greatest of records only winning 40% of the time.


29. Bully Ray

Matches: 143 (58-67-18)
Main Events: 48 (19-25-4)
World Title Matches: 1 (0-0-1)
Other Title Matches: 10 (3-5-2)
1on1 v contestants: 26 (9-15-2)



Now this is one placing I am extremely not happy about, I mean seriously, Bully Ray has been the best heel in TNA for about the last two years. Yes he never reached the top of the card and was never the main heel, a spot which was reserved for Roode, but he was easily the most over heel in the company. To top it off though his former partner has yet to appear in this countdown and no one can say that Devon has had a good of run as Ray since they went their separate ways. This all leads me to regretfully ask, did the stats get it wrong for a change?

The answer is no, of course the stats didn't get it wrong. I have talked about rose-coloured glasses before in the previous countdown and it is no more relevant than it is right here. While you have been enjoying Ray's heel run did any of you actually realise that he actually lost each and every week? At the beginning of the BFG series last year I did a column which was a form guide for the competitors in the series. I went in with those rose-coloured glasses on and got shocked when I came out with the stat that Bully Ray had only won 3 times from the 23 matches he had had from Bound for Glory 2011 till the start of the tournament, a total time of just over 6 months. While he was entertaining us his stats were taking a bad hit that will take some time to recover from.


28. Chris Harris

Matches: 65 (29-32-4)
Main Events: 25 (10-14-1)
World Title Matches: 0
Other Title Matches: 9 (6-3)
1on1 v contestants: 6 (0-4-2)



This is a placing that I believe the stats got right on the money. Early on Harris had plenty of meaning in the company as part of America's Most Wanted, one of the favourites to gain the title of the greatest tag team in TNA history. While teaming with James Storm he managed a total of 6 tag team championships and while Storm was injured managed a 7th by teaming with Elix Skipper. That is an impressive record in any ones books and is worthy of a high place.

He finds himself only making 28 though for what came after his run in AMW, a run that practically added up to a whole big nothing. His singles run was not really that spectacular to say the least and then left to go to WWE to be an even bigger nothing. What could have been a promising career in TNA had disappeared and the lack of matches he ended up having has seen him fail to make it too high in this countdown.


27. Gail Kim

Matches: 49 (28-21)
Main Events: 5 (3-2)
World Title Matches: 0
Other Title Matches: 8 (4-4)
1on1 v contestants: 10 (4-6)



After the amount of Knockouts that fell out of contention in the previous 10 some paranoia was starting to be evident with some readers about how high Gail Kim would land. With the perceived faces of the division, The Beautiful People, having an early demise, the fear was that Miss Kim would beat them by a country mile. Well as you can see that is not the case.

Gail has every right to be higher though. While you all may not like it she has always been booked strong when competing in TNA. From being the first ever Knockouts Champion to winning the title not long after her return (as well as the Tag Titles as well) she has always been an important part of the division when she has been around. In that lies her problem though as she has not always been around therefore not racking up many matches.


26. Mr Anderson

Matches: 69 (28-35-6)
Main Events: 41 (13-23-5)
World Title Matches: 4 (2-2)
Other Title Matches: 3 (0-3)
1on1 v contestants: 32 (14-16-2)



Hailing from Green Bay Wisconsin, standing at 6ft 2in and weighing in at 243lb its Mr Anderson...Anderson! OK, that statement has been bugging me for a long time. I understand that this is just a redo of his gimmick from his WWE when he used to say Mr Kennedy … Kennedy but he said that because that was his name, Kennedy Kennedy. Am I meant to believe that his name is now Anderson Anderson even though they call him Ken at times? When copying gimmicks I think they need to actually think about what the actual idea was the first time and try to actually get it right.

Anderson though really does live up to his gimmick though as all signs seem to lead to the fact that he is an actual asshole. Putting that aside though he has justified his spot on the countdown, benefiting on the name he had made for himself in the WWE and the generosity of Hogan and Bischoff. It seems though that his run has now worn off and he does not any longer have that pull that he did and I would be not amiss in saying that his stats will not improve much in the future.


25. Christopher Daniels

Matches: 146 (65-72-9)
Main Events: 32 (10-19-3)
World Title Matches: 0
Other Title Matches: 16 (8-8)
1on1 v contestants: 41 (14-23-2)



Christopher Daniels is easily the greatest TNA superstar to have never won the World Title and I believe that is one of the reasons why he finds himself so low on this countdown. On checking his complete stats I actually find that he has only ever had three shots at the world title, none of which were on Impact (1 was when they did the weekly PPVs, the other 2 on PPV in 2009). Daniels could easily stake claim as to one of the biggest stars of TNA's history and it is a glaring omission that he has not had a run with their title.

The reason we find Daniels this low in the countdown though has to be because of the crappy booking he has had over the years, you just have to look at the picture shown above to see what I am talking about. By hiding him under the masks of Curry Man and Suicide it practically killed any chance he had of becoming the major star that his potential said he could be. Then you add to things like the fact that he has been made AJ's whipping boy for most of his career and he finds himself unable to crack the top 20 here.


24. Ron Killings

Matches: 50 (33-16-1)
Main Events: 16 (7-9)
World Title Matches: 0
Other Title Matches: 3 (1-1-1)
1on1 v contestants: 12 (8-4)



It is easy for me (and probably most others as well) to forget that R-Truth was actually once a big part of TNA, winning the world title on two separate occasions. While I have been a fan of his over the years I still find it hard to believe that TNA saw enough in him to lead the company as their champion not once but twice, it just boggles my mind. I guess if I was watching TNA at the time I might have a different opinion but as I said before I did not start my TNA viewing until later.

As we all know Truth has been in the WWE for a long time now so he only ever had limited matches on Impact with his time in TNA. The reason he finds himself so high on the countdown is due to the fact that he in the 50 matches he did have on Impact he managed to win 66% of them, equalling the 2nd best win/loss record of any of the 50 contestants to be named Emperor of Impact.


23. Eric Young

Matches: 129 (59-69-1)
Main Events: 23 (8-15)
World Title Matches: 0
Other Title Matches: 15 (10-5)
1on1 v contestants: 24 (8-16)



Before when I was talking about Christopher Daniels and said about how the masks held him back it is a different story when talking about EY. While I wouldn't say it enhanced his career it did seem to just fit in with who the whole character of Eric Young is portrayed to be. Eric has nearly always been portrayed as the comic relief of the company, a job that he seems to do so well with. Whether it was someone who is scared of his own shadow to someone who believes he is a super hero to being part of one of the weirdest 'marriages' in wrestling history Eric just seems to constantly pull it off with loads of hilarity.

The only problem with the sought of humorous character that EY portrays is that there is not really a permanent spot for him above the mid card. While he can be booked winning numerous lower titles (5 Tag Team, 2 TV, 1 X-Division, and 1 Knockout Tag) over and over again, he cannot be justified consistent booking. When not in possession of a belt it is hard to justify a character like EY winning on a consistent basis and this is shown in his stats. The one thing in his favour at least is that he knows whenever he turns up on TNA TV he will receive one of the largest reactions from the crowd on that night.


22. Austin Aries

Matches: 52 (24-26-2)
Main Events: 10 (5-4-1)
World Title Matches: 0
Other Title Matches: 7 (5-1-1)
1on1 v contestants: 11 (6-4-1)



Collecting Aries data was an interesting thing to watch unfold. The data from his first run with the company back in 2005-2007 was pretty much exactly what you would expect from any other X-Division wrestler. There was little remarkable about it and would not have seen him very high up the ladder if he had continued along that path. His time in the company since last year, well that was a different story all together.

While still part of the X-Division he was booked on top of it the entire time, not the normal win some, lose more sort of booking that is normally given to the guys who compete in that division. Then of course he went straight from that to being the champ and being on top of the company, only losing the title just a couple of weeks short of the cut-off date for these rankings. It is only because of this strong booking of the last year and a bit that Aries even finds himself this high.


21. ODB

Matches: 75 (37-38)
Main Events: 6 (4-2)
World Title Matches: 0
Other Title Matches: 8 (5-3)
1on1 v contestants: 21 (13-8)



To finish of today's part of the countdown and therefore just falling short of making it into the top 20 we find probably the most unique women's wrestler ever. While not the greatest looker of the bunch or the best technician she makes up for it in pure crudeness, ODB is everything that every other woman wrestler is not. That is her charm though and what makes her one of the more popular female performers in the world.

While I would love to see ODB make it over into the WWE and shake up the division, I really don't think she would fit in and that's not just because of the PG rating. While that is a major restriction on a character along the lines of ODB I really don't even believe she would have fit in with the Attitude Era either, she just does not fit the mould of what a WWE female wrestler is supposed to be. TNA on the other hand is easily the perfect fit for her as shown by the fact that she is near the top of the Knockout division in sense of her booking over the years.


Well that concludes today's part of the countdown. What do you all think of the names that appeared today? Should have Bully Ray been placed higher? Are Gail Kim and ODB correct in being placed above the Knockouts who were previously eliminated? Who will be the unlucky 10 who do make the top 20 but so not crack the top ten? That last question will be answered in the next countdown which I will hopefully be able to get to you a bit quicker than I did with this one. Until next time remember THE STATS NEVER LIE.


Feedback:
E-Mail: zzzorf@yahoo.com
Twitter:

Facebook: Add me as a friend here

Me and My Mates: Dream Matches 6 - Tag Team Turmoil (Match 7: Beer Money, Inc v The New Age Outlaws)
The King of Stats presents the 2013 WWE Superstar of the Year - #1 Daniel Bryan
The King of Stats presents the 2013 WWE Superstar of the Year - #10 to #6
The King of Stats presents the 2013 WWE Superstar of the Year - #15 to #11
The King of Stats presents the 2013 WWE Superstar of the Year - #20 to #16
The King of Stats presents the 2013 WWE Superstar of the Year - #25 to #21