---



The King of Stats names the Emperor of Impact (Part 2: The Lower Carders)


By zzzorf
Nov 18, 2012 - 6:40:44 AM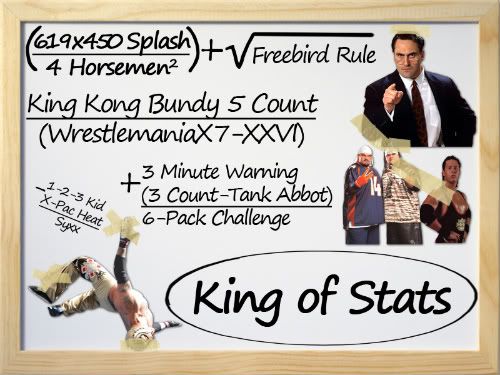 Welcome back one and all to part 2 of my continuing search to find the person who will be named the Emperor of Impact, I am The King of Stats, the man for whom numbers is like the air, they surround me at all times. Last week I counted off the first 10 of the 50 contestants to be eliminated from the running to be named Emperor, today I eliminate another 10 leaving us with only 30 eligible contestants to go.

I won't keep you waiting long to get started as I have kept you waiting for long enough while I pumped out a few other columns that just wanted to be written. Today's list may hold a couple of surprises as some of the names you see in this section you may have expected to see a little higher, I know I was shocked, but with this countdown revolving entirely on the stats it had to be expected. Before we get under way though let us be reminded of those who have already gone.

50. Shark Boy
49. Lance Hoyt
48. Matt Bentley
47. Sonjay Dutt
46. Kip James
45. Elix Skipper
44. D'Angelo Dinero
43. Chase Stevens
42. Andy Douglas
41. Sarita



40. Douglas Williams

Matches: 58 (21-34-3)
Main Events: 6 (0-5-1)
World Title Matches: 0
Other Title Matches: 10 (6-3-1)
1on1 v contestants: 11 (3-8)



Starting off today's countdown is a guy who shouldn't be this low. That's not because I believed he would have been higher, he is about where I would have expected him on his booking. No, it is because he should have been booked a little better than he has been. In fact I was only just reading that Kurt Angle actually thought the same thing, saying that he believed TNA had dropped the ball with him (granted it was an interview in a UK paper but you have to believe he meant some of it).

This countdown however is not about what should have been but instead what has actually happened and like I said Williams has been booked a lot lower than he should have been. This is a common problem though with any wrestling company though that has a lot of talent, not just a TNA one. To fit others at the top of the card some who maybe should have been there are forced lower and are always seen as someone the company dropped the ball with.


39. Rhino

Matches: 95 (39-48-8)
Main Events: 36 (14-18-4)
World Title Matches: 2 (0-2)
Other Title Matches: 3 (0-3)
1on1 v contestants: 29 (8-16-5)



I find it funny how people at the moment when talking about TNA complain about how ex-WWE guys are dominating the card, especially the main event scene. What makes it really funny is that they think that this is something that is new, that TNA has only started doing it in recent times. Rhino is just one proof that this has been a long time practise. He joins names like Ken Shamrock, Ron Killings, Jeff Jarrett, Raven, Christian Cage and Kurt Angle who were practically handed the title from the name they had made for themselves in the WWE, long before any of the current crop was around in TNA.

His push aside though Rhino does deserve his spot here on the countdown. While he was in the company he was an important part of the roster, including being the TNA champion, in fact he is the first ex-champion to be eliminated (Shamrock, Raven and Foley never qualified). It comes to show though how other than his title win how low he was booked, proving that the WWE name can only get you so far.


38. Angelina Love

Matches: 90 (37-52-1)
Main Events: 7 (1-6)
World Title Matches: 0
Other Title Matches: 10 (5-5)
1on1 v contestants: 22 (10-11-1)



Here is the first of the names that I didn't expect to see this low. While I didn't expect Angelina to win or anything, I did expect her to be near the top of the Knockouts involved in this countdown. However we find her here as the second lowest Knockout on the countdown and we have to ask why one of the faces of the female division is so low.

That is the problem with rose-coloured glasses, we just don't see things the way they really are. As fans of TNA we see Angelina as one of the biggest Knockouts in the company's history that we forget how poorly she was actually booked. Winning only 41% of her matches she was never truly looked at as the biggest star in her division by the company and was therefore mostly used to get those that were over.


37. Jay Lethal

Matches: 108 (42-64-2)
Main Events: 15 (3-12)
World Title Matches: 2 (0-2)
Other Title Matches: 11 (4-7)
1on1 v contestants: 26 (9-16-1)



One of the columns I wrote in my first month in the CF, I think it was my third ever column, was who I thought was being held back and was not being allowed to reach their full potential. The person I wrote that about was Jay Lethal and today I still think the same thing. Lethal had all the skills to make it big in TNA but was never pushed far enough to crack into the top area. His Black Machismo character was easily one of the best done gimmicks I have seen in a long time.

To prove my point how poorly Lethal was booked we just need to take a look at his stats he garnered while wrestling on Impact. The fact that he only won 39% of his matches is bad enough that it proves my point of him being underutilised but you add the fact that when he did see himself in a main event match (14% of his matches) he only managed to win 1 in 5 of those matches and it takes it to a higher place. He does hold the honour though of being one of only 17 people who have had over 100 matches on Impact.


36. Tara

Matches: 77 (38-38-1)
Main Events: 2 (0-2)
World Title Matches: 0
Other Title Matches: 17 (6-11)
1on1 v contestants: 17 (10-7)



Coming in next we have the current Knockouts champion Tara and quite honestly I think that the stats got this one right this time. Since coming to TNA Tara has done her job as the veteran she is. She has performed in the ring like only a talented wrestler can but she has also been the teacher helping the greener ladies a helping hand improving their craft.

Tara while seeming dominant is not afraid to have her shoulders pinned to the mat having half lost half of her matches. Having the power that her name value could bring she could have demanded to be booked stronger but her job has been to help get her support cast over more, be it Madison Rayne or Miss Tessmacher. No matter how talented Tara is at getting others over I have to ask does she have what it takes to get Jesse over with the TNA fans? I honestly don't know.


35. Madison Rayne

Matches: 86 (31-55)
Main Events: 3 (2-1)
World Title Matches: 0
Other Title Matches: 15 (6-9)
1on1 v contestants: 19 (4-15)



Talking about Madison Rayne, here she is coming in one spot higher than her former employee. I would have to say that the Queen Bee of TNA is the most improved Knockout I have seen in my entire time watching the company. When she first started with the company joining up with the Beautiful People she seemed like she could barely wrestle and quite honestly her looks were dwarfed by the other members of the group. Fast forward to today and she is one the better wrestlers in the division and her looks have improved immensely.

No matter how much Madison has improved though she could not shake that early poor booking at the beginning of her TNA career. In her first 9 months in TNA she managed to lose 14 matches on Impact. It wasn't until Lacey Von Erich joined her and Velvet Sky in The Beautiful People did she get her first win. Since then like Tara she has only managed to win half of her matches, hence the reason why she appeared so low on the list.


34. Velvet Sky

Matches: 106 (44-60-2)
Main Events: 10 (6-4)
World Title Matches: 0
Other Title Matches: 14 (5-8-1)
1on1 v contestants: 20 (5-14-1)



Damn what's up with all the Knockouts being in this section, I mean I'm enjoying the pictures (maybe a little too much) and all that but I mean come on, there is only so much you can talk about women wrestlers without your brain exploding. At least coming up with something to say about Velvet is easy; the problem is though I think that the rose-coloured glasses are coming into play again.

Honestly I thought Velvet would be the top Knockout in this countdown because quite honestly I have seen her as the feminine face of the company for the last few years. Add to that the fact that she is the only Knockout to have had over 100 matches and you really start to think that she belongs higher. That is however until you look at the rest of her stats and you remember exactly how she was booked. She only managed to win 42% of her matches which is not what you would expect of the face of the division, in fact she only actually won the title once and held it for a short period of time, so in reality she was never really the face of the division at all. OK I am starting to do my own head in here so let's move on.


33. Petey Williams

Matches: 89 (40-48-1)
Main Events: 13 (6-7)
World Title Matches: 0
Other Title Matches: 5 (3-2)
1on1 v contestants: 19 (9-10)



So now we find ourselves back talking about a male wrestler and that wrestler happens to be the Canadian Destroyer Petey Williams. Petey is a wrestler I have to ask myself why did TNA let him go and why have they or WWE not picked him up since. I understand that he is small and that could be held against him but honestly the game could get it done within the ring.

It was that size though that prevented him from having any strong booking and it is for that reason we see him so low on this countdown. Most big name companies having trouble constantly booking a small guy to win and TNA is no exception. Because of his size Petey's stats took a hit that in all honesty probably didn't need to happen. It has been proven that small guys could cut it in the ring with bigger men and I think Petey could have been one of them.


32. Scott Steiner

Matches: 72 (35-33-4)
Main Events: 21 (6-14-1)
World Title Matches: 0
Other Title Matches: 3 (2-1)
1on1 v contestants: 24 (10-12-2)



From Little Petey Pump we move onto Big Poppa Pump. Scott finds himself the first Main Event Mafia member to fall from contention and I am not surprised to see that. He always seemed a weird fit in that group with all the actual talent that the other members possessed. But a legend of the ring he was and TNA capitalised on that while he was in the employ of the company. While not really being the dominant force you would expect him to be he was always made as a major deal being the 'muscle' for whomever he was paired with.

Steiner has been an interesting case over the years with his intelligible speeches and his wrestling matches where he could barely move. While his physique may have been impressive to some I have always found it as absolutely disgusting. Seriously the guy is a walking billboard of why not to take steroids.


31. Chris Sabin

Matches: 171 (76-89-6)
Main Events: 27 (9-18)
World Title Matches: 0
Other Title Matches: 12 (4-8)
1on1 v contestants: 24 (10-13-1)



If I was surprised to see the Beautiful People this low, than I am absolutely flabbergasted to find Chris Sabin here. Sabin is one of the guys who have been a major part of the company since the beginning. The fact that he has had the 4th largest amount of matches on Impact ever should have been enough to get him at least a top 20 finish but of course that is not the case. Even being a strong member of the X-Division and the Tag Division was not enough to see him higher than 31.

It all comes down to booking once again. Since Sabin was never a part of the Main Event scene his stats took a hit for the worse. In all of his 171 matches only 24 (16%) of them were in the main event of the night. Then you add the fact that all of his win/loss records were on the underside of 50% and you start to see all the points fade away from Sabin.

Well that's it for today folks, another 10 contestants have been eliminated from the running to be crowned the Emperor of Impact. The question though needs to be asked, did the stats get it wrong? Should have a few of these wrestlers have been higher? I will be back again in a few days to countdown the next ten so until then remember THE STATS NEVER LIE.

Feedback:
E-Mail: zzzorf@yahoo.com
Twitter:

Facebook: Add me as a friend here

Me and My Mates: Dream Matches 6 - Tag Team Turmoil (Match 7: Beer Money, Inc v The New Age Outlaws)
The King of Stats presents the 2013 WWE Superstar of the Year - #1 Daniel Bryan
The King of Stats presents the 2013 WWE Superstar of the Year - #10 to #6
The King of Stats presents the 2013 WWE Superstar of the Year - #15 to #11
The King of Stats presents the 2013 WWE Superstar of the Year - #20 to #16
The King of Stats presents the 2013 WWE Superstar of the Year - #25 to #21