---



The King of Stats names the Emperor of Impact (Part 1: The Curtain Jerkers)


By zzzorf
Nov 7, 2012 - 5:38:10 AM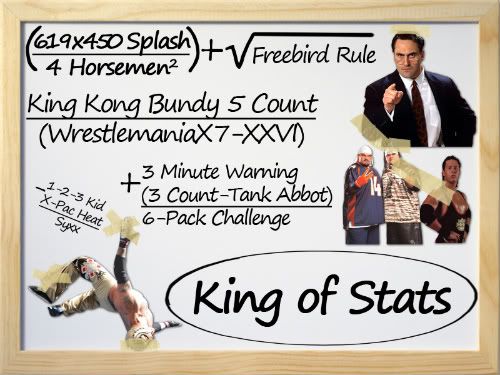 Welcome one and all to my continuing search for the true royalty of the wrestling ring; I am the King of the Stats, the man for whom numbers are an addiction that just can't be broken. It has been an amazing journey so far this year and I have managed to find three wrestlers worthy to take a place in my Hall of Wrestling Royalty, now it is time to find a fourth. For all my new readers who I have picked up recently due to my promotion to the Main Page, and for those old readers who would like a reminder, let me first give you a rundown on my search so far.

At the start of the year I did the unthinkable and went through nearly 1000 different WWE Raw cards to discover who would be my first inductee into my Hall when I named the Ruler of Raw. After counting down the top 50 Raw superstars of all time I was able to name John Cena as the Ruler of Raw, but this was just the beginning. A couple of months later I would take the plunge through 659 separate WWE Smackdown cards when I inducted my second inductee, The Undertaker, into the Hall as the Sultan of Smackdown. Then a couple of months ago, not long before I gained my promotion, I sifted through all 286 WCW Nitro cards to name Lex Luger as the Pharaoh of Nitro. I still have all the details of these series, including the order of the 50 contestants involved in each, so please feel free to ask for anything you would like to now.

That is enough talk about past series though as we have a brand new series to get under way here today, now it is time for me to crown the Emperor of Impact. For this series I have trudged my way through 434 Different TNA Impact cards from their first card on 4th of June 2004 to the show on the 1st of November 2012. As with previous series I have found the 50 wrestlers who have had the most matches in Impact history to make up my contestant list and put them through my specially designed scoring system which is as follows:-

The results are out of 100 and are devised the following way:
* 20 points for number of matches
* 20 points for win percentage
* 20 points for main event percentage
* 10 points for main event win percentage
* 10 points for percentage of matches with a title on the line
* 10 points for title match win percentage
* 10 points for win percentage in 1on1 matches against the other 49 contestants

While this scoring method throws up the odd stat anomaly that sees someone higher or lower than they should be, on the whole it sees most wrestlers fall into their correct placing and the readers have always left quite happy with the list presented. Now I must apologise that I only started watching TNA in late 2008 and while I have barely missed an Impact since my knowledge before then is limited, however I still believe I know enough to go forward with the series. Well that's enough setting the stage; let's get this show on the road shall we.


50. Shark Boy

Matches: 54 (12-39-3)
Main Events: 1 (0-1)
World Title Matches: 0
Other Title Matches: 0
1on1 v contestants: 11 (3-8)



Coming in at the unlucky 50th position but still surprised that he was even worthy of being included is none other than TNA's resident Stone Cold rip-off Shark Boy. In fact I am happy to see Shark Boy included here as he has always been a character I just got into. There is always a place in wrestling for a well done comedy figure and Shark Boy is one of them. What makes him more special is that somehow his character is somewhat believable, I don't mean that we could walk down the street and see someone just like him, no I mean he is just not so out there that you just could not take him really seriously.

He finds himself so low here though because he was no more than the companies' whipping boy. His main role in TNA was as a jobber. It wasn't until he started teaming with Curry Man and then later adding Super Eric as part of The Prince Justice Brotherhood that he started to finally start to win many matches. While now we are only given brief cameos when TNA feel like it we still remember the masked man who loved to drink his Clam Juice.


49. Lance Hoyt

Matches: 61 (20-40-1)
Main Events: 11 (1-9-1)
World Title Matches: 0
Other Title Matches: 0 (0-2)
1on1 v contestants: 14 (2-12)



It is amazing how many gimmick changes some wresters go through in TNA. Throughout my research I had to constantly make sure that the wrestler written was not someone else, Lance Hoyt was one of these guys. Starting off his TNA career as Dallas the bodyguard/relative of Kid Kash, he had to change to his real name so not to be confused with the companies' newest acquisition at the time, Diamond Dallas Page. Then at the end of his TNA run he changed names again, this time to Lance Rock to fit more into his team with Jimmy Rave as part of The Rock 'n' Rave Connection.

The thing that needs to be noted though that unlike any of those mentioned wrestlers he at least stuck around long enough to find himself a place in this countdown. While 49 is a relatively low spot on the countdown, he still has the ability to actually be considered to be named the Emperor of Impact in the first place.


48. Matt Bentley

Matches: 50 (13-35-2)
Main Events: 16 (4-9-1)
World Title Matches: 0
Other Title Matches: 0
1on1 v contestants: 16 (2-14)



Oh look, another guy who didn't know who he was half the time. Stating his career off as Michael Shane, he had to change his name to Matt Bentley for legality reasons. Eventually on joining Raven's group Serotonin he once again hanged his name this time to Martyr. Whatever name he went by though he was practically nothing better than a jobber. Of the 50 hopefuls in this competition Bentley has the second worst win/loss record managing to only win 26% of the time.

Those figures are really surprising when it is taken into consideration that back when TNA was first starting out with their weekly PPV''s he was in fact one of the faces of the X-Division. Since this countdown is only about Impact though all the victories he got on those weekly PPV's aren't taken into consideration thus preventing him from being higher up the list. Seeing though as he barely got the win I assume he never had the pulling power his cousin had in the WWE.


47. Sonjay Dutt

Matches: 76 (25-50-1)
Main Events: 7 (1-6)
World Title Matches: 0
Other Title Matches: 3 (0-3)
1on1 v contestants: 9 (3-6)



This placing shocked me a little bit as I always assumed Sonjay meant a little more to the company but only having a better win/loss record than the three wrestlers already mentioned in this countdown sees me starting to change my view. I guess that's where my lack of watching the early years comes in as I have actually not seen much of Dutt in TNA and therefore my knowledge is from other sources.

I will for certain say though that Dutt is the biggest X-Division star to have never held the title. It may be just because of what I have heard about him but I have seen him in action and I have seen the reaction he gets from a TNA crowd. While his stats don't really show it, Dutt is a big deal for the X-Division and if it wants to gain some respect that has been missing from it of late than having him be a prominent part of it would be to their advantage.


46. Kip James

Matches: 41 (17-23-1)
Main Events: 9 (4-5)
World Title Matches: 0
Other Title Matches: 0
1on1 v contestants: 6 (2-4)



The man who is otherwise known as Billy Gunn comes in at number 46, well barely anyway. Cute Kip only just scraped in at the bottom end of the match count with 41 matches being the cut-off to make the 50. Once you're in though everyone has a chance to win, as long as the stats go your way, something that Kip does not have in his favour here. While his stats aren't as bad as the names mentioned so far they are not very spectacular and when combined with his lack of matches we see him fall down the countdown to this lower position.

One thing in Kip's favour though is that he can gloat over his tag team partner that he at least made the countdown, yep that's right his Voodoo Kin Mafia team mate B.G. James didn't have enough matches to make it to the countdown at all. While when I think TNA I think more about B.G. than I do Kip, it has to be remembered that a lot of his active time in TNA was back in the weekly PPV era which is why he did not have as many matches. It would have been interesting which partner would beat the other but that was not how it came to be.


45. Elix Skipper

Matches: 46 (16-27-3)
Main Events: 11 (3-7-1)
World Title Matches: 0
Other Title Matches: 4 (0-4)
1on1 v contestants: 7 (3-4)



It is amazing how many of the early TNA wrestlers are falling early on in this countdown. This could be due to the fact that in Impacts early years the show only went for one hour instead of two thus not allowing as many wresters to compete on each card. But then again this only accounts for their lack of matches and not for their poor records that help see them fall so low. This can be said about Skipper who at one point was a major part of the Tag Division yet his records do not show that.

But it's not all doom and gloom for Elix as he still holds the prestige of being in one of my favourite matches of all time and easily my favourite TNA match. Granted it was on PPV and not on Impact but the details are not important. The match I am talking about was from Turning Point 2004 and saw Skipper teaming up with Christopher Daniels in a losing effort to Americas Most Wanted in a Six-Sides of Steel Match, if you have not seen this match before I highly recommend you check it out.


44. D'Angelo Dinero

Matches: 48 (24-20-4)
Main Events: 9 (4-2-3)
World Title Matches: 0
Other Title Matches: 0
1on1 v contestants: 17 (9-7-1)



Finally we get someone a little bit more recent but honestly I can't say I am really happy to find him this low. While I didn't expect him to be very high I believed he would at least be a touch higher. While I wouldn't say he has been the greatest talent in TNA over the last few years he has been one of the guys I was interested in. When his character was working properly he was one of the most entertaining parts of TNA, when it wasn't though it was painful to watch.

But of course my personal opinions of the guy don't come into it as this is a purely stat based ranking and Dinero's stats don't really do much for him. He has only had 48 matches in his time in the company which in 3 and a half years is not that much. He has also had no title matches on Impact which in today's TNA is practically impossible. Hopefully The Pope will return soon from his injury and make amends on these poor stats.


43. Chase Stevens

Matches: 47 (18-28-1)
Main Events: 9 (3-6)
World Title Matches: 0
Other Title Matches: 5 (2-3)
1on1 v contestants: 6 (0-6)
42. Andy Douglas

Matches: 41 (17-23-1)
Main Events: 6 (3-3)
World Title Matches: 0
Other Title Matches: 5 (2-3)
1on1 v contestants: 2 (0-2)



Oh well back to old school TNA, it was a nice visit to the present day but it couldn't last for long. Since through most of their run in TNA these two were a tag team and I didn't want to be repeating myself in both of their write-ups I just chucked them together here, I hope you all don't mind.

As The Naturals these two were part of a pretty strong tag team even winning the Tag Team titles on 3 separate occasions but when they were apart it was a different story. Between both of them only Chase was able to win a match without his partner on the end of the tag rope.

In the end though one of them had to beat the other in the countdown and it all comes down to the stats, well at least the fact that one did not have as bad of stats as the other. Due to Chase having 6 more singles matches than Andy you would expect him to be higher, well as you all have all seen that is not the case. Because of Chase losing 5 of those 6 extra matches he managed to lose more points than he gained by having more matches and thus giving Andy the higher number.


41. Sarita

Matches: 54 (20-34)
Main Events: 1 (0-1)
World Title Matches: 0
Other Title Matches: 11 (4-7)
1on1 v contestants: 9 (4-5)



Finishing of today's part of the countdown we find our first Knockout of the countdown, Sarita. One of TNA's strongest points over the years has been its strong Knockouts division and Sarita has been one of the reasons why. Her good looks are supported by the fact that she can actually wrestle, something that a lot of females in the other major promotion don't seem to know how to do.

But being able to wrestle can only get you so far and Sarita finds herself the lowest placed knockout in the countdown. While her stats weren't particularly that bad it's more that all the other wrestlers still to come were just a touch better. When comparing her with the other knockouts it is more the fact that she was just not as big a part of the singles division and her lower stats show that. In fact she is the only knockout who qualified to have not won the Knockouts title.


Well that is all we have time for today. What do you the readers think of the list so far? Have the stats got it right? Who do you think will win the title of Emperor of Impact? I will be back in a few days to count down from 40-31 so until then remember THE STATS NEVER LIE.


Feedback:
E-Mail: zzzorf@yahoo.com
Twitter:

Facebook: Add me as a friend here
Me and My Mates: Dream Matches 6 - Tag Team Turmoil (Match 7: Beer Money, Inc v The New Age Outlaws)
The King of Stats presents the 2013 WWE Superstar of the Year - #1 Daniel Bryan
The King of Stats presents the 2013 WWE Superstar of the Year - #10 to #6
The King of Stats presents the 2013 WWE Superstar of the Year - #15 to #11
The King of Stats presents the 2013 WWE Superstar of the Year - #20 to #16
The King of Stats presents the 2013 WWE Superstar of the Year - #25 to #21