---



The King of Stats gives his pre-PPV Analysis of Hell in a Cell 2012


By zzzorf
Oct 26, 2012 - 6:04:42 PM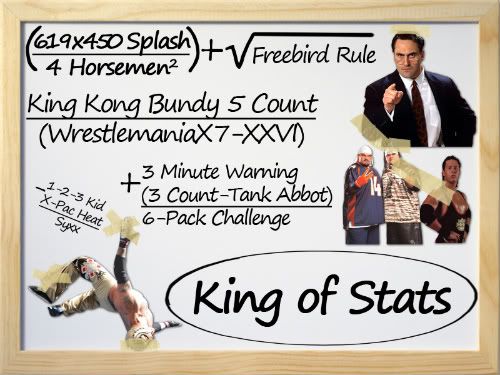 Welcome all once again to the only prediction column that goes behind the wrestlers and gets into the numbers that make them who they are. I am The King of Stats, the man for whom numbers are like candy, I just can't get enough of their sugary goodness. Another thing I can't get enough of is a good Hell in a Cell match, so I guess I'm lucky in that sense that the WWE PPV on this weekend is none other than Hell in A Cell.

For those of you who haven't seen one of my prediction columns before I can hear you sitting there complaining that there are plenty of other PPV preview columns around that you don't want to read another run of the mill column. Well I can honestly say that the way I look at things is not like anything you have ever seen before. You see my predictions are based on a more statistical approach instead of using gut feelings and the like. To make my prediction I use a certain set of criteria and whoever wins the most is thus my pick. The criteria I use can be made up of any of the following:-

Last 10: This takes a look at how the wrestlers have been booked in recent times.
Last 50: This takes a broader look at how they have been booked over the last 6-12 months.
Company win %: This takes an even broader look at how the wrestler has been booked for their entire career in the company.
PPV win %: This takes a look at how the wrestler goes on the bigger stage of PPV.
As Team: When in a tag team match, this looks at who has a better win/loss when teaming together.
Match Stipulation win %: If the match has a special stipulation e.g. Triple Threat or Street Fight this takes a look at the competitor's performance in these types of matches.
Specific PPV win %: Does a certain wrestler have an affinity for a PPV e.g. Undertaker at Wrestlemania.
Location win %: Certain wrestlers compete better in certain arenas e.g. their home town, Latinos near the border.
Previous Meetings: This takes a look at who has the better record when the competitors have faced each other before.
Champions' Advantage: Everyone knows that it is easier to retain your title than win as a challenger. This just gives the champion that advantage in my analysis.
Hotness Factor: We all know that women's wrestling is all about the sex appeal and this is where I give a point to who I deem the hotter lady.
Company Status: The higher up in the company the more likely you are going to be pushed therefore the more likely you are to win, it's just basic logic.
My Analysis: This is my column so I should at least have one spot for me to have a say shouldn't I? Come on the stats already overpower the whole thing so what's it matter anyway? This is what I want to happen, not exactly what I see happening, just what I want.
Tie-Break: In the need of breaking a tie I refer to my ten year old son Zachery to choose the winner.

After doing 11 of these analyses in total I am currently correctly guessing 59% (43/73) and for WWE itself I am above this guessing 60% (34/57) correct in the 9 that I have done. As for Hell in a Cell itself I wish to fix a blemish on my record that occurred last year. You see last year's PPV was one of only two times when I have not been able to get at least half of the matches correct, only managing a pitiful 2 from 5 last year. Hopefully this year I will do a lot better, we better go find out shall we.


Eve Torres © v Kaitlyn v Layla
Criteria
Eve Torres
Kaitlyn
Layla
Criteria Winner
WWE win %
54%
72/133
42%
25/60
41%
68/168
Eve Torres
PPV win %
29%
4/14
100%
1/1
50%
11/22
Kaitlyn
Last 10
9
6
6
Eve Torres
Last 50
29
27
24
Eve Torres
Triple Threat
win %
0%
0/1
N/A
100%
1/1
Layla
Divas Title
win %
57%
8/14
0%
0/1
60%
6/10
Layla
Philips Arena
win %
50%
1/2
0%
0/1
100%
1/1
Layla


Champions Advantage: Eve Torres

Hotness Factor: Straight of the bat Kaitlyn does nothing for me; I am just not really interested in muscle clad women. Now with the other two it becomes a slightly harder choice as both of them do a lot for me personally. I have to give this criteria point to Eve though as I just find her one of the hottest women in wrestling today.

Company Status: I always hate doing company status for the women due to the fact that the women are treated so low by the powers that be. This one however seems a little bit easier. Again I will eliminate Kaitlyn as she is just the flavour of the month at the moment and will be back to being another nothing Diva. Now as shown by the WWE, because of how popular Layla got as part of LayCool, she has a high status in the company, including winning the title on her return from injury. But in saying that when her run with the title is shown as a failure who do they turn too, of course it is their new golden girl since Kelly has left none other than Eve Torres.

My Analysis: For the third time I am going to eliminate Kaitlyn, I just see no qualities in her that means she should have a job in the WWE at all, let alone going for the title at a PPV. Now any regular reader of my work knows that one thing I hate is non-wrestlers holding a title belt and the Diva's division is the worst culprit for doing so. Neither of these two girls could be classed as a proper wrestler but both of least show some talent, if only minor, between the ropes. While I would prefer neither of them holding the title in this case I will have to take the lesser of two evils and pick the winner as the lady who is the more skilled wrestler, therefore my point goes to Layla.

Prediction: Eve Torres (6-4-1 criteria)


Kofi Kingston © v The Miz
Criteria
Kofi Kingston
The Miz
Criteria Winner
WWE win %
59%
223/373
41%
161/392
Kofi Kingston
PPV win %
50%
22/44
36%
20/55
Kofi Kingston
Last 10
5
5
Draw
Last 50
31
13
Kofi Kingston
Intercontinental
win %
55%
11/20
80%
4/5
The Miz
HIAC PPV
win %
100%
2/2
0%
0/2
Kofi Kingston
Philips Arena
win %
17%
1/6
50%
3/6
The Miz


Past Meetings:
October 16 2012 – Main Event: Kofi by pinfall (IC title)
October 15 2012 – Raw: Kofi by pinfall
January 30 2012 – Raw: Kofi by pinfall
September 12 2011 – Raw: Miz by pinfall
August 8 2011 – Raw: Miz by pinfall
July 18 2011 – Raw: Miz by pinfall
February 15 2011 – Smackdown: Miz by pinfall
January 25 2010 – Raw: Kofi by pinfall
December 28 2009 – Raw: Kofi by pinfall
December 28 2009 – Raw: Kofi by DQ (US title, 2nd match)
October 5 2009 – Raw: Miz by pinfall (US title)
September 28 2009 – Superstars: Kofi won
September 13 2009 – Breaking Point: Kofi by pinfall (US title)
April 13 2009 – Raw: Kofi by DQ
Kofi Kingston 9-5

Champions Advantage: Kofi Kingston

Company Status: When you look at the inconsistent booking that The Miz has had over the last couple of years you start to wonder exactly what the people in charge think of him. At one time he was on the top of the heap, the World Champ, doing all the talk shows and even beat Cena at Wrestlemania. Then he pretty much dropped to the bottom of the card and was on the end of a massive losing streak. Now he has found some support again it seems but how long will that last. Kofi though seems to maintain his mid-to-high status that he has held for years now and seems like he will for some time to come.

My Analysis: Even though these two wrestlers have faced each other time and time again, I actually am very interested in the outcome of the match. As I just said in the last section The Miz has had some pretty weird booking over the last few years. What is the companies' direction for him now? With his movie on the horizon is his push going to be redone with a chance at once again seeing him in the main events or was his last mid-card title run just a quick transitional one. While I would like to see Miz have a longer reign with the belt I think that this match is in fact not about him. Kofi has been the leader of the tag division for the best part of 2 years now. By having this belt it his him distancing himself from that so he can finally move into that upper card spot that has been evading him for years. Kofi needs a decent reign to get him to where he belongs.

Prediction: Kofi Kingston (8-2 criteria)


Randy Orton v Alberto Del Rio
Criteria
Randy Orton
Alberto Del Rio
Criteria Winner
WWE win %
54%
286/526
48%
86/178
Randy Orton
PPV win %
47%
46/97
43%
10/23
Randy Orton
Last 10
7
5
Randy Orton
Last 50
32
26
Randy Orton
HIAC PPV
win %
67%
2/3
100%
1/1
Alberto Del Rio
Philips Arena
win %
50%
3/6
67%
2/3
Alberto Del Rio


Previous Meetings:
August 21 2012 – Smackdown: Del Rio by submission
August 20 2012 – Raw: Orton by pinfall
July 31 2012 – Smackdown: Orton by DQ
May 21 2012 – Raw: Orton by DQ
May 8 2012 – Smackdown: No Contest
Randy Orton 3-1-1

Company Status: With the amount of title shots Del Rio has been getting you would not be amiss to believe that he is the face of the company but alas he is not. In fact he is actually a long way back in the pecking order. While Randy Orton has lost his placing as the number two face of the company he is still near the top of the pecking order, well above where Del Rio will ever probably be.

My Analysis: While I will be one of the first in the group to say that I am sick of Del Rio getting constant title shots for no reason after losing them constantly I differ from the norm by saying that he should have won the belt at some stage in that run. But he didn't and now we find him in a match against Orton which is not for the title, even though it should be. This match is simply just filler for two potential contenders for the World Heavyweight Title, while a loss will not really hinder either of them going forward a win will help them stake their claim for the next shot at the title. I have already said that Del Rio shouldn't have any shots for now; he needs to wait his turn back in line and wait for some time to pass before he once again goes for the strap. Orton on the other hand is a long time gone from the title picture and needs to move back into contention and this could be the stepping stone he needs.

Prediction: Randy Orton (7-2 criteria)


Team Hell No © v The Rhodes Scholars
Criteria
Kane
Daniel Bryan
Cody Rhodes
Damien Sandow
Criteria Winner
WWE win %
50%
446/886
47%
98/120
47%
145/308
54%
29/54
Rhodes Scholars
PPV win %
41%
60/145
59%
27/46
33%
12/37
0%
0/3
Hell No
HIAC PPV
win %
100%
1/1
100%
1/1
50%
1/2
N/A
Hell No
Philips Arena
win %
43%
3/7
50%
1/2
57%
4/7
0%
0/1
Rhodes Scholars
Criteria
Team Hell No
The Rhodes Scholars
Criteria Winner
Last 10
9
6
Hell No
As Team
71%
10/14
60%
6/10
Hell No
Tag Team Titles
win %
100%
3/3
N/A
Hell No


Previous Meetings:
September 18 2012 – Smackdown: Hell No by DQ (lumberjack)
Team Hell No 1-0

Champions Advantage: Team Hell No

Company Status: Well isn't this a hodgepodge of different positions in the company. Firstly you have Kane, the veteran who could be relied on for whatever they need of him. Next you have his partner Daniel Bryan who this year has become the most charismatic member on the roster and gets better reactions than any other wrestler. On the other side you have Cody Rhodes, one of the most consistent performers of the last few years who the company hopes to be a star of the future. Lastly there is his partner Damien Sandow, the man who has been touted (no social network) as the heir-apparent Triple H's favourite. Even with the special advantage of Triple H I have to give this point to Team Hell No for as a team they mean more to the company due to the fact that they are garnering more from the crowd.

My Analysis: This match is another that really intrigues me; I would love to see where the WWE plan on going with this. While both teams are acting like tag teams they are in fact just four separate superstars thrown into a temporary storyline. If these teams were to split-up next week no one will really be offended, I mean we will temporarily be sad due to the fact that they were good teams for the short period of time they were together but we all understand that they were just another throw together team and not an actual full time team. So in looking at this I need to decide who I want to see disbanded sooner rather than later and the answer is The Rhodes Scholars. It is no real secret that I am a fan of Cody and would like to see him move into the main event circuit and I think Sandow should have a run with a mid-card title to see how he can handle it. While I am also a Daniel Bryan fan I am happy with where he is at the moment as his team with Kane has been one of the most entertaining parts of the WWE this year. My point goes to Team Hell No.

Prediction: Team Hell No (9-2 criteria)


Sheamus © v The Big Show
Criteria
Sheamus
The Big Show
Criteria Winner
WWE win %
62%
161/259
53%
386/725
Sheamus
PPV win %
52%
17/33
40%
60/149
Sheamus
Last 10
7
6
Sheamus
Last 50
44
21
Sheamus
World Title
win %
80%
12/15
26%
6/23
Sheamus
HIAC PPV
win %
50%
1/2
100%
1/1
Big Show
Philips Arena
win %
67%
2/3
46%
6/13
Sheamus


Champions Advantage: Sheamus

Company Status: This match seems eerily similar to one half of each of the teams in the last match. On one side you have Sheamus, a wrestler who has been noted as a favourite of Triple H, the guy who pretty much has his hand on the control button of the WWE. On the other side you have The Big Show, the veteran who can be relied on whenever he is called upon to do what it is that they need him to do. Looking at the booking you know that Triple H's favouritism has not subsided and therefore this point goes to Sheamus.

My Analysis: To be honest I have been over Sheamus title reign for a long time now, actually I have been over it since it begun. While I wanted him to win the title I was not happy with the way he got it. Putting that aside, his character for his entire run has been appalling. In a time when the WWE is touting "Be a STAR", why is it that there FACE champion is being booked as the biggest bully in the company. I mean isn't he supposed to be the man standing up to the bullies not the guys who are supposed to be the HEELS? It is this sort of booking that really infuriates me and makes me wonder how stupid the writers think we are. However when I look at who his opponent is I have to think do I really want to see the title around his waist again, and my answer is yes as I want to see if they can beat the record from last year when Ziggler cashes in his Money in the Bank contract on him. In the end I have to give my point to The Big Show just to get the title off of the WWE's biggest contradiction.

Prediction: Sheamus (8-2 criteria)


CM Punk © v Ryback
Criteria
CM Punk
Ryback
Criteria Winner
WWE win %
53%
226/426
88%
56/64
Ryback
PPV win %
45%
41/92
80%
4/5
Ryback
Last 10
3
10
Ryback
Last 50
28
48
Ryback
WWE Title
win %
67%
20/30
N/A
CM Punk
Hell In A Cell
win %
0%
0/3
N/A
Draw
HIAC PPV
win %
0%
0/2
N/A
Draw
Philips Arena
win %
0%
0/6
N/A
Draw


Champions Advantage: CM Punk

Company Status: While Ryback is being pushed to the stars at the moment you know it is just a testing of the waters for the future. The true person with high company status in this match is Punk; there is a very good reason why they have left the title on him for close to a year now.

My Analysis: If this match ends up anything but a no contest I will be pleasantly surprised, or more to the truth I will be absolutely disgusted. If Punk wins then Ryback loses absolutely all momentum he has built up. He will no longer be this unstoppable machine that he has been built up to be, instead he will be but one of us mere mortals. I really believe that this main event match was put on him way to early but it is good to see the WWE actually capitalise on momentum for a change. On the other hands if Ryback wins what does that do to the belt. Punk's lengthy reign gets stopped by what could realistically be labelled as a no-name. This is a really big rub that quite honestly Ryback has not proved himself worthy of. In fact I believe he has not proved himself worthy of a title run at all yet and still needs some time. But I have to give the point to someone though as I can't give out a no contest according to my rules, so to do that I have to look towards the future, in particular towards January. We all know that The Rock lays in wait for the WWE Champion at the Royal Rumble and I have to think about who I would like to see him face in this what would have to be considered a one-off match. Honestly Ryback does not feature in any scenario I can think of, I do not want to see him face The Rock in what could potentially be one of his last matches. I know Ryback could potentially loose the title to someone else before then but I don't want to take that risk so my point goes to Punk.

Tie Breaker: As we find ourselves at a 4-all draw the deciding point goes to my son Zachery. He gives the point to CM Punk citing "Ryback is not ready for the title" as his reasoning.

Prediction: CM Punk (5-4 criteria)



Well there you have it folks, another pre-PPV Analysis in the books. Looking at my predictions I feel like I might be able to finally get that elusive 100% correct, what do you think? Please feel free to leave me feedback including any ideas you may have to improve my criteria and I will see you all next time, oh and remember THE STATS NEVER LIE.



Feedback:
E-Mail: zzzorf@yahoo.com
Twitter:

Facebook: Add me as a friend here

Me and My Mates: Dream Matches 6 - Tag Team Turmoil (Match 7: Beer Money, Inc v The New Age Outlaws)
The King of Stats presents the 2013 WWE Superstar of the Year - #1 Daniel Bryan
The King of Stats presents the 2013 WWE Superstar of the Year - #10 to #6
The King of Stats presents the 2013 WWE Superstar of the Year - #15 to #11
The King of Stats presents the 2013 WWE Superstar of the Year - #20 to #16
The King of Stats presents the 2013 WWE Superstar of the Year - #25 to #21