---



The King of Stats gives his pre-PPV Analysis of Extreme Rules 2013


By zzzorf
May 19, 2013 - 3:16:08 AM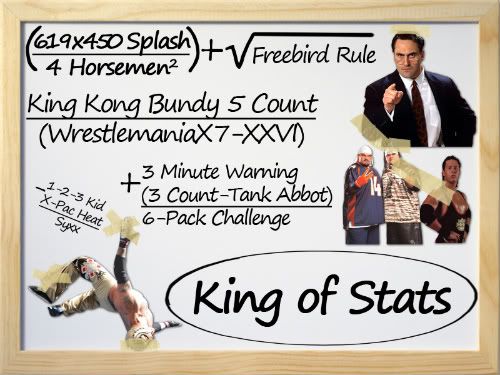 Welcome back one and all to the most in depth PPV preview column to have ever graced the pages of Lords of Pain, I am your host the King of Stats and it is time to see who the numbers say will win at the next WWE PPV Extreme Rules. Yes you all have read that correctly, finally the pre-PPV Analysis has returned after being on a hiatus since November last year.

For those of you who haven't seen one of my prediction columns before let me just explain how this all works and why it is more in depth than any other prediction column you may read. You see my predictions are based on a more statistical approach instead of using gut feelings and the like. To make my prediction I use a certain set of criteria and whoever wins the most is thus made my pick. The criteria I use can be made up of any of the following:-

Last 10: This takes a look at how the wrestlers have been booked in recent times.
Last 50: This takes a broader look at how they have been booked over the last 6-12 months.
Company win %: This takes an even broader look at how the wrestler has been booked for their entire career in the company.
PPV win %: This takes a look at how the wrestler goes on the bigger stage of PPV.
As Team: When in a tag team match, this looks at who has a better win/loss when teaming together.
Match Stipulation win %: If the match has a special stipulation e.g. Triple Threat or Street Fight this takes a look at the competitor's performance in these types of matches.
Specific PPV win %: Does a certain wrestler have an affinity for a PPV e.g. Undertaker at Wrestlemania.
Location win %: Certain wrestlers compete better in certain arenas e.g. their home town, Latinos near the border.
Previous Meetings: This takes a look at who has the better record when the competitors have faced each other before.
Champions' Advantage: Everyone knows that it is easier to retain your title than win as a challenger. This just gives the champion that advantage in my analysis.
Hotness Factor: We all know that women's wrestling is all about the sex appeal and this is where I give a point to who I deem the hotter lady.
Company Status: The higher up in the company the more likely you are going to be pushed therefore the more likely you are to win, it's just basic logic.
My Analysis: This is my column so I should at least have one spot for me to have a say shouldn't I? Come on the stats already overpower the whole thing so what's it matter anyway? This is what I want to happen, not exactly what I see happening, just what I want.
Tie-Break: In the need of breaking a tie I refer to my ten year old son Zachery to choose the winner.

While not giving an absolute perfect record (I think only creative could pick it 100% of the time, actually scratch that, I don't even think they could) I am still able to correctly calculate the winner 3 times out of every 5 matches (I am 61% (53/87) overall and 60% (38/63) in the WWE) after doing 13 different analyses (10 for the WWE). Last year for Extreme Rules I managed to get 4 from 6 and hope to once again make it over the 50% mark.

This time however a new feature will be added to the column but will not have a bearing on the actual prediction. The last time I did one of these a reader commented how he wasn't impressed with my, at the time, 59% success rate and said he could pick better without stats. He asked could I do one where I compare my stats against my own personal predictions and see which one comes out on top. As I think this was a good idea I have decided that from now on I will be putting my own personal prediction after the prediction arrived at by the analysis. Well that is enough talk, let's get to the stats shall we.



The Miz v Cody Rhodes
Criteria
The Miz
Cody Rhodes
Criteria Winner
WWE Win %
43%
188/434
45%
163/359
Cody Rhodes
PPV win %
35%
22/62
33%
14/42
The Miz
Last 10
7
4
The Miz
Last 50
31
17
The Miz
Extreme Rules
win %
40%
2/5
50%
1/2
Cody Rhodes
Scottrade Center
win %
43%
3/7
0%
0/3
The Miz


Previous Meetings:
February 19 2013 – Smackdown: Miz by submission
February 12 2013 – Smackdown: Miz by submission
February 11 2013 – Raw: Miz by DQ
The Miz 3-0

Company Status: When looking at the careers of these two guys you can sort of see a major trend that they both have which makes it hard to split these guys here. They are both young up and coming stars who have shown over the years that they can perform to a high extent when called upon. They have both had ups and downs through pushes and then the so-called de-pushes that follow them (seriously how you all expect everyone to be pushed at all times is beyond me). If I was to pick any time in their careers for this match to take place I would have to do the same thing I am here, give the criteria win to the wrestler who seems to be getting the bigger push at the present, and therefore the point this time has to go to The Miz.

My Analysis: I know this is a pre-show match and all that but honestly what is the point in this match? I mean there is virtually no story behind this match, no benefit to the winner except for the normal win/loss idea which quite honestly has been shown by the WWE not to really mean much to them any more anyway. All they have successfully done is lumped two guys who didn't have a match on the PPV (remembering there are wrestlers who are actually involved in feuds who don't have a match) and put them in a Raw worthy match to get people to watch the free show before hand without giving us a reason to want to watch them. Anyway as to the winner of this match I only want to see the match go one way as I am of course a Cody Rhodes fan whereas like the majority of you I am not that big on The Miz.

Analysis Prediction: The Miz (6-3 criteria)
My Prediction: The Miz



Chris Jericho v Fandango
Criteria
Chris Jericho
Fandango
Criteria Winner
WWE win %
44%
322/729
34%
24/71
Chris Jericho
PPV win %
41%
60/147
67%
2/3
Fandango
Last 10
6
8
Fandango
Last 50
17
19
Fandango
Extreme Rules
win %
33%
1/3
N/A
Chris Jericho
Scottrade Center
win %
33%
3/9
0%
0/1
Chris Jericho


Previous Meetings:
April 7 2013 – Wrestlemania 29: Fandango by pinfall
Fandango 1-0

Company Status: Without a doubt Jericho is a major player in the WWE world, a future Hall of Famer he has earned the right to have major status and thus gets to pretty much write his own contract in terms of his availability and paycheck. However in saying that there must be a clause somewhere on that contract put in by the WWE that says when he is available to the WWE his sole purpose is to put over the wrestler he is in a feud with, thus making his high status mute. On the other hand though you have Fandango who has shown to be the flavour of the month for the powers that be and is therefore riding high on the status that that position holds.

My Analysis: I don't like Fandango and no it is not because of his gimmick, I can handle that as I started watching wrestling over 20 years ago when the weirder the gimmick the more likely the wrestling companies were willing to try it out. I mean I don't like Fandango, even back in the days he was Johnny Curtis. I never liked him in NXT and believe he should not have been the person to win his season and nothing he has done since has changed my opinion of him. Easy point to Jericho here.

Analysis Prediction: Fandango (5-4 criteria)
My Prediction: Chris Jericho



Randy Orton v The Big Show
Criteria
Randy Orton
Big Show
Criteria Winner
WWE win %
54%
325/602
53%
412/774
Randy Orton
PPV win %
46%
47/102
40%
62/155
Randy Orton
Last 10
8
5
Randy Orton
Last 50
34
27
Randy Orton
Extreme Rules
Match win %
0%
0/1
100%
4/4
Big Show
Extreme Rules
win %
50%
2/4
50%
3/6
Draw
Scottrade Center
win %
50%
3/6
30%
3/10
Randy Orton


Previous Meetings:
February 26 2013 – Smackdown: Draw – no contest
October 9 2012 – Main Event: Show by pinfall
September 25 2012 – Smackdown: Show by pinfall
August 6 2012 – Raw: Draw – double countout
February 13 2012 – Raw: Orton by DQ
August 10 2009 – Raw: Show by countout
The Big Show 3-1-2

Company Status: If Miz and Cody was hard to decipher where they fell in this category than it is damn near impossible here with both guys being in places high up the ladder. Both of these guys are main event talent who hold major positions in the company. In the end I had to take into consideration the last year and with a run as World Champion compared to a second wellness policy breach than The Big Show has definitely got a better position in the company than Orton at the moment.

My Analysis: Everybody I have read something from is bitching and moaning about this feud and how honestly they just don't care about it in the slightest. What I say to them is hey it could have been worse. While this hasn't been the greatest feud either guy has been involved in at least it is something to keep them busy for now and is leading to a match that quite honestly both guys have the talent to pull off a decent match in. Is it going to be a five star classic, well no, it won't even get close I believe but it should be enough that it will at least make for some entertaining viewing. As to who I would like to see win, well I will have to side with Orton as I still want to see him move back into the main event seen (or TNA, whichever comes first).

Analysis Prediction: Randy Orton (6-3 criteria)
My Prediction: Randy Orton



Sheamus v Mark Henry
Criteria
Sheamus
Mark Henry
Criteria Winner
WWE win %
64%
206/320
46%
220/474
Sheamus
PPV win %
46%
18/39
35%
21/60
Sheamus
Last 10
7
7
Draw
Last 50
37
31
Sheamus
Strap Match
win %
N/A
0%
0/1
Draw
Extreme Rules
win %
67%
2/3
0%
0/1
Sheamus
Scottrade Center
win %
80%
4/5
67%
4/6
Sheamus


Previous Meetings:
April 24 2012 – Smackdown: Sheamus won
April 23 2012 – Raw: Henry by pinfall
February 20 2012 – Raw: Sheamus by pinfall
August 23 2011 – Smackdown: Sheamus by countout
August 14 2011 – Summerslam: Henry by countout
February 21 2011 – Raw: Henry by pinfall
June 28 2010 – Raw: Sheamus by pinfall
May 24 2010 – Raw: Sheamus by pinfall
Sheamus 5-3

Company Status: Just like in the last match I have to compare the last year to come up with a decision for this criteria. While Henry is a big star with his injury proneness he has been of late you would have to expect that his status with the company has to be a bit up in the air. Compare that to the year that Sheamus had last year and you would have to believe the company still hold Sheamus high.

My Analysis: This match once again follows the lines of the previous match in that I have heard nothing good said about this feud and once again I say it could have been worse. Where it differs from the last match is in the match stipulation that makes this match not as appealing on paper. I am not a fan of the strap match, whoops sorry I will rephrase that. I am a fan of a strap match for the use of the strap, I think what these two will do with it as a weapon will outshine anything Orton or Show use in their Extreme Rules match. No what I hate about this match and will ultimately ruin it for me is the way this match is won, the touching the four corners idea is one of the stupidest ways I have ever seen to win a match and will take a lot of my enjoyment out of the match. As to the winner I want to see Henry go over here as I still cannot buy Sheamus as a face when in a PG era he is still the biggest bully character on the roster, well second after Henry anyway.

Analysis Prediction: Sheamus (7-1 criteria)
My Prediction: Mark Henry



Team Hell No © v The Shield
Criteria
Daniel Bryan
Kane
Roman Reigns
Seth Rollins
Criteria Winner
WWE win %
48%
127/264
51%
479/939
82%
14/17
67%
24/36
The Shield
PPV win %
55%
29/53
41%
63/152
100%
3/3
58%
11/19
The Shield
Extreme Rules
win %
0%
0/1
50%
1/2
N/A
N/A
Team Hell No
Scottrade Center
win %
67%
2/3
50%
6/12
N/A
N/A
Team Hell No
Criteria
Team Hell No
The Shield
Criteria Winner
Last 10
8
8
Draw
As Team
67%
32/48
78%
18/23
The Shield
Tag Team Titles
win %
88%
7/8
N/A
Team Hell No


Champions Advantage: Team Hell No

Company Status: This is another icky one here as you have two different ways I could go. On one side you have Team Hell No, easily two of the biggest stars in the company and two guys that can be relied on to put on a good performance whenever they are in the ring. On the other side of the equation you have The Shield, the heel stable who in all honesty is being pushed through the roof, beating every major star put in their way. I have to give this one to Hell No as the main event guys they have to higher up the status at the moment but it wouldn't be by much.

My Analysis: Since the beginning of the year I have been calling for Team Hell No to lose the titles but not because I want to see them lose the titles but just the timing seemed right. First it was The Rhodes Scholars I believe should have won the titles. They were at the peak of their teaming at the time and a title reign would have helped solidify them, instead Team Hell No kept the title and the Rhodes Scholars suffered including being removed from Wrestlemania and now one off the card altogether and the other jobbing to Miz on Extreme Rules. Next it was that they were about to feud and while their wasn't really anyone worthy to drop the title too but I would have been happy with a 1on1 match for the titles so that one of them could officially say "I am the tag team champions". Instead that feud was thrown out the door for a match with a thrown together team so that Ziggler had something to do. Once again I think it is time for them to lose the titles, Shield need to win as it is their next step in their evolution.

Analysis Prediction: Team Hell No (5-4 criteria)
My Prediction: The Shield



Kofi Kingston © v Dean Ambrose
Criteria
Kofi Kingston
Dean Ambrose
Criteria Winner
WWE win %
58%
225/387
66%
27/41
Dean Ambrose
PPV win %
49%
24/49
58%
7/12
Dean Ambrose
Last 10
6
6
Draw
Last 50
25
34
Dean Ambrose
US Title
win %
83%
15/18
N/A
Kofi Kingston
Extreme Rules
win %
100%
2/2
N/A
Kofi Kingston
Scottrade Center
win %
40%
2/5
N/A
Kofi Kingston


Champions Advantage: Kofi Kingston

Company Status: There was once a time I would have did this match the same way I did the last one and given the point here to Kofi as he was normally the biggest name in the company not part of the main event scene, the John Cena of the midcard. This year however I am not so sure on that with for where for some unknown reason he has fallen from his high perch and was little better than a jobber. Yes he champion know but it is blatantly obvious he was just a transitional champion for someone. That person is not Fandango (or even Jack Swagger) as most people assumed but in fact seems to be Dean Ambrose instead. This makes sense as Ambrose seems to be the member of the Shield who the WWE seem to be putting the most faith in to lead the group to higher things.

My Analysis: Anyone who read my column a couple of weeks ago about the WWE title picture would know that I am not very happy with Kofi having the belt. While I won't say the title picture is the worse it has ever been I will have to say that it is not in good shape at the moment. The champions are treated little better than lower card talent and do not represent the strong midcard that they are supposed to be part of. Where though Kofi has been booked week all year the opposite can be said about Dean Ambrose. The Shield have been painted as the biggest force in the WWE, even going over the biggest stars in the company. This is the sort of booking which makes for a better title division and hopefully Ambrose is the start of bringing back some prestige to the US Title.

Analysis Prediction: Dean Ambrose (5-4 criteria)
My Prediction: Dean Ambrose



Alberto Del Rio v Jack Swagger
Criteria
Alberto Del Rio
Jack Swagger
Criteria Winner
WWE win %
52%
120/231
40%
113/286
Alberto Del Rio
PPV win %
52%
15/29
31%
11/36
Alberto Del Rio
Last 10
7
5
Alberto Del Rio
Last 50
23
21
Alberto Del Rio
I Quit Match
win %
N/A
N/A
Draw
Extreme Rules
win %
0%
0/1
67%
2/3
Jack Swagger
Scottrade Center
win %
0%
0/2
25%
1/4
Jack Swagger


Previous Meetings:
April 23 2013 – Smackdown: Swagger by pinfall (no DQ)
April 16 2013 – Smackdown: Del Rio by pinfall
April 7 2013 – Wrestlemania 29: Del Rio by submission (World Title)
Alberto Del Rio 2-1

Company Status: Both guys here are relatively high up in the company at the moment but I have to give the edge to Del Rio here. He is their chosen Hispanic star at the moment which means he is very important to the company. Also he has not got the arrest and the big Ziggler injury weighing down his status with the company.

My Analysis: It is such a shame that this match had to be changed, I was really looking forward to what the Ladder Match would bring, through my work of late I have reawakened my love of that type of match. I understand the reasoning about changing the match to an I Quit match (to make the match seem more important) but I would have preferred if they had just left it as a Ladder Match, either just the two of them or by adding in one or two more wrestlers to replace Ziggler. As to the winner of this match well honestly do either of them have to win? I would prefer if others were fighting for the title but it is what it is and I can only deal with what is in front of me. I have made it known that I am not a great fan of Swagger, I just don't buy into his potential as a star. However the gimmick that he and Zeb have at the moment are one of the more entertaining things going around on wrestling at the moment, I just wish it was given to someone else instead. In the end I will give my point here to Del Rio as I prefer him as a wrestler and it makes more sense going forward that the face gets the win to face the heel Ziggler (unless they plan on turning Ziggler soon to counter the fan support he has).

Analysis Prediction: Alberto Del Rio (7-2 criteria)
My Prediction: Alberto Del Rio



Triple H v Brock Lesnar
Criteria
Triple H
Brock Lesnar
Criteria Winner
WWE win %
53%
384/728
67%
64/96
Brock Lesnar
PPV win %
51%
78/154
59%
17/29
Brock Lesnar
Last 10
6
7
Brock Lesnar
Last 50
32
26
Triple H
Steel Cage
win %
45%
5/11
67%
2/3
Brock Lesnar
Extreme Rules
win %
0%
0/1
0%
0/1
Draw
Scottrade Center
win %
67%
6/8
0%
0/1
Triple H


Previous Meetings:
April 7 2013 – Wrestlemania 29: HHH by pinfall (no holds barred)
August 19 2012 – Summerslam: Lesnar by submission
Draw 1-1

Company Status: Even though Brock is a mega-star and means a lot to the WWE as a draw card, hence the big bucks thrown at him, he is just out manoeuvred for this point, I mean come on Triple H basically owns the company.

My Analysis: Another match that everybody is complaining about and for the third time I say it could be worse. I for one am glad that they are even on the card, I mean how often do we see them wrestle at all nowadays, hell how often have we even ever got to see Brock Lesnar wrestle at all. I got a shock when I looked at how little Brock had actually wrestled for the WWE, 96 matches seems a little small for what he has managed to accomplish in his time with the company. But my point was I don't really care that we are seeing these two go at each other one more time in a rubber match because an alternative could have been for them to not be on the card at all like most other PPV's throughout the year. As to the Cage Match stipulation well why not? Is not the purpose of a steel cage to end feuds? Was this not the way it was done in the past? This match changes type changes up what we have come to expect from their match-ups. There cannot be any big spots outside the ring as the cage should be attached to the ring like in the days past. This means that the two guys have to rely on the talent that has made them the biggest names in the business. Honestly I am calling this as the match of the feud before I have even seen it. As to the winner personally I would prefer to see Triple H walk out with the victory as for me he is by far the better professional wrestler in the match, well at least to me he is anyway. Also in terms of the storyline it makes more sense for the good guy to finally prevail against the big ugly monster that has attacked himself, his family and friends and the company that he holds so dear.

Tie Breaker: As we are tied at 4-all I turn to my son Zachery for the deciding vote and he gives the win to Triple H, his reasoning "just because". OK Zac you normally give me a better reason than that, could it be the fact that you have always hated Brock? Oh well it counts either way.

Analysis Prediction: Triple H (5-4 criteria)
My Prediction: Triple H



John Cena © v Ryback
Criteria
John Cena
Ryback
Criteria Winner
WWE win %
67%
403/600
82%
85/104
Ryback
PPV win %
60%
68/114
36%
4/11
John Cena
Last 10
8
7
John Cena
Last 50
40
39
John Cena
WWE Title
win %
63%
54/86
0%
0/3
John Cena
Last Man Standing
win %
60%
3/5
N/A
John Cena
Extreme Rules
win %
100%
4/4
100%
1/1
Draw
Scottrade Center
win %
67%
9/12
N/A
John Cena


Champions Advantage: John Cena

Company Status: Yeah sorry Ryback but company golden boy Cena gets this one.

My Analysis: OK let me be honest here, I have been eagerly awaiting this match-up since it was hinted at last year around Hell in a Cell time. At the time Ryback was being pushed through the roof and looked like someone who could possibly give Cena a good run for his money. My only problem now is that my eagerness has waned a fair bit. While I am still looking forward to the match it is no longer a must see match for me. Since Hell in a Cell the character of Ryback has seen a tremendous drop. He is no longer the monster he once was and now instead of people saying he could be the wrestler to dethrone Cena but now he is practically given no chance to even beat him in a match. In fact ex-Main Page writer Mizfan wrote it best last month in his column from the CF entitled Rybacktracking (which can be viewed here) about just how far the character has fallen and the damage it could now do to what could have been a promising career. The heel turn though is the final straw though that has ruined it for me. I was looking forward to the so called passing of the torch ala Hogan v Warrior but it is not to be. No Cena has to win this as Ryback is not the right man any more to drop the title too, he needs to hold the belt for a little longer so that he can drop it to someone more worthy later this year.

Analysis Prediction: John Cena (9-1 criteria)
My Prediction: John Cena


Well that brings us to the end of the matches that have been signed for Extreme Rules. Do you the readers think the stats got it right this time or do you think that maybe I have better picked what the WWE is going to do? Anyway it is time for me to go, I will be back in the coming days with the final edition of my Lords of Ladders series so keep your eyes peeled so until then remember THE STATS NEVER LIE.



Feedback:
E-Mail: zzzorf@yahoo.com
Twitter:

Facebook: Add me as a friend here
Me and My Mates: Dream Matches 6 - Tag Team Turmoil (Match 7: Beer Money, Inc v The New Age Outlaws)
The King of Stats presents the 2013 WWE Superstar of the Year - #1 Daniel Bryan
The King of Stats presents the 2013 WWE Superstar of the Year - #10 to #6
The King of Stats presents the 2013 WWE Superstar of the Year - #15 to #11
The King of Stats presents the 2013 WWE Superstar of the Year - #20 to #16
The King of Stats presents the 2013 WWE Superstar of the Year - #25 to #21