---



The King of Stats gives his pre-PPV Analysis of Bound for Glory 2012


By zzzorf
Oct 14, 2012 - 6:44:40 AM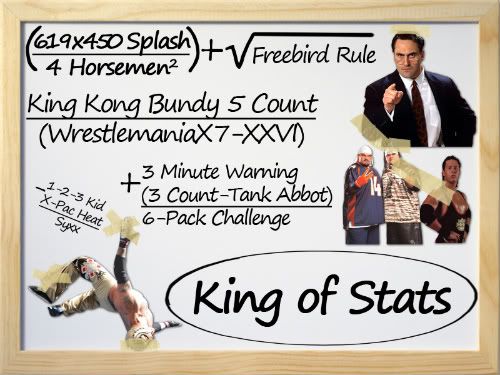 Welcome everyone to the greatest prediction column ever to grace the pages of Lords of Pain. I am the person for whom wrestling is all about the numbers, the man known the world over as the King of Stats. With TNA's premier PPV Bound for Glory on this weekend I thought it was the perfect time to introduce to you all my most famous column series, the pre-PPV Analysis. What is the pre-PPV Analysis I here you ask, well let me explain it to you all and things will start to become clearer.

Nearly every wrestling column writer you will ever read will at some time write a PPV prediction column and I am no different. What makes me different though is the way I make my predictions. You see I don't let silly things like gut instinct or even common sense play a part in my decisions; I wouldn't be called the King of Stats if that was the case. No instead I let the stats do all the talking by taking a look at certain criteria that I have developed for this series. The criterion for each match is made up of any combination of the following that are relevant for that particular match:-

Last 10: This takes a look at how the wrestlers have been booked in recent times.
Last 50: This takes a broader look at how they have been booked over the last 6-12 months.
Company win %: This takes an even more broader look at how the wrestler has been booked for their entire career in the company.
PPV win %: This takes a look at how the wrestler goes on the bigger stage of PPV.
As Team: In a tag team match this looks at who has a better win/loss when teaming together.
Match Stipulation win %: If the match has a special stipulation e.g. Triple Threat or Street Fight this takes a look at the competitor's performance in these types of matches.
Specific PPV win %: Does a certain wrestler have an affinity for a PPV e.g. Undertaker at Wrestlemania.
Location win %: Certain wrestlers compete better in certain arenas e.g. their home town, Latinos near the border.
Previous Meetings: This takes a look at who has the better record when the competitors have faced each other before.
Champions' Advantage: Everyone knows that it is easier to retain your title than win as a challenger. This just gives the champion that advantage in my analysis.
Hotness Factor: We all know that women's wrestling is all about the sex appeal and this is where I give a point to who I deem the hotter lady.
Company Status: The higher up in the company the more likely you are going to be pushed therefore the more likely you are to win, it's just basic logic.
My Analysis: This is my column so I should at least have one spot for me to have a say shouldn't I? Come on the stats already overpower the whole thing so what's it matter anyway? This is what I want to happen, not exactly what I see happening, just what I want.
Tie-Break: In the need of breaking a tie I refer to my ten year old son Zachery to choose the winner.

At the end of each match I tally up the criteria wins and whoever scores the most is then my prediction to win. Now I can hear you all mumbling, what a silly way to predict wrestling it will never work. Well let me give you some figures to show you how well I have done in the past then shall I?

For Bound for Glory last year my system was able to pick 5 of the 9 matches correct, something I am hoping to do better than this year. In the previous 10 of these I have done in the forums I have correctly predicted 39 of 67 matches which sees me batting at 58% correct, which is actually the lowest it has been in a long time due to a poor performance in the last one I did for Summerslam.

I could toot my own horn for the rest of the column but I don't think you came here to read that so let's get this show on the road shall we?


Zema Ion © v Rob Van Dam
Criteria
Zema Ion
Rob Van Dam
Criteria Winner
TNA Win %
55%
16/29
59%
55/93
Rob Van Dam
PPV Win %
64%
7/11
60%
55/92
Zema Ion


Last 10
7
5
Zema Ion
Last 50
24
25
Rob Van Dam
X-Division Title
Win %
54%
7/13
N/A
Zema Ion
Bound for Glory
Win %
N/A
100%
2/2
Rob Van Dam
Phoenix Win %
N/A
25%
1/4
Rob Van Dam


Champions Advantage: Zema Ion

Company Status: TNA must see something in Ion that most of us don't really see as they have gone out of their way to make him the face of the X-Division over the past few months, but then again he is the face of a dying division. You get the feeling that he is only in the place he is because they just have no one else to put in his place, even if I personally think there are more wrestlers worthy than him to hold the strap. RVD on the other hand seems to be one of the favourites of the staff when looking for ratings and always finds himself hovering around that main event area. The fact that he is even in this thrown together match shows how high they rate him by having to find him some random opponent just to make it on the card, so this point has to go to him.

My Analysis: I think I may have given you the impression that I don't like Ion and that is far from the truth. I feel that he has the ability to become a minor star of the wrestling world in the future; he just needs to have a bit more time to practise his craft. While I said someone else should have the belt I don't necessarily think that RVD is that person. Don't get me wrong I am a fan of RVD and have been for a very long time, I just don't think the X-Division is the place for him. He fits the mould of what the division used to be, the days when Samoa Joe, AJ Styles and Daniels were the leaders but the division now is really just your everyday Cruiserweight variety. Unless those other names come back to the X-Division having RVD as the champion would see him be too dominate for his opponents. Ion needs to keep his title for now to drop it to someone better suited in the near future.

Tie Break: Zac says he thinks they will give the title to RVD to give him something to do before moving back up to the main event.

Prediction: Rob Van Dam (7-6 criteria)



Samoa Joe © v Magnus
Criteria
Samoa Joe
Magnus
Criteria Winner
TNA Win %
58%
137/236
44%
28/63
Samoa Joe
PPV Win %
56%
44/78
45%
9/20
Samoa Joe
Last 10
6
2
Samoa Joe
Last 50
24
23
Samoa Joe
TV Title
Win %
100%
2/2
N/A
Samoa Joe
Bound For Glory
Win %
38%
3/8
100%
1/1
Magnus
Phoenix Win %
0%
0/1
N/A
Draw


Previous Meetings:
August 15 2012 – Impact: Joe by pinfall
Samoa Joe 1-0

Champions Advantage: Samoa Joe

Company Status: This is always the hardest company status to work out. On one side of the coin you have the companies fall back guy, someone who has been with the company for a lengthy amount of time and at one time being its biggest star. On the other side of the coin you have an up and coming wrestler who could very well be a star of the future, someone who is in the match to get the rub from the vet. In the majority of these cases I have to go with the vet over the rookie and this match is no exception. Samoa Joe is one of the biggest stars on the TNA roster and despite their poor booking of him over the years he would have to be held in high regard by the powers that be.

My Analysis: First things first I have to say it's about bloody time TNA actually booked Joe in a consistent manner. This past year has been one of the better years he has had in a long time due to the fact he has been booked in a more dominate style. No matter how good he has been booked though you know that he only won the TV title to lose it to Magnus and I highly agree with the logic behind it. The push received by Magnus by winning the title from a name like Joe at the biggest PPV of the year in what will hopefully be one of the better matches of the night will do wonders for his career. No matter how much I enjoy seeing Joe winning more constantly this is on he has to lose, TNA has the chance to make Magnus a star here and hopefully will not drop the ball again.

Prediction: Samoa Joe (8-2 criteria)



Al Snow v Joey Ryan
Criteria
Al Snow
Joey Ryan
Criteria Winner
TNA Win %
0%
0/1
0%
0/1
Draw
Career Win %
39%
178/453
45%
88/195
Joey Ryan
PPV Win %
25%
9/26
N/A
Al Snow


Last 10
4
2
Al Snow
Last 50
16
22
Joey Ryan
Phoenix Win %
100%
1/1
0%
0/1
Al Snow


Company Status: Well this is a unique scenario here, something I have not had to try to decipher in any of my past analysis. The first competitor is someone who for his entire career with TNA has been a backstage agent, working with others to make the product the best that they could. The other by all theory doesn't even work with the company (even though he is down as a member of their roster). While it's well enough to say Snow has high status in the company for his work as an active competitor it is very minimal and even though Ryan is trying to win his contract, as an active wrestler his company status must be higher.

My Analysis: I am not really interested in this angle and it has nothing to do with the two wrestlers involved, in fact I am chopping at the bits to see Al Snow back in action again. Instead my lack of interest is due to the Gut Check idea that spawned this feud. When the idea was originally put forward all those months ago I was quite looking forward to see where it would take us. I figured we would get a few no's leading up to a yes which could help make the individual who received it. In reality though we have had a few hopefuls who have received a yes, none of which have been seen on TV again, spending all of their time in OVW instead. The one guy we have seen over and over again in fact got given a no which makes you question the legitimacy of the angle. No matter how big a fan I am of Al Snow I want Joey Ryan to win this match just so we can actually have a payoff for the angle.

Prediction: Joey Ryan (4-3 criteria)



Miss Tessmacher © v Tara
Criteria
Miss Tessmacher
Tara
Criteria Winner
TNA Win %
62%
24/39
49%
44/90
Miss Tessmacher
PPV Win %
43%
3/7
36%
14/39
Miss Tessmacher
Last 10
7
6
Miss Tessmacher
Last 50
24
24
Draw
Knockout Title
Win %
64%
7/11
39%
7/18
Miss Tessmacher
Bound for Glory
Win %
N/A
50%
1/2
Tara
Phoenix Win %
N/A
50%
1/2
Tara


Previous Meetings:
September 9 2012 – No Surrender: Tessmacher by pinfall (Knockouts title)
August 23 2012 – Impact: Tara by pinfall
December 12 2011 – Impact: No contest
Draw 1-1

Champions Advantage: Miss Tessmacher

Hotness Factor: I have never really been a fan of Tara's looks, the muscle bound women just doesn't really do much for me at all. Miss Tessmacher on the other hand would easily be one of my favourite women of wrestling at the moment to look at so this is an easy point to give.

Company Status: You will find as I do more of these analysis that I have trouble working out company status when talking about the woman wrestlers but this match is not that hard. While Tara is a veteran of the squared circle most of that had to do with the WWE and to TNA she seems to be not much more than a reliable wrestler to chuck into a match to help her opponents look better. Miss Tessmacher, even though she did originally compete in WWE for a short time, is a product of TNA. They have invested a lot of time into her to teach her how to wrestle and to become the star that she has become. Now with the Beautiful People gone TNA are looking towards Brooke to take up the slack they left behind.

My Analysis: If there is one thing I really hate in wrestling is a non-wrestler holding a title belt and that happens a lot when talking about women's wrestling in the major companies. While I know Tessmacher is improving in her in-ring abilities and what not I believe she should not have the title around her waist. For me Tara should win just so a legitimate wrestler will once again hold the title belt.

Prediction: Miss Tessmacher (7-3 criteria)



James Storm v Robert Roode
Criteria
James Storm
Robert Roode
Criteria Winner
TNA Win %
54%
201/369
49%
146/299
James Storm


PPV Win %
53%
92/172
51%
49/97
James Storm
Last 10
3
2
James Storm
Last 50
22
21
James Storm
Street Fight
Win %
60%
3/5
40%
2/5
James Storm
Bound for Glory
Win %
33%
2/6
20%
1/5
James Storm


Previous Meetings:
September 20 2012 – Impact: No contest
April 15 2012 – Lockdown: Roode won (TNA Title, Cage match)
January 28 2012 – Impact: Roode by pinfall (TNA Title)
October 26 2011 – Impact: Roode won (TNA Title)
October 26 2011 – Impact (2nd taping): Roode won (TNA Title)
September 21 2011 – Impact: Roode by pinfall
Robert Roode 5-0-1

Company Status: OK I have been stumped when dealing with this category before but this is taking it to a whole new extreme. I could give this category to either of them on any given day, depending on the mood I am in. Firstly you have Storm who has been the company from day one and has been a major part of making the company what it is today. He has had the second most matches for the company ever and is always there as a go to guy when needed. Next you have Roode who has been with the company nearly as long and has been just as much a part of the company in his time. He has got the second most matches on Impact and has been made into one of its biggest stars. Storm, Roode. Storm, Roode. Storm, Roode…………… I think I will have to go with Roode due to the fact that he was the one who got the decent run with the title.

My Analysis: I am nearly as stuck on this part as I was with the last. Roode has been probably my favourite part of TNA over this last year, his run with the title was something TNA had been missing for a long time, just that perfect title reign. However Storm has been part of that other thing missing from TNA for a long time, perfect storytelling. The whole ex-tag team partner screwing him over storyline has been done perfectly and I find myself pulling for him to get back at him in every way possible. Even though I was having trouble deciding I will have to give my point to Storm after seeing the fact that he has never beaten Roode 1on1, he really needs to beat him once and for all.

Prediction: James Storm (7-2 criteria)



Christopher Daniels & Kazarian © v AJ Styles & Kurt Angle v Chavo Guerrero & Hernandez
Criteria
Christopher Daniels
Kazarian
AJ Styles
Kurt Angle
Chavo Guerrero
Hernandez
Criteria Winner
TNA Win %
45%
119/267
47%
97/207
53%
228/429
52%
105/201
57%
4/7
55%
85/154
Chavo Hernandez


PPV Win %
44%
60/136
47%
40/86
54%
105/193
53%
81/152
30%
18/60
59%
34/58
Chavo Hernandez
Bound for Glory
Win %
0%
0/6
0%
0/4
50%
4/8
40%
2/5
N/A
50%
2/4
Styles Angle
Phoenix Win %
N/A
N/A
N/A
67%
4/6
33%
1/3
N/A
Styles Angle
Criteria
Daniels Kazarian
Styles Angle
Chavo Hernandez
Criteria Winner
Last 10
6
4
1 from 3
Daniels Kazarian
As Team
55%
11/20
38%
5/13
33%
1/3
Daniels Kazarian
Tag Team Title
Win %
83%
5/6
33%
1/3
0%
0/1
Daniels Kazarian


Champions Advantage: Daniels/Kazarian

Company Status: With the exception of Chavo all of the members have what could be deemed as high company status. The only difference is the level of status. Over the years Daniels, Kaz and Hernandez have had varying levels of success but they have also had times on nil employment with TNA. While they are all parts of high status at the moment in particular Kaz & Daniels you can only wonder how long till they fall out of favour once more. This point has to go to AJ & Kurt due to the fact that they are two of the faces of TNA. They are always around for the major storylines when needed or to be part of the biggest matches.

My Analysis: While this match is really about the storyline that has been going on all year between Daniels, Kazarian, AJ & Kurt, I in fact do not want either of these teams to win. The tag division has been dominated this year by these two teams and I believe for the division to move on someone new needs to get hold of the belt. Also there is the point that all 4 of these names are while great in whichever combination you want to put them in are better as singles wrestlers in their particular divisions, whichever they feel like being in at that time. The combination of Chavo and Hernandez feels more like a tag team to me, by giving them the title this will allow more traditional teams to compete against each other and the bigger stars go back to what they do best.

Prediction: Christopher Daniels & Kazarian (4-3-3 criteria)



Austin Aries © v Jeff Hardy
Criteria
Austin Aries
Jeff Hardy
Criteria Winner
TNA Win %
53%
41/78
59%
77/131
Jeff Hardy
PPV Win %
49%
27/55
45%
54/119
Austin Aries
Last 10
7
9
Jeff Hardy
Last 50
31
27


Austin Aries
World Title
Win %
100%
2/2
43%
6/14
Austin Aries
Bound For Glory
Win %
100%
2/2
33%
1/3
Austin Aries
Phoenix Win %
0%
0/3
25%
2/8
Jeff Hardy


Champions Advantage: Austin Aries

Company Status: Whenever you have the champion of the company in the match an instant claim for the higher company status can be made for why else would they put the title on you if you were not thought about highly. However sometimes you need to pay attention to who the actual contender is, in this case being Jeff Hardy. TNA has proven before how highly they think of Jeff, even going to the point of Hulk claiming he is the future of the business. I can't see any way I could give this point to Aries when his opponent is Jeff.

My Analysis: First thing first if Jeff truly has turned his life around then good on him, I am glad that a guy with so much talent has been able to straighten himself out when so many have failed. With that being said I don't think he should be in this match let alone be champion. He has struck out to many times in my opinion to deserve such a high placing. I understand that he is getting more cheers than anybody in the company and is their highest merchandise seller but that is not the issue at hand. Don't think I am just handing over the win to Aries just because I don't want to see Jeff as champion, in fact I am enjoying his run as champion and would prefer to see it continue for now.

Prediction: Austin Aries (6-3 criteria)


Due to the fact that the Aces & 8's members who will compete in the match against Sting and Bully Ray have not actually been announced I am not able to do a complete analysis for that particular match. That does not stop me however from at least giving my personal analysis to the match. This is easily the match I am most intrigued in as the reveal of Aces & 8's is easily the biggest talking point in TNA today. The names that have floated around with this group have me anxious to see if TNA can do this right this time and not be a massive let down like the "Them" storyline from two years ago. While Bully seems the logical choice to be the leader and will turn on Sting during the match I think this choice is too easy. What I want to see happen is to have the returning Jeff Jarrett be revealed as the leader with Sting revealed as the person on the inside letting them in. Whoever is the leader may be one thing is for certain Aces & 8's must win; the storyline is just too big to stop dead.

So there you have it, my first ever main page pre-PPV analysis is complete and to be honest I have to say the outcomes look pretty spot on. Do you the readers agree with what the stats come up with for the predictions? Also I am always looking for new ways to improve the criteria used for the analysis so do you have any ideas to make my predictions more accurate? Anyway that is all we have time for so goodbye everyone and remember THE STATS NEVER LIE.


Feedback:
E-Mail: zzzorf@yahoo.com
Twitter:

Facebook: Add me as a friend

Me and My Mates: Dream Matches 6 - Tag Team Turmoil (Match 7: Beer Money, Inc v The New Age Outlaws)
The King of Stats presents the 2013 WWE Superstar of the Year - #1 Daniel Bryan
The King of Stats presents the 2013 WWE Superstar of the Year - #10 to #6
The King of Stats presents the 2013 WWE Superstar of the Year - #15 to #11
The King of Stats presents the 2013 WWE Superstar of the Year - #20 to #16
The King of Stats presents the 2013 WWE Superstar of the Year - #25 to #21