---



The King of Stats gives his pre-PPV Analysis for Summerslam 2013


By zzzorf
Aug 18, 2013 - 10:44:58 AM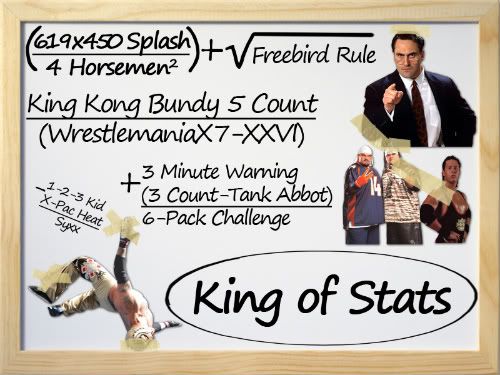 banner courtesy of TeamFarrell




Welcome back one and all to the most unique prediction column to have ever hit the pages of Lords of Pain, I am your host The King of Stats and this is the return of the pre-PPV Analysis. If you haven't seen this column before the basic idea is I take a more legitimate look at the upcoming PPV than other columnists and let the stats help me decide who is going to win. After two years of writing this column (Summerslam 2011 was the first I did in the forums) I have perfected the criteria I use to correctly predict the winner on a regular basis. I am currently batting at a 62% (64/104) overall and 61% (49/80) WWE success rate. I am also currently riding a wave of success after scoring 6 from 8 at Payback (I didn't write one for MITB) and 5 from 9 at Extreme Rules.

However good my current wave is though Summerslam has proven to be one of my worst performing PPV's with my 2011 version scoring 2 from 4 and last years only getting 3 from 7, one of only two times I have ever managed to pick less than half the matches correct using my system. This year I plan on changing that so how about we see who the stats will win at this years edition of Summerslam.



Dean Ambrose (C) v Rob Van Dam
Criteria
Dean Ambrose
Rob Van Dam
Criteria Winner
WWE win %
60%
34/57
59%
200/339
Dean Ambrose
PPV win %
60%
6/10
61%
60/99
Rob Van Dam
Last 10
4
7
Rob Van Dam
Last 50
30
28
Dean Ambrose
US Title
win %
50%
3/6
0%
0/2
Dean Ambrose
Summerslam
win %
N/A
67%
2/3
Rob Van Dam
Staples Center
win %
N/A
40%
2/5
Rob Van Dam


Champions Advantage: Dean Ambrose

Company Status: This really could go either way as RVD has shown to the company what sort of draw his name is and what a valuable asset he can be for the company in one of the veteran roles like he is currently enjoying. However when you look at Ambrose you can see the WWE grooming him to be one of the stars of the future. While RVD is proving himself to be reliable as a veteran it is Ambrose who is proving himself to be a star.

My Analysis: There more I look at this match the more I want to see RVD win. Don't get me wrong I think Ambrose is the better champion and I hate to see any titles change hands on the pre-show but I just believe that RVD should win the title. The majority of the decent midcarders in the WWE at the moment are all heels, there is no really decent face with for them to feud with over a title. This was shown earlier in the year when they hotshotted the title back to Kofi just so he could lose it to Ambrose not long after. By having the title on RVD they have the ability to line him up against all the current generation of midcarders like Ambrose, Cesaro, Swagger, Sandow and Fandango in different feuds and he could have a long or short reign without hurting his or his opponents credibility. While seeing Ambrose retain would be no skin off my nose but having RVD start his first US title reign could see some interesting matches coming for the remainder of the year.

Tie-Breaker: Due to a 5-all draw it is time for me to ask my 11-year old son Zac here for his prediction to split the tie. "RVD to win as I don't want Ambrose to stay champion, I don't like The Shield"

Analysis Prediction: Rob Van Dam (6-5 criteria)
My Prediction: Rob Van Dam



Natalya v Brie Bella
Criteria
Natalya
Brie Bella
Criteria Winner
WWE win %
48%
91/188
51%
54/107
Brie Bella
PPV win %
47%
8/17
40%
2/5
Natalya
Last 10
7
4
Natalya
Last 50
22
17
Natalya
Summerslam
win %
0%
0/1
0%
0/1
draw
Staples Center
win %
50%
1/2
50%
1/2
draw


Previous Meetings:
July 22 2013 - Raw: Brie by pinfall
May 17 2011 - Smackdown: Brie won
October 7 2008 - Smackdown: Brie won
January 22 2008 - FCW Newport Richey Show: Natalya won
Brie Bella 3-1

Hotness Factor: Well while Natalya ain't that bad to look at she ain't got nothing like twin magic, Brie wins this point.

Company Status: Sometimes you have to wonder exactly what status Natalya has with the company, I mean with the farting gimmick and then being lumped with Khali and Hornswoggle then it mustn't be good. However putting that aside the real part of the company status question here is who you are connected to and dating one of the top guys in the company while your sister is screwing the number 1 guy easily gets you more power than being married to an injured lower carder. Another point to the Bella.

My Analysis: Do I need to go into this one? If you are a regular reader of my columns you are already aware that I am a fan of Women's Wrestling, as long as it is just that, they are women who can wrestle. Point goes to Natalya here because I still can't buy either Bella as a wrestler.

Tie-Breaker: Damn for the first time ever I have to go to Zac for the second time in PPV for a tie-breaker and it is only the second match. "Natalya as the Bellas just don't know how to wrestle"

Analysis Prediction: Natalya (5-4 criteria)
My Prediction: Natalya



Dolph Ziggler & Kaitlyn v Big E Langston & AJ Lee
Criteria
Dolph Ziggler
Kaitlyn
Big E Langston
AJ Lee
Criteria Winner
WWE win %
39%
140/360
52%
54/103
43%
10/23
54%
38/70
Langston/Lee
PPV win %
34%
16/47
29%
2/7
0%
0/1
100%
2/2
Langston/Lee
Last 10
7
4
5
6
Dolph/Kaitlyn
Last 50
23
32
36
27
Langston/Lee
Summerslam
win %
50%
2/4
N/A
N/A
N/A
Dolph/Kaitlyn
Staples Center
win %
50%
3/6
N/A
N/A
N/A
Dolph/Kaitlyn


Hotness Factor: Since the Divas are involved this comes into play once again and it is a really easy choice, my love for AJ is well known, just the same as my distaste for Kaitlyn.

Company Status: This group is such a mixed bag of levels within the company but you have to give the major edge to AJ as the person in the match who at the moment means the most to the company.

My Analysis: Did this match really need to be on the PPV? If it really had to be on the card at all could it not have been on the pre-show instead of the US Title match? I have little interest here as there are participants who I care little for in Langston and Kaitlyn, a feud I have grown tired of in Kaitlyn and AJ and a feud that is going nowhere fast in Ziggler v AJ/Langston. Just give AJ the win and let her move on please.

Analysis Prediction: Big E Langston & AJ Lee (6-3 criteria)
My Predicition: Big E Langston & AJ Lee



Kane v Bray Wyatt
Criteria
Kane
Bray Wyatt
Criteria Winner
WWE win %
51%
487/955
39%
9/23
Kane
PPV win %
39%
9/23
0%
0/1
Kane
Last 10
7
5
Kane
Last 50
30
32
Bray Wyatt
Summerslam
win %
67%
6/9
N/A
Kane
Staples Center
win %
65%
11/17
N/A
Kane


Company Status: With this only being Bray's first non-NXT match under this gimmick it is really hard to work out what sort of status he has at the moment. Even with the rumour that he is taking time off after Summerslam to film See No Evil 2, Kane still holds a lot of sway in the company as a reliable veteran.

My Analysis: If you think that Kane needs to win this match the most then you need to really reconsider what you know about wrestling. If Kane is to beat Bray here it could put a major halt to Brays character and harm him for months to come. However Bray wins it gives his character more legitimacy and doesn't hurt Kane one iota. On a side note though even if it didn't fit the storyline I would still want to see Bray win as while I am not fully a Wyatt Family fan I am a Rotunda Family fan.

Analysis Prediction: Kane (6-2 criteria)
My Prediction: Bray Wyatt



Cody Rhodes v Damien Sandow
Criteria
Cody Rhodes
Damien Sandow
Criteria Winner
WWE win %
44%
168/378
41%
53/130
Cody Rhodes
PPV win %
32%
14/49
36%
4/11
Damien sandow
Last 10
3
2
Cody Rhodes
Last 50
13
15
Damien Sandow
Summerslam
win %
0%
0/1
N/A
Draw
Staples Center
win %
33%
1/3
N/A
Cody Rhodes


Previous Matches:
May 2 2007 - OVW TV Taping #404: No Contest
July 8 2006 - OVW Hillview Show: Sandow won
July 7 2006 - OVW Owensboro Show: Sandow won
Damien Sandow 2-0-1

Company Status: In what could be seen as both guys being similar places in the hierarchy I will give the point here to Sandow as the briefcase indicates that the WWE have more plans for him than Rhodes at the moment.

My Analysis: I have been asking for this feud since late last year and now that it is here and the two wrestlers are on the side of the face/heel equation where I wanted them I couldn't be happier. However unlike I envisioned it it will not be Cody who will come out on top at the end of the feud but even the Rhodes fan in me knows Sandow is the man who should come out on top. However while Sandow will win the feud I believe it should be Cody who wins this match, setting up a continuation of the feud in the coming months. I mean seriously I didn't wait this long just for them to have the one match, I mean come on we are in no rush to give Sandow the World Title just yet are we?

Tie-Breaker: Damn a third tie-breaker. Knowing Zac's bad record when it comes down to this (4 from 9) this does not look good. "Even though I don't like him I have to pick Sandow, he is the briefcase holder after all)

Analysis Prediction: Damien Sandow (5-4 criteria)
My Prediction: Cody Rhodes



Alberto Del Rio (C) v Christian
Criteria
Alberto Del Rio
Christian
Criteria Winner
WWE win %
52%
133/254
46%
306/666
Del Rio
PPV win %
56%
18/32
48%
64/134
Del Rio
Last 10
6
9
Christian
Last 50
34
28
Del Rio
World Title
win %
35%
6/17
31%
4/13
Del Rio
Summerslam
win %
33%
1/3
60%
3/5
Christian
Staples Center
win %
33%
1/3
23%
3/13
Del Rio


Past Meetings:
August 5 2013 - Smackdown: Christian by pinfall
July 22 2013 - Raw: Christian by pinfall
August 6 2012 - Raw: Del Rio by Submission
June 19 2012 - Smackdown: Del Rio by Submission
May 1 2011 - Extreme Rules: Christian won (Ladder Match, World Title)
April 5 2011 - Smackdown: Del Rio won
March 22 2011 - Smackdown: Christian won
March 15 2011 - Smackdown: Christian won (Steel Cage)
Christian 5-3

Champions Advantage: Alberto Del Rio

Company Status: While Christian holds that veteran status with the company you know with his constant string of injuries he could not be held up very high. On the other hand you have Del Rio, the wrestler ho is looked upon to draw in the Latino market and be their champion.

My Analysis: While this has all the makings of a good match that could very well be the best match-up outside the top 2 I find myself caring less and less about it as the time draws closer. These two have shown us before that they can get it done but it all comes down to naught as quite honestly I don't care for either of them as Champion at the moment and therefore the match is just like any other match they could have. Seeing as though it is for the title I have to look at it for what it is and think about who I want as Champion more. While I am not the greatest Del Rio fan i think he should retain, even if it is to only lose it to someone else in the coming months. Instead of looking at championship belts and start looking towards retirement. I can't remember anyone who has had more injuries than him in the last few years and if he is not careful soon he will end up being forced to retire like his buddy Edge.

Analysis Prediction: Alberto Del Rio (8-3 criteria)
My Prediction: Alberto Del Rio



CM Punk v Brock Lesnar
Criteria
CM Punk
Brock Lesnar
Criteria Winner
WWE win %
53%
239/448
67%
65/97
Brock Lesnar
PPV win %
44%
44/99
60%
18/30
Brock Lesnar
Last 10
7
7
Draw
Last 50
27
26
CM Punk
Summerslam
win %
57%
4/7
67%
2/3
Brock Lesnar
Staples Center
win %
63%
5/8
50%
1/2
CM Punk


Company Status: While Lesnar means the big bucks he is only a part time deal. To the company as a whole Punk has more status in the company as he is the one who will be back the next week to do it all again while Brock is at home cuddled up to Sable and counting his check.

My Analysis: Unlike the majority of you readers I don't actually really care for this match, it just doesn't do it for me. Yes I will be watching it with interest but I just don't see the dynamics working. People have been salivating at the idea for this match ever since Paul Heyman had control of both wrestlers as their manager yet I can only sit back and think why? I understand that the two of them are the best that the company has to offer but I just don't see them gelling in the ring like everyone thinks they will. To me Punk is not the perfect opponent for Brock and could list a few other people I would prefer to see him up against currently on the roster who i could see would have been a more perfect fit. Anyway as to a winner here well it should be Punk I think for as I said before it is him that has got to come back the next week and continue to compete and to many more losses to these part time stars and sooner or later his credibility with the casual fan will start to wane.

Analysis Prediction: CM Punk (4-3 criteria)
My Prediction: CM Punk



John Cena (C) v Daniel Bryan
Criteria
John Cena
Daniel Bryan
Criteria Winner
WWE win %
67%
411/611
49%
144/241
John Cena
PPV win %
60%
70/117
52%
29/56
John Cena
Last 10
8
9
Daniel Bryan
Lst 50
39
30
John Cena
Special Referee
win %
54%
7/13
25%
1/4
John Cena
WWE Title
win %
63%
57/91
0%
0/4
John Cena
Summerslam
win %
44%
4/9
67%
2/3
Daniel Bryan
Staples Center
win %
60%
6/10
40%
2/5
John Cena


Past Meetings:
August 6 2012 - Raw: Cena by Pinfall
February 4 2003 - Velocity: Cena by pinfall
John Cena 2-0

Company Status: Cena is the face of the company, enough said.

My Analysis: Now this is the match I am really looking forward to. Like the majority of fans I have been calling for this match for a long time and am glad it is about to happen. No one in the wrestling world is hotter than Bryan at the moment and a match against the number 1 guy in the company was inevitable. Now way back before Cena won the title against The Rock I said that after holding it for awhile Cena will do the unexpected and let someone beat him clean in the centre of the ring, this is that match, well at least it had better be. This is the perfect time for Bryan to be pushed through the roof and I don't see any way to do it other than Cena to lay down for him. No shenanigans, no bad calls by the ref and definitely no cash-ins (unless Orton cashes in to lose), Bryan wins fair and square and leaves WWE Champion. It might be wishful thinking but I feel like I may just have it right.

Analysis Prediction: John Cena (8-3 criteria)
My Prediction: Daniel Bryan


Well that brings us to the end of this analysis. I apologise that my written parts don't have my normal level of depthness coming up a bit short or that they might be not as fluid as normal but I have not been well the last few days with some sort of an Inner Ear Infection and the resulting headaches make it hard to concentrate properly. I nearly packed this column in a few times and looking at the results that it gave maybe I should have, it looks like once again I may pull a bad result at Summerslam. However I did finish it and I stand by the analysis predictions 100% and if I get a decent score correct it won't be the first time that the system has shocked me. Anyway that is it for today, hope everyone enjoys the PPV and I will see you all again in a couple of days when I present to you the first column in my search to find the Tsar of Steel and remember THE STATS NEVER LIE.


Feedback:

E-Mail: zzzorf@yahoo.com

Twitter:



Facebook: Add me as a friend here
Me and My Mates: Dream Matches 6 - Tag Team Turmoil (Match 7: Beer Money, Inc v The New Age Outlaws)
The King of Stats presents the 2013 WWE Superstar of the Year - #1 Daniel Bryan
The King of Stats presents the 2013 WWE Superstar of the Year - #10 to #6
The King of Stats presents the 2013 WWE Superstar of the Year - #15 to #11
The King of Stats presents the 2013 WWE Superstar of the Year - #20 to #16
The King of Stats presents the 2013 WWE Superstar of the Year - #25 to #21