---



Me and My Mates: Dream Matches 6 - Tag Team Turmoil (Match 7: Beer Money, Inc v The New Age Outlaws)


By zzzorf
Mar 4, 2014 - 8:02:53 AM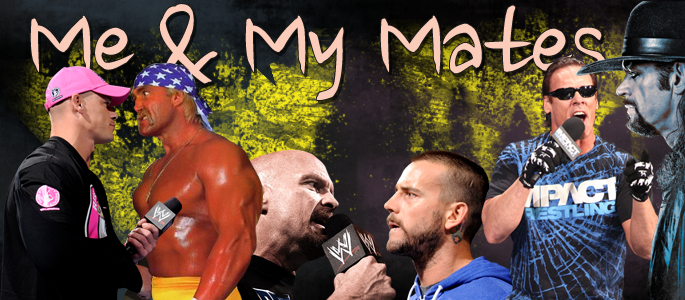 banner courtesy of The Southern One




Day 1. The Hardy Boyz v The Young Bucks
Day 2. The Midnight Express v Edge & Christian
Day 3. The Mega Powers v JeriShow
Day 4. Kurt Angle & Chris Benoit v The Brainbusters
Day 5. Los Guerreros v The Motor City Machine Guns
Day 6. MNM v The Rockers
Day 7. Beer Money, Inc v The New Age Outlaws





G'day one and all and welcome to the sixth instalment of Me and My Mates and the third ever to have graced the main page here at Lords of Pain. Yes it is that time once again for the greatest ever mass columnist extravaganza to take centre stage at the premier wrestling site on the whole world wide web.

For all of you who have never seen this series before let me explain to you how it works. I have gone out and collected 6 of my "mates", 6 columnists who have earned my respect throughout my time in Lords of Pain. All these columnists are kept ignorant of each other so that their replies could not be contaminated by knowing who else is involved. Each writer had to give to me a wrestling dream match, something that they wished to have seen but through circumstances such as time or location the match has never gone down. They then had to write a couple of paragraphs on the match and who they think would actually win the match in question. All columnists were then given the other six matches and had to do the same thing for them. Every day for the next week I will post one of the matches and all of the replies for that particular match so remember to keep checking back in each day for the next match.

This series however is not your straightforward dream matches though as a special stipulation was put into place this time around, the writers could only choose matches of a Tag Team nature. This stipulation made for more limited choices but also allowed the writers to think a little bit more beyond the box that they would normally think about when talking about dream matches. Anyway how about I now introduce to you the writers joining me this time around.

Joining me ZZZORF for this series and helping me discuss some of the greatest tag matches that you can only dream about are a group of some of the best writers LOP has to offer. The first is a fellow member of LOP's very own e-fed LPW (Lords of Pain Wrestling, of which a link can be found at the bottom of this column) and one of the better historical wrestling column writers I have read SIXX. Next we have the guy who was named the CF Columnist of the Year for 2013 and just finished the mammoth column undertaking 101 WWE Matches To See Before You Die, 'PLAN. My third writer is in fact not someone generally known for his writing, in fact he is more known for his drunken antics on Twitter or LOP Radio, I give to you RANTING RANDALL. Up next we have the newest member of the Main Page even though his NXT Reviews have been showcased here for a while, OLIVER. You may all remember writer number 5 from my Greatest WWE Wrestler tournament as he wrote the part for Stone Cold in the final, I present to you SUBHO. Lastly my next writer is a relative newby to the column writing game but is good enough to have been named the CF Newcomer of the year for 2013 JCOOL.

So let's get this show on the road shall we starting with my pick.




The Hardy Boyz
v
The Young Bucks




zzzorf: Over the years I have been a fan of many teams from The Hart Foundation to Harlem Heat to The New Age Outlaws to The Usos, and lots of other teams in between. I could have come up with any combination of them to fill in this dream match scenario and I would have been happy but one match up get battling for my attention more than the others, a match up between the brothers Hardy and the brothers Jackson.

Why in all the possible combinations would I choose this spot fest over any other option, well I blame my wife for that one. Every time we watch The Young Bucks on whatever Indy show we happen to be watching she reminds me how much they are a spitting image of the Hardys from the Attitude days. Everything from the way they look to the clothes they wear to the way that they wrestle. This leads me everytime to think about just how awesome these two teams would have been if put in the ring together at the same time.

As I already said the match would be a spot fest but quite honestly between you and me, there is nothing really wrong with that. All 4 of these guys know how to entertain the crowd and that is exactly what this match would be, pure entertainment to get the crowd on their feat and pumped for the rest of the show.

As to the winner even though it is a hard decision to make as I am a fan of both teams I have to give the edge here to the Hardys just because I feel that the Bucks cockiness would get in their way too much. Now I'm just going to imagine the larger version of this match that sees it become a 6 way including MCMG, London & Kendrick, The Rockers and Mysterio & Kidman.

Sixx: The Young Bucks? I thought this was supposed to be dream matches? Interesting choice. The matchup with the Hardys is a natural one, though, so I will give you that. Giving an opinion on this may be tough, however. I don't particularly care for any of the four guys in the match…

If 3 guys turning flips and one guy who is over because his brother turns flips is your idea of a great tag match, this one's for you. All kidding aside, the match would probably be pretty entertaining. I mean, it wouldn't be a mat classic or anything, but there would be some breathtaking high spots, and, even though I bash them, the Hardys were in some great tag matches, so they should be able to put something compelling together with two guys as talented as the Bucks are. As for a winner? The Hardys. Too much experience, and tons more success.

'Plan: Truthfully, I've little exposure to The Young Bucks thanks to my lack of time and energy prohibiting me from fully accessing the Indy scene, and my general disinterest in the TNA product preventing me from watching them as Generation Me. Certainly, they're an impressive visual team though and they've left an impression on me, even through the little of their work I have seen. Though I'd label them as victims of a modern day syndrome for too much style and not enough substance, I can fully understand why they've been paired with the Hardy Boys here.

As for the Hardy Boys? They've definitely cemented themselves as a legendary team for sure, at least in the annals of WWE. I've never been much of a fan – the fact they're the only team I can remember managing to fuck up their break-up twice fills me with a degree of ill will alone – but I will always give them credit for an impressive achievement: as their careers matured, they found a nice balance, at least in the prominent case of Jeff, between the aforementioned style and substance.

While together I think it'd be hard for them to work an intriguing match due to the clear similarities between both teams, I'd imagine there'd be enough of a size difference to facilitate an interesting ergonomic dynamic at the very least. So too could it easily be woven as a story of the Bucks usurping the Hardy Boys at their own game. While Matt and Jeff rarely excelled without a prop or gimmick to help keep them afloat, their matches were meaty on action if nothing else and, combined with the Rocker-style tandem offense of the Bucks, they could reach a decent twelve to fifteen minutes without wearing a story thin I would think.

If I had to pick a winner, I'd imagine the Bucks would benefit more from the rub than the Hardy Boys would from looking like the veteran superiors. The Bucks happen to also be more exciting, albeit perhaps less engaging, to watch and so suit the increasingly impatient wrestling audience more too. I'd go for the Bucks.

Ranting Randall: If this had of been when I first started watching wrestling (around 1998/1999) I would be looking forward to this, as I was a fan of The Hardy Boyz back then. Now, not so much, as I'm a member of the #FuckYouMattHardy section of Twitter and I was never too keen on Jeff out of the two anyway. Since I don't know too much about The Young Bucks, bar the "Hardy Lite" tag, I decided to check out some of their stuff online and I can't say I'd want to watch these two teams square off. The Young Bucks do remind me of the Hardyz back in the day and their More Bang For Your Buck is pretty to watch but they seem more like spot monkeys/CAWs. Got to go with The Hardy Boyz winning, they've been going longer and actually know how to wrestle a tag team match.

Oliver: Ah, a battle of the high flyers. A dream match? Perhaps. The truth is I never really got on with The Young Bucks – their shtick gets a little too dull for me after seeing them a couple of times. They'd be great if you didn't have to watch them regularly, but in 2014 you can see everything they can do far too regularly. Opposite them, the Hardy brothers were probably the first tag team I ever marked out for, and those early matches I still love now. Do I want to pay to see either of them wrestle now? No. But we'll always have 98-02.

As for this match, well – the underrated Matt Hardy and his overrated brother would probably have the upper hand for the most of it, and will always be the more innovative of the pair. Their cockier opponents would throw a few superkicks here or there, but would most likely get caught out by their arrogance and caught in a Twist of Fate/Swanton Bomb combination. The Hardy Boys run out winners, then, in a short but spot laden match.

Subho: Out of all the selections, this is one of the 2 matches that can still happen. Jeff and Matt Hardy have certainly lost a step or two, but if they can pull themselves together to deliver one final classic, we can witness this match for everything that it promises to be.

Had it happened a few years ago, say 2007, when The Hardy Boys reunited to have one (last) last run, this could have been a great passing of the torch. Hell, I would have liked them to have extended their Series to about 3 matches, and settle the scores in a daredevil TLC Match that could have potentially challenged the Edge/Christian, Dudley Boyz and The Hardys matches. And you know their matches would be nothing else but stunt filled. Putting their bodies on the line to wow the fans and going bonkers over one another.

Selecting a winner in this one is quite hard. You know The Hardy Boys would go to any lengths to ensure victory, but The Young Bucks would hold nothing back as well. Ultimately, the youth would win and The Young Bucks would sneak a win. It'll really be a game of chess, where the team who has the strength to hit the last move would win.

JCool: Two pairs of brothers fighting to prove which family is better, faster, smarter and stronger... well, at wrestling, at least. Admittedly, I'm not as familiar with the Young Bucks as I am with the Hardyz. That said, Jeff and Matt Hardy would have a great match with Max and Jeremy Buck. I would hope that an "extreme rules" type stipulation would be in play, something like an Ultimate X match or a ladder match, where competitors would be able to showcase some of the skills that made them so famous. With this idea in mind, how could the Hardy Boys not go over? Their very wrestling personas are defined by their work as Team Extreme. They brought an energy and enthusiasm, to high-flying manoeuvres, that is duplicated by few other teams. Their willingness to inflict pain on their opponents by throwing themselves at tables, guardrails, even the concrete floor is both amazing and ridiculous. I don't think the Bucks would be able to endure this kind of punishment for very long. The longer the match went, the more likely a Hardy Boys victory would become, simply because their tolerance for pain is higher.

Now, I realize I've placed stipulations on this that weren't present, so let's say this is just a regular tag match between the Young Bucks and the Hardy Boys.... maybe the Bucks have a chance if they can single their focus on one of the Hardys and avoid the dreaded hot tag. Maybe then... but this is a resounding YES in favour of the Hardy Boys winning this battle.


Well there doesn't seem to be much love for my selection but to me it will still be one hell of a match. Well with the 7 writers down we see the match being awarded to The Hardy Boyz 5-2. So readers what say you, was this match-up to spot monkey for you or would you join me on the edge of the seat? Remember to come back tomorrow to see what SIXX has install for us.







The Midnight Express
v
Edge & Christian




Sixx: My tag team dream match is between two teams that helped define their respective eras of tag team wrestling. Edge & Christian, arguably the best team of the Attitude Era, against The Midnight Express (Eaton & Lane, though Eaton & Condrey were considered the better team by some), arguably the best team of the 80s. Edge & Christian, along with The Hardy Boys and The Dudley Boys, catapulted tag team wrestling to heights in the late 90s that it hadn't reached in the better part of a decade. The last time tag team wrestling had reached this kind of peak? The late 80s. The era of the Road Warriors, Arn Anderson & Tully Blanchard, The Rock & Roll Express, and… The Midnight Express. I couldn't think of a better matchup than two era defining teams.

As for the match itself, I think it would be very interesting to see who the crowd would get behind. Both teams were at their best as heels, but both teams were so over as heels that they were getting cheered anyway, forcing face turns. I think this would be a classic tag match with it's share of high spots. Christian has always been a very good worker, and Bobby Eaton may very well be one of the top 5 workers of all time. Edge and Lane were both very good brawlers, so there should be a good mix in the action. And both teams knew how to tell a story in the ring, so I believe the ring psychology would be excellent. A lot of people might give the advantage to Edge & Christian based on their success as a team and as individuals, but I am going the other direction. As great as E &C were as a unit, The Midnights were better. They took double team moves to a new level. Everything they did, they did well. And everything they did as a team, they did better than anyone ever had before and, I would argue, better than anyone has since. It would be a great match, but The Midnights take this one.

'Plan: It's a tricky one this; two great tandems for sure, but would the relative simplicity of the Express's in ring game mesh well with the sophistication Edge and Christian utilised in their straight-laced encounters? Both teams were very much products of their time and so it's hard to imagine how a match would work between them. The former, I've often felt, had wonderful chemistry as a team, but when in the ring individually it too often felt a little awkward in execution for me to thoroughly enjoy myself. On the other hand, Edge and Christian have always excelled in longer matches with larger amounts of content. In truth, I'm not entirely sold it would be a great match to watch.

Nevertheless, they'd certainly give it a good go and while I never felt Edge and Christian ever had that sense of synergy as a team – they had few moves they'd execute together and relied more on their individual strengths than as a team – I think they could easily adapt to tell a story more in line with the old school mindset of the Express. In actuality, thinking about it, I think both teams would have enough to offset any difficulties presented by the other.

The winner, for me, would depend on whichever team were playing the heels; both were great at it and so whichever is given that honour would deserve the reward of having their hands raised.

Ranting Randall: Since I'm not actually sure which incarnation to talk about, I'll just go with the duo I've actually heard of, in Bobby Eaton and Stan Lane. 3 time Tag Team champions, with an awesome finisher (a bearhug/diving legdrop combination) and a legendary feud with the Original Midnight Express (Dennis Condrey and Randy Rose) and their manager, Paul E Dangerously. Unfortunately they were before my time, although I did manage to check out their feud with the Original ME (thanks Triple R) and I think they would be a great technical team in the current state of the tag division, putting over younger teams and having great matches.

On the other side, we have numerous World/WWE, Tag and Intercontinental/U.S. Title reigns between Edge and Christian (mostly all Edge of course) and were one of the most entertaining teams of the late Attitude era. They're definitely the more well known team due to being the highlight of many tag battles through their time and would know all the tricks in the book to get them the victory. Therefore, I pick E&C to win in what would a great match, even if I'm not a fan of Christian.

Oliver: Which iteration of The Midnight Express are we going with here? Does Randy Rose get a look in? What about Norvell Austin? Or is it Bob Holly and Bart Gunn?
Bobby Eaton and Dennis Condrey tore it up in Mid-South throughout the 80s, and with Jim Cornette as their mouthpiece nobody could out promo them. E&C might well have been a good little team in a well-remembered era of tag team wrestling, but let's cut the crap – Edge and Christian are out of their depth here and don't stand a chance. The Midnight Express crush them with a Veg-O-Matic.

Subho: WWE's Vintage Collection is a great show, if you haven't watched it yet, especially for someone who's only been watching for only 10 years, like me. If you want to learn about the past from the legend Gene Okerlund, that's the show for you. Enough of WWE Advertising, though, let's get into the match at hand.

Edge & Christian were a team that you couldn't help but enjoy. Whether it was their days in The Brood or when they were out to fictionalize Tag Wrestling. And I don't use the last term loosely. They did things that one could never have imagined possible with such finesse. No surprise that Edge's mid-air spear on Jeff Hardy still remains a staple of the highlight packages. Christian did end up a little short of the yardstick that Edge had built, but he was an integral part of the team, too. Combining their 'no fucks given' attitude with a massive respect for the days gone by, they left a huge mark.

On the other hand, The Midnight Express has seen many iterations, but the most famous one was the team of Dennis Condrey and "Beautiful" Bobby Eaton. Together, they captured 50 Tag Team Titles in Mid-South Wrestling, WCCW and Jim Crockett Promotions combined. They gave The Rock n' Roll Express and The Road Warriors some legendary feuds, which I've had the privilege to watch with the help of the aforementioned Vintage Collection.

Now, you would have guessed that I favor the newer teams more and I would have to go with Edge & Christian in this instance, too. You know that their athletic abilities would be unmatched, and even though The Midnight Express would give them a run for their money, they would fall short in the end.

JCool: *Sniff sniff* Do you smell that? Something reeks of awesomeness around here.

Oh , it's the Canadians, Edge & Christian, doing their five second pose again. Classic. The Midnight Express, Condrey and Eaton, look on with smugness. They know that the jokes won't last for long. Here are two of the best teams of their respective eras, although I'm sure that these teams would be at the top of the all-time rankings as well. Both teams are willing to put their bodies on the line to win and I think this match would be no different. I'm willing to bet that the Midnight Express would be game for a TLC match, based on their track record where they wrestled a very famous scaffold match in 1986 against the Road Warriors. In my view, a scaffold match is more dangerous than TLC because most of the match is consistently fought well above the ring. Perhaps Edge & Christian would incorporate their TLC methods and make it an extreme TLC Scaffold match? Think on that for a moment.

Both teams have excellent chemistry with one another and great ring awareness. It's a fairly even matchup in terms of physical strength, endurance, and intelligence. We'd likely see many tense moments above the ring, both teams creating suspense with their efforts, but who could take things to the next level? The answer to that question has to be Edge & Christian, whose quest to take out Condrey or Eaton with the con-chair-to would be an exciting part of the match. I think Edge & Christian's agility and propensity for extreme measures would be the difference makers in this match. The Midnight Express are clearly capable of winning big matches. They are true champions. Edge & Christian took winning to a whole new level in one of the most dangerous wrestling match types in history. That kind of experience, along with the physical ability to succeed in that environment, would give them the edge in this one. Hehe.

zzzorf: I will be perfectly honest with you straight off the bat, I am not really that familiar with the Midnight Express. My viewing habits over the years just hasn't led me to being able to view any real quantity of their work. However in saying that I have heard enough said about them over the years to know that they are one of the better tag teams to have graced the square circle.

E&C on the other hand I am very familiar with and I am somewhat of a fan.. My problem with them mostly is that I was always more a fan of their opponents than I was of them. While it could quite honestly be the other way round I have always believed that it was only because of the quality of the teams they had to wrestle that made them into the mega team they became.

While I know little about The Midnight Express I have to give them the victory due to their reputation. What I have heard eclipses what I know of their opponents in my opinion.


Well that's it for day 2 and thanks to 'Plan's abstaining from picking a winner we have ended up with a tie so I leave it up to you the reader, who would win in a dream match between The Midnight Express and Edge & Christian? Remember to come back tomorrow when we take a look at the match that 'PLAN has to offer.






The Mega Powers
v
JeriShow




'Plan: This one was my own pick and the train of thought is a simple one: chemistry. Tag team wrestling, perhaps more so than any genre in wrestling, needs great chemistry to truly excel. You had it in the legendary Mega-Powers, whose matches may have felt simple but never failed to entertain, and again years later in JeriShow, who mastered a big man/little man combination when few expected it and revitalised a tag division on life support for the better part of six glorious months. Even the more limited workers of the four – Hogan and Show respectively – had more than enough charisma or uniqueness to cover their flaws and who wouldn't salivate at the idea of Jericho and Savage locking up?

With a great mix of styles and enough charisma between them to sink a battleship, not to mention an incredible amount of wrestling knowledge and the ability to draw big money, this is a match that I feel would tear the house down and blow the roof off all at the same time. Show and Hogan could easily concoct the usually reliable Hogan story, while Jericho and Savage – a performer well ahead of his time and capable of overcoming the limitations of his era in comparison to the sophistication of JeriShow's – would undoubtedly craft an in-ring masterpiece with one another and their larger opponents too. Throw in Miss Elizabeth and you've got not just an equaliser – as seen in the Mega-Powers/Mega-Bucks bout – but a great opening for Jericho or Show to introduce an element of increased jeopardy.

JeriShow were at their best against strong workers and popular stars, and when they could indulge being the cheating scumbags; what better pairing to do that against than the feel-good one-team Rushmore of wrestling in The Mega-Powers?

You'd have to give the win here to the Powers, what with Hogan being involved and their break needing a strong feeling of positivity to precede it in order to be at its most effective. Plus, Jericho throws a tremendous tantrum.

Ranting Randall: Whenever Chris Jericho revealed The Big Show as his partner to replace the injured Edge, you could hear the groans around the world, yet, I dug it. You had two former World champions that combined the speed/technique in Jericho, with the strength and imposing size of Big Show to create a formidable team. It also gave something for Show to do, even if I detest him over the years. They had a string of fun matches, main evented TLC with the Tag Titles on the line and brought about a mini revival within the divison when it was needing it.

Like with JeriShow, in that I only like one of the two men, I loved Randy Savage but detested Hulk Hogan. They also, like JeriShow, combined the speed (in Savage) with power (in Hogan) to create a formidable team that took on the bad guys.Their year long implosion will always be remembered as a great story, but they never held tag team gold. Sure, Savage was the WWF Champion, but their teaming was purely for the reward at the end of the story, while Jericho chose Big Show smartly, due to him being the largest athlete in the world. Thus, I give JeriShow the win in what would be a very entertaining match.

Oliver: Now this would be interesting. On the one side, possibly the best technical wrestler in WWE history teaming with a limited but imposing partner, and on the other Chris Jericho and Big Show. The interactions between Jericho and Savage would be electric and make this match – unfortunately the interactions between Hogan and Big Show would be borderline unbearable. A match of two halves, if you like. I'm still scarred from watching Hog Wild.

But man, those Savage vs Jericho moments would be worth the pain. They were both smooth as silk more often than not, and I have no doubt they'd gel together well. As for who'd come out the winner, after Big Show turned face by punching his own partner, only to turn heel again by punching Hogan and Savage in the jaw, before turning face by chokeslamming Jericho and then turning heel by attacking Jerry Lawler, only to turn face by punching Jericho again, Hogan gets the pin for The Mega Powers. That guy lays down for no man.

Subho: Out of all the matches in this Series, this struck me as the oddest, but when I watched the matches of both these teams simultaneously, it made me crave to see this one. Just the prospect of Chris Jericho and "Macho Man" Randy Savage in the same ring together is bound to entice this fan, and if you've watched the WCW battles of Hulk Hogan and The Giant (Big Show), you know you're going to be entertained any which way. Who doesn't enjoy a guy being thrown off the roof of a huge building and then returning to fight in the main event, just a few minutes later, AMIRITE?

I don't think any team would have the advantage going into the match. Jericho and Savage would combat each others mastery, and Hogan would not back down from Big Show's freaky strength. The only thing of difference is maybe the fact that Hogan and Savage were faster friends at the time of teaming up, and Y2J and Show's egos would only come to hamper them. But, I wouldn't change my course of favoring the new guys. Jericho and Show would win this one, if only because they won't be afraid of getting their hands dirty. Just don't let Show wear that stupid Santino Marella-esque singlet! *Yeesh!*

JCool: Considering the personalities involved, and despite the massive amount of energy, star power, and "hulking up", the Mega Powers would almost certainly lose to Chris Jericho and The Big Show. Savage and Hogan would be negatively affected by Savage's jealousy of Hogan's friendliness with Miss Elizabeth. I think Jericho and Show would take advantage of that weakness and try to create a situation where Savage would suspect that Hogan was, once again, preying on his manager and the love of his life. Furthermore, Jericho and Show have more offensive options than Savage and Hogan. They can win by sheer power from a giant choke slam or by wearing down the legs and submitting the Macho Man and Hulkster in the Walls of Jericho. The Mega Powers don't have an answer for that. Sure, Hulk has body slammed a giant before, but do you think it could happen again? Big Show has seen the tapes. He knows what Hogan did to Andre, and he'll have a way to evade and prevent it from happening. After all, the Big Show could, in part, be seen as the Giant, version 2.0- new and improved, and more agile than Andre was at the time Hogan was fighting him.

Now, don't be confused. I'm not suggesting this would be a squash match. There would be some high drama in this one, with the inevitable hulk up, the leg drop, even the flying elbow. The Mega Powers would pull out all the stops, but intelligence and craftiness would not be on their side. I believe Chris Jericho would be the difference maker here, distracting the referee when needed to get the edge and using as many tricks as he could to get him and Show the win. In conclusion, whether it be the offensive options, the relatively fine cohesion between the two, or the trickiness of Y2J, some combination of those reasons will lead JeriShow to victory over the Mega Powers.... which would lead into the second explosion of those powers. Hey, it'd make for good TV, right?

zzzorf: When I decided to do a tag version of the dream matches I was envisioning teams that were legitimate teams who had tagged together for a lengthy amount of time not two major stars who were thrown together for storyline purposes. In saying that however both of these teams were an important part of the tag team landscape that even though they were only together a short time I see no problem with their inclusion.

When I was little I was a big fan of the Mega Powers but then again I doubt there weren't many people who weren't. While I wasn't a big fan of Hogan, being teamed with Savage made him more acceptable in my eyes. As to the other two I understood their importance at the time but I never really bought into them as a team. To me it seemed it was all about Jericho and Show was just the guy they put with him because they needed somebody to team with him.

While both teams are made up of major stars the Mega Powers get the edge here due to the fact that they were not just two stars thrown together but were in fact the top two stars of that particular time.

Sixx: This is the kind of match that dream matches are made of. Or something. This one certainly doesn't lack star power. When the Mega-Powers were formed, it was huge. For those of you that aren't old enough to have seen it at the time, trust me. Hogan was still insanely over, and Savage was catching him fast. Truly an epic moment. When Jericho and The Big Show came together it was not an epic moment. In fact, at the time, it seemed like they were throwing two former world champions together because they had nothing better for them to do. It worked. Jericho and Big Show complimented each other perfectly, both in the ring and out. Easily one of the best teams in the past decade.

And on to the match… First of all, the crowd would be electric. Two absolutely despised heels, and two totally beloved babyfaces. You couldn't ask for more. Show works well for his size, and Hogan in the late 80s could still go when he had to, especially in big matches. Jericho and Savage were each one of the better workers of their respective generations, so match quality wouldn't be a problem. I think the Mega-Powers win because… They're the Mega-Powers. When Savage and Hogan teamed together in the Mega-Powers era, they didn't lose. Ever.


Well that is day 3 done finally and it turned out a close one with the Mega Powers running out the winner with a close 4-3 vote. What do you all think about this match of superstars? Remember to come back tomorrow to see the choice of RANTING RANDALL.





Kurt Angle & Chris Benoit
v
The Brainbusters




Ranting Randall: I'll get this out of the way now, Chris Benoit is (was?) my favourite wrestler. Daniel Bryan and Kurt Angle are the ones that fill that void because Bryan reminds me of Benoit (without the killer instinct or lack of talking ability) and Benoit clearly influenced Angle's wrestling down the line. Enough about that though, on with my choice.

When Angle & Benoit teamed up to become the new WWE Tag Team Champions on Smackdown, I was a happy man. I loved watching the two fight, as they had many classic battles, but to see them bicker WHILE teaming up to capture AND hold the gold, was golden (no pun intended). They could wrestle, they could brawl and they could fly, making it all look good in the process. So what better team to face them, than The Brainbusters?

Arn Anderson and Tully Blanchard were wrestling greats that formed the legendary Four Horsemen. Arn with his Enforcer aura would beat the shit out of people with his spinebuster and Tully would slighshot guys off the rope for a suplex. Combine these two badasses together and a spike piledriver or double Brainbuster was in your future.

With Angle & Benoit suffering neck injuries through their career, you have to think Arn and Tully would target that to set up their finisher, but Benoit & Angle are no idiots to wearing someone down and they're techincal experts that can counter almost anything. This would be a great tecnical, yet hard hitting match and after thinking about it, I'll have to give the nod to Angle & Benoit because they are former World champions, which is something the Brain Busters can't lay claim to. Either way, we're all winners for witnessing this.

Oliver: Oh man, this isn't fair. Putting four of my all-time favourites into one match and asking me to choose between them – this is like choosing between watching kittens and puppies. Both are great options. I'll always say that The Brain Busters never really got their due as champions. Their runs for the NWA weren't especially lengthy, nor did they ever get the chance to establish a truly lengthy feud for the belts. They should have had one with The Midnight Express, but unfortunately they were pissed off with their PPV pay outs and chose to leave immediately after losing their titles. Their WWF run ended reasonably similarly, without any notable runs with the titles even though they supposedly tore it up against The Rockers on the house show circuit. On the flipside, you have two of the best technical wrestlers to ever lace a pair of boots, and at their peaks Angle and Benoit could tear it up with any other team of wrestlers.

The chemistry between these pairs should be perfect, with Arn and Tully looking to outmuscle their opponents whilst Benoit and Angle aim to dissect and maim one of them. Would the dissension between the Olympic Gold medallist and the Rabid Wolverine come in to play and cost them, as it often nearly did during their run on Smackdown? Possibly. But I think the two submission specialists would overcome the strength of Anderson and the speed of Blanchard. Angle and Benoit to win, then, in a closely fought, technical battle.

Subho: The Brain Busters, comprising of Arn Anderson and Tully Blanchard, didn't have a lengthy reign in the WWF. Though they were part of The Four Horsemen, their stint lasted for only about a year, but it still gave them a Tag Team Championship reign.

Contrariwise, Kurt Angle & Chris Benoit's stint as a team was even shorter, and they were the epitome of strange bedfellows where their matches were filled with bickering. They still reigned as Tag Champions for a few weeks, though, and gave some scintillating performances. The No Mercy 2002 match with Rey Mysterio and Edge is a favorite of many, and rightly so.

To have these for technical warriors in the same ring together is a mouth watering prospect. You're just going to get some stiff, bone crushing action that is sure to thrill you. Kurt Angle & Chris Benoit with their high flying abilities have the slight edge here, but you know Arn and Tully are going to play every dirty game in the book to gain the upper hand. Ultimately, though, Angle and Benoit would edge out their inspirations. One thing's for sure, though, this would be the most technical outing of all the matches in this Series, and as such, would be quite the lesson for any Tag Wrestling fan.

JCool: Wrestling fans are likely more than a little excited when thinking of the possibility of these teams fighting in the squared circle. The amount of talent, athleticism and perseverance of these 4 men is what strikes me the most about this matchup. Both of these teams would push one another to the limit, possibly the time limit, if such a rule was in place. Technically, I think the advantage would go to Angle and Benoit, who, between the two of them, could and would likely suplex Anderson and Blanchard to death. Although Angle claims intelligence as one of his 3 I's, the wily vets, even to the point of being nicknamed as such during their stint in the WWF, would hold the advantage for ring smarts. I think they would use those smarts and select a strategy that would try to break down Angle and Benoit and cause them to lose their tempers. Sneaking in hits, tags, and cheap shots while the referee is distracted would be a consistent part of that strategy, too.

So what would the difference maker be? If we look at the track record of these two teams, Anderson and Blanchard have far more experience as a team than their opponents. While their opponents are amongst the best ever for their work rate and their pure wrestling ability, tag team wrestling is about which team is best. Hmmm... actually, there are more than a few cases where the championships have been won by only one person, fighting against two. Okay, who's got the most wins and the most prestige out of these two teams? Who gets the wins when it matters? The Brainbusters. I pick them to eke out a win here and create the Benoit/Angle feud anew.

zzzorf: Once again with the Brainbusters I have the problem of knowing more about them through word of mouth then I actually do through seeing them with my own eyes! I really need to watch more things from the past. What I know of them though is quite impressive, everytime I hear them mentioned it is always with fond rememberance by the person talking about them.

As to Angle and Benoit well I always loved when these two would face off, there matches were always entertaining, however we aren't talking about them facing each other here but in fact teaming together. While their matches were still top notch as a team, the same as this one would be, you always got the feeling that these two were better off as opponents then as a team. It is for that reason and the fact that The Brainbusters were the very definition of a tag team that they get the victory here.

Sixx: I love Kurt Angle. He is possibly the most talented professional wrestler in history. I was a huge Benoit fan right up until I found out the details of the last days of his life, and I am still a fan of his work, even if I can never watch it without a sinking feeling in my stomach anymore. And I really liked the two of them as a unit. A true dream team of the era. The Brainbusters, though, are my second favorite team of all time, right behind The Midnight Express. Arn & Tully were absolute masters of ring psychology, and never had a match as a team that I didn't enjoy.

This match puts together two teams with seemingly similar styles, as all four men are known to be very good technical wrestlers. All four men could brawl with the best of them. As far as match quality, this one could end up being the best of the bunch. The difference here would be the teamwork and trust. Angle and Benoit were uneasy allies at best, and sworn enemies at worst. Arn & Tully were Horsemen. They were friends. They were a unit. The Brainbusters win this one on the merits of being the better team rather than the better collection of individuals.

'Plan: Angle and Benoit had an absolutely amazing dynamic for the short time they were a team, amazing skills individually and legendary careers.

Anderson and Blanchard were great workers, shared immense substance as a team and were a part of the most legendary group ever in wrestling.

I don't care who wins. All I need to say is, "YES! YES! YES!"


Well once again due to 'Plan obstaining from picking a winner we once again have a tie vote. So once again readers it is up to you, who would win in a match up between these two teams? Remember to come back tomorrow when we see the match that OLIVER has put forward for discussion.






Los Guerreros
v
Motor City Machine Guns




Oliver: My pick features my favourite tag team of recent years and my favourite wrestler ever. And Chavo Guerrero. The thing is, I loved Los Guerreros and MCMG for pretty much the same reason – they were teams with a real history behind them, two guys who I could imagine teaming together and were great friends. While Sabin and Shelley might not have teamed together for their whole careers, starting only in 2006, but they had immediate chemistry and as two Detroit natives I could imagine them having been together for a long period. Opposite them, you've got Eddie and Chavo, who teamed together and competed against each other from a young age.

It would, of course, be a fast paced, high flying affair, although different to the Hardys vs Bucks match we've already looked at as each member wrestles a slightly more technical style than they are perhaps known about. What would be great would be the interactions between team members – lots of double teaming and combinations from each team, which would make this supremely good fun. At the end of the day, I'd expect Los Guerreros to run out the winners by a whisker, lying, cheating and stealing their way to victory, probably with a sneaky title belt shot.

Subho: Chris Sabin and Alex Shelley, at their heights, were a pivotal reason to watch TNA. Their chemistry was palpable and there were a few, if any, that could match them. Eddie and Chavo Guerrero's family bond translated in their in-ring performances, and there was nary a misstep. The energy of these two teams could only be matched by few, and if these two ever had a chance to meet in the ring, that would have been one for the ages. All four are/were students of the game, and as such, their preparations would be up to the mark, and you would have got something classic; and that's no hyperbole.

For this match, I would have to give the win to Los Guerreros, just because of my love for Eddie Guerrero. It's not to say that I won't give a chance to the MCMG, but they would have to take the fall in this instance. They would go their lengths, but ultimately, they'll take a bad risk and cost themselves the match. It's a shame that Eddie had to pass so soon because this could have still been a possibility. As a result, it extends beyond a Dream match, it's a wish.

JCool: While preparing my analysis for this almost certain "Match of the Year" candidate, I realized exactly what the finish to this match would be...and it made me smile. After an up-tempo match with many quick-moving sequences and high-impact moves, perhaps even a few over the top rope splashes and dropkicks to opponents in the ringside area, Chavo would slide a steel chair into the ring. The referee would not see it and then, Chavo would proceed to distract the ref while Eddie would set the scene in the ring. With Alex Shelley making his way over to Chavo and the ref, Chris Sabin would see Eddie grab the chair, smash it against the mat, and fall over. The referee would hear the chair shot, turn around and see that same chair lying beside Sabin's boots. Assuming that Sabin had illegally used the chair, the referee would disqualify the Motor City Machine Guns and Los Guerreros would leave with the victory. Sure, there'd be some upset fans for the dirty finish, but it fits perfectly with the Guerrero motto: "We lie, we cheat, we steal!"

This is the kind of match that would do well to start a PPV. These two teams bring a lot of energy and competence into the ring, which would have the audience appreciating their skills. These teams would have the audience's attention, engulfed in their zest for competition and proving their worth. These teams always seemed to have something to prove when they wrestled, and this kind of matchup would fit perfectly for that attitude. Los Guerreros with the DQ win!

zzzorf: Now these are two teams I am a bit more familiar with. I slightly mentioned MCMG back on the first day when I was talking about my love for spot fest tag wrestling and to me they are one of the better tandems of this style. They have the best timing I have seen of any non-related teaming ever and can seem to get moves done correct to the mere milli-second. As for Los Guerreros I wasn't as much of a fan back in the day as I am now but that is insubstantial as I can now sit back and enjoy what they had to offer. The beauty about the Guerreros is not necessarily the wrestling, which is top notch anyway, but is more the entertainment they bring with their antics.

The match should be an interesting watch, the varying aspects of team work these two teams have would make for a more modern spin on a traditional tag match. Both teams know their partners inside and out like any good team should and just know exactly what each other is going to do allowing a very precision delivered match. I would have to give the win here to Los Guerreros as while I prefer the Machine Guns I remember them more for being gallant in defeat, and anyway you just know the Guerreros are going to lie, cheat and steal their way to victory.

Sixx: I miss Eddie. That guy could make anything entertaining. Even Chavo… Joking. Sort of. I'm not a Chavo fan, but as Eddie's partner, he was great. Los Guerreros is on my top 10 list of favorite tag teams, as much for what they did outside the ring as what they did in it. MCMG are one of my favorite modern teams. A lot like the Guerrero situation, I'm not a huge fan of Chris Sabin, but I do like Alex Shelley. However, as a part of the unit, I am a much bigger Sabin fan than I am otherwise.

These teams compliment each other very well. Very exciting, high risk styles, with mat skills to back it up. As far as just technical wrestling, this has the potential to be the best match of this group if Eddie and Chavo could get the Guns to slow down the Indie pacing a bit. The question here is, could The Guns beat The Guerreros? I say no. Eddie is just too smart. Lie, cheat, and steal!

'Plan: Due to my personal tastes, I've always thought MCMG were better when paired with larger opponents rather than a similar high flying tandem, mainly because it naturally lent greater purpose to their chosen style. As another example of the kind of highlight reel team that has dominated the majority of these picks, it would be easy for me to be as dismissive of them as I am of, say, The Young Bucks, but in actuality their image exudes attitude, which caters well to a sort of bad-ass babyface underdog team; such teams excel most when on the back foot in the face of a size difference. That's when the underdog element is at its most effective and when the bad-ass element is at its most effective; it's about posturing.

So pairing them with Los Guerreros is interesting. Eddie and Chavo had a tongue in cheek manner that got them over naturally as quasi-babyfaces and their ring work was exactly what you'd expect. But what they were capable of doing was moving away from the luchador element and closer to a more traditional WWE aesthetic. It'd be fascinating to see how MCMG could adapt to that, and I'm sure there's space there to work the Lie, Cheat and Steal gimmick in a manner that facilitates MCMG getting a bit pissed and becoming, maybe not underdogs, but certainly miniature bad-asses.

I'm pretty sure the two teams here could pull of something great, if only just the once, but nostalgia means I've got to favour booking Los Guerreros as the winners. The rapidity of both tandems could create the perfect environment to exploit their gimmick too.

Ranting Randall: I might be biased with this, because I called Chavo a wanker on Twitter a few years ago and he responded before blocking me, but because he was teaming with Eddie and were very entertaining, I'll let it slide for now (wanker). Eddie and Chavo had teamed well before WWE, back in WCW, but it was more Eddie mistreating Chavo than actual teaming. They are family and know each other inside out and both have been champions numerous times, whether together or as singles competitors, so I'd have to go with these guys to take the win. in what would probably be a high flying match.

Oh, MCMG? Fuck Chris Sabin. Alex Shelley was the man behind that team, even if they did have great matches against Beer Money.


Well we have our first clean sweep of this series with Los Guerreros going 7-0. So readers did we get it right, do the Machine Guns have no real chance against Eddie and Chavo? Remember to come back later when Day 6 goes up, this time with the match that SUBHO has to offer.






MNM
v
The Rockers




Subho: I became a fan of wrestling in 2004. Tag Team wrestling wasn't at a very good place at that time, even though there were 2 Tag Titles. My first experiences of Tag Team Wrestling were watching Hurricane & Rosey and La Résistance. But soon enough, MNM debuted and they would make me a complete fan of Tag Team Wrestling. MNM (Mercury, Nitro and Melina) were the coolest thing going around at that time. Even if you weren't a fan, Melina's split was bound to make you drool. Not that Johnny Nitro and Joey Mercury were slouches either. They brought with themselves some brash style of Tag wrestling that was completely untamed and went on to redefine a division that was in limbo for quite some time.

But before their time, there was one other team that also redefined the product of their time span. Shawn Michaels and Marty Jannetty were the cool dudes of their generation. Bringing in athletic abilities never before seen on WWF Television and not only that, but combining those abilities with a tremendous knowledge of Tag Wrestling. I've gone on and watched many a shows from the past to extend my knowledge of the product, and there hasn't been a team that has left quite a mark. Their matches with The Hart Foundation are some of the most technical stuff you'll ever see, and when Tag Wrestling was again in limbo from 2007/08 till the end of 2012, I wished the newer breed would learn from the past.

Thus, when zzzorf asked me to name one Dream Tag Team Match of mine, I chose this clash of the early days of my fandom and the past that I never had a chance to see live.

I imagine about this match and I know it'll blow the roof off the place. At their primes, The Rockers vs. MNM could surely have been a classic, that would mesh all the technicalities of Tag Wrestling with the modern knowledge that all of the individuals brought for their times. JoMo has been compared to Shawn Michaels for his unrivaled athleticism and being a bumping machine, and when these two collide, you know you're going to witness something epic. Both Mercury and Jannetty have been overlooked in respect of their partners, so when they get a chance to meet in the centre of the ring, it'll be a game of one-upmanship (and irony).

As for the winner, I would have to go with MNM. Michaels and Jannetty have the experience, but MNM have grown up watching them and would know how to counter their explosiveness with their own. It'll be a close contest, but ultimately the new breed would rise up to the occasion.

JCool: Here's an interesting fact: MNM had 3 WWE Tag Team Championship reigns and The Rockers had 0. Don't get smart with me. I realize The Rockers were around when WWE was still WWF, but, even still, they have 0 championships to their credit. Yet, they are almost universally considered one of the most exciting and talented tag teams of their era. These days, it's rare to have tag teams stay together for very long. The Rockers were a team for 6 years. MNM were a team for 2 years and made quite a splash in the tag team division, at a time when the tag division wasn't super competitive. I'd like to think that experience would be a factor in this one, since both teams wrestle a similar style and have similar builds and move-sets. My pick would be The Rockers to defeat MNM.

In this match, the advantage would go back and forth between the teams. I can picture the Rockers getting the crowd support though, which would help them overcome the arrogant, movie-star attitudes of Mercury and Nitro. The double diving fist drop from the top ropes would be a highlight of the match and I think the vanity of MNM's members would prevent them from having the focus needed to beat Jannetty and Michaels. Remember, the Rockers were a hungry, young team, and they wrestled against some of the great teams of the 1980's. These experiences, along with their motivation and attitude, would be sure to give them yet another advantage in this matchup. It's a no-brainer for me: The Rockers win.

zzzorf: Now this makes for an interesting matchup that would be definitely worth a watch. While it would not be the main event calibre that some of these other match-ups are (in fact this match would make a phenomenal PPV opener), this could easily be one one of the more entertaining matches of the seven chosen. Both teams are similar in style and therefore should perfectly compliment each other pretty well.

My only difficulty with this match would be the teams experience against similar styles. While The Rockers are definitely the more experienced team having many more years of teaming under their belt, that experience is more against guys of a bigger size and of a more roughhouse style which was the tag team norm at the time. MNM however comes from a time when smaller guys were more apparent in the tag scene and it is this experience which leads me to give them the win.

Sixx: These are two teams that I thought for a long time would be mirror images in career paths. One guy can't kick his habits and washes out of the big time while the other becomes one of the bigger stars of his era. I have never been so happy to be wrong. Morrison may have been a cure for insomnia as a singles wrestler, but as a team, MNM had a great run. They worked well together, won a few tag titles, and were very hateable when it was their job to be so. The Rockers were the opposite side of the same coin. They worked well together, and were loved when they were supposed to be. The big difference is the lack of titles, but that is only in the WWF/E, as they were two time AWA World Tag Team Champions before making the jump. On the surface, this looks like a good matchup.

Style wise, this should be another good combination. Both teams mix the aerial attack with the mat game, and you get the classic face/heel dynamic, which always improves a tag match, in my opinion. The difference in this match, I think, would just be talent. The Rockers are more talented, thus I believe that the Rockers would win.

'Plan: Truthfully, I'm not convinced on this one. The Rockers were a great team with a great look and a great style that set them apart from the bunch; most teams operated as two men whereas The Rockers, in their double-team offense, operated as an extension of one another. Smaller, quicker and younger than most of their counterparts in the division, I've always felt large parts of their success was due to their unique nature. MNM, meanwhile, were probably the only real synergetic team of the division on Smackdown! at the time of their run. They had the one semi-decent tag team finisher and, despite a strong showing in the '06 Rumble and a battle royal shortly before, to me they were a far cry from the greater teams in company history. Certainly, I wouldn't turn to them for a dream match.

MNM had a decent gimmick that was heavily over-produced; The Rockers had a great gimmick that relied on the subtlety of standing out rather than tacky outfits and cringe-worthy props. In the ring too, which I imagine is what prompted the choice, they were all rather similar, at least as individuals. There were a myriad of differences once you get to the nitty-gritty, granted, with The Rockers being far more capable and convincing brawlers for example, but I'd imagine the action would probably only ever be able to stay on a single level.

All in all, I don't consider it all that great a match to be honest, and certainly I'm not convinced there's room enough between the two for a compelling story. Who wins? Eh, whoever. MNM maybe, because they had Melina.

Ranting Randall: Man, I loved MNM back when they first debuted. The glamour and glitz of Hollywood, good looks and ego, along with a fine looking woman (despite her slutty ways) made them an instant hit with me, epecially after defeating Eddie Guerrero & Rey Mysterio for the WWE Tag Team Titles (I hate Rey). They had 3 reigns and were quite successful during their 3 years of being a team, with a cool aided DDT finisher (The Snapshot) that always put the opposition away.

On the other side of the ring, we have the 7 year experience of The Rockers and probably the more infamous team due to the break-up and subsequent arguement over the years as to who the "Jannetty" of team break-ups are. These guys were young, high flying and popular (with the ladies), while having acclaimed matches with The Brain Busters and even ironman matches with the Fabulous Rougeaus Brothers. Of course, they never achieved gold (well, they did but it's a long story) and parted ways, with Michaels going on to better things while Jannetty became the butt of tag team jokes.

As for who would win? It would have to be The Rockers. Nitro/Morrison may have been pegged as a future HBK, but he hasn't been as successful and The Rockers have more experience as a team with more credentials, even if they are mostly all Shawn.

Oliver: Oh, now this would be a lot of fun. A whole lot of fun. On paper, Nitro and Mercury have their backs against the wall against the superior Michaels and Jannetty. But I'm not sure it's quite as clear cut. The truth is, we've got the original Michaels and Jannetty coming up against a modern (and less successful) Michaels and Jannetty – Nitro/Morrison should always have done better than he did and was quite underrated during his time with WWE, while Mercury would probably have achieved some minor success had he not had his problems with substance abuse. Jannetty's career with WWE was always blighted by the Charles Austin situation, while Michaels soared and reached his potential and then some.

With Melina squealing at ringside every time one of her stablemates gets touched but also running interference, I imagine this would be a little closer than many expect but would certainly end with Michaels' boot imprinted on the face of one of MNM, and The Rockers taking the win.


Day 6 is now in the books and we had another close call with The Rockers pulling out the victory at 4-3. Remember to come back tomorrow when we take a look at the final match as was chosen by the final writer JCOOL.





Beer Money, Inc
v
The New Age Outlaws




JCool: In this TNA vs. WWE matchup, we have two of the most decorated and popular tag teams in the history of either company: James Storm and Bobby Roode of Beer Money, Inc., and Bad Ass Billy Gunn and Road Dogg Jesse James, the New Age Outlaws. I chose these teams because I was looking for teams from competing companies who had a similar record or success rate, who had never faced each other, and for whom the possibility of the teams wrestling wasn't entirely impossible. If Gunn and James had stuck around TNA a little longer, they would've certainly run into Storm and Roode.

Each team has held their company's respective tag team championships for almost the same amount of time: the Outlaws have 468 days as champs, Beer Money, Inc. have 466 days. So, they are both teams who are capable of retaining their position atop the tag team division and they are both teams who are capable of beating a variety of different teams to prove their greatness. So, now that you know the why, let's get into the how... how will this match turn out?

Things to like about this matchup: We have two teams who like to brawl, like to get rough and tough and beat the crap out of people. This would not be a very technical bout, nor would we see very much in the way of high-flying, except for the odd ascent from Storm and Road Dogg. Also, if the powers that be decided it was a No-DQ matchup, it's fair to suggest that there would be some dented chairs and broken tables by the end. Neither of these teams is afraid to push a little harder or go a little farther to win the match.

These teams have entertaining theme songs. The Outlaws are famous for their pre-match promos, and this would be a fine occasion for Road Dogg to proclaim the greatness of the team and how Beer Money, Inc were going to need a lot of money to buy a lot of beer to drink their sorrows away after they had their asses handed to them. Beer Money, Inc. would have the fans chuckling with the lyrics of their theme song, but who doesn't like an excuse to shout things, especially at a wrestling event? Shouting "Beer!" and "Money!" as Storm and Roode entered would be great fun!

It would be amusing to try and measure who gets the most height on their finisher: Billy Gunn and his "Fameasser" or James Storm and his superkick?

In this kind of match, I think Bobby Roode's abilities would shine and he would stand out as the MVP of the match. The guy can do it all: work a brawling style, submission style, use the top ropes when necessary and accompany it all with a mean streak. The New Age Outlaws definitely mean all business but I'm not sure they could match Roode's intensity. He is the IT Factor, after all.

Final Decision: After 16+ minutes, Beer Money, Inc. would have their arms raised in the air after getting the pinfall victory over the NAO.

zzzorf: This is the sort of matches I think of when thinking about dream matches, two teams who were the top of their eras for their respective company who if things had worked out somehow and found themselves in a match it would have been epic. While this match could still happen today it would not be the same, the Outlaws have losses a step over the years and I reckon if you put Beer Money back together now it just wouldn't work out as good as they used to be. No it has to be these teams in their first runs together facing off, nothing else would work.

As to a winner well that is obvious for me, the Outlaws have always been one of my favourite teams so they get the nod here.

Sixx: Beer Money is awesome. By far my favorite modern tag team. These guys were awesome together. In fact, they reminded me a lot of one of my favorite teams of the Attitude Era… The New Age Outlaws. I will never forget the debut of the Outlaws. I could not believe that The Roadie and Rockabilly had won a match. Then I couldn't believe they won two. Then they were the champs and throwing Terry Funk and Cactus Jack all over the place in dumpsters. Over the course of a couple of months they went from two guys lucky to have jobs to two guys that people were tuning in to see. While neither of them were ever in such dire straits, Beer Money was similarly formed. James Storm and Bobby Roode were both going nowhere fast as singles wrestlers when they teamed up. Just like the Outlaws, within a few months they were one of the highlights of the show.

They won't be trading many headlocks in this one. I do think it would be a great brawl, though. I went back and forth a lot on a winner here, but I finally decided on Beer Money because… Just because. These teams are very evenly matched, and I decided to go with Beer Money mainly because I picked the older team in every match up to this point. I also think that if they ever start teaming regularly again that Beer Money could end up being one of the greatest teams of all time. So there's that, too.

'Plan: The problem here for me isn't with Beer Money. I actually like(d) Beer Money. They had a neat gimmick, felt a little old school and while I'm not a huge fan of James Storm in any arena of pro wrestling I've always felt Bobby Roode to be bloody brilliant. While I'd class them as good rather than great, I could certainly see them in any number of "dream" tag bouts – for me, I'd rather see them up against Los Guerreros than any of the other tandems selected by my colleagues.

My problem is with the Outlaws. I've never been a fan of them. I don't rate either as a competitor first off. Gunn may have turned heads recently, but the lack of perspective people have shown in praising him – suddenly deciding he was such a wasted talent in his hey-day – is utterly ludicrous. His game today is as average as it was in his youth, but the only difference is that average looks great in the frame of old age. Road Dogg was even worse. While a great mic man, he never showed anything more than an extremely limited range in the WWE ring. Their matches would always follow the same formula, be they heel or face, which consisted of a laborious Road Dogg beat-down before a hot tag to Billy. In short, I don't like them, I never did, I never will and I won't be convinced otherwise.

With that said, because it's the Outlaws, the match would no doubt follow that one dimensional routine and I'm sure, due to the inexplicable momentum the company always afforded them, they'd probably come out the winners too.

Fuck the New Age Outlaws.

Ranting Randall: I have a favourite out of both these teams, while I'm not a fan of the other two, despite both having a quality I like. Beer Money, I like Bobby Roode, but dislike James Storm (I love his theme though) while in NAO, I like Mr Ass (he was the first ever wrestler I picked in my first ever Smackdown gameplay, don't ask) but I'm not fussed on Road Dogg, even though he's great on the mic. Beer Money were one of my favourite TNA tag teams that had great matches and numerous reigns. The New/Old Age Outlaws have made a comeback and are the current champions in 2014 (who'd have thought?) and have the veteran advantage against Beer Money. Then again, this probably involves having the NAO in their prime, so that would be eliminated. Ha, didn't think of that......Road Dogg has wrestling in his family and Billy Gunn had a singles run, even if it wasn't that great but Beer Money have had World Title reigns, which is something NAO can't lay claim to. Tough one to call, but I'd go with NAO to eek out the win. This would be a fun match either way.

Oliver: Beer Money, Inc. By a mile. New Age Outlaws were never that good, still aren't that good, and will never be as good as WWE want you to believe. Even if James Storm is The Worst, Beer Money, Inc. would romp to victory in a straight match. Now, put a friend of Road Dogg and Billy Gunn on the booking team, however…

Subho: This is the 2nd match of the Series that has a wild possibility of still happening, and that is quite sad in some levels. Not that it wouldn't be interesting had the Outlaws been in their primes, but to sit here and see that they are the Tag Champions in this day and age, is quite crazy. Through my viewings of the Attitude Era, they never struck me as something extraordinary, but they had the ability to play up to the crowds that drew you into their matches. Their pre-match promos were great, too, and shockingly, it never got old, and they still haven't.

Beer Money, Inc. have their brotherly bond that makes them favorites, but The Outlaws abilities are not to be questioned either. Both can play dirty and have a wide arsenal. Outlaws being the more experienced duo gives them more knowledge about the ins and outs of Tag Wrestling, but Beer Money have learned their craft as well. It'll come down to who can use their strengths the best, and thus, I would have to give the win to Beer Money, Inc. The Outlaws would have to do the job this time around, and understand that their time is well behind them.


With Beer Money, Inc scoring the victory in the last match with a score of 4-3 we find ourselves at the end of the sixth series of Me and My Mates. If you wish to read anymore work from the writers involved you can read Oliver here on the MP or any of the other writers over in the forums. Thank you all for reading and I hope you all enjoyed yourselves.



Feedback:

E-Mail: zzzorf@yahoo.com

Twitter:


Facebook: Add me as a friend here






Lords of Pain Wrestling (LPW) is an e-wrestling federation established in Spring 2003. Regarded as one of the most competitive and popular e-federations on the world wide web, LPW spans handlers from five continents. Click here to sign up.
Me and My Mates: Dream Matches 6 - Tag Team Turmoil (Match 7: Beer Money, Inc v The New Age Outlaws)
The King of Stats presents the 2013 WWE Superstar of the Year - #1 Daniel Bryan
The King of Stats presents the 2013 WWE Superstar of the Year - #10 to #6
The King of Stats presents the 2013 WWE Superstar of the Year - #15 to #11
The King of Stats presents the 2013 WWE Superstar of the Year - #20 to #16
The King of Stats presents the 2013 WWE Superstar of the Year - #25 to #21