---



Me and My Mates: Dream Matches 5


By zzzorf
Jul 26, 2013 - 6:19:15 PM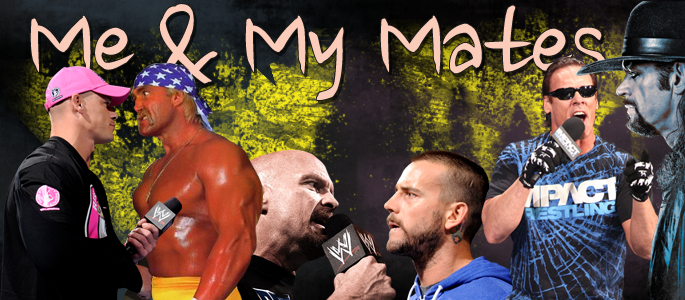 banner courtesy of The Southern One




Day 1. Yokozuna v Samoa Joe
Day 2. The Rock v Shawn Michaels
Day 3. Ric Flair v AJ Styles
Day 4. Steve Austin v Goldberg
Day 5. Daniel Bryan v Owen Hart
Day 6. The Undertaker v Sting
Day 7. Alberto Del Rio v Eddie Guerrero


G'day one and all and welcome to the fifth instalment of Me and My Mates and the second ever to have graced the main page here at Lords of Pain. Yes it is that time once again for the greatest ever mass columnist extravaganza to take centre stage at the premier wrestling site on the whole world wide web.

For all of you who have never seen this series before let me explain to you how it works. I have gone out and collected 6 of my "mates", 6 columnists who have earned my respect throughout my time in Lords of Pain. All these columnists are kept ignorant of each other so that their replies could not be contaminated by knowing who else is involved. Each writer had to give to me a wrestling dream match, something that they wished to have seen but through circumstances such as time or location the match has never gone down. They then had to write a couple of paragraphs on the match and who they think would actually win the match in question. All columnists were then given the other six matches and had to do the same thing for them. Every day for the next week I will post one of the matches and all of the replies for that particular match so remember to keep checking back in each day for the next match.

Joining me ZZZORF for this series and helping me discuss some of the biggest matches that Me and My Mates has seen are one of the more varied casts I have ever assembled. The first really needs no introduction is my fellow Main Page colleague and the winner of the 2012 Main Page Writer of the Year THE DOC. Next we have the guy with whom I replaced here on the Main Page and who is doing great things back in the Columns Forum as we speak, making his third appearance in these series is MIZFAN. My third writer is in fact not someone generally known for his writing, in fact he is one of my readers with whom has used my Facebook link at the bottom of my columns to interact with me, let me introduce to you all JASON. Up next we have a guy who has made a name for himself in the Columns Forum as a slightly controversial writer and was a guy who had a lot to say in my feedback for series 4 as he saw the matches not to be Dream Match worthy, I give to you CNS04055. Lastly my next writer is the runner up to Main Page writer Freeman in the NXT tournament I held in the Columns Forum earlier this year LWO4LIFE.

If you took any notice then I only announced me and 5 of the other writers then, well that is because my original plans had to change. Due to personal reasons my 7th writer Dannokaboom had to pull out before writing anything. As he pulled out only earlier this week I had a decision to make, do I continue on with only six writers like in the original seasons or do I find someone to take his place. After a lengthy debate within myself I decided to replace him but since Danno's dream match had been written about by most of the writers I decided to leave it in. Since I only had a couple of days till posting and for the fact that I didn't need a dream match from them just the writing I forwent the secrecy and put out a post in the Columns Forum for anyone who wanted to take on the task on a first in, first served basis. What I was looking for was a writer, instead I got the Columns Forum's resident stalker T.O.. While I haven't got every match from him yet as it was short notice with all luck he should get all 7 in, and all I can say is that you are in for a treat.

Now before we get started you may have noted that before I stated that the matches this time are some of the biggest we have seen so I decided to go and dig up what has come before. Due to the wipe the forums went through mid last year and the fact my old computer carked it some of the write-ups are gone but I was still able to dredge up what the match-ups were through sifting through my Facebook for the plugs. Here then are what has come in previous series.

Dream Matches (column lost to oblivion)
Chris Benoit v Daniel Bryan (zzzorf)
Ric Flair v John Cena (Mizfan)
CM Punk v Jake Roberts (TripleR)
Dusty Rhodes v Hulk Hogan (Prime Time)
Dolph Ziggler v Mr Perfect (eldandy)
Ric Flair v Arn Anderson (The Masked Newton)

Dream Matches 2 (column lost to oblivion)
Bret Hart v Kurt Angle (zzzorf)
Randy Orton v The Rock (Jackster)
Steve Austin v Sting (freeman)
Brothers of Destruction v D-Generation X (fenixx)
The Undertaker v Umaga (SkitZ)
Rey Mysterio v AJ Styles (Wacco Zacco)

Dream Matches 3 – Now With Gimmicks (viewable here)
Cactus Jack v John Cena – I Quit Match (zzzorf)
William Regal v Samoa Joe – Submission Match (TripleR)
Ric Flair v CM Punk – Iron Man Match (Mizfan)
Shawn Michaels v Randy Savage – Ladder Match (Mazza)
CM Punk v Eddie Guerrero v Kurt Angle – Triple Threat Match (Skulduggery)
Diamond Dallas Page w/Kimberly v Edge w/Lita – Valet Match (Macho Mourn)
Andre The Giant v The Big Show – Bodyslam Match (Lunchbox1981)

Dream Matches 4 (viewable here)
John Cena v The Ultimate Warrior (zzzorf)
Bobby Roode v Triple H (Maverick)
Ted DiBiase Sr v CM Punk (ChrisBear)
Kurt Angle v Jack Swagger (TheCrow)
Daniel Bryan v Brock Lesnar (Sidgwick)
Edge v Bret Hart (Wrestleholic)
Daniel Bryan v Eddie Guerrero (Hustle)

OK so now that is out of the way it is time to move on to series 5 and as always we start off with the pick of yours truly ZZZORF.



Yokozuna
v
Samoa Joe



zzzorf: I can picture the majority of you shaking your head in wonderment at why I would pick this match as quite honestly it is not a match you would normally think about in when running down a list of possible dream matches. The thing is I've been there and done that. This is my fifth series of Me and my Mates and I have gone the obvious routes I thought it was time for a change. So when I sat down to think about this match I ran through a lot of different prospects and then managed to come up with a group of matches that tickled my fancy (no not in that way you sick bastards). After going over the list over and over again I was able to narrow it down to just three matches, this one being the better of them, the others will come in future series.

However when I first thought of this match it didn't straight away jump out at me as a great match, instead I had to dwell on it for a while to let it sink in. While Yokozuna was a great wrestler in his own right he would not normally figure in someone's dream matches, especially not mine. Don't get me wrong I like Yokozuna, as a kid growing up I saw this big Japanese (hey I bought into what WWE told me, I didn't know at the time he was actually Samoan) sumo wrestler who dwarfed all other wrestlers. While I liked the smaller wrestlers of the time I also quite enjoyed those of the larger variety such as Yoko and Earthquake. While I have fond memories of his matches with Bret Hart, Shawn Michaels and The Undertaker thinking of him wrestling anyone else just doesn't really jump out at me, well at least to I think about Samoa Joe that is.

To me Samoa Joe is everything Yokuzuna would have been if he had been a fair few pounds lighter. Even thoughYokozuna comes from a great wrestling family who have developed many great wrestling names over the years it is a non-family Samoan who more closely resembles what he offered.

The match itself would be hard to really imagine but I believe it would be a quicker paced match then you would expect from guys the size that these two are and also a lot more moves that you wouldn't expect. While it wouldn't go down as one of the classics of history I feel like it could very well could have been up there with the greatest Yokozuna matches in history. As to the winner well it could honestly go either way depending of the result needed for the current part of the story in their feud, however for this I have to give the win to Yokozuna well just because while writing about him I am remembering back to the casket match against The Undertaker at the 94 Royal Rumble and I think to myself that Joe just doesn't have anything that pulls that sort of reaction out of me yet.

The Doc: During the time in my wrestling fandom when I paid close attention to TNA Wrestling, there was only one of their stars that I enjoyed watching more than Samoa Joe. I thought that he had a lot of the same qualities as Mick Foley as a wrestler who could do things that others could not and looked different than the average superstar. His unique qualities made him an ideal candidate to be one of the indy stars that ultimately made it in the WWE. Though that never came to be, a match between he and the WWE's first Samoan World Champion, Yokozuna, is fun to ponder. I cannot claim to be overly enthralled with the idea, but if you were to take 1993 sized Yoko and put him against 2005, healthy and motivated Joe, then I can see the appeal. 

Had their paths crossed when both were in their respective primes, then maybe Yoko could have led a stable of Samoans also including the Headshrinkers and Joe that would have concluded with Joe rising up to break free from Yoko's control. The subsequent feud and match could go either way, with Yoko using it as a means of staying relevant and maintaining a main-event spot or, if the crowd connected to Joe, using it as a vehicle to push Joe to the top of the card. I would give the figurative nod to Joe in that scenario, but in any other, Yoko would be the clear historical winner given his Hall of Fame stature.

Mizfan: There aren't a whole lot of "dream" matches you could think up that involve Yoko, but this is one that seriously tickles my fancy. Joe is, of course, capable of dishing out some of the worst punishment I can ever recall seeing, but if there's anyone who would be able to absorb the blows and come back swinging it would have to be the Samoan Sumo. I think it would be a marvel to watch Joe throw everything he could possibly muster at the big man, only for him to believably shrug it all off and take Joe down with raw power. It's a tough thing to see Joe on the back foot but this would certainly do it. Would Joe be able to climb the human mountain? I'd like to think so. Just the image of Joe hitting that Musclebuster on 'Zuna is enough to get me dreaming. I'll give the win to Joe here, though he'd have to half kill himself to get there, but at the end of the day he's got the mix of speed and power that would leave the lumbering Yoko in the dust.

Jason: First off, I'd like to thank zzzorf for allowing me to participate in this, my very first writing assignment for lordsofpain.net. I've been following this site regularly for seven years straight now, and also regularly viewed it as a teenager over ten years ago. It's one of only two sites I visit daily now (Facebook being the other), and I'm thrilled to be taking part. Our first match is between two wrestlers who I know, but I am not overly familiar with. I've only seen a dozen or so Yokozuna matches thanks to my extensive WWE DVD library, and while I've watched a few episodes of Impact over the years, the majority of the Samoa Joe matches I've seen are from online videos. I'd like to believe I've seen enough of both men in their prime to still make a fair assessment on how I would book the match.

Samoa Joe comes out first, with the crowd chanting his name. Yokozuna arrives next, along with Mr. Fuji, to a sea of boos. The bell rings, and then men face off. Joe starts off by throwing strike after strike to Yoko's face and body, but is caught with a belly to belly suplex after a failed clothesline attempt. Yokozuna then dominates Joe with a variety of strikes and slams. Every time Joe tries to mount a comeback, he is taken down by the much larger man.

After nearly ten minutes of domination, Yoko sets up for the Banzai Drop. Joe, however, rolls to the outside, and the big man comes crashing down to the bare canvass. As the ref checks on Yoko, Mr. Fuji runs around and tosses salt in Joe's eyes. Joe clutches his face as Yoko rolls out. He slams Joe's face into the ring post and rolls him back into the ring. Yoko slowly climbs back up top for another Banzai Drop. Despite being blinded by salt and a crimson mask, Joe uses his great ring presence to follow, and locks him in the Coquina Clutch. The big man comes crashing down, but Joe is knocked out from the impact and Yokozuna just lies there to get the 1-2-3. Both men are out cold, but the crowd pops when Samoa Joe comes to his feet first. As the referee raises Yoko's lifeless hand, Joe beats the bloody hell out of Fuji.

T.O.: Well, this is a bit of a mismatch, isn't it? Even if Joe could exhume ol' Rodney's corpse, he'd still be quite the pushover. Then again, he's bound to have lost the weight Vince wanted him to lose back in the 90s by now. I can't imagine there are many sushi bars stationed six feet deep. Maybe he could get his job back finally? Yokozuna vs. JohnCena – can Cena overcome the odds?

What? You want me to be serious? Fine. Buzzkills.

Yokozuna was definitely a rare specimen, even for early-90s WWF. Sure, he was a big guy, in the Vince-loves-husky-boys mold, but he was also one of the most agile giants ever. The only man I could compare him to in a favorable manner is Vader. And ain't no one topping the Mastodon. We saw that in 1996. Poor Yoko.

But this is still a mismatch. Samoa Joe is also a big man in many ways, but eclipses Yoko in the agility game. He has the striking ability Yoko lost as his weight ballooned, and his submission acumen, when he's on top of his game, is second to none. Including Vader! (Book the match, Dixie…I'd watch.)

Yokozuna would look to push his girth/strength advantage early on, but Joe has been through far too many wars over the years to let such a simple strategy wear him down. In fact, I'd have Joe making Yoko tap out in 6 minutes or less. Samoa Joe wins in a laugher.

cns04055: I was a huge fan of Yokozuna.  There was something unique about Yokozuna where he didn't have to say anything.  You just saw it in his eyes.  He made being 500 pounds look almost effortless.  I also watched a lot of Samoa Joe in his early days at TNA.  I recently watched some of his matches with CM Punk due to the praise that @Titowrestling gave those classic matches.  Whoever picked this dream match, I was a little curious at first about why this would be a dream match, but the more I thought about it, the more I realized this was a perfect dream match.  YokoZuna wasn't appreciated enough in his era, and Samoa Joe definitely isn't appreciated enough in this one.  The match itself would have great wrestling for men of their size and you can just see these two working very well together if it happened.

Although Yokozuna was almost indestructible with his size, Samoa Joe could move a lot better than Yoko.   Sure, Yoko did look effortless for 500 pounds, but Samoa Joe makes a lot of things look effortless against any size.  I don't think that YokoZuna could keep Somoa Joe down long enough to get a pinfall on him.  Samoa Joe would work on Yoko until he tired Yoko out.  Yoko would probably have one last run due to his power, but toward the end I picture YokoZuna going for the Banzai Drop and Somoa rolls out before Yoko gets the big ass down.  Samoa hits his 3rd enzuigiri to finally put Yoko down for the three.  Yes… it should take at least THREE enzuigiri's to beat Yoko.

Winner:  Somoa Joe

LWO4Life: The Samoan people are some of the toughest people who have ever stepped into the ring. Many legends are of Samoan decent, though there are very few who can claim to be World Champion. Of those that can, Yokozuna is the first to come to mind as he had one of the most dominate years between WrestleMania 9 and 10. Of today's Samoan wrestlers, Samoa Joe is the best in-ring performer today. Well the WWE waits for Roman Reign's potential, or hopes the Rock has one more match, Samoa Joe has dominated the independent scene for over a decade. If Yokozuna was to battle a wrestler of today's era, the only worthy opponent would be Joe. Ironically, Joe is also NOT of the famous Anoaʻi that has dominated Samoan wrestling for three generations now.

The match it's self would come down to gravity. Though Joe is strong, Yokozuna had beaten the very best during his dominate reign from 1993 to 1994. Joe would have a hard time getting Yoko off his feet, though Yoko himself could easily push Joe around. Eventually, I think Joe could body slam Yoko, and this would start the tide turn which would get the crowd believing Joe will win. But this would be an illusion, as once Yoko powers himself back to his feet this match is over. Yoko's size would be too much as Joe would eventually get powered to the turnbuckle. Once there Joe will serve as a nice seat cushion thanks to the Bonsai Drop. 1, 2, 3.


Well there you go folks day 1 is in the books and it is by the narrowest of margin that the panel picks Yokozuna to win in a 4-3 close call. Hope you enjoy todays match-up for tomorrow we go in a more big time dream match when we take a look at what THE DOC has chosen as his match. See you all then.





The Rock
v
Shawn Michaels



The Doc: HBK vs. The Rock pits my all-time favorite wrestler (HBK) vs. my favorite wrestler from the vaunted Attitude era. I saw HBK wrestle just about everyone that I had ever dreamed that he would, from Benoit to Jericho to Angle to Hogan to Flair. The Rock was the exception. Ten years ago, it was a dream match. Yet, after Michaels became Mr. Wrestlemania with his incredible string of grand stage performances following his 2002 comeback, it has become the ultimate dream match. A few years ago, I wrote a multi-month fantasy tournament match up of the 64 best in Wrestlemania lore. My final was Rock vs. HBK. There is not another match that I can conjure up that would combine the best of the WWE main-event style with the potential for an all-time incredible crowd response. Naturally, this match would have to have a Wrestlemania setting. I cannot imagine it taking place at any other event. Crowds for Wrestlemanias are the most passionate fans in the world. Their appreciation for greatness earned Rock and HBK reactions that were second to none in the modern era. To see and hear how a crowd would respond to a match between the two all-time greats would be quite a sight, in and of itself.

The Rock's big game performance capabilities had few rivals and he always had a penchant for excelling in matches against smaller, faster wrestlers that could challenge his stamina and athleticism. His matches with Chris Jericho and Kurt Angle, particularly, come to mind as historical comparisons, but neither man could ever dream of matching the reaction that Michaels could get opposite an opponent like Rock at a Wrestlemania. HBK is the greatest performer in wrestling history, without peers when it comes to stepping up when the lights were shining brightest. He excelled no matter the opponent, but was at his best against Rock-sized opponents who were strong enough to allow HBK's bumping skills to make them look otherworldly but who were also small enough to allow HBK to utilize his full offensive arsenal. Triple H is about Rock's size and I would rank the HBK-HHH chemistry amongst the best of all-time.

Michaels would put over Rock, of that I am sure.

Mizfan: This is probably the biggest dream match that could have happened but never did. I'm sure WWE must be kicking themselves that they didn't even try to make it happen between 2002 and 2004, when both were more or less around the company and active at the same time. I mean, I suppose they could have done it in 1998 as well, but that's hardly the same now is it? At any rate, it's one of those matches we'll always have to wonder about. The Rock has tarnished his reputation with some fans in the last couple of years, but I salivate at the thought of the '03 Hollywood Rock tangling with a Shawn Michaels coming straight off his big comeback. In that period it's hard to imagine the returning HBK going over the departing Rock, but putting both men in a void HBK was always better at putting others over, so I will award this one to The Rock, though I certainly hope he'd bother getting in ring shape this time if it ever came down to it.

Jason: My initial idea when I came up with this column was to put a different spin on it. I wanted it to be how I would personally book the match, telling the story similar to the way events are covered on LoP. Once I started this match, however, I became somewhat confused on how I wanted to tell this story. First off, I wasn't sure who I wanted to play the babyface, and who was to play the heel. I ended up writing the column both ways. The first was too long, and fairly boring; the second ended up lacking detail. Both times, it was the face who came out on top. Because of how epic this match would be, I'm not going to give a detailed description of how the match goes down. I'm just going to dream a little bit. Let's just say The Rock challenges Shawn Michaels to come out of retirement for this dream match, and both men are heavily cheered.

First off, the build for this match would be amazing, and it would almost certainly have to be at WrestleMania. This is one of the greatest matches that has never happened. Mr. WrestleMania vs. The Great One. The Showstopper vs. The Most Electrifying Man in Sports Entertainment. The fans would eat this match up like very few before it. As for the match itself, although both men should be babyfaces, I'd like for the match to be in a smarky city. The Rock would probably get the early offense in, and it would be fun for the crowd to root for Michaels in his comeback match. The fans would still go wild for both men, which is what I want; that's why I want it in Chicago or Philly or New York as opposed to Texas, where Rock would probably be booed out of the building. I just personally am a bigger fan of Michaels, and wouldn't want the crowd eating up every little thing the Rock does to him.

As for the winner, it's really hard to say. Like I said, Michaels is my preferred Superstar, but I have a lot of respect for The Rock too. If Michaels was to go back into retirement, it might make sense for Rock to win, considering he's more likely to wrestle again. Then again, HBK lost his last two matches at 'Mania, so it would be nice for him to get that last big win before riding off into the sunset. I'm so torn here, but as to who should (and probably would) win, the answer has to be The Rock.

T.O.: From one Samoan to another, I see. Is Umaga vs. Haku next?

I was never a Shawn Michaels fan in his primary run. He had some impressive matches, but as a younger T.O., I was enamored more by storylines. Hence my adoration for WCW vs. the nWo, as well the Stone Cold Steve Austin saga. So, when Michaels made his return in 2002, I was admittedly taken aback by his amazing battles with Triple H – I had casually ignored his body of work up until then, because I despised DX (and have in every single form). The moratorium on praising Hunter on the Internet has to have been lifted by now, right?

Who did I favor instead of DX? The Nation, of course, ruled by The Great One. Rocky came into his own as the Corporate Champ following his domination of the Nation (yes, I know, save your catcalls), and provided the perfect surrogate for Mr. McMahon and foil for his enemy, Stone Cold Steve Austin. The Rock and Stone Cold worked together to make some pure magic, and both men earned by adoration and respect.

OK, so none of this is new to any of us. So why am I babbling about this? To prove just how confident I am in my prediction for this bout. The Rock is in WAAAAAAAAAAY over his head.

The Rock combined an impressive athletic streak with almost unmatched confidence (perhaps unabashed cockiness?), often beating opponents in the mental game far before the match ever began. Who perfected that game years before The Rock, though? None other than Shawn Michaels, no doubt the singlehandedly most self-confident superstar in history. Show-Off? No, Ziggler, you're not, compared to HBK. The Rock would struggle mightily to gain the mental advantage, and would have to alter his strategy in the heat of the moment. Throw a wrestler off his game and you're halfway home, daddy.

The Rock has the definite strength/power advantage, with his 6'5" frame dwarfing Michaels in every way possible. His battles with John Cena showed us how he loves to use the power game to gain the upper hand, and I expect his strategy to follow a similar route. He'll need to keep Michaels grounded by wearing him down blow by blow, targeting Michaels' famously-troubled back for the Rock Bottomfinish.

But, if nothing else, The Rock's recent run has shown how much stamina he has lost since his peak run. He's absolutely gassed in every match he's had since his return. Amazing to think he was in an IronMan Match. But remember who was in the very first one, and still showed an amazing amount of stamina, agility, and athleticism well into his 40s.

If this match goes past fifteen minutes, The Rock is doomed. His only hope is to physically assault Michaels before that benchmark and wear him to the point of exhaustion. But this is HBK we're talking about. Not happening.

Plus, you know, he tagged with God once before, he's bound to have picked up some supernatural smiting-your-enemies shit by now. Game, Set, Match, Dwayne.

However, in the end, Randy Orton sneaks in out of nowhere, cashes in his MITB contract, punts Rock in the skull, then RKO's Micha…oh sorry, got my fantasies mixed up there.

This was such an epic match to write about, let's book it again for the next installment!

cns04055: This is the match in the attitude era we never got to see.  Shawn was gone after WM14, and the The Rock didn't start really picking up until the Survivor Series after Shawn left.    By the time Shawn returned full time, the Rock was phasing away as a movie star.  We were cheated in the attitude era with no full-time Shawn Michaels.  Shawn wrestling full time during that era would have made the Attitude Era just that much sweeter.  But some would say Shawn would have taken a lot away too…  Would stars like The Rock or Triple H be where they are at if Shawn Michaels was still main eventing all throughout the Attitude Era?

This would have been one hell of a feud on the mic, and one hell of a feud in the ring, as an early Rock was an amazing wrestler for a big man but who in the hell can keep up with The Heartbreak Kid?  I think that if these two went one on one in their primes then Shawn Michaels wins.  It's very hard for me to say that because I think The Rock is one of the greatest of all time.  Even if you aren't going by pure wrestling ability and are going more by legacy to the business, it's still a tossup because each man did so much for wrestling.  This one is really a tossup but I am giving the edge to Shawn Michaels because of his quickness.  I think The Rock keeps Michaels struggling to gain offense advantage throughout this match, and it's so much back and forth that it's going to take a quick finisher to put the other one away.  I think that although the Rock Bottom could hit out of nowhere, Michael's superkick is even faster.  Probably would take a couple sweet chin's to keep The Rock down for good. 

Winner:  Shawn Michaels,

LWO4Life: Oh My God! A dream match that deserves the title dream match. The buildup would be amazing, as both can talk tens of thousands of people in a building. Looking at the buildup, I think it would be wise to look at Shawn Michaels vs. Hulk Hogan, as Shawn turned heel in order to be edgier and give us those promos we want. The Rock in the Attitude Era would be one of the few people that would be able to keep up with Michaels. Another area that will have the internet wrestling community buzzing would be the pre-match politics, as both wrestlers have their fair share of supporters backstage. Shawn in his prime could be known as someone who's very difficult to work with, were as the Rock was so over that it would be hard to book him to lose. Even ask John Cena, who should have been booked to beat the Rock the first time. Also, much of the booking done for these wrestlers focused on making both look strong, even in losing. It would take 3 stunners to beat the Rock, were as Shawn Michaels isn't going down unless his back was completely wrecked. The lead up to this match up could have the internet talking for years, just like many of their other matches.

The actual match, it seems very hard to pick between the Rock and Shawn Michaels. In their primes, both were extremely athletic and both could actually carry a match. Neither made many mistakes and both were great at capitalizing on other people's mistakes. But there is one weakness to the Rock that I think Shawn will expose, and that's the Rock's tendency to just fight on when it's obvious there is a no way he can win. Unlike the other great heroes of the past, the Rock can and will lose when faced with unbeatable odds. Triple H exposed this, and Shawn Michaels would take advantage. Triple H used D-X to run in, causing the Rock to get distracted while Triple H recovers and then delivers a pedigree. Shawn would have Rick Rude at ring side, much like Triple H had Chyna. Also, Shawn would have Triple H and Chyna ready to go the moment the Rock was gaining the upper hand. Eventually, the Rock would become too distracted and out of nowhere, Sweet Chin Music. 1, 2, 3.

zzzorf: Now this is a dream match I could really sink my teeth into, I mean any real fan of the American Professional Wrestling scene should be salivating at just the mere thought of this match. On one side of the equation you have Shawn Michaels, one of the leaders of the New Generation and a founder of the Attitude Era. On the other side you have The Rock, one of the leaders of that Attitude Era and you could possibly say one of the founders of the Ruthless Aggression Era. These era v era matches don't come along very often, but they do and therefore not many of them are left, this being one of the last of them.

The thing that surprises me the most though that these two never crossed paths in a match at all, not even anything like a multi-man tag match or Royal Rumble. When you look at the years of Shawn's hiatus from wrestling due to his back injury you find the years when The Rock was one of the top guys in the company, when he was doing all his best work. This thus offers the question, would Rock have made it big if Shawn did not retire after Wrestlemania XIV? While this what if question could easily fill a whole column on its own looking at all aspects of it I would have to say that Rocks natural talents would have still led him to stardom, he just would have had to have taken a different route than he did.

But we are here to talk about the potential in the match and not what could have been different. While this match could very well happen at Wrestlemania where it belongs there is something in me that screams Summerslam when I think of it. It is hard to put my finger on it, it might be because most Wrestlemanias nowadays are already star studded enough or that Shawn Michaels other famous Era v Era match against Hulk Hogan happened at Summerslam. I think however that it might be the fact that Summerslam is now held in LA every year and if any match has that blockbuster feel to it then it has to be this one.

However getting down to the nitty gritty of things in working out the winner of the match I have to look at what they have made of their careers. While for a long time Shawn was top of the business and was, as part of the Kliq, so called 'burying people' it became his lot in the wrestling world to put his opponent over. While Rock doesn't need anyone to lay down for him for us to know he is a star as we saw last year it still happens when even when even Cena lost clean to him, a job that he just doesn't do anymore (well t least for a couple of weeks anyway). No Shawn would do his job here and eventually will lay down for Rock to claim the victory.


Well there it is just like yesterday, a vey close struggle between two legends of the ring. This time it is The Rock pulling out the narrow 4-3 victory. So that is itfor today, hopeyou all enjoyed this mega dream match and I will see you all again tomorrow when we see what MIZFAN has to offer us this time around.





Ric Flair
v
AJ Styles



Mizfan: Aha, so we come to my turn at bat! Perhaps not all will see this as a dream match, but if you ask me there's very little that can rival the potential at stake here. AJ Styles is labeled by some as a spot monkey, but I can't see him that way. It's a trap he can fall into, but when put up against someone who pushes him he always brings his A game. Add that to the fact that Styles may be the most gifted pure athlete in the history of the business, and you've got a hell of a contender in one corner. And in the other, what is there to say about Flair that hasn't been said before? He's one of the greatest of all time without a shred of doubt. Put both of these men in the ring together at their respective peaks, and my mind boggles at the possibility. And on top of that, there is an absolutely perfect story already built in. AJ Styles, the wholesome family man, goes against Ric Flair, the personification of vice. It's essentially an updated version of the Steamboat/Flair feud, and while I wouldn't say Styles is better than the Dragon on the whole I will say that he can bring a style to the ring that Steamboat never did, and seeing Flair adapt his tactics to match would be purely magical. This is one of the greatest matches I can imagine to be honest, and while others on this list may be "bigger" this one may very well be the best. At the end of the day I would have to give the victory to the Nature Boy, but you just know he'd have a handful of tights to get that victory.

Jason: Our first match consisted of two wrestlers who I'm not overly familiar with, while our second was two megastars who I grew up watching. Match number three consists of a little of each. Like Samoa Joe, I've seen AJ Styles more through the internet than anything. Flair, on the other hand, was one of the first wrestlers I ever knew of. In fact, I'd heard of my mother serving him breakfast at a local cafe years before I first saw him on WCW Nitro for the first time. I've got all of his best matches on DVD and am still a major Ric Flair mark.

I wouldn't see this match being anything out of the ordinary, at least for a Flair match. Styles is an extremely capable opponent, but this is a match I'd have to see both men in their prime for. In that case, I'd have Ric playing the heel, and AJ the babyface who has earned a shot at the the veteran's title through years of outstanding work between the ropes. In other words, this would be like Flair's matches with Ricky Steamboat, but with the more flashy, brutal offense of Styles taking the place of Steamboat's flawlessly beautiful moves.

Also like Flair's battles with the Dragon, I could see this feud lasting over multiple amazing encounters, with the men trading wins and going to time limit draws. The end-result, however, would be the same. AJ would be elevated to legendary status from the matches, but when the feud is over it would still be the Nature Boy walking away with the gold. Flair wins, and is then attacked by Dean Ambrose, thereby turning Ric face and building up to an epic "I Quit" match on the Dream Matches 6 supercard.

T.O.: Ric Flair vs. AJ Styles? Really, no more Samoans? Well, Flair probably had enough bloody melees over the years with enough of them that he has their blood in his system, right? What do you mean I'm reaching? Ah, to hell with you all.

A battle of two of the prominent players in a since-defunct TNA faction – Fortune. We never got much of a solid blowoff to the faction, so let us see just how these two signature stars of their promotions from different eras would fare if they went toe-to-toe, shall we?

It's the old adage of the teacher never letting the student know EVERYTHING they know. Leave a little bit of mystery and intrigue just in case the student tries to bite the proverbial hand that fed him. Flair has 30+ years of experience and knowledge on being the dirtiest player in the game, while AJ Styles mostly made his name as a white meat babyface (up until recent days, I suppose). Flair no doubt has a million ways to cheat to win still that we have yet to see.

Styles would have to find the mental/psychological advantage to stand any chance of winning here. Maybe line up all of Flair's ex-wives and have one in each corner of the ring, demanding alimony payments? Either Flair flips out and gets disqualified, or runs away from the ring in a desperate attempt to flee the scene and dodge the court mandates once more.

But remember, Ric Flair works for WWE once again (in some odd capacity, who even knows any more?). You think Vince McMahon would dare risk having one of his employees lose to a TNA Original? No Chance in Hell (if you don't see what I did there, what are you doing on a wrestling site?). McMahon will employ every single crony he has, use every avenue to make sure Styles does not come to the match in one piece. Remember HBK being jumped by some military bros in Syracuse? Multiply that by the 16 times Flair was world champ, and, WOOOOOOOO!

Styles limps to the ring, Flair chopblocks him, slips on the figure four, Styles taps. In less than 18 seconds, even!

cns04055: This was a tough one for me because I really don't think that Ric Flair could keep up with an AJ Styles at all.  I know that if you are going by legacy, Ric Flair wins.  However, Ric Flair doesn't win in a one on one pure wrestling match.  No matter what way I try to look at it, AJ handles Flair for the most part the entire match.  Flair doesn't have the power to minimize AJ's offense.  Although Flair would resort to the dirtiest player in the game tactics, I don't think it's enough to keep AJ down for too long.  Flair was mostly about charisma in his career, but AJ is about wrestling.  This is a wrestling dream match, so AJ Styles grabs the win here. AJ would fall victim to the figure four, maybe a couple times, but AJ would get to the ropes.  I look at this match being up there with Ric Flair and Shawn Michaels, but Flair was well past his prime in that one.  Even in his prime, Flair can't keep up with AJ in his prime.  Logically, not a chance.

Winner:  AJ Styles

LWO4Life: One is the true definition of modern wrestler who never got the break they deserved in the big time, the other is the greatest wrestler of the WrestleMania era. To those who only have seen wrestling the last 15 years, you missed out on true greatness. Ric Flair in the whole of the 80's was the best thing in wrestling in terms of actually putting on a match and he wasn't so bad for half of the 90's too. He can put on a match with any style, which would be great because Ric Flair could actually keep up with AJ Styles. Styles would offer that great high flyer, underdog type match with Ric Flair. If there is a legend that could make AJ Styles look good, it's Flair. And I mean that with respect to Styles, as many legends could not keep up with him.

In terms of match though, I can't even justify entertaining Styles winning this match. Well the match would be great, we'd all know Ric Flair wins walking down the aisle. Maybe it's the $10,000 rope; or maybe it's that huge gold belt he always seems to hold; or maybe it's the fact that at his best, Ric Flair was the best thing going in wrestling. Flair could keep up with any wrestler from any era, and he could take AJ Styles' whole move set. But there is a give and take in wrestling, and with this match up AJ Styles would be trading in losing a match, just to look good doing it against Ric Flair. But eventually, Styles will fall prey to the figure four leg lock, and eventually Styles will say "I quit."

zzzorf: When Mizzie gave me this matchup the first thing that came to mind was that this match should have happened only a couple of years ago. When AJ and the rest of Fortune broke away from Immortal in the ill-fated second 'They' storyline (seriously the first one didn't work so why try to repeat it?) this would have been the perfect time for these two to have a match as you would have believed that Ric would have been wanting revenge for the guy he had put so much effort into had turned his back on him.

However the match did not happen which all in all is a good thing since as shown by all the other matches Ric had in TNA, he should not be wrestling at all anymore. However you take Ric in his prime, or even just a few years before, and a the match would be ten times better.

However I just don't feel like the match would be as good as people think. Don't get me wrong it will still be good, but an epic encounter, I just think no. When you list all the dream matches you could put Ric into AJ is nowhere near the top of the list. While AJ is great he just doesn't have the full bit like a few other wrestlers have and this is where this match suffers.

I have no doubt in my mind that Flair should win this match up. A case could be made for the passing of the torch argument but while it would be nice to see AJ win, well he just isn't The Man is he?

The Doc: The "only other" mentioned above in regards to TNA's roster was AJ Styles. When I tuned in for an August weekly TNA PPV ten years ago, I saw Styles wrestle Low Ki. It was one of the best matches that I have ever seen between two guys that I had never previously seen. Most of the time, I need some sort of context to get excited about and invested in a match. With Styles vs. Low Ki, it was a matter of being dazzled by an indy style that I had not seen before. As I continued to follow AJ's career, I remained enamored by what he could do in the ring, occasionally buying TNA PPVs just to see his matches. For my money, there was never anyone better at the indy style of placing a premium on psychology and opening up the offensive playbook. 

The Nature Boy was the very best ever at his style, as well. In his prime, nobody could touch Naitch at the 80s style main-event. If it were 30-minutes against Lex Lugeror Sting, an hour against Barry Windham or Ricky Steamboat, a gimmick match against Terry Funk or Harley Race; you name it, Flair was unquestionably "The Man" in the NWA ring. His matches with the likes of Brian Pillman suggest that he could adapted to Styles. It would have been interesting to see his approach to grounding the high flyer, making Styles' offense that much more compelling when he was able to "overcome" a probable leg injury to connect with his flashier moves.

When you combine the two greatest of their respective styles, it is sure to evoke "dream" status. Given that the two have a history from TNA, it ups the ante. If you took 2004/2005 Styles and put him against 1988/1989 Flair, you would have the recipe for a fantastic encounter. Flair would win, of course, but it would be a grand affair. 


Well as to be expected with the two names offered Ric Flair pulls out a big win here but it is not the complete shutout that everyone would expect with AJ managing to convince 1 writer he should win. That is it for today's match, tomorrow it will be time for reader JASON to give us his match, what will he have to offer? You will just have to wait and see.





Steve Austin
v
Goldberg



Jason: Choosing my match for the series was a tough one. This is my first, and maybe last, time ever writing for LOP, so I had to make it count. After considering many great technical matches, I decided to choose the match that I would have picked had you asked me this question fifteen years ago. As a young boy, I became a full time wrestling fan at an awesome time: the Monday Night Wars. Two of the biggest (if not the biggest) stars of this era were Stone Cold Steve Austin and Bill Goldberg.

These men were often compared, and with good reason. They shared the same short black trunks, bald head and goatee. They were both ass kickers who could come back from almost any kind of punishment and finish their opponent convincingly. Hell, they even both had one tattoo in a time that it was far less common in the industry. As for their differences, they would be obvious in the build up and the match itself. Austin would do the majority of the talking to build the match, with the exception of an epic "You're Next" from Goldberg. The match would be a real slobber knocker, with Austin using his brawling style in an attempt to neutralize Goldberg's power and speed advantage.

It's hard to call a winner. Like I said before, both men were booked as practically unbeatable without some major illegal activity. This is just going to have to be one of those matches where I pick the winner based on who I like more. As a historian of sorts, I've got to give it to the man who means more to the history of the business; the one who is without a doubt in the conversation for greatest of all time. The match would feature loads of false finishes and blood would definitely be shed. In the end, though, it would be the Texas Rattlesnake whose hand is held high.

T.O.: This is a case of "nothing like the real thing, baby." Goldberg was created as an obvious attempt by WCW to recreate or clone Stone Cold Steve Austin's aura and success. The bald head, the black trunks, the loner mindset…I wouldn't be surprised if Goldberg was instructed to develop a bad alcohol dependence and start beating women. You know, go the whole nine yards (come to think of it, that saying never made sense. You need ten yards for a new set of downs, so why stop one short?).

Goldberg sure as hell ain't no Stone Cold, however. Stone Cold has a history of getting up for the big matches. In fact, his only losses at WrestleMania bookended his career – his epic submission loss to Bret Hart in 1997, and his career-ending bout against The Rock in 2003. Other than those, he truly came to fight when the stakes were their highest. Goldberg, on the other hand, made his entire legacy off The Streak. Once that legacy died at the hands (and tasers) of Kevin Nash – at WCW's signature event, no less, the aura died as well. Stone Cold never once fizzled out, even when he got injured multiple times.

This is an interesting mesh of similar, yet different styles. As Austin recovered from his neck injury in 1997, he began to adopt a more physical brawling style. Goldberg's entire offense was predicated on stiff power attacks, wearing opponents down for the brute force of the spear/jackhammer. Both men are well-versed in such offensive styles, so they'll likely be aware of counters for each other. Thus, they cancel out.

The true test for this matchup is how well each man can keep his composure, as the first man to lose his cool will win this match. Backwards logic, I know. Austin made his living in the Attitude Era living off an adrenaline rush, fueled by his DTA philosophy. It helped keep his drive going as Mr. McMahon threw challenge after challenge in his way. Goldberg relied on his physicality to see him through most matches, but when he faced a bigger challenge, used his mean streak to complement such physical tools. Austin is just a flat-out meaner bastard though, so he'll be the first to lose his composure and step things up a level.

Versatility is another thing in Stone Cold's favor. While he very much adapted to the brawling style in the late 90s, his series of matches with Kurt Angle and Chris Benoit demonstrated how he had not lost the technical touch he favored in WCW. He can come at Goldberg with a vast array of techniques, while Goldberg focuses on WHAM BAM SMASH! Austin's knowledge of submission wrestling will be the difference maker, as he'll know how to wear down Goldberg enough to sneak in the Stone Cold Stunner.

Austin wins in tough, physical brawl after 20 minutes. Stone Cold! Stone Cold! Stone Cold!

cns04055: Another fantastic one here.  If you were an avid watcher of pro wrestling during the Attitude Era, you wanted this match.  This was THE dream match in the attitude era.  Right up there with maybe Austin vs. Hogan. Let's remember one thing when we talk about this dream match:  Austin was not unstoppable in his prime.  In fact, Stone Cold Steve Austin lost cleanly to Kane and The Undertaker in a triple threat match at Breakdown 1998.  Austin didn't look as "invisible" to others as Goldberg did.  During Goldberg's prime, you seriously wondered if he would ever lose.  Goldberg was in fact, unstoppable.  He went 170-0 or something around there, and his first loss was a fluke due to a Scott Hall stun gun to the chest.  So even after that, it still felt like he never had REALLY lost.  Goldberg was rarely pinned at all during his career as a professional wrestler. 
 
We all picture Stone Cold Steve Austin giving Goldberg one hell of a challenge though.  Austin would easily get all of his moves off, but I don't think the stunner would keep Goldberg down.  I picture Austin hitting a quick stunner late in the match, but Goldberg easily kicking out.  Austin easily kicking out of the spear.  Although Austin didn't appear as unstoppable as Goldberg in their primes, Austin was very hard to keep down.  During Austin's prime, he's more remembered for his memorable promos and mic work than his wrestling ability.  Goldberg on the other hand had no mic work, but was a destroyer in the ring.  I think in their primes, Goldberg beats Stone Cold Steve Austin.  We can't forget how unstoppable Goldberg was.  Also, Goldberg ran over The Rock at Backlash 2003.  Sure, that match could have been better, but I picture Goldberg being that unstoppable against Austin, too.  It takes two Jackhammers, but Goldberg gets the job done.  Austin's not able to mount enough offense to even hit a second stunner on Goldberg.

Winner:  Goldberg

LWO4Life: If you were a wrestling fan in the 1990's like me, you argued this match with friends for hours. There would not to be any build up, just put on the top of the card, Steve Austin vs. Bill Goldberg. You have everything, bald heads, black trunks, intensity, and a brawling style vs. a power style. Both wrestlers have styles that win over crowds, as Austin in his Stone Cold years might have been the best brawler we've seen, were as Goldberg was so strong that he could pick up the Big Show for a jack hammer. I personally would watch this match and well Austin might do most of the talking during the build-up, does Goldberg really need to say anything else other than, "You're Next!"

Though Goldberg is extremely strong, eventually he would tire against Austin. Austin, even in the Attitude era when he was at his weakest, could perform in very long matches. Goldberg very rarely went over 5-10 minutes, even against big name wrestlers. So well Goldberg is looking for a quick match, Austin is countering with good old fashion smash mouth rasslin' that made him the biggest name in wrestling. If you watch John Cena and think he's Superman, you'd get really frustrated at Austin, as Austin was truly a Superman type hero as well. This would confuse a less experienced Goldberg. As Goldberg tried for a spear, Austin would find a way to not only avoid it, but make sure that Goldberg hit something as Austin moved out the way. Once the match got passed the 15 minute mark, it's only a matter of time before Austin hit the Stunner from out of nowhere, 1, 2, 3.

zzzorf: I have been waiting for this match to appear somewhere in these series and I am quite surprised it has taken this long to appear. There was hardly a wrestling fan in the world back in the late 90's who was not begging for this match to happen. Both men were the top of their respective companies and were probably the two most recognisable names in the business at that point in time.

Now while I will admit that at the time I was one of those begging for the match, but then again that was to be expected, I was young and impressionable. Now that I have grown up a bit and learnt more about wrestling I sit here and think, well what does this match really offer that will make it great? What both of these men look slightly alike with their bald heads and similar ring attire? The fact that they are two of the biggest names in the industry they will automatically have a great match? I call bullshit.

Goldberg is known for one thing and one thing only in his matches, the shorter the better. His longest singles match in his entire wrestling career is just shy of 15 minutes on two seperate occasions (v Rock, Backlash '03 & v Triple H, Unforgiven '03), not something you would expect of a main eventer the level of Goldberg. While it could be said that Stone Cold could carry Golberg to a longer match like his WWE colleagues did I just don't really think he could do it as good.

I guess I am in the minority here but I am glad this match never actually happened. I feel like it would have failed to live up to everyones expectations and thus been a minor let down in the long run. I think that it is just better that all the Attitude Era fans keep dreaming about this one as the dreams will always be better than what the product would have been.

Now as to the winner I have to give it to the man who made his career on winning, Goldberg. I mean I know Stone Cold is good and all but Goldberg beat everyone under the sun and Austin would be just another name on his list.

The Doc: This was the ultimate match for a mark in the Attitude era. I remember this being bigger than Austin vs. Hogan in the minds of many fans in the late 90s. As big a star as Hogan had been, Goldberg and Austin were skyrocketing up the success ladder on parallel rungs. You could make the argument that Goldberg was every bit the star inWCW that Austin was in the WWE as of 1998. I remember seeing as many Goldberg shirts as Austin 3:16 shirts that summer after Goldberg won the title in early July. So, if we are assessing a dream scenario between the two, we have to be talking about the summer of '98 don't we? It was Goldberg's height. Austin may not have peaked until a year later, but that was the time when it would have been best for "Da Man." If only the stars had aligned.

In 1998, Austin's body was still in relatively decent shape. He could still carry a guy like Goldberg to a great performance. As proven at Halloween Havoc '98 against DDP, Goldberg was capable of having a really good match if put opposite the right opponent. 

Austin vs. Goldberg in a true neutral setting could take the match to the classic level. Maybe someplace in Florida would have been a good choice. One thing is for sure and that is that Austin would have to win. Historically, he is the bigger name, the better wrestler, and the unquestionable winner from the Monday Night War.

Mizfan: Here's the problem with this match… for all the hype that has gone into it over the years, I really can't imagine it being very good. Don't get me wrong, I'm a Goldberg fan in more ways than most, but I don't think anyone would call him hot stuff in the ring. The unstoppable force going up against the even more unstoppable force is always going to be an interesting proposition. Goldberg has often been called an Austin clone, but I see plenty of differences to create a unique dynamic between the two. Austin is all attitude (naturally), while Goldberg is about pure domination, so to see Goldberg try to impose his will on Austin would naturally provoke a fierce reaction from the Rattlesnake. So yeah, I can see the appeal, but once the bell rang? I'm skeptical about what we would see. Perhaps it's just as well that this particular dream never came to pass, eh? Goldberg is at his most entertaining when he is 100% dominant, but that would never work on Austin and the inevitable problem with Goldberg's superman booking would rear it's head once again. I really have no choice but to give the win to Austin, who has more than enough skill and cunning to counter the raw power Goldberg would bring to the table.


Well that is another day done and another mega dream match sees Austin come out victorious 5-2. We will be back again tomorrow, hopefully on time this time, with the choice of mach Dannokaboom made before he had to pull out. See you then.





Daniel Bryan
v
Owen Hart



T.O.: This fascination with people wrestling the dead has to stop. Unless we're booking Eddie Guerrero vs. Chris Benoit once again – I'd pay to see that right about now – what's the point? Hart could not possibly tap out, so Bryan would have to look for a pinfall victory. Hart would be stiff as a board and would sandbag everything Bryan tried, so Hart would probably win.

Or I could cut the nonsense and take this seriously. There's always that.

I've always been pretty adamant that Bret Hart was seriously overrated as a performer. Dude believed his own hype far too much, and it turned me off as a viewer sometimes – especially when the nWo vs. WCW angle took off. Thank heavens the WWF had The Rock and Stone Cold battling it out as early as 1997, or I'd be bored senseless with the WWF product at that time. Owen hart, however, was the lone Hart Foundation member I had any sense of connection to – I particularly loved his run as the token white guy in the Nation of Domination. He had it all – speed, charisma (he was truly underrated as a comedic character), and a technical flair few could match. Some might say he was a 1990s version of Bryan Danielson, before anyone knew who Daniel Bryan would even become.

This would be a fast-paced contest - that much is for sure. I could see this playing out a lot like Cesaro vs. Bryan on RAW a few days ago. An in-your-face marathon that ends with a bang. In fact, whoever wins here would have to be the benefactor of their physical training (endurance will be key), and whoever makes one fatal mistake will lose. Will Bryan get too cocky over his striking ability, and get caught in the Sharpshooter? Will Hart not cinch in the submission hold hard enough, allowing Bryan to counter into the cattle mutilation or No-Lock? Whoever makes that one mistake – say your prayers.

Both men have a history of taking people to new heights – Owen vs. Bret in 1994, and Bryan vs. damn near everyone he has faced. So you can imagine whoever would win here would be thrust into the upper echelon. So, after all this rambling, who wins? Daniel Bryan.

Bryan has a repertoire of both hard, physical strikes picked up during his independent and RoH days, as well as a vast array of submission maneuvers, including the aforementioned cattle mutilation and No-Lock. I wouldn't be surprised to see him whip out something we've never seen before, in fact. Maybe a reverse ¾ spinning toe hold backbreaker lock? Work with me here, dammit. Point is, no matter how well versed Owen Hart is at his own submission game, Bryan will win via submission, knowing how to catch Owen off guard at the most critical moment. Daniel Bryan wins via submission after a good 30 minutes.

cns04055: This match would be fantastic.  Although Owen Hart is one of the greatest technical wrestlers of all time, you have to admit something; so is Daniel Bryan.  Daniel Bryan is now officially up there amongst the greats, and Daniel Bryan is leaking into the rankings of where Owen Hart would be on the long list of the greatest wrestlers of all time.  This is why this match was an amazing pick.  However, like it or not, Daniel Bryan is a cruiserweight.  He is a cruiserweight amongst heavyweights.  But now, in this era, that is okay.  It's okay for someone as small as Bryan to be amongst Heavyweights and no one think twice about it.  Owen Hart would handle Daniel Bryan in many ways during the match due to Bryan's size and Owen's amazing technical wrestling ability.
 
One thing about Owen, he had more power and was bigger than Daniel Bryan.  His technical wrestling was right there with Bryan.  Bryan is quicker than Owen Hart was, but not by that much.  I see Daniel Bryan rushing some of his moves, getting on a roll, but then falling victim to a Sharpshooter a couple of times in this match, getting himself in serious trouble.  One thing about Owen, he didn't fall for some of the stuff we see today's stars fall for against Bryan.  He was very good at knowing where he was in the ring, and would use that to his advantage.  I see Bryan get off several moves at Owen Hart to keep Owen Hart struggling to keep consistent offense in the match.  Those devastating Bryan kicks keeping Owen's offensive consistency to a minimum.  After almost what would be best as an iron man match, Bryan wins after a long battle, finally making Owen tap out to the Yes! Lock.  Trust me though, Bryan would seriously struggle to win this one.  Guess that's why it's a true dream match.

Winner:  Daniel Bryan

LWO4Life: Where to begin? Other than this match would be amazing. Much like the Shawn Michaels/Rock match, a winner doesn't stand out, and that's what you want in a match to start off with. Both these great wrestlers have the right mix of high flying ability to go with great match wrestling skills. Owen was training in the dungeon, were the screams of tough men could be heard. Bryan trained with Shawn Michaels and later William Regal, Regal being the key as he truly made Bryan one of the toughest wrestlers of all time. This match will truly be something special, and anyone who wouldn't get excited to watch this should check themself as being a wrestling fan.

When a winner doesn't stand out right away, you have to look at weakness. Both Bryan and Owen have shown that they can be distracted, both can make careless mistakes and both are really good tag team wrestlers. With that said, I think the winner comes down to who can pull off their finishing submission move first, and that's why I pick Daniel Bryan. Well I think Owen might be a better high flyer, Bryan is the better mat wrestler and submission specialist. And when you have two great holds like the LeBell Lock and the Sharpshooter on display, it becomes a question of who can get their hold on first. Owen would have a harder time getting Bryan weak enough to put on the Sharpshooter, as the setup is longer. But the LeBell Lock takes very little time and can be pulled off in faster time. So with that, once Owen Hart is in the LeBell Lock, he'll tap out.

zzzorf: No matter how many times I play this match over in my mind I keep coming to the same conclusion, that the wrong hart is in this dream match. Don't get me wrong Owen is great but in my eyes Bret has always been better. In series one of Me and My Mates I did my biggest dream match of Daniel Bryan v Chris Benoit, though that is only just the tip of the list and if you replaced Benoit with Bret it would onkly drop in my anticipation by the tiniest of margins.

But this match is about Owen not Bret and I should therefore stop talking about him I guess. To be honest while I prefer other matches this one would have been pretty phenomenal just the same. Owen was an awfully talented wrestler himself back in the day and I see no reason these two couldn't gel together into a 4-star match.

I have to give the win here to Bryan just for the mere fact that is who I would prefer and then to apologise to all of you for not having much more to say on this match for the fact I just can't stop picturing Bret in the match instead.

The Doc: Bryan actually reminds me a lot of Owen Hart, only with a bit better natural connection to the audience. I have often wondered how the crowd would respond to Owen if he had come up in the internet era rather than the New Generation. Smart marks always had a fondness for the youngest Hart brother. You could hear it in the MSG audience at Wrestlemania X when some vocal minority fan yelled "Yeah Owen!" right at the start of the match and noticeably caught Bret off guard. In essence, Bryan vs. Owen would be a smark's dream. Hearing what the crowd would have to say about it would be the most fascinating part of the experience, though the actual in-ring quality would be off the charts. In my mind's eye, I envision a 25-minute masterpiece similar in style to the European title tournament final in 1997 between Owen and British Bulldog. With Bryan's superior technical skill and ability to connect with impressive high spots, Owen vs. Bryan could have been one of the greatest matches of all-time from the aesthetic standpoint. Imagine the counters between the Sharpshooter and the Yes! Lock. I actually think that Owen vs. Bryan would be a better match than Bret vs. Bryan in many ways (and that's coming from one of the all-time biggest Hitman fans). 

If tasked with choosing a winner, my primary perspective would be Bryan's stature in modern times versus Owen's stature in his. Bryan is the bigger star and will ultimately surpass Owen's accomplishments, which gives Bryan the nod via submission.

Mizfan: Ah, this isn't one that I would have thought of immediately, but it does sound like a damn fine match doesn't it? Daniel Bryan is, in my humble opinion, the very best wrestler in the world at the moment, and Owen was always an exceptional hand in the ring, so putting them together would undoubtedly yield great results. Any story going into things would be a bit more complex, as both seem to frequently deal with a lot of insecurity. Maybe a "loser is the weak link" match, with Kane and Bret at ringside? Could certainly be an interesting dynamic. Perhaps Bret is the more obvious choice for a "dream" match, but for my money Owen was often the most entertaining member of the Hart family, so I am way down with this choice. I most definitely would have to award the submission victory to Bryan though, Owen was good but against Bryan? It'd take a miracle.

Jason: Wow. Awesome match. This is the kind of match I initially thought about picking. I'm really marking out for this choice. Two of my all time favorites in a match that, if I was booking this series like a show, I would give enough time to earn match of the night honors (although It'd have a tough time matching the atmosphere of a couple others).

In order to choose a winner here, I'm just gonna have to decide who is the better wrestler overall. I'd say Owen has a slight strength advantage, while Bryan is a little bit faster. As for technical wrestling, it's too close to call. Both men wrestle(d) a crisp style that is as close to perfection as anything I've seen. Same goes for their high flying skills, where both men almost always connect with their target perfectly.

The thing that decides it is the striking. Although Owen was no slouch either, with some awesome enziguris and spinning wheel kicks, Bryan has some of the most devastating kicks the business has ever seen. As tough as Owen is, Bryan has taken down far stiffer competition, at least from a kayfabe standpoint. Then again, if I was booking this, I wouldn't make Owen look any weaker than Randy Orton, so forget that last sentence. Alas, it doesn't matter, because there are few, if any, I would have go over Daniel Bryan if I had my way. Bryan wins in a match Dave Meltzer rates at 6 stars out of a possible 5.


Well there it is folks Daniel Bryan has posted the first wipeout of the series with a 7-0 victory. That is not saying though that Owen would have held his own cause in his own right he would have made this match phenomenal. Anyway that is it for today, tomorrow we take a look at what CNS04055 has chosen for his match. See you all then.





The Undertaker
v
Sting



cns04055:Without a doubt, these two superstars going at it one on one is one of the main dream matches that all WWE fans have wanted to see for years. There are a couple reasons for this. One, the Undertaker and Sting are two of the most dark and mysterious characters in the history of wrestling. You add that to their popularity and their legacy toward the business, fans have always dreamed of putting these two together in the squared circle. Second, Sting has never jumped ship to the WWF/E. He has consistently been loyal to WCW and TNA throughout his career, and part of his legacy has been never buying into Vince McMahon's "top of the wrestling world" business of World Wrestling Entertainment. In a way, Sting is more appreciated for his commitment to companies outside of WWE. We all know that if the day came that Sting did decide to jump ship to the WWE, his first WrestleMania opponent would probably be The Undertaker. The Undertaker would be for this match 100%, as would Sting, the WWE, and the WWE fans.
 
Sting has always been a good wrestler, but has also had a wide range of good opponents to make him look good. Sting is very similar to Ric Flair in the fact that his legacy won't necessarily be for his wrestling skills and the amount of moves that he had, but the fact that his career spanned several decades and he was one of the most consistent and affective draws in the business over those same decades. He is also one of the most decorated WCW World Heavyweight champions of all time. Since both Sting and The Undertaker are veterans in the business, there is no doubt that their match would be 4 or 5 stars, even today. Granted, this match would have easily been a five star classic in the 90's as Sting was still hitting his stride and The Undertaker was as dominant as he had been in his career during his days against Stone Cold Steve Austin and his brother Kane. We always seem to picture it being up there with Shawn Michaels vs. The Undertaker in many ways. Most of those reasons being that Sting had some capability to move like Shawn, but at the same time can easily fight with the bigger stars and look like a believable threat. I am not so sure that Sting and The Undertaker would put on a better match than Taker vs. Shawn at WrestleMania 25, but I think it would be damn close. Sting can't move like he used to, and neither can The Undertaker, but it would still be a very well executed match. You can see Sting outworking and outsmarting The Undertaker on several occasions during the match. You can see Sting getting out of the last ride and whipping Taker into the corner for a Stinger Splash. You can see Sting reversing the Hells Gate into a Scorpion Death Lock. You can see Sting's quickness beating Taker to the punch on several exchanges. However, part of The Undertakers legacy has been the fact that you cannot keep him down for long. Since The Undertakers debut, he has been overpowering against his opponents, with numerous power moves and kicking out of everything that the opponent has put in his direction. It may take a couple tombstones, but in the end The Undertaker defeats Sting in an absolute classic. I think we all know that The Undertaker would beat Sting, but just witnessing Sting in a WWE ring, facing off against someone like The Undertaker would be one of the best dream matches of all time.

Winner:  The Undertaker

LWO4Life: We may actually get this match next year. This is a match between two wrestlers who may have been in the same era, but we never saw them wrestle. This is one of the ultimate WWF vs. WCW match ups that many wanted to see. You have Sting, who is a true WCW company man, and one of the very few who never jumped ship to the WWF. On the other side you have the Undertaker, a true WWF gimmick that was so popular; it spawned many other gimmick wrestlers like Kane, Paul Bearer and through that extinction, Katie Vick. Were as Sting was a true WCW company man, the franchise, the Undertaker was the greatest gimmick Vince McMahon ever came up with. One wrestler represented the cheesiness of WCW in the early 90's, with the flat top and neon colors, the other represented the made for cartoon character of the WWF in the early 90's. As the wrestling industry evolved, so did their characters. Hell they were so popular, they inspired an imposter. But one thing stayed constant with each character, they were reflections of the company they worked for, and WCW was Sting and WWF was the Undertaker.

The introduction to this match should be epic in its own right, starting with Sting who would have to come down with his Starrcade entrance. Then the bell will sound, and out will come the Undertaker, lead to the ring by Paul Bearer. Once in the ring, 'Taker and Sting will look at each other, and it is at that moment the Undertaker will face a rarity, someone who is not afraid of him. Sting will look calmly into the 'Takers cold stare, and this will give Sting an advantage. 'Takers gimmick makes him almost unbeatable, but this little advantage will allow Sting to go along ways. As the match plays out, it becomes clear just how big and fast 'Taker is, and also just how long he can go in a match. At the same time, Sting never gives up. Sting was the John Cena Superman long before it was a thing. Another thing Sting has is a bat, which will more than likely be used on Paul Bearer at some point in the match. It's at this point were Sting has full advantage. Once Paul Bearer is out of the match, 'Taker will be looking for guidance, but with no one there Sting will get the upper hand. After the back and forth, and maybe even a botched screw job finish, Sting will fight through the Undertaker the way he did the nWo. With that Sting in the ring, it's only a matter of time until the Undertaker falls to the scorpion death drop. 1, 2, 3.

zzzorf: I hate to sound like a cracked record but once again I just don't buy into this match as much as everyone else does. I mean yes it most likely would be a phenomenal match as you would expect from two guys the calibre of these guys but in terms about me dreaming about this match, well why exactly should I?

This is the same thing as Goldberg/Austin in that they have been thrown together here because they have similarities in their nature, other than that and their expertise in the squared circle well there is nothing really there for me. I could count the number of guys I would prefer to see Sting face that he never has that would better suit my dreams. The likes of HHH, Rock, Michaels, Austin and Bryan are just a few I would prefer to see face Sting before Taker.

As to Taker, even though he is one of my top wrestlers of all time I just don't find him appearing in many of my dream matches at all (the only one I can think of is against Abyss). This is not that I don't want to see him wrestle anyone its more I just don't really care, as long as the person he is fighting is a worthy opponent.

In terms of the winner for this match once again I have to let my fandom come into play as I give the match win to The Undertaker in a match that in real life could actually go anyway.

The Doc: I had never really considered this match as a "dream" until the Wrestlemania 27 rumors a few years ago strongly hinted at Sting joining the roster for a shot at "The Streak." That would have been cool. They each fall within that "secondary of the primary" stars category from the Monday Night Wars, so it would not be of the Rock-HBK, Austin-Hogan, Austin-Goldberg variety of dream match, but still fits the definition. The Crow vs. The Deadman would be an eerie feud, in which the expectation would be that the Taker would revert to some of his Attitude era, over-the-top exploits to accentuate the dark tones of the storyline. It would, in some ways, be wrestling's version of seeing two horror movie icons find ways to outduel one another. Taker's theatrics would be more of the paranormal variety, while Sting's antics would be the more straightforward, Scream style of suspense. 

Sting having been basically irrelevant for over a decade would weaken his chances to win. He lives on in the memory of the WWE's WCW DVDs and his TNA career has done little to assist in his overall legacy in my opinion. Taker would, therefore, win in a landslide. I am beyond curious to know how a WWE audience would have reacted to Sting had he actually signed on the dotted line and made the Wrestlemania 27 match a reality. 

Mizfan: This match has been discussed so much over the past several years that it hardly even feels like a dream anymore. At this point it brings up more feelings of annoyance for the endless rumors than it does excitement at the prospect of it ever actually happening. I firmly believe the ship has sailed on it ever happening in a meaningful way in the real world, but after I sort through all the bullshit it's not all that hard to rediscover the reason we all wanted so badly to see it in the first place. It really is one of those truly iconic showdowns, two throwback sore thumbs still stubbornly sticking up in the "realistic" modern world of wrestling. You've got a zombie cowboy on one side and a face painted avenging angel on the other. What the hell more could you want? It's like something straight out of the early 90s, only, you know, good. It's strange, but somehow Sting just feels like the perfect foil for the Deadman, better even than eternal enemy Kane. There's something that clicks between them without even needing to be in the same room (or company, for that matter!). Sting's very best in ring days were almost certainly pre-Crow, but somehow surfer Sting just doesn't have the same oomph when it comes to taking on the Phenom. As for Taker, any point during the latter half of the previous decade would be an ideal time to draw from. When these guys clashed, you'd be certain to see something special. The victory, in my mind, would have to go to Undertaker¸ because even though I love the Stinger you can pretty much bank on Taker every time he gets a straight fight, and the Sting I know wouldn't stoop to cheating. Watch out for that bat though, Deadman!

Jason: I feel like everybody is going to do the same "What if Sting came to WWE to face the Undertaker at WrestleMania" column, when that would make the winner more than obvious. Let's look at this a different way. Let's just pretend these guys had a best of three series over the course of twenty years.

1993 - WCW's biggest babyface takes on one of the WWF's most unique heels in a cross-promotional pay-per-view. Taker would wrestle the zombie-like style he did back then, and Surfer Sting would play the face in peril before winning, probably via disqualification, in a horrible 10-minute match.

2003 - WCW has gone out of business, so Crow Sting has no choice but to come to WWE to face Undertaker. Biker Taker would get the win here, using some heel tactics, in a decent 20-minute match.

2013 - We get another cross-promotional pay-per-view, with one of the headlining matches being the dream match between these two icons. In a slow-paced 30-minute brawl, Taker gets the clean win.

Winner: The Undertaker

T.O.: Now we're cooking with butter! A few years ago, this would be a major dream match. Sting has lost a step or two, and The Undertaker is becoming increasingly fragile, but these two have a history of getting up for the big matches. I expect the very same to hold true here.

If this happens at WrestleMania, Sting is toast. The Deadman is shockingly untouchable on the big stage, as well all know. However, no one said this was a WrestleMania bout, so the Stinger has some life still. Let me run down each man's major accomplishments:

Undertaker:
- Undefeated at WrestleMania
- 7-time world champion
- 2007 Royal Rumble winner
- Major names defeated: Triple H, Shawn Michaels, Stone Cold Steve Austin, The Rock, Edge, Hulk Hogan, Ric Flair, Randy Orton, CM Punk

Sting:
- 12-time world champion
- Battlebowl 1991 winner
- King of Cable Tournament winner
- WCW Triple Crown winner
- TNA Hall of Famer
- Major names defeated: Hulk Hogan, Ric Flair, Kurt Angle, Lex Luger, Sid Vicious, Vader, Randy Savage, Scott Hall, Jeff Jarrett

Both men have very impressive resumes, that's the point I'm trying to convey here. But take a look at one of the major names Sting has beaten that is not on The Undertaker's resume. Vader! He beat the Mastodon in his prime! Sure, Taker has a few wins against him under his belt too, but that was the 1996/1997 Vader, nowhere near as epic as the early 90s version. My point is, Sting has shown he's not afraid of taking on and chopping down giants much larger than him. The Undertaker's intimidation factor would be neutralized by Sting's fearless attitude and never-say-die mindset. Iiiiiiiiit's Showtime! Woooooooo!

I expect this one to be pure Sports Entertainment gone berserk. By that, I mean do not expect a battle of submissions or a slugfest. Instead, I expect this one to come down to who can play the outside-the-ring shenanigans best. Can Taker use his knowledge as a monstrous powerhouse to his advantage, and use whatever is around the ring (cables, chairs, ring ropes…etc.) to choke the life out of Sting, possibly setting up the Hell's Gate? Or will Sting rely on the Main Event Mafia to chop the big man down when the referee is distracted? The Undertaker has very few allies in WWE, save for a tenuous relationship with Kane. That will come back to haunt him.

We've seen a more aggressive side to Sting in recent weeks, as Bully Ray has pushed him over the edge. While he has not wrestled since losing to Bully Ray at Slammiversary, Sting nevertheless has shown he will never give up the good fight, enlisting the services of the Main Event Mafia: Kurt Angle (a man who knows a thing or two about making The Undertaker tap out), Magnus, Samoa Joe, and Rampage Jackson. This will be the deciding factor in the end. I said Sports Entertainment would win this, and I damn sure mean it. Sting wins in a classic barnburner. This one goes 30 minutes, and Sting wins via Rampage/Samoa Joe KO combo leading to a shocking pinfall victory. The heel turn is complete! Wait, what heel turn?


In what was our third mega dream match of this series we see Undertaker pull out a decent lead and beat Sting 5-2. Tomorrow is our final day of this series when we take a look at what LWO4LIFE has chosen for his match. See you all then.





Alberto Del Rio
v
Eddie Guerrero




LWO4Life: For many reasons, this is an obvious match up for many who want to see two great Latino wrestlers. You have the best American Latino wrestler of all time in EddieGuerrero, and the man who is in the main event scene right now in Alberto Del Rio, they both come out in cars and you'd have a big man in Del Rio vs. a smaller man in Guerrero. But what is forgotten in Del Rio is the last of the globetrotters who went to Japan, Mexico, and the United States in order to sharpen himself before his WWEdebut. Eddie Guerrero is one of many who were part of this tradition. Both Guerrero and Del Rio could perform in many different styles of matches, and if you give these guys a trilogy then you'd get three different matches in which will leave the crowd excited. But looking at this match, I guess you'd have to look at it as a onetime dream match situation in WrestleMania. 

When it comes to a one time match, you'd have to look at these men at their best. Del Rio is a submission specialist who works on the arm. Though this would be something that usually would work in his advantage, Guerrero can usually flip out of these moves and he knows the perfect counters. One counter that comes to mind is when Guerrero untied his boot and twisted out of the ankle lock which threw off a better submission wrestler in Kurt Angle. This would open Guerrero to play mind games, as he will always fight back and will find a way to keep Del Rio off his arm as much as possible. The end would come as when Ricardo Rodriguez finally gets involved, Guerrero would use this opportunity to nail Del Rio with a chair. Once the ref turns around, both wrestlers are down so the ref can do nothing but count to 10. Once Guerrero gets back to his feet, Del Rio is starting to come to which gives Guerrero a chance to hit the 3 Amigos. With Del Rio in la la land, Guerrero would climb the turnbuckles for the frog splash, and the 1, 2, 3. 

zzzorf: Now this is a better choice than your original match LWO4Life and seems to fit what I know of you a whole lot better. For those of you who don't know (which is everyone since I'm the only one who does) LWO priginally sent me Cena v Hogan including write-up yet in a separate part told me other matches he would have chosen but thought the other writers would not cope with them. I therefore sent it back and told him go with what is more comfortable for him and this is what we got.

And to be quite honest I don't blame him for this match. The more that I think about it the better it sounds. The storyline writes itself with the Mexican upperclass v the Mexican lower class and both guys can get it done in the ring. While Eddie will be called upon to do the majority of the fan interactions due to Del Rios poor ability to connect he would still be able to get some shots in, mostly through Ricardo. Then again where would Ricardo really side with, his boss who orders him around or the guy fighting for his freedom?

The match itself would be a pretty entertaining event as both men are really skilled in various forms of wrestling. I may be in a minority here but I really think Alberto Del Rio would end up being the winner. I can't really put my finger on why, maybe because I have just become accustomed to Alberto winning all the time. I think as the feud progresses Eddie will be the eventual winner winning for the working class but it will be Alberto who wins the majority of the lead up matches to the eventual feud ending match.

The Doc: Given the qualities that Del Rio brings to the table as an in-ring performer, the appeal in this match would be in seeing how well that these two would gel as grapplers. The feud cannot be anything more than a rehashed, poor man's version of the all-time classic (and horribly underrated) Guerrero vs. JBL storyline from 2004 that the IWC (myself included) took a big #2 on when it happened. Yet, the crowd response that Eddie could generate might take these figurative matches against Del Rio near that of the WWE Championship bouts from nearly a decade ago. Love him or hate him, Del Rio can really "go." Both men have/had the ability to change pace in a heartbeat and interchange several different speeds throughout a match. Guerrero and Del Rio each wrestle like one of those high performance sports cars that Alberto used to drive to the ramp, capable of bursts of diminutive strength and quickness. Could one refer to that as definitively Guerrero style? 

Psychologically, this match would be as sound as any of the others mentioned. I would want to see Guerrero bust out the El Paso Lasso before ultimately winning with the Frog Splash.

Mizfan: Eeeeh… I may offend whoever proffered this match up, but it truly does fill me with indifference. I suppose there is some chemistry when you consider their gimmicks, it's not hard to imagine Eddie doing a brilliant Robin Hood style storyline against the villainous millionaire, but even then you have to consider that one end of the bargain still has to be held up by the laboriously dull Del Rio. I'm sure Eddie could pull out a watchable angle out of it, but Eddie could have made the Katie Vick debacle watchable so that's hardly high praise. The match itself would be enjoyable I'm sure, Del Rio usually brings good work between the ropes, but it's honestly not good enough in my mind to salvage such a questionable pairing. Is it just because they are both Hispanic? Eh, I don't see much appeal. In fairness though, the interactions between Ricardo and Eddie would be 100% pure gold, so perhaps from that alone it might be worth it after all! Eddie is the obvious choice for winner, a loss to Dull Rio would either incite the crowd to riot or possibly lull them fully to sleep, and either way that's probably a bad thing.

Jason: Our last match features what is perhaps the IWC's most love hispanic superstar, and its most hated. Gee, I wonder who's going to win this one? Then again, whoever picked the match must be a fan of Del Rio. I'd imagine this could be a hell of a match, but I'd book it differently than most. Del Rio would dominate the match with kicks to the head and submission holds. The crowd would be going wild for Eddie to make his big comeback, but every time he does, Ricardo Rodriguez would distract the ref, allowing Del Rio to use illegal tactics to maintain control of the match. Eddie would still get the win in the end. Not via a big comeback followed by a frog splash. No, I'd simply have him catch Del Rio in a roll-up, either grabbing the tights or using the ropes for the win. Not a single offensive move in. Just screwing Del Rio out of a flawless victory. That would be funny.

T.O.: Hmmm. Knowing who picked this matchup, I'm not at all surprised to see this as the dream match. Two Latino superstars from close-together eras. This is an interesting mesh of styles – the high-flyer Guerrero who can mix in the technical style when needed versus the purely technical Del Rio. Who would win? (What an odd question, that's what we're here to determine!)

Alberto Del Rio is in some small ways a good 2010s surrogate for Guerrero. Mexican heritage, made his name in smaller circles before hitting the WWE, a hero in the Southwest, pushed as a Latino champion for that market…there are many more parallels, but I hope my point is clear. Eddie Guerrero, on the other hand, transcended the industry in ways Del Rio never could and never will. His charisma shined through in his final years, making him the most popular superstar for a short time there (who else got the love Eddie did from 2003-2005)?

Eddie Guerrero chopped down one of the most impressive monsters we've seen in some time in Brock Lesnar, capturing his lone WWE Championship in the process. Sure, he had a major assist from Goldberg, but he won the strap, by hook or by crook. Most of Del Rio's title wins came using sneak tactics and dirty pool as well (cashing in MITB, locking people in/out of cages, having to resort to Last-Man-Standing matches to KO Big Show, kicking an injured man in the skull 200 times). Not exactly the most impressive way to win the title, no matter how many times he won it. Most of his title reigns petered out, anyways, showing Del Rio to not be a great champion. Eddie, on the other hand, took JBL to the limit many times, and also showed the mental fortitude to outsmart Kurt Angle at WrestleMania 20. The mental edge goes to Eddie Guerrero.

If this were a submission match, Del Rio would have the upper hand. His history of utilizing strikes to set up and weaken his targets has served him well, and I'd imagine Eddie would also fall victim to this setup. But this was never booked as a submission contest, so never mind what I just wrote. Guerrero's tremendous mix of speed and his own brand of technical flair are the difference makers in this contest. Guerrero will use his smarts and fake-outs to get Ricardo Rodriguez ejected from ringside (Guerrero feigns getting hit by the spit bucket, for example), making this a one-on-one match Del Rio never prepared for. 

I expect this one to feature a flurry of offensive maneuvers by both wrestlers, as each man looks to use his own skills to counter the other man (isn't that what every match is, really?). Del Rio will try to wear down Guerrero, targeting his lower body with kicks and submissions to keep him grounded. However, it will not be enough. Eddie can get up for the big match, as well. Eddie wins in a fast-paced contest, as Del Rio will be unable to keep him grounded. A well-time frogsplash ends this one after 20 minutes, with Eddie sneaking out a hard-fought win.

cns04055:This one almost seems like a no-brainer to me.  I don't really put Alberto Del Rio up there as a dream match with anyone.  I think that Alberto Del Rio is extremely overrated by Vince, WWE management, or whoever the hell is keeping him at the top.  He is mediocre on the mic, and his wrestling ability is mediocre as well.  Just barely gets the job done, and definitely not a hall of famer.  Eddie however, is.  This match may be a dream match to the Hispanic fans though, and I respect that.
 
There is no way that Alberto Del Rio can keep up with Eddie Guerrero's offense.  I see Eddie running miles around Alberto in the match, and if Alberto did get some offense, it would be temporary.  Although Alberto is bigger, Eddie is too quick.  Alberto Del Rio doesn't have enough moves in his repertoire to keep Eddie down.  On the flip side, I see Eddie keeping Alberto down on the mat for a lot of the match, and maybe Alberto does get the cross arm breaker once, but Eddie easily makes it to the ropes.  Eddie wins this match in probably 15 minutes via his signature frog splash.

Winner:  Eddie Guerrero


Well that brings an end to the final day of this dream match and my choice of Del Rio means that Eddie just misses out on a shut out and only wins 6-1.

This also means that series 5 of Me and My Mates has now come to an end. I want to thank all the writers involved with this series who helped make it a great success. Series 6 will be back in a few months with a special edition where me and my new cast of writers will look at some Tag Team dream matches. Until then you can enjoy Doc's columns here on the Main Page and Mizfan's columns in the Columns Forum. LWO4Life and CNS04055 can also be found in the Columns Forum however you will need to keep checking back as neither are regular posters there and only write when the bug hits. As for the last two T.O. can also be found in the CF but not as a writer but as the resident stalker giving his special brand of insight and as for Jason he can be found on Facebook under the tag of jason.price.1088. As for me I will be back in a few days with either a Wayne's World or King of Stats column, depends on which one I write first so until then have a nice day.



Feedback:

E-Mail: zzzorf@yahoo.com

Twitter:



Facebook: Add me as a friend here
Wayne's World: The Greatest WWE Wrestler of All Time - Round 2 (week 1)
Wayne's World: The Greatest WWE Wrestler of All Time - Round 1 (week 5)
The King of Stats names the Tsar of Steel (Part 6: 25-21)
Wayne's World: The Greatest WWE Wrestler of All Time - Round 1 (week 4)
Wayne's World: The Greatest WWE Wrestler of All Time - Round 1 (week 3)
Wayne's World: The Greatest WWE Wrestler of All Time - Round 1 (week 2)