---



International Women's Day Column - El Gringo Loco: The Fabulous World of Moolah (written by LWO4Life)


By LWO4Life
Mar 9, 2013 - 3:46:58 AM


Note from zzzorf: Yesterday, March 8th, marked like every year before, International Women's Day. A day in which the world recognises the contribution that the female version of our species gives to the world. As a man who lives under the same roof with my wife and 3 daughters I know how important the ladies can be and how much the world would be lost without them. While wrestling is predominately a man's sport, women have still played a massive part in it's history. Last year on International Women's Day a writer by the moniker LWO4Life posted a column in the CF about one of the greatest women to have ever graced a wrestling ring, the Fabulous Moolah. Due to the forum wipe the LOPforums went through last year LWO4Life posted that column once again this year to mark the day once more. On seeing the column posted in the CF again I felt like it belonged here on the Main Page to help honor the women of wrestling, so here I present to you The Fabulous World of Moolah.
The Fabulous World of Moolah


Last year during International Women's Day, I posted a column about the Fabulous Moolah in the old forum. Since LoP has restarted and it is no longer here, I want to repost. This was one of the most involved columns I wrote, and I actually wanted to have it done for Valentine's Day last year. But instead it was finished in March and I posted on International Women's Day. I think it's fitting on this day, and maybe I'll do a Women's wrestler series one day. But on this day, we visit the Fabulous World of Moolah:


In the Beginning


The beginning of this story starts in the late 1940's in the northeastern territory, where Joseph "Toots" Mondt and Jess McMahon were putting together a promotion which would be the center of the wrestling world. Though it wouldn't be until 1952 that Capital Wrestling Corporation (CWC) would be founded, the foundation of what would be the greatest wrestling promotion was being laid. In 1949, a new woman wrestler debuted who would eventually change the course of women in the business. Like many women of her era, she would begin her career working under Billy Wolfe and his wife, Mildred Burke who was considered to be the best female wrestler of her time. Though she might have been a women in a man's world, the Fabulous Moolah would transcend gender and become one of the most successful figures in wrestling. It is important to look at the events surrounding her so we start at the beginning of the WWE itself.

Women's wrestling was a huge draw in the New York territory. Ran by Jess McMahon and "Toots" Mondt, the CWC took the place of the "Gold Dust Trio" as the main promotional force in the Northeast. One person that worked with Mondt was Jack Pfefer; it was Pfefer who had the eye for talent, were as Mondt was the visionary. (A personality that pre-dated Vince McMahon Jr., Pfefer saw wrestling as more entertainment than sport. Pfefer used this to his advantage as if other promoters did not do as he said, Pfefer would threaten to reveal that pro wrestling was in fact staged.) Sadly, Jess McMahon would pass after only one year into the CWC and he would be replaced by his son, Vince McMahon Senior. With the elder McMahon gone, Mondt would take Vince Sr. under his wing. Pfefer and Mondt would use their vast wrestling knowledge to build the CWC to the most powerful wrestling territory in the NWA. It was Mondt who pushed "Nature Boy" Buddy Rodgers, and his valet, "Slave Girl" Moolah, whereas Jack Pfefer treated wrestling as theatre and he specialized in special attraction matches that would feature midgets and women. It was in this background that Moolah was able to prove that she could play with the big boys.


Bringing in the Moolah

Slave Girl Moolah



A mother at 15, Mary Lillian Ellison would leave her daughter with a friend to pursue her dream of being a professional wrestler. Ellison entered training with the most dominate female wrestler of the time, Mildred Burke. Burke's husband Billy Wolfe would promote women in wrestling, and he held the rights to the NWA Women's title. Another person who helped with Ellison's training was a former high school wrestler, Mae Young. Young and Burke opened up a wrestling school and it was there that Ellison would get her start; but it was not the start Ellison had wanted. Billy Wolfe encouraged his girls to sleep with promoters to ensure that they'd book Wolfe's wrestlers again, or to even sleep with Wolfe himself. Ellison did not agree with this practice and, on the advice of her first husband, left Wolfe. Ellison's husband, Johnny Long, had his own connections with the wrestling business. Long decided that it was better for Ellison's career to be introduced to Jack Pfefer of CWC. It was under the guidance of Pfefer that Ellison would find a new direction in the business as Pfefer repackaged her as Slave Girl Moolah, and history was about to be made.

The beginning was not fabulous for Moolah. Being paired with Buddy Rodgers, Moolah took the role of very attractive, yet very dangerous valet that pre-dates Sherrie Martel or Nancy Benoit. Moolah would do whatever it took to help Buddy Rodgers win a match. Eventually Moolah would leave Rogers after he tried to pressure her into a sexual relationship. It did not take Moolah long to find a new wrestler to manage though, as Pfefer paired her with Elephant Boy, a very dark Mexican wrestler. During a tour of southern territories, Moolah would almost cause riots when she'd kiss him on the cheek before his matches. Many people had mistaken Elephant Boy for being black, which was a big deal in the south since Moolah was a white woman. In one match, a man tried to stab Moolah! With that experience, Moolah would return to the Northeast and eventually return to CWC. It was now time for Moolah to become the star that she would be destined to become.

In 1956 June Byers retired as the NWA Women's champion and the committee decided to hold a battle royal to crown a new champion. Thirteen women battled for the title with Moolah standing alone as the new NWA Women's championship. Vince McMahon Sr. renamed Slave Girl Moolah to the Fabulous Moolah that night after the match. There was one problem, the title of NWA Women's champion was owned by Billy Wolfe. Wolfe still had an issue with Moolah for leaving his promotion, and this would be very problematic for Moolah to be seen as the legitimate women's champion. The NWA never really wanted any part of having women wrestling to begin with, so Billy Wolfe had taken controll of the women's title for the NWA committee. Wolfe controlled a stable of 30 women wrestlers and provided the NWA territories their women talent (in more ways than one). Wolfe would collect 30% of the women's earnings, plus a percentage of the gates from the promoters for using his women. Wolfe insisted that June Byers (whom was his daughter in-law and rumored mistress) was the true NWA Women's champion.

Because of Wolfe, the committee decided that it would recognize Byers as the champ as well, even though Byers was retired. Naturally like any title dispute, this led to Byers vs. Moolah for the rights to be the true NWA Women's champion. The match itself saw a very aggressive Moolah (might have actually been shooting) dominate then and pinned Byers in very short time to be seen as the undisputed champion. Wolfe refused to recognize the results of this match so the NWA title would still be held by Byers, supported by the NWA committee of course. Moolah found support in the northeast as she was still seen as the NWA Women's champion in the Northeast. Eventually in 1964, 10 years after Moolah won the title, the NWA granted her full recognition as Women's champion when Byers retired for good and Wolfe passed away in 1963.


The Fallout and the Comeback

June Byers, Bill Wolfe's main woman wrestler



Moolah was not always on great terms with the CWC. She left CWC in order to try and train and promote her own stable of women wrestlers, much in the same model as Wolfe did. Moolah and her third husband, Buddy Lee, were looking to build a roster of women to out preform her rival's stable. On top of growing her own stable of women, Moolah wanted to start traveling with her version of the NWA Women's and defend it in different territories. This would cause Pfefer to grow angry as he wanted to keep Moolah in the northeast as the main woman draw. He would then use his influence with other NWA promoters to blackball Moolah from the NWA territories. Moolah would end up spending the late-1950's selling cosmetics to help her household pay the bills. Though the stable she had built, along with her recognition as Women's champion would pull her out of this hole and bring her back into the wrestling world. All she needed was a break, and this break was coming sooner than expected.

Billy Wolfe's real life feud with now ex-wife Mildred Burke ruined his reputation and the credibility of Byers as Women's champion. (During a match between Burke and Byers, Burke did a shoot on Byers which resulted in the match being cut short, but Byers still being recognized as the champion. Many in the press tried to still sell Byers as champion which also discredited Burke as champion.) For most of the 1950's, Wolfe and Burke were at odds over the talent they trained and the promotion they ran. The former Women's wrestling power couple fought with each other for control of women wrestling. Now even though Burke won the rights to the company in court, Wolfe used the "Good 'Ol Boys" network to blackball Burke out of the territories and keep his influence in the NWA. But the battle with Burke cost Wolfe greatly, as by the late 1950's Wolfe was going out of business, and by 1957 Wolfe's stable was officially gone, though he still had influence within the NWA. Slowly Moolah was able make a comeback in the NWA territories. As the 50's came to a close and the 60's emerged, Moolah saw her girls getting more and more bookings with Moolah herself made sure to keep the title on herself.

Moolah had been training women wrestlers throughout the 50's and women's wrestling was about to start breaking grounds. Now as manager of her own stable of women, she requested that they wore nice cloths, keep their hair and make-up done, and never date wrestlers. Her women would reflect the 50's and early 60's culture of proper women with Moolah herself taking the lead. She did not believe in women wrestlers drinking, putting themselves in position to get taken advantage of by other wrestlers or promoters, and she believed her women should carry themselves with class. It was Moolah herself that define exactly how a woman in wrestling should act.

The Fabulous Moolah's first reign was from 1954 to 1966 (with a time off period during her blackballing from wrestling), as she then lost the title but gained it back one week later. Moolah was breaking grounds across the nation for women in wrestling. For the 20 years between Byers retiring and Moolah entering the WWF exclusively, she would travel to Japan to defend her title, become the first woman in many territories to wrestling in areas that had not been open to women, and eventually wrestle at Madison Square Garden. Yes, it was Moolah who was the first woman to wrestle in MSG, forcing the state of New York to lift their ban on women wrestling. In the 1970's Moolah bought the rights to the NWA Woman's title for herself and was promoting her stable of women across the nation.


The Heidi Fleiss of Wrestling


These years though would not be without controversy. Billy Wolfe was vindictive and took advantage of many young women who tried to break into the wrestling business. Moolah would later become vindictive and took advantage of young women trying to break into the wrestling business. She was a woman playing a man's game. Because of her feud with Wolfe, her Women's title was not recognized even though she beat June Byers. Aside from the issues she had with Billy Wolfe, Moolah also would have a feud with Pfefer, who looked at the business as entertainment, not as a sport. Making these enemies would hurt Moolah. It wasn't until Wolfe died that she was seen as the NWA Women's champion, and it wasn't until Pfefer retired that she wrestled for the now WWWF, World Wide Wrestling Federation again.

Another part of being a woman in a man's world, Moolah would begin to take Wolfe's place as someone who took advantage of young women looking for their opportunity. The women who worked for Moolah would call her a pimp. Some claimed that Moolah sent them to territories with the promise to bookers that they'd perform sexual favors. In some cases, promoters would not pay a woman wrestler for their match until after they gave them that favor. Luna Vachon, someone who grew up in the wrestling business, felt that Moolah took advantage of her as she was booked to do a photo shoot, not nude. In the movie "Lipstick and Dynamite" many women have very harsh words for Moolah. The lady herself would deny that the women were sent as sexual favors; which could be true as men in this era were known to take advantage of women. But she did herself no favors by blaming the women for putting themselves in a bad situation. Moolah also divorced her husband for having an affair with a woman wrestler that they were training. With the controversy and divorce surrounding her, instead of getting weaker, she instead went into full business mode and used it as a tool to drive her to get ahead in the wrestling business.

By the end of the 1970's, almost every woman wrestler was trained and booked by Moolah. In a man's world, Moolah not only survived but she conquered. She toured the United States and Japan; almost every woman wrestler from the United States was trained and booked by her; she owned the NWA Women's Championship and won and lost the title as she pleased; and Moolah was living up to her name as she was making as much money as many promoters in the NWA. Moolah had outlived those who tried to hold her down, outperformed and out lasted her rivals, and now she was about to be part of history.


Rock N' Wrestling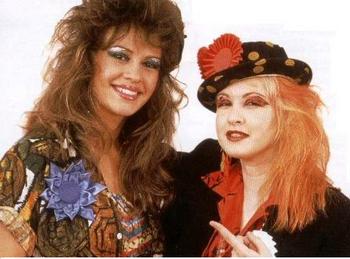 Rock N' Wrestling is here



In 1983 Vince McMahon Jr.'s Titan Sports Inc. bought Vince McMahon Sr.'s Capital Wrestling Corporation Ltd. to usher in a new era of professional wrestling. Vince McMahon Jr. decided to leave the NWA and changed the WWWF to the WWF, the World Wrestling Federation. One of the first moves Vince McMahon did was secure the Fabulous Moolah to an exclusive WWF contract in which the WWF bought the rights to the NWA Women's title. Though the NWA did not want a women's title, the promoters of the NWA were extremely angry with her and once again put her on an NWA blackball list. Though this did not matter as the WWF was about to take off to new heights. Vince McMahon Jr. also signed many of the talented women that Moolah trained. Names like Leilani Kai, Judy Martin, eventually Sherri Martel and most importantly Wendi Richter joined the WWF to compete in the women's division. Through Moolah, the WWF had laid claim to having the true women's champion in the United States.

What is interesting is that Moolah had signed with the WWF at the age of 60 years old. All signs pointed to her slowing down and letting Vince McMahon take over booking the women and controlling the title. Vince McMahon was using the renamed WWF Women's title as his bridge to the mainstream, and Moolah would be in the center of it all. Vince McMahon wanted to push her student, Wendi Richter, as the new face of the division. Richter was in her prime, 23 years old, she was attractive and a great in-ring performer. In order to get fans behind her, Vince McMahon brought in pop star Cyndi Lauper to feud with Moolah's manager Lou Albano. McMahon used Lauper to bring attention to the WWF, and the plan may have worked better than expected. The event was "The Brawl to End It All", the channel was MTV thanks to the Cyndi Lauper connection, and the match was Wendi Richter vs. the Fabulous Moolah for the WWF Women's Championship.

The actual match for the Brawl to End It All was not a well worked match. There would be little doubt that Richter and Moolah can deliver; they had better matches before when Richter was the heel Cowgirl Wendi Richter. Still, what was obvious was exactly how important this match was for Vince McMahon, the WWF and the national expansion that was taking place. The Brawl to End It All was NOT a full card with Hulk Hogan and Roddy Piper; the Brawl to End It All was in fact one match for the Women's title. Think of it, you have one match on MTV in which you put celebrities in, you hype as a match so important that it has to be on MTV, and in that match you have two Divas? It was a gamble, but the push that Richter was seeing, combined with the reputation of the Fabulous Moolah made for a must see TV event. At the end of the day, Moolah dropped the title to a younger Richter and MTV drew a 9.0 rating. Moolah would slowly drop back into managing as Richter became the face of the WWF Women's division. The popularity of Richter allowed her to take Sargent Slaughter's place as the headline of the B card.


The Original Screw Job and Beyond

The Original Screwjob



Moolah was almost completely fazed out of the women's division. Richter was facing other women wrestlers and becoming a star in her own right. The WWF had expanded nationally and the Richter/Moolah feud was a large reason why. With the success of their syndicated Superstars shows, Wrestlemania, the Rock N' Wrestling cartoon, and the Saturday Night Main Event specials, the WWF was bringing in money like no other promotion before them had ever brought in money. Richter saw herself as a major reason why and wanted a larger piece of the pie. This lead to a disagreement between Richter and McMahon about how important Richter was to the WWF and their plans for the future. In late November in 1985, Richter had a scheduled match with "The Spider Lady." What Ritcher did not know was that Spider Lady was in fact Moolah, and Moolah was there to get the title off Richter no matter what the cost was. Moolah, the referee and Vince McMahon screwed Richter out of the title and Moolah held onto the title until a new woman could carry the division. In 1987, she lost the title to Sherri Martel, or Sensational Sherri, and once again began her fade out of the WWF.

Moolah would continue to work on growing her wrestling school and she hired one of her old trainers to help her, Mae Young. Moolah and Young would open the school to men as well as women now. One male trained there would be later known as the Patriot, Del Wilkes. Moolah and Young would stay retired until the WWF asked them to comeback. Used mainly as comedy acts, Moolah and Young would get put through tables, have guitars smashed over their heads and in Moolah's case, win the WWF Women's title for 8 days. Most modern fans would know Moolah for this role. Though this part of Moolah's career is barely even a footnote in her long and important career, it's still notable for introducing her to a new generation of fans. From a teenage mother who did whatever it took to make it in a man's world, fighting the "Good Ol' Boys" network and coming out on top there was no denying Moolah's importance to the business. Though she passed away in 2007, the influence of Moolah is still felt to this day. Moolah will be remembered as the most important woman in professional wrestling, and it is important to remember her contributions to women's wrestling on International Women's Day.
Me and My Mates: Dream Matches 6 - Tag Team Turmoil (Match 7: Beer Money, Inc v The New Age Outlaws)
The King of Stats presents the 2013 WWE Superstar of the Year - #1 Daniel Bryan
The King of Stats presents the 2013 WWE Superstar of the Year - #10 to #6
The King of Stats presents the 2013 WWE Superstar of the Year - #15 to #11
The King of Stats presents the 2013 WWE Superstar of the Year - #20 to #16
The King of Stats presents the 2013 WWE Superstar of the Year - #25 to #21