Table of Contents
Monday Morning Thoughts
Previews
Live Raw Blog
Monday Afternoon Thoughts
Overall Payback vs NXT Takeover Thoughts
Did we not witness a very well rounded show? If the rumors are true about the main roster not wanting to be upstaged by the NXT Takeover special, then they did an admirable job. I don't know if it was better, because they aimed at different targets and for different results. Takeover might be the preferred option online in the IWC, because we are the type of fans that would give the extra effort to tune into the developmental brand, but that doesn't mean Payback didn't deliver on the mainstream or widespread level. In terms of fun and excitement, Payback was better than NXT. There might be some genuine complaints about results or lack of psychology, but that's not everything nor is it the staple it once was (or ever was, since the times WWF and WCW were on top, it was because of better fun and excitement, not psychology). Takeover was a great display of a blueprint of a perfect card, ranging from exposure to talents, top quality development of the next generation, and overall storytelling. I would say that Takeover was the more basic and balanced program, while Payback was a better extravaganza.

Due to unfortunate circumstances, WWE delivered something on this PPV I've been suggesting for a long time: a special event without a WWE World Title match. It's too bad that without buyrates, WWE might never get to gauge the success of a show without that headlining match. The main reason the winners from last night look so much better than usual is because they won in a bigger spotlight without it being shared with the main title.

It's not something that should be done too often. In a perfect world, I'd say 4-6 of the annual PPVs should get a vacation from major WWE Title matches. Not only would these sort of breaks create less rematches from show to show, but it would give opportunities for guys like The Shield to win in the biggest showcase possible more often. But it shouldn't be a sudden change in delivery, a slow progression is best. Maybe another show this year should take place without a WWE World Title match. Next year, 3 should skip that singles main event...etc.

Just a thought to keep things fresh, though I do understand if it would result in lower buyrates/Network buys. I think it's worth a try.

Evolution vs The Shield
I must admit to having my interest dwindle as the night went on, but that wasn't because I wasn't entertained; rather I was just exhausted. Any of my regular readers knows that my schedule has been tighter recently, and this past weekend was no exception. By the time the main event came along, I wasn't as devoted to the show as I normally would be, but the action sucked me in.

What a match. This was the type of contest that should headline PPVs more often. Not just because it was without a WWE Title match as mentioned earlier, but because tag wrestling can certainly end a card when done right. We've seen that countless of times in the past, whether in War Games matches in WCW, or in WWF when tag matches would headline shows like Summer Slam 88 and 89, the first few Survivor Series, the first WrestleMania, several In Your House shows...etc. When a stable or tag team angle is this hot, it's ok to let the WWE Champion either take a backseat, or have them involved in a bout that isn't a singles match for the title.

This match was amazing storytelling from start to finish. Evolution looked to be running through The Shield near the end, but all it took was one mistake for things to turn around, and the Hounds of Justice took over and swept the former several time World champions. The Shield earned another extremely hard fought victory, while Evolution is still a monumentally dominant force that can switch gears to the WWE Title and/or other singles goals.

Easily match of the night.

Cena vs Wyatt
Lots of immature bitching and moaning about how Cena buried another young star.

How I scoff at you.

Before I get much further, I'm not saying Cena should have won. I'm a little indifferent on that as there are pros and cons to both potential endings. My problem is only with the minority of very ignorant and obviously mentally handicapped readers who feel Bray Wyatt was BURIED!!!

It was a massively fun and overbooked match that ended with all the outside participants out of action, and one of the most innovative methods of keeping someone from getting back up with the casings holding Wyatt down. It was as protected a loser could get.

Cena didn't win the match as much as survived it. Bray Wyatt looked like a monster, and didn't lose a step in the loss. Win, lose, or draw, there's not much for Bray Wyatt to move on to after working with Cena. Outside of Mr. Hustle, Loyalty, and Respect, who else is on Bray's level right now who isn't holding the WWE World Title?

No one.

WWE is very heel heavy. In the list of potential breakdown stars, only Sheamus is on the cusp of greatness as a fan favorite, and many complain he's had his shot and no longer deserves one. I'm not saying there aren't other faces who could do it, but realistically, there's no one else right now who can be competitive with the Wyatt. Sure, we have Bad News Barrett, Cesaro, and Rusev all on major roles, but they aren't out there to take on the cult leader and his brainwashed bearded friends. They are heels as well. No faces are left.

Well, except The Shield.

So, Cena got the win, most likely to either leave the door open for another match with the Usos involved, or a bigger gimmick match where Bray gets the victory, or he moves on to working another talent on the rise. I wouldn't be surprised or complain if Cesaro moves onto Cena soon.

In the meantime, Bray can either chase the US title from Sheamus, he can dominate some midcarders without direction to give him a victory to get him back on track, or he can be just a voice behind the bearded team as they chase the tag titles.

I said many moons ago that Bray has a massive opportunity to be a modern Roddy Piper; the Rowdy one spent most of his early WWF career talking the talk, but rarely getting in his tights to fight. But once he did, it meant something huge. Bray should revert to that, nailing people with Sister Abigail once in a while to remind us how dangerous he is.

Another option would be for him to adopt a new member. Damien Sandow seems right for the picking; bearded, disenfranchised, and certainly a logical option to continue Bray's war on Cena due to how John ruined his Money in the Bank title shot last year. Other options could be any of the disgruntled employees rumored for that stable: Ziggler, The Miz, Kofi...etc.

Even in a loss, Bray has more options than he would with a victory.

I loved the match, as it really involved the 4 extra men at ringside very well. It only made sense for Rowan and Harper to get involved as they did, and for the Usos to have Cena's back. I loved that part, and it felt like something we haven't seen before in a LMS match.

Tuesday Night Titans
Tune in tomorrow to LOP Radio for the next edition of Tuesday Night Titans. XanMan and I will be discussing the ECW show The Night The Line Was Crossed from 1994. It's a shorter show than usual as we recorded 2 programs this weekend, with an NXT Takeover reviewed that aired on Saturday.

If you are interested in either show, check out LOP Radio podcasts here:

NXT Review:

More Wrestling Podcasts at Blog Talk Radio with
LordsofPain
on BlogTalkRadio
ECW The Night The Line Was Crossed:

Current Wrestling Podcasts at Blog Talk Radio with
LordsofPain
on BlogTalkRadio
Previews
From WWE.com
Well,that was certainly something. On the same night that John Cena silenced Bray Wyatt, The Shield taught Triple H, Batista & Randy Orton a lesson in Evolution with an extinction-level event at WWE Payback. But with all of that score settling and career threatening in the Windy City, what can we anticipate just 24 hours later on Raw? WWE.com has five thoughts on what's sure to be one hot night in Indianapolis.

1. Can quitters prosper?
It was decision time for Daniel Bryan at WWE Payback, where he would be forced to either surrender his hard-won WWE World Heavyweight Championship or see his wife, Brie Bella, fired by The Authority's Stephanie McMahon. It was a difficult choice to be sure, but it was ultimately Brie who would do the deciding when she selflessly quit WWE, nullifying the threat presented by one of WWE's Principal Owners. With a slap that reverberated throughout Chicago's Allstate Arena, the "Total Divas" star delivered a stinging parting shot to Stephanie before sparking a "Yes!" chant with her husband.

Now that Stephanie's plan to force Bryan to surrender the WWE World Heavyweight Title has backfired, what obstacles lie ahead for the leader of the "Yes!" Movement? Also, what's next for Brie, now no longer part of the WWE roster?


2. Razing Kane
Kofi Kingston spoke his mind on Twitter about Stephanie McMahon forcing Daniel Bryan to choose between his family and his career at WWE Payback, and Kofi's candid honesty was "rewarded" with a savage beat down at the hands of Kane moments before The Dreadlocked Dynamo was to face Bo Dallas.

This startling show of force — seemingly ordered by The Authority — was a shocking reminder of what The Devil's Favorite Demon is capable of. Should Kane re-emerge on Raw, disaster will soon follow.


3. Moral victory
In what no doubt ranks among his most grueling battles to date, John Cena defeated the calculating Bray Wyatt in a savage Last Man Standing Match that had it all: chairs, stairs, tables and even some surprise pyrotechnics. But in the end, it was a well-executed Attitude Adjustment through an equipment case that felled The Eater of Worlds — at least for now.

When we last saw Wyatt Sunday night, he was incapacitated within a makeshift tomb, courtesy of the Cenation leader. Now that Cena has put the exclamation point on his months-long rivalry with the self-professed "necessary evil," is the WWE Universe free of The Wyatt Family's evil allure?


4. Brotherhood no more?
After being defeated by Ryback & Curtis Axel at WWE Payback, Cody Rhodes offered the following words to sibling and tag team partner, Goldust: "Brother to brother, you need a better tag team partner than me."

Clearly disappointed by a less-than-stellar win/loss record as of late, the former WWE Tag Team Champions have seemingly gone their separate ways. Might Goldust and Cody regain their luster as solo competitors?


5. Swept away
We knew The Shield was good, but no one could have predicted that The Hounds of Justice would wind up going 3-0 in a No Holds Barred Elimination Match against Evolution — one of the most decorated factions in all of sports-entertainment history. And, yet, for all of Triple H, Randy Orton & Batista's underhanded tactics and a seemingly endless supply of "equalizers," justice ultimately prevailed at WWE Payback as all three black-clad warriors asserted their dominance as a unit.

Having twice vanquished Evolution in six-man encounters, The Shield strides into Monday Night Raw with some well-earned swagger. Whatever they do next will be must-see. Believe that.

Live Raw Discussion
Intro - Evolution
9:00
Someone is turning here.

9:07
Safe money was on Dave being the one, and it was well done.

As lame as Batista can and has been, there was always an opportunity for him to get the face run WWE originally planned. And they can get it, as long as it's not done by ruining Daniel Bryan's push.

RVD/Sheamus vs Cesaro/Barrett
9:10
**** yeah!

9:31
Great match. I long ago asked for a Barrett/Cesaro team. It looks like it was a one time only thing seeing how Heyman and his client left the match. Shame. But it was quite enjoyable if only that one time.

I loved that ending. The agents who worked that match must have been brought up from NXT recently.

Sandow segment
9:37
Basketball is one of the stupidest sports of all time. **** I hate it. But at least it's a sport, unlike car racing, bowling, and golf.

Thank you Big Show.

Kofi vs Bo
9:47
I really don't have high hopes for Bo Dallas. He's just so weak on the mic, and not that strong in the ring, while looking extremely unfit with the WWE main roster. Kofi Kingston makes him look like a cruiserweight.

And Xanman nailed it when he said Bo looks like the Predator when he smiles.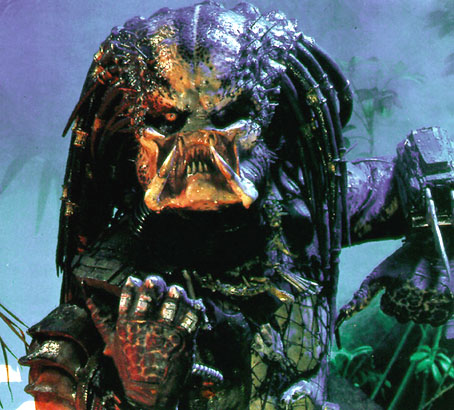 No?

Stephanie segment (w/Cena)
10:04
Stephanie making an expected announcement, Cena's interruption was not.

10:15
As unpopular as it tends to be when Cena is added to existing hot angles, there is something to be said about how his name augments the excitement for said storylines. Since the Authority created their existence last fall, John Cena has been the oft-mentioned name to be next involved in one way or another. It just felt like he was too big of a name to not be associated with either Bryan as he fights HHH and Steph, or on their side since he does represent most of what the evil duo are fighting to keep around. If anything, it might have taken too long for him to come to the aid of his sort-of brother-in-law, because it no longer fits the way it did 6 months ago.

What he does accomplish by facing Kane tonight is be a credible opponent for The Demon to gain some momentum to his potential title match at Money in the Bank. Kane demolishing Zack Ryder is one thing, but him taking Cena to the physical limit in a back and forth TV contest where the Authority's Demon goes ballistic creates an aura or a threat we haven't seen for at least a month, if not longer.

Forgettable but Fun 3MB vs Los Matadores, then Filler with Divas, and Swagger vs Rose
10:45
It seems like the middle of the show is where WWE puts in the generally forgettable stuff. I should stop expecting to comment on it, because there rarely is something worth saying.

I didn't hate any of it, but I can't say there's anything worth updating here on any of it. At least the tag title match is next!

The Usos vs Wyatt Family
11:08
Best match of the night so far was a tag match. There's very little chance Orton vs Reigns will impress enough to be considered best of any night, but this WWE Tag Title match very well could.

Once again proving my theory: Germans love David Hasselhoff.

And wrestling fans love Tag Team wrestling.

11:11
As strong as the Usos have been, and as impressive as their pre-match promo was, I predict new champs tonight.

11:15
I could have sworn this was announced as a title match. My mistake. Still strong booking that creates interest in another title bout, and the newest match of the night, as many should have expected.

Del Rio vs Ziggler
11:25
Another victim of Rematch-a-thon, Ziggler vs Del Rio part 84. They've never sucked, but there's a lustre lost when it's taken place so often, with no advancement for either man.

Well, we can pretend this could lead to a Ziggler push.

11:29
Ugh.

RybAxel vs Goldcara, or Sin Dust
11:36
Something I briefly discussed on last Saturday's NXT Takeover review is introducing Sin Cara into the tag division. Instead of Goldust, I figured it would be Kalisto from NXT, or the eventual return from Mysterio.

This won't last long, as the story is still Cody. But I'll curious where it goes. I just like seeing Sin Cara in a decent position to impress, and Hunicara is a great talent, and in a tag team seems best right now.

The Shield
12:00
It still feels weird when anyone walks around with WWE microphones despite being enemies of whoever is in charge, in this case The Shield and the Authority. Especially The Shield, who come through the crowd and still don't seem like roster members.

12:03
THAT… was unexpected!

Final Thoughts
12:09
I didn't expect the Rollins heel turn. I didn't expect anyone from the Shield to break up yet, but least of all Rollins. I won't complain about it, as I'm excited to see what happens.

A much better Raw than the recent weeks. There will always be lulls, but this show didn't have a bad one. In fact, there was a pretty good balance overall. I'm very impressed.

Bray on Smackdown?
Rollins with Evolution?
Cena vs Stephanie?

Only complaint is the first name in the Money in the Bank match. How absolutely dreadful. Barring a plan for Ziggler to join Sandow in that rumored angry midcard stable, I'm at a loss for words over the guy.

And on that note, Peace out
Feel free to email me a comment (Email PEN15). One of the best parts of writing is the discussions that come out of it. My hope is that your response could be used in a column to publicly discuss your comments.
Follow me on Twitter if you wish, though I don't really do much with it.
@LOPPEN15