Table of Contents
Monday Morning Thoughts
Previews
Live Raw Blog
Post Raw Thoughts
Monday Morning Thoughts
New Blood
The Shield might be in the most obvious version of this current storyline trend, but there is more than mild focus on WWE investing in tomorrow's stars working with and through the current roster.

The Shield vs Evolution
Bray Wyatt vs John Cena
Daniel Bryan vs Kane/The Authority

Those are the 3 main event angles we've been seeing since WrestleMania, and all of them represent where the company is going.

It's a lot less overt than when WCW had the PPVs named after the storyline, but it's still the most obvious time WWE has aimed for this goal.

It makes sense, not that any of you are going to be surprised. If anything, it's taken WWE too long to get on top of this problem. While I'll never be mistaken for a John Cena hater, the long line of talent that have gone to waste in an effort to add another needless win to his record is staggering. Thankfully, not only are WWE attempting to correct those losses with new pushes (Wade Barrett being the primary example), but other stars are getting a better rub from him than ever before (Wyatt Family).

And unlike the WCW version, we're seeing new talent on the rise as both face or heel. Sure, Cena isn't the most popular established elite talent, but we still saw Big Show be the last man impressively eliminated by Cesaro in the Andre the Giant Memorial Battle Royal at WrestleMania XXX.

Also, it's not about youth in age, but youth as a character. Cesaro is obviously no spring chicken with his receding hairline, but whatever age he is, fans are into him because he is fresh. Batista clicked when he took charge in 2005 despite his age. I don't think it really matters how old the performer actually is, but how long he's been put in front of a WWE camera.

That's the danger of pushing young stars too much. We might think of Cena and Orton as ancient since they've been in the spotlight over a decade now, but they are still rather young.

Short Blog
It's a busy time in the life of PEN15. I've recently decided to switch jobs, for a major raise, but it does take up more of my time than I'm usually allotted for blogging. I'll try to restructure better for next week, but the lack of truly important piece to touch on, and lack of time during my Monday to write means a shorter blog to start off. I'll be back tonight for Raw, and maybe I'll be able to find more to expand upon.

Also, Leaf has posted his final column for the competition in the LOP Columns Forum, and voting is until Friday night. If you'd like to check out his work, along with Dannokaboom, who is the other finalist, please visit LOPforums and have a read. If you sign up, you can send in your votes. And no, you can't send your votes to me to send in.

Previews
From WWE.com
No doubt still feeling the effects of Kane's onslaught last week, WWE World Heavyweight Champion Daniel Bryan has nevertheless affirmed he will be at this week's Raw, live in St. Louis. Will the "Yes!" Man suffer the wrath of his Extreme Rules opponent once again, or will Stephanie McMahon be able to rein in the demon she has unleashed?
Also on Raw, "X-Men: Days of Future Past" star Hugh Jackman drops in on the WWE Universe. What can Wolverine himself expect during his second visit to Monday night's hottest show?
1. Can The Authority control Kane?
Brie Bella and the entire WWE Universe looked on in horror last Monday night as Kane viciously assaulted Daniel Bryan with a sadistic succession of Tombstone Piledrivers. As a result, Bryan was diagnosed with a cervical cord neurapraxia — a contusion of the spinal cord — that could have put his WWE World Heavyweight Championship reign in jeopardy. Bryan was fortunately able to recover and has vowed to appear on this week's Raw, where Stephanie McMahon plans to apologize for the heinous actions of The Devil's Favorite Demon.
Although Stephanie seemed to protest Kane's attack last week, is The Authority truly repentant? Or is Stephanie merely doing some "damage control" to save face? Regardless, it will be interesting to see if The Authority is able to extinguish the wildfire they've started — or if they intend on letting it burn everything in its path.

2. Snikt! Wolverine pops his claws
Remember that one time when Wolverine showed up on Raw a few years back and punched Dolph Ziggler in the face? The Showoff certainly didn't forget, but he seemed to forgive the Academy Award nominee last week on Twitter, extending a digital olive branch to Jackman and gushing about the latest trailer for "X-Men: Days of Future Past," in theaters May 23.
However, Ziggler's Twitter hatchet-burying with this week's Raw guest star drew the ire of perennial malcontent Damien Sandow, who ignited a war of words with his fellow former Money in the Bank contract holder. In the social media skirmish, Ziggler promised that he and Jackman will teach The Intellectual Savior of the Masses "something about respect." By the time Raw's over, Sandow might wish he had Wolverine's healing factor, bub.

3. Hounds on the hunt
On SmackDown, The Shield faced seemingly insurmountable odds when they were placed in an 11-on-3 Handicap Match — their second such encounter in as many weeks. However, rather than face the same unfair fight that left the trio vulnerable to an Evolution assault on April 14, the crafty Hounds of Justice appropriated their Extreme Rules opponents' "adapt or perish" credo to whittle the larger team's ranks down to just five Superstars. Although they were still technically outnumbered, Seth Rollins, Roman Reigns & Dean Ambrose picked up the victory and left their foes battered, bruised and breathing hard.
Now that The Shield has laid waste to all those who have stood between them and Evolution, what will happen between these two powerhouse factions before they go to war at Extreme Rules?
4. Bad News meets rad dude
And then there were two. In the final round of an intensely competitive tournament to determine the No. 1 contender to the Intercontinental Championship, Rob Van Dam and Bad News Barrett will clash on Raw to earn the right to challenge Big E for the illustrious prize this Sunday at Extreme Rules. As a six-time holder of the coveted title, the veteran RVD seems to have the upper hand going into this must-see bout, but the bare-knuckle bearer of bad news has been on a tear of late as he vies to become a four-time Intercontinental Champion himself.

Even though Big E has been nigh unstoppable as Intercontinental Champion, he'd be wise to watch closely as his potential challengers collide on Raw. Will the tournament winner go on to unseat this titanic titleholder?

5. When we say 'Uce,' y'all say … 'RybAxel'?
Announced exclusively on WWE.com after SmackDown went off the air, Ryback & Curtis Axel will challenge The Usos for the WWE Tag Team Championship on Raw. The unorthodox pairing has displayed new ferocity in recent weeks, with Ryback defeating Jimmy Uso one-on-one last week on WWE Main Event and Curtis Axel pinning Jey Uso on SmackDown. In the aftermath of this singles sweep, the intimidating duo has cemented their standing as the greatest threat to the twins' title reign. Will #RybAxelRules be trending on Twitter with the crowning of new WWE Tag Team Champions on Raw?

From LOPforums poster StormDragonz

The Monday Night RAW Episode for the 28th of April, 2014: Ram It Down

- Happy Birthday Today to "A-Ri" Alex Riley, turning 33.
- Happy Early Birthday to Titus O'Neil, who turns 37 tomorrow.
- Happy Birthday Tomorrow as well to Aksana, who turns 32.
- Happy Early Birhday to Dwanye "The Rock" Johnson, who turns 42 on Friday.

--- This Week In Wrestling History: May 1st, 2011: It was the Extreme Rules PPV, and though we had such matches as Layla vs. Michelle McCool in McCool's last official match, CM Punk vs. Randy Orton in a Last Man Standing match, and The Miz vs. John Cena vs. John Morrison in a Steel Cage, but it would be the night that we see a Ladder Match between Alberto Del Rio and the completely unlikely opponent of Christian for the World Heavyweight Championship.




WWE Extreme Rules 2011 Christian vs Alberto Del... by EmilMoeller





--- Enjoy the show, everyone. Sing with the angels, oh please wail your war cry... ---


But if all of this hype eventually turns out to be another "OMFGZ CENA OVERCOME THE ODDZZZ" story, then **** Creative!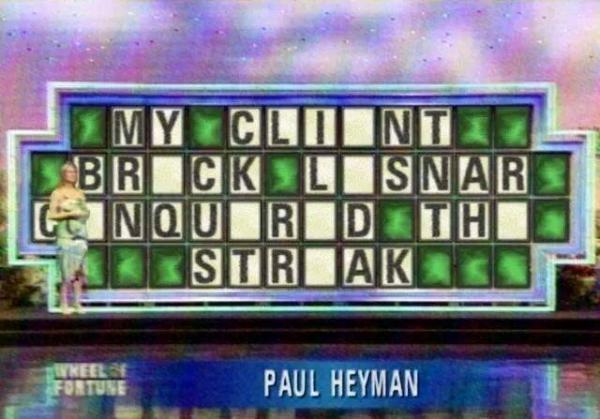 StormDragonz Questions to Ponder


- 1 - How excited are you for Extreme Rules 2014 happening next Sunday?


As much as the last 2-3 Extreme Rules shows, as the post-Mania storylines tend to be kicked in overdrive.


- 2 - There are currently only six matches confirmed for the PPV with no mentioned pre-show. Including the Pre-Show Match, if there is one, how matches do you think will occur at the Extreme Rules PPV?


I don't know.


- 3 - In case you didn't hear, Dean Ambrose has named his finishing move Dirty Deeds. Yay, nay or GTFO?


I don't like the finisher, so I don't mind the name being shit.


- 4 - Speaking of which, Ambrose is now officially the longest reigning U.S. Champion under the WWE banner at 344 days. Over/Under: Ambrose hits 400 days as champion, which would be on June 23rd, which just happens to be a Monday...


These might be the worst Questions you've ever posed, Stormz...



Live Raw Discussion







Intro - John Cena

9:00
Ominous feeling with Cena looking to be angry, most likely directed towards the WWE Universe. But I'm sure this will be merely a tease towards the heel turn we've discussed for years.

9:14
This Bray Wyatt interruption with the choir might be the best thing we've ever seen.

9:18
What did we learn? That we don't need constant talking to get your point across.


Usos vs RybAxel

9:22
Match of the night coming up. Well, maybe not, because I'm guessing they want to build towards something at Extreme Rules this weekend. But this should still be a damn solid match, no matter what open ending we get.

9:35
Awesome match as predicted, but I was wrong on the ending being open enough for a rematch this Sunday. I doubt RybAxel will just fade away, but it's curious to see where they might go from here.

I liked the classic in-ring intros for the tag title match as well. Only recently have they added those to title matches that weren't for the WWE or World title. It's a great touch, though I still wonder if it's worth sacrificing those pre-bell attacks.


Sheamus vs Titus O'Neil

9:50
Speaking of a pre-bell attack…

9:52
Here are 2 characters I am genuinely interested in, but don't seem to find enough time on Raw these days.


Hugh Jackman

10:02
I highly doubt Jackman is actually a fan, but he sure acts like one, and it helps the atmosphere of the appearance.

10:04
Wow… Damien…. Wow…


Swagger vs Cesaro

10:18
Heyman is amazing.


Cody Rhodes vs Alberto Del Rio

10:31
I'm not sure why I'm not finding much to talk about, despite being very enthralled by most of the WWE programming and storylines. Maybe because the angles are being written at the perfect pace to not need too much commentary?

I don't know what to think of this sibling rivalry tease between Cody and Goldy. I just don't understand why they split up so many teams so quickly. There's still more for these guys to achieve. It doesn't help that Cody only recently turned face, so a heel turn would be too soon in my opinion, while Goldust works best as a face.


Alexander Rusev vs Xavier Woods

10:43
These types of matches need to take place to establish major talents like Rusev. The problem is that the programs are rather predictable, and therefore hard to pull off. The Bulgarian Brute will no doubt end up looking like the victor, whether he actually wins or loses, and any stock that Truth and Woods had will dissipate after the confrontation.

Thankfully, I think there is a saving grace to it all. Woods and Truth have potential as a tag team. After they lose to Rusev, the door is open for them to enter a tag feud with another team. It would be step one into rebuilding their credibility, and it could lead to a singles push down the line after success as a dup.

On the subject of teams, I watched part of Judgment Day 2004 last night, and was entertained by the team of Billy Gunn and Hardcore Holly. No, they didn't have chemistry or any reason to be teamed together, but the idea of veterans teaming up works. Sure, we had the return of the New Age Outlaws, and they had name value, but they weren't fresh. While there's often been teams suggested from unused singles stars, the common goal of veteran talents joining up is one that hasn't been capitalized on very often. While I commented on a possible Big Show/Mark Henry pairing many moons ago, besides the size factor, the experience would be another selling point.



El Matadores vs 3MB

10:53
I seriously have no problem at all with this feud. Especially with a win for Slater. 3MB are great talents, with an honestly great heel gimmick. These guys might have been jokes for a while, but it can and should all be repaired.

And I'm genuinely interested in what happens in this WeeLC match on Sunday.


Stephanie's Apology

11:00
Another angle where it seems obvious in the intentions.

This is the best Daniel Bryan has ever worked on the microphone. And his wife has never looked better.


Paige vs Brie Bella

11:12
Meh, a Divas match. At least this is connected to the Daniel Bryan vs Kane saga, so it has storyline implications.

11:19
That was the perfect way to move the Kane/Bryan story further. Another Kane attack would be overkill, but Daniel shouldn't have too much of an advantage going into the match either. Well done.


RVD VS BNB

11:29
This should be getting a decent amount of time if it's to build to the Intercontinental Championship match on Sunday. But then it would take a significant amount of time from the main event of Orton vs Reigns.

11:46
Good timing. Told a solid story in this final, while still keeping enough time for the main.

I like this Swagger vs Cesaro angle. WOW, great gutwrench powerbomb from Swagger. Jack showing his own strength should be very important. I'm not saying he should look stronger than Cesaro, but he needs to look competitive with his former partner.

Consider how established many of the midcard wrestlers are these days:
-Cesaro
-RVD
-Swagger
-Barrett

On top of those names, Big E. as champion is getting a rub from just being the champion during this tournament, Dolph Ziggler had quite the spotlight segment tonight, Alexander Rusev is obvious on his way up the card, and Sheamus is in flux between main event and midcard.

Also, don't forget that there's something building with Cody Rhodes from his brother, Titus seemed to be getting commentary signifying a change or push coming up, and there are 2 NXT debuts coming up soon.

Not too bad, WWE. Not too bad at all.


Orton vs Reigns

12:15
That didn't work for me.

First, Flair's participation felt inorganic and forced. It also didn't make much sense. And it ended too abruptly.

The match was a shmozz, which makes sense, but after the Flair portion and promos, it felt unneeded. It should have just been a brawl without officials. But I might just be critiquing for the sake of it.


Overall Thoughts





Very solid Raw, with only a couple of weak spots. The problem is that this is now 2 Raws in a row with endings that just don't really connect with me. It's not that I require a cliffhanger, or at least I hope I'm not too spoiled. I just feel that the segments have fallen flat. Maybe it's a victim of 3 hour Raws, and by the end I am so tired that it'll take a lot to get me to take notice.

I must point out that WWE is doing something quite spectacular these days with Raws. It might have felt like a standard programming operative during the Road to WrestleMania, but the fact that this pattern has continued past Mania XXX shows increased initiative to expand on their storylines to their fullest potential.

This week's Raw ended with the Evolution vs Shield storyline.
Last week was Cena vs Wyatt.
The week before was Shield vs 11 picked opponents in the Evolution angle.
And the Monday after WrestleMania ended Daniel Bryan as WWE Champion.

I'm not talking about how Daniel Bryan as champion isn't main eventing. That will only be a problem if that extends over a significant period of time like it did with CM Punk. What I'm trying to point out is that WWE has multiple main event storylines going at the same time, with all of them getting their chance to headline TV.

This might be the most important benefactor of the 3 hour Raws, as every story can have their chance to shine in the main event one week, while taking a breather in the backseat during another. Sure, we might still be getting too much Cena in a 3 hour show, as there was no real need for him to have 2 backstage promos with Renee Young, no matter how much they differed. But it's been a rather evened out affair. Bryan had his backstage segment with Stephanie, after the Brie vs Paige match with Kane involvement, along with the Stephanie apology that set everything up. The Shield had a backstage promo, along with continued hype for the main event. Everything had a rather fair and equal spotlight on Raw.

On top of that, but the midcard angle involving Cesaro, Swagger, and RVD had a lot of time devoted to it as well.

Sure, the 3 hour Raws aren't perfect, but there's a hell of an improvement over the structure from when they debuted in 2012. As I mentioned above, the midcard is getting a lot of exposure, there are 3 main event programs currently running, and there still seems to be enough time to fit in "filler" angles like 3MB/Hornswaggle vs Los Matadores/El Torito and Santino/Emma vs Fandango/Layla.

The next step to take is to get some more tag teams involved with the stars who aren't making the card. Titus would be a great partner in the new Real Americans. Dolph seems like the perfect performer to make the most of a tag team performance to propel him back into a higher profile, and could easily form a solid duo with almost anyone on the roster as heel or face. I'll again voice a loud proposal for a team of bruisers or giants, like Mark Henry and Big Show. Or maybe Evan Bourne should return in a high flying tag team with Kofi again, or Tyson Kidd, or draft Adrian Neville from NXT? The tag division isn't in a bad place, but with Cody/Goldy breaking up, and Real Americans already separated, there's lots of room for new teams to get involved.

Either way, it's still a great time to be a fan. Looking forward to Extreme Rules. Ryan and Tyler, will you be joining us?


And on that note, Peace out

Feel free to email me a comment (Email PEN15). One of the best parts of writing is the discussions that come out of it. My hope is that your response could be used in a column to publicly discuss your comments.
Follow me on Twitter if you wish, though I don't really do much with it.
@LOPPEN15