---



My Two Centsss - The One To Watch Out For (March 2014) - Seth Rollins


By Super Chrisss
Mar 8, 2014 - 2:08:00 PM




(Tom Jenner is the man!)







Welcome friends, haters, long-time readers, first-timers, whatever you may be, to a brand-new monthly feature of "My Two Centsss". At the start of every month for the rest of the calendar year, I will pick a WWE or TNA Superstar or Diva/Knockout who has been impressing me lately and I feel will have a major impact on his or her organization over the next twelve months. I'm not saying that he/she will go onto win their respective company's world title a dozen times between now and 2015, but I do think that month's wrestler will find themselves higher up on the card as time goes by. For example, if April 2014's "One To Watch" is Kofi Kingston, he doesn't have to win the 2015 Royal Rumble and main-event Wrestlemania XXXI in order for my prediction to come true. But he does have to firmly establish himself as a lower-tier main-eventer, as opposed to what he is now (king of the WWE midcard). A year from now (provided I'm still writing around these parts, that is), I'll look back at how my pick did and I'll choose another for 2016. Simple enough, right?


The first week of March 2014 has been a hectic one in the world of professional wrestling. In WWEland, Raw Chicago was a hell of a show, as the crowd unsuccessfully tried to hijack the broadcast by chanting for hometown hero CM Punk all-night long. We also saw everyone's favourite movie star, Batista, solidify his heel turn, and the build-up for Wrestlemania XXX continued on both Raw and SmackDown. Over in Impact Wrestling, TNA presented their go-home show prior to their huge LockDown Pay-Per-View tomorrow evening, where the focus was mostly on the Lethal LockDown match, Samoa Joe vs. Magnus, and Sam Shaw vs. Mr. Anderson. Maybe a bit too much focus, as there has been pretty much no hype whatsoever for Manik vs. Tigre Uno, Bad Influence & Chris Sabin vs. The Great Muta, Seiya Sanada and Nakanoue, or Gail Kim vs. Velvet Sky. Hell, I don't think even LOP's resident TNA guy Crow knew/knows about Manik vs. Uno taking place at LockDown! Nevertheless, TNA has given us a solid card to look forward to tomorrow night, as it certainly looks more appealing than Bound For Glory did.


With all these things going on, who was able to stand out from the pack and make the loudest statement of all? Almost surprisingly, it was a guy who not that long ago, nine out of ten people were pegging to become the 'whipping boy' once The Shield ultimately go their separate ways. The man who was constantly being lost in the discussion when predicting which member of The Shield would be most relevant months and years from now. Somehow, in a fairly short amount of time, Seth Rollins has gone from being the one with the least to gain from The Hounds of Justice splitting up to being...





The One To Watch Out For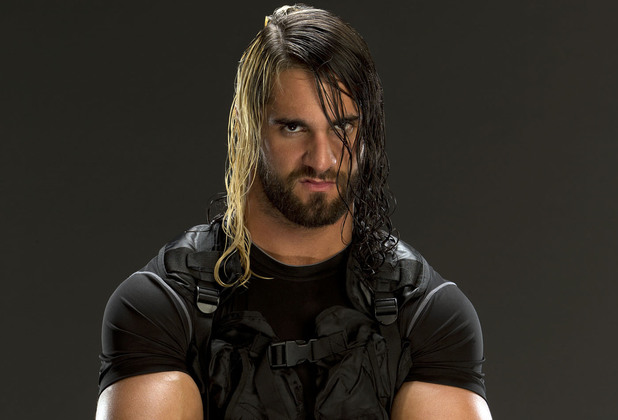 As my LoPRadio tag team partner, The Doc, pointed out, there simply isn't anyone else on the WWE roster who has been on the kind of roll that Seth Rollins has since the Elimination Chamber Pay-Per-View. Arguments could be made for both The Usos or Daniel Bryan, but Rollins is not only involved in one of the best storylines going into Wrestlemania XXX (that being tension among The Shield), as well as going above and beyond to show the WWE Universe - and possibly WWE management, too - that he is anything but the weak link in the trio. Go back to the Match of the Year contender when The Shield and The Wyatts faced off against each other for the first time - who was the MVP of that match? Some would say it was Roman Reigns, who had the crowd in the palm of his hand as he valiantly took on The Wyatt Family by himself in the final minutes of that match. Others might argue it was Luke Harper, who did things in the ring most people had never seen him do before.


For me, however, it was Seth Rollins who shone brightest that night. Despite both teams being villains, The Shield quickly adopted the babyface role, and Rollins excelled as the face in peril for most of the match. He was able to show off much off his crowd-pleasing, high-risk offense, and you couldn't help but root for Rollins and his teammates. During the rematch last Monday on Raw, it was the same formula all over again, but with a different ending - after taking a lot of abuse from The Wyatts, Rollins said enough was enough and fed Reigns and Ambrose to the wolves. Fast-forward to 'The Shield Summit' on SmackDown last night, Rollins was back to playing the hero, and resuming his role as "The Architect", as Michael Cole likes to call him.


What's interesting about both matches and the segment from SmackDown? In addition to WWE booking Rollins as the face for most of those encounters, it's interesting to note that despite The Shield coming up short on both occasions, Rollins was never the man who give up the pin in either match. Furthermore, the spotlight seems to have shifted from Ambrose to Reigns to Rollins in terms of both mic time and who seems to be keeping The Shield united. I don't know if this is just a short-term tactic to ensure that Rollins is on equal footing if a triple-threat between all three men does take place at Wrestlemania, or if management is seriously considering pushing Rollins harder than we thought once the group implodes. Reigns may have the look and the charisma, but he hasn't been bringing it in the ring. When you compare Reigns vs. Bray Wyatt from last week's Raw or Reigns vs. CM Punk from Old-School Raw to Rollins vs. John Cena from SmackDown or Rollins' performance in both clashes with The Shield, it's almost night and day in terms of quality.


There's no doubt in my mind that WWE is determined to push both Reigns and Ambrose as singles stars once The Shield dissolves - Reigns as the Superman Face, and Ambrose as the psychotic villain. Fans - including myself - often wondered where that will leave Rollins in the grand scheme of things, since his partners have seemingly clear-cut roles awaiting them. At the time of this writing, I still don't know what WWE plans to do with Rollins, but if recent events are any indication, he certainly won't be lost in the shuffle. Since The Shield breakup rumours began, it was the general consensus among the Internet Wrestling Community that Rollins would travel down one of two trajectories: either become a high-flying, popular midcarder/lower main-eventer such as Jeff Hardy, or a Dolph Ziggler, who gets pushed aside more often than he is pushed up the card. Honestly, I can see Rollins someday becoming a Chris Jericho - someone who can have a great match with almost any wrestler, play both the face and the heel very well, but for whatever reason, is never a top guy. I still think both Reigns and Ambrose will surpass him in terms of success, but trust me, there's nothing wrong with having another Y2J around (let's just hope Rollins doesn't dream about becoming a rock star, though).


For months, fans have been wondering if Rollins will able to survive the fall of The Shield. Well, WWE and the man himself have convinced me that not only can Rollins thrive with or without his allies by his side, but that he can definitely "make it" in the largest wrestling company in the world. He may not ooze charisma the way Reigns does, nor be an all-around package such as Ambrose, but Rollins can do much more than hold his own as a singles star. Seth Rollins doesn't have to be repackaged or paired with a heel manager (such as Paul Heyman) to achieve success without The Shield - it's quickly becoming a question of whether Seth Rollins needs The Shield or whether it's The Shield who needs Rollins...






*****




Your Two Centsss: Do you see Seth Rollins finding success once his run with The Shield comes to an end? Why or why not?



Join The Doc and myself every Wednesday night at 5pm on LoPRadio/BlogTalkRadio where we give our wins and fails for Raw, discuss current events in wrestling, and more! Here's last Wednesday's episode:




New Wrestling Podcasts with

LordsofPain

on BlogTalkRadio





- Email: captain_charisma16@hotmail.com

- Facebook: Search for "Super Chrisss" and LIKE the page

- Twitter: @ChrisssLOP


Are you a gamer? Then add me!


-PSN: Good_Guy_Chris
-XboX Live Gamertag: Good Guy Chris
-Nintendo 3DS Friend Code (send me yours!): 0662 3338 1993


Thanks for reading!
My Two Centsss - Thursday Hodgepodge: Daniel Bryan Snubbed, Waste of Khalifa, TNA's Woes & More!
My Two Centsss - Thursday Hodgepodge: Bye-Bye Rey-Rey, #FireBillDeMott, & More!
My Two Centsss - Thursday Hodgepodge: #GiveDivasAChance, Brock Walks, SmackDown & More!
My Two Centsss - Daniel Bryan's Road to the WrestleMania 31 Main-Event Isn't Over
My Two Centsss - Fast Lane Predictions (With Some Swerves Along The Way)
My Two Centsss - Looking Back at NXT Takeover: Rival (I Was Disappointed With Zayn vs. Owens)