---



IN LAIMAN'S TERMS: Moments of Memory


By Al Laiman
Mar 22, 2012 - 11:31:37 PM




IN LAIMAN'S TERMS Facebook Page
Alexander Goodlive Author Facebook Page
Jaded Hope
Email: al.laiman.lop@gmail.com



IN LAIMAN'S TERMS: Moments of Memory

In past 30 Thoughts columns, I have made mention of my overall theory of what professional wrestling really means as a fan: You remember the moments you share with the friends with whom you experience them more than the moments themselves. Today, I'm going to step back from the position as the guy with wrestling experience and tell you several stories of moments I remember fondly with professional wrestling as the avenue.

Unforgiven 2003 - Hershey, PA

With the exception of a house show in Ft. Myers, Florida in 2002, this would be my first real WWE experience. The card was not all that spectacular, but as a full blown Kane mark, he was featured in a prominent match and that's all I cared about. One of my best friends, Brian (contributor to Jaded Hope), went to the show with me.

To remind you of some of the context, Triple H was in the midst of a Reign of Doom, Kane was in a last man standing match with Shane McMahon, and... that's really all I remember. What I do remember is standing outside the GIANT Center with Brian. Brian got a ton of attention for his "I Have a Sign" sign, and Brian and I did what we always did in long lines at Hershey... Tell jokes back and forth and make everyone around us laugh.

We had seats the second row from the very top on the opposite side of the stage. At one point in the show, Brian decided to head for the snack bar. As he was there, Kane's pyro suddenly went off, and it was the loudest goddamn thing I'd ever heard. Apparently it was quite audible at the snack bar too, because it made both Brian and the girl working the counter nearly hit the ceiling. I don't know if they amp it up extra high for Pay-Per-Views, but I was as far away in that arena as you could be and it was that loud.

What else do I remember? The arena absolutely erupting when Goldberg defeated Triple H for the title... Not because Goldberg won, but because Triple H finally lost the damn thing. I've since rescinded my hatred of Triple H, but during that time, I loathed him. What I remember most fondly is sitting next to Brian, cheering, laughing, and his reaction to the Kanesplosion.

Hersheypark, 2000

Another Brian story, this one from eighth grade. Brian's parents, as really the only friends' parents I've ever had that liked me on a consistent basis (to this day, even), took us to Hersheypark on a Saturday afternoon, two days before our last day in junior high would send us there on a field trip. Why does this make a wrestling story? As we're driving into the park, advertised to appear in the ampi-theater is none other than Mick Foley!

Brian and I were psyched, as we were always huge Foley fans. We were in line hours early, and I was such a nerd that I had won a little stuffed alien in a contest and was going to get it signed for my girlfriend Jenn. Yeah, not the hottest move I've ever made.

What I remember the most is waiting in line with a guy who I could best describe as a wrestling comedian. When he put sunglasses on, he had the Edge smile down to a creepy level. This was also in the midst of Kurt Angle's heel golden days, and everything would follow up with "It's true! It's True!" Finally, his Ultimate Warrior impression that only ranks below Chris Spiker's throaty skronk, Christian on the DVD, and the Lobsterhead rant I have planned for next week's 30 Thoughts... "I'm the WARRIOR! I'm in WWF, WCW... WWF, WCW... I'm dead, I'm back again, Hoak Hogan!"

For those of you who have never read a Foley book or seen him in a non-wrestling environment, he is one of the nicest, most charming people you will ever meet. He answered everyone's questions for almost two hours, making self-depricating jokes. For instance, someone yelled out that he was beautiful, and he looks up and says, "Who said that? SECURITY!" Also, someone actually asked to see his ear. I'll never forget that exasperated 'Tell me you did not just say that' tone in his voice: "NO, you can't see my EAR!"

We each got autographed WWF sheets, and I got the alien signed. He remarked that it was the weirdest thing he'd ever been asked to autograph. Brian and I returned to our usual Hersheypark duties: Standing in line for the front of the rollercoaster and making ridiculous jokes to pass the time.

We came back to Hersheypark two days later. During that time, Foley shaved his head. As we got on bumper cars, who do we run into? None other than a freshly buzzed Mick Foley and his son, Dewey. Until that point, it was the coolest wrestling story I'd ever have. "I went on bumper cars with Mick Foley!"

Monday Night RAW, Philadelphia, PA, July 2006

LOP commenter greenwoodrosie, whose story I briefly mentioned in this week's RAW column, and I got tickets from a guy in a LiveJournal community. This was the middle of the summer, and it was incredibly hot and humid. We were staying the night in one of her friend's dorm rooms, and I ended up sleeping on a hard marble floor with no air-conditioning. It actually hurt to breathe for several hours after I woke up, what misery.

For reasons I cannot recall at the moment, we got to the arena ridiculously early, and this was a bad idea. Within an hour of walking around, we were sweating profusely and dehydrated as hell. We decided to hike up to a near restaurant and hope someone would take pity on us, as all the money we had was paying for the tickets from the guy we hoped would show up. Fortunately, the Good Samaritans in that restaurant didn't even wait for us to ask. Seeing us as we were, they immediately got us two big cups of ice water. Here's visual proof of how miserable we looked.




During our adventures, we met up with a deaf guy dressed up as old school Kane. The actual show was a Supershow, where they filmed Smackdown before RAW went live on the air. The only thing I remember about Smackdown was Batista returned to an insanely loud ovation, and then beat the shit out of Mark Henry for a few minutes.

The RAW show had two particularly memorable moments, though. First, DX was taking over the show from the outside, and had several classic comedic moments. But the main event of John Cena, RVD, and Edge days after RVD's infamous arrest? The atmosphere was insane. It didn't come through on TV, but the crowd was hot and evenly split. Heavy in RVD's corner because Philly at the time was hugely anti-Cena, we screamed our heads off for one of the best matches I've ever seen live. When Edge squeaked out the win, we still cheered like hell because Cena didn't win. Keep in mind, this was the height of my anti-Cena smarkdom, as I've described in Doc's Wrestlemania comments. It also spawned one of my all-time favorite gifs.




What do I remember most about this weekend? Being with one of my best friends in the world for a weekend road trip before she moved down to North Carolina. This was a girl who hated wrestling until we forced her to watch the Royal Rumble in 2006 with us, and then she completely switched. It actually got me back into wrestling as a fan by introducing her to all of my favorite matches and Pay-Per-Views. I'll be attending her wedding in a few months, and we plan to make a road trip to the next Royal Rumble that's somewhere on the east coast.

IWC Super Indy VI - 2007 - McKeesport, PA

The independent promotion that exposed me to several of my favorite wrestlers before they became stars, IWC held a yearly eight-man tournament for the Super Indy championship that would usually combine the top local stars with some marquee names from the indies. This particular year, the field saw Shiima Xion, Larry Sweeney, Azrael, Sonjay Dutt, Ruckus, Brother Runt, Super Hentai, and Jay Lethal, fresh into his Black Machismo gimmick.

A huge group of us took two cars a good three and a half hours to see this show. Being avid Larry Sweeney supporters, as he would become a friend of me and Chris before his untimely passing, we were easily identifiable as the Sweeney superfans. I was knee-deep in a terrible marriage, and it was before I really figured out how to get out of it. Chris and Matt were two of the people who stood by me through this whole time and remain very good friends of mine to this day.

This night is remembered for both amazing and embarrassing moments. As I've told Skitz for his Worst Matches Ever column, Brother Runt showed up to this event so drunk that he could barely stand up. He spent half the match stalling, botched hitting the ropes, got on the mic and cut an incoherent "promo", and tried to attack Hentai afterward. Brother Runt's performance was so embarrassing that he turned Hentai, a badass heel, into a full-fledged face by proxy.

But, the most memorable, was seeing Larry Sweeney defeat Shiima Xion to win the tournament and the Super Indy championship. We jumped to our feet and screamed with 600 other people. It was as exciting as seeing a sports team win a championship, enhanced by the fact that Sweeney was an amazingly nice guy who always made time to talk and hang out with us. He treated us like no other wrestler ever did, and he was a very special person. Because of the promotion's knowledge of our loyalty for the guy, we got to stand in for the post-match victory promo.



There are countless others, but these are the ones I've chosen to share today. Almost all of us have wrestling memories and moments we'll never forget, but what we should never forget above all is the people with whom we share these moments. Wrestling brings us together and allows us to experience these moments with people we love. When I think about Royal Rumble 2006, I think about Becky. When I think about DX, I remember being with Matt, Becky, and Jackie when Shawn Michaels emerged on the stage right near us as DX reunited.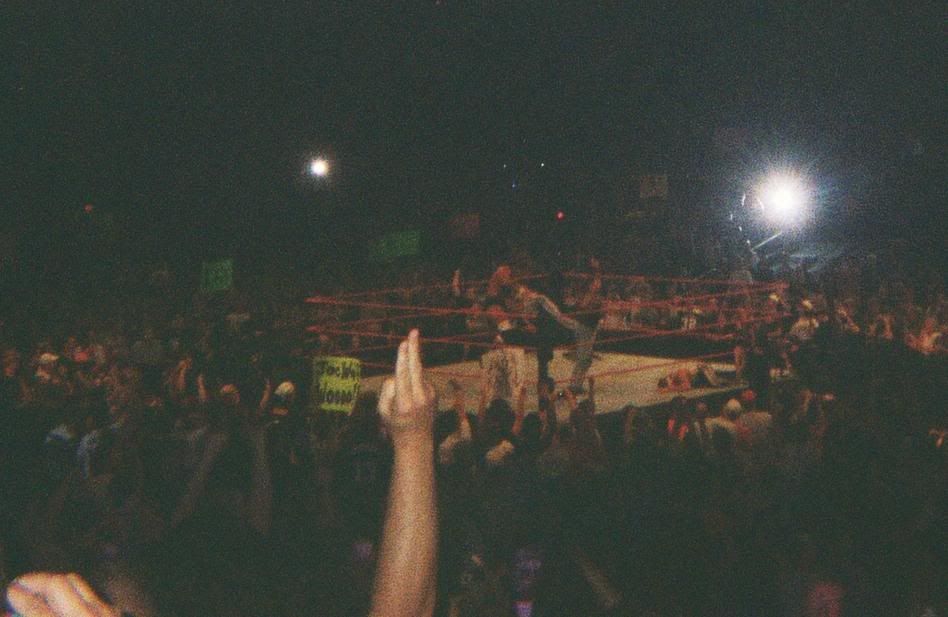 I think of braving a snowstorm the night after Royal Rumble 2004 to see Mick Foley yell in Randy Orton's face, or getting sixth row seats in the Bryce Jordan Center to take this awesome picture.




I've never been to Wrestlemania, but I've experienced them with great people and had great times. This year will likely be similar, as we witness possibly the most stacked card of our generation. When you experience this, whether you're there, at home, or in a restaurant like I will be, take the time to be grateful for those who can share those moments with you. That will last a lot longer than what happens on the actual show.

AL'S WEEKLY RIDDLES

No one guessed on the first round, but here are the answers.

#1 - Seize the day isn't quite what he meant to say
A colder Casablanca, yet ironically involving an Island in the Sun

Out Cold

#2 - He was a man who found a Just cause without getting much Heat for it. Maybe he just needed a sofa, or a point.

Just Joe

Here's round two, for a large ham.

#1 - He would've made Jack proud, putting the proverbial Tom in his place as a man who knew the responsibility of being on top going into Los Angeles.







IN LAIMAN'S TERMS - A Letter
30 Thoughts with Al Laiman - 8-11-14
30 Thoughts with Al Laiman - RAW 8-4-Did you know the WWE Network is only 9.99 a Month?!