---



Hustle Is Posting Right Now - Raw Running Diary (2/11/13)


By Hustle
Feb 12, 2013 - 4:40:09 AM








"Tennessee.. Tennessee.. take me to another place.. take me to another land.. make me forget all that hurts me.. let me understand your plan.."





8:00pm: Here we are, at the "go home" episode of Raw before Elimination Chamber. Hooray?

8:02pm: We kick things off with Paul Heyman, already in the ring, looking sad. The crowd in Nashville is already better than the usual Raw crowd, just on their initial reaction to Heyman alone.

8:03pm: Heyman says that this is the last night any of us will see Heyman, and that he doesn't want to play the victim.

8:04pm: I guess it's History Night, as Heyman goes over his life story, from taking his passion and some of his parents' money so that he could create ECW to moving to WWE and bringing Brock Lesnar to the world to seeing "the future" in CM Punk. Heyman's promo is quite subdued here. Alright, that's a lie. It's subdued for him. He's still more animated than the average promo.

8:07pm: He says that he's stepping away because he is becoming a "distraction" to Punk. He calls the McMahon family's "obsession" with him is only going to hurt Punk.

8:09pm: Good job from Heyman in this promo, alternating between sadness and disdain for the WWE Universe, but without being too over-the-top with any of his emotions.

8:09pm: Heyman officially says "goodbye", but that brings CM Punk to the ring. Punk looks shocked, and is asking Heyman what he's doing as he makes his entrance.

8:11pm: Punk says that he isn't going to let Heyman leave. He tells Heyman that he's too important, and that "these people" admire him.. cue the boo birds. Funny moment.

8:13pm: At Elimination Chamber, Punk says this "bad dream" will be over, and that everything goes back to normal when he beats The Rock. This was all Heyman needed to hear, apparently, as he has already changed his mind. The two men hug. Great shot from the two cameramen, as the one behind Punk shows Heyman looking relieved and calling Punk the "best in the world", while the one behind Heyman shows Punk with an almost evil look in his eyes. The kind of look you'd see in wrestling when one man is about to turn on another man. Hmm..

8:19pm: Great Khali and his groupies, Hornswoggle and Natalya, are already in the ring for tonight's first match. As they're dancing, Mark Henry's music hits, and he is Khali's opponent. You have no idea how much I missed hearing Henry's entrance music on WWE television every week. It's still funny that, in a TV-PG product, Henry's music, where Three 6 Mafia talk about how "somebody's gon' get they ass kicked", continues to air without censor. That's awesome.

8:23pm: A World's Strongest Slam, which may very well have shattered every bone in Khali's body, wins the match for Mizark. As Henry walks away, he turns around and looks back into the ring. The crowd actually pops when Henry picks Hornswoggle up and hits him with a World's Strongest Slam. That was great. There's even a "one more time" chant that can clearly be heard. WELP.. thank you for playing our game, Khali. We have a great parting gift waiting for you backstage. Enjoy your brand new DDP Yoga workout pack. DDP Yoga is a hybrid workout that incorporates some traditional yoga movements and adds dynamic resistance, active breathing techniques and power movements to make for a more challenging and results oriented workout. DDP Yoga.. it ain't your mama's yoga!

8:30pm: Chris Jericho finds Booker T and Teddy Long backstage and tells them that he wants a spot in their Elimination Chamber match, based on his experience in the match and the fact that he is a former World Champion. Booker tells Jericho that he has a match with Daniel Bryan tonight, and if he wins the match, he'll be put into the match. Jericho vows to beat "Daniel Beard-an" and says that he will become the seven-time World Champion. Jericho VS Bryan tonight. That certainly works for me.

8:34pm: We get Vince McMahon "on speakerphone" talking to Vickie Guerrero and Paul Heyman in Vickie's office. Heyman pitches an idea for the WWE Title match at Elimination Chamber. The idea is that Punk wins the title if The Rock is disqualified or counted out, and for reasons unknown to anyone, and against all common sense whatsoever, Vince agrees to it. Is he knocked up on goofy gas after his hip surgery? What the hell sense does it make for him to stack the deck against The Rock like that?!?

8:39pm: Oh, hey.. another Fandango vignette. Oh, hey.. another week where my the amount of fucks given by Hustle Enterprises fails to reach a positive amount.

8:40pm: It's time for Chris Jericho VS Daniel Bryan. It would be nice if they got 20 minutes to work with, but I'm not going to expect that, especially with Elimination Chamber less than a week away. Even if they only get five minutes, though, it will be a very good five minutes.

8:43pm: Daniel Bryan with a suicide dive to the outside, and we go to commercial break. Of course, commercial breaks are the only things I dislike about these kinds of matches on television. It causes you to feel like you're missing out on something good sometimes.

8:48pm: Props to this Nashville crowd so far. Through the first hour of the show, they've been vocal and active. We've seen Raw crowds that were strong in the first hour, but that have died before the night was over because of all the "filler" that they get, though, so we'll see how this goes.

8:50pm: Beautiful sequence here.. Jericho has the Walls locked in on Bryan, who rolls through and nearly reverses it into the LeBell Lock (yes, I still call it that), but that gets turned into another Walls attempt.

8:51pm: A Codebreaker wins the match for Jericho, and he earns a spot in the Elimination Chamber. To the surprise of no one, that was a fun little television match. That easily could have reached 20 minutes without getting complaints from people.

8:58pm: Back from break, the THREE MAN BAAAAAND, BAYBAYYYYY is already in the ring. Let me go ahead and get the parting gifts ready.

8:59pm: 3MB will be taking on Sheamus, Ryback and John Cena? Yeah.. let me go ahead and get the parting gifts ready. This isn't fair at all. There's no way Team Superhero can defeat the well-oiled (...) machine that is 3MB.

9:00pm: No, Jerry Lawler, the roof did not just literally come off of the arena. Are you fucking stupid? How are you 63 years old, but you still don't know the meaning of "literal"? Oh, yeah, that's right.. Tennessee education. My mistake. Carry on.

9:01pm: Wait, wait, wait.. Lawler just made a joke about wishing Heath Slater would "go to the bathroom like Elvis Presley". The man just said, live on air, that he wishes Heath Slater would have a heart attack and die. Ladies and gentlemen.. it's now open season on Lawler jokes. Those of you that hated him before he suffered his own heart attack, but were taking it easy on him ever since.. this is your opening. Have at it.

9:04pm: The faces win after hitting their finishers in unison. Well.. kind of in unison, as Ryback was a second or two early, but whatever. 3MB.. thank you for playing our game. We have a great parting gift waiting for you backstage. Enjoy your $150 gift cards to Safeway. There are nearly 1700 Safeway grocery stores across the United States and Canada, and you'll be able to stock up on food for you and your families. Safeway.. ingredients for life.

9:06pm: During their post-match promo, Cena delivered a nice.. well.. promo. It was something serious, telling The Shield that they're going to make a bad choice tonight by coming to the ring later. He says that The Shield will meet "the sword" tonight. For the umpteenth time.. this is the John Cena that we need to see more often, and less of that goofy, silly crap.

9:09pm: Alex Riley and Yoshi Tatsu are shown making fun of Big Show backstage, when suddenly.. they look like the two biggest dipshits on the planet, as Show appears and hits them both with the WMD. Alex.. Yoshi.. we've all seen Big Show. He's seven feet tall. He weighs in the vicinity of 500 pounds. He doesn't exactly move with the speed of a cheetah, or a grandma with a cheetah taped to her back. There's absolutely no logical reason for you to not have seen Show coming. I'd understand if he came up behind you, but he walked in front of you. You're both idiots. You both deserved to be punched in the face. I award you no points, and may God have mercy on your souls.

9:14pm: Big Show makes his way to the ring. Apparently, he is going to be interviewed by Matt Striker. This can't end well for Striker, and as I type that, Striker gets laid out with the WMD before he has even finished asking his first question. Man, someone in this company really doesn't like Matt Striker for one reason or another.

9:16pm: In something that went on for way too long, Show tries to speak, but his "anger" and "frustration" won't allow him to say so. He puts the mic to his face, gets mad, puts the mic down, puts the mic back to his face, gets mad, puts the mic down, puts the mic back to his face, and so on. The crowd cheers when Show leaves. That says it all.

9:25pm: Zack Ryder gets the much-deserved jobber entrance, and Jack Swagger comes out to be his opponent. Wait a fucking minute.. "Dirty" Dutch Mantel aka Uncle Zebekiah is walking out behind Swagger. A new manager? Interesting. If you predicted that Dutch Mantel would be on Raw, though, you need to make your way to Vegas and win a fortune because you're on a completely different wavelength than the rest of us happen to be on.

9:29pm: The newly-named Patriot Act wins it for Swagger. Thank you for playing our game, Zack. We have a great parting gift waiting for you backstage. $75 in bids on Quibids.com. Quibids is a new twist on the old online auction model. You'll never have to pay retail prices again, and you can win electronics for up to 95% off. An Apple iMac for under $22? A 64GB iPod touch for $7.25? This can be yours on Quibids. Quibids.. why pay retail?

9:30pm: Mantel is introduced as "Zeb Coulter", and he gets promo time. He says that he fought in Vietnam with Swagger's father because they were "real Americans", but now, he doesn't even recognize this country because people have faces "not like mine" and that he doesn't understand what those people are even saying. He wants to know how this country can get rid of those people. This promo.. this promo is amazing. For all of you who wanted a little bit of Attitude Era back in your lives, here you go. This is bordering on racist and xenophobic. That's certainly not something that fits into the TV-PG era.

9:33pm: The Mack, The Black & The Girl Who Likes It From The Back walk up to Booker T and Teddy Long backstage. Ziggler has changed his mind, and he wants back into the Elimination Chamber, so Booker.. books.. him in a match against KAAAAANNNNNEEEEE tonight, with the winner being placed in the match. I have to say, though.. red is a very good color on AJ Lee.

9:35pm: Yes!!! Yes!!! We get to see the replay of Brock Lesnar mollywhopping The Miz!!! Yes!!! Yes!!! Show it again!!!

9:36pm: IT'S STILL FUNNY!!!

9:36pm: After the replay, The Miz comes out for our next match. Please don't injure anyone this time, you fuck.

9:41pm: Cody Rhodes is going to be facing Miz here, and Antonio Cesaro is on commentary for the match. Miz, I swear.. if you injure Cody's mustache.. man..

9:43pm: Cesaro says that there are no words to properly describe how much Miz annoys him. I know the feeling, Mr Cesaro. Most of us do.

9:44pm: Cesaro then interferes in the match, drawing the disqualification. That didn't take too long.

9:44pm: ZOMG!!!!! CESARO GRABS MIZ BY THE LEGS AND SWINGS HIM INTO THE BARRICADE OVER AND OVER AND OVER AGAIN!!! BWAHAHAHAHAHA!!!!! ROFLCOPTER!!!!!




9:45pm: Thank you, once again, to LoP's TheCrow for the .gif of Miz getting his ass kicked..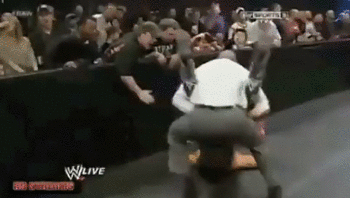 9:51pm: Brodus Clay and Tensai make their way to the ring, and their opponents are Primo and Epico. Man.. they're really going with this face turn for Tensai. This may have saved his WWE career.

9:53pm: Brodus and Tensai win the match, and we get some dancing. Then the Funkadactyls beat up on Rosa Mendes for a bit. The most important thing, though, is.. thank you for playing our game, Primo and Epico. We have a great parting gift waiting for you backstage. Enjoy Ralph Paul's Guitar Made Easy series. Learn to play the guitar like a pro in just minutes with Ralph Paul's Guitar Made Easy. Why waste time and money on guitar lessons, when you can stop studying guitar and start playing guitar with Ralph Paul's Guitar Made Easy? Start playing guitar in the first five minutes! Ralph Paul's Guitar Made Easy.. learn to play the guitar like a pro.

9:55pm: While I typed that out, Jerry Lawler, while watching Brodus and Tensai do Gangnam Style, repeatedly said "ride the horsey". Lawler.. just shut up.

9:59pm: The Shield make their way to the ring so that they can address the locker room, as well as the WWE Universe.

10:00pm: The Shield call out their Elimination Chamber opponents, but nobody comes out. Roman Reigns says that the group couldn't be taken out last week, when Cena, Ryback and Sheamus had the entire company on their side. He says that they can bring the "whole world" at Elimination Chamber, but they'll fail to take The Shield out again.

10:03pm: Reigns says that John Cena has been "the problem" for the last decade, and they, as a group, are "the solution". That had to make a bunch of IWC members smile.

10:04pm: Dean Ambrose's promo skills are out of this fucking world. There might not be a more believable "talker" in the business today. Anywhere.

10:04pm: After the promo, the lights in the arena go out, and when they're back on, Cena, Sheamus and Ryback are in the ring attacking The Shield. There are people booing. I'm not 100% sure if they're booing Cena (or Sheamus and Ryback, to a lesser extent) or the fact that it wasn't The Undertaker making his return to the company. The Shield is sent scurrying away once again. Well, at least Ambrose got another chance to shine on the mic for a few seconds. No announcement of a War Games/Elimination Chamber hybrid match of some sort. Swerved again, IWC.

10:13pm: Damien Sandow comes out for our next match, and he cuts a promo on his way to the ring. He gets to make fun of Nashville and the entire genre of country music.

10:15pm: Ricardo Rodriguez comes out to announce Sandow's opponent for the night.. Alberto Del Rrrrrio. Clearly, this is a non-title match, but man, how funny would it be if Sandow just randomly won the World Title on Raw in an unannounced match at the beginning of the third hour of the show? It wouldn't be the weirdest thing the company has ever done, that's for sure.

10:19pm: ADR wins. Thank you for playing our game, Damien. We have a great parting gift waiting for you backstage. Enjoy your Fisher Price "My Little Snugabunny" Cradle-N-Swing. The Fisher Price "My Little Snugabunny" Cradle-N-Swing is an infant cradle swing with three cute birds surrounding the central mobile mirror, that captivate and enthrall your baby as he or she swings. The cradle swing seat is upholstered with extra soft fiber fill throughout the seat, providing unparalleled comfort for your little one. Fisher Price "My Little Snugabunny" Cradle-N-Swing.. help take care of your little snugabunny.

10:21pm: Chief Jay Strong Bo Dallas attacks Wade Bar-ruh backstage, and my Give-A-Fuck-O-Meter registers no movement at all.

10:26pm: It's time for another match, as Kofi Kingston makes his way to the ring. Kofi's opponent is going to be Wade Bar-ruh, the man who defeated him for the Intercontinental Title about a month-and-a-half ago.

10:27pm: Still selling the backstage attack, Bar-ruh makes his way to the ring. This is a pretty poor part of the show for the IC Champion to be making an appearance. This quarter-hour section isn't exactly known for fans tuning in, as they're usually flipping the channels waiting for the main event and/or final segment to begin later.

10:31pm: Bar-ruh wins the match. He caught Kofi in the ring apron, and then delivered his finisher. However, there was zero crowd reaction to the spot since you never actually got to see Kofi get hit with anything. That was one of those spots that was genius and stupid at the same time. Kofi's free fall continues. He was given the advantage, thanks to a sneak attack by Chief Jay Strong Bo Dallas before the match, but he still lost in just over three minutes? Ouch. It wasn't a squash, though, so.. sorry, Kofi, but I'm keeping the parting gift that you would've received.

10:38pm: It's time for KAAAAANNNNNEEEEE VS Dolph Ziggler, with the winner getting a spot in the Elimination Chamber. Looking at the time, and the fact that The Rock is still scheduled to appear on the show, I'm guessing this is the main event for the week.

10:41pm: As we head off to commercial, I have noticed that the crowd has been dying a bit recently. I'll say this again.. Raw needs to go back to being two hours. Three is just too much for the WWE Universe to deal with when it comes to the current WWE Creative Team putting things together.

10:45pm: Has it ever been explained why Warrick Dunn has decided to start hanging out with Dolph Ziggler and AJ Lee? I'm still trying to figure it out.

10:49pm: Interference by AJ backfires, and KAAAAANNNNNEEEEE picks up the win, earning a spot in the Chamber. Randy Orton VS Daniel Bryan VS Mark Henry VS Jack Swagger VS Chris Jericho VS KAAAAANNNNNEEEEE, with the winner receiving a World Title shot at WrestleMania. Poor, poor Rey Mysterio. He gets removed from the Chamber after being "injured" by Mark Henry last week. Oh well. The final lineup for that match opens the door for something special. Don't be surprised at all if the match approaches, if not reaches, the four-star mark this Sunday.

10:57pm: It's finally time for The Rock. Please.. please.. please sell the pay-per-view, Rock. No stupid catchphrases. No dumb one-liners. Sell the match. Sell the show. Make people believe how important keeping the WWE Title is to you.

10:59pm: On the bright side, Rock has given the crowd something to get excited about again.

11:01pm: "Story Time With The Rock". Oh, no.

11:02pm: Rock tells a story about how he was 15 years old, and living in Nashville. He mentions meeting a crackhead at a bar, and how the crackhead was selling his car to anyone who wanted it.

11:03pm: The Rock bought a car from a crackhead for $40 when he was 15 years old, and he discovered another crackhead sleeping in the backseat. *sigh*

11:06pm: CM Punk and Paul Heyman interrupt Rock's story and walk out onto the stage. Rock's reaction to the deck being stacked against him at Elimination Chamber? "Bring it." That's it? That's it.

11:09pm: Rock basically dares Punk to come to the ring, and Punk obliges. It's time for a fight, but Heyman trips Rock during a People's Elbow attempt, allowing Punk to hit Rock with Go To Sleep. This is getting a lackluster crowd response, I'd like to point out.

11:09pm: Punk takes the WWE Title and leaves the ring. He walks back up to the stage and tells Rock that "story time" is over. We go off the air with Punk holding the title high, as Rock begins to make his way back to his feet. That entire segment fell flat, from Rock's story to Punk coming across as someone who needs the help of PAUL HEYMAN to win his fights.


#ThankYouCrowForLettingMeStealYourPictureBandwidth: Paul Heyman's promo to start the show.. Mark Henry delivering the World's Strongest Slam to The Great Khali, and then to Hornswoggle.. Chris Jericho VS Daniel Bryan.. John Cena's promo after the six-man match.. Jack Swagger continuing to look strong.. Uncle Zeb's promo after Swagger's match, making people really look forward to where the character is going next.. Managers being a part of pro wrestling again.. Antonio Cesaro mollywhopping The Miz, just like Brock Lesnar mollywhopped The Miz last week.. Tensai possibly having an actual direction once again.. Dean Ambrose's promo skills shining again.. The one announced Elimination Chamber match looks to be a potential Match Of The Year candidate

#FuckYouImageHostingSitesForBeingShitty: Natalya having no real purpose in the company anymore.. Vince McMahon stacking the deck against The Rock for absolutely no logical reason.. Alex Riley and Yoshi Tatsu being mentally handicapped, apparently.. Big Show's "promo" going on for way too long.. No Elimination Chamber/War Games hybrid for the six-man at the pay-per-view.. Kofi Kingston's continued downward spiral.. The final segment

Grade: C+





E-mail: HIPRNFeedback@gmail.com

Facebook:

Twitter:




-Team Sleep-
Hustle's Monday Morning Mayhem - WrestleMania 30
Hustle Is Posting Right Now - The 12 Things I Learned From Last Night's WWE House Show
Hustle Is Posting Right Now - My Wrestling Bucket List
Hustle Is Posting Right Now - CM.. Gone?
Hustle Is Posting Right Now - Royal Rumble Predictions (Who Will Win & Who Should Win)