---



Hustle Is Posting Right Now - Pre-WrestleMania Hodgepodge (Predictions, Promotions & Previews)


By Hustle
Apr 4, 2013 - 10:31:30 AM








"Talking about this, talking about that.."





I got the "itch" to write something again, but other LoP ventures (more on that later) took a lot of my attention and ended up taking the original idea I was going to write about, but because I still wanted to write something, I decided I'd discuss a few different topics and keep things moving. I do have a lot more Hustle Madness votes to tabulate, after all.. and you have less than 34 hours from the second this is posted to get your votes in, if you haven't already done so. Be warned that this will be a long column once everything is added together, but the final two sections wouldn't warrant their own columns at this stage, so they're just add-ons, for the most part.

First of all, a lot of you have checked out the newest episode of LoPR, which was our WrestleMania 29 predictions. We had a whole bunch of people on the show, so instead of having the entire group go over every single match, we used a random number generator to assign certain matches to certain people on the show. In the end, I only got to give my predictions for Chris Jericho VS Fandango and The Undertaker VS CM Punk, so people have been asking me about my thoughts on the rest of the card. What better time than right now to give all of my predictions? Let me get right into it, with my usual prediction style of picking who I think will win, as well as who I would have win if I were in charge of things.


Chris Jericho VS Fandango
Let me just get this right out of the way.. I'm not a Fandango.. fan. I've never been a fan of Johnny Curtis, and this new gimmick isn't going to change that. When you take someone who I'm not a fan of to begin with, and you put him in a gimmick that features him "wasting time" on a weekly basis, it isn't really going to win me over, you know? Maybe he's really improved in the ring since his days on NXT. Maybe putting him in the ring with an established veteran like Chris Jericho will really help to bring the best out of him, or at least hide a lot of his shortcomings. I'm not going to hold my breath and expect any of that, though. I think Jericho will be Jericho, and you know what you're going to get with him, for better or worse. I think he's good enough to make sure the match doesn't completely shit the bed, but I just don't have faith in Fandango. As far as picking a winner is concerned, I think we're going to get a Fandango victory, whether I like it or not. It's pretty clear someone in charge is a fan of the guy, considering how long they've kept him around and how many chances they've given him. Jericho, at this stage of his career, doesn't really lose much of anything by dropping a match to Fandango. The casual fan isn't going to see Jericho and say "oh, he sucks now" because of a loss, but Fandango needs a win, otherwise.. what's the point?
Who Will Win: Fandango
Who Should Win: Jericho, with the Fandango gimmick never to be seen again

Tons Of Funk & The Funkadactyls VS Rhodes Scholars & The Bella Twins
Oh, joy. This is another match that I'm not really looking forward to, and in an ideal world, we'd see it on an episode of Raw or Smackdown, and it would be done with. As it is, though, it's another "filler" match on a show that shouldn't really require much of it. Picking a winner seems relatively easy to me, but it's those "obvious" choices that feature WWE busting out those "swerves" to trick us all. At face value, you have to go with the Funk & Funk Music Factory, don't you? Brodus and Tensai (aka Sweet T) were kind of thrown together haphazardly, almost as a joke, but people seem to be enjoying the pairing, and it's pretty clear that Mr Tensai is having a blast out there. Are they the greatest tag team the world has ever seen? No, of course not. However, they fill a need, and they certainly stand out when you compare them to the other tag teams on the roster. On top of that, there might not be a woman on the WWE roster that is getting more low-key praise than Naomi Funkadactyl (as opposed to Cameron Funkadactyl, of course). People are praising her in-ring work and her athleticism left and right, and feel she's a lot better in the ring than she should be for someone of her experience level. On the other side of this coin, you have The Bellas, and we've seen reports that they were only brought in on a temporary basis, to give the Divas division some "names" in it, especially for WrestleMania season. With Rhodes Scholars, you have a team that, in the realm of kayfabe and storylines, isn't even supposed to be teaming up anymore. That kind of stacks the deck when it comes to picking some winners, if you ask me.
Who Will Win: Tons Of Funk & The Funkadactyls
Who Should Win: Rhodes Scholars & The Bella Twins, if only to help get the tag team division going strong again

Wade Barrett VS The Miz - Intercontinental Title Match (YouTube Pre-Show)
In a sign that shows you how strange things are with WWE booking these days, the Intercontinental Title is being defended on the YouTube pre-show, the United States Title isn't being defended at all, and the match I picked prior to this one gets a spot on the pay-per-view. Odd, WWE. Odd. Well.. I don't know how many times I can say this about someone, but The Miz seems to be a favorite of WWE management. They can count on him to handle the endless string of media appearances, and he continues to go out there and get reactions from the crowd, whether we like his new face character or not. I don't think Barrett's title reign has worked at all. Not from a "mark" point of view, and not from a "smark" point of view. It doesn't really matter who is to blame for it.. it just isn't working, and fans just don't seem to care. It's time for a change. As much as I like to take shots at Miz, I think the company would benefit by putting the title on him at this point, and seeing what he can do with it. For obvious reasons, the "Ric Flair Jr" thing might need to be put on the shelf, at least for a while, but he can still get the win here.
Who Will Win: The Miz (New Champion)
Who Should Win: The Miz (New Champion)

Team Hell No VS Dolph Ziggler & Big E Langston - Tag Team Title Match
Not only is Big E Langston's first match as a member of the WWE main roster a title match, but it's at WrestleMania. That's incredible, but I guess it shouldn't surprise us too much. Have you seen the way he's been booked to look week in and week out? He gets to look like a monster, cleaning up the messes of his tag team partner here. A tag team partner who continues to be booked to look like an asshat. Almost every month, we see at least one rumor that the company is thinking of splitting Team Hell No up and letting them go on as singles wrestlers, but every month, they retain their titles, and we get to play the guessing game all over again. Personally, the more I look at it, the more I think they were kept together for this match. They've done such a great job as a tag team, and it would have been a shame to split them up before the biggest show of the year. At the very least, they've earned a WrestleMania match together, and here we have it. I do think their time is running out as a team, though, and if WWE is smart, their split can be beneficial to both men, allowing for both of them to get pushed. They both deserve it. Anyway, I've been discussing this with several people in the last few days, and the more I do, the more I think about how we could be on the verge of seeing Zig E, Big E & Crayz E as a "power stable", of sorts. We could see new Tag Team Champions here, AJ looks like she'll at least be contending for the Divas Title soon, and let's not forget that Dolph still has his Money In The Bank briefcase. Could we see a new twist on the Four Horsemen/Evolution stable format, where they simultaneously hold a lot of title gold? I think it's certainly possible, and it begins here. If Kaitlyn and AJ get added to the match in the rumored "winner take all" format, that just about guarantees the titles change hands, I would think. As a regular tag match, though, that's still the direction I'm going in.
Who Will Win: Dolph Ziggler & Big E Langston (New Champions)
Who Should Win: Dolph Ziggler & Big E Langston (New Champions), and Team Hell No go on to feud with each other for a little while

Ryback VS Mark Henry
I don't give a damn what the average member of the IWC has to say.. I'm looking forward to this match. WrestleMania has a long tradition of "spectacle" matches, where two big behemoths are put in the ring together, not because they'll deliver a technical classic, but because they're big and strong and will beat the hell out of each other. This is the "spectacle" match for WrestleMania 29. Ryback continues to surprise people with just how over he is, and while it's no secret that I'm a big fan of Mark Henry and his "Hall Of Pain" gimmick, I won't deny that Ryback has the bigger and brighter future, especially with Henry being two months away from turning 42 and one injury (even a not-so-major one) away from having to retire. I don't expect a whole lot of chain wrestling here, obviously, but I think it's going to be a lot of fun to watch these two trucks crashing into each other. I don't have a choice but to pick Ryback here, though. It's crystal clear that he's going to be getting another push, and the rumors of him feuding with John Cena soon only make it even clearer.
Who Will Win: Ryback
Who Should Win: Mark Henry, who could be looking at his final chance to be pushed before he has to retire

Sheamus, Randy Orton & Big Show VS The Shield
Ahh, some intrigue. You have a couple "rules" of wrestling working here, and they actually oppose each other directly when you're looking at who to pick as the winners of the match. For the face team, you have Wrestling Rule #4182, which is the one that says the faces have to get their revenge in rematches when they lost the initial match. You even have Wrestling Rule #1933, which says that a heel faction (especially one that features younger, not-as-established talent) has to get their comeuppance after being booked strong to start with. For the heels, you have Wrestling Rule #2016, which says that the side of a match who dominates the build leading up to the pay-per-view will lose at said pay-per-view to balance things out. It seems like the face team has gotten the best of the heels for months now. The added intrigue comes into play when you think about rumors that Randy Orton could be turning heel. There's even rumors that Big Show could go right back to being a heel. Hell, both of them could make the turn, attacking Sheamus and leaving him to fight by himself. There are a lot of options here, and that's a good thing. The members of The Shield have yet to be pinned or submitted since being called up to the main roster, with Seth Rollins losing to Big Show by disqualification on Raw a month ago being the group's only blemish. Can they really pull off yet another victory? Let's say they do win this match. Here's an interesting stat, in that case.. the men they've beaten in their main roster matches combine for 25 World/WWE/WWF Title reigns, and that number could jump to 26, depending on the result of The Rock VS John Cena that same night. That's insane. You know what? I think The Shield can get another win here. I think we'll finally see the long-rumored Orton heel turn, and he can lay Sheamus out with an RKO after some sort of miscommunication shenaniganery, before leaving his team behind. As Show is distracted with what the hell just happened, Sheamus gets pinned. That gives the group even more momentum, which they can use to take themselves into the tag division, working under the "Freebird Rule" (oh, look, another rule).
Who Will Win: The Shield
Who Should Win: The Shield

Alberto Del Rio VS Jack Swagger - World Title Match
Here's an interesting opinion for you.. this match could very well "steal the show" on Sunday night. It's getting plenty of television time to develop, and it's technically a "main event", in the way WWE always counts their World/WWE Title matches as "main events", no matter where they actually appear in the match order, but it's clear that everyone's attention is on other matches instead of this one. That really works in the favor of ADR and Swagger. That gives them a little more freedom to work, without having as much pressure on them like there would normally be. Both men are more than capable of putting on good-to-really-good matches, and when you throw in the storyline, which has seen both men step their games up, you have all the makings of something special if they're given enough time to work with. I like Jack Swagger, and I like the direction he's going in with this new gimmick, but I'm not 100% sold on giving him the World Title just yet, especially with Del Rio (but more Ricardo Rodriguez) doing such a good, better-than-expected job on the other side. I think Swagger can lose here, but still come out of the match looking strong, for a possible rematch and title change down the road that would be better received.
Who Will Win: Alberto Del Rio (Still Champion)
Who Should Win: Alberto Del Rio (Still Champion)

Triple H VS Brock Lesnar - No Holds Barred, Triple H's career on the line
Putting your career on the line in a match, losing said match, and returning.. to put your career on the line in a match. Triple H and the wonderful sport of pro wrestling, ladies and gentlemen! Brock won their match at SummerSlam seven-and-a-half months ago in a No Disqualification Match, which is completely different than No Holds Barred, of course. The WWE Creative Team, ladies and gentlemen! Could Brock really beat Triple H twice in a row, with the storyline indicating that Triple H can't get revenge? You know.. until he comes out of retirement again down the road to face Brock again, but this time, in a Falls Count Anywhere match. I don't know. I would think Trips has to get the win here, or else we get yet another clusterfuck of a situation involving authority figures. There is one scenario I can see that would feature Triple H losing here, and another authority figure takes his place, but more on that later.. *hint hint*. For now, let's stick with the "safe" pick of Triple H winning, in a fashion similar to John Cena's victory over Brock at Extreme Rules last year, unfortunately. Brock will look like the monster that he is, and that will last for the majority of the match, but he'll make a mistake or two at some point, and the "Cerebral Assassin" will take advantage for the win.
Who Will Win: Triple H
Who Should Win: Brock Lesnar, since Triple H isn't sticking around to wrestle, anyway, so there's no point in him being "allowed" to

The Undertaker VS CM Punk
If you didn't check out the LoPR Mania prediction show, you missed quite the rant from yours truly, directed at the people out there who are mad at the final segment of Raw, saying they're offended at WWE's use of a recently deceased person to help push a storyline. To sum it up, those people need to slip off of their soapboxes and injure themselves on the way down. One, the family of the late Paul Bearer have said, on multiple occasions, that they have signed off on everything you've seen in recent weeks involving their father's name and likeness being used in the storyline. Two, most of you are the same people that bitch and whine about how much TV-PG sucks and how you want the Attitude Era to return, or at least an edgier product, but when WWE delivers said edgy product, you still find a way to bitch and whine about it. Finally, I can guaran-fucking-tee you that a whole lot of you are the same people who find the following segment of wrestling past to be hilarious..





Guess what? Big Show's father really was dead. It wasn't just a storyline that was created, all while Show's father was sitting at home on the couch and seeing his son act sad. I've even heard Big Show himself say that storyline helped to bring some sort of closure to losing his father, and being able to speak about him on television was therapeutic in a way. So, you can laugh at that, but what we saw on Raw was the end of the world, even with everyone's blessing? You act as though Vince McMahon told the family they wouldn't have to hear their father mentioned on television and then said "hahahahahahaha fuck you, I lied" and did it, anyway. Then you act as though those were really the man's ashes that CM Punk dumped all over The Undertaker and himself on Monday night. If the man's family was alright with the storyline, and if people like The Undertaker and Kane were alright with the storyline, there isn't a single person in the world that really has any right to be upset.

As for the match itself, I think it's pretty clear that The Undertaker is going to win, but I'll be damned if that final segment on Raw wasn't beautifully done. It was picture perfect old school booking. You take a heel.. you make the heel do heel things to get people mad at him.. you take a face.. you get the face angry over the dastardly actions of the heel.. you put them in the ring together.. the face gets his revenge on the heel. Boom. It dates back to long before any of us were watching wrestling, and back to when most of us weren't even born yet. If you can't see that, I really don't know what to tell you. Punk did a dastardly act, and now, we all know that Taker is going to come out at Mania looking to rip Punk's head off and send it flying into the 33rd row at MetLife Stadium. Go back and watch the ending of Raw again, if you can do it without getting on your moral high horse. Listen to the crowd reactions. There were loud dueling chants, with the "C-M Punk" chant being just as loud as the "Un-der-ta-ker" chant.. right up until Punk dumped the ashes out, when it became almost exclusively heel heat on Punk. In one swift motion, he silenced the "smarks" that were cheering for him, and he got the reaction he's "supposed to get", all by being a heel and doing heel things. It's amazing how that works, isn't it? People that aren't even huge fans of The Undertaker are telling me that they're really looking forward to this match now, because they want to see the fire and aggression that Taker wrestles with after what happened on Monday night. That's what you call hooking fans into a match. Sure, Taker will win the match and extend his WrestleMania streak, but now there's an added layer of interest to the match that wasn't there for most people before this week rolled around.
Who Will Win: The Undertaker
Who Should Win: CM Punk, if only for the enjoyment I'd get in watching the internet explode when it happened

The Rock VS John Cena - WWE Title Match
WWE sure loves to torture me. For the last two some-odd years, I've predicted and wished for a John Cena heel turn, even when there wasn't really any signs of one happening. I kept calling for it, and I kept getting disappointed when it wouldn't happen. Finally, I decided to stop putting myself in those situations, and I kind of gave up on thinking Cena would ever turn. What happens when I do that? WWE actually decides to drop hints at him turning. Fuck my motherfucking life. Cena has become almost obsessed with beating The Rock, and with the storyline seeing Cena blame Rock for not only his in-ring struggles over the last year, but his personal problems during that span, as well as Cena not being able to control his anger in recent weeks, as well as Cena continuing to say things like he was going to give the WWE Universe something to talk about when WrestleMania was over.. well.. people all over the planet are jumping on the "Cena is turning heel here" bandwagon.

Let's think about it, shall we? Picture a Cena heel turn in your heads, folks. It doesn't matter how he turns in your mental pictures, just that he does turn. Now think about the sheer amount of discussion that will take place because of the heel turn. Twitter will blow up. Facebook will go nuts. Message boards will see a spike in use and popularity. You'll see column after column after column from columnist after columnist after columnist on the subject. I might need to go to the hospital after marking out so much. The IWC will be an absolute madhouse if a Cena heel turn happens.

Remember my earlier tease during my HHH/Lesnar prediction, when I said that I'd discuss an authority figure situation later? Well, "later" is now. I think it's safe to assume that Triple H VS Brock Lesnar will be earlier in the card than The Rock VS John Cena will be. Let's run with that. In my earlier scenario, I mentioned Triple H losing, so let's run with that, too. He has to walk away completely, and can't even do his job as C.O.O. anymore. Who would replace him, though? Well, think back to last week's episode of Smackdown. A certain former on-screen "boss" made his return and wanted to be in the corner of The Rock at WrestleMania. That didn't go over very well with Rock, and that certain former on-screen "boss" ate a spinebuster and a People's Elbow for his troubles. That would give said former on-screen "boss" reason to want revenge on The Rock, would it not? With John Cena's obsession over having to beat Rock, it would make sense for him to accomplish that by any means necessary, would it not? With this former on-screen "boss" wanting to be placed back in a position of power, it would make sense for him to petition to the WWE Board Of Directors to have that position of power given back to him with Triple H out of the picture, would it not? Do you see where I'm going with this?

Triple H loses to Brock Lesnar.

Triple H is removed as the C.O.O. of the company.

John Laurinaitis immediately gets in touch with the WWE Board Of Directors about getting his old job back.

The WWE Board Of Directors puts John Laurinaitis back in charge.

John Laurinaitis pays a visit to John Cena before the WWE Title match and says he can help Cena if Cena helps him.

During the WWE Title match, we get a good ol' ref bump.

While the referee is down and out, The Shield run in and destroy The Rock as John Cena looks on.

The Shield runs off as the referee comes to.

John Cena hits The Rock with an Attitude Adjustment.

1.

2.

3.

New WWE Champion.

Heel turn complete.

Does it mean Cena has to become best buddies with Laurinaitis, or even The Shield? Of course not. The storyline makes Cena seem desperate to defeat The Rock, and when given an opportunity to gain the upper hand, Cena "sold his soul" to make sure it would happen. That's when the great promos would come. The fans turned their backs on Cena, so he turned his back on them. They didn't appreciate the blood, sweat and tears he gave to the business, so he made sure their "golden boy" was taken out.

What does everyone think?

It gives WWE a strong storyline to help carry the product in the post-WrestleMania stretch that often sees ratings and buyrates go down, and it freshens things up instantly, even adding new twists to feuds we've seen before, with Cena being on the heel side of things.

Of course, there's the problem of what face(s) will step in to take Cena's place should be turn heel. As I've said in previous columns when this subject has come up, it damn sure isn't going to be one person. It will be a "team effort", with a group of faces having to step up and put in work. That talk earlier about Randy Orton and/or Big Show turning heel? Scrap all of that if Cena's going to turn. Yes, merchandise sales of those "Fruity Pebbles" shirts, hats, etc would be lost, but as CM Punk has proven, the male demographic will gladly buy your shirts if you're a "cool" heel, and Cena is always beloved with the smarks when he's a heel. The kiddies will make their parents spend money on someone else, without a doubt. With the hopeful ratings boost that a heel turn would bring, which would lead to a buyrate increase if things are done correctly, it can be said that WWE could make more money with Cena as a heel. With the likes of Ryback, Randy Orton, Big Show, Sheamus, possibly Daniel Bryan, possibly Kane, Chris Jericho, possibly Christian, Alberto Del Rio, possibly Kofi Kingston, The Miz, possibly Rey Mysterio and others, there's no shortage of people Cena can face and feud with. That's not even counting The Rock, who would be out for blood if he's going to stick around and wrestle another match in 2013. That's not even counting CM Punk, who could always be turned back to a face at some point down the road (again, for a "new" twist on an "old" feud). You give Cena a monster Mania-to-Mania year, and what does it build to?

John Cena VS The Undertaker at WrestleMania 30.

Boom.

Fuck it.. I'm going against my better judgement and picking this scenario to happen. I've talked myself into it. Change my pick for Triple H VS Brock Lesnar to reflect this new direction my brain is taking me in.
Who Will Win: John Cena (New Champion)
Who Should Win: John Cena (New Champion)



-------------------------



How would you like a more interactive experience with myself and many of the other LoP columnists? How about a live, streaming audio show that you could listen to, hosted by different LoP personalities, complete with a toll-free call-in number you could use to go live on the air and talk to those LoP personalities? How about the occasional non-wrestling/MMA show, where things like sports or music are discussed? How about the ability to download previous podcasts through applications like iTunes for on-the-go listening whenever you feel like it?

I'm in. The Crow is in. Al Laiman is in. Super Chrisss is in. Dr Chad is in. zzzorf is in. Triple R is in.

Do I have your attention yet?

Keep on the lookout for updates coming very soon as LordsOfPain.net is taken to the next level, to go along with the written content you know and love.



-------------------------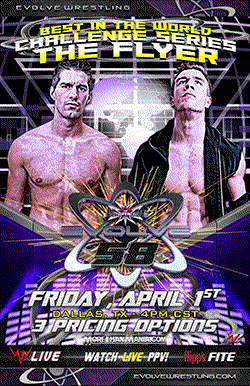 With WrestleMania comes damn near every major indy promotion in the country pulling out all the stops and putting on some of their biggest shows of the year. Click the above link to go to WWNLive.com and order any of the following events over the weekend..

Friday, April 5th
EVOLVE 19 - 4pm EDT
Late Fight With Kaiju Big Battel - 11:55pm EDT

Saturday, April 6th
SHIMMER 53 - 12pm EDT
Dragon Gate USA Open The Ultimate Gate 2013 - 8pm EDT

Sunday, April 7th
Dragon Gate USA Mercury Rising 2013 - 1pm EDT

Kaiju Big Battel's event will cost $14.99 ($19.99 if you order on the day of the event), with SHIMMER running at the same price, but the EVOLVE show and the DGUSA shows have three price options to choose from..

- For $9.99 ($14.99 if you order on the day of the event), you can watch the iPPVs live.
- For $14.99, you can watch the iPPVs live and have access to view them again, on demand, for as long as you want.
- For $24.99, you can watch the iPPVs live, have access to view them on demend for as long as you want, and you get a copy of the event on DVD when it is released.

You really can't beat those kinds of deals. The Kaiju Big Battel and SHIMMER iPPVs come with the on demand viewing to go along with the live viewing, but don't come with DVD options. I want to briefly go over some highlights of some of the events with you fine folks out there in ReaderLand.

At EVOLVE 19, you will see a one-day tournament to crown the first ever EVOLVE Champion. Names like Chuck Taylor, Ricochet, Sami Callihan, Samuray Del Sol and Jigsaw are all involved in the tournament. Also on the card, you have The Young Bucks (known as Generation Me during their time with TNA) taking on The Super Smash Brothers, as well as Johnny Gargano teaming up with Brian Kendrick to take on Drew Gulak & Orange Cassidy.

SHIMMER 53 will be main evented by a Steel Cage Match for the SHIMMER Title, with champion Saraya Knight (mother of NXT Diva Paige) defending her title against Cheerleader Melissa (known as Raisha Saeed and Alissa Flash while in TNA). Also on the card, former TNA Knockout Hamada takes on Athena, as well as Pro Wrestling Illustrated's #1 female wrestler in the world for 2011, Madison Eagles, returning to wrestling after what was thought to be a potential career-ending injury to face Jessie McKay. The woman most recently known as Kharma, Amazing Kong, will be taking on Mia Yim in what promises to be a very hard-hitting match. Up and down the card, this is about as stacked a women's wrestling show as you're going to see.

DGUSA's Open The Ultimate Gate 2013 will see Johnny Gargano defending his Open The Freedom Gate Title against the returning Shingo in a match that many are expecting to be on year-end Match Of The Year lists. Also on the card, CIMA & AR Fox defend their Open The United Gate Tag Team Titles against The Young Bucks, Akira Tozawa taking on Ricochet, and Uhaa Nation, who I have confidently referred to as "The Future Of Pro Wrestling", taking on Sami Callihan in a match that will not be for the faint of heart.

DGUSA's Mercury Rising 2013 will be main evented by Johnny Gargano teaming up with Ricochet & Rich Swann to take on the team of CIMA, EITA & CIMA's "Secret Weapon" mystery partner in what should be an absolute blur to watch. Also on the card, Shingo takes in Akira Tozawa in a rematch of some absolute classics from Dragon Gate in Japan, Brian Kendrick taking on Chuck Taylor, and The Super Smash Brothers taking on Sami Callihan & Arik Cannon. Most interestingly, there will be a Ladders Are Legal High-Fliers Fray. You take The Young Bucks, AR Fox, Samuray Del Sol, Christina Von Eerie, Facade and Uhaa Nation, and you put them all in one match. Two people start the match, and a new person enters every two minutes. Once everyone is in the match, ladders become legal, and things will go into warp drive from there.

If money is tight, and you can't spend on all of the events, but are looking to try something different, you have my personal guarantee that the two DGUSA events will blow you away, especially if you've never watched DGUSA shows before. There's just too many great matchups on both cards for the events not to impress. The action begins right away, and it just doesn't stop all the way until the end, like a wild amusement park ride. For those of you who have been looking to watch Uhaa Nation wrestle after reading my columns about him, this is your chance to do so.

Trust me when I say that you can't go wrong with any of the options, though. EVOLVE will bring you a great combination of high-flying, technical and hard-hitting action. SHIMMER is the top women's wrestling promotion on the planet, and Kaiju Big Battel.. well.. I'll let the actual description of KBB break things down for you..

"Kaiju Big Battel is a modern conflict of epic proportions! Evil villains, menacing alien beasts, and giant, city-crushing monsters threaten to destroy the planet Earth. Who will save the helpless humans from total ruin? The Heroes, of course (and the Heroines too!) A few privileged humans also get in on the action, as they try to contain danger within the three-roped arena of Kaiju Big Battel. Monsters are real, and danger can happen!"

Yeah. That just happened.

Again, click the banner to go to WWNLive.com to order any/all of the shows, especially if you're refusing to give WWE any of your money for what they're giving us this weekend. If you do order any of the shows, I'd love to hear from you on how you enjoyed them, especially (hey, there's that word again) if it's your first time watching that particular promotion.





E-mail: HIPRNFeedback@gmail.com

Facebook:

Twitter:




-Team Sleep-
Hustle's Monday Morning Mayhem - WrestleMania 30
Hustle Is Posting Right Now - The 12 Things I Learned From Last Night's WWE House Show
Hustle Is Posting Right Now - My Wrestling Bucket List
Hustle Is Posting Right Now - CM.. Gone?
Hustle Is Posting Right Now - Royal Rumble Predictions (Who Will Win & Who Should Win)