---



Half Luck, Half Skul: Sales Pitch


By Skulduggery
Sep 28, 2013 - 11:49:43 PM


Do yourself a favor and enjoy the following...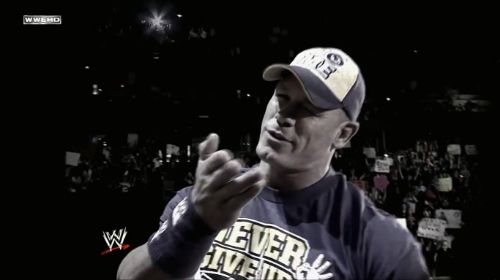 Sharp Shooting - A Belated Response To THAT PEN15 John Cena Column...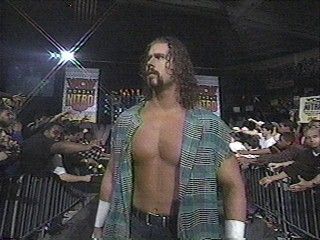 An American Motion Sickness: Cult Wrote About Who?! (A Cult Tribute!)




(Idea stolen shamelessly from mizfan)

*

I want you to imagine a hypothetical situation. Think back to Unforgiven 2006, specifically to Trish Stratus' retirement match. The match is drawing to a close, the hometown heroine locks Lita into the Sharpshooter, and the Air Canada Centre, fueled by nostalgia and awe, explodes. Lita's face betrays pain and disbelief; she struggles and claws before eventually tapping out before a raucous Canadian crowd. I want you to imagine that Lita, instead of struggling, laid on the mat with a CM Punk-esque "not impressed" face. She's not fighting to get to the ropes, she's not screaming out in agony; she's perhaps placed her chin on her fist and appears as though she's contemplating the philosophies of Hobbes and Nietzsche, the woman wrapping her legs up a mere inconvenience.

Better yet, think back even more recently to this year's SummerSlam. Daniel Bryan erupts from the corner and delivers a knee strike that nearly goes through John Cena. Imagine, instead of Cena looking as though a world record breaking shot put just took his head off, Cena stands his ground and Bryan bounces off of him – in the manner Big Show brick walls Cena's shoulder blocks.

How disgusting would those have been? In essence, I elaborated on the concept of the no-sell, a horrendously moronic yet relatively simple device with enormous consequences. Imagine how quickly the emotion would have evaporated from the two scenarios previously discussed.

Selling is an essential part of anything that goes on between the ropes of a wrestling ring. It's one of the things that truly separates professional wrestling from professional sports. In hockey, if your opponent hits you, you don't fall down on purpose. You do in wrestling, especially if it's designed to be one of your opponent's bigger, better moves. It's showmanship. Selling is an unavoidable ingredient in the recipe of working together with your opponent to create a masterpiece.

Perhaps like the cliched ex, its importance isn't truly realized until it's absent. Masters at selling, such as the obvious pick of Dolph Ziggler, might be the exception, as they don't really allow it to slip from our minds while we're watching. For the majority, however, selling is simply an organic part of any wrestling bout. It's natural. A guy hits you, you fall. It's so prevalent, virtually all of the time, that we simply get used to it, like the sound of your car after three straight hours of driving. In the rare absence of selling, though, it's painfully conspicuous and has the tendency to derail any match it plagues. It compromises the showmanship.

Most of this is likely clear to those with even the most basic knowledge of the acting behind the curtains of the WWE. What may not be as condescendingly obvious is that I consider selling in the ring, selling your opponent's physical capability, to be a mere sliver of selling in professional wrestling. Selling your opponent's strikes and submission holds is great, but selling your opponent's words is equally vital in establishing his or her credibility. For many of the professional wrestlers who are natural athletes, selling in the ring probably comes more easily than selling promos, yet the latter reeks of importance as well.

Think about it. When a wrestler throws a strike in the ring, generally, their opponent's reaction should, on a very basic and subtle level, tell us, "OK, that hurt". When a wrestler throws a promo their opponent's way, shouldn't the same thing, more or less, happen? The opponent's reaction will have almost as much effect on our perception of the viciousness or gravitas of the promo as the promo itself, so the reaction needs to sell the promo in the desired manner.

Not unlike many of you, I've watched RAW and SmackDown over the last few months and have truly reveled in what's been going on on my TV, namely the Administration storyline. The ways in which Triple H and Stephanie McMahon try to hide their agendas of white-collar evil behind claims of doing what's best for business have been exceptional. Most can see through their translucent facade without aid, but it certainly doesn't hurt when opponents sell the Administration's malice.

Take the Rhodes brothers, for instance. When Triple H fired Cody, the former came onto the stage and proclaimed that thinning the roster was an unfortunate aspect of optimizing the state of business. The cerebral, cold, distant air about him let us know that he was simply a villain wearing a suit and tie, abusing his authority for a personal vendetta. Triple H delivered that promo, and we knew that it was a villainous move. How evil was it really, though?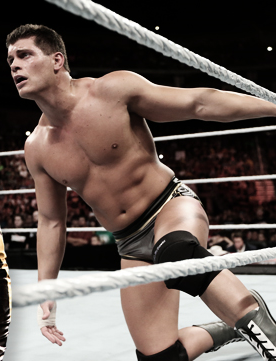 That's a man whose career was just taken away; whose livelihood was vanquished; whose future was just put into jeopardy. That's the victim of corporate, white-collar evil.

That's selling a promo.




The following week, the Administration was "nice" enough to give the Rhodes family a chance to earn Cody's job back. The surface-level opportunity was once again plagued, pretty clearly so, by the underlying malevolence – an inactive wrestler, whose career peaked in the 90s as an upper midcarder, had to beat the then WWE Champion. It was an almost insurmountable challenge. Goldust fought valiantly, but could not overturn the near inevitable. On his way out, an ant who tried to fight a scorpion for no other reason than righteousness, he was stopped to hear the words of Stephanie McMahon. "Tell your dad I said hi" might appear to be sugar, but given the context, it was actually salt that Stephanie delivered. Goldust's reaction affirmed that.





That's selling a promo.



Not unlike in-ring maneuvers, how the recipient of a promo reacts plays a big part in how it's perceived by audiences. If that strike (or promo) is supposed to hurt, the person delivering it needs to do so in a manner that would make us believe it hurts...but if the person on the other end no sells, the entire delivery is neutered, sapped of its impact. The Administration haven't exactly been delivering KO punches; they've been concealing barbed wire in the palms of their hands whilst patting the "B players" on the back. Yet, thanks in part to the likes of the Rhodes brothers, we're wise to the barbed wire.

Earlier, I asked you to imagine how the emotion of two match endings would have differed had John Cena and Lita no sold their respective opponents' deathblows. Now, re-picture the Triple H and Cody Rhodes firing scene. Imagine Cody with an indifferent look on his face, shrugging it off and assuring audience members smugly that he'll easily find work elsewhere. Sympathy, showmanship – gone.

Sadly, such instances exist, rendering merely imagining them unnecessary. A few ill-timed John Cena smirks during promos by The Rock come to mind, but the prime example in recent memory happened a little over a month ago when AJ Lee blasted the cast of Total Divas. Calling into question their work ethic, dedication, and wrestling ability resulted in this...




...including intrusive shouts of "say it to our face!" and similarly catty transgressions. AJ Lee delivered Sweet Chin Music, and the Bellas chose not to fall. It was extremely unprofessional and undoubtedly took away from what would have otherwise been one of the best female delivered promos in years.


I've watched hundreds of promos and hours of mic work over the last few years, and thankfully, promo selling is so prevalent that, like its in-ring cousin, it takes a horrific lack thereof to make one truly notice. If you want to help make the audience buy what your opponent is throwing at you, sell it. If you don't want to sell it...I don't know, join a political debate team or something.