---



SOUND OF THE UNDERGROUND: Midseason Musings - What's Next? (D)


By Ryan "Leaf" Plant
Mar 23, 2017 - 4:59:43 AM




Midseason Musings – What's Next? (D)




We're back with another delicious helping of Part 2 predictions. Today we're covering the D's of Lucha Underground!


DANTE FOX:

Its quite obvious what is in store for Dante, and that's a big match against Killshot. They've fought before but the feud has continued to rage on. There is no way, and I mean no way that this feud is not headed for Ultima Lucha Tres. I think it will lead to personal forgiveness or respect as these "former brothers" / "former friends" type angles tend to do. The conflicted nature of Dante at times suggests that may well be the case. Until then though, expect some awesome gimmick match. I mean, if Killshot faced Marty in a WND match, what will happen when his former brother in arms faces him? Dante has been a great addition to Lucha already with his skills and character, I can't wait to see him grow.


DRAGO:

As expressed in Aerostar's entry, I expect nothing more than a full-blown betrayal by Drago. This will either be through threats of starvation/death or full blown hypnosis. Either way, there's no way he doesn't betray his friends here. The rudo team is too strong to not put the titles on within such a limited division. Who else could get the straps? The Rabbit Tribe? They've not really properly established their alignment yet. It will be bittersweet to see the full turn - after speaking to a lot of fans, it seems that Drago was their "Season 1 Guy" before the rise of Pentagon and to see who was essentially one of the main tecnicos of the show at one point turn to the dark side is always hard to watch. However, I think his great fall during Season 2 suggests this turn is needed. It's going to be painful to see his friendship with Aerostar especially go up in smoke, but it's going to happen, probably within the first few episodes when it returns.


DRAGON AZTECA JR:

This is a tough one. The Dragon could continue to feud with Matanza as their story is unfinished to say the least - however - Mysterio has beef of his own. I can't see Lucha dragging on Azteca-Matanza for yet another season after this one so I want to predict they'll face each other at Ultima Lucha. It would be a way to keep The Monster from challenging for the title so soon again. However, I also wouldn't bat an eyelid if he turned against Rey. The tension has been there all season and he is going after the same Monster that he has earned the younger Luchador about. It would be a great way to continue Mysterio's story of facing the men who look to claim his place in Lucha. I think given the uncertainty over Puma's future, they won't risk turning Azteca but I'll be damned if a two-tecnico respect feud against Rey wouldn't be a great idea to push Azteca as "the next Puma". I think they'll finish the Monster arc first as it has been going on for far too long without a resolution but maybe this feud with his mentor will happen next season. We'll see!


DR WAGNER JR:

Conspicuous by his absence recently is the Doctor. When Famous B has been pursuing Texano, he hasn't been with Famous. Have they separated quietly? I want to say they're still together as you have to remember that Lucha Underground tape numerous shows / segments at the same time. Wagner may have had some other bookings at that time, he's a huge star in Mexico of course! I think there's too much money in a split angle for Lucha to not take advantage of and they haven't even scratched the surface of the relationship yet. Famous needs a way to earn Texano of the dangers of not accepting his offer and Wagner is that. I mean, he's already seen the pleasures that come with his company, judging by the way Brenda has been flirting up a storm. We've got the angel on his shoulder, now we need the devil. I expect Wagner to be feuding with Texano, handling the ringwork for the Famous one.

But that's not all...


DAGA:

I have to give an honourable mention in today's column too - where does Daga come into this?! If you believe Kobra Moon, Pindar ended him. Truth be told, it's absolutely bizarre that one of Lucha's bright young stars has potentially been killed off. If it was a contract dispute then that's understandable, but judging by the Season 3 trailer, he's seen swinging a sword so they definitely filmed some footage with him! Is it just for him to be killed? I severely doubt it! I think there's more to this story. Maybe he has BECOME Pindar as his spirit has overtaken his body and mutated it. Maybe he's escaped from the dungeon? Maybe he's still there! Either way, I expect Daga to be alive as it's weird to think they'd kill him so soon and draft him in just for the kill. My personal bet is he managed to break free and I think he'll return at Ultima Lucha Tres and screw over the rudo team in some way. We'll see!

As for everyone's favourite owner and promoter, well, he'll get away with everything once more I'm sure! Which isn't a bad thing.

What do you think Believers? Will Dante be outfoxed? Will Drago set the rest of this season ablaze? What about the other Dragon? Is the Doctor going to give Texano his diagnosis? Is Daga even alive?!

I'd love to hear your thoughts below or via Twitter @ LeafLOP.

Until then, don't stop believing and thank you for reading.





---
WANT TO GO DEEPER UNDERGROUND?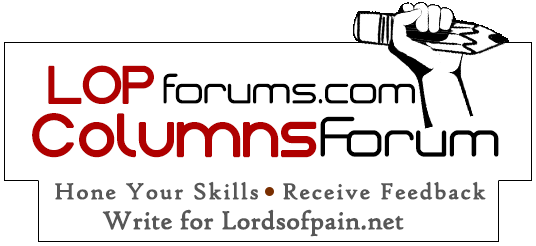 The Lordsofpain Columns forum is very much like Lucha Underground – anyone can appear at any point, and they all have a story to tell. Here are some of my favourite recent pieces:

shane tells us why he shouts "OHNO!" in Oh, No! I Still Can't Look at Kassius! (And Some Important Things)

ColdKnowledge looks to the future in The Way Too Early Post WrestleMania Series

Bear and friends always provide an interesting take on each week's matters in Bearly Reviewing: 2017


SOUND OF THE UNDERGROUND: A Character Perspective - King Cuerno
SOUND OF THE UNDERGROUND: A Character Perspective - Pentagon Dark
SOUND OF THE UNDERGROUND: Character Perspective - Johnny Mundo
SOUND OF THE UNDERGROUND: S3 Season God Award - #5 - #1