---



SOUND OF THE UNDERGROUND: S3E13 - Breaker of Bones


By Ryan "Leaf" Plant
Dec 12, 2016 - 1:43:33 AM




Season 3, Episode 13
Breaker of Bones




Author's Disclaimer: I cannot apologize enough for my absence, SOTU fans. The situation with my workplace has now been resolved and you'll find me writing regularly once more. Here's three columns in the same day!


In the Temple Gym, Pentagon Dark skulks. Of course, the darkness attracts all kinds of danger and here of course is Vampiro! He tells Pentagon that everyone has to pay for their sins, and even if he makes it out of here alive, there's still going to be hell to pay. He's referring to the massacre that occurred at Ultima Lucha Dos.

"Just because I'm not your Master anymore, doesn't mean I've forgotten."

Pentagon only has two words for that, and he doesn't even speak them. He signals with his hands: "Cero Miedo". But should he be afraid?

The vengeful Vampiro clearly was trying to recruit Puma before Mil Muertes buried him, as he needs someone to take out his former student. This worked extremely well here. Any segment that features interaction between these two is sure to be intriguing!


***

You know what? I bloody love this show. The opening shot following the initial segment is of the moon, signalling the darkness that is to come.

El Conjunto Nueva Ola provide a bit of a contrast to that with their happy go lucky songs, but they're simply masquerading the destruction that awaits us. Matt Striker and a subdued Vampiro introduce us to Lucha Underground. It seems that he is very focused on watching Pentagon get his comeuppance. In fact, he won't even talk to Matt who asks him if this is to do with Pentagon's Ultima Lucha Dos attack. What's happening tonight? Pentagon is fighting the entire Black Lotus Triad along with Black Lotus herself! This is going to be a crazy episode.

Melissa Santos introduces the first combatant and the cries from the Believers of Cero Miedo fill the arena. It's Pentagon Dark! Matt Striker tries his best to retain some kayfabe here, as he tells us that the chants from the Believers are now trying to taunt Pentagon. I get that they're trying to play him off as a huge rudo but right now, he is just far too over for that to be attempted. Sorry Matt, but great effort! The Breaker of Bones takes to the ring and bounces from one rope to the other – he's ready.

His first opponent is from the Far East and a member of the Black Lotus Triad, DOKU! That roughly means poison. She comes down to the ring with a quiet confidence, so much so, she's not even fully wearing her jacket, because it's not going to be on long! Vampiro gives us a philosophical teaching as he simply wants to watch Pentagon burn. He might get his chance!


LUCHA UNO:
Gauntlet Match (Part 1)
Pentagon Dark vs. Doku

The huge Pentagon chants fill the air. That very fighter twiddles his hands, knowing that they might well break an arm tonight. He is promptly sent to the corner and is the victim of a flurry of strikes and swipes before kicking Dark right in his lower abdomen. Pentagon responds by running right out of the corner and flooring her with a VICIOUS dropkick! As Marty lectures Pentagon, Doku comes back with a spinning backhand and throws him into the corner. Problem is, her charge is met with a HUGE superkick! Pentagon is proving himself to be the true ninja thus far!

He sends her to the floor with a huge thrust kick before tying her prone body into the ropes. Off comes the glove and out comes one of the hardest chest chops in the business! He dispatches Doku to the floor before running to kick her in the face, AGAIN! This is brutal thus far. She's even sent into the wall for good measure! AND THE RINGPOST! And the railings too! Doku is then sent into a Guerilla Press slam right onto the apron. Jesus Christ. He even throws her back into the wall again before kicking her in the face once more. He is as violent as we've ever seen him here. Wow.

Throwing Doku into the ring, he waits for her to come back up before hitting another thrust hamstring kick. Whipping Doku into the rope, the ninja tries to come back with a spear, though she finds herself caught into a Package Piledriver position. She flips out, only to meet a strong kick to the ribs! However, Doku comes back to hit the spear successfully this time! With a taunt on the top rope, she hits one hell of an elbow drop. And another!.. NO! PENTAGON CATCHES THE ARM. THE BELIEVERS GO WILD! CI! YES! The arm has been broken and Marty Elias has no chance but to call for the bell for her safety!

WINNER: Pentagon Dark

Will Pentagon survive his other three matches? We'll find out as the night goes on! What a unique show this is going to be.

Doku looked impressive from her minimal offense but this match was what it should have been – a dominant first victory for Pentagon. We're going to see him get less and less moves in as we go on, that I'm sure.


***

In the Temple Gym, darkness lurks once more, as Catrina comes to find Jeremiah Crane! She says it's a shame what happened to Ivelisse. Crane agrees, because she had a match against Catrina at Ultima Lucha. This is where things get interesting.

The temptress whispers into the ear of Jeremiah and tells him he did not think he would return, in the flesh.

"Aren't you happy to see me here?" She asks.
"Yeah..." He reluctantly admits.

She tells him that he's not in love with Ivelisse, he's in love with her. That's why he wears a piece of the stone around his neck. The only problem is, she's in love with someone else. Of course, she gives him their chance of love the lick of death and with that, she's gone.

Holy revelation Batman! I thought I saw Crane working with Mil in the trailer for this season and that makes an awful lot of sense now. Whether truly bad or reluctantly, I think it's safe to say Crane will be a rudo before the end of the season now. We now have a great motivation for his character – he wished to fight in the Temple to get close to Catrina. This adds so much more to an Ultima Lucha match that had been brewing since the very first season. Wow. Just wow.


***

We're back in the Temple and Pentagon awaits his next victim, not without a promo that is! It doesn't matter how many there are, he will break all their arms. As for Black Lotus, he promises to not only break her arm but break her in two! This is the Pentagon we know and love! THIS is Pentagon Dark. Melissa reintroduces the fighter though it's her second introduction which is much more interesting – for the next fighter is Yurei! She seems taller than the previous fighter but of course, that means that there's a longer arm to break. Pentagon will like that I'm sure!

She enters the ring and potentially also enters her own demise.


LUCHA DOS:
Gauntlet Match (Part 2)
Pentagon Dark vs. Yurei

Striker tells us that the name Yurei has its name in Asian ghost law. She looks very much the real thing right now as she returns an arm drag from Pentagon before unleashing another! Dark takes to the outside but it only allows this particular ninja to leap right onto him with a HUGE crossbody! She looks particularly pleased with herself before slamming Pentagon against the apron, and the corner, and the railings! This is just like what HE did to Doku! She hits a series of kicks before sending him into the reserved seats. She seems particularly pleased with her own destruction. She even slams his head against the chair several times over! His head is slammed against the table next, AND he is hit with the ring bell! He is clocked against a wall as a smiling Melissa Santos looks on, before he is sent to the steps. BUT HE GETS RIGHT UP AND BEGINS KICKING YUREI! How is he still in this?! The problem is, Yurei is just as good a striker as he is, as she hits a big right hand, another kick, and sends him back to the steps and back into the ring.

A running Shining Wizard-like move stuns Pentagon before she goes for another, but the Skeleton Ninja catches it! He turns this into one hell of a leg lock as he scissors the bones between his thighs. He's forced to break the hold but just like he did with Doku, he locked in a submission to turn the tide. He continues to stomp on the leg repeatedly before propping her up against the ropes. Extra meanly, he makes sure that no hair is touching the neck before striking there! She seems to get back into the match with this though as she avoids Pentagon's attempt to throw her through the air, landing like a cat on the corner, before leaping off and flooring him with a huge 'rana! She takes to the corner once more and hits a vicious double stomp for 1...2... NO!

Yurei continues to work on dark with two swift kicks from the corner and one hell of a Tornado, well "Round The World DDT". Thanks Striker! She looks pleased with herself as she dives off the ropes again looking for a Dragonrana, BUT PENTAGON CATCHES HER UPSIDE DOWN FOR A PACKAGE PILEDRIVER! That's it! But wait, of course, here is the next arm break! And yes, that's another! This episode is like a wet dream for Pentagon fans.

WINNER: Yurei

Pentagon looks to recover in the ring and by the sounds of it, we're getting our next match right away!

Yurei was VERY impressive here. Her offense was believable and she was just as violent as Pentagon. The finish though was a thing of destructive beauty and no one could have recovered from that. Brilliant stuff.

Melissa Santos is back, being the one person dressed in white, this one holy figure within the darkness of this episode. The man with dark in his name is introduced once more, and he seems to be heavily resting in the corner.

Next though, she introduces the third of his opponents and by the sounds of it, this will be his biggest challenge yet. Before I can go any further, it looks like we're not only cutting to a break but we are heading elsewhere before this match! We'll be right back!


***

The theme of darkness continues as Matanza strikes the walls of his cell over and over and over. Dario is pleased because next week, he will be taking back his title.

"NO."

His Monster refuses him and screams repeatedly at the bars of his cell. He does not want the title, he wants MYSTERIO. Dario looks at the bleeding hands of his brother, followed by the question mark that has been etched in blood upon the wall. Even Cueto is scared of his brother here. He can only walk away slowly as Matanza ushers his name one more time.

"MYSTERIO!"

Rey vs. Matanza should be a GREAT feud and it has a logical reason involved to keep Matanza from challenging for the gold. Looks like Mundo can breathe a sigh of a relief! Dario's expressions were brilliant here. Despite all of the destruction that his brother has caused, and his own love for violence, this is the first time that Matanza's violent actions have not provided a grin but instead a face of pure fear. Speaking of which, lets go back to the man with none of it!


***

As Pentagon is waiting for his opponent, up sneaks Hitokiri behind him and she sends him flying out of the ring with a dropkick to the back! Well, her name doesn't translate to Assassin for nothing!


LUCHA TRES:
Gauntlet Match (Match 3)
Pentagon Dark vs. Hitokiri

Straight off, Hitokiri hits an insane Asai Moonsault on Pentagon before hitting the best Suicide Dive I have seen since King Cuerno! Wow oh wow! She is beyond lethal here as she grabs a chair and absolutely DECIMATES Pentagon with it! Jesus Christ almighty. And again! This has to be the most violent episode from top to bottom that Lucha Underground has ever provided us. Pentagon is sent to the desk yet again tonight and is struck right in the face. He hits the railings AGAIN. Even Melissa is running away here, fearing Hitokiri perhaps more than Pentagon! The Skeleton Ninja is sent right into the chairs and he is beyond broken. This is different now, Hitokiri has lifted up the protective mat and is ready to slam the Breaker of Bones. He looks to fight out but the Assassin strikes the boneless part of his body that causes us men an awful lot of pain! He is then SLAMMED onto the unprotected floor. Ouch.

He is continuously kicked in the face though Pentagon keeps asking for more pain as Vampiro disturbingly reveals his own S&M habits. Striker is glad we could put a smile on Vampiro's face. He really is having the night of his life here. In an awesome spot, the Skeleton Ninja meets the rope-sprung Assassin with a HUGE dropkick to the ribs. Holy moly. He positions his foe against the ropes and strikes her against the ropes, hard, before pulling her off and kicking her right in the face! How is he still going after everything he has taken?! Even Vampiro is praising Pentagon more and more during this match. He sends Hitokiri back into those reserved seats once more and it's a good job that no one ever seems to sit there, right?! Then, in a true Pentagon trademark, he chokes the ninja with cable wire and takes it one step further by propping her head against the turnbuckle where she has no escape. Even after that, the fans are still cheering him relentlessly as he holds the steel chair up high. How over is this man?!

He strikes her with the chair and kicks her in the rib. This is just brutal. She's sent FLYING into the seats once more again!!! WHAT AN EPISODE THIS IS! Then, he sends her flying onto the unprotected floor with a Death Valley Driver. Oh My Freaking God. Vampiro is loving this and maybe just maybe he is starting to forgive the man who caused him such pain, perhaps? Or perhaps not. One thing's for sure, Pentagon has just kicked Hitokiri right in the face. He then goes to whip her into the set up steel chair but she stops just close enough to drop down and send her charging opponent into the steel with a drop toe hold! Then, oh my, she's running up the steps. Is she about to Angelico it here?! I love how that is now a verb. It is in my book anyway.

OH MY...

SHE JUST HIT A CROSSBODY ONTO PENTAGON FROM THE ROOF OF THE OFFICE!

The Believers think it is awesome and so do I! Hitokiri crawls with every last bit of strength in her body before rolling a bleeding Pentagon into the ring. She goes for the Stationary Canadian Destroyer but Pentagon reverses it into the Package Piledriver!.. Or does he! She flips back out and she hits it! FAR EAST DESTROYER! 1...2...3! SHE DID IT!

WINNER: Hitokiri

Vampiro is smiling heavily. Yeah, forget what I said about so-called forgiveness, he absolutely loved this.

Hitokiri, you can stay. In fact, you can all stay. If only one of you can though, it has to be you. What an insane athlete. I heard good things about the Stardom athletes and have refrained from using their more known names to give respect to the story that they are telling with these actual characters but yeah, wow. I just hope Pentagon just doesn't lose any steam because of this. He was protected by winning two matches but I still worry of course.


Black Lotus is on the way to the ring of course with the remaining members of the Triad clutching their arms. He's already out but he has one more match! In fact, the Believers have finally turned against Pentagon as they yell BREAK HIS ARM! Suddenly, Lotus takes out Marty Elias with a kick and I don't think she's interested in an official match here. She stomps on Pentagon's near-lifeless body repeatedly and drags him into the middle of the ring.

Vampiro watches with intent as... yes... SHE BREAKS HIS ARM! Wow. Our colour commentator is smiling repeatedly as he stands up to salute the Triad. Suddenly, Dragon Azteca appears out of nowhere! He raises his arms and stares down both the Triad and Pentagon. What is going to happen here?! He stares them down before the Triad choose to leave the Temple. Azteca is now standing over the man who broke his own arm at Ultima Lucha. He stands on the already broken arm, screams that he's getting his revenge, AND BREAKS THE OTHER! Pentagon has BOTH of his arms broken. He's lived by the sword and died by the sword, thanks Striker!

With that, Pentagon writhes in pain as Azteca makes his mark. Good night everybody!..

But not just yet.


***

In a room filled only with candles, Puma awakens, looking beyond stunned at the situation he finds himself in, and especially stunned with the face-painted bleeding figure he sees before him.

"Come with me." Vampiro demands.

Well, either by force or black magic, it looks as if Prince Puma is going to be under the control of Vampiro and he's still with the living! Amazing! What a night for the commentator. In fact...


TEMPLE GOD


30th November – Vampiro

23rd November – Johnny Mundo (2)
16th November – Sexy Star
9th November – Mil Muertes
2nd November - Rey Mysterio Jr. (2)
26th October - Johnny Mundo
19th October - Drago
12th October - Chavo Guerrero Jr.
5th October - Cage
28th September - Prince Puma
21st September - Jack Evans
14th September - Killshot
7th September - Rey Mysterio Jr.

This might seem a strange choice to some as Vampiro becomes only the second non-active star to win a Temple God (the first being Dario Cueto at some point last season).

I couldn't really give it to Pentagon despite putting on a worldly all-episode performance as he was humiliated in a way that you just know has damaged his Cero Miedo reputation, with both of his arms broken.

Azteca and Lotus got their revenge but neither of them fought to gain it.

Doku and Yurei were impressive, and Hitokiri even picked up a big win but Pentagon was very weakened at that point.

It just HAS to go to Vampiro who warned Pentagon at the start, sat through his destruction and loved every minute of it, and then resurrected one of his biggest rivals at the very end. In a show that was all about darkness, it had to go to the man who personified it. No one had a better night.


UNIQUE OPPORTUNITY SWEEPSTAKES

Twitter user JohanyUsoF85 already tweeted me to say that he was gutted about this, so to that I say sorry man, as he bows out of the prize pool. When will the Lord appear, and who will win a one-time main page column and will also receive the all-important mystery prize?! We'll find out one week, I'm sure!

14- @LozEWright
15- MisterMizery
20- KamNewton
21- g3sshoku
22- RVDMark
23- Maximilliean
24- @HBK4EVER17
30- Kblitzko
34- TNJacktion
35- StuartGosling
36- Grimjac
37- Ralph83
38- TheImplications
39- JSR-13
40- BeaverCleavage


FINAL THOUGHTS

Due to the lateness of this column, I won't be saying anything significant in this section to allow me to get all three later columns out in one day.

As always, hit me up @ LeafLOP or comment below! Thank you.






---

WANT TO GO DEEPER UNDERGROUND?

Here are the latest two efforts from the Davey Boy Cup finalists!

RayHagan tells Wrestling Santa what he wants for Christmas in [RAY IS WAR] Dear Santa (My wishes for WWE)

JCool explores those who help to make the top stars of NXT look like a million bucks in The Schoolhouse: The Kingmakers of NXT

You should join them, visit the Columns Forum today!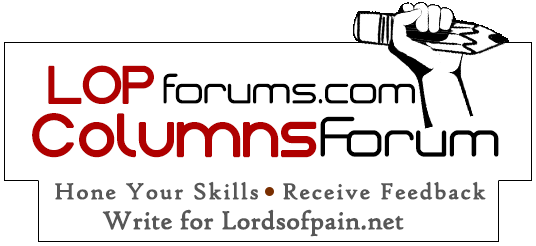 SOUND OF THE UNDERGROUND: A Character Perspective - King Cuerno
SOUND OF THE UNDERGROUND: A Character Perspective - Pentagon Dark
SOUND OF THE UNDERGROUND: Character Perspective - Johnny Mundo
SOUND OF THE UNDERGROUND: S3 Season God Award - #5 - #1