---



SOUND OF THE UNDERGROUND: #NetflixGotLucha


By Ryan "Leaf" Plant
Feb 1, 2017 - 6:05:50 PM




#NetflixGotLucha




For the fans and talent of the El Rey Network wrestling frenzy that is Lucha Underground, this past month or so has felt like an eternity already, and until today, we thought that it really could have been. The news of the summer hiatus was a bad enough pill to swallow, so it was only natural that many people gravitated towards a feeling that Lucha Underground would be gone until the latest possible month following its mid-season finale.

You see, no matter how much we try to believe, I think wrestling fans in general are pessimistic. We fear the worst even if we ARE "believers"! Fear not however...


That's right, as reported by Luchablog above, Court Bauer (Lucha Underground insider) revealed on his MLW Radio show that the series will be returning sooner than we might have anticipated. Lucha Underground will be back for the latter half of Season 3 on the El Rey Network, airing from May 31st 2017.

What does this mean then? Well, there's the obvious. We finally get to see the third season play out. What will happen when the title is contested in an All Night Long match? What becomes of the tribes? Equally importantly though, this also gives old and new viewers alone the opportunity to catch up on Lucha Underground's previous seasons.

You might be asking, what has changed? The show has already been gone for a month, unless you count the showing of the greatest hits on El Rey Network each week. To be honest with you all, everything has changed. As noted by The Late Shift host Steven Bell in the Lordsofpain News Section earlier today, Bauer also announced on his podcast that Netflix had picked up Lucha Underground.

That's right.

Over the past couple of years, fans have been campaigning for the entertainment platform to add the show - by using the hashtag #NetflixNeedsLucha. It's a movement that certainly had its points. Unlike other wrestling shows, Lucha Underground's focus on a heavily story-driven product makes the show more accessible to viewers outside of the professional wrestling bubble. In the same vein as video games Tekken and Mortal Kombat, each wrestler has their own unique backstory and reasons for wanting to be a part of Dario Cueto's Temple, whether it's fighting for their Tribe, their reputation or even to forget everything they knew beforehand. With cinematographic devices such as various settings, creative costumes, phenomenal flashbacks, this show is just as much about what takes place outside of the ring as much as it prides itself on the great action that unfolds within it.

And trust me, the wrestling holds up its end of the bargain; that's for sure. For me, the lucha libre style of fighting is the most appealing to a viewer who wouldn't consider themselves a wrestling fan. That's a highly debatable argument, I'm sure, and I guess it's hard for me to truly speak on behalf of those who are shy to the wrestling business given the fact that I've loved it from the very moment I first was introduced to it. Imagine though, if you hadn't once or had barely watched professional wrestling and yet here you are: introduced to INSANE feats of athleticism, as gravity becomes just another phrase and the ropes become just another metaphorical hurdle. Imagine watching wrestlers use not only their body weight, but their opponent's to send them hurtling through the air and onto the mat. Think for one minute, just how easily a viewer could get themselves lost in a character's story when they are wearing a traditional lucha libre mask, allowing them to forget the human behind the story and to buy into the fantasia that is their persona.

Again, it's hard for me to say, but given the fact that lucha libre has always been the Cirque du Soleil of wrestling styles, I think it's hard for most people not to appreciate the compelling characters, sensational stories and astounding athleticism.

At this point, if you've been a long-time viewer of the show, I'm sorry if I've potentially lost you here with what seems like an introduction to the series. It's just that I'm fully aware that there will be people reading this column who may not have had the chance to watch the show. They may have read the news and found themselves compelled to watch it. If that is you, all I can say is do it. The good news about Lucha Underground being on Netflix is that you can watch it at any time but with it coming to the provider during the downtime of the show, it will be the perfect time to educate yourself on the action. Given the fact that there could well be a break between Season 3 and the eventual Season 4 (which is now looking a hell of a lot brighter given today's news), I'm sure you would also have the chance to catch up on this current season on Netflix, following the season drawing to a close on the El Rey Network later this year.

Alas though, to that same group that I may have just segregated with my revision of history just then, as you'll know just as much as I do, there's certainly nothing wrong in watching old Lucha episodes! From novel takes on wrestling's previous concepts, such as Lucha's story-aided casket match Grave Consequences and amended-royale Aztec Warfare, to being able to watch incredible rivalries pitting Life vs. Death and Hunter vs. Animal, there's no harm in reliving the story and maybe even looking for easter eggs that reveal rivalries of the future. Trust me, they're in there alright.

With this announcement comes the news that Lucha Underground is not only well and good, but from potentially alienating some of its previous fanbase to suddenly inviting us back onto the Lucha train, taking more passengers on board another trip to the Temple, I'm glad to say that we can all have no fear once more. Cero Miedo indeed.

As for now, El Rey will continue to be airing the best of Lucha Underground each week and its fitting that these details came to light on the same day that they will be revisiting one of the most watched Lucha moments by Believers and passerbys galore:



Truly guys, thank you for today's leap of faith.

I wish to end by saying that I'd love to hear from you all right now. Regular viewers of Lucha Underground and commenters of Sound of the Underground, how do you feel after today's news? As for those who haven't or have barely seen Lucha Underground yet decided to give this piece a read, what more do you want to know and how can I help you with that? One thing that Lucha Underground has always prided itself on is the community and I personally love interacting with each and every one of you.

To El Rey, Chris, Eric, anyone else involved in the Lucha Underground writing staff and production teams, the talent, the fans: Thank you. We did it. #NetflixGotLucha






---

WANT TO GO DEEPER UNDERGROUND?

Just like Netflix, the LOP Columns Forum is bursting with entertainment. Revisit old column series' and new as a wide range of columnists provide exclusive content.

Mazza has returned to writing! Read the former Main Page columnist's comeback as he praises future Hall of Famer Kurt Angle and his rise up the ranks in It's True, It's Damn True: Relentless Rookie

JacobWrestledGod also returns and he talks about, well, you guessed it, Kurt Angle! It's a popular topic and Jake's view is equally enticing in Fast 5: Kurt Angle vs Who at WM33?

Prime Time dives deeper into the mechanics of the thirty man showcase, but does it without having a Royal Grumble in Take Up Thy Wrestling Boots and Walk - Alternative Rumble-Metrics

And of course, we would love to hear your voice as well. Want to be a columnist? This is your Temple.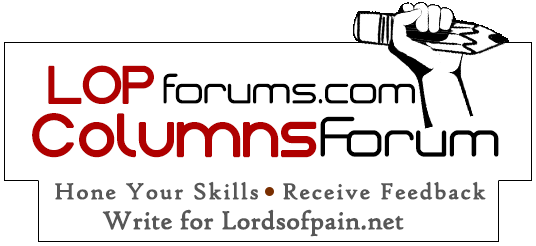 SOUND OF THE UNDERGROUND: A Character Perspective - King Cuerno
SOUND OF THE UNDERGROUND: A Character Perspective - Pentagon Dark
SOUND OF THE UNDERGROUND: Character Perspective - Johnny Mundo
SOUND OF THE UNDERGROUND: S3 Season God Award - #5 - #1