---



SOUND OF THE UNDERGROUND: Midseason Musings – What's Next? (M)


By Ryan Plant (73AF)
May 9, 2017 - 5:55:47 AM




Midseason Musings – What's Next? (M)




We're just over three weeks away from Lucha's return so you know what that means? I'm back again with another dose of character predictions.

Unlike last column, there are six predictions for this letter and this has to be the most diverse bunch of characters that I have came across in this SOTU Mini Series so far.

I don't want to stretch out this introduction for too long; I want these predictions to re-introduce you to Lucha Underground. Welcome back, both you and I.


THE MACK:

We all know what is in The Mack's immediate future and that is a title shot against Johnny Mundo. He's going to have to go all night long to try to claim the gold but despite the Champion's taunts, that should be no problem for the man who looks like a freight train but moves like a cheetah.

As I've mentioned a good few number of times since Mundo won the belt, I predict a long reign for the champ, and as over as the Mack may be I still just can't see him toppling Johnny. It's for that reason though, that incredible popularity, that I cannot see Mack escaping this season without winning some form of gold.

Though I mentioned that I would like Aerostar to win the Gift of the Gods to tie into his story, I wouldn't be upset if Mack won it, but again, if Mundo holds the belt for quite some time then it would seem weird to repeat this feud again.

That leads me to the Trios titles. I have no doubt that the Reptile Tribe will capture these shortly to allow Fenix and Aerostar to be singles stars once more. This means that Mack will be short a couple of partners. I would love for this to be Killshot and a reassured Dante Fox as it would tie in nicely with Season 1; Killshot and Mack debuted together of course! To be honest though, as I predict the former brothers in arms to feud up until Ultima Lucha, I don't know if we'd be able to see that.

If it's not them, I wouldn't mind him repartnering with Sexy Star due to their history together, and one other tecnico, maybe even Son of Havoc as he has history with the Trio's Titles and he faced Mack at last year's Ultima Lucha in the Four A Unique Opportunity Tournament.

Either way, I think Mack will become a Trio's Champion purely because it's absurd that he hasn't captured a belt at this point with his unwavering popularity.


MALA SUERTE:

So far in Lucha Underground, the Rabbit Tribe have been used to give us an established Trios Team in order to provide some legitimacy to the division and to provide some worthy challengers from time to time, all whilst giving us some comic relief moments.

That being said, can I see them dethroning the current champions or the Reptile Tribe? Sadly, I just can't right now.

The Trio's Division fluctuates between giving the belts to a team of stars who could and HAVE worked on their own, to giving the titles to a team that feels like they're all part of the same package deal. For example, the current Trios Champs can and WILL break out on their own once more. Given their backstory, I can't see Vibora or Pindar working too well without the other, same now for Moon, though arguably Drago could break free once he has realised what has happened to him.

I really hold true to the belief that the Reptile Tribe will win the gold, I know that I sound repetitive with this. Given the fact that we've seen the Rabbit Tribe lose to them already and also given the recurrent theme of title changes, I think a team of top stars together will dethrone them, especially as I can see them holding the belts until Ultima Lucha at this late stage in the season.

The Rabbit Tribe will be contenders in a future Season 4, which I just hope to hear OFFICIALLY announced soon! Until then I think they will challenge once or twice on the show but to keep them being used beforehand, it wouldn't be a bad option for Paul London - the apparent leader of the group - to be used in singles matches with his Tribe accompanying him. It lets a member of their team pick up a few wins whilst giving us more and more time to understand their characters.

I've probably spoke about anyone except Suerte himself here. I do enjoy the character who is played by the now-defunct Cisco! I just think London has more selling power as a singles star here.


MARTY MARTINEZ:

It's time for your favourite lunatic and mine, it's Marty "The Moth" Martinez!

I mentioned this already within Fenix's part but I think the most immediate plan for Marty will be to feud with Melissa Santos and the masked man. As established, the Firebird is seen in the trailer with Santos, and given the very recent closing segment (although it seems some time ago now) which featured Marty stalking Melissa on a whole new level, I believe the seeds have now been planted. He was thwarted by his sister on that occasion of course, giving us the luchadora that is essential for a very interesting mixed-tag feud.

In that segment, and given Marty's attack on Mariposa prior to his capture, we were led to believe that the Moths were now at war with one another. Instead, their attacks have only made them stronger. Still, if they lose this feud, will that loss be the catalyst to break the bond? I definitely think so. As much as I love Marty, I just can't see him defeating a former World Champion in the long haul, even in a promotion in which anyone can beat anyone. Martinez needs to make people suffer to be effective , that doesn't necessarily have to equate to wins and losses.

After their feud, I imagine Fenix will be back in the title hunt and that the Moth Tribe members will feud with one another. We haven't had a great sibling feud in Lucha yet; real-life brothers Pentagon and Fenix have battled, Killshot and Dante Fox are just brothers in arms, but Mariposa and Marty have the chance to bring us just that. Exciting!


MASCARITA SAGRADA:

Eh.

Sagrada should not be as entertaining as he is. Let's make that clear. In a roster full of diverse characters, no matter how legendary his name might be, Sagrada has the most played out act. It's a mini wrestler against the rest. How can he win? What will he do when he fares against a Monster? We've seen it all before.

And yet, his partnership with Famous B alongside his new friendship with Son of Havoc have both provided many humorous moments - there was the Believers' Backlash match, the middle fingers and the riding in a sidecar. Sagrada has been nothing but FUN.

So why am I somewhat uninterested in this entry then? It's because I don't expect Sagrada to do much. He'll provide a laugh here and there but I honestly can't predict him to do much this season as I can't see him in a big program and nor can I see anyone he might be associated with who could afford to be put into a comedy feud. Surely they won't keep Son of Havoc with him for the rest of Season 3?

I guess you could throw him as a possible Trios partner for my Mack theory, replacing Sexy Star in that equation.

I'm actually not going to predict anything here. Maybe that's the easy way out, but one thing for sure, I know we'll be entertained, as much as we perhaps shouldn't be!


MATANZA CUETO:

Now we're talking.

Only in an alphabetical column can I go from talking about Mascarita to Matanza. Jesus Christ almighty.

I'm going to say this right now - Matanza isn't getting the gold back this season. When you book a big reign of terror, you cannot repeat it so soon. You have to find a way to keep them strong and book feasible ideas for why they're not challenging for the belt again, before they do so. If they book the reign of terror again, they run the risk of exhausting the fans who waited so long for the Monster to be dethroned, just to see it account for nothing.

Besides, despite Mundo and Dario's history, I just can't fathom a match between Mundo and Matanza. Both are rudos and considering The Monster has single handedly fought off several men at once on numerous occasions, I don't think interference from the Worldwide Underground would cut it. You can argue that happened at Aztec Warfare, and you'd be right to, but Lucha would risk weakening the Monster's reputation by doing the same thing twice.

It seems almost obvious what Lucha Underground is going for here. Notice how Rey and Azteca can't seem to stay, well, uninjured at the same time? Azteca's latest probable few weeks out will allow the Rey-Matanza feud to continue. It has been masterfully drawn out with Matanza injuring Rey previously. Note what I said as well about there needing to be a reason why the Monster didn't want the belt so soon: He wants the man who cost him it! Genius!

Azteca's latest injury allows the Rey-Matanza feud to play out before we finally get that conclusion to Dragon Azteca Jr. vs Matanza which has been built up for what feels like forever!

I'd like to argue that Matanza wins this feud to give Azteca a reason to avenge his mentor and for Rey to have even more reason to be cautious of what his protege is about to do.

Arguably, if Lucha plans on keeping Dragon Azteca Jr. as a tecnico, the green masked man should win the feud because if he doesn't, he still won't have his revenge and you know full well that he will have to vow to gain it at a later date.

If they want to turn Azteca rudo, Matanza should win in order to cause the rookie to snap and find a way to blame Rey for everything, giving us a pay off to all of that tension.

I'm going to go for the Azteca win here because I just can't see this feud continuing. He could still get too big for his boots and consider himself the here and now, taking the Rey-Puma feud to a whole new level.

I don't think Matanza will win any gold this season because he is tied up with two different rivals but next season may tell another story.


MIL MUERTES:

And now we come to the other monster and the last of this list.

Again, I can't quite predict a Mil Muertes title victory any time soon as I can't picture a feud against Mundo on paper, despite the fact that it was teased in the second episode of Season 2.

Mil Muertes is all about power though. In Season 1, he gained power by putting an end to Prince Puma's reign. Last Season, he sought dominance over the man who tried to keep him imprisoned.

Something that Mil could aim for is the Gift of the Gods, and honestly, I would mark out watching him - the personification of death - fighting against the Man from the Stars, Aerostar, as the final two in an elimination match. However, I still can't picture him to be in such a match. I think with Catrina's manipulation and threats, he can always find his way into a title shot should he choose.

What would the most supernatural of characters in Lucha Underground be gravitated towards? How about the most unearthly of artefacts? We're yet to see a Mil Muertes vs. Cage feud and now that the Machine is being consumed by some great spirit, we would be treated to one hell of a brutal contest. Catrina would find another piece of the puzzle for her dominance; she already wears half of the mysterious amulet granting her youth, she has a stone to raise the dead, why on earth would she not want a gauntlet that harnesses the spirit of a strong warrior? She seems to be the real relic hunter of Lucha Underground.

Plus, if she has been around for as long as we're led to believe, maybe this spirit is secretly the one that she loves. Maybe she plans to set it free.

For me, it makes far too much sense for Catrina to want Mil to gather another powerful object for her.

And I think he will, that is, if a certain King doesn't seek the treasure first.



Whether you think I'm right or wrong, I love to hear your feedback. Are you as hyped as I am? Do you see Sagrada and Suerte doing more than I predicted? Will the Monsters reign supreme? Talk to me! Let me know below or on Twitter @ LeafLOP.

Until next time, don't stop believing and thank you for reading.





---
WANT TO GO DEEPER UNDERGROUND?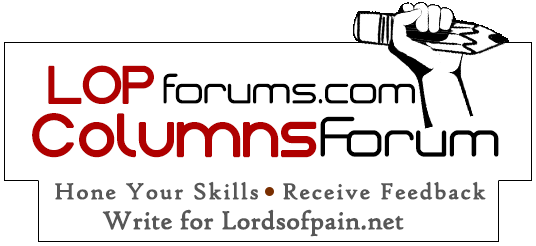 The Lordsofpain Columns forum is very much like Lucha Underground – anyone can appear at any point, and they all have a story to tell. Here are some of my favourite recent pieces:

Benjamin Button gets a shoutout for a second column in a row. I try to alternate these but if you just read this Vampiro column, you'll find out why I had to include this. This is Lucha Underground Season 2, Part Dose: Ian

JSR-13 gave us his take on this week's Impact in 13 On Impact: Yes, You- May 2017 (Ongoing Weekly)


Skulduggery and friends continue their investigation into Backlash greatness in Half Luck, Half Skul: May Madness - Determining the Greatest Backlash Match (Round 1) P2


SOUND OF THE UNDERGROUND: A Character Perspective - King Cuerno
SOUND OF THE UNDERGROUND: A Character Perspective - Pentagon Dark
SOUND OF THE UNDERGROUND: Character Perspective - Johnny Mundo
SOUND OF THE UNDERGROUND: S3 Season God Award - #5 - #1