---



SOUND OF THE UNDERGROUND: Midseason Musings - What's Next? (K)


By Ryan Plant (73AF)
Apr 20, 2017 - 6:50:56 PM




Midseason Musings – What's Next? (K)




In the words of Staind, It's Been A While, and just as I long for the days of Nu-Metal to make a triumphant comeback to the radio, I long even more for the return of Lucha. It's crazy to think now that it's only around a month away, and as promised, these columns will continue to keep you company until then.

It's funny that I mentioned that c word, as these two men actually only have the company of each other as the "K"s of the promotion. I debated doing more for today's column but with a hell of a lot of M's, I would have ended up with one hell of a bumper column. My reviews are long enough! Never mind these appetisers!

It's fitting though that I get to talk about these two performers extensively - one of them has arguably been one of the performers of the season, whose personal feud is doing wonders coupled with his in-ring prowess.

The other is a man that I am CONVINCED will return to us in a big way. Sorry, did I say man? I meant King!

Without further ado then, here we the "K"s that will look to put a kick into the second half of Season 3.


KILLSHOT:

In some ways I'm repeating covered ground here: Killshot has been haunted by the return of his friend-turned-for Dante Fox. What seemed like the return of a 'brother' that was apparently left for dead turned into the arrival of a sworn enemy with nothing but vengeance on his mind.

Killshot found out what the Fox said, and his actions spoke louder than words.

The two have already faced off this season with Dante emerging the victor of the contest. It would be foolish to say that the standard victory was enough for Fox, given his attacks over numerous months. At the same time, this story is absolutely geared towards a big tecnico victory so that Killshot can try to gain the respect of his former comrade.

What I see from Killshot is a continuation of what he has been doing all season: putting on great matches and winning when the stakes are especially high. The Weapons of Mass Destruction Match with Marty "The Moth" Martinez showed exactly what Killshot can do in a personal gimmick match.

This is a gimmick that HAS to come back.

With no disrespect to Marty whose psychological warfare was on point, this is a gimmick designed for two former soldiers with an issue deep-rooted to the cause.

I truthfully see Killshot defeating Dante Fox at Ultima Lucha Tres and the two ending their war. Dante has already appeared conflicted at times so it is not a stretch for him to forgive his former friend after he stands up like a man and defeats him when it truly matters.

I'm not sure if they'll be any gold for Killshot this season due to very personal extended story but he HAS to win gold next season as a reward for the incredible work he has been putting in.


KING CUERNO:

This is the big one.

The King has to return. He just has to. There were rumours of contract issues. There were rumours of him wanting to compete elsewhere. There was the more concrete back injury of course, but what's more telling than anything is that Cuerno appears in the Season 3 trailer.

I probably sound like a broken record to those who read my columns but King Cuerno will be back this season, I'm sure that shot was no filler.

What can you take away from the shot? He was shown against a black background tipping his hat. It wasn't like the in-action clips taken from backstage segments of the show. It looks more like a shot that was added in afterwards. Even Daga, who is apparently dead, is seen with a sword. That shows the rumours of his demise are either a ruse or we either get a flashback.

So why have they included a shot of Cuerno?

What if he doesn't appear in any backstage segments at all?

There were no shots in the trailer of any in-ring action. Deducing this, I think a surprise return to the ring is very possible indeed and if so, surely it has to be Ultima Lucha, or at least the weeks leading to it. That's the only reason why we wouldn't have any segments featuring him - because there won't be a chance for it to happen!

In which case, what possible reason would King Cuerno have for returning so close to Ultima Lucha?

To take out Mil Muertes, that's what.

He was seemingly left for dead after their, well, their death match quite fittingly. It would make no sense to make a big surprise return if it isn't related to Mil. He could come out to assist Muertes for the surprise twist but I don't think it's worth wasting that huge pop. If the rumours about Puma's exit are true, Lucha could do with as many top faces as they can get and this momentum could propel Cuerno into that spot.

Absence makes the heart grow stronger, and I don't think this will be any exception. Expect Cuerno to get his revenge on Mil at the biggest show of the year.



What are your thoughts my friends? Will Killshot strike his target? Will the King reign supreme? You can hit me up below or via Twitter @ LeafLOP.

Until next time, don't stop believing and thank you for reading.





---
WANT TO GO DEEPER UNDERGROUND?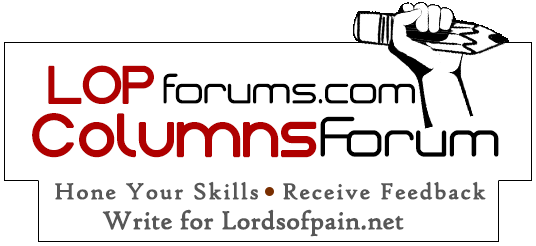 The Lordsofpain Columns forum is very much like Lucha Underground – anyone can appear at any point, and they all have a story to tell. Here are some of my favourite recent pieces:

Benjamin Button really impressed me this week with one of the best Lucha columns I have ever read in Segundo Parte: Lucha Underground Season one: How to Treat Your Protagonist

SkitZ returned to his indie roots in TMR Takeover -- My Bout with Indygestion (How Many Matches Can I Stomach?)

david.fenichel admits that he isn't hindered in The Eternal Optimist Presents - 7 Reasons Why Jinder Mahal's Push Doesn't Suck


SOUND OF THE UNDERGROUND: A Character Perspective - King Cuerno
SOUND OF THE UNDERGROUND: A Character Perspective - Pentagon Dark
SOUND OF THE UNDERGROUND: Character Perspective - Johnny Mundo
SOUND OF THE UNDERGROUND: S3 Season God Award - #5 - #1