---



SOUND OF THE UNDERGROUND: Midseason Musings - What's Next? (F - J)


By Ryan Plant (73AF)
Apr 2, 2017 - 8:38:01 AM




Midseason Musings – What's Next? (F - J)




The road back to Lucha is hotting up and here is the next set of possible routes.

I must admit that upon realising that I hadn't covered Black Lotus, Brenda and Catrina in the first edition, I have decided that I will end this preview mini-series with a special column devoted to the upcoming stories of our brilliant Luchadoras, so the likes of Ivelisse being absent in this column is now purely intentional.

Until then though, here's F-J to keep your Lucha appetites whetted!


FAMOUS B:

What's good for Wagner is good for the Famous one. As I mentioned in the Doctor's character preview, Famous B's flock of fame fans will be chasing the acquisition of one Blue Collar Brawler. Though some have predicted that Wagner is being ousted for Texano, I don't see why we can't have a Heenan type Manager in this day and age who holds the contracts of various clients. I think Famous B will have a fight on his hands in capturing Texano but he has the perfect client to help him, AND the perfect valet given the glances from his potential signee.

I do think that Famous B will eventually have more than one wrestler on his hands as if Texano refuses to join up, they'll surely be another rudo who will take exception to this. Personally though, I think we'll get the face-in-peril contract slave scenario with Texano. It's tried and tested in wrestling and it works.


FENIX:

Though I believe Drago's betrayal is imminent, I don't think Fenix will dwell on this. His bond with Drago doesn't seem as etched into Lucha folklore as Aerostar's and judging by the Season 3 Trailer, he's going to gain the admiration of one Melissa Santos.

Given the fact that she was just shown leaving the arena at the end of the last episode - which saw the Moth's potential kidnap attempt thwarted by his own sister - I think we're getting closer to the Moth striking. It's far too coincidental that we've just seen that the weird family ties of Mariposa and Marty have just been strengthened by his recent attack on his own sister, and we also know that Fenix and Santos will be shown together later in the season. This is definitely leading to an intergender feud. Given the fact that Marty has kept his obsession running from Season One, I think it's fair to say it would have the legs to run all the way to Ultima Lucha Tres.


JACK EVANS:

Sadly, I don't predict a lot from Evans from an individual standpoint this season. He is one of the most talented guys both in-ring and on the microphone in the entire company but given the fact that we are surely about to have rudo Trios Champions and the fact that his stablemate is the Lucha Underground Champion, I don't see him doing much more than protecting the champ.

There's nothing wrong with that, as Mundo SHOULD be the Ric Flair type of champion that the promotion had previously not seen up until this point. That's not to say that there may not be tension within the group but I think that's too soon for this season. Evans has the flashy moveset to eventually make a great tecnico but until then, let him use his bravado to draw further heat to the champion. Not that he needs it, but you can never have too much.


JEREMIAH CRANE:

Jeremiah Crane could be put absolutely anywhere in this promotion and that's one hell of a skill to have. He is currently a tecnico but given his desire for Catrina, he could turn at any time. He has some form of tie to the darkness as he arguably knows more about the Temple than Dario as he found something he once hid away in the roof. He also carries part of a necklace related to Lucha's temptress. The possibilities are endless.

His mysterious past could lead him to joining many other empowered individuals on the roster who have seen main event success. Is it too much too soon though?

Crane would be a BRILLIANT pick for the Gift of the Gods but I still have a feeling that Aerostar might just capture the gold. It's, as you say, written in the stars.

This leads me to one hell of a tough pick.

If Ivelisse comes back in time for this season, then Crane will be seen debating who to assist in the match between the Baddest Bitch In The Building and Catrina at Ultima Lucha Tres. If she doesn't, I think he will escort Catrina in whatever she desires. He has been set up to be someone who is desperate for her charm, having lied his way into a relationship and a job as well as requesting a match against Muertes just to earn her honour.

The Catrina obsession won't just come to a stop. These luchadors are determined. We've seen that with Marty and Melissa. Crane is going to interact with Catrina in a big way at Ultima Lucha Tres but even I can't truly imagine how at this point.


JOEY RYAN:

Other than his part in the Cortez Castro story, Joey Ryan has came across as comic relief within the Temple. Given his rivalry with his fellow cop and the fact that everyone in Lucha has their own story, I don't think they will just drop that in favour of Ryan being on the end of some more squash matches.

Castro will want his revenge eventually, on route to his mission. I think Joey Ryan stops him though as he has Dario on his side, and sadly we know exactly what I've predicted for the former Crew member. Joey will also have blood on his hands come the end of the season, but is this all a ploy to get in Dario's good books and is he still working with Vasquez who knows that no price is too much to pay in order to bring down the lynchpin?

That's right, I think he might end up being a "good" cop after all. Swerve. How do you like those lollipops?


JOHNNY MUNDO:

I'm going to say this right now, Mundo is keeping the gold until Ultima Lucha. This season has seen more World Champions than any other and it makes no sense to stop a rudo champion who cheats to win so soon in their reign. He's that champion who everyone will want to see dethroned, and as a result, I just can't see him losing to his upcoming foe The Mack or just about anyone in the promotion.

Yet.

Such a big moment is surely reserved for Ultima Lucha Tres. Though he could retain until next season, I just can't see it happening. With no word of a season four as of yet, Lucha needs a big moment to ensure that season four will be on its way.

In my eyes, there's only two tecnicos who are at the right level to dethrone him there: Rey Mysterio and Prince Puma. Likewise, I would add Pentagon to the list but given his newly-reaffirmed rudo status as opposed to Season 2's tweener then tecnico alignments, I don't see how he can be built up to begin a story with Mundo.

Given Puma's contract status rumours, I don't see why Lucha would risk putting the belt back on its marquee star so soon. This only brings me to the assumption that Rey Mysterio will dethrone Johnny Mundo. He has the name value, he is consistently over, and he is a dream champion in terms of marketing. If he gets past Matanza, that just feels like a #1 Contender slot by default!

In my honest opinion, Johnny Mundo will continue to find ways to win but will fall to that big tecnico victory at Lucha's biggest event. It's mega-heat versus nuclear cheers, isn't that the dream scenario?


What are your thoughts my friends? You can hit me up below or via Twitter @ LeafLOP.

To those who I had not managed to reply to on the last column, I've just replied back so please do feel free to check that out. I'm awfully sorry for any delay - I've been blasting my driving theory on the week that others go down the road to Wrestlemania.

Until next time, don't stop believing and thank you for reading.





---
WANT TO GO DEEPER UNDERGROUND?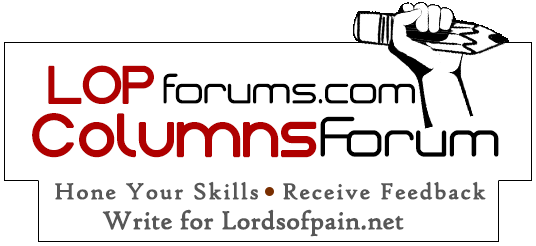 The Lordsofpain Columns forum is very much like Lucha Underground – anyone can appear at any point, and they all have a story to tell. Here are some of my favourite recent pieces:

KamNewton is back with his thoughts come Mania Week in The 5th Quarter- The One Where We Return Home & Reconcile With Dad Because It's Christmas(Mania Weekend)

Burn1nMyLight becomes the storyteller of this Wrestlemania in Burn1nMyLight Argues- Story

kingzak13 is previewing, reviewing and doing just about everything else for this weekend in Kingzak presents: WrestleMania/Takeover Super Mega Ultimate Prediction/Review Column


SOUND OF THE UNDERGROUND: A Character Perspective - King Cuerno
SOUND OF THE UNDERGROUND: A Character Perspective - Pentagon Dark
SOUND OF THE UNDERGROUND: Character Perspective - Johnny Mundo
SOUND OF THE UNDERGROUND: S3 Season God Award - #5 - #1